Selling online is complicated. You have a lot on your plate, and it's easy to fear that you've overlooked something. For one, you need customers to trust you, or else they'll turn away. This may have already been happening to you. In that case, you're probably wondering how to get customers to believe in your business.
It might just be that your website doesn't have enough content.
Your eCommerce website is not just an online store. Simply having product pages, categories, and a shopping cart is not enough. You have to tell customers who you are and why you're the best. You need to establish your authority. Content is the key to all this, so you need to add content pages to your website.
Adding content pages won't only increase customer trust. Content pages can also boost your SEO. You have probably heard the saying "content is king." This reflects search engines' preference for higher-value pages. Content is the only way to get that value.
Shift4Shop makes it simple to add content pages to your website. This article will be your guide to creating and using them.
What are Content Pages and Why Do You Need Them?
Content pages are any website page that includes informational text and images. Product pages do need to have content, but they are not "content pages" in this sense. Product pages exist to provide details and an Add to Cart button. Content pages, however, are a resource for your visitors.
Content pages can include the following:
Your website's home page
Other content-rich pages on your site
Blog posts
Content pages serve two important purposes. First, they provide information to customers. This can be any type of information relating to your brand or industry. Content pages can be guides, news, business history (your About Us page), and more.
The second purpose of content pages is that they are also a great opportunity for SEO. By using relevant keywords, your pages can earn rank. What's best thing about content pages for SEO? It's that you can create as many pages as you need to focus on different things. This way, you can target many more keywords than you could without content pages.
How to Make Content Pages on Your Shift4Shop Website
Shift4Shop makes it easy to create a website and fill it with content. Of course, that content should be useful to your visitors. It should also be keyword-optimized. These are both up to you, but all the tools you need are here!
There are multiple ways to make content pages in Shift4Shop:
Use the built-in blog module
Add content to your home page
Create unlimited Extra Pages
First, we'll briefly go over each of these and then discuss the specific tools.
The Shift4Shop blog module is pretty straightforward. If you're at all acquainted with blogging, you know how it works. It allows you to post articles and updates using a familiar text editor. It also has built-in formatting tools. Blogs are great for frequent articles, guides, reviews, and more.
Your home page is the front page of your website. This page shouldn't be super heavy on content. You need just enough to introduce your business and catch customer interest. Don't go too deep into your history. You'll be saving that for the About Us page. (Customers often look specifically for the About Us page, so don't disappoint them.)
Last, and most versatile, are Extra Pages. Extra Pages are the Shift4Shop feature that lets you add content pages to your website. You can add unlimited Extra Pages and make subpages, too. Extra Pages can be used for things like:
Your About Us page
Your policy pages (returns, shipping, and privacy)
Guides to choosing one of your products
Manufacturer information
Anything else you feel should be a core part of your website
Some website owners get confused as to which content is best for content pages versus their blog. A few types of pages are pretty obvious. You don't want your policies to get lost in the blog archives, so they should be pages. It's the same with the About Us page, although you could also write blog posts about your business milestones. Any page that should be part of your site's infrastructure should not be a blog.
Another consideration is if you'd prefer your blog to follow a certain theme. Maybe you only want it to be "tips and tricks" or another specific topic. If a visitor is reading through your archives, you wouldn't want them to encounter an off-topic post.
Creating the Content Pages
How you create a content page depends on its type. Your home page is already created when you build your Shift4Shop store. The blog only needs to be activated in your Modules. Extra Pages are slightly more involved, so we'll cover the procedure.
To create an Extra Page, click on Content in the left-hand navigation of your Shift4Shop Online Store Manager. Then click Site Content. Scroll down until you see Footer Extra Pages and then click the Edit button.
You will be brought to a screen that lists your existing Extra Pages. Each of these pages corresponds to a link in your site's footer. However, you can check Hide to hide the page from the footer. That way, the page will only be accessed in the way you intended.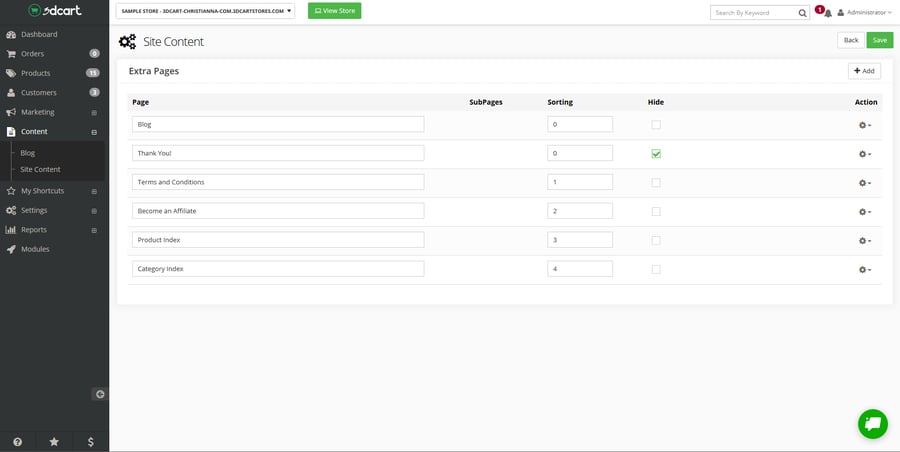 For example, notice that one of your Extra Pages is called "Thank You!" This is the page customers see when they complete their order. It's visible to you, in this list, because it's a page on your site. But customers can't see it until the right time. The Hide checkmark prevents it from being linked in the footer.
Your blog is also listed here, because it's recommended to have a footer link for it. However, don't be confused — this is just the front page of your blog. This interface is not for writing blog posts.
If you want to add a new page, click the +Add button. You'll be presented with a menu with some intuitive options. The Sub page of list will be populated with your other existing pages. Choose any of them to make your new page a subpage, or leave it on New to let it stand alone.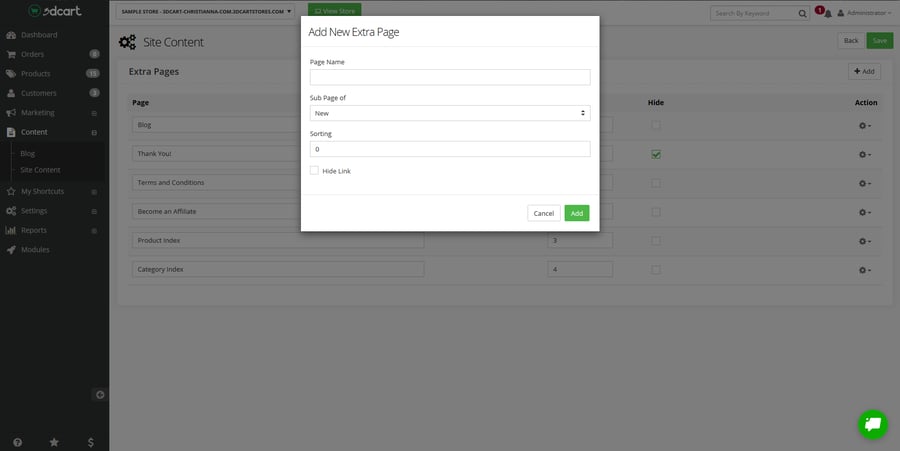 Now let's talk about editing your pages.
The Easiest Way to Edit Your Content Pages
Click the Action Wheel at the far right of the page's name in the list and select Content. This will bring you to its settings and editing tools. You have two options for editing your pages.
The best way is to use the Page Editor by clicking the Launch Page Editor button in the middle of the page. This opens up your page as it looks to your visitors, but with the Page Editor active.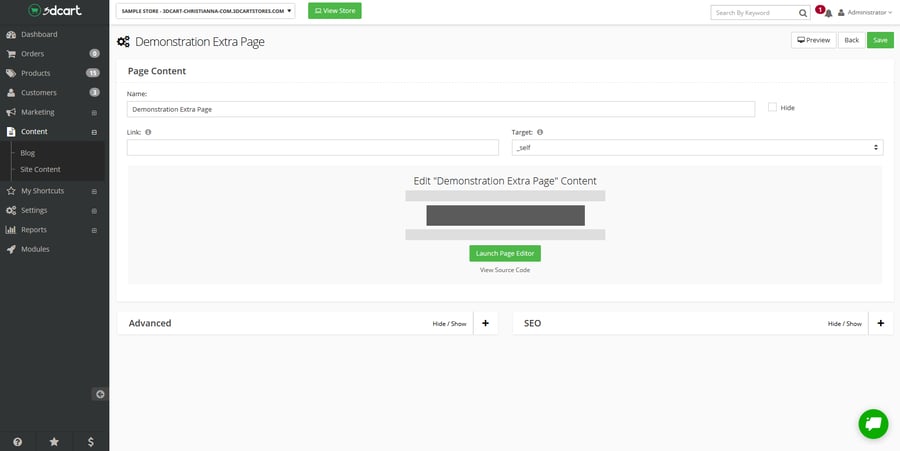 The Page Editor is a block-based page building tool that lets you add content and instantly see how it will look. You can add text, images, headings, and more. We'll explain how to use the Page Editor shortly.
If you want to use the older WYSIWYG editor, you can still access it. Instead of clicking the Page Editor button, click the View Source Code link beneath it. This brings you to the familiar WYSIWYG editor.
Please note that you can't use both the WYSIWYG editor and the Page Editor on the same page. It has to be one or the other. This is because the modular Page Editor format isn't compatible with older WYSIWYG edits.
What If the Page Editor Button is Missing?
There are a few reasons the Page Editor button may not appear.
First, make sure you're using an updated Core theme.
Next, make sure your website is using sitewide HTTPS.
Finally, if there is existing WYSIWYG content in the editor, you'll need to remove it and save the page as blank. This doesn't mean you'll lose your content! Simply copy it into a file temporarily, delete everything from the WYSIWYG editor, and save the page. When it reloads, it will be empty, and the Page Editor will be available. You can now copy your previous content into the new editor.
Why You Should Use the Shift4Shop Page Editor
The Page Editor is a fast and easy way to design a web page. You won't need to know any code, and you won't have to try to imagine what it will look like when it's complete. You'll work directly on the page, instead of an old-fashioned WYSIWYG/word processing box. With the Page Editor, you can build an awesome content page in minutes. Here's how it works.
As soon as you click the Launch Page Editor button, you'll be brought to the page ready to edit. You will see an empty content area.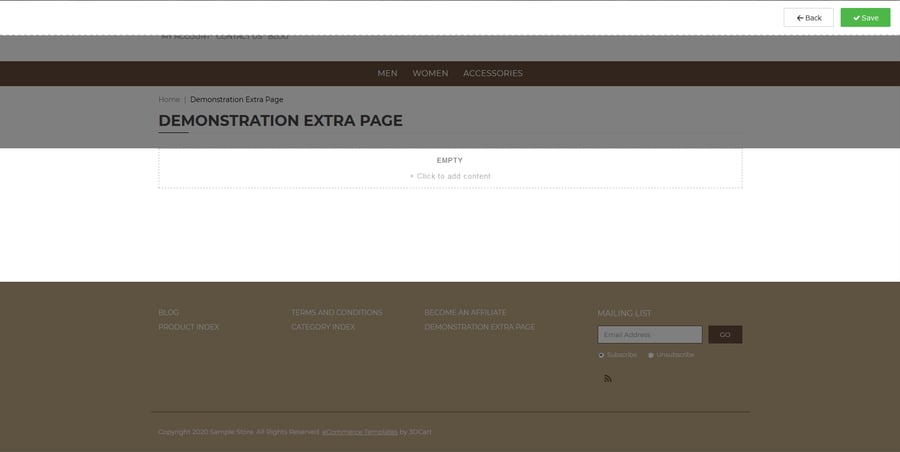 Click it, and you'll see different types of content you can add.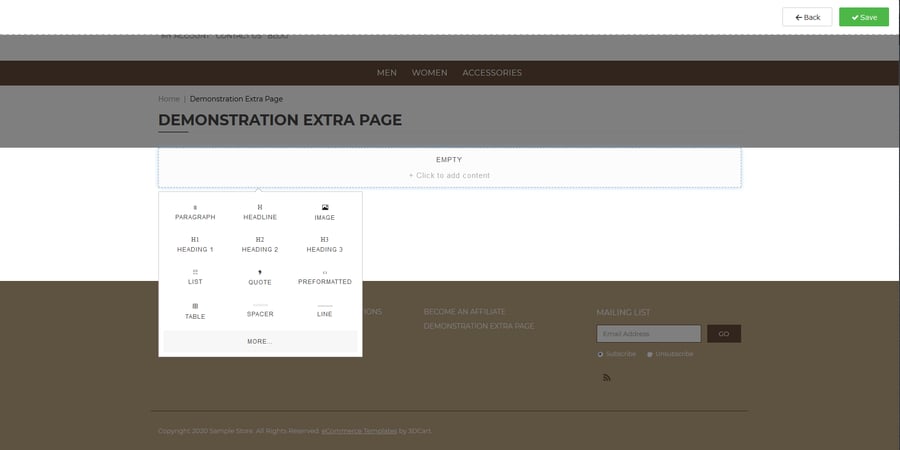 Here's an example with an added heading. Hover over the box again and you'll see the menu to add another section.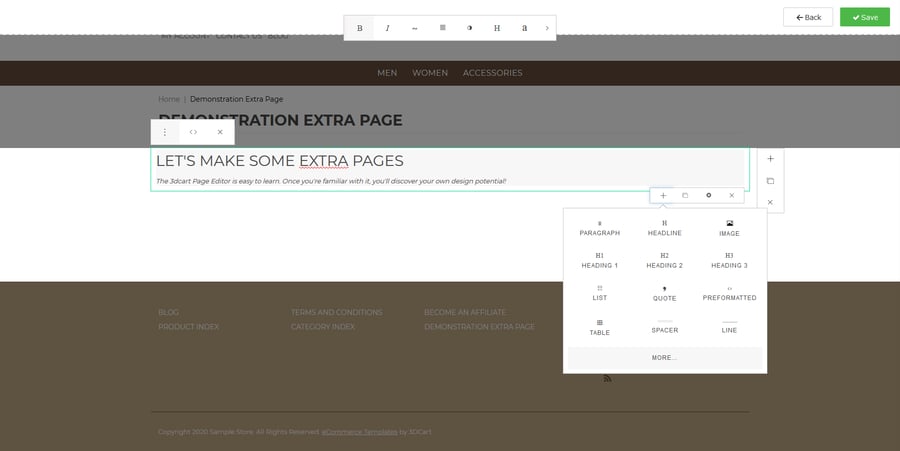 If you add an image, the Page Editor will put a placeholder image there. You can then click the upper right corner of the image to change the URL the image is pulled from.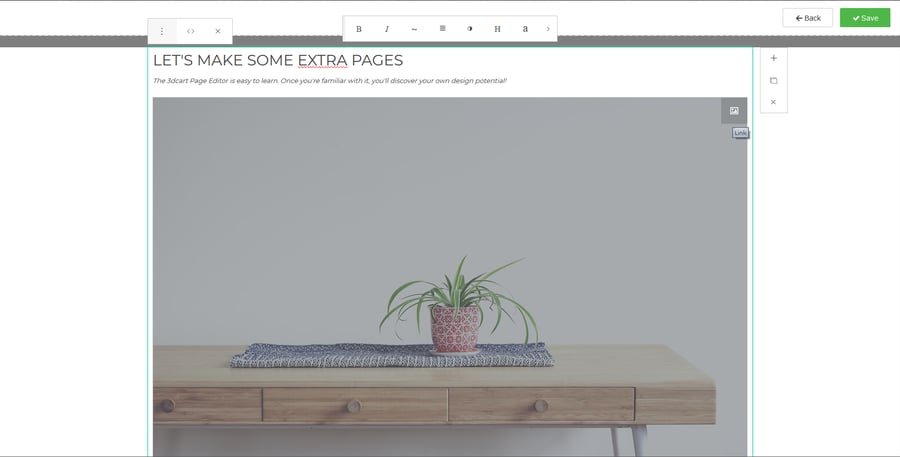 Enter the URL of the image you want to use. (You'll need to upload it to your site, first.)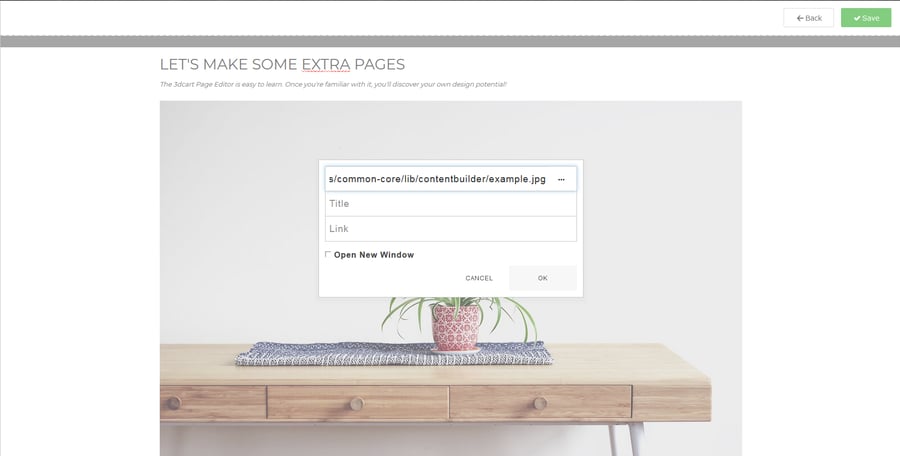 You can keep adding content boxes until you feel like your page is complete. Another example of content you can add is a list.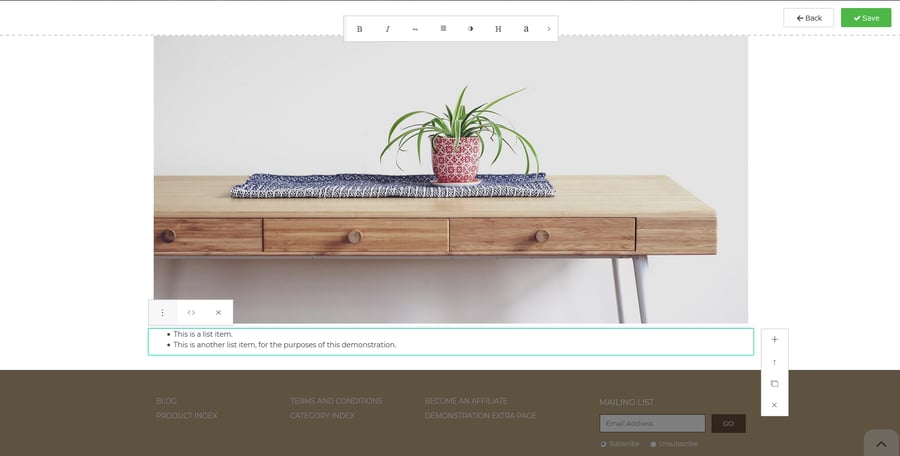 Want to see what the HTML looks like? Click the < > to see the HTML. You can edit the HTML within this popup box as well.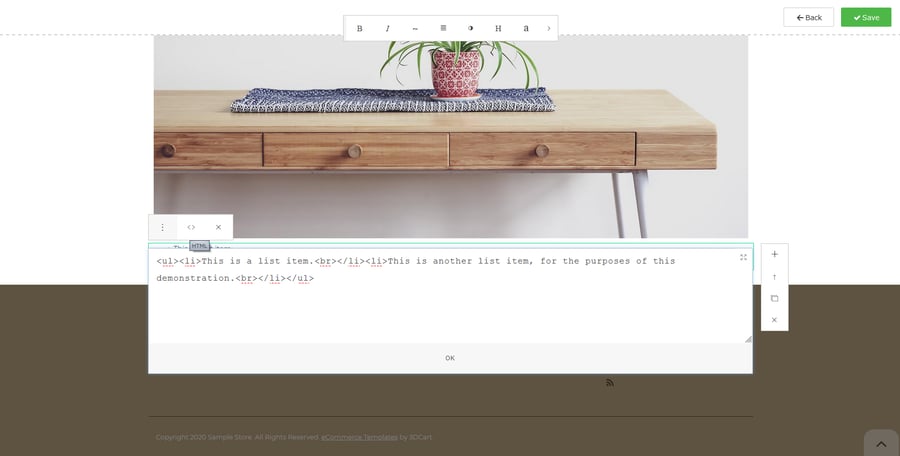 You can rearrange your content areas by clicking the Move Up or Move Down arrow. If you want to copy an entire section, click Duplicate.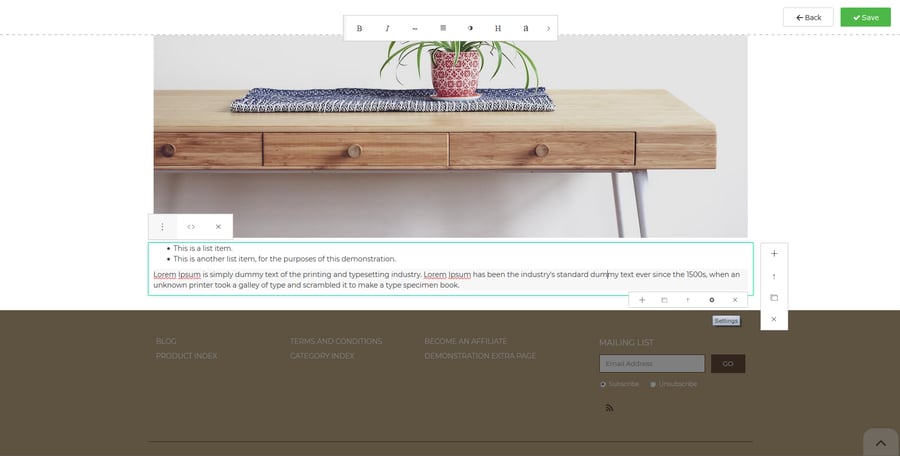 You can change the styling of any of the content boxes by clicking the Settings button. A panel will slide out, where you can change color, background color, dimensions, and more. The settings are divided in menus along the top of the panel.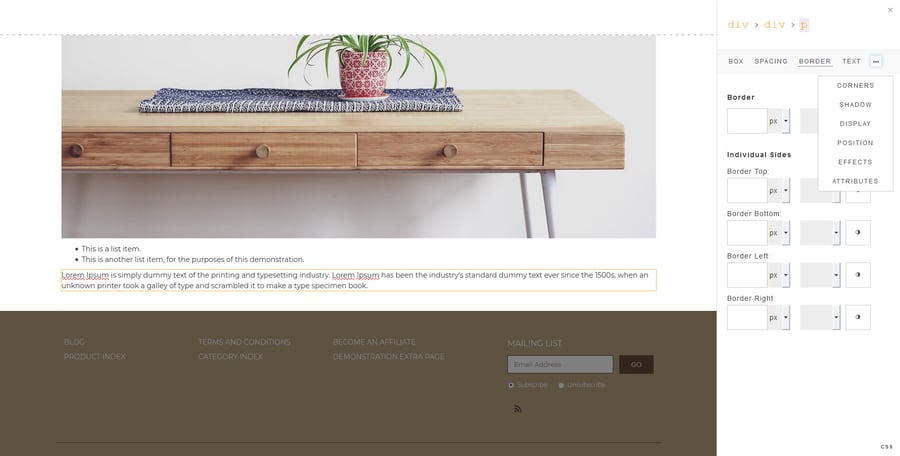 When changing colors, you can use the color picker or click the More arrow to enter the hexadecimal color code directly. You can also use gradients instead of flat colors.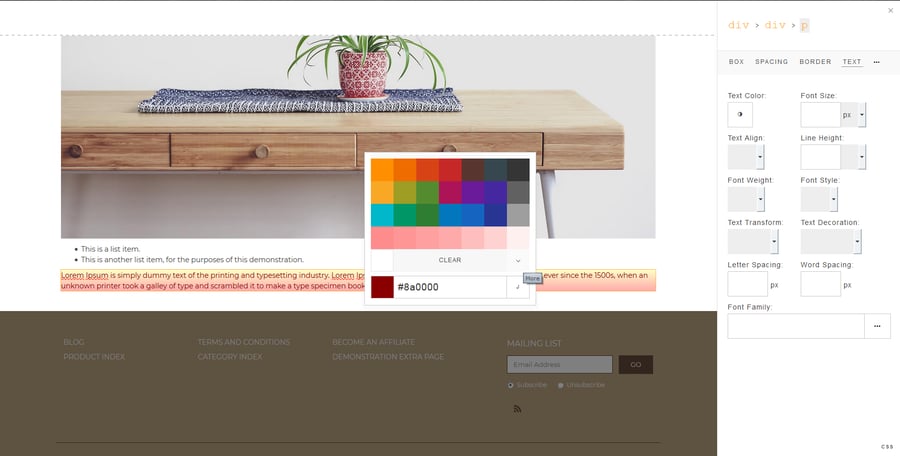 Take some time to get used to the Page Editor and you'll soon be able to create amazing pages within a few minutes. All the options and buttons are labeled (hover the mouse over them), so it's quick to learn. Make sure you remember to Save your work when you're done!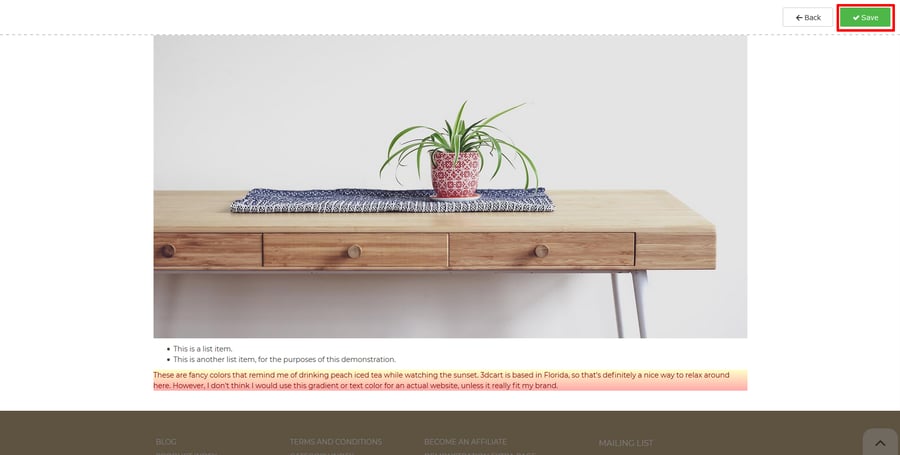 You can find some more specific details in our Knowledgebase article How do I use the Page Editor? which goes more in-depth about every button.
The Page Editor is Not Only for Extra Pages
You read that right! While we used an Extra Page as an example, all types of content pages in Shift4Shop can be built with the Page Editor. You can use the same method on all the following pages:
Your homepage
Pages in your Top Menu Links
Extra Pages (as we covered)
Your blog articles
We may also expand the Page Editor to work on more pages, so you'll be able to build even more of your website this way. Stay tuned — we'll announce when this happens!
Ready to Build an Awesome Website?
We hope you enjoy working with the Page Editor and that you find ways to unleash your creativity. Let's go over the basics one last time:
Your website needs content to build search ranking and customer trust.
You can create several types of content pages in Shift4Shop.
These include your home page, blog, and Extra Pages.
You can create unlimited Extra Pages and choose to make them subpages or not.
You can decide which Extra Pages are linked in your site's footer.
You can build all of the above types of content pages with the Page Editor.
The Page Editor lets you create and arrange boxes or blocks to fill with content.
All the formatting tools are at your fingertips.
You can build a great-looking page in a few minutes.
Our goal at Shift4Shop is always to bring you the best tools for building your online store and growing your business. Our content-focused features are a crucial part of that mission. We hope the Page Editor can help you unlock your passion for design!