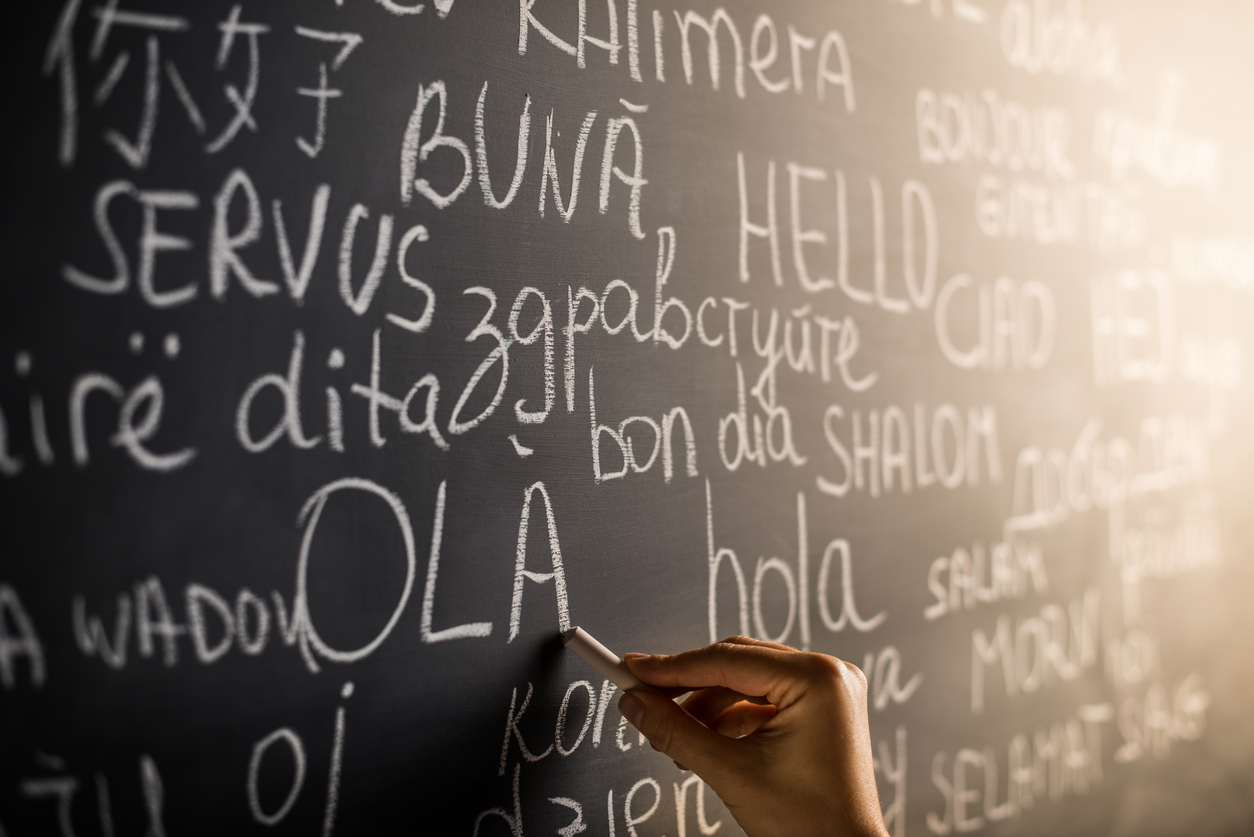 With so many eCommerce brands competing for the attention of customers across the world, your eCommerce website must provide a unique experience to stay in business. Localizing your website offers a unique shopping experience to your customers who belong to a specific linguistic, cultural, and geographical group.
There was a time when localizing your eCommerce site was considered just an accessory in the process of launching eCommerce businesses globally. Today, eCommerce brands include localization in their global vision right from day one.
But, before we go on to talk about the benefits eCommerce website localization, let's determine whether you need it.
The Right Time to Localize Your eCommerce Business
Global marketing gurus are predicting that around 95% of purchases in 2040 will be done via eCommerce websites. So, by 2040, most of the world will be shopping online. Now, there's a pertinent question here. Is your brand prepared to cater to the needs of customers from different parts of the world?
A multilingual eCommerce website helps your brand attract customers of various linguistic and cultural preferences. When customers find all the information they need in their native languages, it reduces customer support issues. Plus, multilingual reviews, product descriptions, and prices help to build trust among your customers.
The best time to consider translating and localizing your eCommerce website is when you are considering international expansion. Brands begin preparing for expansion when they:
Launch brick-and-mortar stores in new locations
Receive visitors from different countries that show interest, but don't make any purchases
See a business opportunity in other markets - for instance, a need for their product
Benefits of eCommerce Localization
If you were to place an online order for a product despite not being able to understand the information associated with it, would you order it? Well, you wouldn't. That is the simplest explanation for the need for localizing your eCommerce website. However, its benefits don't end here.
1. A Wider Reach in Your Target Markets
eCommerce localization is the most cost-effective way to increase your reach in international markets. The right approach to localization would be to create customer personas for each target market - understand their shopping behavior and the elements of the website that play an essential part in their buying decisions. When you're ready to invest more resources into targeting a market, you may choose to customize your brand's marketing strategies to suit that market. Until then, localizing your website is half the battle won.
2. Increased Website Traffic and Engagement
If you were to launch an English-only website in India, you would be losing out on all the visitors accessing websites in regional Indian languages like Hindi and Tamil. Translating and localizing your website will naturally attract such visitors - they'll be able to access all the information quickly and consider making a purchase.
Did you know that 86% of localized campaigns received more click-throughs and conversions than English campaigns? The explanation is simple: customers are more likely to make a purchase when they can read the product information, reviews, etc. in their native languages.
3. Competitive Edge Over Local Sellers
Why do customers consistently buy from local sellers? One, they interact in their native languages. Two, they understand the locals' shopping behavior; for instance, certain days (like festivals) when the customers will be actively making purchases will be taken into consideration. Three, they have managed to build trust and rapport with their customers.
Localizing your eCommerce website helps you gain all these advantages, thereby making your brand more competitive.
Let's consider Amazon's example here. The eCommerce giant has done a commendable job of localizing its website for various markets, including the USA, UK, Japan, India, and more.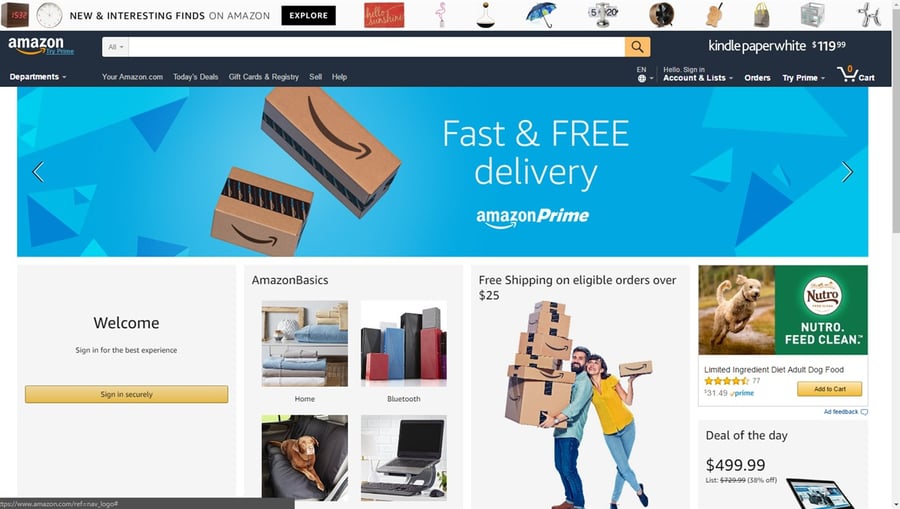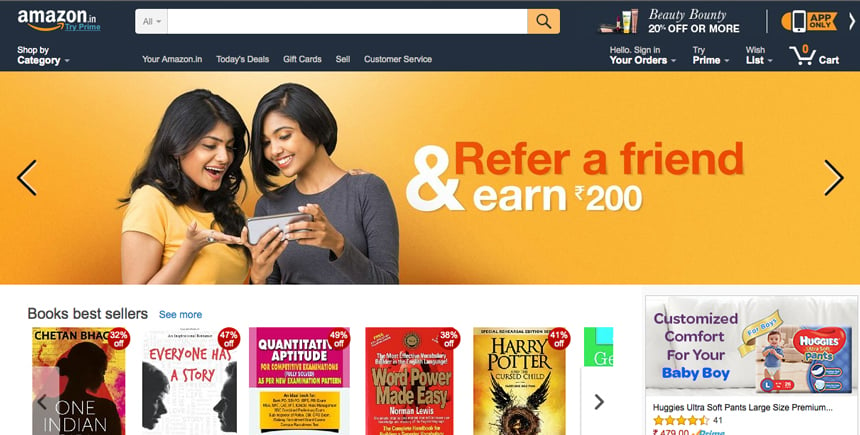 If you check out their US and India website, you'll notice that the latter displays more advertisements on the homepage. The insight here would be that Indian customers like to see ads and are more likely to check them out. On the other hand, it might just annoy an American customer and discourage him/her from surfing the site.
4. Localized Social Proof
Typically, if customers are considering buying a product, they would need some social proof to support the buying decision. This social proof could be anything: a product review, a product demo, or an infographic showing why the customer bought that product. This information serves as proof of the quality of the product and the experience of using it.
With localized social proof, you'll see a considerable increase in your conversion rates, while also seeing an increase in the number of customers willing to contribute reviews/feedback in their native languages.
5. The Local SEO Advantage
Many of your website's visitors might land there as a result of an online search. Search engines play an essential role in bringing potential customers to your site. Considering this, you must have conducted a keyword analysis to determine how customers find your product pages. You must also have optimized your product pages for these keywords.
The same strategy applies to online search in various languages. When translating your website, you have an opportunity to optimize it for local keywords. So, when a customer enters a keyword in that language, your web page appears in the relevant search results. This increases your international SEO score, thus increasing your website traffic.
International SEO optimization will also help your products rank for all the relevant Amazon searches. While Amazon has its own machine translation tool, it's advisable to utilize human translation for localizing your eCommerce site. Here are a few reasons why:
Machines cannot understand context. They translate text word-by-word, leading to errors.
Machine translation cannot process and differentiate between all the possible sentence structures suited to a particular context.
You cannot localize machine translation to understand different dialects associated with a particular language.
Machine translation will lose the style and tone (informal or formal) of the text.
Hiring professional translators gets you quality and accurate translations.
Expert human translators, who are native speakers of the language they translate in, understand the cultural context of every piece of content. Consequently, they can maintain the consistency in tone, flag words or phrases that might sound offensive in that language, and translate the content in the best possible manner.
Ecommerce Localization: Things to Keep in Mind
In the past, brands have made mistakes in eCommerce localization and paid for it heavily. So, here is a list of things you must remember when localizing your website.
1. Laws and Regulations Applicable to Your Target Markets
Trade regulations, online business laws, etc. vary from region to region. While preparing to launch your website in a new market, ensure that you adhere to all laws that'll apply to your business.
For instance, the US has a "consumption tax" for eCommerce purchases. The customers pay this sales tax on the taxable items they buy online. Add to this the fact that some districts or local areas in the states have their own sales tax.
2. Local Shopping Opportunities
Localizing your website isn't just about translating it into various languages; it's also about maximizing your sales opportunities in multiple markets. Creating localized marketing campaigns for shopping days and offering discounts help you take advantage of such opportunities.
These shopping days are unique to the regions and their culture. American customers do a significant amount of their Christmas shopping on Black Friday and Cyber Monday. Chinese customers come out in huge numbers to shop on Singles' Day. Indian customers shop for gold, clothes, gadgets, and other luxury items before and during the festival of Diwali.
3. Localized Price Tags
Not being able to make purchases in their currencies is the single most discouraging factor for international consumers, leading to low conversion rates. Hence, you must ensure that all price tags displayed on your website are in the currencies appropriate for that market. Not just that, but the customer should also be able to review the check-out page and make a purchase in his/her selected currency.
4. Multilingual Customer Service
This can be the final step in your eCommerce localization process. Multilingual customer service can go a long way in reducing the number of queries your team receives daily. See, most of these queries are a result of the fact that they cannot understand or interpret your customer support documents. Being able to access these in their native languages will help the customer in doing their troubleshooting.
Translating your knowledge base, ticket replies, feedback, etc. will help you provide a completely personalized experience to your customers.
Conclusion
Did you know that 30% of online shoppers don't surf English-only websites? More often than not, customers are comfortable with familiarity, which includes being able to access information in their native language. Localizing your eCommerce site helps you bring all these potential customers to your site, along with personalizing the experience for your current customers.