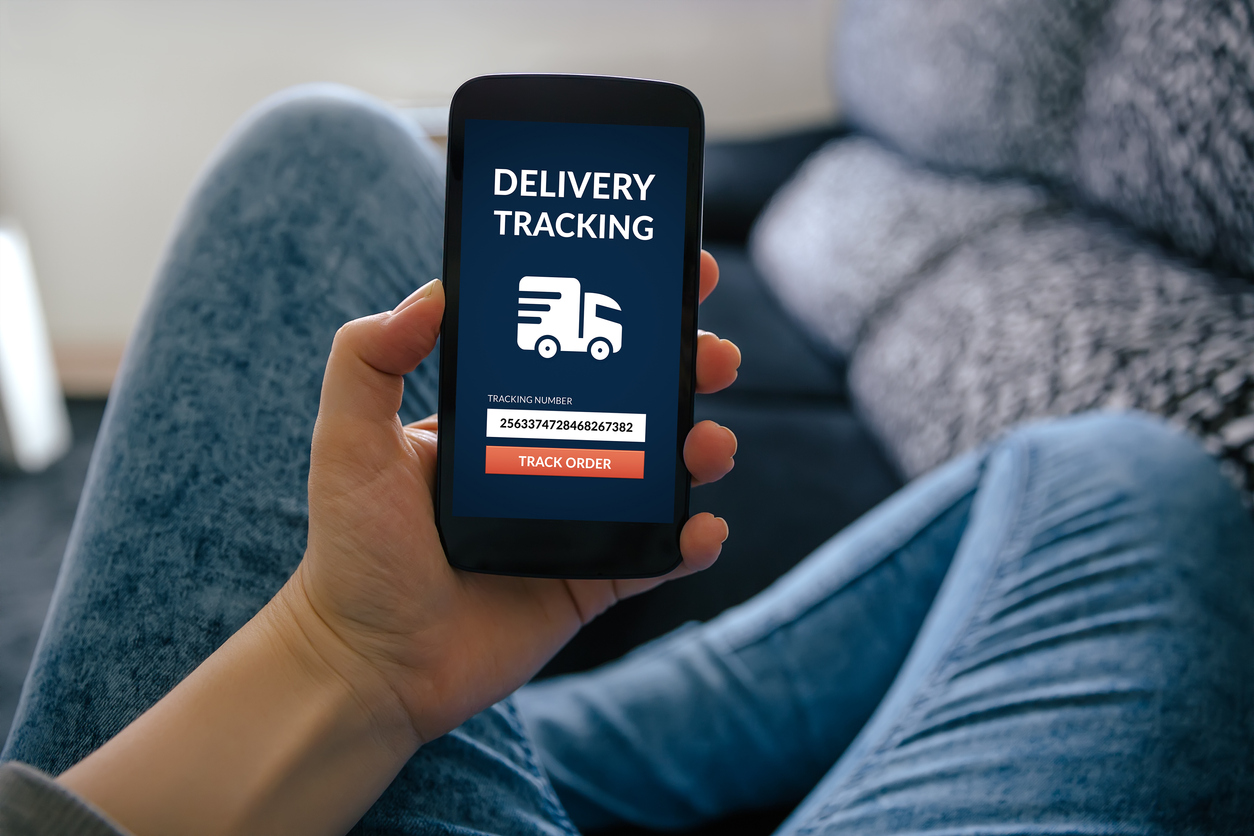 Your relationship with a customer doesn't end after they've made a purchase. Their shopping experience needs to be cared for at every stage before, during, and after that point – and that includes delivery.
In this blog, we'll be showing you 5 ways that you can effectively engage with customers in the post-purchase phase. With these tips, you'll build fierce brand loyalty and keep customers more satisfied than ever before. Let's begin.
The Importance of Order Tracking in The Post-Purchase Experience
The post-purchase stage is a largely untapped marketing channel that drives customer engagement and satisfaction. Unfortunately, from a retailer's standpoint, tapping into post-purchase experience isn't as easy as it sounds, as it is under the control of a third-party shipping carrier.

Retailers have exclusive control over the customer experience they offer from the point a customer is browsing on their website up until the moment the product is shipped. However, after that, offering a frictionless customer experience becomes a challenge, with the onus being on the shipping carrier to meet your expectations from a customer experience standpoint.
Shipping is mostly looked at as a third-party function, with retailers considering their job done once a parcel has been handed off to a shipping carrier. However, there is a lack of visibility into their functioning, resulting in the absence of service-level accountability. This creates a situation in which customer experience ultimately takes a hit.
Not providing transparency with your customers' order deliveries leads to:
Frustration and dissatisfaction that hurts customer loyalty
Bad word-of-mouth that damages your brand's reputation
Negative reviews on social media that erode brand reputation
An increase in customer service inquiries around deliveries (WISMO calls)
In the post-purchase phase, on average customers track their parcels 6-8 times before delivery, making this the most anxious stage in the customer journey.
That's why offering custom order-tracking experiences put you in control of your customers' most anxious post-purchase moments and helps you engage with them while building strong brand loyalty.
Why offer custom order-tracking experiences to your customers?
Before moving ahead, one of the most important things to understand is the importance of real-time visibility for your in-transit parcels.
Gaining real-time visibility is not just about staying in the know about parcels that are on schedule, but also gaining timely visibility into those that are bound to be delayed. This sets you up to offer a great post-purchase experience to customers.
While most businesses let customers track their parcels on a carrier's webpage, the question is, should businesses rely on a shipping carriers' tracking page?
The answer is a resounding NO.
Here's why.
Directing shoppers to a shipping carrier's tracking page comes with a host of disadvantages for an eCommerce business like yours. Disadvantages that can have a telling impact on customer experience in the short term and brand recall and retention in the long term.
Here are the limitations you are likely to face by relying on a shipping carrier's tracking page:
You'll have inadequate control over the delivery experience you offer. Shipping carriers consider their job done when they've fulfilled your orders successfully. They have no interest in providing information on delivery issues that could be resolved before they impact customers.
This lack of control and accountability in place leads to 94% of shoppers blaming you, the retailer, for a bad delivery experience rather than the shipping carrier. That apart, 47% of customers stop shopping with you following a bad delivery experience.
It's not in a carriers' interest to display delivery exceptions for parcels in transit. Shipping carriers provide limited tracking information, which is often not in real-time. Vital information about intermediate checkpoints, such as delays while in transit or at hubs, are concealed to prevent shipping carriers from being shown in poor light. This ends up hurting retail businesses like yours when anxious and angry customers call up to find out what the actual status of their order is.
You lose opportunities to monetize tracking moments. The carrier tracking page is devoid of any brand personality or tone of voice, visually boring, and a marketing dead-end (not encouraging any further brand interaction).
Customers are exposed to off-brand experiences. Customers are always anxious about their parcels and are known to check the status of their orders frequently. When you redirect them to a carrier's page at this stage of their journey, the carrier's page is what stays in their mind, creating an off-brand experience and a lost opportunity to reinforce brand identity.
In order to fix the above-mentioned situation, retailers should get a handle over their post-purchase phase, particularly after parcels are handed off to carriers. That is why a solution that allows you to provide custom order-tracking experiences is critical.
Here are some key benefits of being in control of your customer's post-purchase experience:
Reduce Customer Anxiety: Stay connected with customers with timely delivery-status updates during the order-delivery phase.
Inspire Customer Loyalty: Keep customers in the know of delivery issues they are likely to face and resolve them proactively before it impacts them. Build trust and inspire fierce customer loyalty this way.
Drive Customer Satisfaction: Provide seamless, brand consistent order-tracking experiences and create post-purchase moments of delight with on-brand delivery experiences.
Monetize Tracking Moments: Use post-purchase touchpoints as a means to drive sales. Utilize real estate on your order-tracking page to run relevant promotions and campaigns.
Reduce Customer Service Inquiries: Keep customers in the loop of their order's delivery cycle and help them to resolve delivery issues on their own. With less angry customers to face via emails and calls, support teams can efficiently use their time for other important things like tending to product-related concerns and upselling or cross-selling to customers.
Now that we've familiarized ourselves with the what and the why, let's take a look at how businesses can offer custom order-tracking experiences.
5 Ways to Stand Out with Custom Order-Tracking Experiences
1. Offer a Branded Tracking Experience
Build fully customizable, on-brand order-tracking pages for your customers to improve your brand's recall and sales.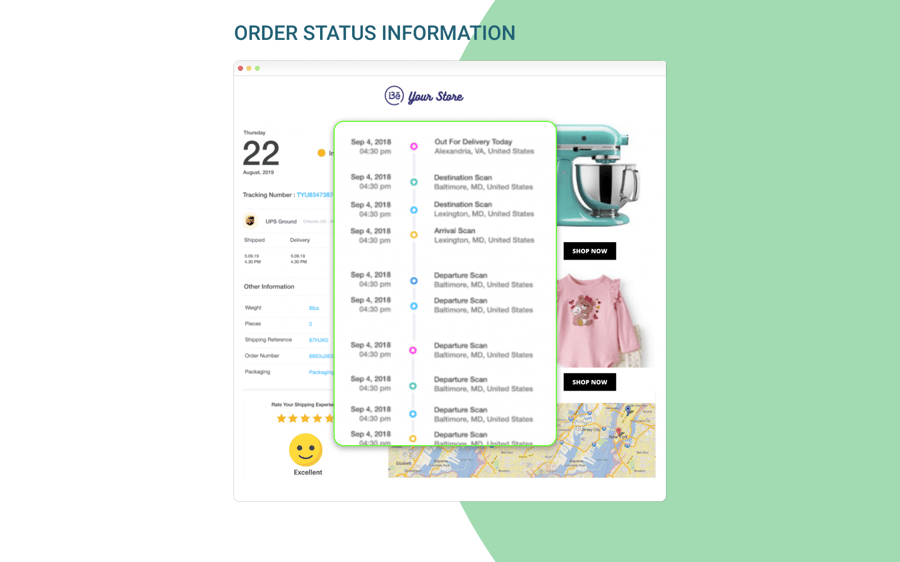 A branded tracking page contains all the necessary information about a package, such as carrier and service information, shipped and delivery date, the current status of the package with location, and the latest updates about it.
Existing Shift4Shop users can also enable their customers to see additional details about their packages such as order number, weight, and more.
2. Drive Repeat Purchases with Customers
The average customer tracks their parcel on the shipping carrier's tracking page at least 6-to-8 times post-purchase. Leverage this to build your own custom branded tracking page aligned to your brand language, logo, color, etc. and imprint your brand identity in the minds of customers.
You can also use your tracking page as added real estate to boost the value of your existing customer base. This can be done by promoting sales campaigns and products, which open up upselling and cross-selling opportunities.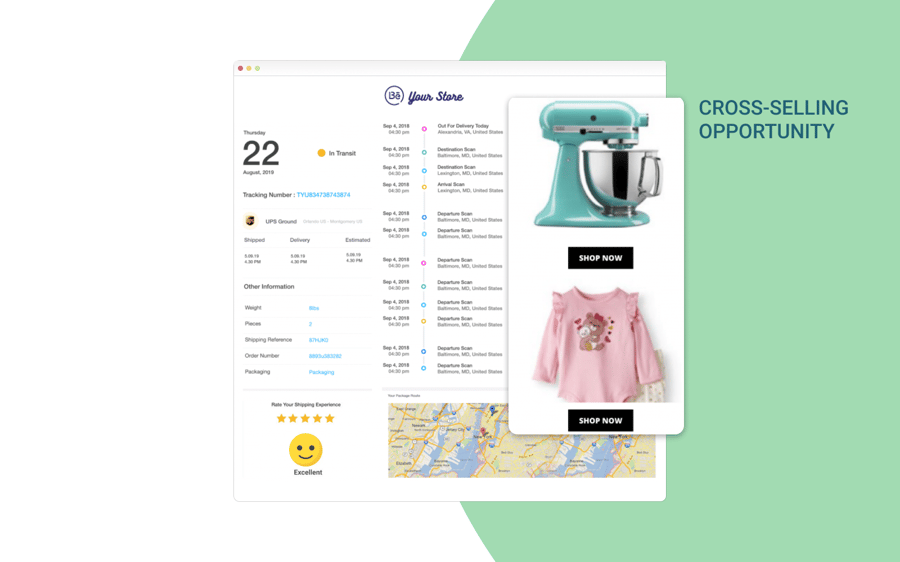 3. Gain Customer Feedback Around Delivery Experiences
Your tracking page can make use of a scoring system by which customers can rate your delivery performance. This, in turn, can help you measure your carrier's delivery performance against service-specific delivery standards and make better shipping choices.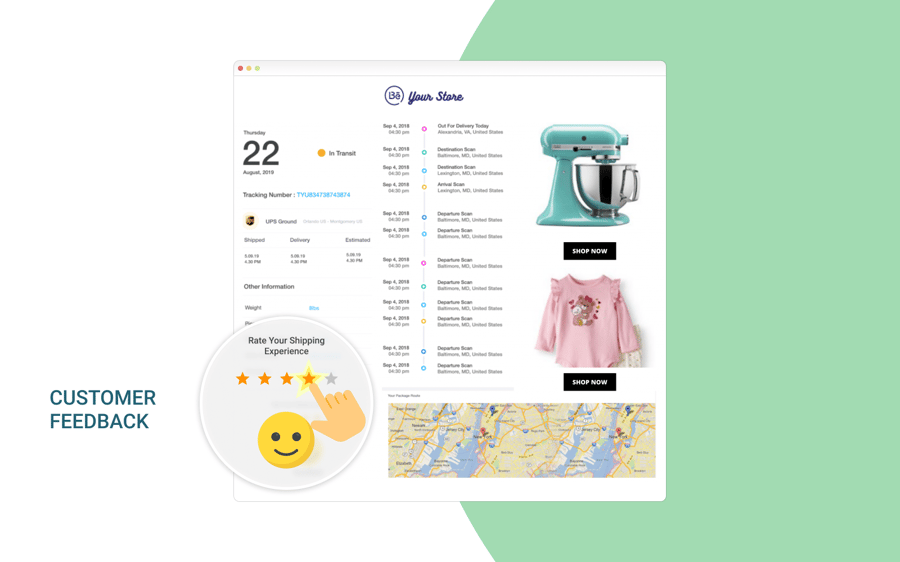 Ratings provide you with an unbiased quantitative idea of your customers' satisfaction level with your brand's post-purchase delivery experience.
You can also consider linking your tracking page to your Google Analytics account for an even better idea of how customers perceive your brand.
4. Embed Emails with Smart Order-Tracking CTA's
Mitigate your customers' parcel anxiety by sending them an order-confirmation email, and augment it with an embedded clickable "track button" within the body of the email. This makes it easier for customers to check parcel whereabouts.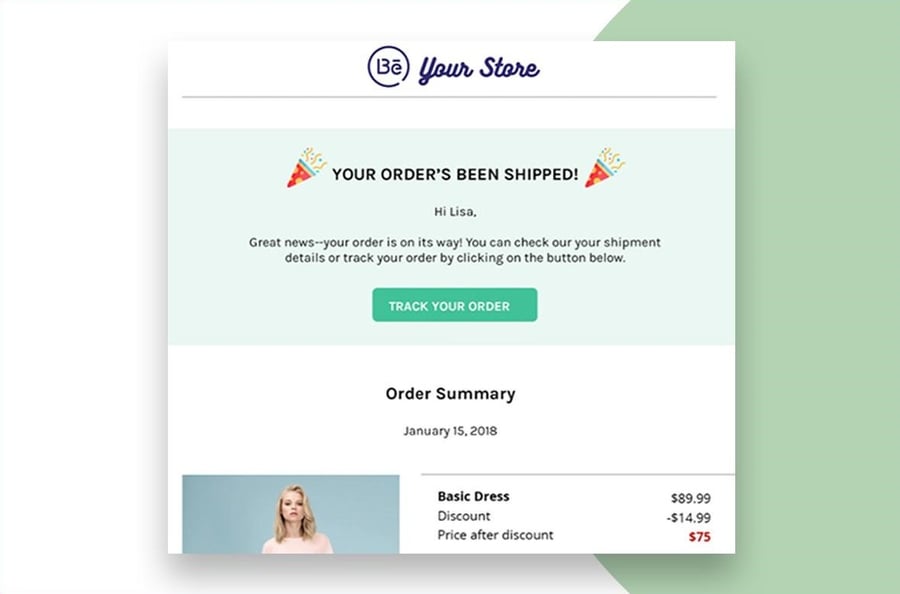 You can also customize the email and CTAs with your brand elements to make order tracking an extension of your business's shopping experience.
5. Enable Self-Serve Tracking on Your Website
Provide your customers with a seamless tracking experience from right within your website.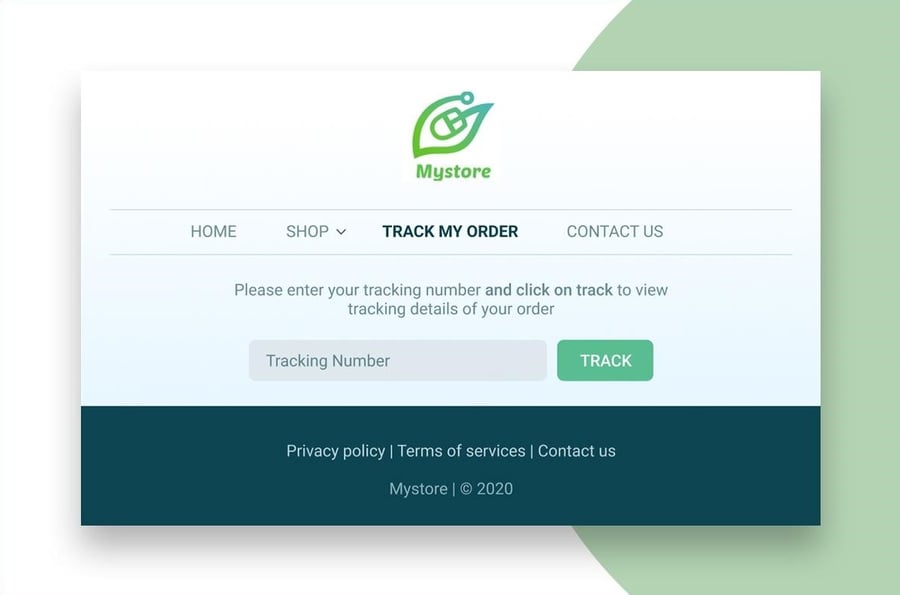 A tracking widget can provide your customers with single-click access to their order delivery status.
Now that we understand how focusing on custom order-tracking experiences allows you to make the best possible impression on your customers, let me introduce you to an integration that will strengthen your order-tracking experience game.
How You Can Build Custom Order Tracking Experiences with Shift4Shop and LateShipment.com Integration
As a growing online retail business with a store on Shift4Shop, you can manage processes starting from inventory management and maintaining a customer database to handling orders up until dispatch.
However, there is an information void after an order has been shipped. You cede control of your last mile to your shipping carrier, a third-party service that is prone to service failures like delays and parcel damage, and which does not share the same sense of urgency about your parcel.
This is where Shift4Shop's integration with LateShipment.com can help you.
No matter which shipping carrier you use, take advantage of the Shift4Shop–LateShipment.com integration and seamlessly integrate your Shift4Shop account to extend your capabilities within LateShipment.com's Delivery Experience Management platform.
Let's take a look at what you can do with this integration.
1. Custom-build your own order-tracking Page.
LateShipment.com provides you the ability to build your own custom order-tracking page as a simple plug & play tool. You can seamlessly create your order-tracking page without having to make any changes to your existing workflow.
The custom order-tracking page comes with a host of features that can help you create delightful on-brand delivery experiences.
Custom templates available: Choose your preferred layout and build your own custom branded tracking page from scratch.
Use a custom domain: Build your branded tracking page with your own domain name (eg. mystore.com/tracking) and reinforce your brand identity in the minds of customers.
Customized layout with branded elements: Update your logo, brand language and add marketing campaign banners on your custom order-tracking page to create brand-consistent order tracking experiences.
Get customer feedback (delivery satisfaction ratings) with every delivery: Know what your customers think of their delivery experience. Leverage it to make better shipping choices to consistently improve your brand's post-purchase experience and earn fierce customer loyalty in return.
2. Embed a universal order-tracking widget on your website.
Enable customers to track parcels from over 400 shipping carriers. You can embed the widget onto your page simply by adding a small snippet of JavaScript code that is required to customize the widget based on your preference.
3. Embed smart 'track order' buttons on your emails.
Make order tracking easy for your customers by simply embedding a 'track order' button into your order confirmation and other customer-facing emails.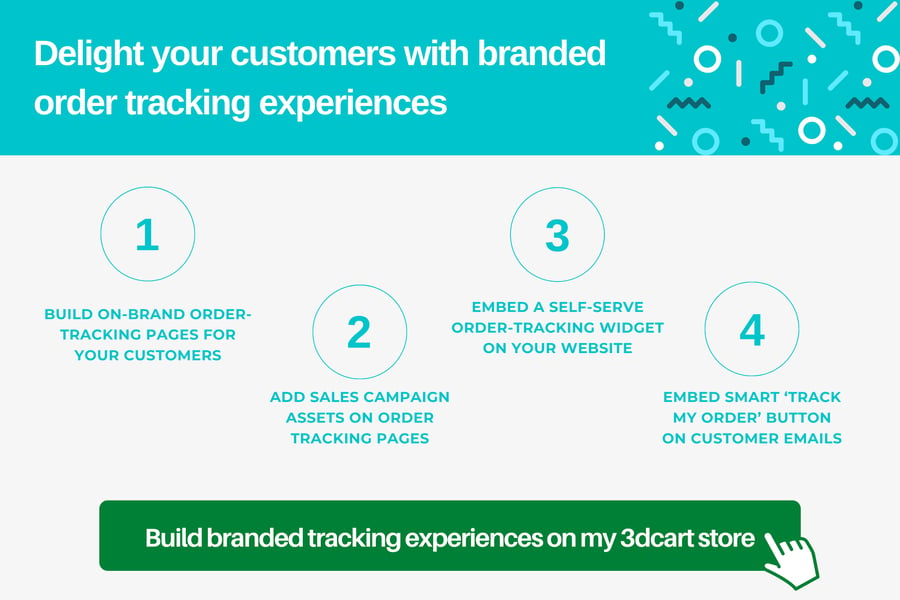 The above benefits aren't the only ones that you'll see after integrating with LateShipment.com. This integration offers you more than just the ability to offer an on-brand tracking experience. Here are other benefits of integrating with LateShipment.com.
Real-Time Tracking & Predictive Alerts: Stay in the know about where your shipments are. Gain visibility and insight into your post-purchase phase with detailed information. Real-time data and predictive analytics are laid out intuitively to give you a 360-degree view or allow you to dig deeper where needed.
Automated Notifications: Notify customers of important order updates automatically. Options to create and manage your email templates help you get creative while staying consistent with your brand language.
Purpose-Built Support Team Dashboard: Keep support reps on top of delivery-related customer issues by triggering automated support tickets for parcels that need immediate attention. The dashboard is designed to help Customer Support executives easily spot shipments that may require attention and initiate contextual email communication with customers.
Shipping & Delivery Reports: Gain critical insights into your shipping operations. These reports enable you to identify gaps and opportunities, helping you optimize your parcel spend and drive informed shipping choices.
Automated Shipment Audit & Refund-Claim Submission: Automatically audit your shipping invoices to identify more than 50 service failures by shipping carriers. LateShipment.com also submits claims on your behalf and saves up to 20% savings on shipping costs. Click here to learn about LateShipment.com's Automated Shipping Refunds solution.
Final Word
At the end of the day, providing a memorable post-purchase delivery experience can markedly boost customer perception of your brand.
While many businesses push the envelope on things like design and marketing, they neglect the post-purchase experience.
By providing a stellar experience to your customers that extends beyond checkout, you can enjoy the benefits of increased brand recognition and retention.
Shift4Shop's integration with LateShipment.com is a simple system that allows eCommerce businesses like yours to do just that.