In the perfect world of online ordering from the comfort of your home, one of the biggest concerns customers have is when they'll get their order, and, with most stores, determining that delivery date can be a confusing mess at best. In order to remain competitive, online stores are offering more variety and speed with their shipping methods, but are leaving out one key factor: Estimated Delivery Dates. According to a checkout usability study done by Baymard Institute, users greatly prefer Delivery Date estimates over the standard Shipping Speed guidelines typically offered by online stores. During this study, it was determined that customers struggle with comparing various shipping method speeds due to several factors, like processing time, holidays, and differing delivery days, causing customers to miscalculate their delivery date.
Sure, this all sounds simple and straightforward when you think about it, but, believe it or not, almost HALF of all major eCommerce websites fail to take advantage of Delivery Dates at checkout.
So, what's the solution here? It may sound easy: Display Delivery Date estimates at checkout instead of the shipping speed, such as "delivery by May 5th." But, the problem lies in those dates being dynamic. Factors like availability (stock status), holidays, available delivery days, distance from shipping origin, and processing time cutoffs all contribute to the complexity of calculating delivery dates! This is why it's difficult for customers to determine the dates themselves.
Due to all of these factors, implementing delivery dates is not an easy task! If you're not using delivery dates on your checkout it may be that you intentionally designed your checkout process to use shipping speeds. This is often because it makes sense as the business owner and you didn't consider the costs of not displaying a delivery date to your customers, or you may not know how to accurately display delivery dates. Implementing delivery dates isn't the easiest change you can make to your store, but it is a change that would make a huge impact on the experience of your customers. This article will cover some key topics regarding shipping speed and the benefits that displaying a delivery date will provide. Our key points are the following:

The downsides of "shipping speed," why it's bad for your customers, and how using delivery dates instead will alleviate those issues.
The ways that "delivery dates" affect your customer's perception and how to display your ecommerce shipping options to benefit your store and your customers.
The Downsides of Shipping Speed Vs Actual Delivery Dates
Throughout the development of our Advanced Shipping Manager app, we determined a major problem that customers had with shipping speeds: there are just too many factors to take into account when trying to determine when they would receive their order! Factors such as the current day of the week, the business's time zone, product availability, processing time, days that the courier doesn't deliver on, and the uncertainty of which shipping zone they're located in all contribute to the complexity of determining when their order will arrive.
Giving your customers no choice but to calculate all of the above factors for all of the possible shipping methods clearly leads to a confusing and unpleasant user experience. In most cases, customers will just look for a different store that does the math for them, so they can determine when they can hold their products.

Customers that shop on sites that display the delivery date for each of their shipping methods don't have to worry about all of the factors above. The only critical thinking that's required is whether or not they want to pay extra to receive their order on May 5th or if they're okay with receiving their order by May 10th. As you can imagine, this is a much easier decision to make, resulting in happier customers and a higher conversion rate!
You might be thinking, what's the big deal? Why can't customers calculate the delivery date with a degree of accuracy, and is it really a big deal if they estimate a day that is off by a day or two? It actually could be a big deal! For some shipping methods and couriers, there can be up to a three-day difference between a two-day and three-day shipping speed due to what day of the week the order is being placed. Could you imagine spending extra for a three-day shipping option and receiving the order in five days due to a miscalculation of the delivery days? That customer would NOT be a happy camper!
Another issue with using shipping speeds is misleading names like "Next Day." Due to factors like processing cut-off times, a customer may purchase an item for next day delivery after the cut-off time, resulting in receiving the order two days later. This confusion could either result in losing a customer or refunding a customer's order/shipping charges in order to avoid losing them.
If providing an easy, stress-free checkout process is your goal, forcing your customers to perform all of these mental calculations is counter-productive. The complexity and burden of these calculations should not be given to your customers to figure out! If you leave it to your them, you will suffer from misunderstandings, dissatisfied customers, and a lower conversion rate.

Another significant advantage of presenting delivery dates at checkout is the actual transit times it takes to deliver between zones. While a customer chooses an economy shipping method, reality may dictate that they're only a day or two away from the origin of the shipment. This will result in the customer receiving his order within only one or two days. Now, imagine being able to show this information at checkout. You will secure yourself a sale from a customer who paid for an economy shipment and will get his order delivered as if he paid for a two-day expedited shipment.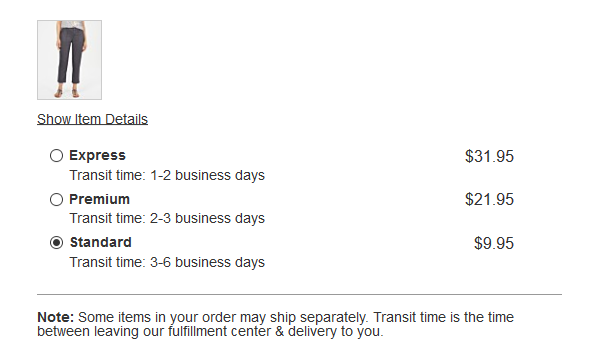 The biggest downfall of using shipping speeds over delivery dates is the difficulty in comparing available shipping options. Can you imagine performing all of the above calculations for five different shipping methods, taking into account the varying delivery days, cut off times, and ranges of dates for each shipping method? And then, having your customers calculating those dates, memorizing them while trying to calculate the dates for the remaining methods, and then trying to compare the delivery dates to the prices? Most customers will not go through the trouble of doing all of that in their head, and the ones that do may not even calculate the dates correctly!
Do you think it's best to make your customer have to take notes on shipping speeds, navigate to your shipping FAQ page to get your cut-off time, locate your store's zip code to determine the time zone, and then taking notes on the date that they would receive their order for your various shipping methods? That is not a user-friendly checkout, and if you have customers doing that, then you're essentially failing at providing an easy, satisfying checkout experience!
The Differences in Perception Between Delivery Date and Shipping Speed
So, by now, I'm sure you understand why providing delivery dates at checkout is a better idea than displaying shipping speeds! Now, we will go into some of the perceptions that can come from displaying a delivery date and go over some of the things to keep in mind when deciding to switch over to a delivery-date-centered checkout experience.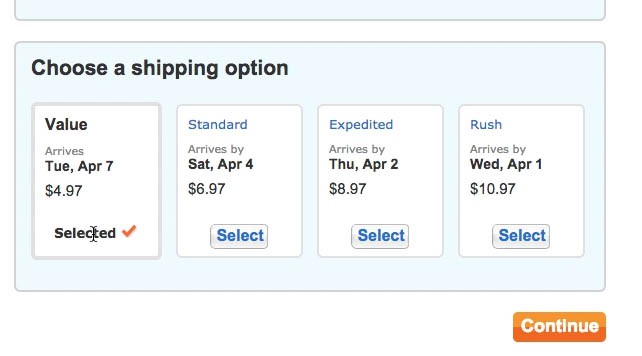 When it comes to delivery dates, the user's perception of what it means is very important. In the Baymard Institute study, when users saw the text "Arrive by May 5th," they took that as a promise that the order would be delivered by that date. On the other hand, when shipping speeds were displayed (e.g. Arrive within 3-5 business days) the customers did not have that same sense of promise (probably because they are difficult to calculate and are inherently ambiguous).

Due to this perception, it's very important that, when you do display the delivery dates, you display them as accurately as possible! If you estimate the processing time and delivery time too high to leave room for error, your customers may abandon their order because the delivery dates are too far in the future. If you estimate them too quickly, you will have unhappy customers calling you up frequently due to their orders arriving late. While you may get more sales this way, it will hurt your business and discourage repeat business in the long run.

The best way to mitigate these risks is by dynamically calculating your delivery dates. It is important to make sure that you account for factors such as extra processing time for oversized items, holidays, the customer's destination, the item's origin, any delays in delivery due to inclement weather, and any special circumstances like custom made orders or dropshipping items.
One last thing to consider when switching to delivery dates is that some shipping method names may become redundant. With the inclusion of delivery dates, using shipping method names like "2-day delivery" and "Next Day Delivery" can become confusing and contradictory. The most important thing to include in the naming of the shipping methods here is if they are expedited and the costs associated with them. This gives the customer a much better understanding of what it is that they're paying for and when they should realistically expect their package. Displaying the delivery date here will properly set the customer's expectations and allow them to make an informed decision as to which shipping method is best for them. Putting this power in your customer's hands will make a huge difference in their sense of control and will ensure that they're happy with the date that they receive their order.


Checkout Information Shouldn't Neglect the Customer's Needs in Order to Make It Easier for the Business
Delivery dates are not being used on more than half of the major eCommerce stores. This oversight is hurting their bottom line, and it may be affecting yours as well! Through studies on user behavior, we have found that customers don't care about shipping speed as much due to its ambiguous nature, and it creates customers needlessly calculating tons of factors to only possibly calculate a correct date. This results in fewer expedited shipping upsells, dissatisfied customers, and even losing out on a potential lifetime customer!

When analyzing your checkout process, you should keep in mind that all of the information there is for your customers! In regards to shipping, customers want to know only a few things: when they'll get their order and how much it'll cost them to receive it when they need it. At the end of the day, a good checkout process keeps these factors in mind and gives the customer what they want! If something is a hurdle for your customers and causes them undue stress or forces them to perform tedious mental calculations, your conversion rates will suffer! When you're looking for ways to provide a better experience for your customers and increase your conversion rates, we hope you will keep all of this in mind and give the customers what they want!