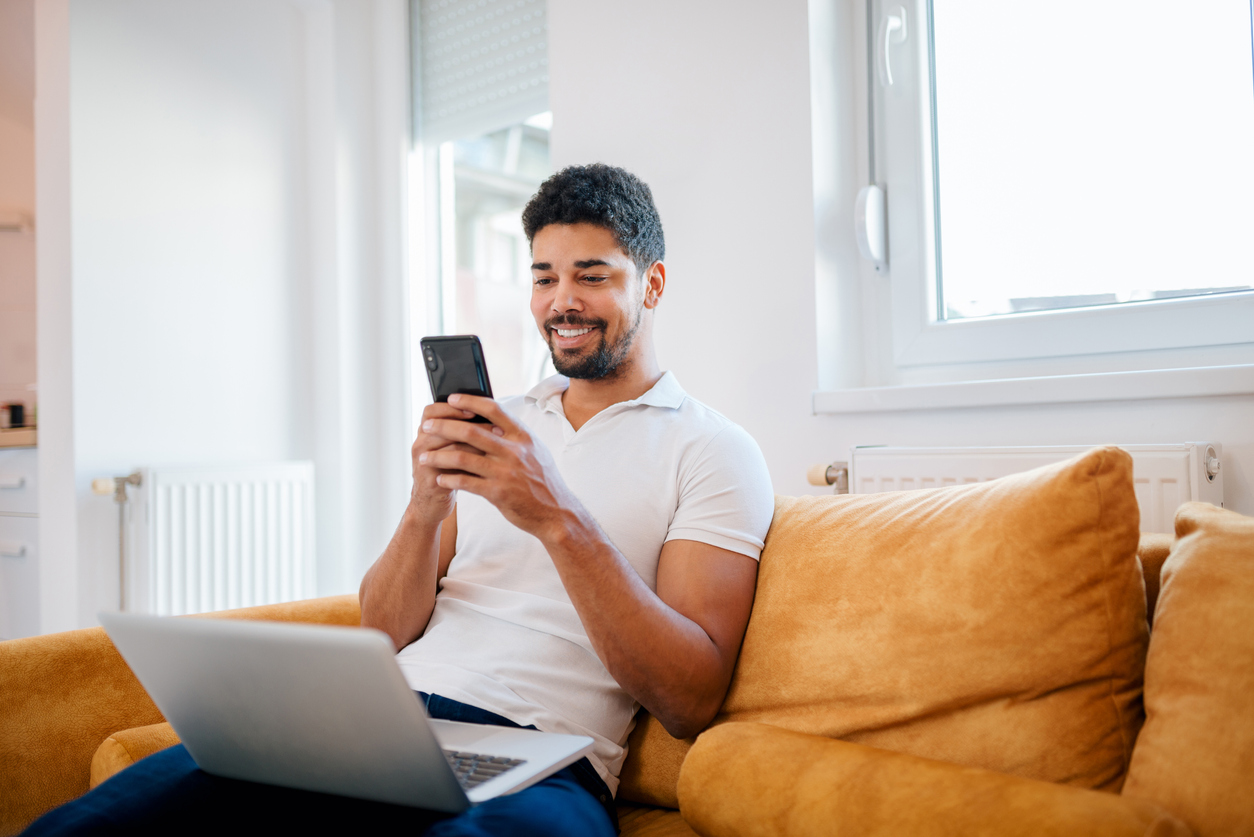 You want to grow your ecommerce business, and that means you need to increase revenue without drastically increasing your overhead or workload. How can you do that?
I'm going to show you five ways to create extremely loyal customers, increase revenue, and grow your ecommerce business - all through text messaging.
Why should ecommerce companies text?
Let's look at a few stats:
89% of people want to text businesses for sales and service.
Text messaging is the highest rated channel for customer communications.
Adding text messaging to the sales cycle consistently increases sales by 100% or more.
SMS campaigns commonly earn 35% to 45% conversion rates, and as high as 85%.
95% of all texts are read within three minutes of being sent.
(Find sources for all these stats here.)
In a nutshell, this all means people want to text with your store, and you'll earn more sales once you start texting. How? Let me show you.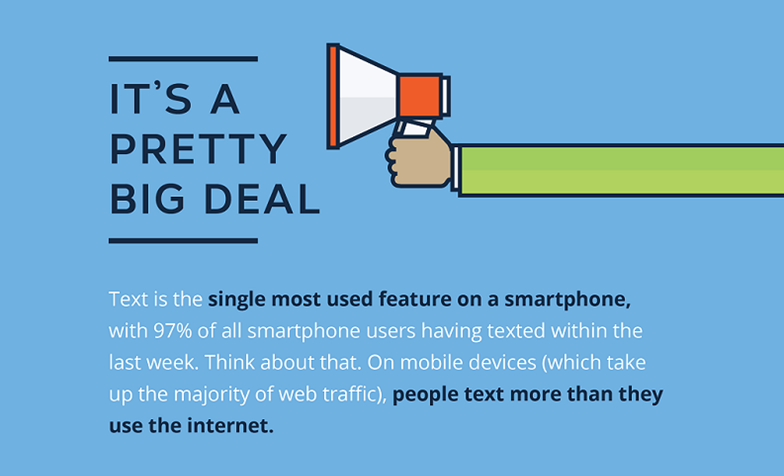 1. Provide the customer service your customers want.
Your customers are always going to have questions. You know that, but did you know 70% of all online traffic comes from mobile devices?
Nine in 10 of those customers would rather text you than call, too. That's why we created a button called Click-to-Text to let them text your business directly from your website.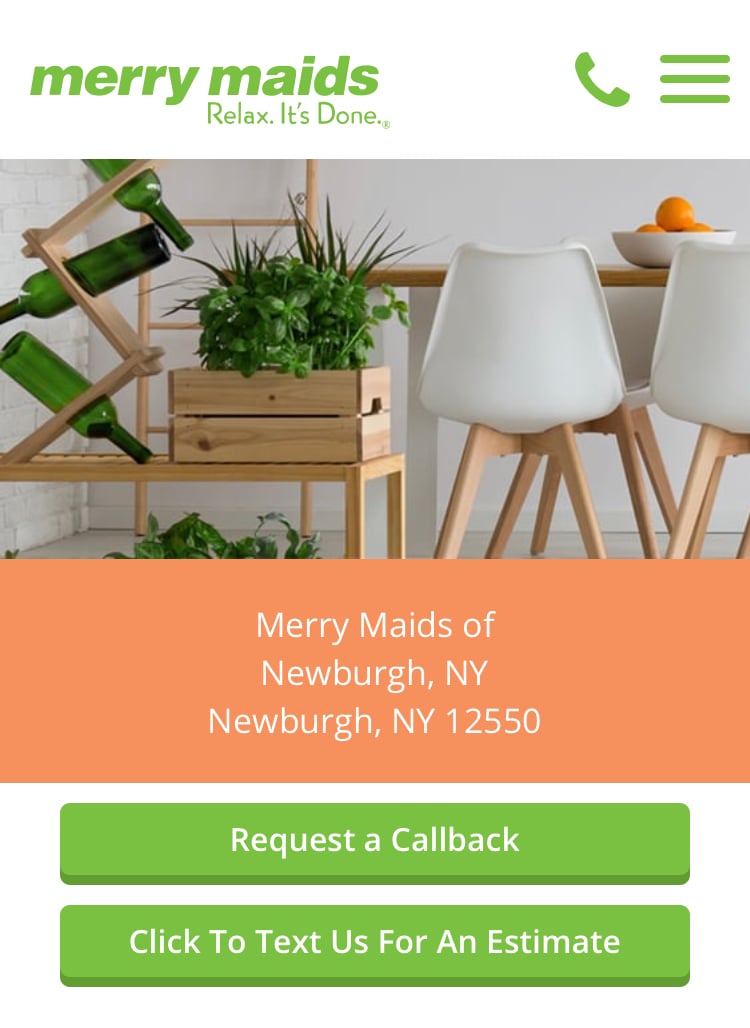 Customers love this because they can text their question and move on with their day. They can continue the conversation later, and don't have to wait on hold or stay on your website. Plus, you and your employees don't have to drop everything to respond instantly. (The quicker you respond, the better; but it gives you flexibility.)
This creates a great experience for everyone, and a solid base to build your reviews, upsells, referrals, and more.
2. Generate leads and sales inquiries.
A lot of people want to buy from you, but they don't know if they're getting the right product for their needs, or if you can deliver exactly what they're looking for. They need to talk to someone on your team before they feel comfortable purchasing.
That's where SMS Chat comes in.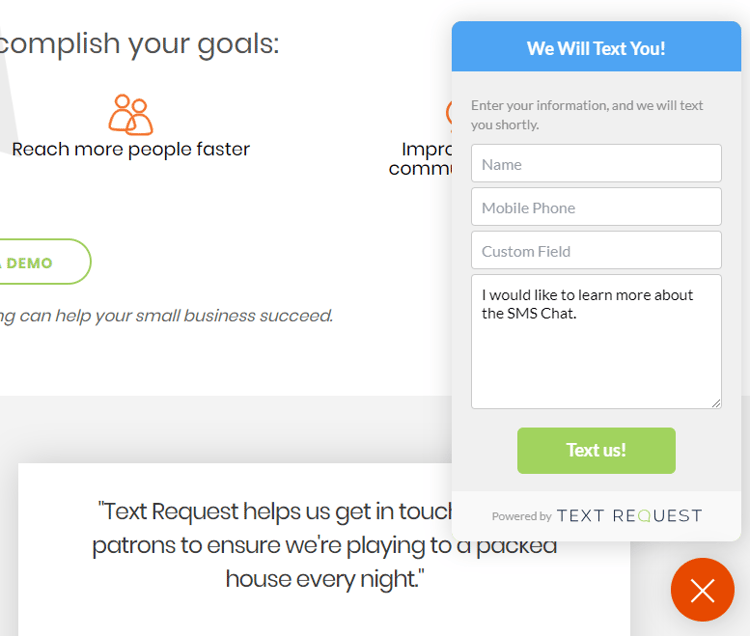 SMS Chat is a live chat widget that floats in the bottom corner of your site. All messages come into your business as texts (which you can manage in an online dashboard or mobile app), and your replies are sent as texts to that person's cell phone.
Customers love this because both desktop and mobile users can chat in, and because they don't have to stay on your site to wait for a reply. You'll love this because you won't have to worry about customers going to a competitor because you weren't fast enough. (Up to 50% of all sales go to the first vendor to respond.)
It also helps you start conversations earlier in the buying process, which is especially important for bigger ticket items. Tiffani Decker, marketing manager for Airstream of Utah, says:
"Customers often text in questions after hours that we're able to quickly answer. It helps us start sales conversations much earlier in the buying process."
That's incredibly valuable. Plus, SMS Chat captures your customers' cell phone numbers, which gives you the quickest way to connect with them later.
3. Send promotions that earn high returns.
According to case studies, text message subscribers can be anywhere from 18 to 84 times more valuable than email subscribers! Email's a bit played out, and most customers would rather get a text from you - particularly if you have something great to offer.
So whenever you run a sale or get new products, text your customers a quick message like:
"We've got all new clothes, just in time for fall! Take an extra 20% off with code FALL20. Check out the new line at www.ourstore.com"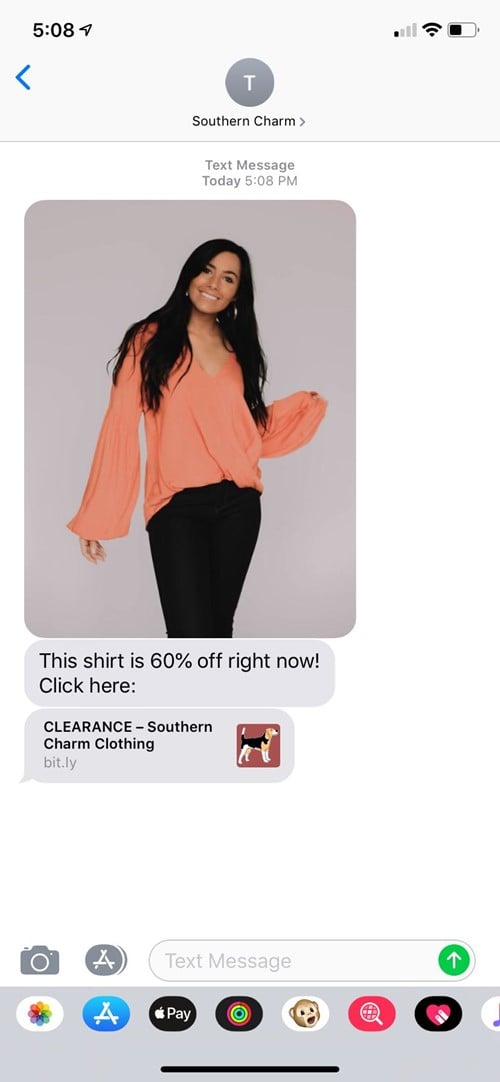 Doing this will drive clicks and sales, and you'll wonder why you ever didn't text your customers.
You can also divvy your customers up into groups, and send targeted promotions to only those relevant contacts. Let's say you sell music equipment, and you want to use a keyword to share coupons. You might drive subscribers by placing a banner for it on your site, such as:
"Text GUITAR to (423) 218-0111 for 20% off all new guitars and equipment!"
People who text can be automatically sent a coupon code and instructions on using it, and they can be automatically included in a GUITAR group that you can send targeted promotions to later. This works with any products you might sell.
4. Get more online reviews fast.
Do others like this product? How is this company to work with? Your customers have to answer these questions before they'll buy from you, and most - about 90% - turn to online reviews to do that.
What's just as important is that word of mouth referrals, like online reviews, bring in twice the number of sales as paid advertising! So how do you get more online reviews?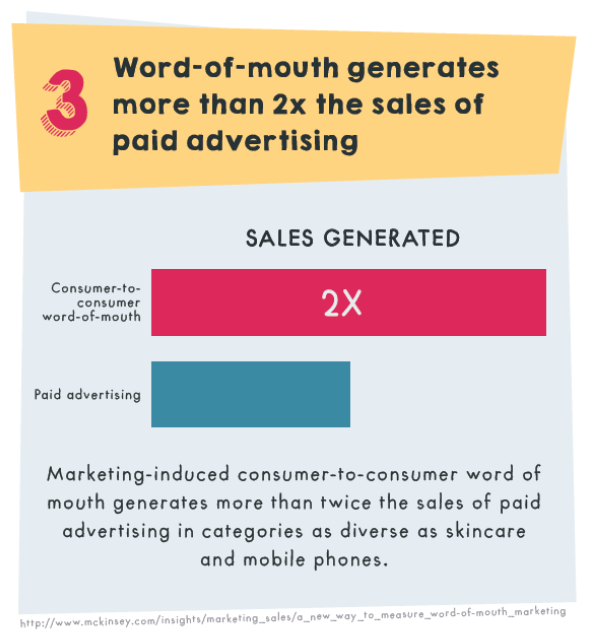 PC: Referral Candy
Send your customers a text with a link to your review page, and ask them to review the product they just bought. There are a few ways you can do this.
(A) Every time a new purchase occurs, you can trigger a text to that person asking for a review. You'll have their attention, but you still want to give them time to get and use the product before asking them to rate it. If you trigger a text, you might want to wait until you get a delivery confirmation.
(B) You can schedule a text to send to every customer at some point after purchase (like a week later, the next day, etc.) This is effective, but can be time consuming if you have a lot of customers.
(C) You can pull a report (or download a CSV) of your purchases for a particular day or week, and use that to craft a message to all those customers asking them to review the specific products they purchased.
Your template message might look like:
"Hi [First Name], thanks for ordering our [product name]! How do you like it? You can leave your thoughts here [review link] - YourFavStore"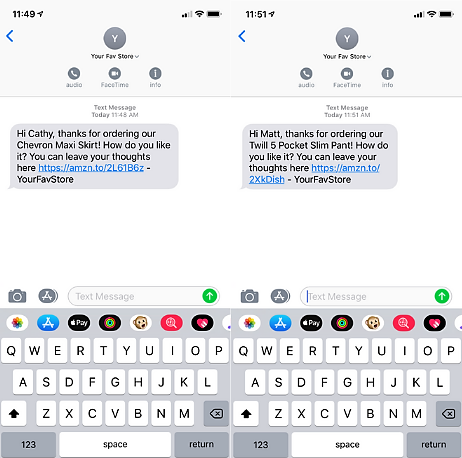 Then, take the purchase report you downloaded, and upload it to a group merge message. This lets you send one text to dozens or thousands of people at a time, but they will each receive a personalized text. For example, you send the template above, and the individual will see:
"Hi Cathy, thanks for ordering our Chevron Maxi Skirt! How do you like it? You can leave your thoughts here bitly.com/product - YourFavStore"
5. Be your customers' favorite expert.
You don't have to be a brick and mortar store to offer personalized stylings, tips, and concierge services. Whether you sell clothing, decor, gear, or anything else, people are going to want help making the right decision. That's where texting helps you grow your business.
Let's say someone's trying to find a pair of shoes to match a dress they just got. They can text you a picture of the dress (maybe through Click-to-Text), and ask for your two cents.
You can reply quickly - "I've got just the thing! One moment." - then go grab a product link to share. I've seen stores use the same concept for ordering parts to musical instruments, food, and even bigger items like powersport vehicles.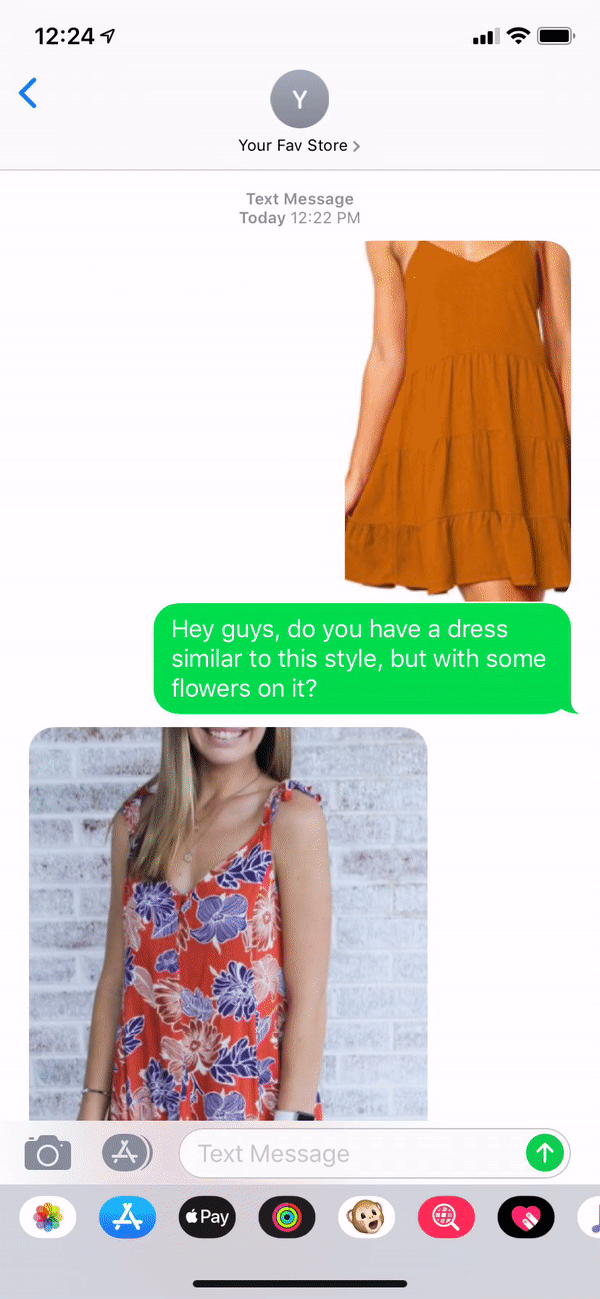 Two-way text and picture messaging can easily become your unfair advantage, and your customers will love this level of service. Once they've started these conversations with you, you can also reach out to them later when you get new products or think of things that would complement their past purchases.
Bonus: Text from your current landline, VOIP, or toll-free number.
Your customers want to text you, and it will be better for them (and your marketing) if they can text or call the same number. You can add all the texting options mentioned here (and more) to your current business phone number.
This will also make it more likely for customers to save your number in their phones, which will increase engagement over time. Click here to see if your business phone number is eligible for text messaging.
How can your ecommerce business start texting?
Everything that's mentioned in this article can be done through an online text messaging service. Whether you're a 3dcart customer or not, you can visit the app marketplace to get started with Text Request.
What's key, though, is that you have a game plan for using text messaging to communicate with your customers. If you want to text for promotions, customer service, reviews, or another use case, draw out how you will do that. Make sure your team members are all on the same page, and then start texting!
The Text Request team is happy to help you iron out your text messaging strategy and roll it out to customers, if you'd like the help.