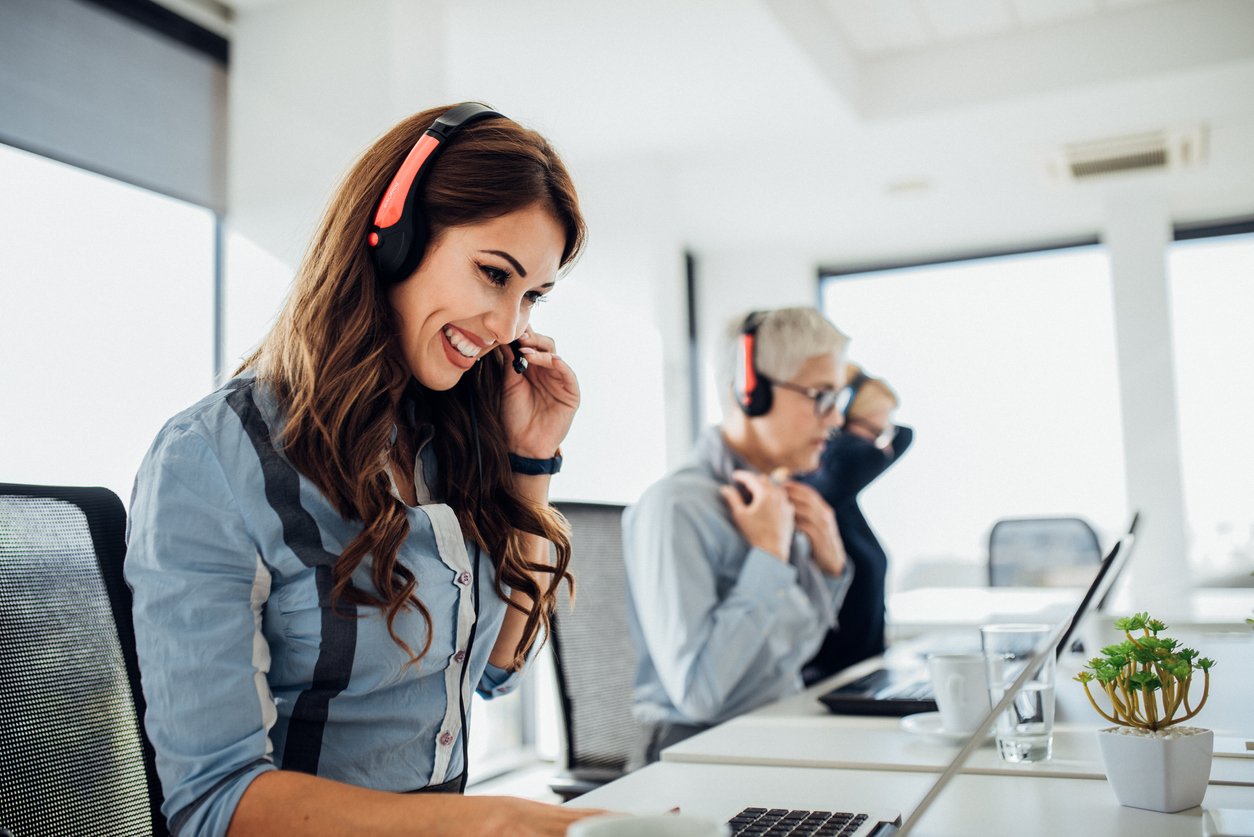 The most successful online businesses look and function great, but sometimes customers need more effective eCommerce customer support.
Whether you're selling purses or sinks, customer support plays a major role in your purchases and overall customer satisfaction. In a competitive industry like online shopping, what will set you apart from the competition is exquisite customer service.
To back this up, did you know that 55% of customers are willing to spend more money with a company that guarantees them a satisfying experience?
Before, businesses used to offer costly customer support either through face-to-face interactions or with call center management software to handle customer queries.
Nowadays, technology has allowed eCommerce shops to have a different approach to helping customers.
The solution is to build more customer-centric journeys and offer customer support through technologies such as conversational messaging and personalization techniques.
70% of customers report that technology makes it simple to take their business to a competitor, if need be, according to Salesforce.
So, let's look at the things you can do to ensure more effective customer support in your eCommerce shop.
1. Leverage Live Chat
Sometimes customers want to get their customer support via live chat. Not only is this a fast option to resolve any customer inquiries, but it's also more resourceful. Your agents can focus on solving more complex and demanding issues, while customers get immediate attention to frequently asked questions.
Chats also tend to have the highest customer satisfaction level for any customer service channel, with 73%, compared with 61% for email and 44% for phone.
People appreciate live chat because their questions get answered fast, making live chat a great communication channel. BoldChat's report found that 31% of online shoppers from the US and UK are more likely to purchase after a live chat conversation.
Cost-saving is another great advantage of implementing a live chat tool in your store. They are cheap to implement, and it provides more benefits than traditional channels. Responding to queries all at once ultimately saves money for your business.
The Live chat software that you use will depend on the platform that your website is built on. For example, if your website is built on WordPress, you can try using a WordPress chat plugin. Feel free to experiment with Live chat software until you find one that fits your requirements.
2. Ask Customers For Feedback
Customer feedback is a great source of developing a successful eCommerce business. Knowing your customers' pains, wants, and needs make it more realistic to invest in the right technology and strategies.
It might be that in various customer journeys your users are experiencing the same problem. Knowing this can massively improve your website's efficiency and online shopping experience.
Asking your customer for feedback is a great advantage because it shows professionalism and customer-centricity.
A way to collect feedback is via mobile surveys. These can be sent via rich messaging and the personalization can go as far as mimicking your website. With it being a self-served option, customers can complete these at a time that suits them best.
If you don't want to use mobile survey's you can always build a survey form, whatever gets you the data you need.
3. Personalize Conversations
By focusing on personalization you will create impeccable customer experiences for each of your customers. A frictionless and unique shopping experience will guarantee a high return on investment.
Brands delivering an individualized customer journey using hyper-personalization techniques will reap more benefits in their customer life cycle. 80% of people classifying themselves as frequent shoppers admit that they only shop with brands that personalize their experience.
A few ways to personalize conversations are to ask about customer preferences, have authentic conversations, and create personalized content that is relevant and engaging.
Knowing what type of communication your customer prefers is critical. Does your customer prefer short or long communication? Are they more likely to engage with an email than a phone call? Do they prefer instant communication like a text message or a personalized landing page with more information?
Answer these questions and personalize conversations with your customers. With a bit of effort, you will be able to create brand interactions that match your customers' preferences and personalities.
4. Invest in an Omnichannel Strategy
If your customers are avid online shoppers, then they most likely have several social media applications installed and they probably use more than one channel for communication.
So our advice is to be on all the channels your customers are. Take the omnichannel route and unify all your communication channels to deliver the perfect customer experience.
When designing customer touchpoints, consider all the possibilities of where your customers might be in their lifecycle. Personalize their journeys across all channels since 73% of customers use multiple channels during their shopping journey.
Omnichannel customer service aims to provide a seamless customer experience across multiple channels by integrating them into one system, according to Salesforce.
This integration gives agents a 360-degree view of all customer interactions so they can respond as efficiently as possible. Providing context to contact center agents is key to understanding customer issues and offering resolutions.
Invest in the right tools and communication platform to create a well-established communication strategy.
5. Identify & Fix Online Store Issues
Be proactive by identifying areas on your eCommerce sites that need improvements and fixing them before your customers seek support.
This will not only reduce customer complaints, but it will also increase operational efficiency as you are continuing to develop your online shop.
A few tools that can help you identify areas that you can improve are heat maps, surveys, polls on social media, or analyzing cart abandonment.
Look at the existing customer journey and see if you can find any hiccups. Data and analytics will be your friends here as you can determine where customer journeys end suddenly or lack attention.
6. Improve Response Time
What is your average first response time (FRT) when your customers reach out for support? These will be the metrics to understanding how you are performing now.
If you resolve customer queries instantly, then excellent. But if you need a bit of help, keep reading. Improving FRT is critical for your eCommerce business. Customer's goldfish-sized attention span is the marketing's newest challenge.
To compete against other eCommerce shops might be impossible, but if your attention goes to improving response time, you already won the business.
In a 2020 Simplr survey of CX leaders, when asked which metric is most actively measured, monitored, and reported on this is what they got:
74% measure CSAT and NPS consistently
38% measure resolution time consistently
The report also found that the biggest differentiator of a good CX is a fast response time. Consistency across channels (see omnichannel point mentioned above if you missed it) comes second, and knowledgeable staff comes third which leads us to the next tip.
7. Train Your Customer Support Agents
It's so obvious to state this but, unfortunately, it's necessary.
Strategies like implementing live chat, channel diversifications, and working on your key metrics are important. But what works wonders is your customer support team.
We've seen it countless times. People use a digital channel such as an automated message or chatbot, then they are required to speak to an agent. This switches one channel to another, and you should include this in your omnichannel strategy.
Your customer support team should respond with best-in-class speed and professionalism. Knowledge and empathy will strengthen customer service skills and provide you with great reviews.
It might take a while to train your team until they get to the point where they're nailing the customer support but, until then, it can help to keep an eye on them. Using employee monitoring software, you can then analyze their interactions with customers and work on improving and educating.
A few things to keep in mind when training your agents are:
Be transparent with your waiting times.
Let your customers know if the call is being recorded.
Ensure that the communication is secure.
Limit the transfers to other departments.
Be polite and respectful.
Provide knowledge management tools.
8. Provide Self-Service Options
More than half of your customers want to solve their issues by themselves rather than contacting your customer support team. That's just what digitization has created in the past few years.
By taking issues into their own hands, customers are more likely to reach conflict resolution and get more satisfaction.
Being proactive and less reactive in providing customer support is key to eCommerce success. First, to reduce the support interactions, you need to build trust. Make sure you offer customer self-service options such as chatbots, conversational AI, and voice assistants on your e-store.
There are probably questions that you are asked by customers all the time. A FAQ page or video would answer customer questions easily. People love engaging with video instead of reading content, so make sure you choose a screen recorder tool and get started in your how-to videos. Position these videos in the places you feel that your customers are struggling.
9. Develop Customer Retention Strategies
With statistics showing that 82% of customers have refused to collaborate with brands because of bad customer service, it's time for eCommerce businesses to improve this.
Effective customer communication has proven to be a key aspect to increasing brand loyalty. You can encourage proactive communications by sending text messages when an order is delivered.
Another way is to personalize marketing campaigns and offers to individual customers based on their past shopping experiences.
Invite customers to contribute to polls on social media. This is known to increase the overall customer engagement with your brand.
Preventing cart abandonment is one of the biggest challenges for eCommerce stores. In fact, the average cart abandonment rates for checkout pages are as high as 87% during the week and as high as 90% on the weekends.
Knowing this is critical to developing marketing loyalty programs and customer retention strategies.
10. Measure Customer Satisfaction
Measuring customer satisfaction is important to see if you have satisfied your customers' expectations. It's probably one of the pillar metrics of customer service that you need to be aware of.
What do customers think of your business? What are their perceptions? Do they have an emotional positive attitude towards your brand? Do you know if you provided them with a great customer service experience?
Highly satisfied customers are more likely to shop from you if their expectations are exceeded. Here are some metrics that you need to measure in order to achieve a good customer satisfaction rate:
CSAT surveys are great to ask your customers about a service, product, or even a service or brand interaction. This type of survey consists of multiple questions that can either be open or close-ended.
NPS surveys are more accurate and realistic since the focus is on overall brand referability, and not just an individual customer. This gives an overview of how your customers feel about doing business with you.
CES surveys are known to be the future purchase behavior predictors. It stands for customer effort score and it refers to how likely your customers are to refer you to other people. A low score of CES is a strong indicator that you need a customer retention program. Having such actionable data allows eCommerce stores to change different areas from all sides of the business.
Deliver Best-In-Class eCommerce Customer Support
It's time to differentiate your eCommerce store from the competition with superior customer support.
In essence, the idea is clear. Wow your customers, meet their expectations, send them the right message at the right time.
In reality, it takes time and patience to implement all of these things. So start now and remember that these tips work as long as you already have the three pillars of customer support:
Customers can resolve their problems quickly.
Customer support is available 24/7.
The agent was friendly.