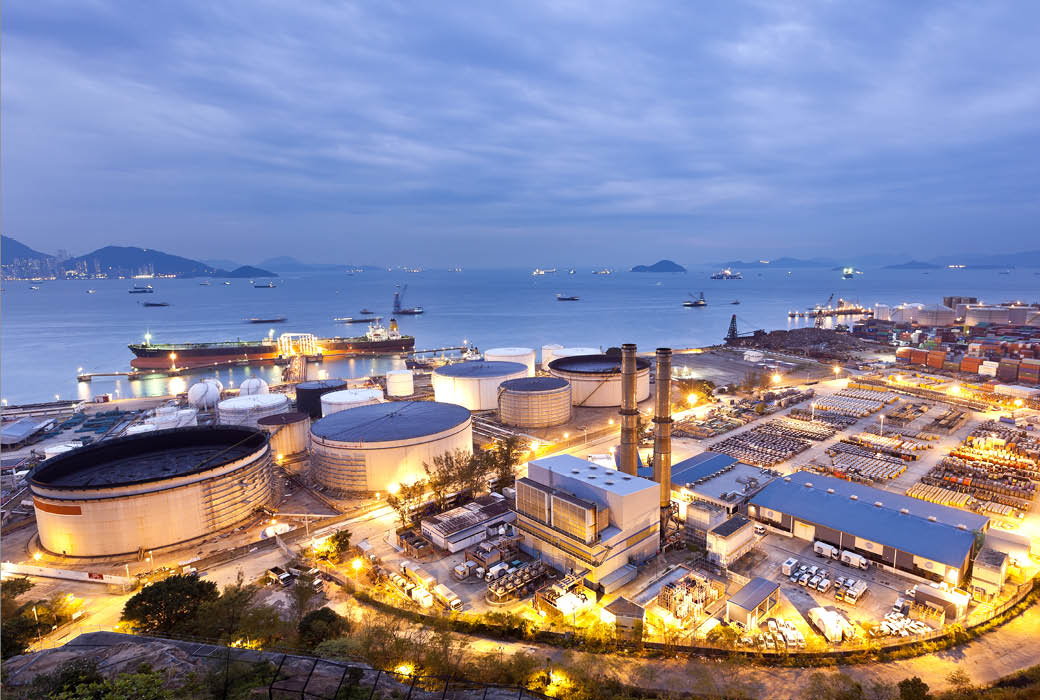 When you have crossed the bridge of validating your ideas, the next step is finding a supplier.
This may seem so easy - a simple Google search will show you a long list of people making what you want to sell.
However, it is more than finding anyone. Your supplier must fit your budget, product quality, and other needs that you may have. Even then, you don't want to work with a fraudster.
This is where Alibaba comes in. This article gives a step-by-step guide on how Alibaba works for product sourcing.
What Is Alibaba?
Alibaba.com is one of the biggest business to business marketplaces where you meet manufacturers and wholesalers. There are millions of products here.
This B2B platform works like a directory. You would see details about each supplier on the website including, certifications, third-party verifications, products, year established and more.
You can easily find wholesale, white label, and private label products on Alibaba. However, there are very few dropshipping suppliers here. For that, it's better to use these dropshipping apps to get and manage suppliers.
Understanding Alibaba
Whatever product you have in mind to sell, ensure that you have done adequate product research before using Alibaba to find suppliers. This means checking trends, competition, demand and other things that are important.
It is also important that you understand how Alibaba works. These are things you should pay attention to.
MOQ
MOQ means Minimum Order Quantity. Every product listed on the platform has a minimum amount that you can order. Some suppliers may offer one unit if you are not customizing the product. Many of them sell 50 and above. Some go up to 500 minimum pieces per order. If you are looking to start small, this will eliminate a good number of suppliers from your list.
Unit Price
Price here is negotiable. That's why you'll sometimes see $2.50 - $5.00 per piece. Your order quantity, additional requests, and negotiation skills will get you anything within that range. If the MOQ is $500 and your unit price ends at $3, you will pay $1,500 for the minimum order.
OEM
OEM is Original Equipment Manufacturing. If you are thinking of getting a product from scratch, look out for a supplier that has OEM in their description. These suppliers can use your specifications and detailed vision of your idea to get a product to you.
ODM
ODM is Original Design Manufacturing. Unlike the OEM factory, the ODM gives you product ideas. Tell them what you want your product to do, and they'll suggest products that can meet that concept.
Certifications
Certain certifications are nice to see on your supplier's profile. These provide a level of assurance. One of them is the gold supplier membership. Gold suppliers pass through a verification conducted by a third-party agency. This means that they are legal businesses in China or wherever they are from. That leads us to assessed suppliers. For these ones, a third-party has assessed their factory. Here, incoming and outgoing quality control, quality assurance, and process quality control might be checked.
Shipping
If you see FOB or CIF, the cost of shipping is taken care of to an extent. For FOB, your supplier pays the cost of moving your product from the factory to the nearest port. For CIF, the seller pays the costs, insurance, and freight to get the goods to the port of destination.
Product Sourcing On Alibaba Step-By-Step
Product sourcing on Alibaba is done by searching for your product based on products or suppliers.

Whether you choose products or suppliers depends on what you are looking for. Suppliers give you a list of suppliers that specialize in that type of product. Here, you'll find info on their transaction level, the main products they sell, response rate, and ratings.
Products give you related products in the category you have searched for. This is for you if you are still thinking of the design your product should have. You can see ideas that suppliers have made. That way you are sure that this factory can make exact specifications.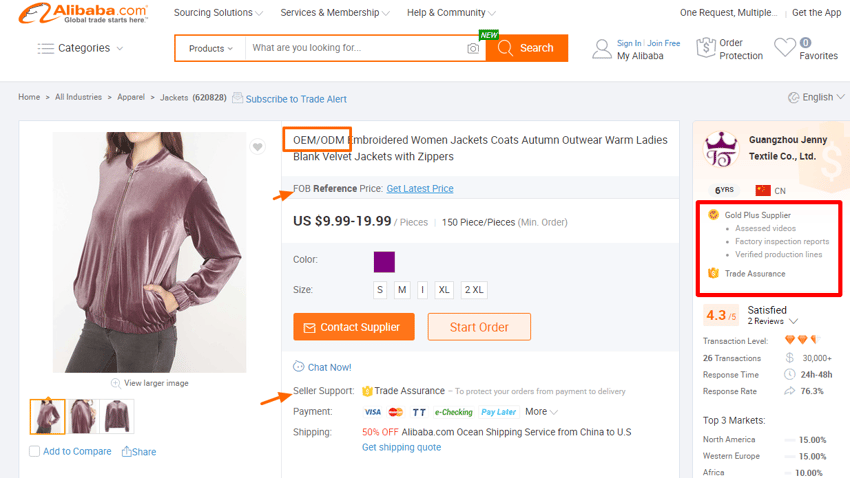 This supplier claims to offer FOB, OEM and ODM services, and support trade assurance. Trade assurance protects you when you don't receive quality products, or your product doesn't meet the agreed product specifications.
Also, check out the reviews. If they are on the good side, then you have more assurance. Then next thing to do is visit their supplier page to check their assessment and every other information.
Besides the product criteria above, also check out:
Their quality control process
Delivery times
Pictures of their factory
Information of their location and history
Presence of a warehouse in your country of residence
Some suppliers have warehouses outside their primary factory location. If they can ship from within your country of residence, you'd have reduced delivery time and shipping cost.
Contacting Suppliers On Alibaba
No matter how much you like what you see from any supplier, do not go into a negotiation or pay for products until you have asked questions, verified every info and gotten samples. Some suppliers place OEM on products but don't offer it. You also have to confirm the MOQ.
Send a message to the suppliers that meet your criteria. You can ask:
Is the listed MOQ of 150 pieces fixed? Can I order 50?
Are discounts given if I order a much higher quantity?
What are your payment terms?
What is the FOB quote of the 150 pieces shipped to (your location)?
Do you offer samples?
What is the price for a sample product and shipping it?
Some suppliers are open to shipping samples free. You can ask. In addition, negotiate the price per unit. Some suppliers are open to taking a bit off their pricing even if you are ordering the MOQ. This helps you plan the pricing for your store without having to let go of much of your profit margin.
Also, mention the modifications you would like to add to the product. In this case, the price may be increased due to the complexity of your modifications. Ask how long the production time will be.
Send your questions to at least five suppliers. I like to do ten. You can use a spreadsheet to keep track of their information. This gives you a lot to work with and narrow down.
Try to make your messages understandable and in simple English. Many suppliers on Alibaba don't have English as their first language.
Analyzing Replies And Moving Forward
Most suppliers respond within 24 - 48 hours. Read their reply thoroughly. Ensure all your questions were answered and they meet your basic requirements.
Also, there are middlemen on Alibaba masquerading as manufacturers. While they are not bad to deal with, they'll give you a price markup. Middlemen are listed as trading companies on Alibaba while manufacturers are called factories. But, some middlemen list themselves as factories.
As your discussion progresses, you can ask for:
A copy of their business/factory license
A phone number
Skype meeting
Ask every question about them and the product specifications until you are comfortable with them. It's hard enough dealing with someone you discuss with face-to-face, online dealings come with more risk. Don't think your fear is crazy; it isn't.
When you are satisfied, pay for the samples and have them shipped. There are different shipping methods available. You can negotiate with your supplier to determine which is comfortable for the both of you.
Analyzing Samples From Alibaba Suppliers
When analyzing samples from suppliers, you must check if it:
Looks like the pictures
Meets quality and durability standard
Meets your product specifications
Solves the problem it's supposed to solve
Use the product and show it to others too. A second and third eye is better than one.
Make Your Order
If you are satisfied with the samples you have received, you can move forward with making your first bulk order. It's best to start small.
Use a low-risk payment method like PayPal. You can also use a letter of credit or Alibaba secure payment system - Alipay. Avoid Western Union and MoneyGram, except when you have a longstanding relationship with the seller.
Your supplier can get you the cost of freight from Alibaba's Freight logistics page. An estimate of customs duties and taxes can also be obtained there. The cost will vary based on sending and receiving locations, and product information.
Even then, get a customs broker to be sure that you pay the proper taxes and duties. They also let you know if you hold the proper licensing and your products clear custom.
If you don't want to go through all this, choose a supplier with a warehouse in your location.
Making Disputes
If your goods never arrive or they do, but in poor quality, you should make a dispute.
This is why it is important to choose a supplier that uses trade assurance.
Create a dispute, send the pictures of what you received versus what you expected. Explain why and show your initial agreement and other documents. In a case where you don't receive at all, make that known too.
You should receive a refund between three to ten business days.
Conclusion
This is how Alibaba works for product sourcing. It may take a lot of time and a bit of money to get what you want, but it's rewarding. While at it, look out for potential scammers. If an offer seems too good to be true, it probably is. Don't be excited about promises that don't seem right; be wary of them.
---