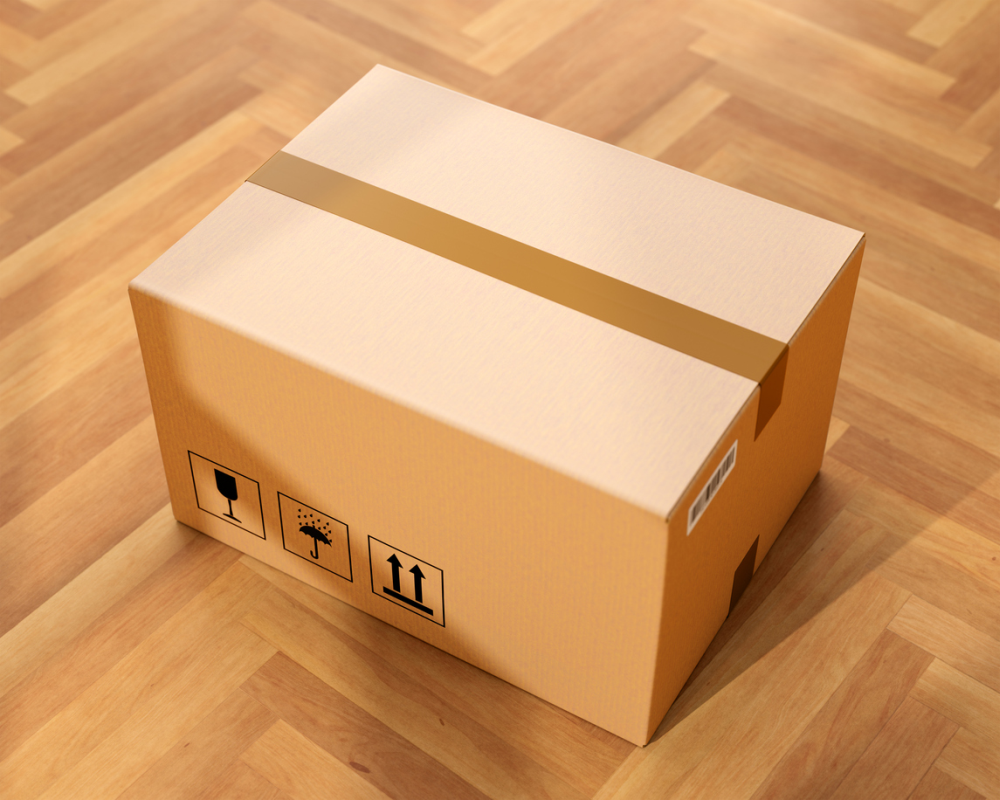 Having a solid returns process in place is critical to ecommerce success - and businesses that aren't prepared will be left behind.
Returns is one of the hottest ecommerce trends. Backed up by 89% of shoppers claiming to have returned a purchase in the last three years.
But the costs have also surged. With deliveries estimated to cost $550 billion by 2020 - 75% more than four years previous.
All leaving the average retailer needing to offer hassle free returns to stay competitive, but getting crippled by out of control costs. An unsustainable conundrum.
So this post goes into how to keep that balance. We cover:
Why returns are so important to ecommerce businesses.
Taking advantage of the 'try-before-you-buy' philosophy.
Building a solid returns policy.
Why returns are crucial
67% of shoppers review an online retailer's return policy before purchasing. So having a strong policy is fundamental to ensure you're not sending customers away.
This is especially true for industries like fashion, where online browsers are desperate to know what physical products look and feel like before committing to buy them.
But a strong policy (and ability to follow through on it) may create more sales in the future too. 95% of shoppers that claimed they had made a return in the past said that they would make another purchase so long as their returns experience was a positive one.
One of the main hesitancies business have for creating a flexible returns process is the costs of providing such freedom. Most businesses aim to minimize fulfillment costs, and processing costs for returns can grow to two or threefold that of the initial delivery.
But the overhead cost of providing a solid returns policy will be grossly outweighed by the cost of lost customers if you hesitate to put one in place.
The 'try-before-you-buy' philosophy
Try-before-you-buy takes returns to the extreme. And embracing it can be a huge moneymaker for certain retailers.
Put simply:
It's where you allow customers to choose items, have them delivered and try them out or on before making a purchasing decision. In other words, they get their hands on your products before being charged.
A huge opportunity for fashion and cosmetic brands, in particular.
Key benefits include:
A more friction-less buying experience.
Encourages people to order more by delaying the pain of paying.
Increased loyalty among current customers.
An advantage over your competitors.
ASOS trialed their "try and buy" experience in November 2017. They allowed people to order clothes and pay later, returning any unwanted items within 30 days.
It proved a massive hit with customers: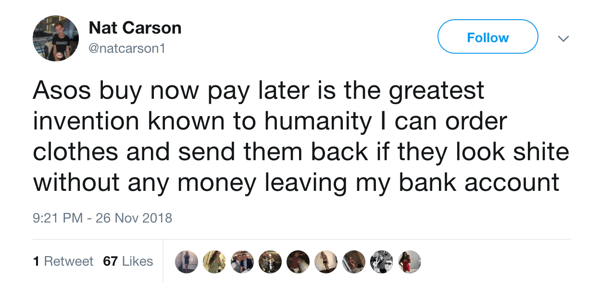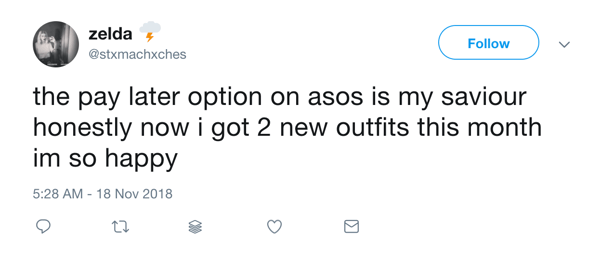 ASOS used Klarna to delay charging people, with payments only taken for items not returned in a suitable condition within the 30 day timeframe: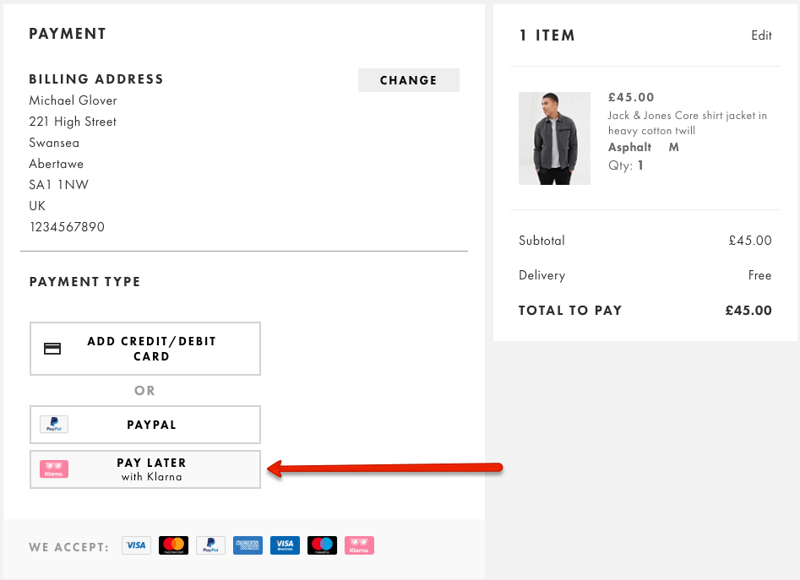 The result? UK sales reportedly climbed 23% to £300 million over four months.
Keys to try-before-you-buy success:
Encourage customers to bulk up their cart as much as possible to reduce the number of shipments back and forth.
Know your customers and whether try-before-you-buy will be broadly appealing in your market.
Make sure you to have solid management software and warehouse systems in place to handle the increased flow of products.
Explicitly explain how everything works in your returns policy.
Creating a solid returns policy
A ComScore survey found an unclear returns policy to be the second biggest reason for shopping cart abandonment. So it's vital that your policy is clear and straightforward.
IKEA is one of the best examples of stores that have flexible and long returns policies. You have 365 days to return an unwanted product, and the policy clearly states the basic requirements: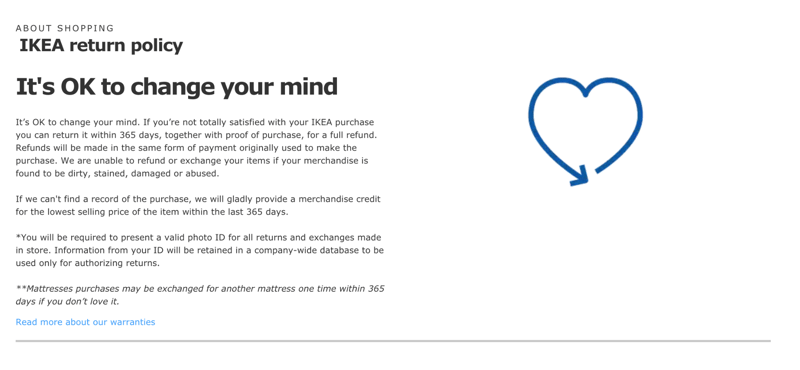 The company are empathetic towards customers - showing that they're aware not all products will be what their customers are looking for and that it's 'ok to change your mind'.
Zappos are another company known for a great returns policy. In fact, the company even encourage customers to return products: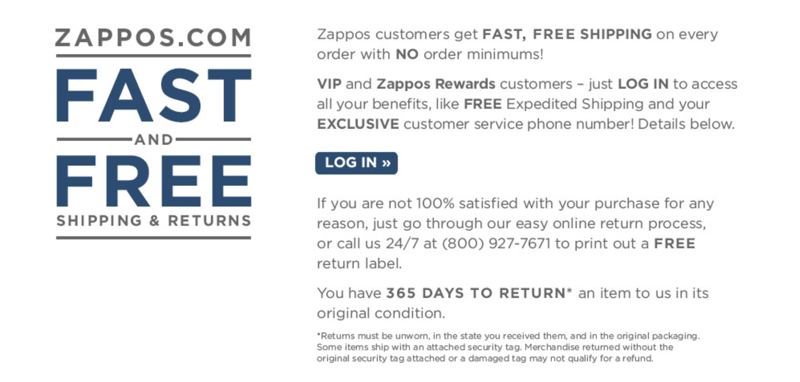 The strategy clearly pays off as 75% of Zappos' sales come from returning customers.
While there's no one-size-fits all approach to return policies, there are a few basic aspects that companies should aim to provide:
1) Make it clear and easy to read
Keeping your policy clear makes life easier with less confusion for customers. So your policy should be:
easy to find; and
easy to read.
This is a marketing tool that you want customers to find and engage with. Not a legal document full of small print and spiel.
Use simple language while avoiding negative words and noting harsh consequences. And make sure to cover the answers to basic questions customers will be asking:
How long have they got to initiate a return?
What exactly do they have to do?
Will they get a refund, opportunity to swap or store credit?
Who covers shipping?
How long do refunds take? And how will they receive it?
Are there any exceptions? (e.g. underwear is non-returnable)
It's important to note that if you operate a global ecommerce operation, you may require multiple return policies suited to best practices and your process for each region.
Determine what works best for the business when creating your returns policy. There's no one-size-fits-all, so don't feel pressured to only offer the option of a full refund.
2) Offer free returns
Although you may be looking to cut costs, it's worth paying a little extra to keep your customers satisfied. Especially with stats like:
So in the long run, saving a small fee on fulfillment costs will be less valuable than keeping a customer who's potentially worth hundreds or even thousands over their lifetime.
Charging for products that can not be sold or returned after return is fine. But any exceptions should be clearly noted.
3) Keep it simple
The act of initiating and making a return should be as simple as possible.
Think about things like:
Shipping in containers that can be easily packaged back up for return.
Giving detailed instructions on exactly what to do, including images and videos if necessary.
Including pre-printed return labels in shipments.
Allowing customers to generate and print their own return labels online.
Using couriers with plenty of convenient drop off locations.
Potentially offering courier collection for returns.
The key is to help the customer as much as possible. And to avoid having them feel like you're intentionally making it difficult in order to discourage returns.
Plus, easier for the customer means a quicker turnaround for you - and less time waiting on inventory to come back that could be sold on again.
Use returns as an opportunity
A return is by no means the end of a customer transaction. Smart retailers are using this as an opportunity to convert into further sales.
Think of it as a chance to open a communication channel with a customer. Email them asking for feedback, or even offer a discount to encourage a repurchase. You can also provide store credits so that they can shop with you again.
Returns are a great way to learn about the experience you're providing and collect insights for improvement. Crucial factors in generating more sales going forward.
Always ask your customers why they're making a return. Perhaps your sizing is off, there's a problem with delivery drivers creating damage or there are better styles you could be using.
Conclusion
Returns are vital to running a successful business. And the sooner you adopt a more return-friendly approach, the better.
One of the most important takeaways is to think of returns as another weapon in your marketing armory. Ultimately, it's about providing a quality customer experience - and not sacrificing that in an attempt to cut costs.