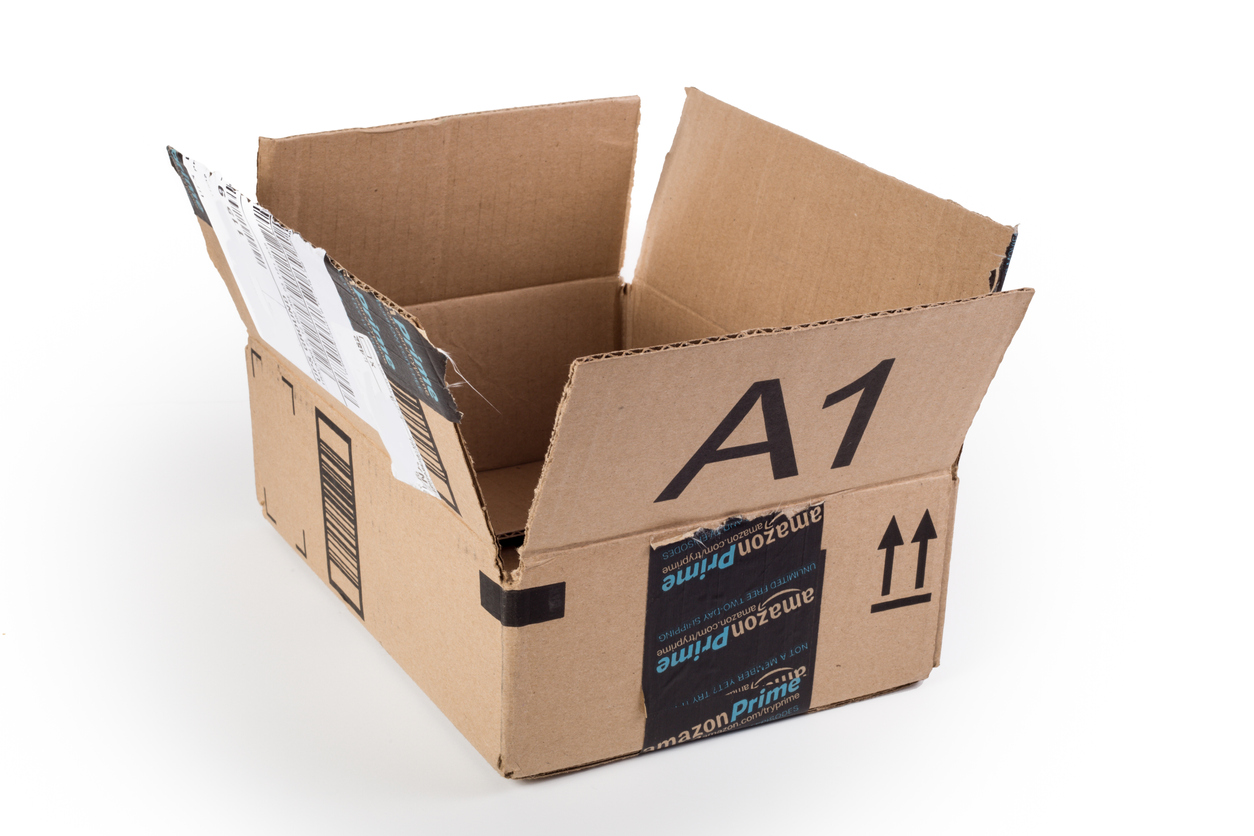 Scams on Amazon have been around since the dawn of time and a more ingenious loophole is discovered every day. As an Amazon seller, you have to protect your business from the different types of swindles that surge from day to day. Especially from buyer scams since they can take up a big chunk of your time, peace of mind, and money.
Counterfeit seller accounts are commonplace on Amazon and it seems they will continue to be every seller's nightmare for years to come. On top of this, Amazon sellers must be extremely vigilant of dishonest buyers who try to outsmart sellers, sheltering behind Amazon's customer-centric approach.
In this article, we'll show you how to identify these unethical practices so you can protect your business and prevent any unpleasant surprises.
6 Types of Buyer Scams on Amazon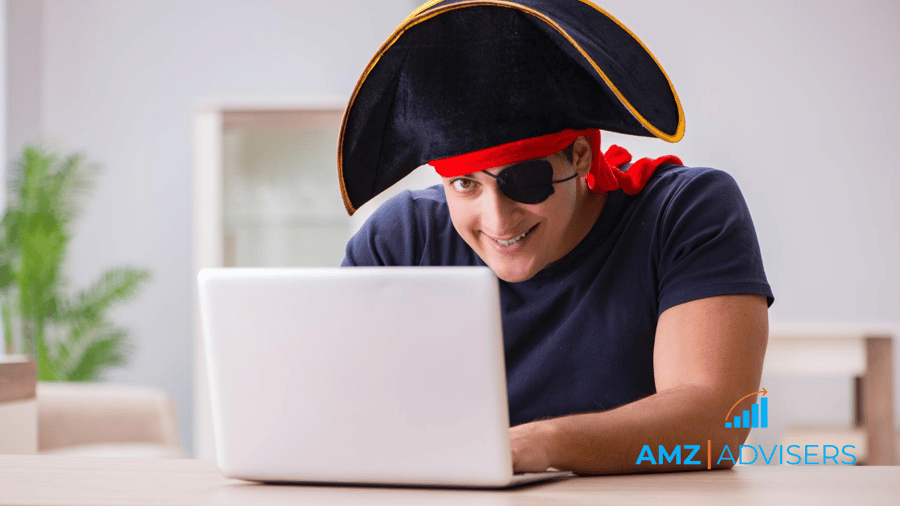 Scams affect businesses of all sizes, but smaller businesses selling on Amazon can lose from buyer scams and from paying someone to review sales transactions.
Amazon FBA sellers can't screen their own transactions, but they can choose to have Amazon send returned items to unfulfilled inventory. (We'll cover this in detail below.)
Remember, Amazon is a customer-centered business and their policies are designed in favor of the buyer at the sellers' expense most of the time. Here are some of the most common buyer scams out there:
#1 - Failed Delivery
This type of scam has been around since ecommerce was first created. This unethical practice takes place when a buyer claims that the item they purchased online didn't arrive. Which leads to them asking for a refund.
Luckily, this practice has gradually been in decline thanks to sellers using shipping methods that include tracking options. Tracking is important for sellers, especially for expensive items.
Verifying that the order was delivered and knowing the moment it arrives can protect you in disputes.
Note that many Amazon A-to-Z claims often settle in favor of the buyer.
#2 - Replace and Refund
In this case, buyers purchase a product and then replace it with a damaged one to ask for a refund. It happens the most in the gaming sector.
What sellers can do is attach tamper-proof stickers after performing a quality test on their product. That way, if a buyer tries to tamper with the sticker, it will break. Stickers also work as an indicator to check if the product was actually the one you sent.
Tip: Inform buyers on your listing that you carry out quality tests on your product with a sticker warranty.
#3 - Phishing
Phishing or spoofing happens when someone pretends to be a trusted company, like Amazon. The purpose is to take personal information and profit from it.
Phishing scams are fairly common on Amazon and, over time, they have become more and more sophisticated.
Usually, malicious links and attachments are sent via email or texts so you can fall for it and download a virus. This way, scammers will have access to passwords and private information from your device.
#4 - Email Scams
Email scams are strongly connected to phishing since it's the most common way to spread links. Amazon will never ask you to login via email. To keep your seller account safe, log in directly on Amazon only.
It is important that you ignore all emails sent from non-Amazon emails. The emails you get from buyers will appear in your Seller Central Account.
Never send an item to a buyer if the purchase does not appear on "Your Orders." If you receive this type of email, don't respond and delete it. Scammers will try to collect information from you.
Note that Amazon payments always have these domains:
//payments.amazon.com
//authorize.payments.amazon.com
//resolutioncenter.payments.amazon.com
#5 - Returns
A return scam occurs when a buyer returns an item that is different or damaged. They happen pretty often on Amazon, especially with expensive electronics.
It might be hard to believe, but buyers make use of the slickest moves to get away with their endeavor. The most common unethical return practices are:
Switching the new product with a damaged model, a previous model or a cheaper version of it. Note that, if you submit a dispute, buyers can say that the item they bought from you was fake or that the item was not as described. It all comes down to being able to prove it.
Sending an empty box or one filled with rocks or sand with similar weight to the product.
Waiting to return an item right before the return period to apply ends. This way they pressure the seller to process a quick refund.
FBA Return Fraud
When an item is returned to an FBA seller, the buyer will be instructed to send the product back to an Amazon fulfillment center. There, an Amazon employee will inspect the product and make a decision whether to return it to the warehouse to be resold or to classify it as "unsellable" and store it so the seller can create a removal or disposal order.
Amazon workers are under a lot of pressure and spend only a few minutes in the process. It is easy for the item to be misclassified.
If you come across a buyer that is familiar with Amazon's policies and who reseals the box carefully, you could end up with a used, damaged or even a completely missing item put back on sale.
Therefore, it is important that you keep track of all your return requests.
Here are some crucial tools for preventing FBA return fraud:
Monitor Your Account and Performance Metrics
For buyers that want to pull a return scam, it is unlikely that it reflects in your Return Dissatisfaction Rate (RDR), A-to-Z Guarantee claims, or negative seller feedback. On the other hand, if you're dealing with seller sabotage, where a buyer tries to damage your account as much as possible with complaints, you can receive performance alerts from Amazon in case they detect a high return rate.
You can also monitor returns using the FBA customer returns.
You can find this report in your Seller Central. It shows the return date, ASIN, return reason by the customer, and what Amazon decided to do with the inventory.
FBA Customer Returns Report
If you want to find out the reason why the buyer is returning an item they just bought from you, log into Seller Central. Under Reports, choose Fulfillment > Customer Concessions > Returns. Finally, fill out the form, and run the report.
1.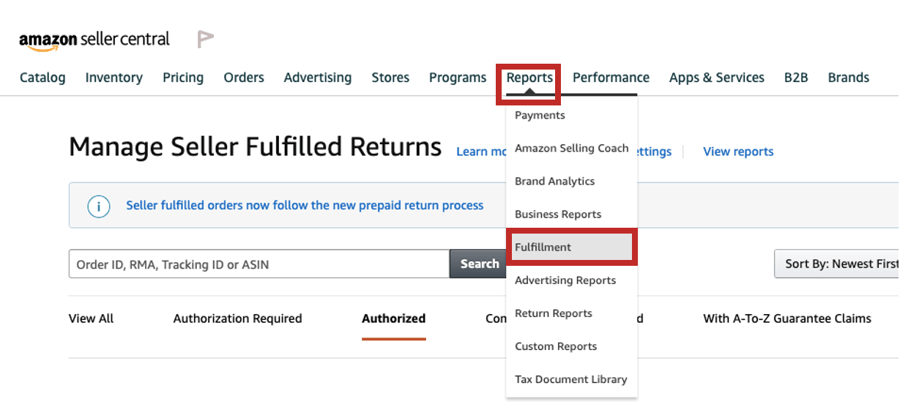 2.

3.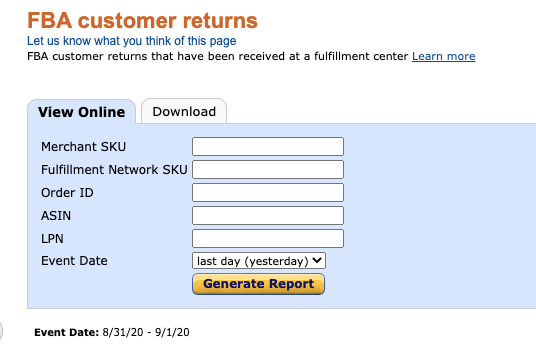 In this section, Amazon specifies:
To find out if you are eligible for a customer return reimbursement, enter the order ID number here. If a refunded customer does not return the item to an Amazon fulfillment center within 45 days of the refund, in most cases we will charge the customer and automatically reimburse you on day 45.
Per our returns policy, Amazon does not reimburse for refunded items that customers cannot return, unless the refund is for a reason for which we take responsibility. In that case, you will be automatically reimbursed 45 days after the customer refund.
If the disposition is Defective, Customer Damaged, or Damaged, consider submitting a removal order for those items or enabling the option to remove unsellable inventory automatically. Learn more.
We launched a new Manage FBA Returns page, which provides better visibility from start to end of the FBA returns. To access the new, Manage FBA Returns page, Click here.
Something to keep in mind…
If you're an FBA seller, you should download this report every week to catch increases in returns because of fraud or genuine product issues. If you're a high-volume seller, then you should check the report every day.
#6 - Credit Card Fraud
Poor cyber security leads to having personal information, including credit cards, leaked online.
Credit card scammers buy credit card numbers and personal information and attempt to buy items and ship them to different addresses. This can lead to chargebacks, which are a problem for the seller.
A chargeback is when a buyer claims they didn't make a purchase. They can be frustrating to deal with, because as a seller, you will be required to prove that the transaction was legitimate. Transaction verification costs time and money.
If the credit card company is in favor of the customer, then sellers can be charged additional fees or penalties.
How to Protect My Business Against Scams?
As you might have realized by now, the best way to keep scammers away is by preventing any possible threat. Here are some tips to avoid scamming buyers from purchasing products from your online store:
Use tamper-proof stickers, labels or even tape to seal your products.
When you receive a return, request ask the buyer to send you photos as proof.
Mention in email footers and the bottom of packing slips that you have a zero-tolerance policy on fraud.
Security mark your product.
Using shipping methods that allow tracking.
Send a shipping confirmation email stating that the order has been packed and inspected in your fulfillment center. Scammers will know this means you can provide video evidence of the order being sent.
Report to Amazon about any suspected fraudulent activity
This does not only include buyers. Sometimes you might notice fraudulent activity from other sellers that try to steal your listings. Send an email to Amazon as soon as there is any suspicion of a fraudulent activity.
The best way to grab the attention of an Amazon rep is sending an email that includes the following:
Send the email to: seller-performance@amazon.com
With the subject line: Fraudulent activity or Possible fraudulent seller
Body of the message: I suspect or doubt that these sellers are engaging in a fraudulent activity. I request you to please investigate as soon as possible.
Don't forget to include the name of the seller and link to his or her storefront and avoid using terms like "counterfeit" or "fake."
Keep Your Seller Account Safe
The best way to do this is by:
Having a strong password
Changing your password every certain period of time.
Setting up a 2-step verification process for your Amazon selling accounts.
Note: Amazon will never ever email and ask you for sensitive details for verification, so do not reply.
Stay in Touch with your Customers
This is more than a good business practice. It can help you avoid scams. Answering buyer inquiries in just 24 hours can mean positive feedback and can help you notice suspicious buyers sooner.
Turn on Your Notifications
Sellers that use auto-repricer tools or any feature that tracks changes in prices, should set up notifications to track unwanted fraudulent accounts in an easy way. Contact your service provider to discuss which notifications work best for you.
Observe Sender Email ID or URL
As a seller, it is crucial to be able to tell the difference between real and fake emails. Genuine emails that you receive from Amazon will always have @amazon.com ending with their address.
A URL that is often used is https://sellercentral-secure-amazon.com to get sellers' login information. When you see this URL it may look real, but it isn't.
Set Up 2-Step Verification
2-Step Verification/Authentication process means that a seller can sign-in to his or her Seller Central.
This requires a 6-digit code that is sent to your phone so you can be able to access your account on any other computer. The code is usually sent from two-factor apps like Google Authenticator or Authy.
Additional Tips to Protect Your Seller Account
Check for grammatical or spelling mistakes. An actual email sent by Amazon will not contain poorly written text. Delete emails with errors immediately.
If you deal with an Amazon representative that seems suspicious, change your Amazon Seller Account password as soon as possible.
Clicking on a malicious link, scammers can instantly gain access to your entire account, even if you change your password later.
Visit Seller Central's help section and look for any problem you come across. Request them to have an Amazon representative to call you back if you suspect any issues with your account or orders.
Last Words of Advice
The first and most important thing to do if you find out someone is trying to sabotage your seller account is to send an email to Amazon, reporting this issue.
Depending on the type of threat you're dealing with, you can follow the advice given here to know what steps to take if a scammer comes your way. Keeping close track on your returns and a close communication with your clients it's the best way to protect your business.