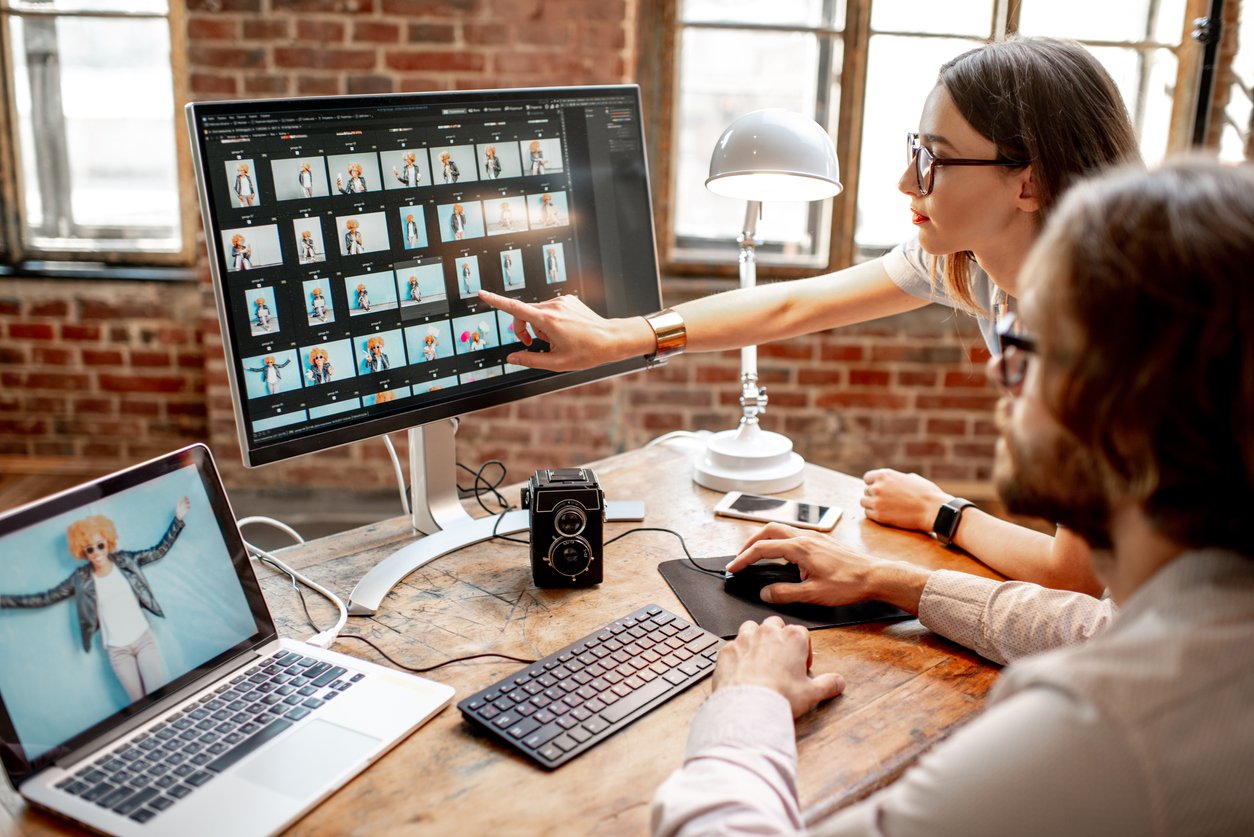 Without the right photo editing software and functionality, editing product photos for online stores can be time-consuming and difficult. Luckily, product photographers and business owners don't have to spend day and night manually improving eCommerce pictures due to convenient alternatives like free Lightroom presets.
By applying these tools, you can easily enhance lighting, correct colors and white balance, improve contrast, smooth shadows, and more. In a matter of seconds, your images will look professional and natural, making them more enticing to customers browsing your site. Lightroom allows batch processing images as well, which can be convenient and timesaving if you have a long list of products in need of quality photos.
Also, the effects we'll discuss are suitable for amateurs and professional shooters alike, as they enable you to get amazing results in just a few clicks. They work smoothly with almost all Lightroom versions, like CC, 4, 5, 6 and a mobile app.
Let's look into the best Lightroom presets for product photography.
1. Clean White Lightroom Preset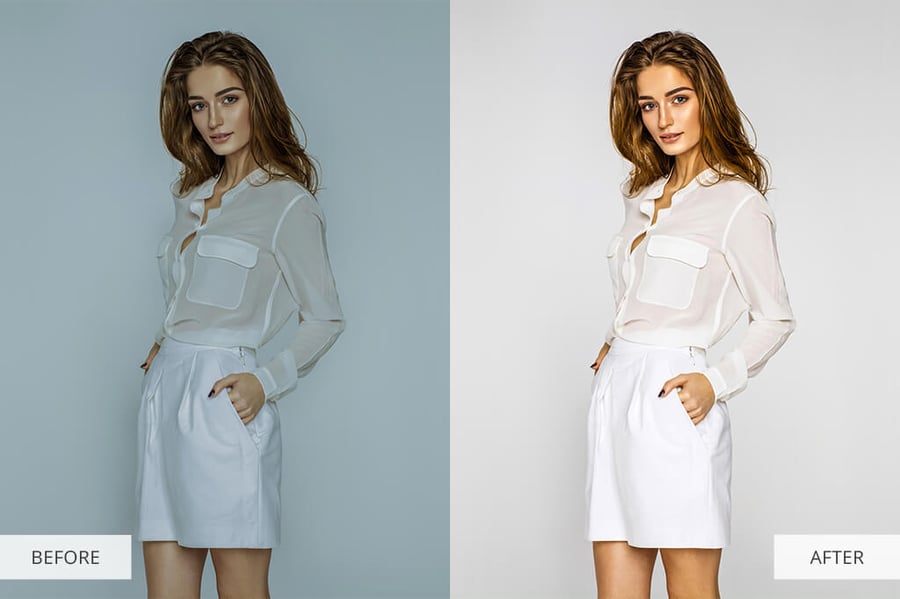 Ecommerce images should attract customers' attention to the main product, so it's essential to take product photos against a plain light background without any distracting items. By using this Lightroom preset, you can improve colors, adjust contrast and correct white balance. Your image will be free from any unwanted shadows and patterns. This effect will make your product look appealing and bright while maintaining a natural and realistic look.
2. Brightening Lightroom Preset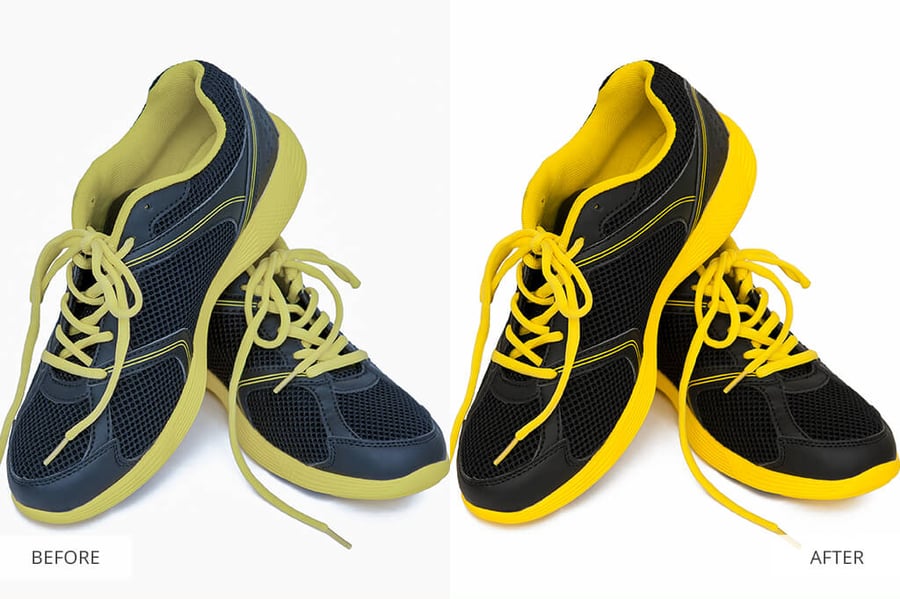 When you apply this Lightroom preset for product photos, your pictures will become saturated and professional-looking. They will appear much brighter and clearer, similar to photos taken in natural lighting.
At the same time, it will make the colors look realistic without making the product look distorted. This effect also adjusts the shadow-light ratio, which is essential for eCommerce photography. This Lightroom preset will especially enhance furniture shots, photos of décor, clothes and souvenirs.
3. Colorful Lightroom Preset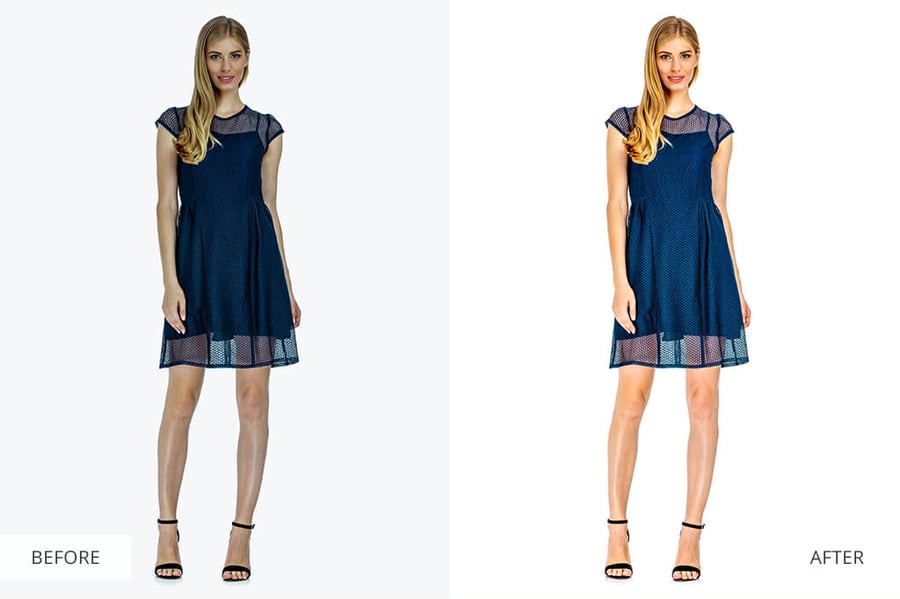 This preset is a perfect option for highlighting the texture of a product and clearly presenting its pattern. Being one of the most useful free Lightroom presets for product photography, it will make colors look deep and more intense. Your pictures won't get blurry and oversaturated, and the shades will not look pale.
If your photographs are rather dim, this effect will fix it. Overall, it's an ideal solution for enhancing images of clothes, furniture, and items made of natural materials. In general, this preset will make your shots appealing and eye-catching in just a few clicks.
4. Clarity Lightroom Preset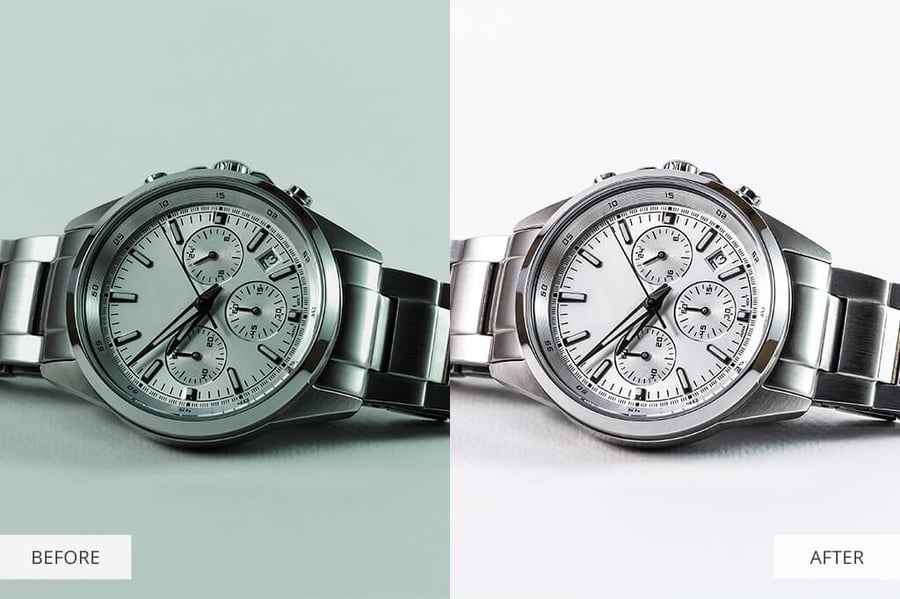 If your product images seem to be of poor quality and you can't re-photograph them, don't worry. This free Lightroom preset was created to enhance low-quality images. By using it, you can get rid of blurry, gray film effects on products and the background.
Additionally, you can correct colors, balance shades and lights, and clean up the hues of your image. If some parts of your product look glossy, you can remove this effect with the help of this Lightroom preset. As a result, your images will look more realistic and professional.
5. Matte Product Lightroom Preset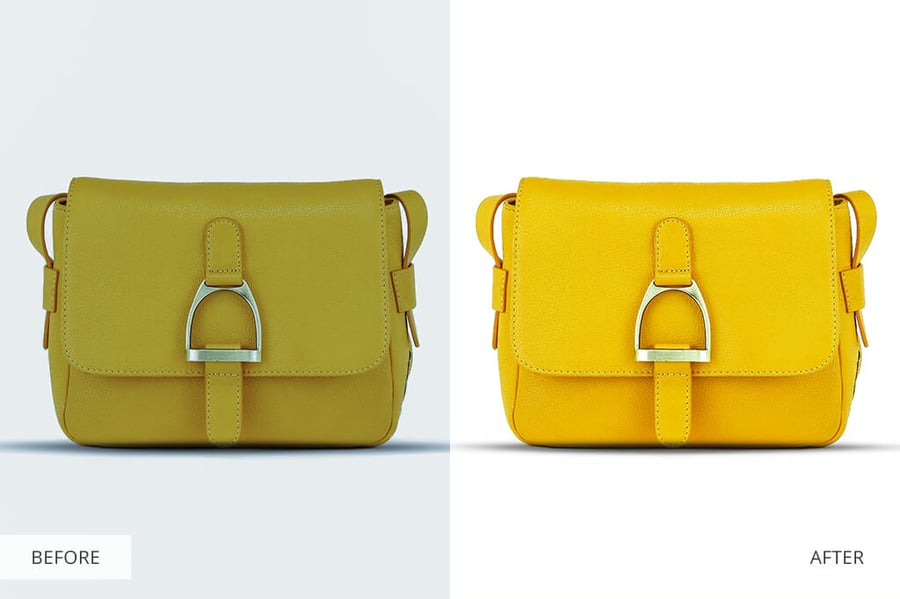 If there is unnecessary shine in your photos, this Lightroom preset is a must-have for any product photographer. It will correct saturation and add a natural textured look to your pictures. Moreover, it will remove flash reflections from the product, making colors look deeper. By applying these free Lightroom presets for product photography, you will improve lighting and remove any yellowness from artificial light sources.
6. Contrast Lightroom Preset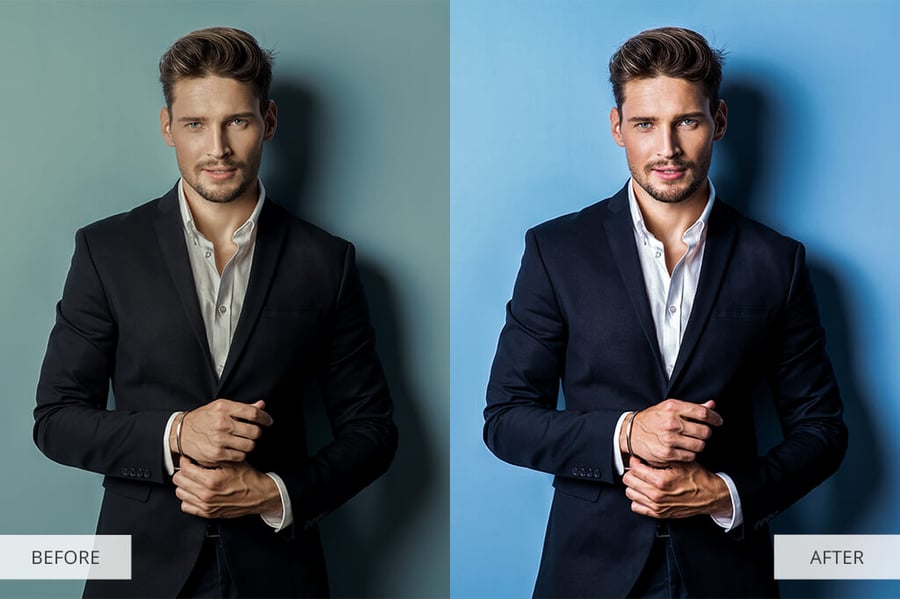 Taking photos with appropriate lighting won't suffice for promoting your products; you should also use various effects to enhance your pictures.
Apply this free Lightroom preset to improve the contrast of any photo, which helps to highlight the subject. With this effect, you will enhance clarity and saturation. You can also improve lighting with this preset, making your photos more attractive and eye-catching.
7. HDR Lightroom Preset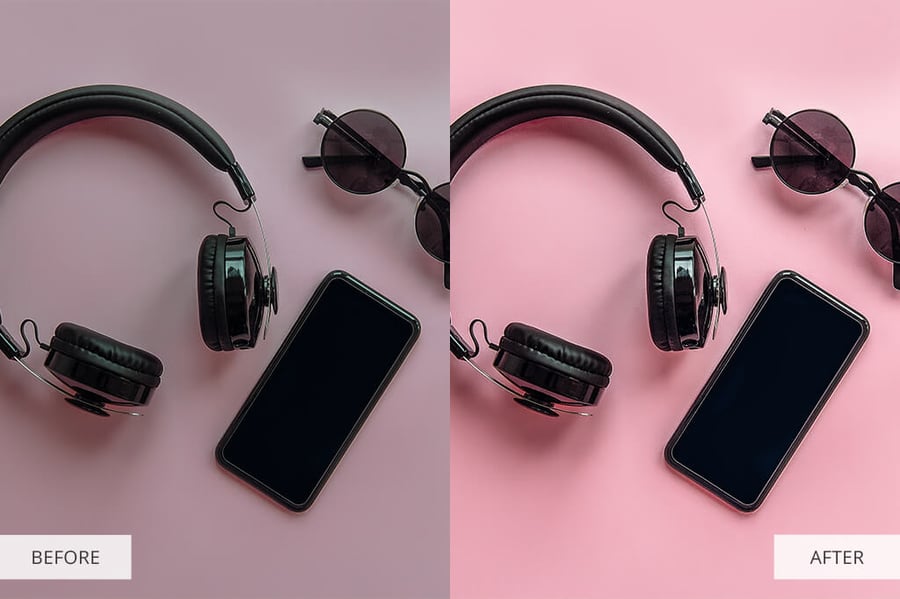 If you work with a product that has a lot of intricate details, this Lightroom preset is the best option for you. Apply it to your jewelry or décor shots, and you will easily attract new clients. This effect was created to put emphasis on the volume, shape, color, texture, etc. of your product. It also removes unnecessary gloss from items and smooths harsh shadows. This Lightroom preset should be in the toolkit of every product photographer.
8. Reduce Blue Cast Lightroom Preset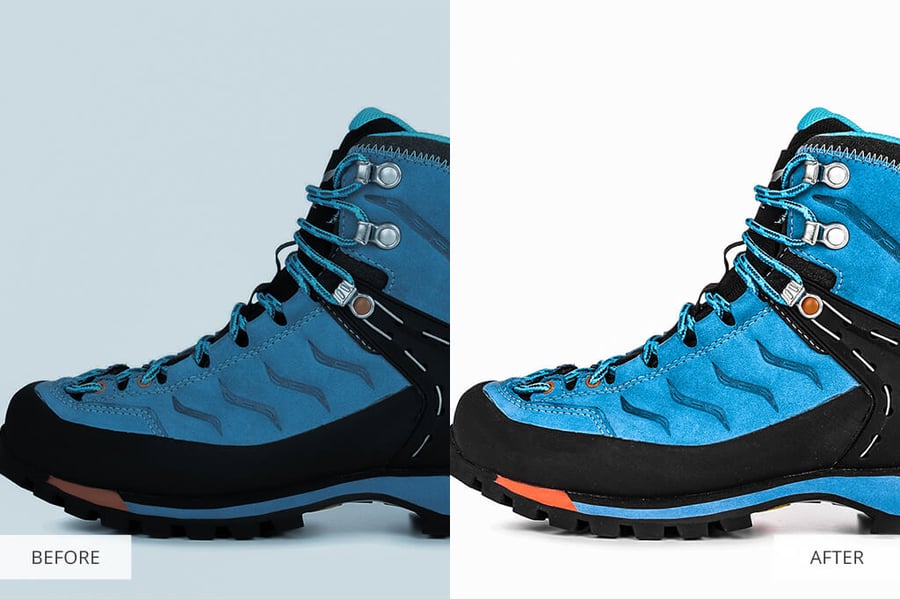 Product photographers know that, sometimes, photos might look slightly bluish. Bluish tones usually appear in photos taken in studio environments, making an image look cloudy. So, it's essential to understand how to remove this effect with minimum effort. Fortunately, this free Lightroom preset will easily solve this problem.
By applying this preset, you can replace the unnecessary blue tone with pure white. As a result, your photo will look fresh, clear and bright. With this effect, you can easily put emphasis on your product.
9. Toning Lightroom Preset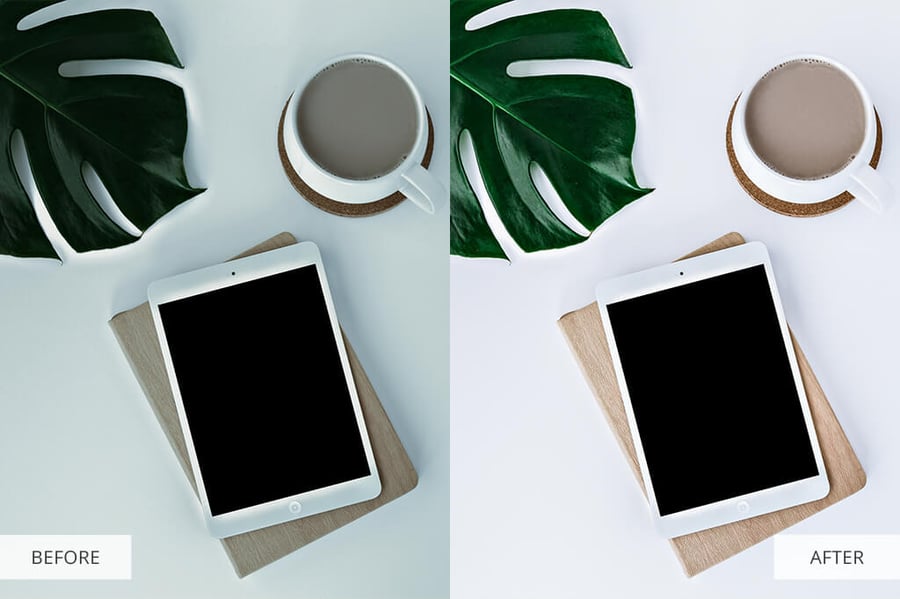 Unless you are a skillful retoucher with experience in toning photos, this process may take you a lot of time. To save time, you can apply this toning Lightroom preset. It removes unnecessary yellowness and corrects colors. By improving contrast and brightness, you can make a product stand out in its image. At the same time, your photo look natural and realistic.
10. Reduce Noise Lightroom Preset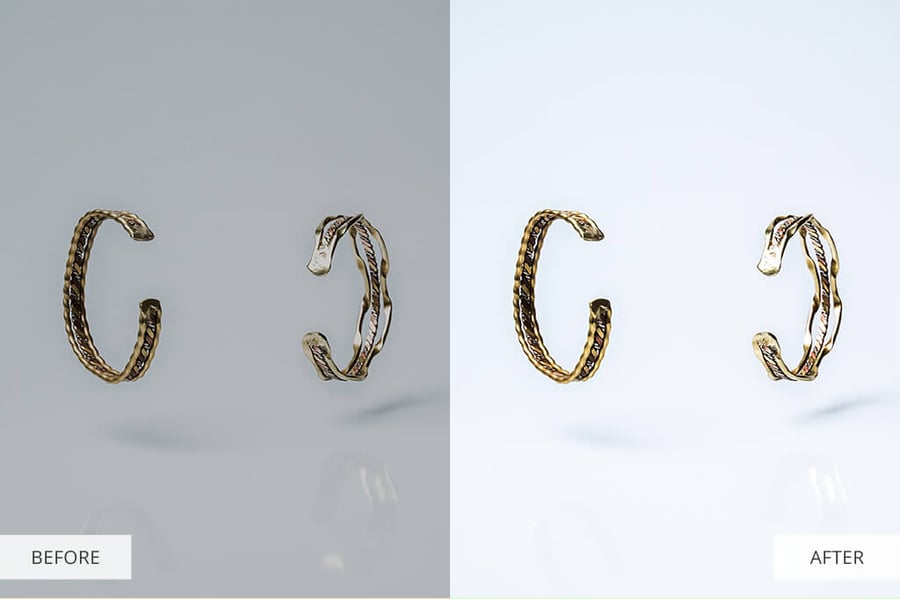 This free Lightroom preset is the perfect solution for editing images taken in poorly lit rooms. Shadows and incorrect lighting can ruin an entire image, but this preset can save it by easily fixing light-related issues. Your photographs will look as if they were shot in ideal natural lighting with this preset.
In a matter of seconds, you can correct colors, shadows, contrast and white balance. This preset delivers the best results when used with images featuring white, light or pastel backgrounds.
11. Soft White Lightroom Preset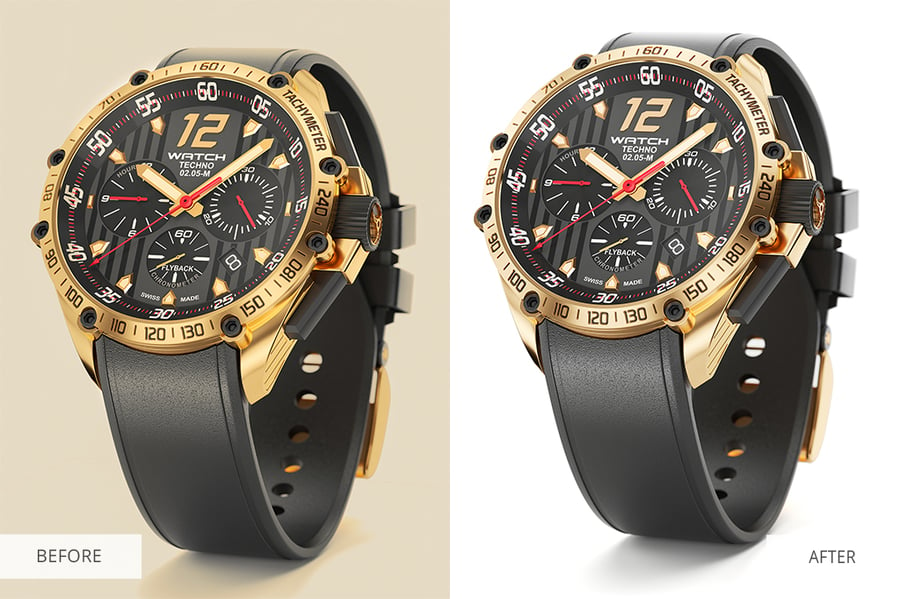 If you mainly shoot products against a white background, these Lightroom presets are something you can't do without. It's common for photos that predominantly feature white to appear yellow or grey.
This collection can help you fix this issue in a matter of seconds. It can give your image a pure white background and remove unnecessary shades. Additionally, it can enhance other colors by making them clearer and brighter.
12. Superior Lightroom Preset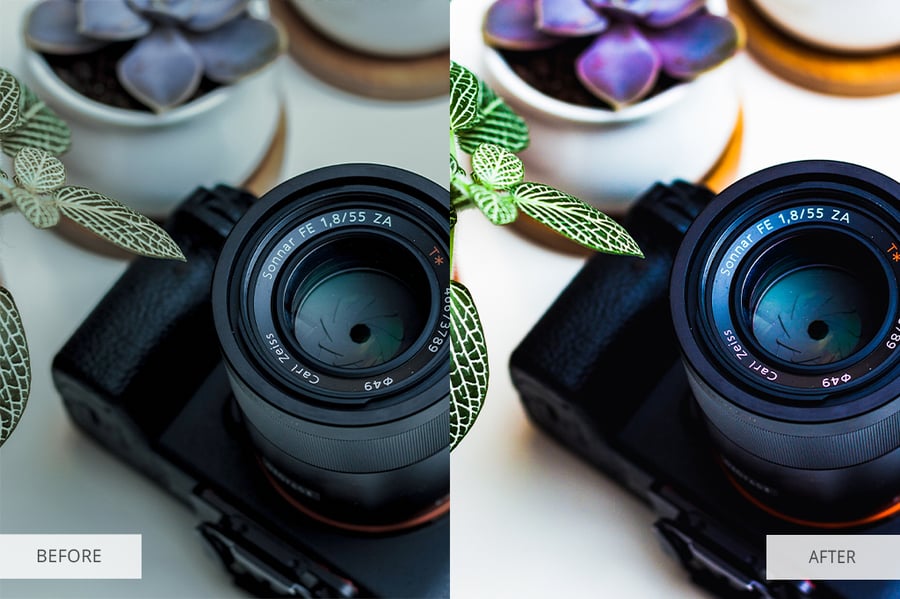 When you apply this Lightroom preset, the background of your photo takes on a slight gradient. With this effect, the background doesn't take the viewers' attention away from the main subject. In addition, this preset removes all defects from your shot, like unnecessary shadows, harsh contrasts, etc.
Using this preset, the colors in you photo will look bright but still natural. This effect is popular among professional eCommerce photographers since it improves the background and makes a customer focus on a product.
13. Minimal Lightroom Preset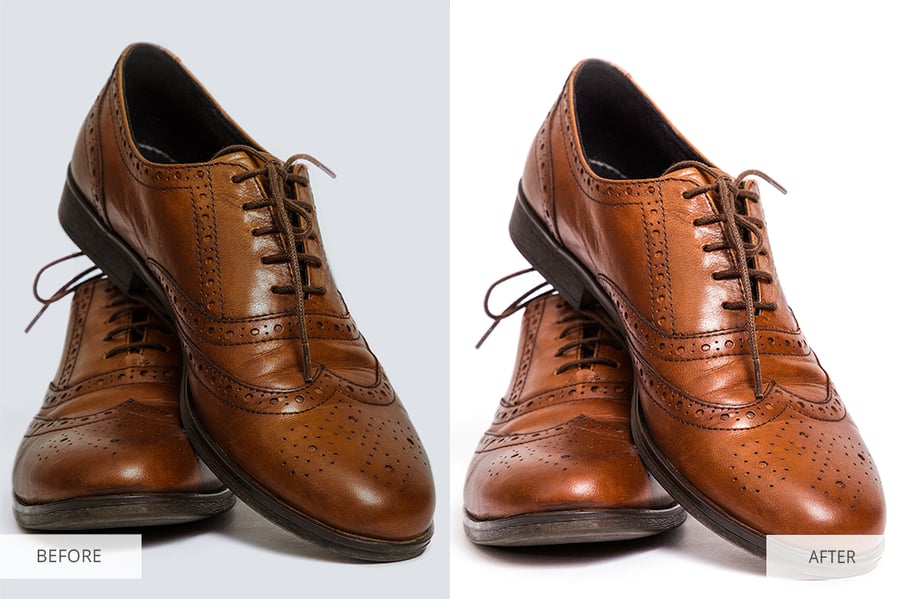 To attract the customers' attention to a product, it is recommended that you use white backgrounds without any details. That way, nothing distracts your customer from the main subject. Professional eCommerce photographers choose effects that will make the backdrop white and pure by removing unnecessary shadows.
This free Lightroom preset for product photography saturates colors and creates realistic shades where necessary. By applying it, you will get a natural-looking and professional image.
14. Flat Lay Lightroom Preset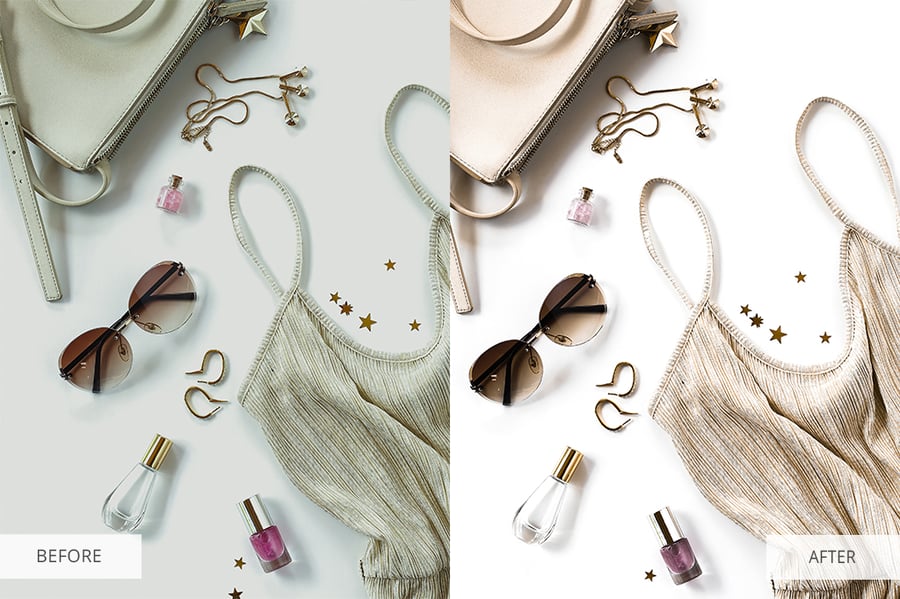 Experiment with this Lightroom preset when shooting single or multiple item sets in a flat lay arrangement. This is a great solution for eCommerce shots because it improves all the necessary features, such as color, contrast, brightness and saturation.
This preset also adds volume and preserves natural textures without blurring them. In addition, it removes unnecessary glare that might appear on glossy products if you use a flash.
15. Irish Lightroom Preset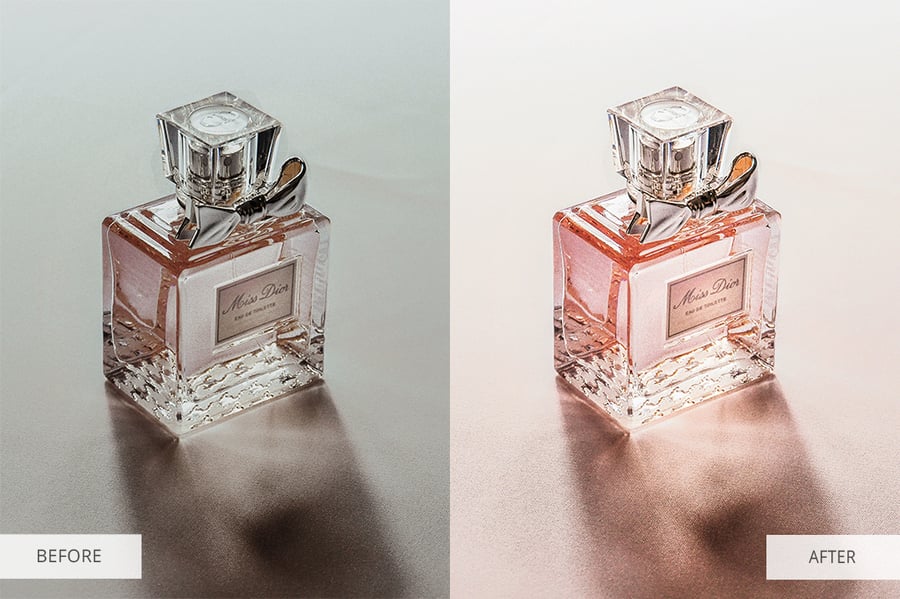 This is a great preset to make your product photos look warmer and more appealing. In a few clicks, you can soften hard edges, contrasts and shadows. This preset improves the colors in a photo by making them delicate and warm. At the same time, they will look natural and realistic.
Moreover, this preset fixes all lighting issues. It is the perfect option for improving furniture shots, photos of home textiles, or décor items since it creates a cozy and calm atmosphere.
16. Clean Lightroom Preset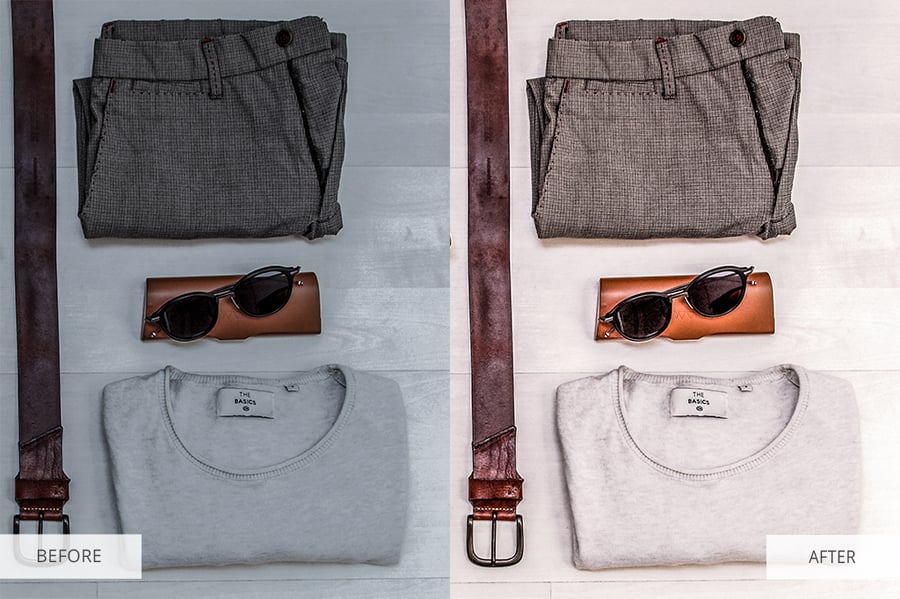 This is a universal Lightroom preset for product photographers as it adjusts the settings that really matter in eCommerce photography, like lighting, colors, shades, etc. Having applied this effect, you can achieve a clean and eye-catching photo with natural textures and volume.
If your photo was taken in poor lighting conditions, this preset will make it look less dull. You can use this collection to improve single and multi-item photos.
17. Bright White Lightroom Preset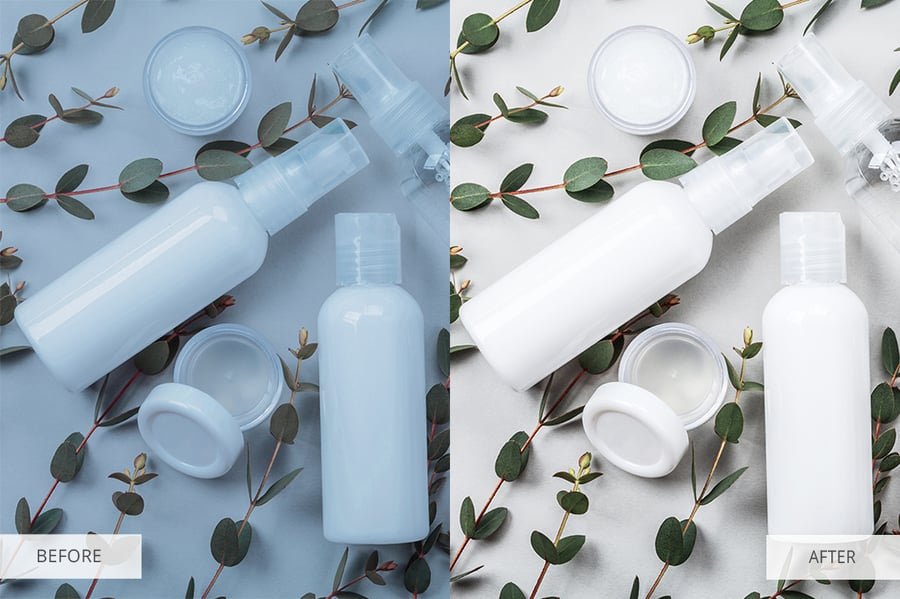 This preset will help you out if you are not an expert in eCommerce photography and don't know how to adjust camera settings. It will add clarity, softness and brightness to your images.
In several clicks, the main subject will become slightly more saturated and eye-catching. This preset can make the colors look natural, adjust the white balance and correct lighting. It might be a great solution not only for product photos, but for other images as well.
18. Food Lightroom Preset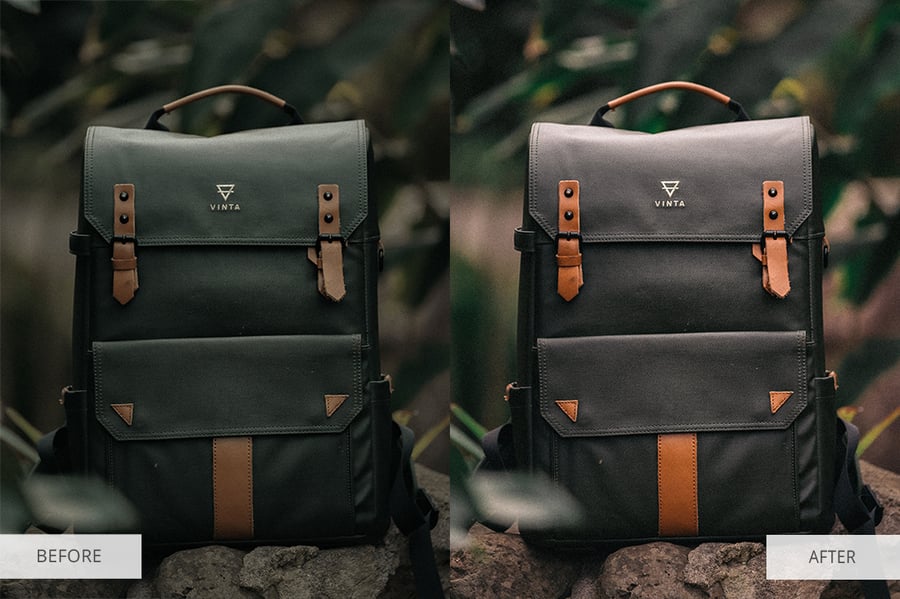 This Lightroom preset was initially created to enhance food shots; however, it shows great results when you apply it to other eCommerce pictures as well. In a matter of seconds, you will correct colors, add volume and emphasize the photo's texture. It also helps to get rid of any defects, like spots, glare, etc. By applying it, you can make your product look more appealing and realistic.
Conclusion
Lightroom can be a great asset for any business owner looking to edit beautiful-looking photos of their products. With these presets, post-processing product photos can be even easier. These free Lightroom presets and more can be found online to download for yourself. If you'd like even more advanced functionality, premium presets are also available for the program. With your photos edited to perfection, customers will be rushing to purchase your products.