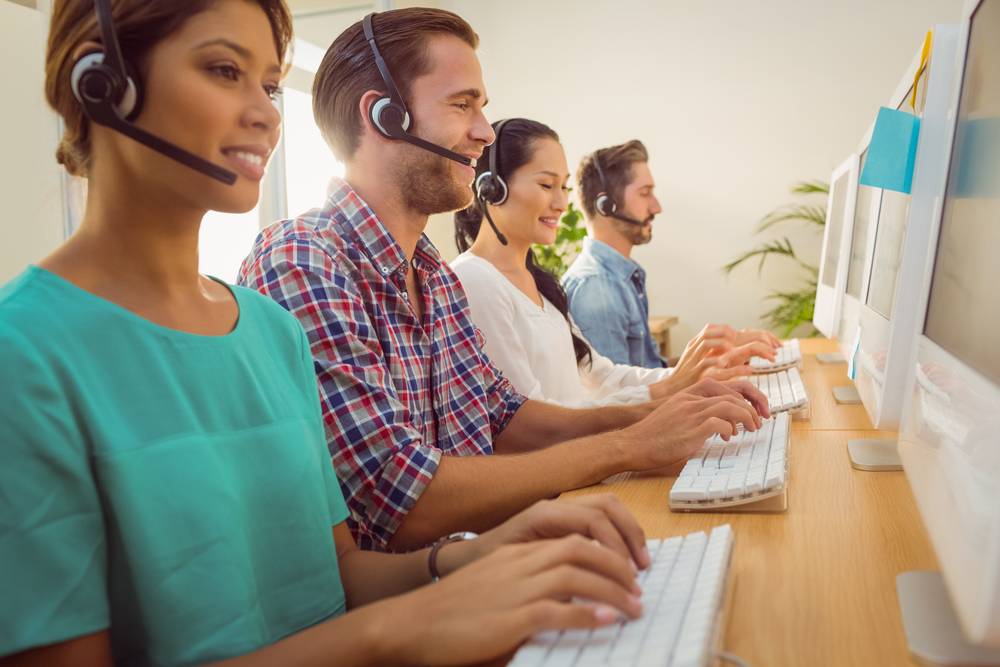 Every business understands that, without its customers, it would fail. Of course, that understanding doesn't always translate into action, which is why so many businesses, both small and large, fail to prioritize customer service and the overall customer experience. When this happens, even huge marketing budgets and fantastic products can't keep customers lining up for more.
When a customer doesn't feel looked after, nurtured, or ultimately satisfied with their experience, word gets out — and businesses cease to exist.
That's exactly why the most successful businesses utilize every strategy possible to prevent that from happening. By acknowledging the critical role customers play, smart businesses invest time and money where they know it's needed most: systems that promote positive customer experiences at every touchpoint. By automating those systems, businesses become even more successful because they no longer have to deal with the dozens of variables that can occur day-to-day and from customer-to-customer.
In terms of automating systems that improve the customer experience, few are as important, especially for businesses with an online presence, than help desk systems.
What are Help Desk Systems and How Do They Actually Work?
Help desk systems are an intelligent way to offer immediate, and often automated, online customer support. While there are multitudes of help desk systems to choose from, the main concept behind each platform is to help businesses better communicate with customers online so that their questions and concerns are addressed as quickly and appropriately as possible.
One of the latest innovations in the help desk system world is chatbots, which utilize AI (artificial intelligence) to immediately respond to customers and then direct them in the appropriate direction for their specific customer journey.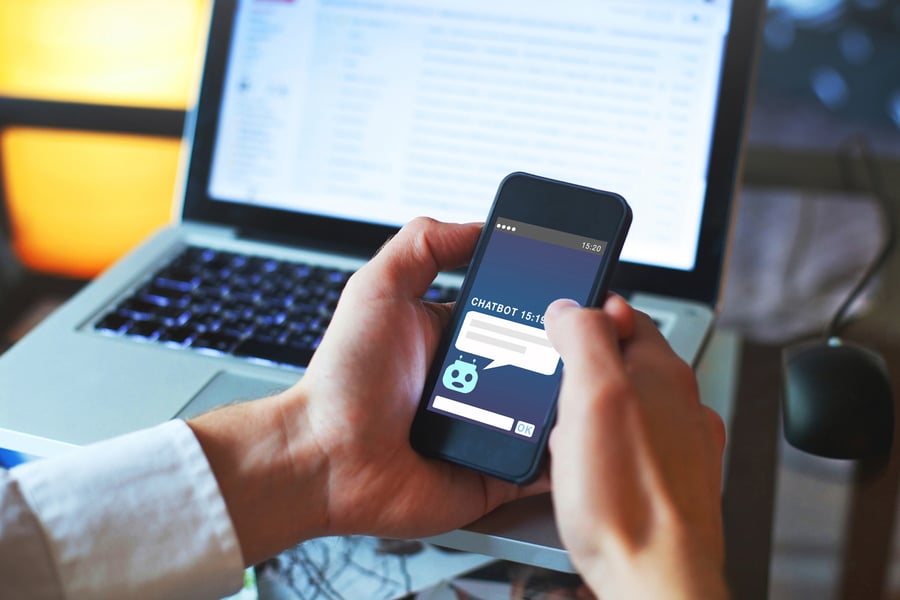 Although chatbots started out as a rather mediocre replacement for real human interaction, today's technological breakthroughs have made them much more capable than their predecessors. In some cases, customers online have absolutely no idea that they're even talking to a bot. And, when and if they do discover their robotic relationship, most don't mind because they got the help they were looking for.
Whether directed to a real customer service representative or given a pre-written response programmed into the bot by the business, customers are responsive to the latest iteration of chatbots — and businesses employing this type of online strategy are reaping the benefits in terms of sales.
Which Help Desk System is Best for Your Customer's Journey?
Every business needs to understand how its customers interact with them in order to discover which online systems can, and should, be used in order to bolster customer relationships. The more a business can pinpoint how its customers need to be nurtured at each touchpoint, the better equipped they are to develop systems that ensure the best results possible. Not to mention, this knowledge prevents businesses from wasting money on the wrong strategies, especially in terms of marketing.
To know which help desk system is right for your business, you'll want to start asking questions like:
Why do visitors land on my website?
Which pages are frequented most?
Which pages have the highest bounce rates? Why?
What do my customers need to know right now?
How can I engage my customers so that they stay on my website longer?
What questions will visitors most likely ask when they're on this page?
Additionally, you'll want to do your research into the specific features that each help desk platform offers. While many have great reviews, not all will be able to do what your business actually needs. Generally speaking, however, every great help desk system should be able to offer your business:
Tracking capabilities so that you understand where your visitors are coming from and how they're interacting on your website
A Single Point of Contact (SPOC) so that your team's work is streamlined
A thoughtful approach to your customer's experience, which means that the system can "escalate" questions in an appropriate way (like directing them to a live customer representative or prompting them to leave a message, etc.)
Ease of use for your entire team so that collaboration is streamlined and simple
A searchable database that tracks questions, incidents, and actions, as well as generates reports, so that you have the information you need to continue improving your customers' overall experience
The 10 Best Help Desk Systems for Online Customer Service
While you'll definitely want to do your own research, below are ten of the most popular (and proven) help desk systems for businesses of all sizes and in a variety of industries.
1. HappyFox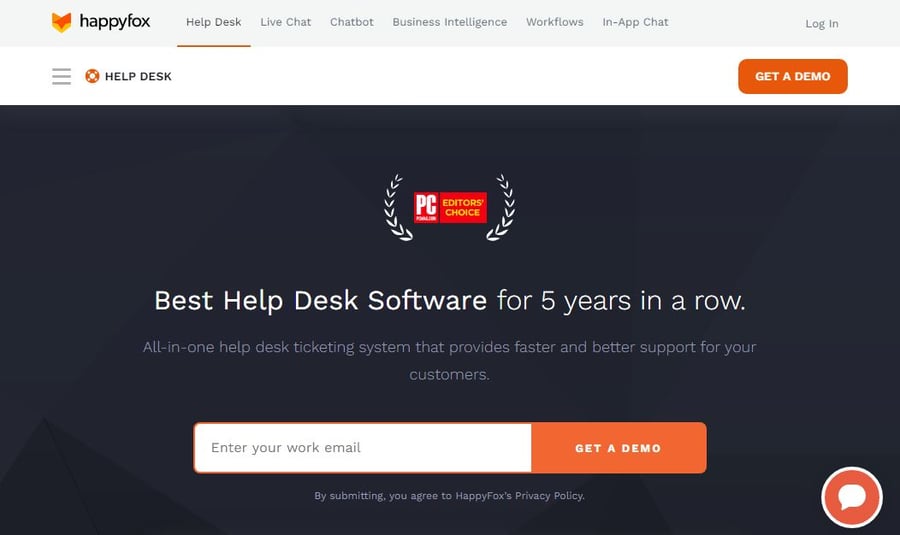 Businesses that have a lot of customers visiting their website with the intention of a high-end purchase love how the HappyFox help desk operates. Cloud based, HappyFox has loads of built-in features that you and your customers will love, including ticketing and "task and knowledge management". Because HappyFox can create recurring tickets automatically, it allows your customers to get the responses they're looking for in a timely manner. HappyFox is also easy for businesses to setup.
2. Freshdesk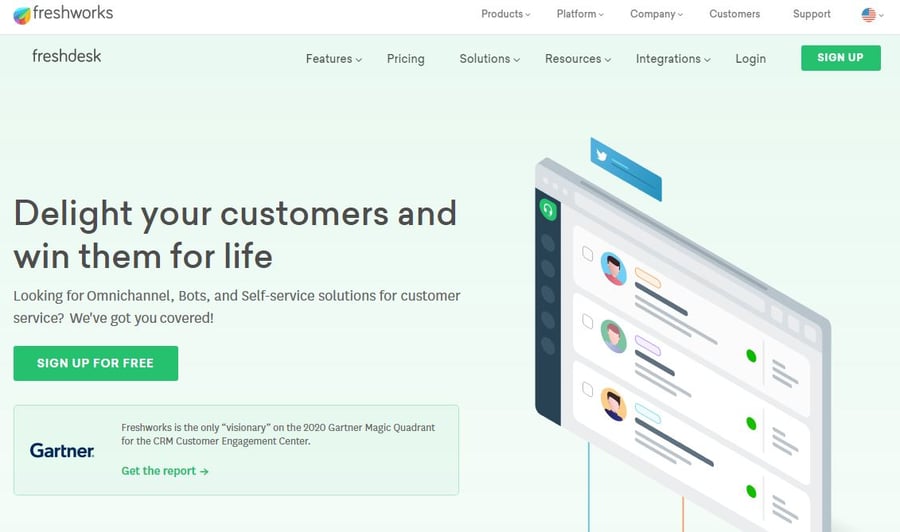 One of the most well-known help desk systems, Freshdesk has earned its positive reputation through its streamlined customer service processes. Because it's able to convert all customer requests, whether via phone, email, or chat, into one unified ticket, businesses are able to keep track of all inquiries without anything getting lost in the shuffle. By automating workflows, Freshdesk is as popular with businesses as it is with customers.
3. Zoho Desk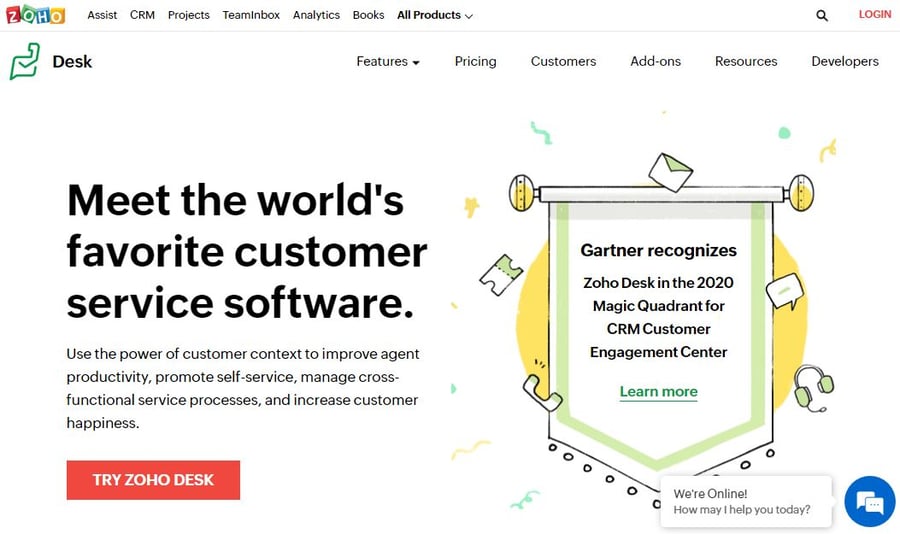 Rated one of the best help desk systems for growing businesses, Zoho Desk charges $20/month per user. One of the highlights of Zoho Desk is that it has a robust knowledge base that your team can tap into, helping your business optimize every interaction with customers so that your time and money go further. Flexible and cloud-based, Zoho Desk also offers a Contextual AI feature that further improves the overall customer experience online.
4. Freshservice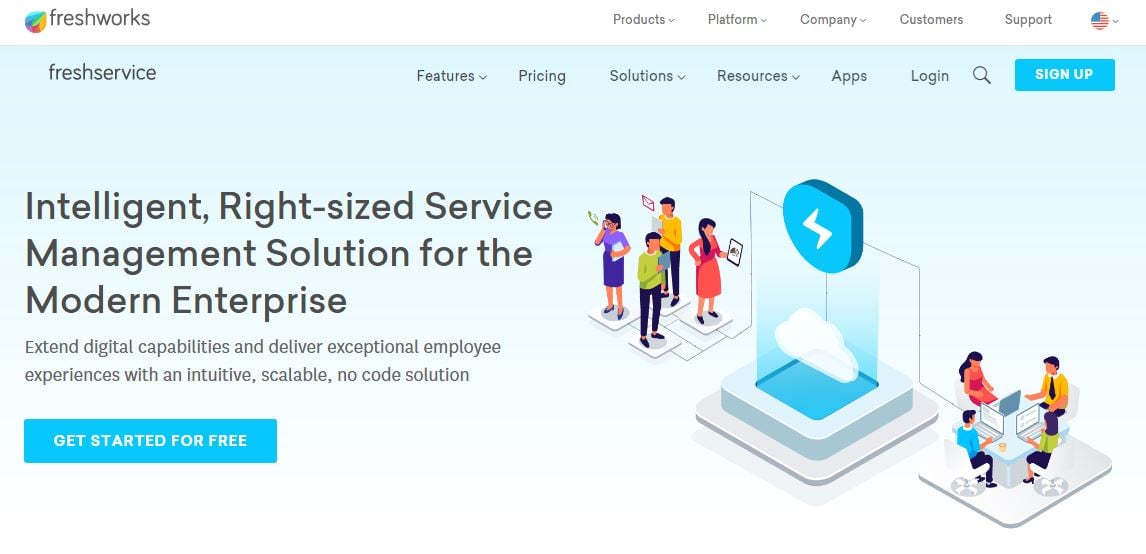 Ideal for larger businesses looking to improve the way they offer IT support, Freshservice's helpdesk system boasts both ticketing and asset management features. Because of its configuration options, companies can customize the way that the Freshservice system works for them, which is why so many tech-oriented businesses with specific needs choose this system over other options.
5. ManageEngine ServiceDesk Plus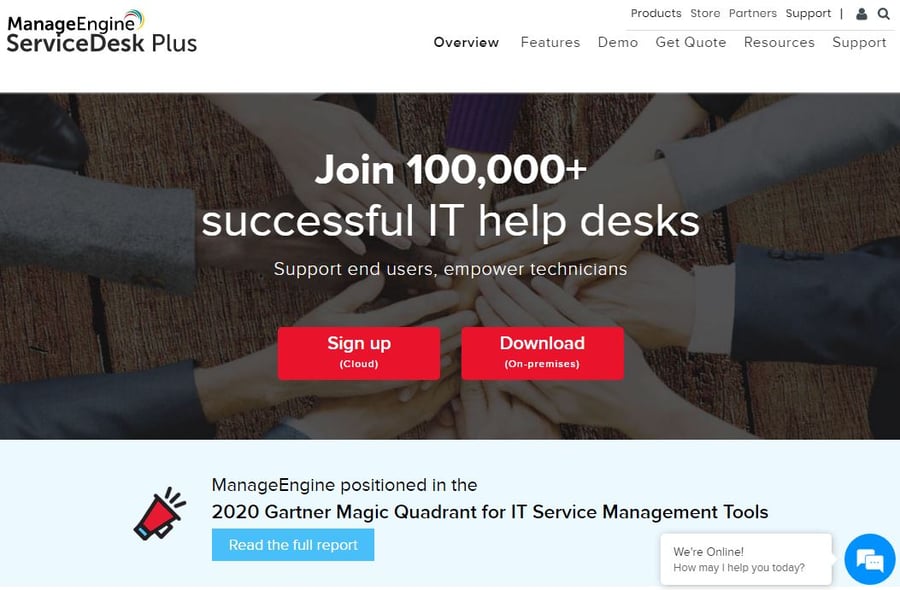 More geared towards smaller businesses looking for their first online customer support system, ManageEngine ServiceDesk Plus integrates a variety of must-have features, including trouble ticketing, contact management, asset tracking, and a comprehensive knowledge base. The system is also offered at an affordable price that smaller businesses can handle.
6. Zendesk Support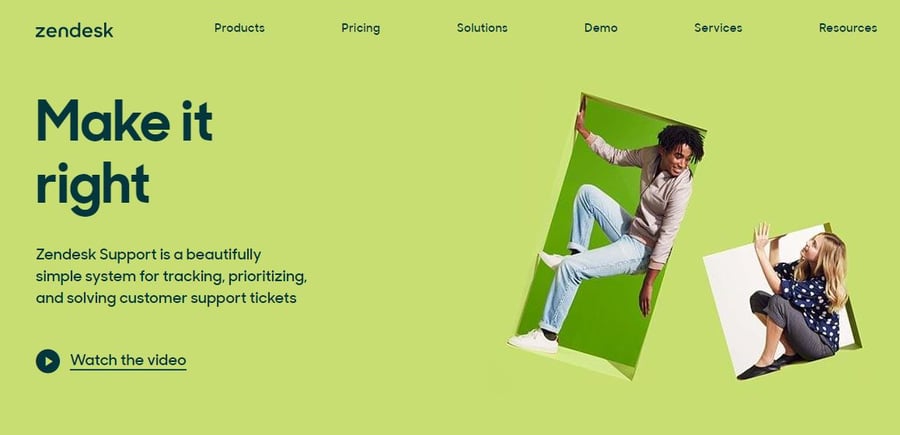 As one of the most trusted help desk systems for improving the overall customer experience, Zendesk continues to be a popular choice for businesses of all sizes. Although all help desk systems should help improve customer relationships, Zendesk is specifically designed to foster positive communication so that customers love working with you. One of the ways it manages to do this is by tracking a full history of interactions, which gives your team and your customer service representatives more knowledge to better help customers.
7. Hiver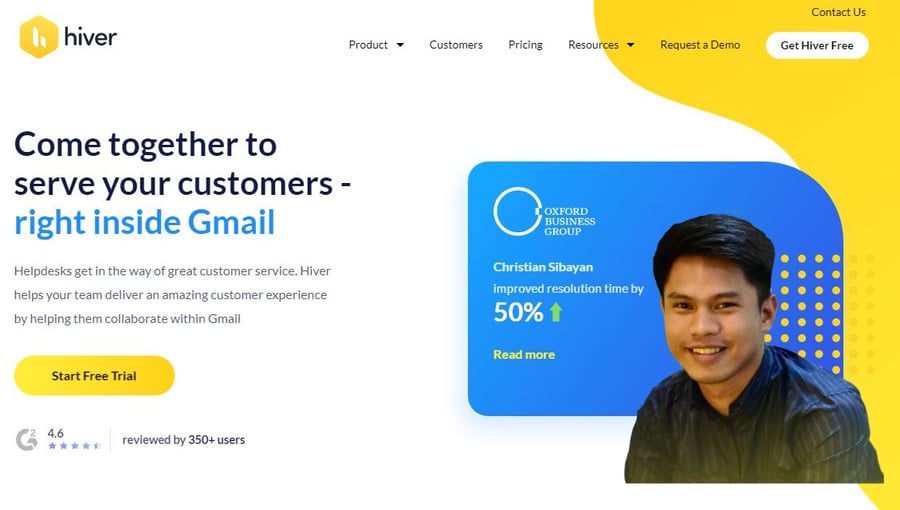 Fast and effective, the help desk system behind Hiver is powered by a Gmail type of solution. Through a variety of shared inboxes (services@, support@, purchases@, etc.), Hiver helps teams organize customer needs and streamline communication. Simple and straightforward, Hiver is used by a variety of well-known organizations and companies, including Lonely Planet, Upwork, and Canva.
8. Kayako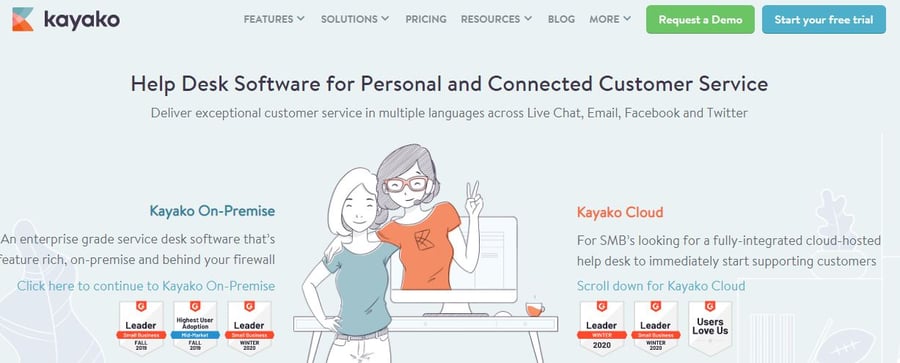 Created to address the changing needs of online customers and businesses, Kayako's help desk system is developing ways to individualize communication even when it is automated. With a desire to help customers feel like "an individual, not a ticket", Kayako is bridging the gap between customer support and your team, providing easy-to-access customer information along the way. Both NASA and Fedex are some of the many well-known names that are choosing Kayako for their online customer support needs.
9. SolarWinds Service Desk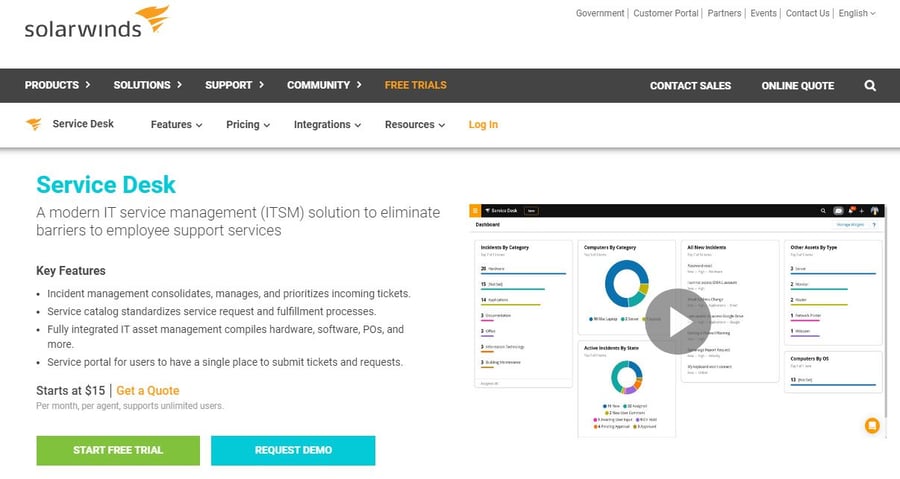 Another cloud-based help desk solution, SolarWinds has garnered attention by promising businesses that they can help deliver a 15% reduction in cost per ticket and increase resolution time by nearly 50%. Its smart automation gives your employees the information they need to address customer issues efficiently and effectively, making problem solving on-the-fly that much easier.
10. Avochato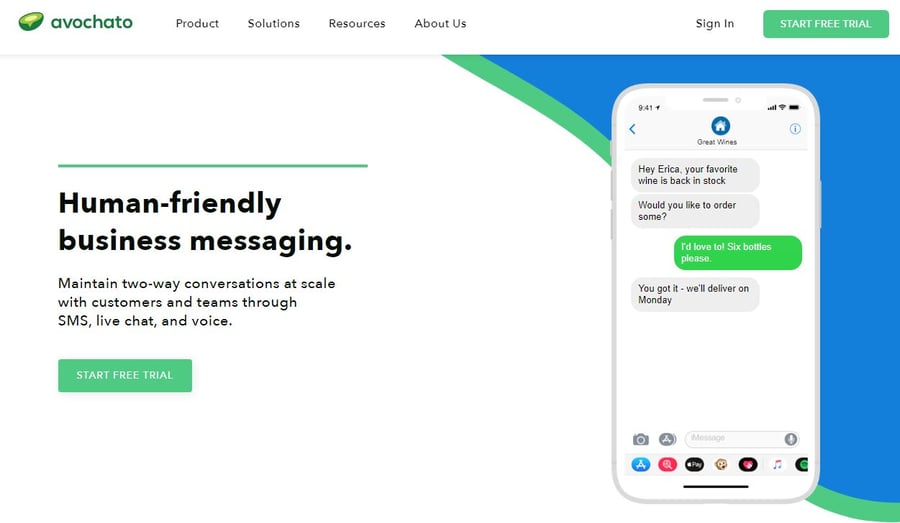 Online communication is dramatically improved for businesses that choose to implement Avochato as their help desk systems. Because it doesn't need to be programmed to be used, Avochato enables businesses to start communicating with customers via two-way text in a matter of minutes. To make your communication with customers even more customized, Avochato allows you to "segment, import, and broadcast", which means only the customers you want to receive a certain message will. Another bonus of the Avochato platform is that it can be integrated into other platforms your team already uses, including Slack, Zapier, and Salesforce.
Conclusion
By utilizing a help desk system for your online business, you'll be able to help customers more efficiently in a personalized way. While we did cover 10 of the best help desk systems available, they're not the only ones on the market. Above all, determine what your business needs out of help desk software before choosing the solution that's right for you. Some solutions are better suited for larger businesses with millions of customers, while others, like SaaS helpdesk systems are at a better price point for smaller businesses with less than a thousand.
No matter what help desk system you choose, your customers will experience improved support from your business that will keep them loyal customers for a long time. The ultimate goal of any business is giving customers what they want, and with the right support system in place, your business can do just that.