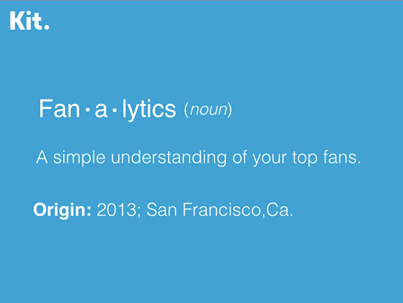 Have you noticed how difficult it's been to achieve organic business growth on Facebook these days? If so, you're not alone. According to a recent announcement made by the social media giant, Facebook has altered its algorithm to focus on "high quality" content; a change that is already effecting how your company's status updates appear in a users' newsfeed.
By now, many of you are probably wondering what exactly the algorithmic change entails and how you can continue to use Facebook as a major marketing tool for your business. We have the answers to those questions and more, but first, let's breakdown what Facebook means by "high quality" content.
Content quality on Facebook will now be determined by four mitigating factors; page interaction, the number of likes, shares and comments, post interaction and whether or not users report or hide company-specific content. As an online store owner, this means achieving business growth on Facebook is now next to impossible unless you pay for advertising or reengage with purpose.
At this point in the ecommerce game we should all be very familiar with Facebook Ads, but what do we mean when we say reengage with purpose? Any trace elements that remain from organic Facebook growth are rooted in content and driven by user interaction. This means the more likes, shares and comments your posts get the more likely they are to be seen by a wide audience. So when we say "reengage with purpose," what we really mean is to create targeted content/conversations specific to individual fans and groups in an effort to encourage post participation and inspire increased user interaction.
"Can't we just do that with Facebook's built-in analytics platform?" No. Not really. Facebook's native analytics tool is helpful when trying to determine which of your posts are the most engaging, the demographic breakdown of your fans, as well as overall post and page performance. That being said, it does not allow users to filter out, save and/or organize every interaction by every follower on your company's Facebook fan page.
So rather than put your social marketing stock in the hands of analytics, we suggest you adopt a revolutionary new idea that has come to be known as "Fanalytics," a term coined by San Francisco based startup and 3dcart's newest industry partner, Kit.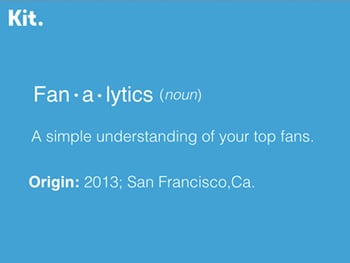 Kit. is a revolutionary new platform that breaks down your company's top Facebook fans, store's past conversations and allows you to organize users by interests. For example, if John Smith follows your business on Facebook and has shown particular interest in a specific product, Kit's dashboard allows you to quickly and effectively target future posts to Mr. Smith directly. Every time a user interacts with your company on Facebook, that interaction will be stored, organized and filtered so you can create individually-tailored conversations around your brand and its products.
To reiterate, Kit. is a simple yet sophisticated tool that puts your brand's top ambassadors front and center and allows you to make your Facebook fan page a true lead generator.
Now that we know what Kit. is and why it's vital to the future social success of your business, why don't we take a look at the following product demo and see it in action!
3dcart users looking to test drive Kit. can do so FREE for the first two weeks by clicking this link. Beyond that, pricing plans are structured by the number of fans your Facebook business page has.
As mentioned at the top of this story, Facebook has changed its algorithm; a change that is already effecting how your company's status updates appear in a users' news feed. To combat this, part of your job a successful online store owner is to use the tools at your disposal to increase social engagement, and we at 3dcart are proud to say that Kit. is the best tool around when it comes to doing just that.
Please visit our partnership's dedicated landing page inside 3dcart's App Store to test drive Kit. today!
If you have any questions or comments, we ask that you post them in the appropriate field below or hit us up on Twitter @3dcart and use #KitKnows