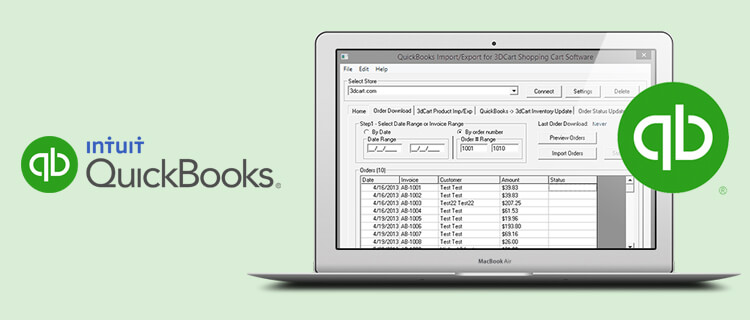 The next generation of 3dcart's QuickBooks Plugin has arrived -- QuickBooks Plugin 2.0! Featuring a built-in QuickBooks web connector, our new plugin offers an easier, simplified way to configure and connect your QuickBooks account to your 3dcart store. With a plethora of new functionalities, 2.0 is the completely revamped, feature-rich plugin you asked for, conveniently providing you with the means to easily manage your orders and inventory.
Our new QuickBooks plugin offers customers a number of advantages; however, one of the most noticeable improvements is the sheer number of settings now available, allowing for complete user-control and customization. With new, configurable settings, you'll find it easier to retrieve more data from 3dcart than you ever thought possible. And if you're at all familiar with 2.0's predecessor, you'll find great satisfaction in knowing that order retrieval is no longer limited to New Orders – you'll now be able to export orders of every order status!
Additional key features of 2.0 include:
With the QuickBooks web connector tool, integration is now compatible with most versions of QuickBooks.
You can now change the status of an order after completing an export from 3dcart to QuickBooks.
The ability to retrieve data in different invoice modes, such as sales orders, sales receipts and more.
The "Update Stock Values" allows users to keep track of stock for items within QuickBooks and their 3dcart store. This is an extremely beneficial setting for merchants who use QuickBooks to track inventory for their physical and online stores.
Setting up and using 3dcart's QuickBooks plugin has never been so easy. Our expert developers have taken your feedback and developed a plugin that is designed to provide you with the data, flexibility, and customization that businesses demand and expect of the eCommerce industry.
To find out more about the QuickBooks plugin, visit our app store here.