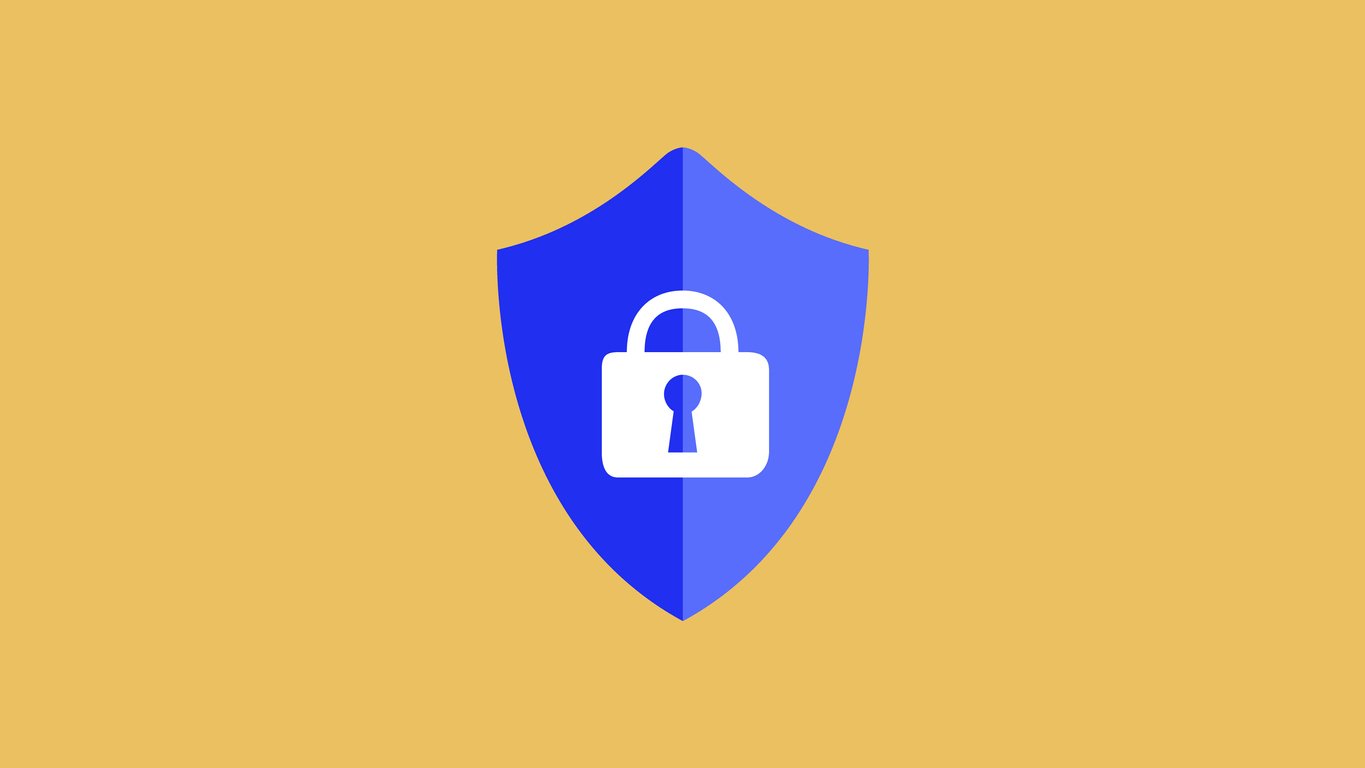 Customers can be apprehensive about shopping online, and for good reason. The number of reported scams, successful hacking attempts, and instances of credit card fraud is increasing every day. It's also not helpful to a small business that so many scam websites pop up, which makes it harder for customers to trust any website they're not closely familiar with.
It's right (and smart) for online customers to be cautious. But for small online business owners, it can be a struggle to keep up with regulations and security needed to create trust in their brand. And not only that, you also have to prove to your customers that you do have the required security. Even if your site is fully secure and trustworthy, you still have to earn that trust in the customer's mind. That trust will help turn your store visitors into customers.
In this article, we'll explain how to prove to shoppers that your site is trustworthy by using trust and security seals.
What Is a Trust Seal?
A trust seal (also called a trust badge) is a small image you can add to your website to show that your site can be trusted by customers. Trust seals can come in several forms that mean different (yet similar) things. A security seal is a type of trust seal but the names are also sometimes used interchangeably, since the main purpose of all of them is to make your customers feel safe.
A trust seal can show that:
Your online store has passed certain standards
Your business has the approval of customers
You use certain policies or offer guarantees that protect shoppers
Your website has been verified by a third party with authority
Your site is deemed secure and free of viruses or malware that could affect shoppers
You get the idea — just like the name would suggest, trust seals show the different ways your site is trustworthy. There are many different ones you can add, each representing different types of proof that your site can be trusted. All trust seals or badges serve the same purpose: to increase confidence in your website.
And of course, increased confidence means increased conversions.
How much of a difference can trust seals make? Quite a lot, and research backs it up. At Shift4Shop, we conducted A/B testing for three months on 5,000 of our supported online stores. Websites with visible trusted security seals and certifications performed much higher in sales and conversion rates. This experiment proved how effective trust and security seals are in encouraging customers to buy.
The Best Types of Trust Seals to Add to Your Website
Trust seals can give your customers a lot of information very quickly. Above, we briefly summarized the types of messages trust seals send, but they can also be categorized into a few distinct types. So, let's take a look at some important types of trust seals.
These aren't listed in a "ranking" style of order, because it's incorrect to think that you should only add one of these because it's "number 1" as opposed to others. Trust badges actually work best when used together, and while there are some that customers have learned to look for (and will expect to see), it's best for you to use as many applicable badges as you can (as long as it doesn't take up too much space on your site).
You can get the different trust badges from different places. We have a few types of trust seals for websites available in our collection of Free Business Tools, and you can get other badges from different providers. Some need to be earned before they can be used, while others depend fully on your business's decisions. Likewise, the design of some trust badges shouldn't be changed (for example, BBB Accreditation should use the badge design provided by the BBB to ensure it looks genuine) but others can be customized to match your site's design.
Guaranteed Secure Checkout (SSL) Badge
An SSL (Secure Sockets Layer) certificate encrypts data as it passes through your website. This includes customer information like their payment details. SSL encryption prevents bad actors (like hackers) from intercepting and stealing private information. You can add a trust seal that shows your site is protected by SSL.
Many customers already understand the very basics of the idea that sites need SSL to be secure, so they might specifically look for this badge. Web browsers today will also often change the appearance of their address bar when they detect that a site uses SSL, so that also serves as a built-in badge. However, it's still a good idea to remind your customers through a traditional badge, as some may not be aware of the signal given by the browser (or may be using a browser that doesn't show this).
SSL providers often offer a custom badge you can use, so you can advertise that your SSL certificate comes from a specific brand, which can increase trust further.
PCI Compliance Badge
PCI compliance, or PCI certification, is a complex series of standards a website needs to meet before it can accept credit cards online. Using an SSL is only the first step, as a business must also implement stringent procedures including regular testing, scanning, auditing, and more. Shift4Shop stores are automatically PCI compliant (which saves a lot of time, money, and effort on our merchants' parts). You can consider adding a "PCI Compliant" or "PCI Certified" badge to your store, to offer a bit more reassurance to relatively tech-savvy customers.
Credit Card and Accepted Payment Logos

These are logos representing the types of credit cards and other payment types you accept on your online store. These are another element customers will expect to see, mainly because they inform at a glance what types of payment a customer can use.
However, payment logos do more than just show that you accept a type of payment. They also indicate that your store has met the requirements to use that payment type, and imply a bit of endorsement for your store from those payment providers. So, besides just being useful information for customers, they add a bit of authority to your site as well.
Third-Party Endorsement Badges
Third-party endorsements represent that your business has earned the approval of various authorities in the business world. These authorities attempt to protect customers by encouraging businesses to meet higher standards, at which point the business has earned the authority's endorsement. The Better Business Bureau (BBB) is a perfect example. By becoming BBB Accredited, a business has proven that it meets the high standards of trust created by the BBB.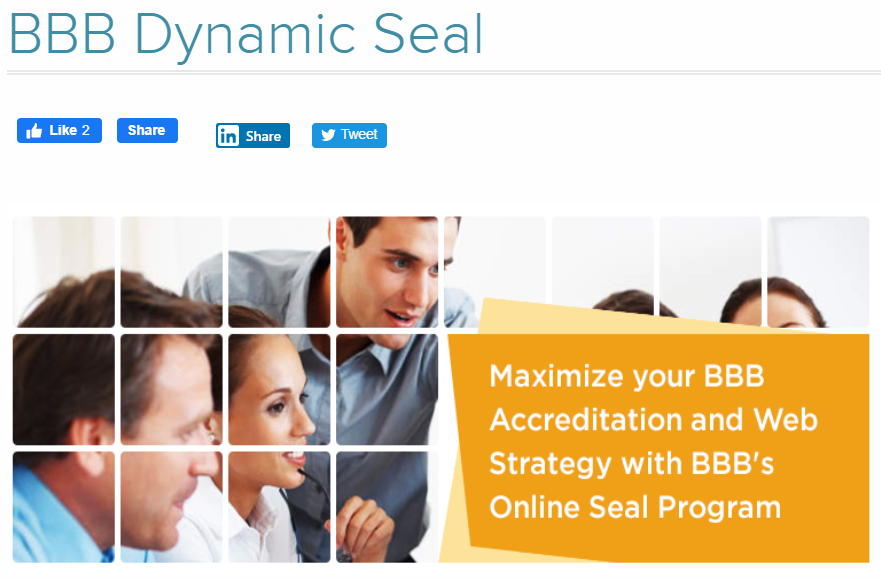 You can also get other types of endorsement badges, such as an Amazon Best Seller badge, by meeting whichever requirements are given by the authority handling the specific badge.
Trust badges of this type need to be earned. You should never add them to your site until you have the right to do so.
However, one special type of third-party endorsement seal is the Google Customer Reviews badge. You can add this badge at any time, and it will display a summary of the star ratings customers have given your business through the Google Customer Reviews system. This also represents social proof, and adds the impression that Google itself is backing your store.
(While you can add the Google Customer Reviews badge at any time, it might be best to wait until your site has received enough reviews to be aggregated. Otherwise it can appear as if your business has zero stars.)
Store Policy Badges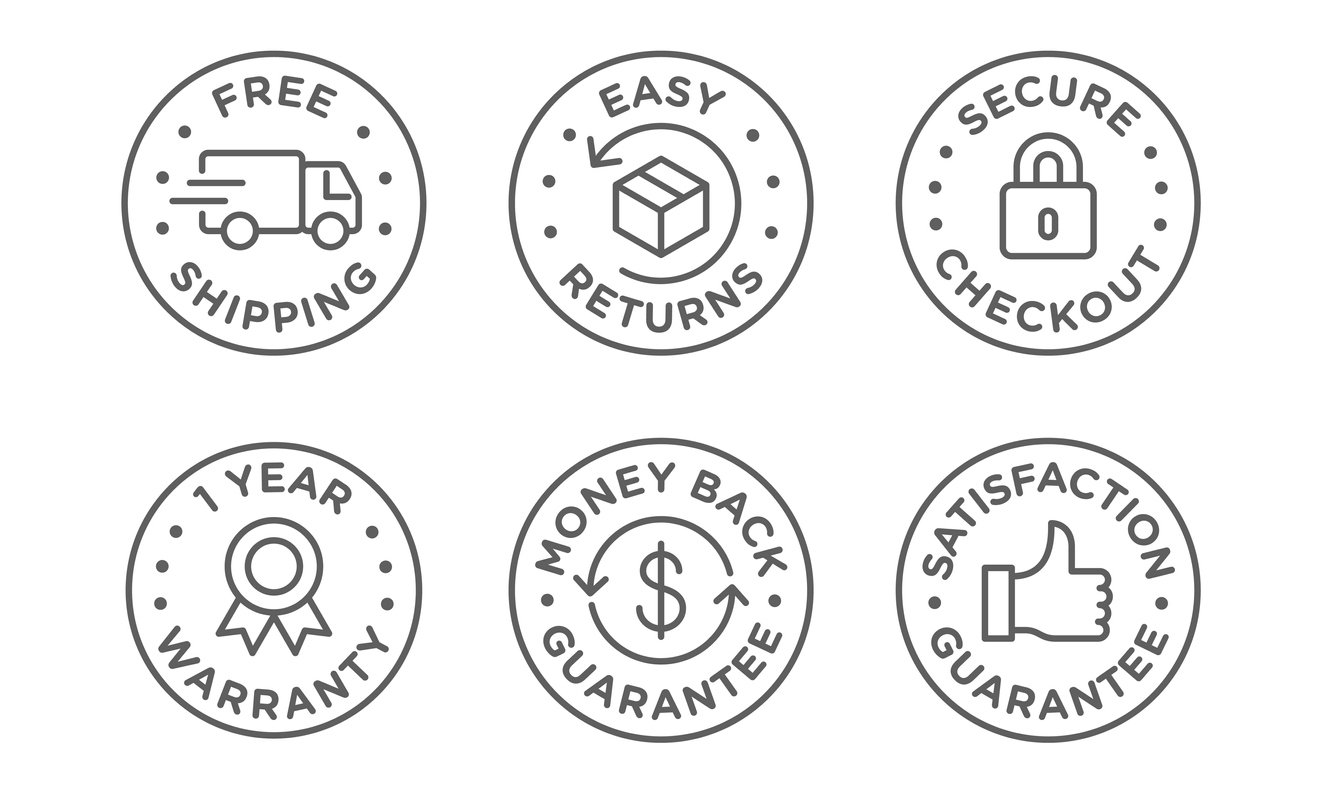 Store policy trust seals represent attractive parts of your business's policies, such as your return policy, shipping policy, or any guarantees you offer. Basically, if your store uses a policy customers really love, it might be worth displaying it as a seal. Examples could include:
Free shipping
Free returns
Money-back guarantee
Lifetime warranty
24/7 support
You could also combine policies into a single badge, such as "Free Shipping and Returns," if you offer both and want to save space. Make sure any seals you create accurately reflect the policies used by your business. Another great tip for using these types of trust seals is to link them to your policy pages, so the customer can click the badge to learn more about that policy.
Since this type of trust seal depends on your business, these are usually created as custom badges by a designer or service.
Where to Get Trust and Security Badges to Add to a Website
Your procedure for getting a trust seal to add to your site will vary depending on how you earn the seal. As we mentioned above, we offer some free credit card logos and other trust badges ourselves, while other badges can be provided by various services you use or by applying to authorities like the BBB. So, while some trust badges can simply be copied and pasted into your site at any time, others require you to go through a specific process to get it (or maybe pay for a service).
Other trust badges can be designed on your own or by a graphic artist, specifically for your site or through a pre-made package. It all depends on the type of badge.
How and Where to Display Trust Seals on Your Website
Once you've obtained a trust seal, adding it to your website is pretty easy. Sometimes a badge can appear simply because you've connected your site to a certain service, but more often you'll need to paste a snippet of code into your website's HTML. This is easy to do, and all badge providers include instructions on how and where to paste the provided code.
But where should you put your trust badges?
The most common way to display trust seals on a website is to place them on the checkout page. However, it's becoming increasingly popular to display them on a website's front page, or even across the entire site. By doing so, a business can reassure customers from the moment they start browsing the site and through their entire shopping session.
If you want to display your trust seals across your entire website, one way to do so is to place them in the footer. That way, they'll appear on every page without getting in the way of the rest of your pages' formatting.

Some trust badges have their own ways of showing on your site, such as the Google Customer Reviews badge which by default appears as a small, unobtrusive tab at the side. You can usually configure these types of badges to appear in different places. For example, the Shift4Shop integration with Google Customer Reviews allows you to place the badge anywhere.
Conclusion
Online security is on every shopper's mind, and adding trust seals to your site is a crucial step in easing their concerns. The types of trust seals (also called trust badges) include:
Guaranteed Secure Checkout (SSL) badges
PCI Compliance badges
Credit Card and Accepted Payment logos
Third-Party Endorsement badges
Store Policy badges
You can get trust seals from many locations, and some require your store to pay for a service or go through a process to earn. Once you have your badges, you can place them on your website (at checkout and perhaps on other pages too) to help reassure customers that your business is legitimate and that their sensitive data is safe with you.
By adding trust seals to your website and reassuring shoppers in this way, you can see an increase in sales and conversions, leading to your greater success.