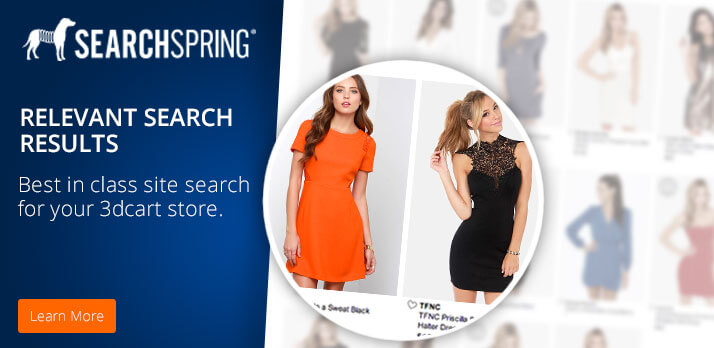 3dcart currently partners with over 200 ecommerce companies, and constantly adding new ones. These partnerships allow online merchants to expand the 3dcart functionality to specific business needs. Each month 3dcart highlights a Featured Partner. For the month of April, the Featured Partner is Searchspring. Our team interviewed Scott Zielinski, Searchspring's Co-Founder to help 3dcart merchants get an insight of their company and solution.
How did Searchspring start out?
In 2007, Our co-founders Scott and Gareth teamed up to create SearchSpring, a hosted ecommerce site search solution that makes it easier for shoppers to find the right product. The duo have grown the company to serve over 650 merchants across the U.S., Europe and Australia. Ingenuity and dedication to customer service is at the heart of our culture.
What's the main service SearchSpring offers?
Our technology provides best in class site search results and management flexibility. Our site search service is backed with advanced analytics, various merchandising tools, and automated SEO capabilities. SearchSpring delivers enterprise-level software without enterprise-type fees.
Describe the SearchSpring integration and how long you've been a partner with 3dcart.
Quickly integrated, SearchSpring's AJAX code snippets can be added to a 3dcart website template easily. SearchSpring's team works directly with each client providing full integration and management for each domain set up. Clients can fully customize SearchSpring to improve search result relevancy, product visibility, website bounce rates, and overall ecommerce performance. Complimenting 3dcart's already stellar platform offerings.
What are the benefits for 3dcart Merchants that use SearchSpring?
On average, SearchSpring processes roughly 7 million queries for 3dcarts user community per month. 3dcart merchants who receive a minimum of 30,000 visits a month, an average order value of $25 - $100, and are utilizing SearchSpring maintain onsite search conversion rates of 6-10% and overall conversion rates of 4.1% - consistently above ecommerce industry averages. The addition of SearchSpring to 3dcart improves onsite search conversions by an average of 280%.
What are your solutions' biggest strengths?
SearchSpring is a high touch, white glove service. Our implementation process is painless for our merchants. In addition to our rockstar support, SearchSpring is an innovative solution featuring our learning search capabilities powered by our IntelliSuggest technology.
How's your solution price structure?
Our pricing is real cut and dry. SearchSpring bills based on your overall monthly traffic with a starting point of $499.95/mo.
How does SearchSpring compare to similar solutions in the market?
While there are "similar" products, SearchSpring continues to innovate and lead the industry for best in class site search. As one of the only US based site search providers, located in Colorado, we are a phone call away.
What plans do you have for future development of your solution?
SearchSpring has a dedicated team to future product development. We are constantly working to expand our feature set and overall benefit to our merchants. Some things to keep an eye out from SearchSpring are more analytic options, advanced merchandising and marketing tools, and increased artificial intelligence.
Any other thoughts for our readers, who are mainly ecommerce merchants?
Every shopper that visits your website leaves data behind. This data should be consistently used to improve and polish relevancy via site search. Items viewed, items purchased, items searched, filters selected in the navigation, discount vs. new product sales performance can all be useful to improve website offerings and create hyper-relevant site search results. Use site search analytics to help and understand your shoppers, think about creative ways to utilize search data for a better shopping experience.
Click to learn more about SearchSpring's integration with 3dcart.