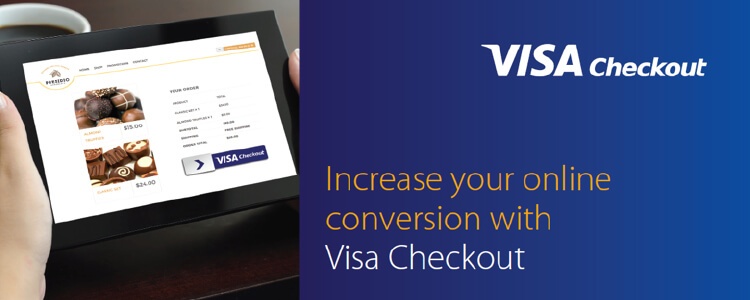 3dcart is currently partnered with over 200 eCommerce companies. We're constantly on the lookout for vibrant, innovative partners that can bring state-of-the-art solutions and services to our customers.
Each month 3dcart highlights a featured partner. For the month of August, our Featured Partner is: Visa Checkout.
Visa Checkout is an online service from Visa that allows customers to securely store their shipping and payment information for an easier, faster way to checkout. Visa Checkout conveniently and automatically populates the customer's billing and payment information -- customers can simply enter their username, password and click a button to complete a purchase.
Launched less than a year ago, Visa Checkout recently announced that more than six million customers have signed up for Visa Checkout accounts. Nearly a quarter-million large and small merchants and over 330 financial institution partners now offer Visa Checkout globally. These represent some of the biggest retailers on the internet, including Staples, Rakuten, Neiman Marcus, Gap, Pizza Hut, Orbitz, and Virgin America.
Visa Checkout is currently available at no added cost for all of our 3dcart accounts.
To find out more, please visit the Visa Checkout page.