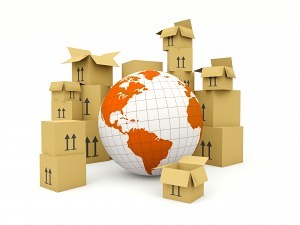 International eCommerce has been a steadily growing portion of retail, even throughout the global economic downturn. Economic figures have stated that international eCommerce surpassed $1 trillion in 2012. For this reason, many U.S. Retailers are considering international expansion.
U.S. eCommerce retailers who aren't currently shipping internationally should consider taking international orders. The growth rate for international e-Commerce exceeds domestic growth figures exponentially. U.S. eCommerce retailers who are shipping internationally should be aware of the differences in international shipping rates versus domestic shipping rates.
For one, landed costs on internationally shipped products include duties and taxes, fees domestic shipments avoid. Items deemed prohibited or restricted for import/export by the U.S. Department of Commerce are another consideration. Then there's the factor of how domestic and international shipments are calculated. Generally, domestic packaging procedures do not translate favorably when expanding internationally.
International shipping rates are priced according to billable weight. That means, rates are calculated using either dimensional weight or actual weight, whichever is greater. Dimensional weight refers to the space the parcel occupies. The equation to calculate international dimensional weight is LxWxH /139. This equation is the same for items shipped domestically, only the denominator is increased to 166 (LxWxH/166).
U.S. retailers who fail to modify domestic shipping practices when expanding into international eCommerce will ensure hefty shipping costs. High shipping rates will affect international customers by increasing the overall price of the product at checkout resulting in shopping cart abandonment. Therefore, proper packaging for international shipping will greatly reduce costs for merchants and consumers.
Bongo International conducted an analysis involving sixteen major retailers and over 5,000 total packages shipped internationally utilizing regular packaging procedures. The retailers involved in the analysis are all mainstream e-Retailers including; Amazon, Nordstrom, J. Crew, Pottery Barn, among others.
The study process analyzed orders that were placed online by international consumers located worldwide. These items were shipped from the U.S. to a U.S. based international distribution center then redirected to the international consumer's address. The U.S. based distribution center processed all orders for international shipment, including export compliance, export paperwork processing, and repackaging, if applicable.
The results revealed substantial savings on billable weight when items were repackaged to meet international shipping standards. Savings ranged from 24% - 57% over pricing based on original packaging. Each retailer analyzed in the study would benefit from repackaging international orders prior to shipment.
With proper packaging techniques, U.S. eCommerce retailers can save substantially on international shipments. International consumers are already buying from U.S. eCommerce retailers. As the data shows there's significant room for growth in Cross Border eCommerce. Understanding the differences between domestic and international shipping rates can make a marked difference on the bottom line.
Bongo International helps Consumers and Businesses overcome the obstacles associated with international orders. Bongo supports over 150,000 customers in over 200 countries as well as US and EU online retailers through a variety of solutions. Bongo International has also produced this informational video to help show the importance of proper packaging when shipping abroad.