If you saw a $100 bill lying on the ground, would you walk by it or pick it up? Our guess is that you'd bend over, grab the cash and stroll away. Now it's been said that one man's loss is another man's gain, and if you don't stop to scoop the cash, rest assured that someone else will.
In the land of ecommerce, shopping cart abandonment is kind of like dropping money on the ground. After all, as an online store owner, you've worked hard for that coin but for whatever reason, you don't get to keep it. Instead, you just leave it lying there for someone else to come along and capitalize on, what should've been, your sale.
We at 3dcart understand how painful it can be to watch potential profits fly out the window. We want you and your online business to thrive, and that's why we've partnered with AbandonAid, the ecommerce industry's fastest growing provider of shopping cart abandonment solutions. To date, AbandonAid has already helped online store owners recover more than $15 million in sales!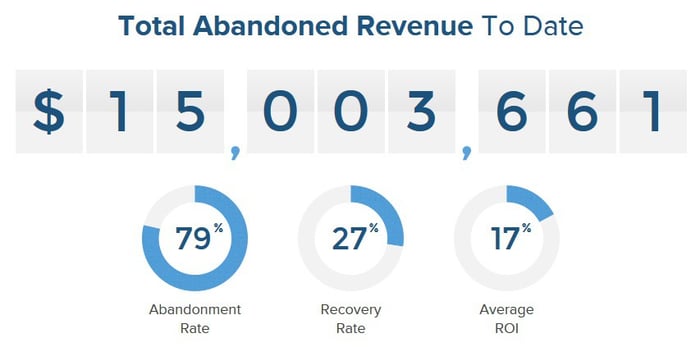 AbandonAid works like this. When an online shopper ditches their cart, an automated email (which can be fully customized) containing links to abandoned products gets sent in real-time to your customer, which in turn entices them to complete their abandoned order. If you'd like, you can even offer an exclusive promo code inside your recovery emails in an effort to encourage shoppers to rekindle the checkout process.
AbandonAid also features a revolutionary dashboard that breaks down your e-store's abandonment stats in a beautiful, user-friendly fashion. From conversion funnels to recovered revenue graphs, you'll be able to analyze – and control – every aspect of your cart-retrieval efforts.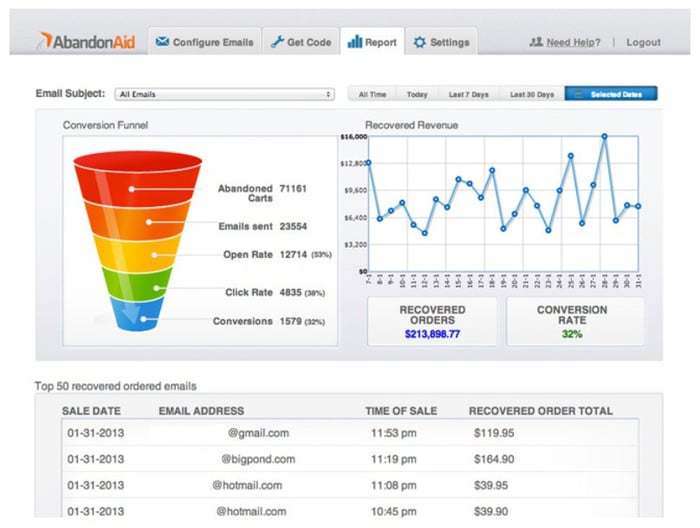 Pretty cool, huh? In addition to customized emails and comprehensive reporting, AbandonAid also offers a variety of advanced settings that help you convert more sales. For example, you can feature product images inside your emails, provide basket segmentation, offer frequency capping and even use Google Analytics tags; just to name a few.
There is never a need for complicated product feeds, xml feeds or any extra code customizations for that matter. Simply elect the options you want to employ and watch the dollars roll in. It's that simple!
AbandonAid is not only the most effective tool for 3dcart store owners to convert abandoned shopping carts, it's also extremely affordable. The first $500 you recover is absolutely free! After that, pricing depends on how much abandoned revenue you choose to have AbandonAid help you generate.

Every AbandonAid account includes the following:

With no contracts, no monthly fees and no limits, the question isn't why should you install the AbandonAid App, but rather why shouldn't you?
Perfect for online store owners during the busy holiday season, AbandonAid is the one, year-round ecommerce tool online store owners can't live without. So what are you waiting for? Click the green "I want this App" icon below the video to get started.
If you have any questions, the comment section below is always the best place. Thanks so much for taking the time to visit 3dcart's Ecommerce Blog, and we hope you enjoy using AbandonAid's incredible revenue recovery solution.