Each shopper visiting your website has individual needs. Often, pre-­defined product categories don't allow for consumers to create their own paths to the products they want. Linear navigation forces shoppers to drill-down through product category and sub-­category refinements until they're served product results. This can be perceived as a one-­way street for each item the shopper's looking for, requiring a new drill-­down if the results aren't successful.

The image above shows the layers of pre-­defined (linear) navigation that have to be clicked through to find products.
Using a dynamic attribute-­based navigation model alleviates these roadblocks by removing the categorical framework around products. This helps individual shoppers find products based on facets, dynamically displaying the results on the same page. No more up and down, or left and right movement through products. Facets can be filtered in any direction by shoppers to quickly narrow results.
Remove Limitations with Non-­Linear Navigation
Linear navigation is limited to product categories and sub-­categories within the platforms data schema, non-­linear navigation provides intelligent multi-­variant selection that filters by product attributes. This opens up all product categories to the shopper and allows them to filter products however they want, dynamically displaying the results.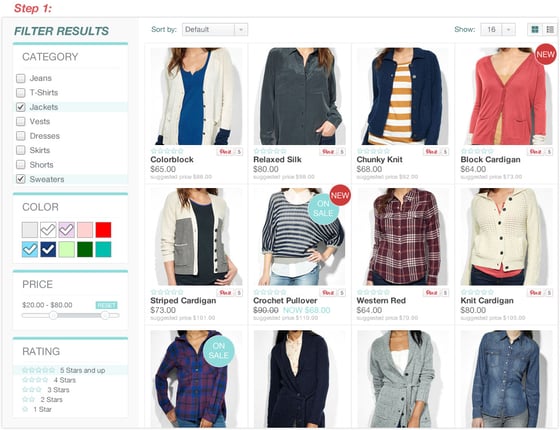 SearchSpring's non-­linear navigation enhances product visibility and allows for multi-­variant filtering. Shoppers can filter all products via facets, on one page.
Non-­linear navigation also improves the overall shopping experience in real-­time. Consumers don't need to know the taxonomy of products in order to find an item. By leveraging the product attributes they can create a dynamic path to find that item quickly.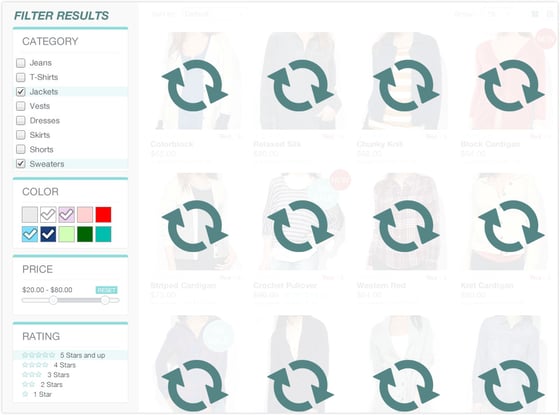 With non-­linear navigation, SearchSpring condenses user activity in one page, reducing clicks and expediting product results.
SearchSpring: Non-­linear Navigation with Added Flexibility
Adding dynamic or non-­linear navigation to a website is easy with SearchSpring. A few simple lines of AJAX are all that's needed to trigger SearchSpring to layer advanced search and refinement functionality on top of the out-of-the-box platform display. SearchSpring's category navigation technology utilizes the 3dcart product data feed or a hosted .csv/xml file. This data is leveraged to create dynamic paths from the results page to checkout, improving the findablilty of your products.
SearchSpring's customizable displays allow merchants to enhance website navigation even further with multi-­select tools, sliding filters, color palettes or size grids. Merchants can also tailor facets used in the navigation by customizing criteria in SearchSpring's management console. Within the SearchSpring management console clients are able to add additional variables to the IntelliSuggest relevancy algorithm to boost a specific brand, on‐sale items, or new items, to compliment internal sales or promotions.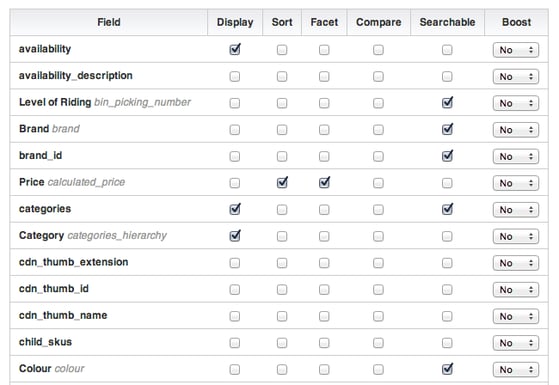 Configuring SearchSpring is easy. Facets are selected in the management console, once saved, the storefront navigation updates in real-­time.
SearchSpring is constantly enabling 3dcart merchants to improve their product visibility and enhance navigation. The SearchSpring team handles setup, installation, and management of the product for clients. With an 80% cross‐industry average of website traffic using category navigation, there's a huge opportunity for merchants to capitalize on conversions by employing non-linear navigation. Don't miss out on converting more current website traffic!
Find out why SearchSpring is one of the most popular 3dcart partners. Click the green "I want this app" button below to get going!