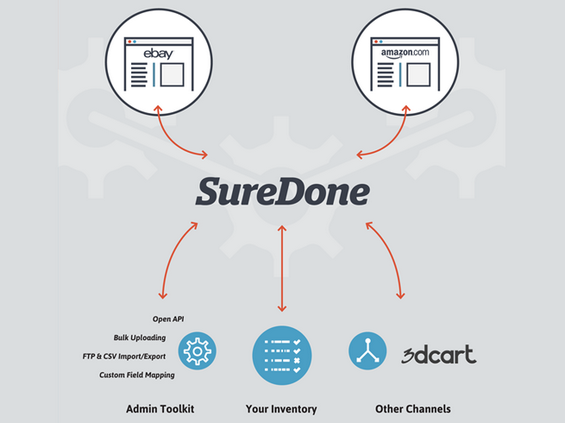 The ecommerce giants will all tell you that it wasn't a piece of cake trying to make their way to the top. Lucky for you, the journey toward the summit has become less challenging because of various automated software available today to online sellers. 3dcart has always made it a point to assist merchants in tapping different online markets and expanding their businesses. This is why we offer a range of valuable apps that can help you in this aspect.
Through SureDone, you can sell your products across multiple channels without going through the hassle of manually setting up separate stores and monitoring each one -- think eBay, Amazon, Facebook, Etsy, and Google Shopping -- so you can easily penetrate these markets without a lot of effort, time, and money.
Here is how SureDone helps you manage your online store:
Bulk Uploading
Just imagine how taxing it would be if you had to upload all your product photos and type in all the specs and descriptions in every market platform you utilize! With SureDone, you just have to import all of these and have them arranged automatically across different selling platforms.
Automated Order Processing
It can certainly be chaotic if you have to monitor and manage orders in several places all at the same time. But don't worry, you won't have to hire people to do it for you. It's quite manageable when everything is centralized and automated.
Easy Inventory Management
What's even better is that the SureDone system also comes with an easy and user-friendly inventory management. Thus, after you've entered the number of items for each product, all the stock updates will be done automatically. Even your customers will appreciate the real-time stock level updates!
Label and Invoice Printing
Wouldn't it be great if this system takes care of the printing of labels and invoices as well? This way, it would be easier to keep track of all the orders and deliveries. You can avoid confusion and mix-ups, and also keep your customers well-informed of all pertinent details.
Minimal Overhead Costs
At the same time, you'll be happy to find out just how much you can expand your business without growing your overhead costs too. After all, everything's centralized so it's still like having one virtual office.
Brand Strengthening
It's definitely inevitable for your brand to get amazing exposure when your products are all over the Internet. Using a helpful app like SureDone will give you that edge to build and strengthen your branding not just locally but globally.
And unlike in branching out with actual physical shops, you won't have to hire more people to help out. Even if your business is present in various online marketplaces, there's no need to enlarge your team because you only need to access your SureDone account and operate and manage everything from there.
With these useful benefits, it's no surprise that more and more merchants are availing of this app. We're very confident that you won't regret spending for it monthly because the $99/month rate is truly nominal as compared with the phenomenal profits you'll get in return. Others have done it and had no regrets. So you should give it a shot too. After all, there's a 30-day money back guarantee in case you feel it hasn't done you any good.
Grow your business like never before. Start today by checking out the SureDone app on 3dcart.