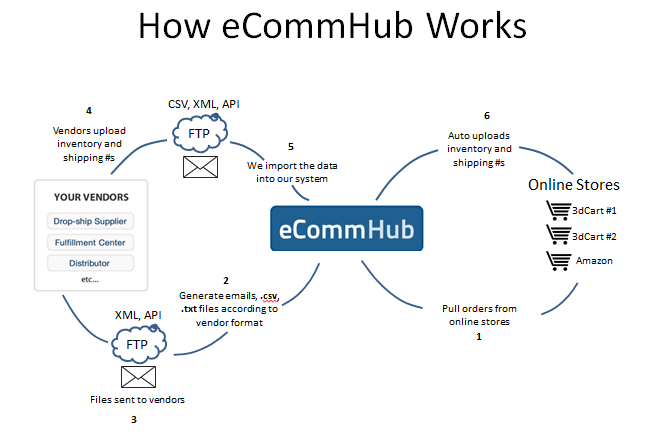 In becoming an online retailer, you don't really need to manufacture or come up with your own products. There are plenty of eCommerce top sellers who actually just source their products from different wholesalers or vendors. Essentially, they fall under the category of "resellers".
If you currently do business with multiple vendors, you offer drop shipping, or you're currently in the fulfillment business, the inventory and operation can be quite tricky. Hence, 3dcart is offering its merchants the ideal weapon--- a topnotch solution that can integrate everything and make things easier to run and manage.
Sounds interesting? It certainly is. And what's more, it can probably even exceed your expectations!
What makes eCommHub a valuable app?
Easy Integration
You don't need to learn or incorporate any new codes nor change anything in your current online store just to be able to use eCommHub. It can easily and quickly be integrated into your 3dcart platform at no risk. Thus, even if you decide not to go through with it after the trial period, you can always just revert back to your former business operations.
Amazing Automation
There's nothing like this amazing app when it comes to automation, allowing you to enjoy automated order routing, inventory management, and tracking number retrieval. You don't have to spend a lot of time doing everything manually. Instead, you can focus on supervising the entire business, monitoring your marketing efforts and sales, and other more important things.
When it comes to the orders, you can't go wrong. After all, you set preferred handling methods and even send out orders by batches based on a regular cut-off day and time you choose.
In addition, you need not worry about updating your stock statuses every now and then or hiring someone to keep track of inventory. The powerful eCommHub can do it all for you.
And when it comes to shipment tracking data, you can definitely say goodbye to all the hassle and confusion. No more mix-ups and missing tracking numbers because the software will match, monitor, and keep these automatically.
Effective Multichannel Syncing
Now if the seamless integration and efficient automation are not enough, don't you worry because eCommHub has got more to offer! In particular, you'll love its multichannel syncing feature. No matter how many storefronts you have on 3dcart, you can link them all to the app. Even if you put up new online stores in the future or decide to offer your products on other Internet channels, it's no problem to incorporate them too.
Should you wish to tap the Amazon Marketplace and open a shop there as well, surely you'll encounter no trouble and will have a breezy time running your various stores all at the same time. The efficiency of eCommHub will help you save on new staff members and on additional time and effort, thus resulting in greater profits.
Helpful Business Reporting
Wouldn't you want to instantly find out how many orders you had for the day, what they were, and through which channels they came through? Wouldn't it be helpful for you to monitor product costs and gain insight into your performance for the month as compared with the previous month?
Well, these are all possible with eCommHub which is designed to provide you a simple dashboard that displays all business information you might need to keep track of your performance.
Understanding all these wonderful features of eCommHub, it's evident how any online reseller can benefit tremendously.