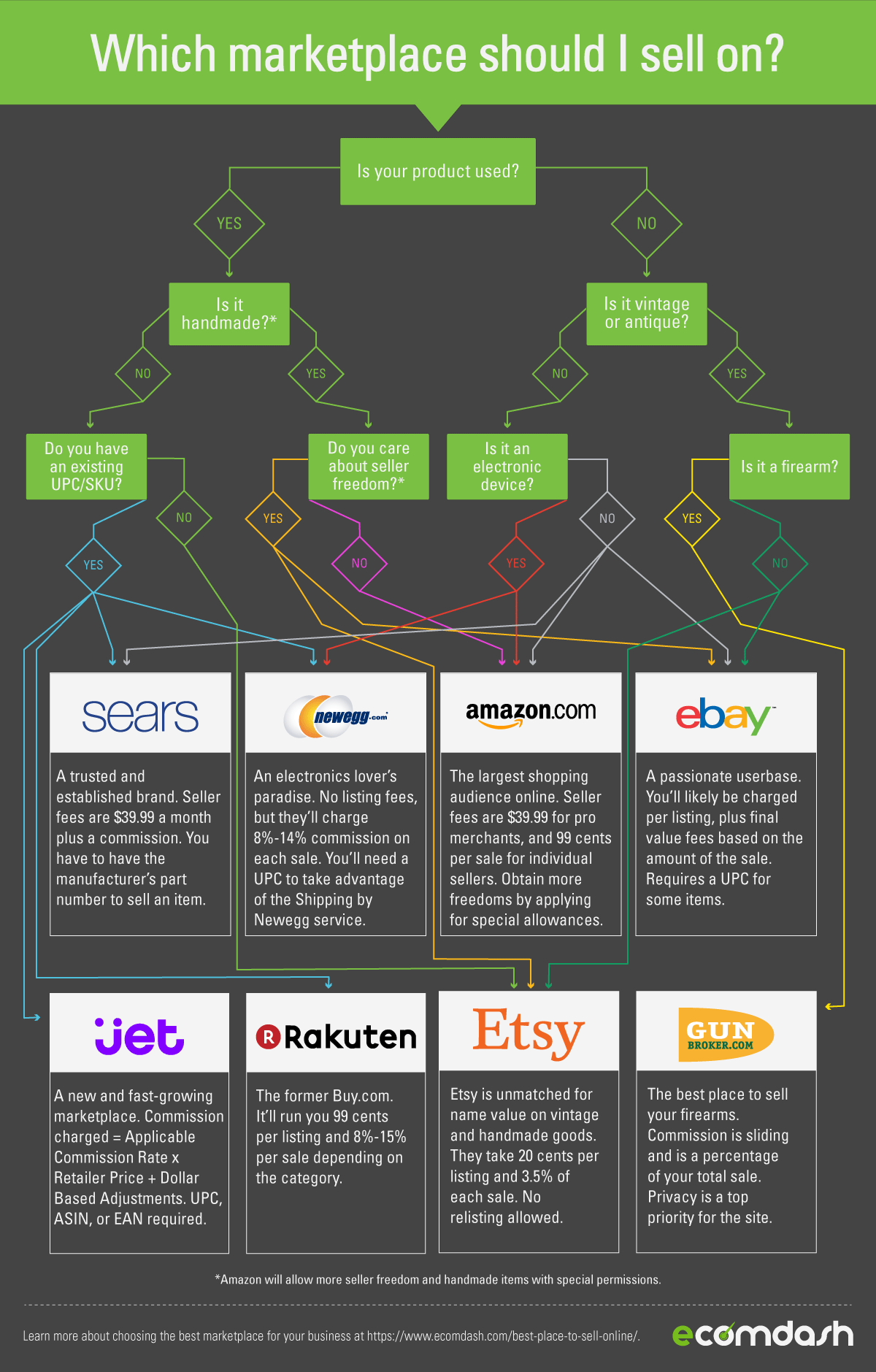 One of the most important decisions you make when you start your eCommerce business is what marketplaces you'll sell on. As we just learned with the quick acquisition of Jet.com by Walmart, the eCommerce landscape is frenetic. There are a lot of options and they change at a moment's notice. It's easy to get lost in all the commotion. Ecomdash works with business owners of every type, so we wanted to create a resource for them to better navigate the marketplace landscape, something like a roadmap. After a couple of late afternoons spent scouring seller restrictions, we created a decision tree that helps sellers know the best place to sell their items online. We even threw in a side-by-side comparison of listing fees. Scroll all the way down to see the full infographic.
The Process
Our goal in putting together this flowchart was to create an empowering document for eCommerce business owners. Originally, we conceived of this project as a direct comparison of the marketplaces. We believed we could use seller fees and restrictions to create an objective assessment of the "best value" for sellers. We quickly discovered as discussions went on that what we were trying to do was a fool's errand. There were too many variables to consider. The best value for sellers depended more on the product than the marketplace.
For example, imagine a jewelry seller who makes rope bracelets by hand. Which is better for that seller: Amazon, eBay, or Etsy? We could try to put together an objective evaluation of seller fees, but we'd be left with a lot question marks. Is this a business owner or an individual seller? Have they purchased UPCs for their listings? How many listings is the seller posting? Does the seller have the time to apply for any special permissions for their marketplaces? Instead of viewing the questions as a detriment to our project, we decided to let them drive the project. Why let the marketplaces dictate the questions when we could let the questions dictate the marketplace?
The Questions
So, we had our concept. We then had to figure out what questions to ask to guide our research. The first and most important question we came up with was whether or not the product was pre-owned. Some marketplaces are designed to sell new merchandise. They gear their marketing efforts towards shoppers who value consistency and reliability over quirk and novelty.
Generally, we found these marketplaces to be Jet.com, Rakuten, Sears, and Amazon. Other sites have audiences a little more willing to accept uniqueness in exchange for a better deal, or the thrill of a rare find. This applies to eBay, Etsy, and Newegg.
We went on to ask other important questions, such as how important "seller freedom" is. Amazon is a great site for consumers, which is why we recommend every ecommerce seller should be on the site, but their restrictions were by far the strictest of all the marketplaces we researched. Amazon's strictness on sellers is what makes them so successful. Customers know they can trust Amazon purchases. If the freedom to price, photograph, and describe your products however you want is important to you as a seller, Amazon is likely to be a bit frustrating for you. Additionally, we found that not all marketplaces allow drop-shipped products, so we reviewed the best marketplaces for dropshipping.
The Results
The result of this process was an infographic that's uniquely seller-centered. Many artifacts that attempt to answer a similar question to ours focus mainly on the marketplaces.
An interesting finding was BriskSale, a free marketplace for online stores to sell their products.
By focusing on the seller and the product, we hoped to provide a more actionable and more useful resource for business owners faced with difficult decisions.
This was a guest blog post by Dion Beary at Ecomdash.

Dion Beary writes about eCommerce, television, and sci-fi movies. His passions are Twitter, casseroles, and 00's rap. He uses his job as a content creator for ecomdash to prop up his addiction to Chuck Taylors and Vans.