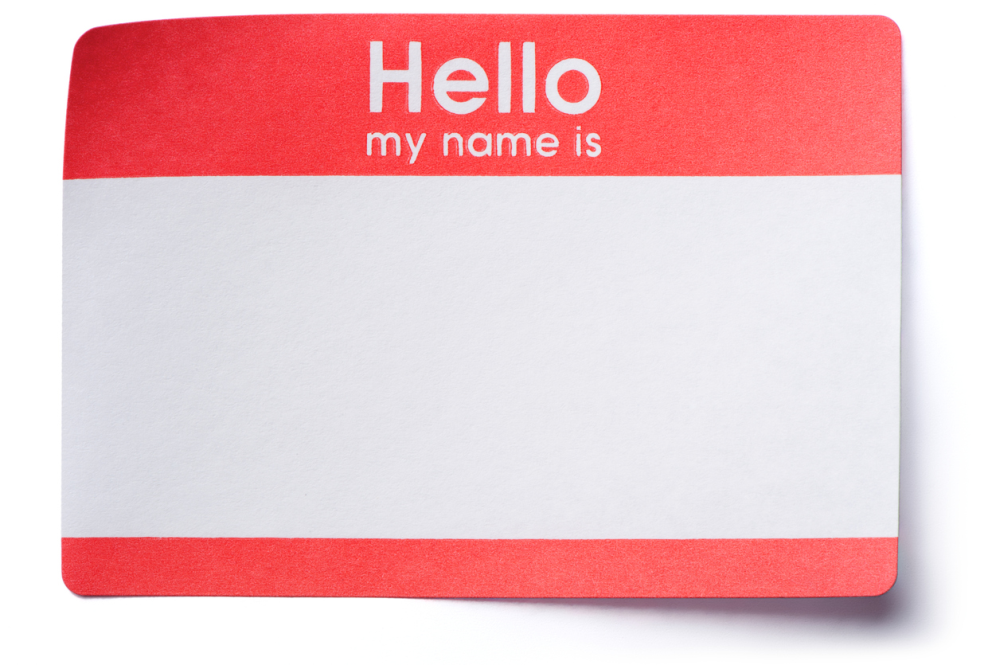 Choosing a name for your brand or business can seem daunting. You want something unique, but still memorable. It should make some sense so customers can pronounce and remember it easily, but you don't want to box yourself in, in case you decide to expand geographically or into new product lines in the future.
On top of all that, the name has to actually be available (and your company name and domain name should probably be the same, so you'll have to make sure the domain name is available as well).
If you've started to sweat, you're not alone. Often, would-be business owners – sometimes known as wantrepreneurs – get stuck over thinking business name ideas for months or even years. If only I had the right name, I'd be able to get started, they tell themselves.
Delay tactics like these are part of what The War of Art author Steven Pressfield calls Creative Resistance, "the force that will stop an individual's creative activity through any means necessary, whether it be rationalizing, inspiring fear and anxiety, emphasizing other distractions that require attention, and raising the voice of an inner critic."
So while the name of your company is obviously important, you don't want to put so much pressure on finding the perfect name that your business idea never even gets off the ground.
Enter: business name generators. Lots of them. And the good news is, they're actually pretty fun to use. From completely random store name generators to highly specialized niche business names, the list below is sure to connect you with plenty of names to consider for your new business. Bonus: many of them are free to use.
The 14 Best Business Name Generators
1) Brandings Name Generator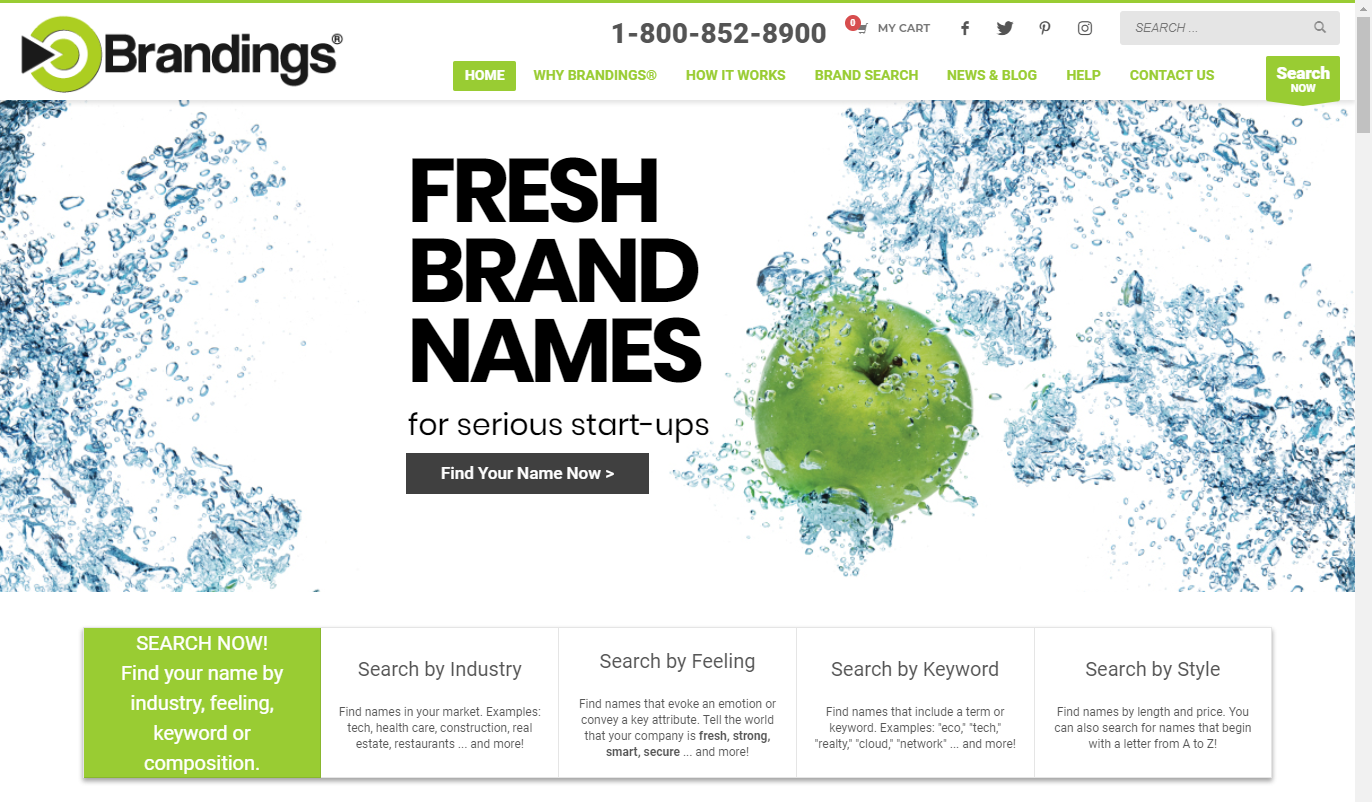 Brandings is a great tool because it allows you to search names by industry, feeling, keyword, or style. It also breaks these main categories down further into highly specific sub-categories like Cutting Edge Evocative Brand Names and Whimsy or Fun Based Names.
Once you decide on a name, Brandings will help you build a custom brand identity including a unique logo and design palette at no additional cost. They'll also supply a starter website template you can use to establish an immediate web presence for your online business.
2) Squadhelp Visual Name Search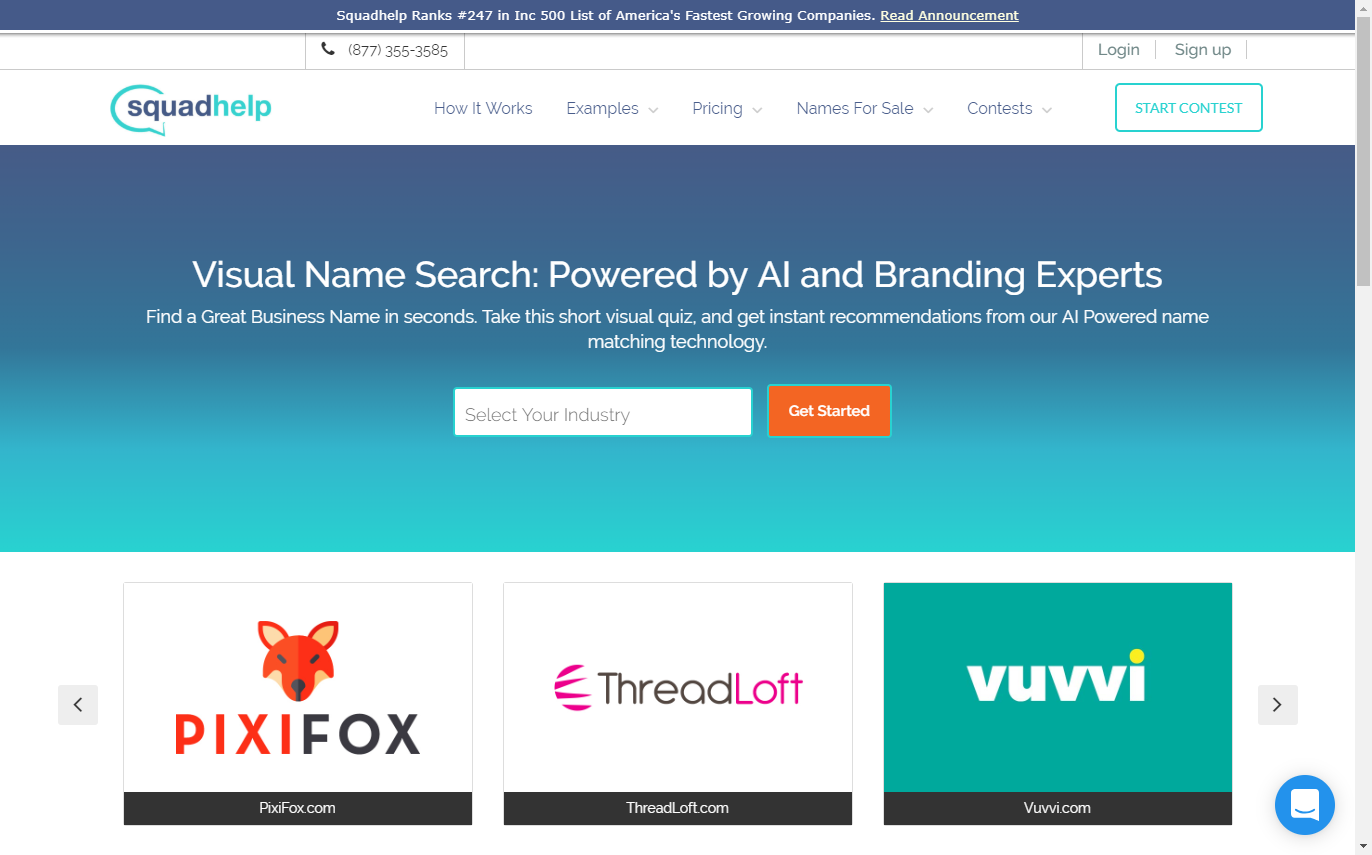 Instead of using algorithms like many other business name generators, Squadhelp enables users to host branding competitions between the most creative minds from across the globe. The result is thousands of creatives competing to name your brand. At the end of the contest, you select a winner. The winner gets paid, and you get a strong brand name that has passed Squadhelp's unique verification process, which includes domain checks, trademark risk assessment, linguistics analysis, and professional audience testing.
Bonus: contests start at $199, which is a fraction of the cost of hiring an agency. Most contests begin receiving submissions within minutes of starting, which means you'll start seeing results almost immediately.
3) BrandBucket Business Name Search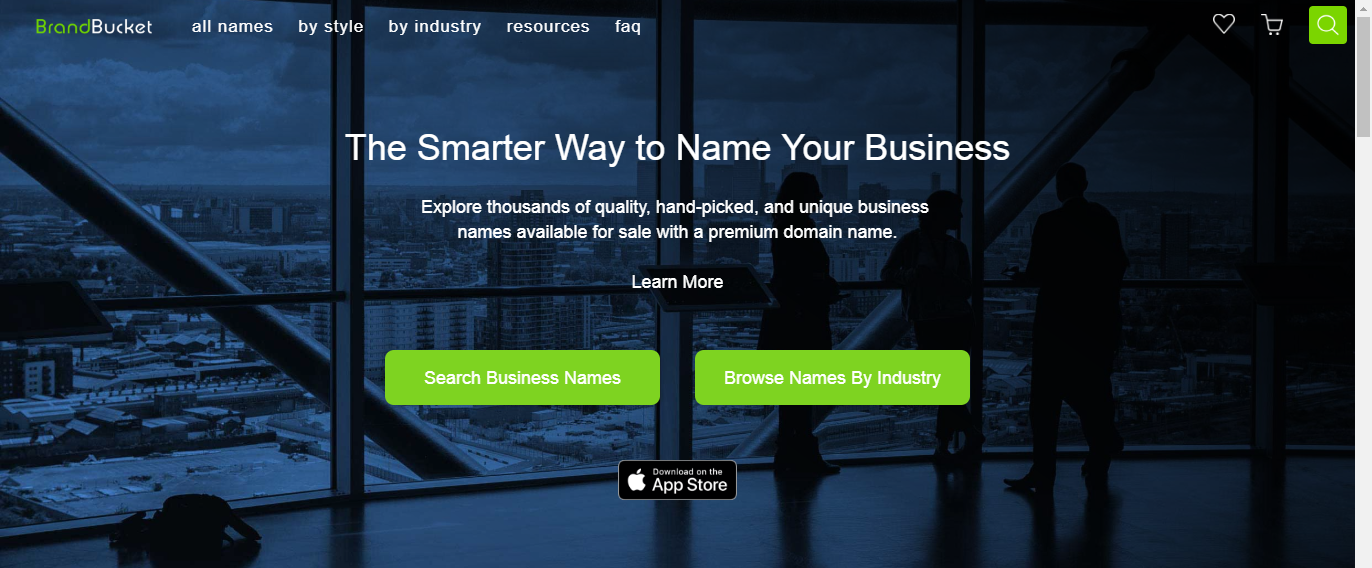 With over 50,000 names to choose from, BrandBucket allows you to browse, get inspired, and check the availability of the perfect name for your new brand or business. BrandBucket names are curated by creative branding professionals whose mission is to make naming your business fast and efficient – perfect for busy entrepreneurs.
4) Name Mesh Startup Company Name Generator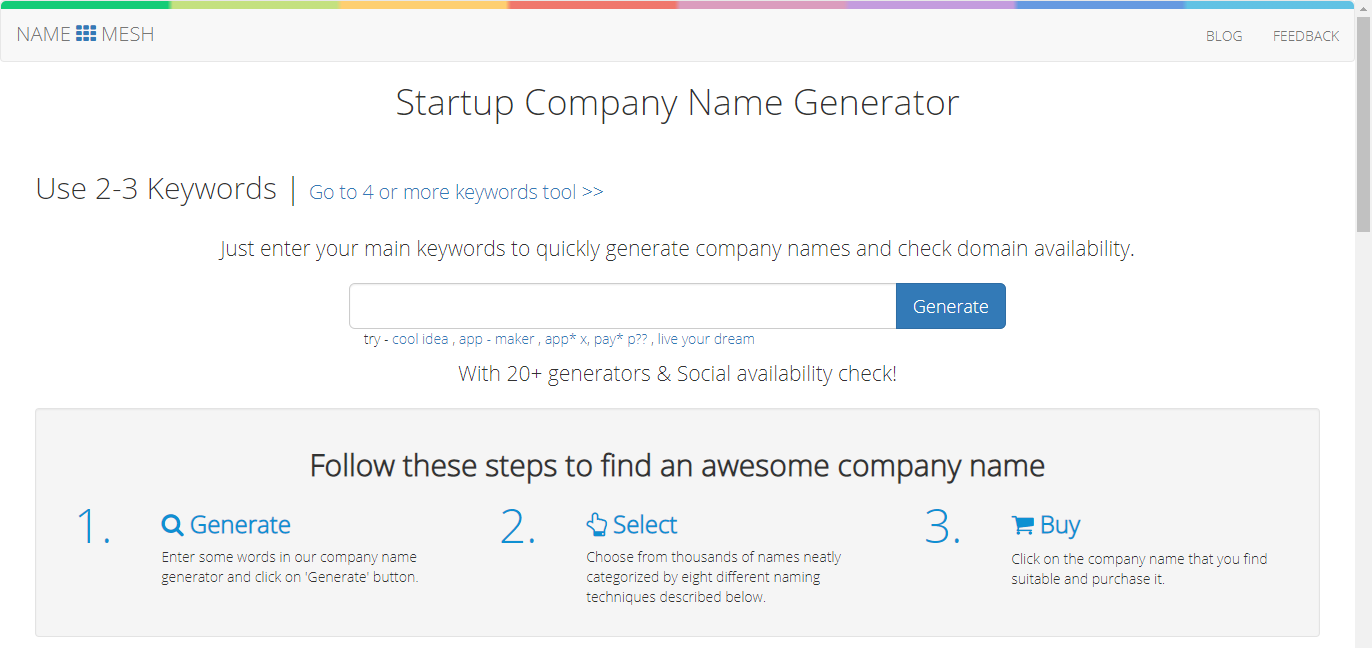 Name Mesh is a business name brainstorming tool primarily focused on helping startups name their companies, apps, and products. After an initial keyword search, business name suggestions are grouped according to standard, new, short, fun, mixed, similar, and SEO-related categories.
5) Panabee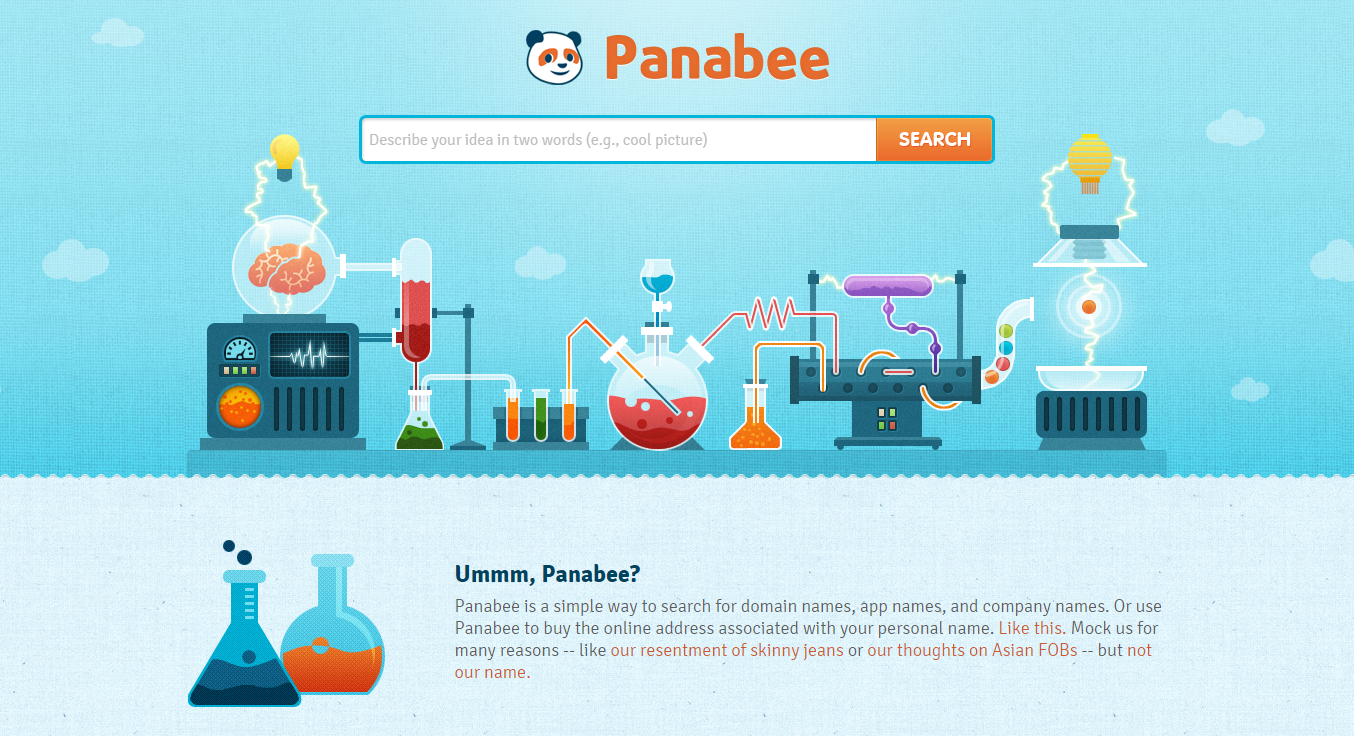 Describe your idea in two words, and Panabee will connect you with a list of relevant business name suggestions. If your perfect name is already taken, Panabee will supply plenty of alternatives derived from phonemes, syllables, abbreviations, suffixes, prefixes, and popular domain trends.
Besides domain names, Panabee also checks the availability of app names on the Apple App Store and Google Play. On top of that, they also crosscheck availability on the most popular social media sites: Facebook, Instagram, Twitter, and Tumblr – an extra service that saves busy entrepreneurs and startups several little steps.
6) Hipster Business Name Ideas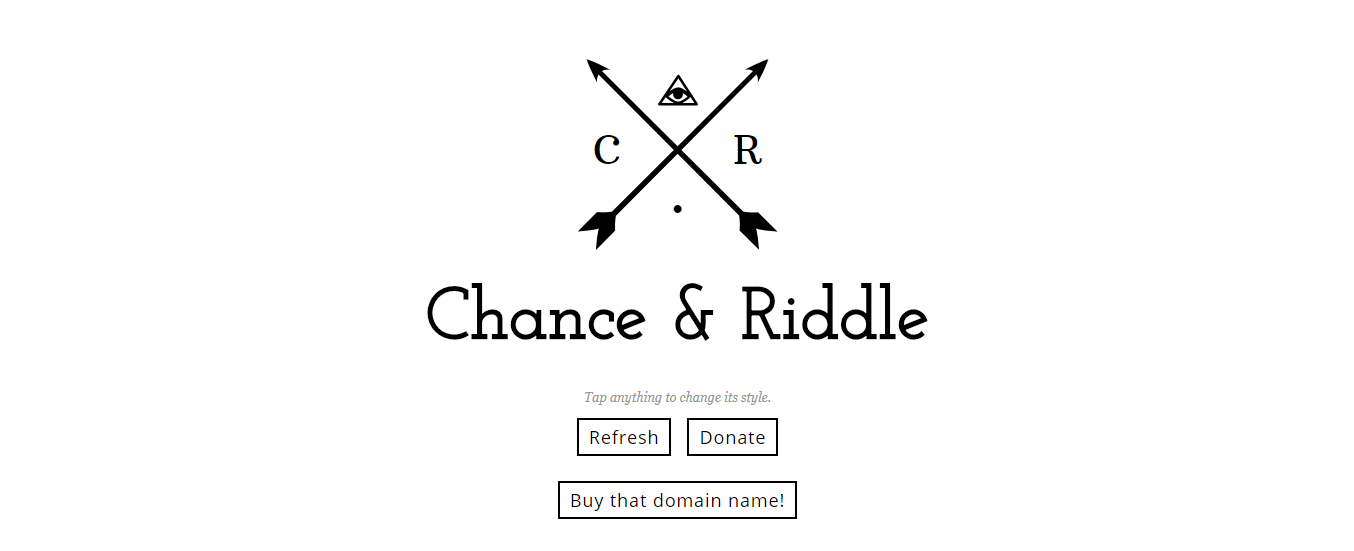 Unlike other company name generators that allow you to search by industry or keyword, the Hipster Business Name generator is completely randomized. This tool allows users to click through a seemingly endless supply of clever, quirky, fun business name ideas.
Since the recommendations are random, it may be the best fit for entrepreneurs who are looking for a unique name that doesn't need to reflect their niche.
7) Wordlab Business Name Generator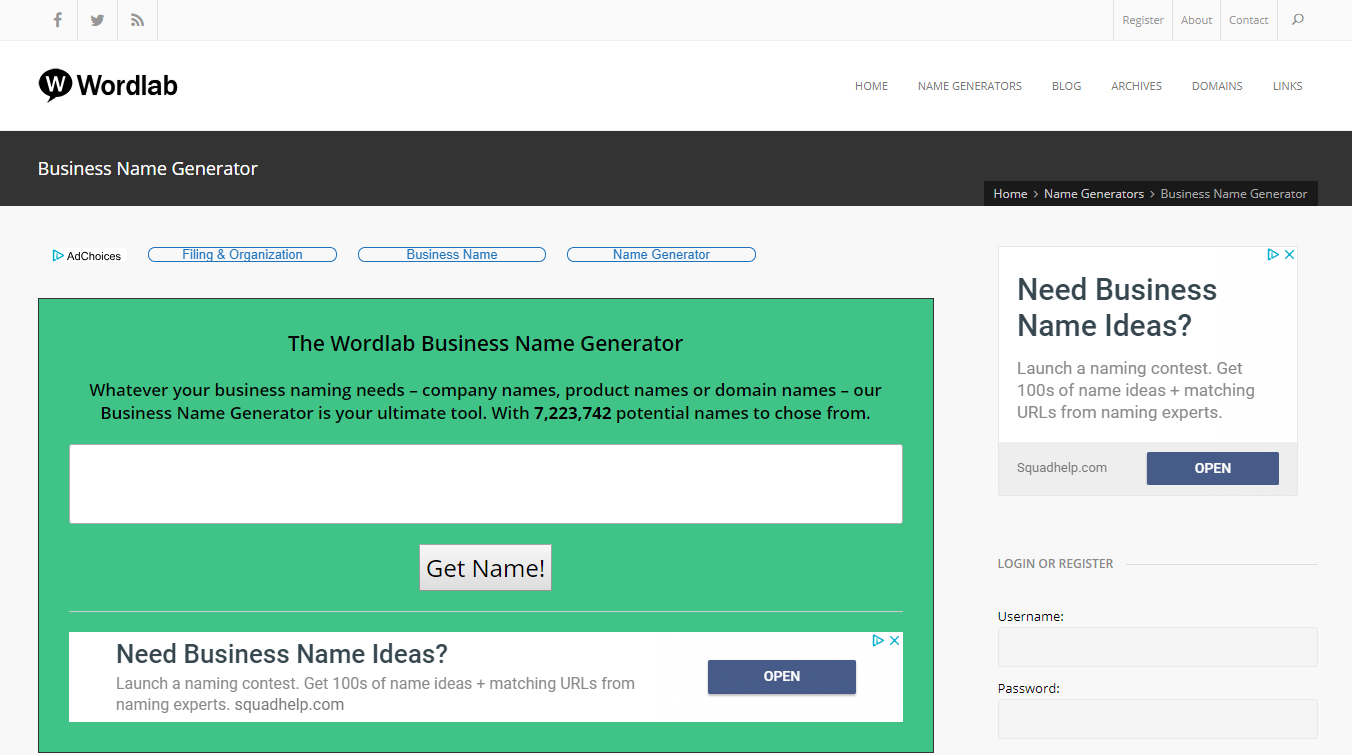 With over 7.2 million potential names to choose from, Wordlab churns out recommendations for companies, products, and domains. You can also sign up for a free Wordlab account for access to their forum, where you can post a topic and get feedback from members of the Wordlab community.
8) Cool Name Ideas Generator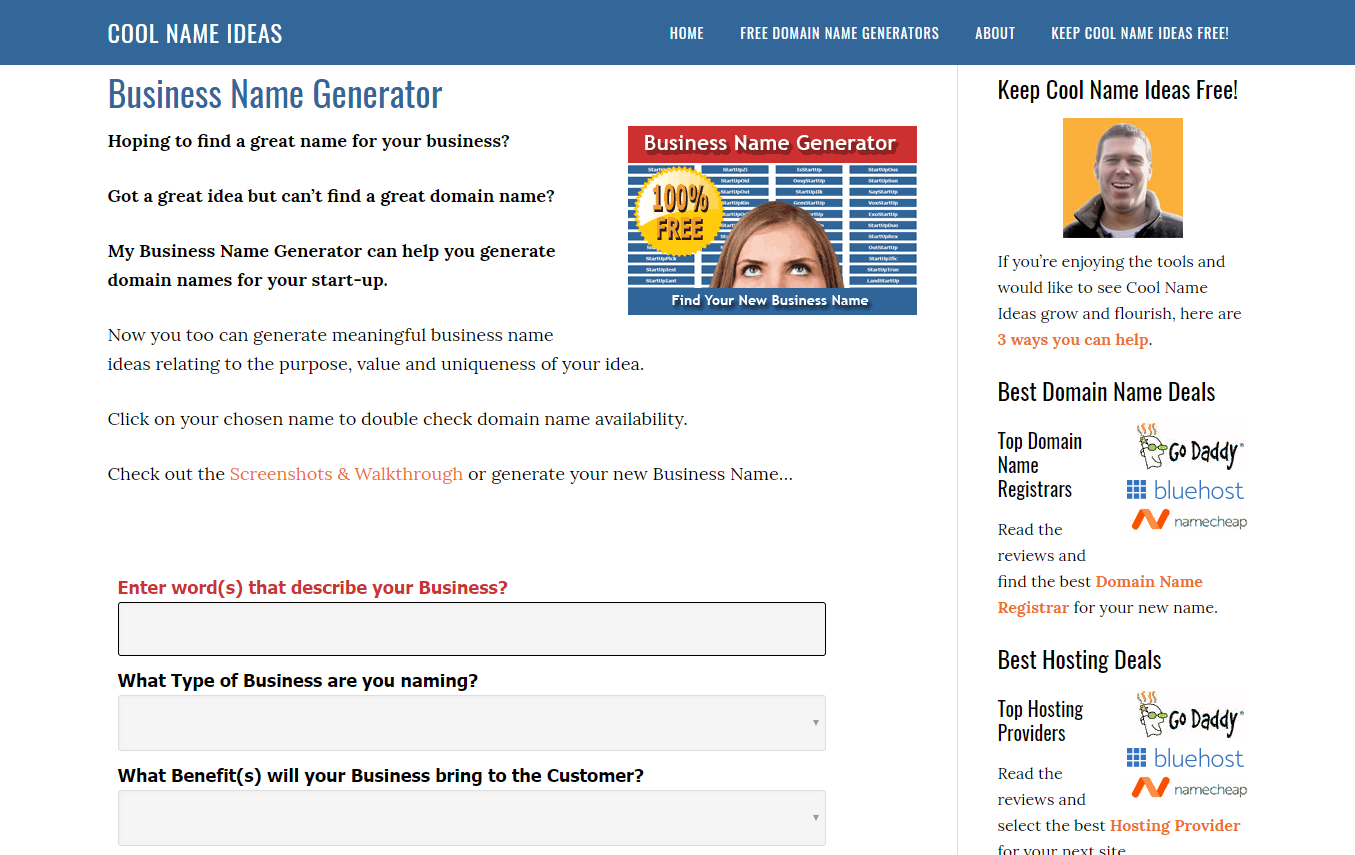 The Cool Name Ideas site offers three separate name generators specific to business names, blog names, and product names. By drilling down and answering detailed questions like 'What benefit(s) will your business bring to the customer?' and 'What style of business are you naming?' (with drop down options like Easy – Cool – Simple or Retro – Silver – Vintage), you'll end up with a highly targeted list of name ideas to choose from.
Each tool also allows you to choose how long you'd like the name to be and where your keyword should appear in the name. You can also double check both domain and Twitter name availability.
9) Brandroot Business Name Search
Brandroot specializes in highly effective business names that can be immediately branded. All names come with a professional logo and the Brandroot team also offers help with website setup at no additional charge.
Along with searching by industry, Brandroot also allows users to search by popularity and word length. Pro tip: shorter domain names tend to do better than longer ones.
10) WriteExpress Free Online Naming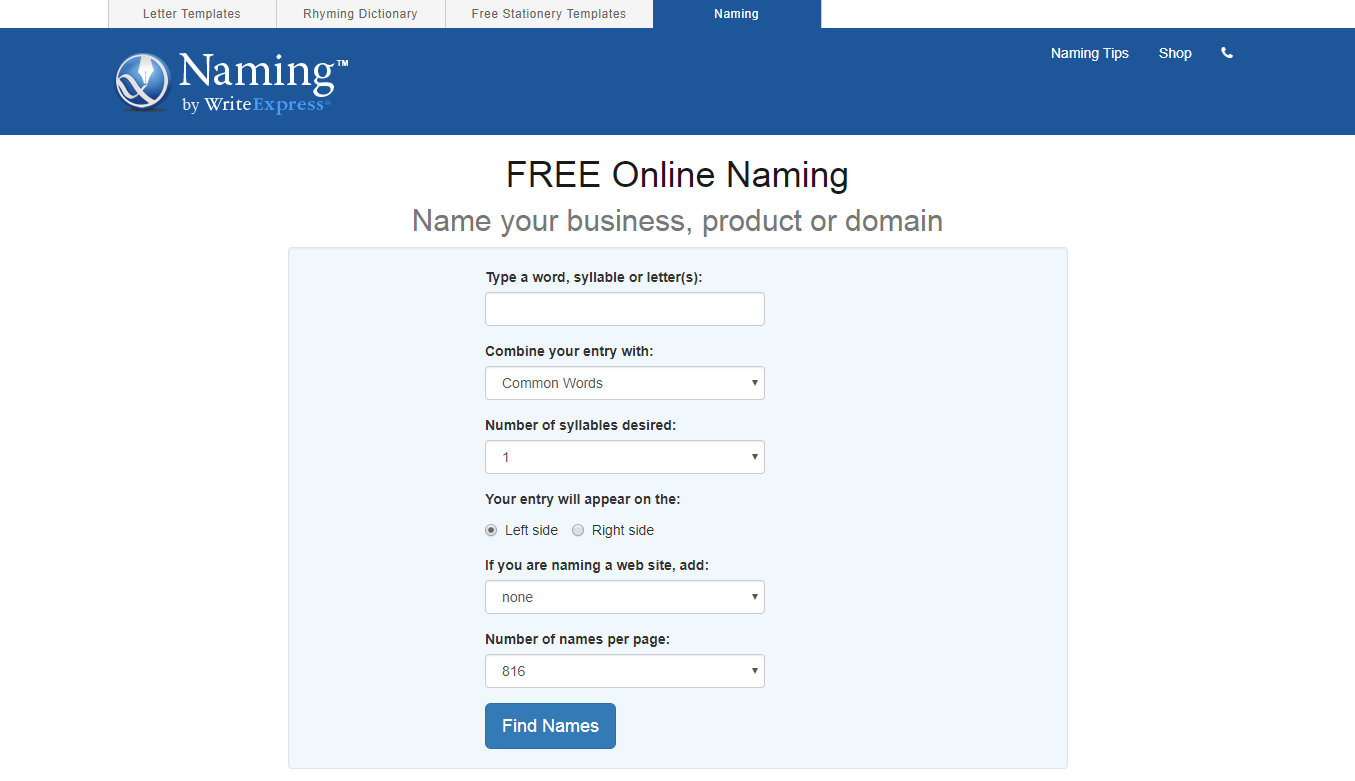 WriteExpress' approach is a bit different than other store name generators in that it focuses on various settings to help you create your business name. Starting with one word or even a letter, specify type of additional words for name combinations, number of syllables, and more.
Users can see up to 816 naming results for any given word and also select domain name combinations with their extensions.
11) Namesmith

Namesmith is a creative business name generator and domain availability checker. Users can enter up to five keywords or click the 'Just Generate Some Random Names Please!' button.
If you find the perfect name and decide to move forward, you'll be redirected to GoDaddy or Namecheap to purchase the domain.
12) Mithril and Mages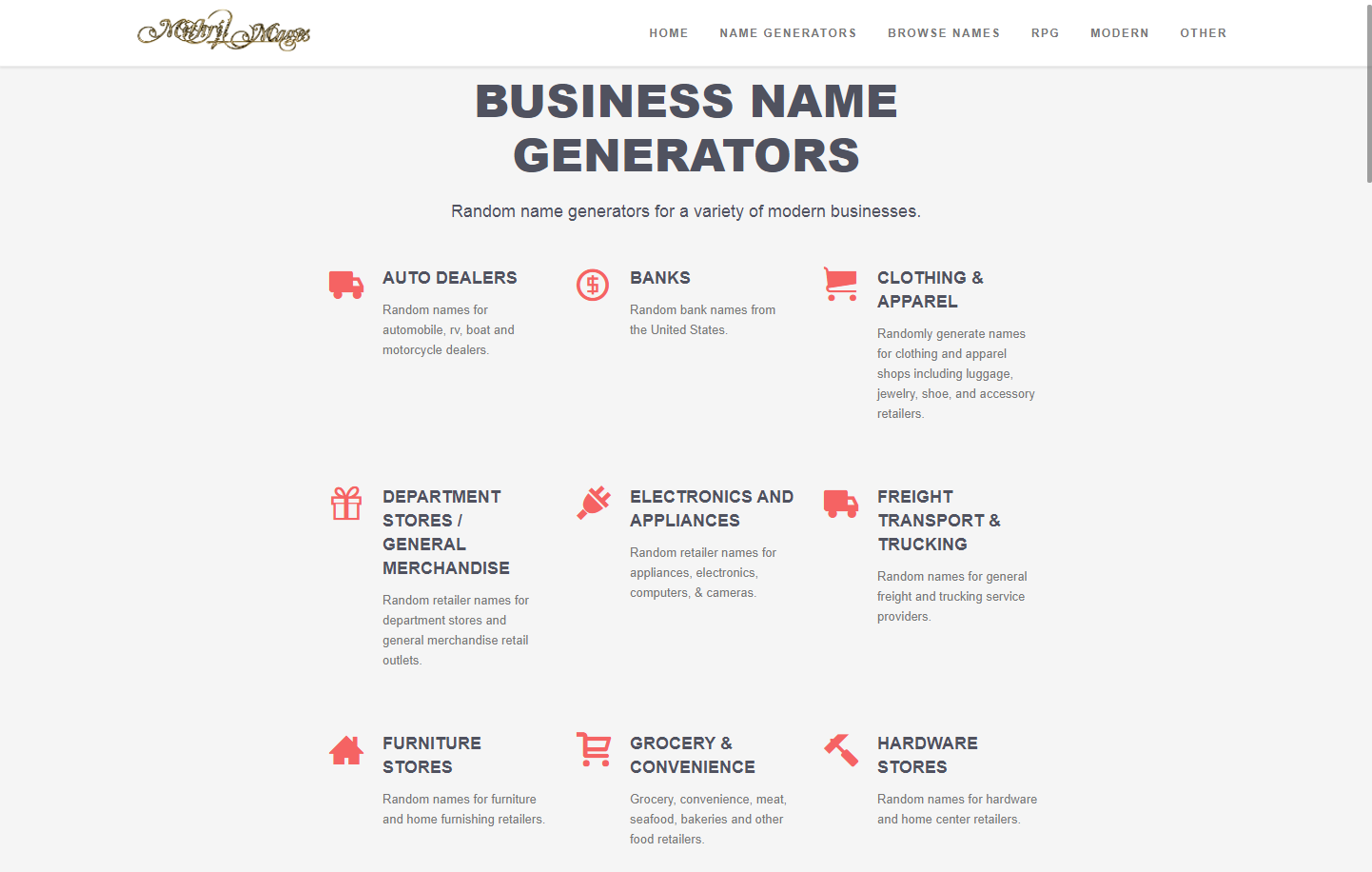 This isn't your classic name generator. Popular categories include Inn & Tavern Names, Medieval Names, Old West Names, Spell Books, Wounds/Diseases, Criminal History, and Tarot.
Rather than entering your own keywords, Mithril and Mages offers drop down boxes to select an industry and then drill down into various sectors of interest.
This is the perfect name generator for a brand or business with a healthy dose of fantasy.
13) Frozen Lemons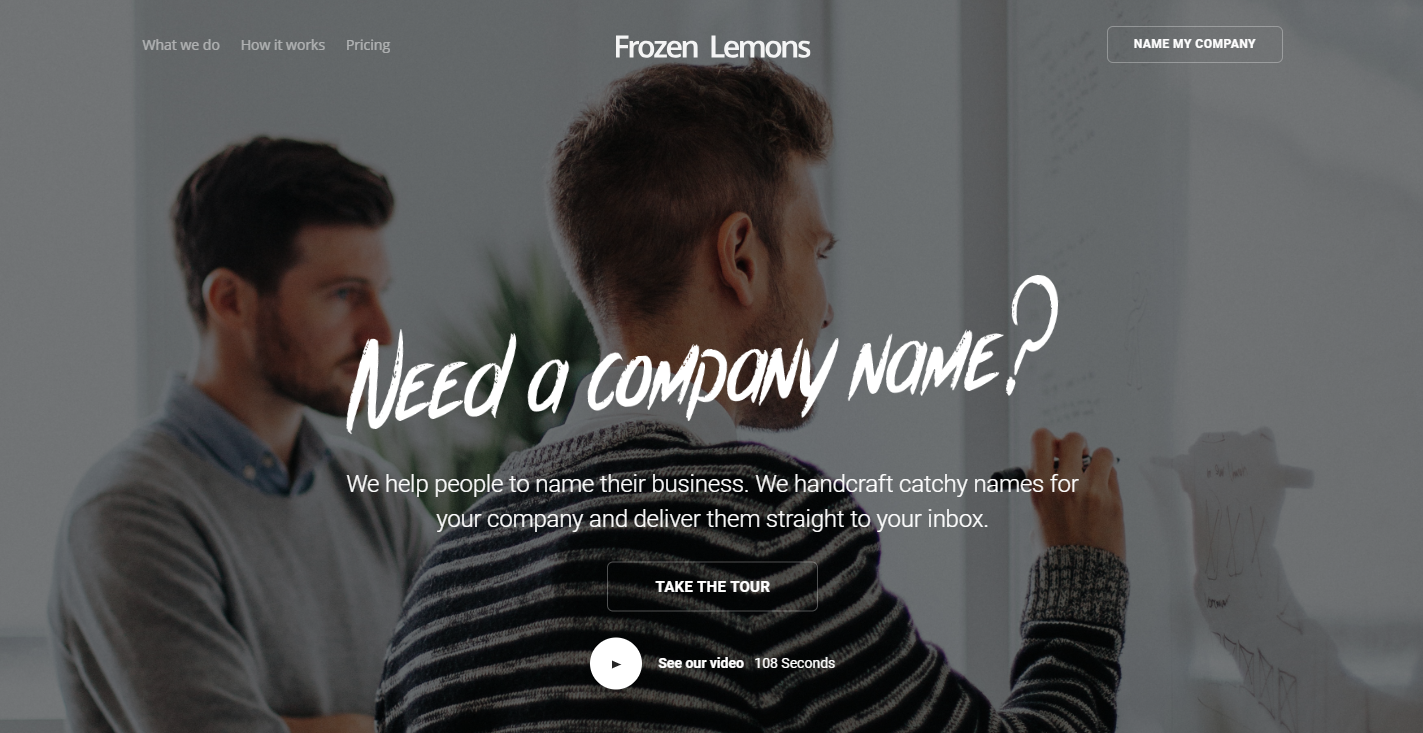 Frozen Lemons is a team of naming professionals who create handcrafted business name ideas designed to stand out from the pack. Once you complete their form to explain the details of your business, you'll receive a list of company name ideas straight to your inbox in 24-48 hours.
This naming service starts at $11 per name, which includes a set number of free name revisions.
14) Looka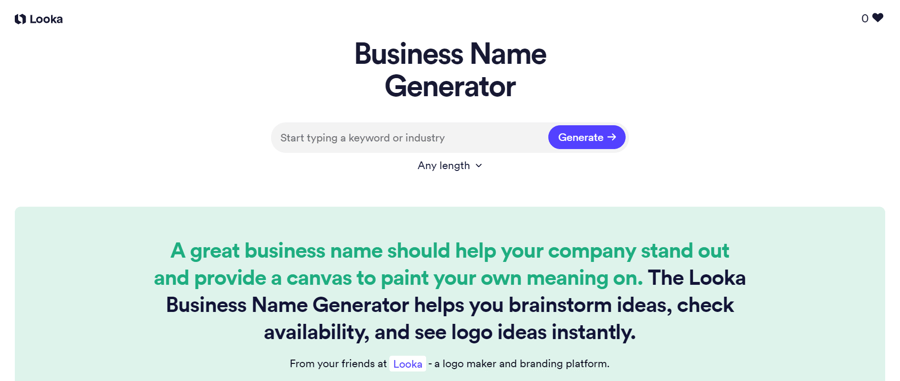 Looka's Business Name Generator is a powerful tool that comes up with tons of business name ideas based on the keywords you input. You can review the generated names, filter by length, and click on any of them to instantly check for available domains and social media. This tool also gives you the option to see possible logo ideas based on the name you choose.

With Looka's AI-powered platform, it's very easy to create a business and brand you'll love and be proud of.
Choosing the right name for your business
Serious entrepreneurs understand the tremendous impact that choosing the right name can have on a brand or business. Instead of driving yourself crazy staring at a blank piece of paper, work smart and outsource this one to a name generator. You don't need to do everything yourself.
Choose a name that sounds appealing, run it by your friends and family and start your online business.