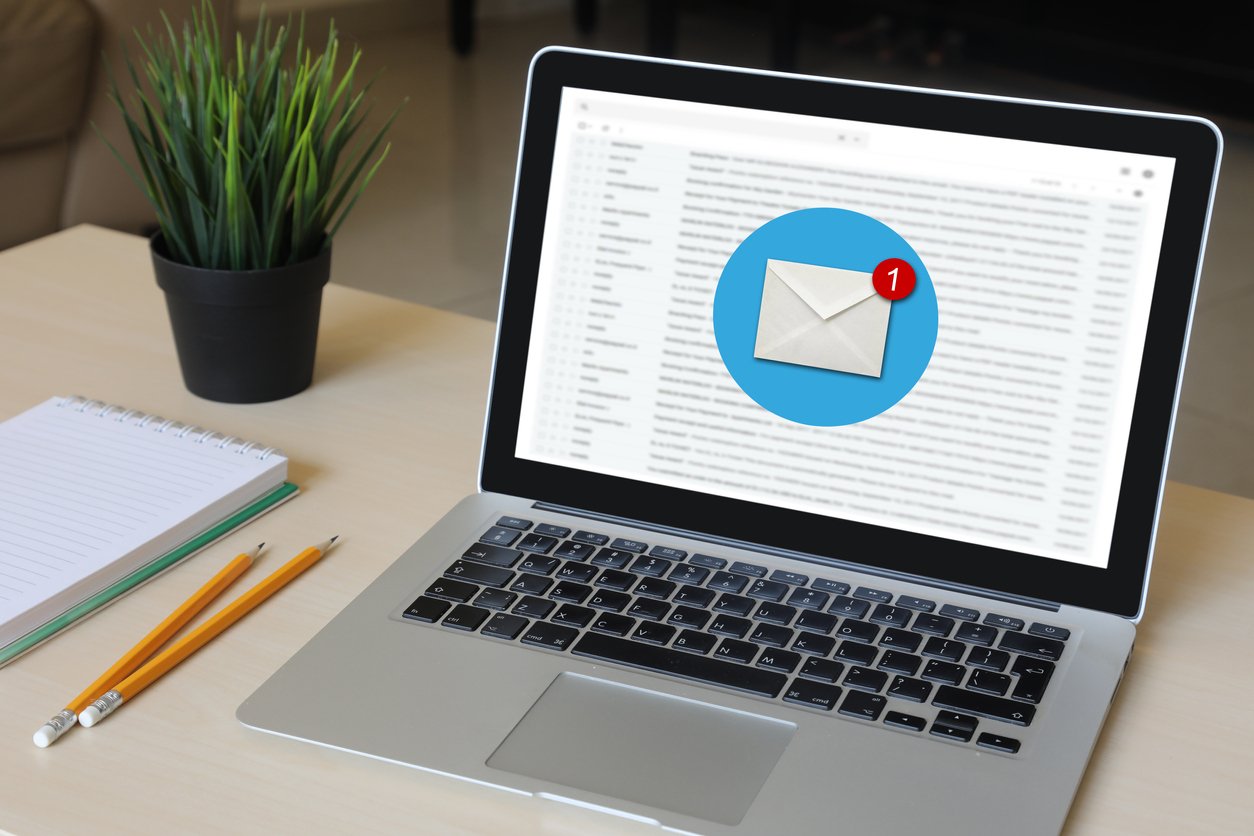 No matter how good the offer you have inside your email is, if your subject line is lacking, no one will click on it. In other words, your subject lines decide whether or not your email marketing campaign will succeed.
We get hundreds of emails per day and most of them never get opened, unless they have a compelling subject line. In today's post, I will share with you the best tips to write catchy email subject lines with examples that will boost your email open rate.
Let's get started.
What Are Subject Lines?
An email subject line is the first text that recipients notice after the sender's name when an email lands to their inbox. Your subject line introduces the message that you want to convey to your subscribers. Here is an example: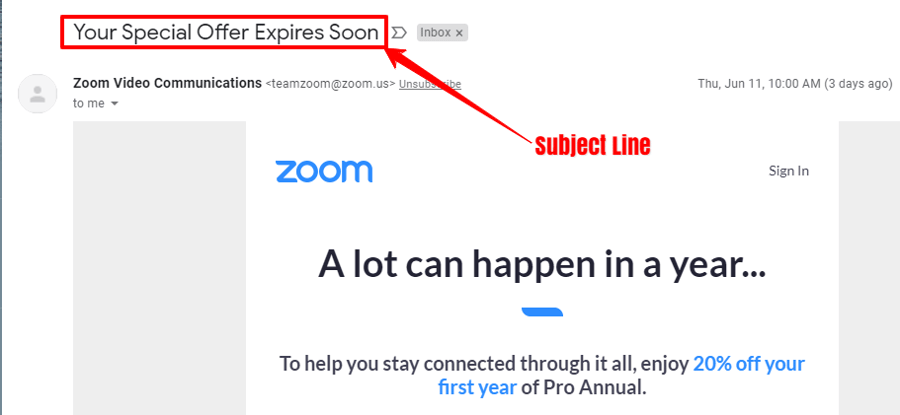 Why Do You Need Good Email Subject Lines?
Here's the truth: if you want to increase your open rate, you need to write email subject lines that your subscribers click in the first place.
In fact, 47% of people open an email based on the subject line alone. Whereas, 69% of email recipients report email as spam just because of the subject line.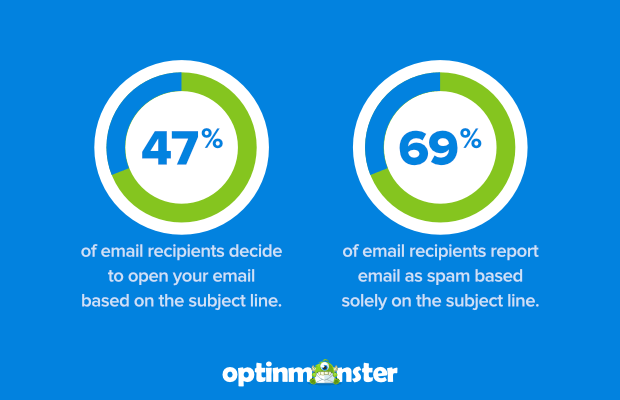 That's why you need to invest some time into crafting a subject line because your entire email marketing depends on it.
Although it seems a small task, it is the first thing that convinces your subscribers to open your email and make you stand out from your competitors.
Email Subject Line Best Practices
Before we learn how to write a good email subject lines, there are some email subject line best practices that you should know about it.
FOMO (Fear of Missing Out)
"Fear of missing out" is a psychological factor that encourages users to take action instantly. You can use this principle in your subject lines by adding elements of scarcity or urgency.
Email subject lines that include time-sensitivity words like (urgent, ending soon, last chance, etc.) have seen higher email open rates.
Here are some email subject lines that use the fear of missing out:
PLR Agency: $220 OFF "branding" bundle (ends TONIGHT!)
Zoom: Your Special Offer Expires Soon
Social Media Examiner: Ends today. Society door close tonight.
Digital Marketing: Last Chance – Training price will be double after this…
Digital Marketing: Final Day – Your invitation expires tonight!
Curiosity
It's a human tendency that we want to know everything; a subject line that shows some sort of mystery works well. In other words, it encourages subscribers to click the email to find out what is inside.
Here are some email subject lines that contain curiosity:
Digital Marketing: I Have a Good News for You!
Reddit: Where Jaguars Are Killed, New Common Factor…
Flippa: Do you have traffic and revenue generating domains?
Avi Arya: [Only Open] If you want your videos to get more sales
PureVPN: Who do you think is the most trusted VPN in the industry?
Amazing Offers
People love new things, whether it is a discount on new sneakers or offers on holiday packages. Adding the words "FREE" and "Discounts" in subject lines have proven to increase the open rates.
Here are some amazing offers subject lines that subscribers can't wait to click:
Zoom: $60 off on your first year of PRO annual plan
PartnerStack: Get extra cash by helping the team by increasing their productivity
IndusInd Bank: Delightful Deals! Get 10% off on Bigbasket with IndusInd Bank Debit Card
Digital Marketing: FREE SEMrush Pro worth $99.95 for 14 Days
Digital Marketing: Want FREE 7 day SEO course worth $100?
Personalization
Everyone wants to feel special – especially your subscribers. When writing a subject line, make sure it looks like it is only for them.
Here are some example of personalized email subject lines:
Scoop.it: Your Scoop.it daily summary
PayPal: Umesh, Time to check-out your shopping cart
Larry Kim: My top Facebook ad hacks for you, Umesh
Digital Marketing: Umesh, You are invited…
Paytm: You have received a new promocode
Address Pain Points
If you have a buyer persona of your subscribers, you must be aware of their pain points. You need to address those pain points with solutions in your email subject lines to increase your open rate.
Here are some subject lines that address subscribers' pain points and offer a solution:
Digital Marketing: How to get links from high DA sites? 7 Actionable link building tactics
Wishpond: 7 Amazing tips to create a Twitter audit report & why you need one!
Flipkart: The perfect gift for your newborn!
PLR Agency: Stop wasting money on content when you can get it for FREE
Digital Marketing: Work From Home: Get Paid for Freelance Writing
Add Humor
Funny subject lines that make subscribers smile have more chances to get opened. However, adding humour in subject lines isn't easy, you need to have a creative mind for that, but it can surprisingly increase your email open rates.
Here are some funny email subject lines that have humour in it:
WarriorPlus: Hypnotize your traffic? (90% OFF)
Grammarly: Hmm, no writing activity last week?
Elementor: Bye-bye, Birthday Sale Last 24 Hours
The STM Forum: Do You Want $100K "Summer" Washington?
Digital Marketing: Huh? Black Friday during JUNE?
How to Write Good Email Subject Lines
Writing a good email subject line is not as hard as most people think. In fact, you can craft engaging subject lines in just a few seconds after practicing and following some general rules.
Here are my 7 best tips to write catchy email subject lines that work for me and will work for you as well.
KISS (Keep It Short and Sweet)
The best subject line is the one which conveys more information in fewer words. A subject line which contains more words has an increased chance of getting cut off, especially on mobile devices.
In fact, 81% of users check email on their smartphone, while 21% uses tablets.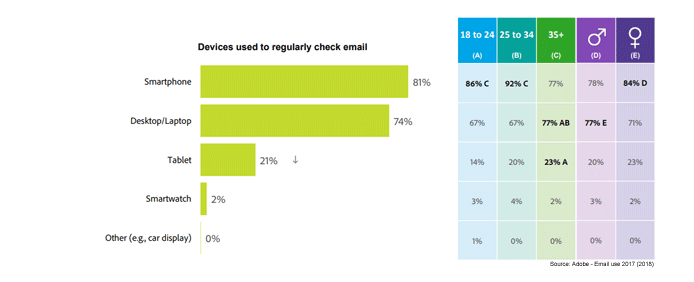 An ideal subject line falls somewhere between 50 characters, which is short enough so that users can read your entire email subject line when scanning their phone.
You should eliminate unnecessary words from your subject line to keep it short. For example, let's say you're sending an email to your subscribers to join a webinar. In this case, "How Facebook Delivers Ads" would be better than "[Webinar] How Facebook Delivers Ads: What Marketers Need to Know in The First Place."
Similarly, when you are sending regular emails like newsletters, avoid using words like "newsletter" or "update" from the subject line. It doesn't do anything but increase your subject line's word count.
Studies have found that using these words can decrease your open rate, as users can easily know that what it is, and prefer to click on other emails over them.
Give Them a Hint at What's Inside
The best way to increase your open rate is to be clear about what you have for your subscribers. If you are offering an eBook through email, then your subject line should be simple like "Download Your eBook" or "Here's Your eBook."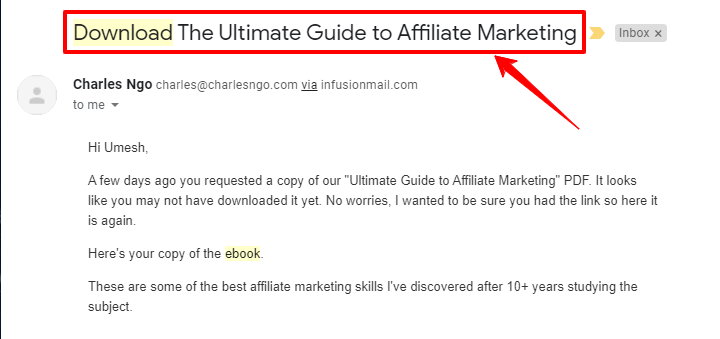 Even though it looks simple, it works well because it clearly shows that there is something inside the email waiting for you.
Segment Your Email Lists
To make your email marketing campaign successful you need to make sure that your email lands into the right person's inbox.
How you can do that?
Short answer: Email list segmentation.
Email segmentation is the act of filtering email subscribers into small segments based on their interests, job, locations, etc. With this tactic, you can send more relevant emails to the right users.
Let's understand it with an example: You are running a cricket shop and want to do email marketing for it. So, there is no point to send emails out to subscribers who like soccer or other sports.
While it seems a small task, it can do wonders for your email marketing campaign. According to DMA, 77% of email marketing ROI comes from segmented and targeted emails.
Here are some email list segmentation ideas that you implement to segment your list:
Geography – You can segment your email list based on your subscribers' current location.
Age – You can separate lists based on their age group.
Gender – Segmenting lists based on gender is another great way to filter your email list.
Industry – You can target a specific industry type for your email marketing.
Education Level – You can segment your list based on how educated your subscribers are and what type of degree they have.
Past Purchases – If you have a list of clients who previously purchased products from you, then you can put them on a different email list.
Similar to the above metrics, you can find your own creative ways to segment your email list to make your email marketing campaign more effective and successful.
Send at the Right Time
Sending an email at the right time with a good subject line can increase your open rate and CTR. How about an example? I received an email from FirstCry with the subject line "For 11 Mins @ 11 PM > Flat 40% OFF + 40% Cashback."

I'd say this is a clever subject line with a clear message. People who are looking for a discount of kid's clothes would click this email for sure.
Use Concise Language
I think that you'll agree with me when I say that we are living in an age where we want everything fast, whether it's an order in a restaurant or looking for emails in an inbox.
That's why the more clear and concise your subject line, the better it is. Simple and clear subject lines allow subscribers to act faster than using complex and confusing words.
The best way to write a concise subject line is thinking about how your email will benefit your subscribers. Make sure the benefits are clear in the subject line.
For example, "Write 2000 Words Blog Post in an Hour" is more appealing than "How to Write Faster than Before."
Make People Feel Special
Psychology says if you talk about people, they will listen to you. When you craft a subject line that makes your subscribers feel like it is especially for them, they will take action.
The right words can make them feel special and garner amazing results. For example, I got this email from Flipkart: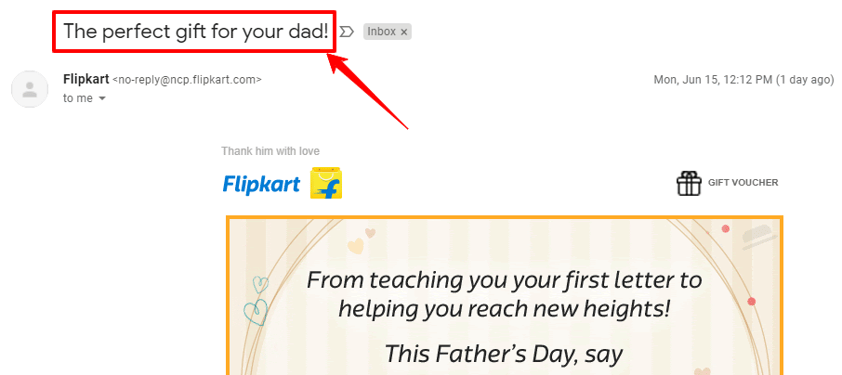 As you can see, anyone who wants to give a gift for their father will surely click on this email to know what is inside. A few ideas that you can use are:
"Especially for you"
"You are invited!"
"This is only for you"
"For our special clients only"
"An exclusive offer only for you"
A/B Test Your Subject Lines
There is no one size fits all subject line, it varies depending on the nature of businesses. What works for others might not work for you. Finding winning subject lines is difficult, but A/B testing makes it a lot easier.
You may see some of your subject lines are performing well, but there is always room for improvement. To do that, send an email to a list of subscribers with two different subject lines and see which one has the highest CTR.
To do A/B testing, you can play with numbers, words, fonts, and more. You need to find your own creative ways to find the winning subject lines for your specific target audience.
Here are four types of A/B tests you can run to find winning subject lines:
Curious vs. specific promises
Long vs. short email subject lines
Questions vs. statements
Personalization vs. no personalization
A great subject line is key to the success of your email marketing campaign. That's why I'd suggest you write at least four subject lines for each email you send and test which one works for you.
Why Is My Email Open Rate Low?
Are you struggling with your low email open rate? A better subject line might help, but there are other factors also which can lead to low open rates, such as:
Not using a professional email address: The biggest mistake people do is not using a professional email address to send emails. A mail sending through generic mail services such as (Gmail, Yahoo, and Outlook, etc.) often goes into the spam folder.
Sending out emails too frequently: If you are sending emails to your subscribers' every day, they may be annoyed and won't bother themselves to open your mail.
Not picking the right time: Similar to other platforms, timing matters in email marketing as well. People who are enjoying time with family and friends on the weekend likely won't want to click on your email if you send it on the weekend.
Quality of email lists: If your email lists aren't high-quality, it will impact your email open rate.
Conclusion
It's clear that a quality subject line can have a direct effect on your email campaign's success. With all of the above information, go ahead and start writing catchy email subject lines for your own business. Remember that you can always experiment to find new tactics or increase the quality of your subject line and open rates.