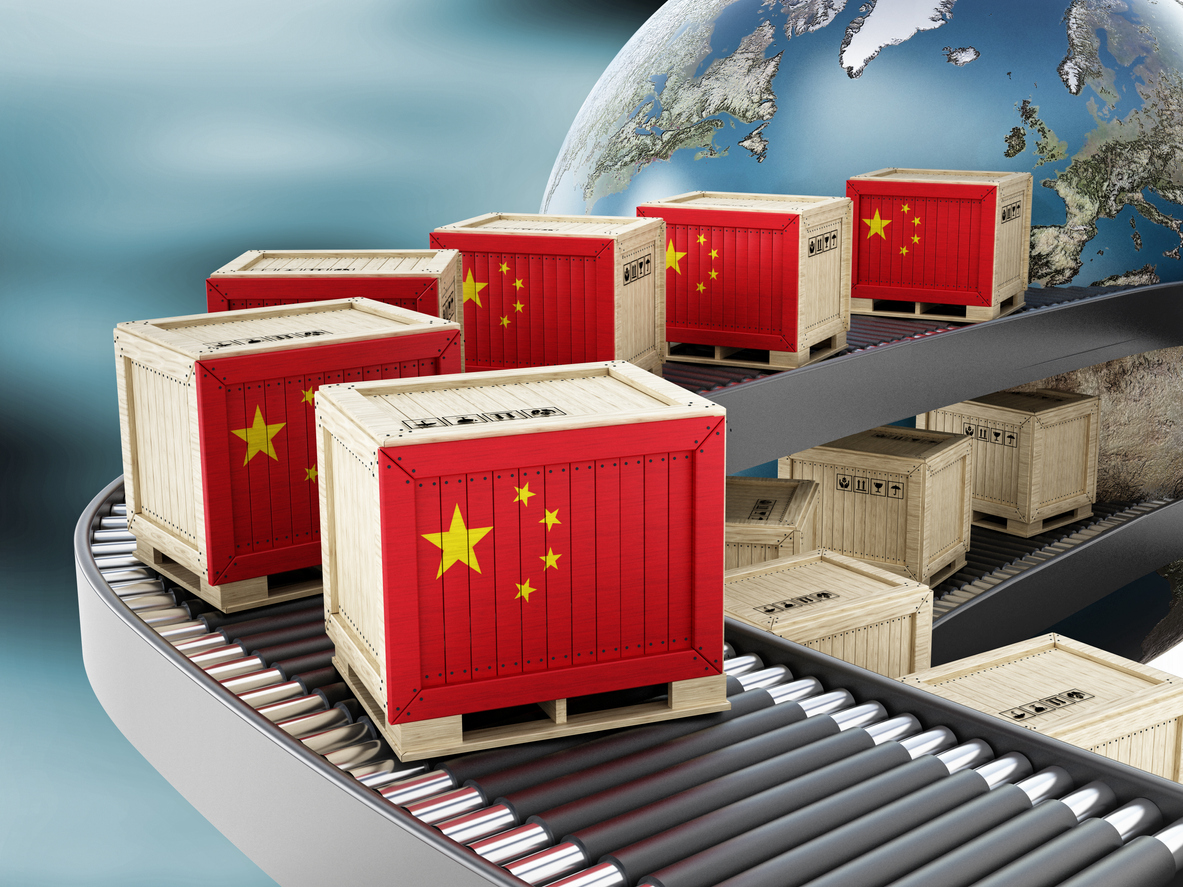 Working with reliable suppliers that can provide high-quality service is a critical step to the success of your dropshipping business. It can be frustrating to find a product that you like and think will sell well, only to find that suppliers aren't able to work with you. Because of this, you feel you might lose the chance to your success that may never come back. To solve this problem, I've gathered a list of the top Chinese dropshipping suppliers for you to consider.
List of the Top China Dropshipping Suppliers
1. AliExpress
Most beginners start dropshipping with AliExpress. As the biggest dropshipping supplier in China, AliExpress provides all types of products with low cost. From electronics to fashion, you can find almost anything you'd want to sell here. AliExpress is a beginner-friendly platform that can be beneficial to new online business owners. You can buy great products for the best price.
Features of AliExpress
All types of products with reasonable prices and more than 20 million products for dropshipping
Global Shopping with local warehouse around the world
Multiple language support including Russian, Portuguese, Spanish, French, German, Italian, Dutch, Turkish, Japanese, Korean, Thai, Vietnamese, Arabic, Hebrew, and Polish
AliExpress dropshipping program, which works with automated dropshipping tools like ShopMaster
AliExpress Affiliate Program
AliExpress works with many affiliate platforms. Go to these platforms, get the affiliate link and purchase orders to AliExpress through the affiliate link. Usually, you can get 5% cashback savings, which is a great way to reduce your dropshipping costs. If you dropship from AliExpress with ShopMaster, thing becomes much easier! ShopMaster works with Admitad, a global affiliate network, to offer an AliExpress affiliate service. By placing orders to AliExpress through the ShopMaster extension, you get cashback automatically.
Dropship with VIP Price
Sellers on AliExpress will offer some products with a VIP price. Compared to the typical price for the same product, a VIP price will be lower. When placing orders to a seller, try to negotiate with them to get the VIP price to reduce your costs.
AliExpress Dropshipping Center
At the Dropshipping Center, there are some special sections called "Hot DS Items," "Suppliers Rank" and "Product Analysis" that you should make good use of.
What you can find from these sections?
Hot DS Items: AliExpress will recommend some trending dropshipping items based on its database.
Suppliers Rank: These are the best-selling suppliers in AliExpress. Here you can find some top sellers for different categories. If you don't know where to find reliable suppliers to import products, you may consider these.
Product Analysis: This is place for you to evaluate product competitiveness. Input AliExpress' product link here, and you will see the recent sales volume and trend of this product. Normally, products with upward trends are better to dropship.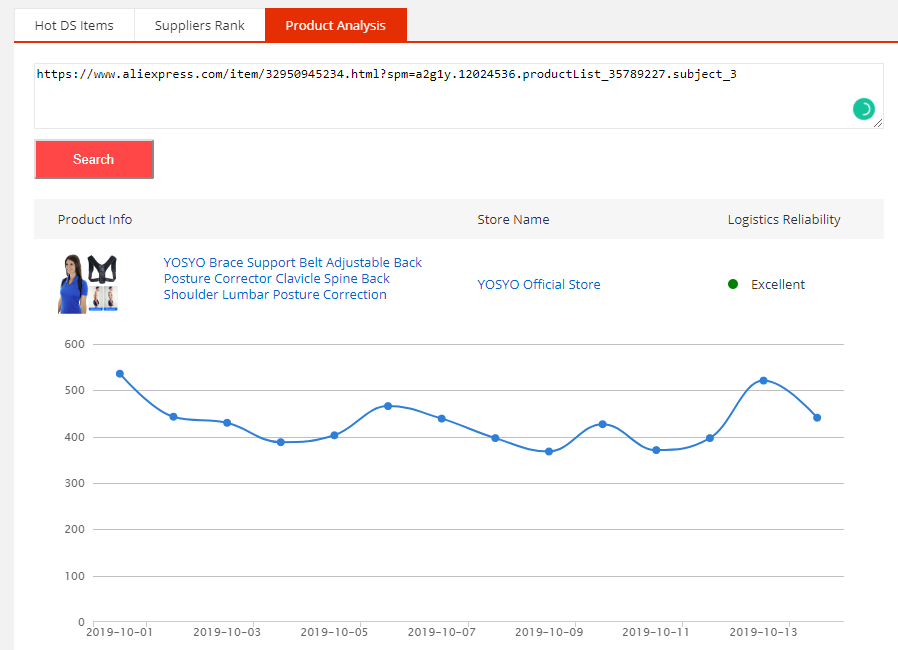 2. Banggood
After getting steady sales with dropshipping from AliExpress, improving product quality and optimizing shipment are key factors to take your business to the next level. That's the reason why you should dropship from Banggood, which many would consider to be an upgrade from AliExpress. It works directly with manufacturers from China with strictly selected quality products with fast delivery. What's more, it provides discounts especially for dropshipping.
Features of Banggood
Large Product Selection: Covers 20+ categories and with more than 200,000 products
Fast Delivery: Local warehouses in the US, UK, AU and FR; deliver the packages in 2-8 business days
Customer Support: Professionals available 24/7 for customer service
Unique Discount for Dropshipping: Up to 20% off for some categories
Dropshipping certification provided

Join the Banggood Dropshipping Program
Initially, when joining the Banggood dropshipping program, your account level will be Pre-VIP.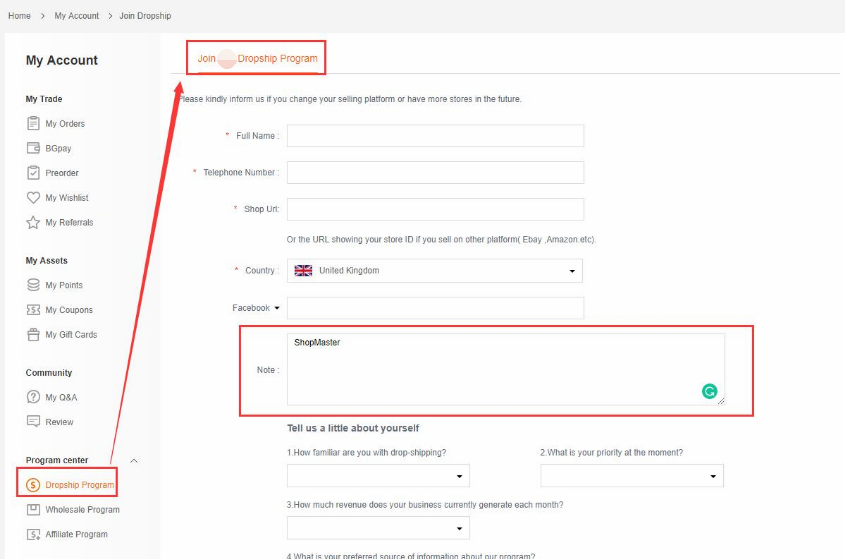 Banggood Dropship Center
At the Dropship Center, you can find a section called "Top Selling Report". In this place, you can find:
Dispatch Fast: Products with quick delivery and enough stocks.
Hot-sale: Hot selling items in Banggood.
Big Discount: A list of highly discounted items.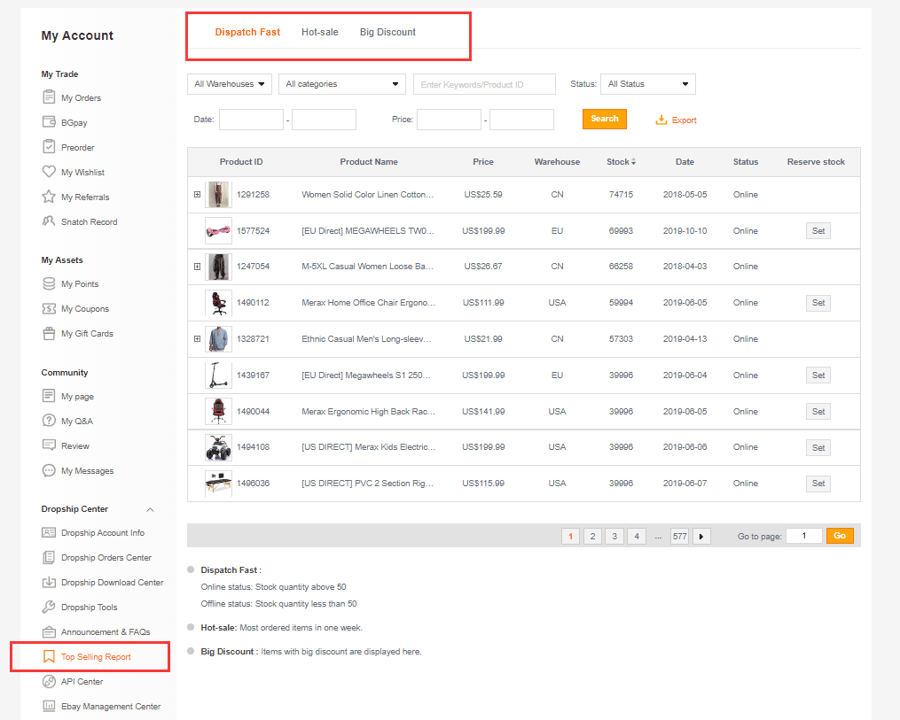 Banggood Affiliate Program
Just like AliExpress, Banggood also has an affiliate program. It works with many affiliate platforms such as Befrugal. You can get up to 9% additional cashback if you join the affiliate program.
3. CJDropshipping
With the growth of your business, you will want to sell something that other suppliers don't have and put your own brand on the items or put some cards on the package to increase the repurchase rate. Also, to decrease the purchase cost, you may even want to purchase in bulk and get the hot sale items in stock. Your requirements can't be met by only dropshipping from AliExpress and Banggood. That's where CJDropshipping comes in. CJDropshipping is a popular supplier which services sourcing, fulfilment, and Print-on-Demand.
Features of CJDropshipping
Source Product at Your Request for Free: Get a quotation within 24 business hours after putting forward your requests
Print-on-Demand Available: Thousands of print-on-demand products are supported.
Free USA Warehouse Inventory: US Warehouse and ship via USPS in 2-5 days. You just need to pay the shipping cost
Professional Products Video and Images Supported: No need to pay extra charge to create elegant video any more
Dropshipping certification provided
Sourcing from 1688.com and Taobao
CJDropshipping is one of the best sourcing solutions for dropshippers, especially since it supports sourcing from 1688.com and Taobao (the biggest China wholesale and ecommerce site). This support allows you to enjoy the cheaper price for goods directly supplied from the factory. They can source any products for you without any charges; just send your request to the CJ team and wait about 24 hours for a response. They also provide free USA warehouses for those who are looking for a fast, secure, and stable method of getting items to their customers.
4. Chinabrands
Chinabrands is a Chinese supplier that's built for dropshipping. They offer hundreds of thousands of popular products with professional images and descriptions. Chinabrands is dropship-friendly with worldwide delivery to make selling and fulfilment easy.
Features of Chinabrands
Massive Product Selection: Over 300 thousand of dropshipping products with stable supply
Dispatched within 24 Hours: Local warehouses in the US, UK, AU and ES. Chinabrands dispatches packages within 12-24 business hours
High Quality Descriptions: Professional products' images and descriptions
Discount Price for Dropshipping: Open a dropship account first for free and then update your account to VIP to enjoy more discounts
Dropshipping certification provided.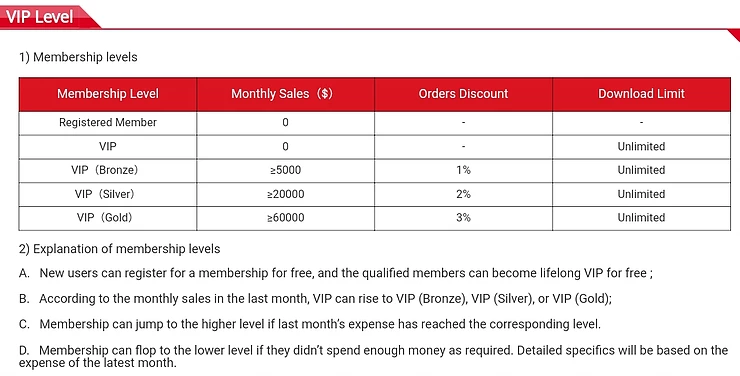 How to Dropship Efficiently with ShopMaster
Now that you've gone through a quick run-down of the top Chinese dropshipping suppliers, all you need to do is find some good products, copy the products' texts, download the images and upload them to your store. You can do it manually, of course. But there is a much smarter and time-saving solution: ShopMaster.
What is ShopMaster?
ShopMaster, official dropshipping partner of AliExpress, Banggood, and CJDropshipping, is one of the most powerful dropshipping tools that is popular with 100 thousand users all over the world. It simplifies the workflow of dropshipping businesses and saves hours of time for merchants. It's beginner-friendly, so merchants without any experience in dropshipping and software can master it in an hour.
How does ShopMaster Work?

ShopMaster helps you to one-click import to store from 30+ suppliers after you connect your store to ShopMaster. Once there is an order, it helps automatically syncs the orders to ShopMaster every 30 minutes, allowing you to purchase it from the suppliers by just one-click. All you need to do is to make a payment. When the suppliers fulfill the orders, it automatically syncs and upload the tracking information to your store to mark that the order has shipped.
If your store is on Shift4Shop, then great news: ShopMaster and Shift4Shop are integrated to provide this solution to merchants. It provides everything you need for dropshipping:
Bulk Import Products to Stores: Easily import product's title, description, images and specifics etc to your online store from 30+ sites in seconds. You don't need to copy manually one by one anymore.
Auto Bulk Orders: Once you get orders from your customers, you can auto-place 300 orders in minutes. Just need to click "Purchase" button on ShopMaster, then ShopMaster will automatically purchase orders from suppliers.
Product Monitor: Product monitoring is critical to stay on top of your supplier's price and inventory changes. It saves you from the risk of losing money due to increased cost or out-of-stock orders.
Order Tracking: Track your orders' shipment details and know where they are at any time you want.
Multiple Channels and Stores: In addition to Shift4Shop, ShopMaster supports importing to many mainstream platforms and multiple stores. You can manage all your stores in one ShopMaster account.
Wrapping Up
Dropshipping can be an extremely profitable business model for online merchants starting their own eCommerce businesses; especially if you're working with suppliers from China. But, at the end of the day, your supplier and dropshipping solution can make or break your online store. By utilizing a dropshipping tool like ShopMaster, you can streamline the process. Check out the ShopMaster app on the Shift4Shop app store.