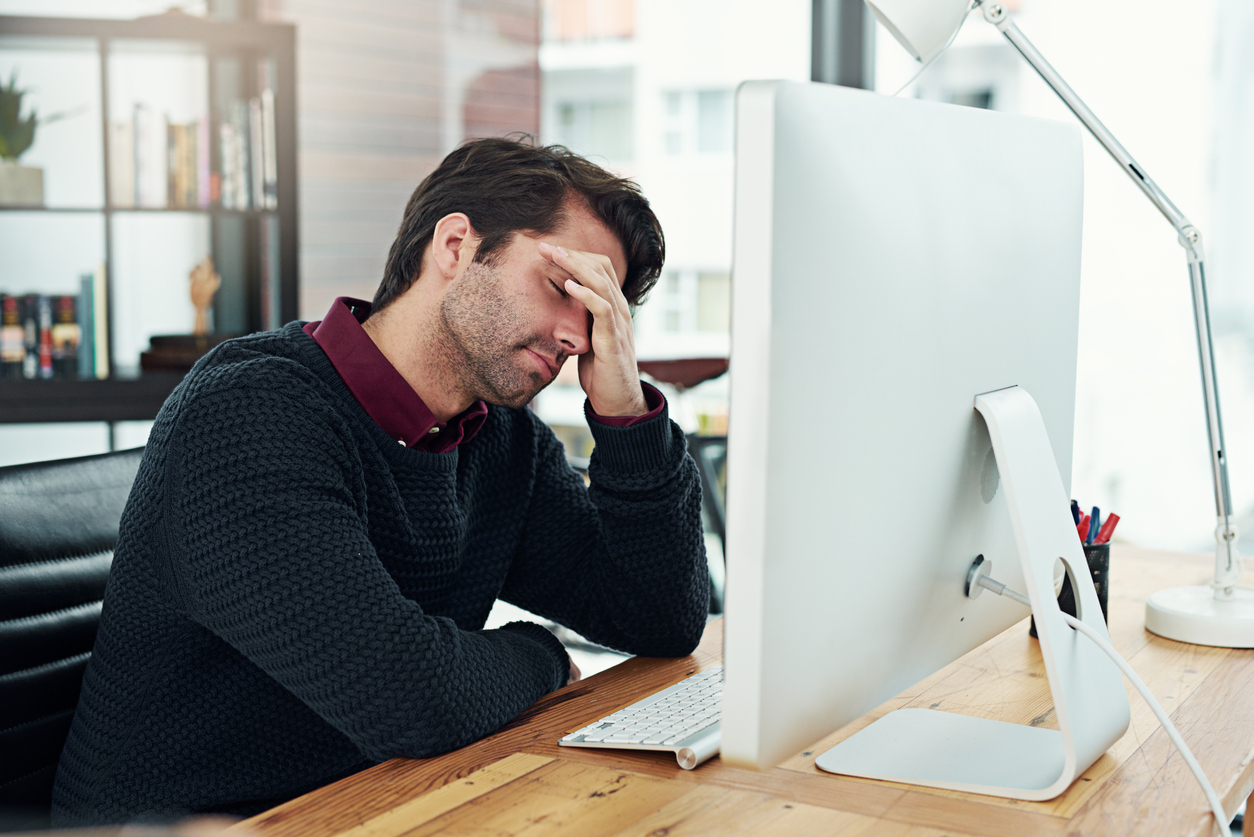 Facebook is the most crowded social media network right now. There are a few marketers making the most of it, while there are some who look at Facebook as a complex platform to market their business on.
Keep in mind: 2.14 billion people can be reached through adverts on Facebook. What great potential!
Although it might be a bit difficult to organically reach maximum potential buyers due to the changing algorithm, it's not impossible. Businesses are continuing to invest their money in paid advertising on Facebook.
But have you invested in a campaign that didn't bring any ROI to your business?
It's not unusual for businesses to go through that because, with the increasing traffic, it's even more difficult to get a user's attention. Your Facebook ad needs more than just a compelling visual or well-written ad copy.
According to Weebly, up to 62% of small business owners say that their Facebook ads campaign never works out well. Therefore, moving on to this blog, I will elaborate on common Facebook ad mistakes and provide you with solutions as well, so sit back and give it a read.
Top 9 Common Facebook Ad Mistakes
1. Poor buyer personas and targeting
Facebook is a competitive platform.
It is filled with people of all age groups and holds a lot of potential for brands to grow. Even after a bunch of other social media platforms came in, Facebook still remained an extremely relevant platform for businesses.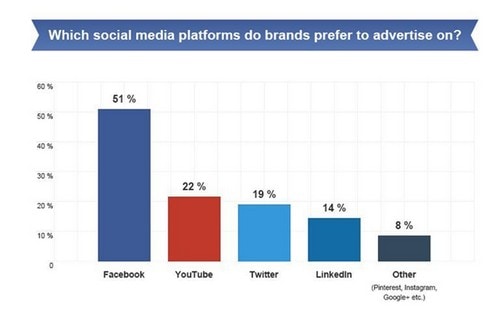 Source: SocialPilot
Facebook is overly crowded and, day by day, it's getting more difficult for brands to grow organically. Brands are switching to paid advertising on Facebook, but it doesn't come that easy. Without proper audience targeting, you are just beating around the bush. Facebook has over 50 million pages and so many of them could be targeting the same audience as you.
So what should your next wise step be?
Custom targeting!
Proper targeting is the only way to increase your potential of reaching the right audience. And if that isn't done properly, you are just increasing your chances of getting lost in the crowd. Before that, work on compelling content and ad copy that users won't be able to resist clicking through. Because even if you reach the right audience, with average content, you won't receive conversions.
After you prepare your ad content, it's time to utilize Facebook's built-in feature of targeting the right demographics i.e., location, interests, age group, gender, behaviour, etc.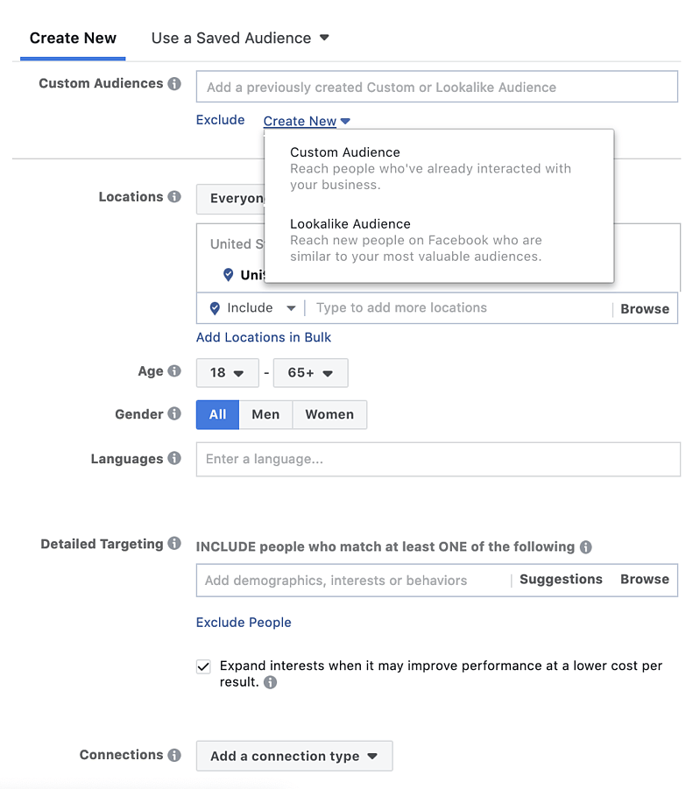 2. Lacking a tangible goal for your campaign
What is your campaign's goal?
Before your campaign even starts, you need to have a clear campaign objective lined out. Without establishing exactly what you want to accomplish with your campaign, your ads will have no direction. You may even end up wasting ad spend on posts that do nothing to further your business's actual goals.
If you're having trouble creating a tangible goal for your campaign, it may help to pinpoint KPI's. A KPI, or key performance indicator, is a quantifiable metric that you can track throughout your campaign. Establishing your campaign's KPI's helps determine your campaign's goal, as they show that your ads are performing how you want them to. For example, if you're looking to boost engagement, one of your KPI's may be the number of Facebook Ads comments.
When you create your ad campaign on Facebook, you're actually prompted to choose one of 11 marketing objectives, which should line up with your campaign goals. Those objectives include:
Brand awareness
Reach
Traffic
Engagement
App installs
Video views
Lead generation
Messages
Conversions
Catalogue sales
Store traffic
It's vital that you choose the correct objective, because it will shape how your campaign performs on Facebook. To know more about how to improve and improvise your marketing strategy, check out this Facebook Marketing guide.
3. Focusing on solutions rather than pain points
With so many brands on Facebook promising to provide a better product to customers, it is difficult to make them trust your brand instantly. Your audience is well aware of how brands brag about their products and services; they need more than just promises to click through.
Wondering how your brand can stand out from the rest?
When you start working on a Facebook ad, make sure that your ad is people-focused and not solution-focused. When you start focusing on people, you will start addressing the customer's pain points, wants, and needs – not just your solution.
As a customer-focused brand, you need to cater to the customer's story so that they can relate to you. According to Facebook, you've only got 2.5 seconds to get a user's attention, so make that time count.
Addressing the customer's pain points can really boost your conversion rate. So, start talking to them and stop talking about yourself.
4. Failing to set the right budget
Are you spending money on paid campaigns without much to show for it?
Like any campaign with paid advertising, you need to define a budget for your ad spending. Without a budget, you may end up spending a large amount of money on paid ads that don't perform. This is made worse by funneling more money into failing ads – blindly spending more on an underperforming campaign won't make it perform.
So, you'll want to make sure that you have determined a budget that works for your business and goals. A budget that's too high may be spent quickly without returning results, while a budget that's too low may not reach the audience you need.
Like Adwords, Facebook also functions on a bidding system. You can choose one of four bid strategies when you create your ad campaign. These strategies will help you optimize your campaign, making it so that you're only bidding on placements that will get you the best return on investment.
You can choose the following bid strategies for your campaign:
Lowest cost
Bid cap
Target cap
Cost cap
5. Abandoning your ads
This is one of the most common Facebook ad mistakes made by marketers: not monitoring Facebook ad performance. You must be eager to start creating and optimizing your ads, just like every other marketer.
To stand out from the crowd, what you can do is not abandon your Facebook ads for weeks without any monitoring, testing, or adjustment. Just launching an ad on Facebook isn't enough.
It's important to analyze the performance of your Facebook ads almost daily. To make your ad achieve the goals you set it for, you need to track your ad and see where it's going in terms of reach, engagement, click-through rate, conversions, number of leads generated, ad performance by time, clicks by interest, and any other relevant metric.
But you also have to be patient and wait at least 3 days before making any changes to your newly launched Facebook ad. Still, keep track of your ads every day – your data is everything and can ensure that you have a successful campaign.
6. Ad text is too long
Even with the right bid strategy, audience, and campaign goal, you can still create ads that flop. At that point, it may come down to the content of the ad itself. This includes the ad's visual, headline, main text, link description, and even the CTA.
One major issue that advertisers have with their ads is text length. You want to find the perfect middle ground between too long and too short. Text that's too long can get cut off, while text that's too short can leave out important information.
According to research by AdEspresso, the most popular (and effective) headline length is five word long. Facebook also recommends that your headline stay within 25 characters long. So, aim to stick within this length – anything longer, and your ad may not reach or convert.
Main text should be no longer than 3 sentences. AdEspresso also found that most brands use 14 words or less in their ad's main text. If your text is too long, it may get cut off and hidden behind a "See more" button. This effectively kills the rest of that ad copy.
Facebook recommends that link description text be no longer than 30 characters, or else that text may be cut off as well.
If you'd like to include text in your ad image as well, you'll want to avoid adding too much. According to Facebook, "if the proportion of the text to image is too high, your ads may not reach its full audience."
7. Creating ineffective ad content
Even if your content is within character and word restrictions, it may not be engaging enough for users to want to take any desired action after seeing your ad.
Determining what your audience will want to engage with goes hand-in-hand with learning about your buyer persona. Who are you trying to reach with your ads, and what do you want them to do? Consider your target audience's likes, dislikes, personalities, demographics, and interests to create the right ad content.
Your CTA also needs to grab the user's attention and encourage them to click. If you're using a CTA that doesn't get users interested or communicate a clear goal, users will be less likely to click through your funnel. While CTAs like "Learn More" are versatile and can be used for many ad types, think about using a unique CTA that's more specific to your brand offering.
This ad from Sked Social does a lot of things right. The text is short and easy to read, the ad uses emojis, and the CTA drives users to perform an action. It's also a unique ad type, grabbing attention by sticking out on the feed.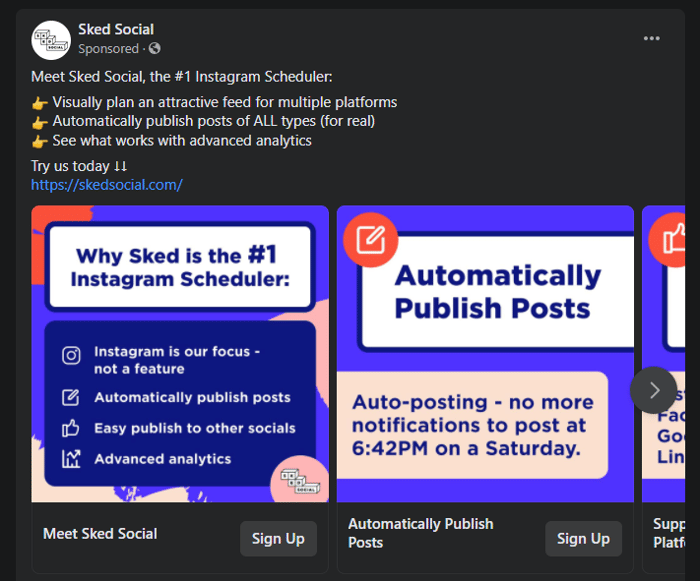 8. Ignoring the potential of video ads
While it may be much easier and faster to make ads that consist of an image and some text, that type of ad isn't the only one available to you. In fact, it may not even be the best for your audience or campaign goals.
An ad type that you should stop ignoring is the video ad, which has become a popular ad type for many marketers on Facebook.
When you create video ads, you'll need to make sure that they are optimized for Facebook on all devices. Take a look at Facebook's video requirements sheet, which will tell you what the source ratio should be, the maximum video length, and more.
For a role model in Facebook video ads, you can look to Facebook themselves. This ad, promoting their Portal product, is only 6 seconds long. However, it effectively gets the message across to viewers: if you're looking for a better way to video call, this is it. The ad is complemented by straightforward copy and a CTA that takes users right to the product if they're interested.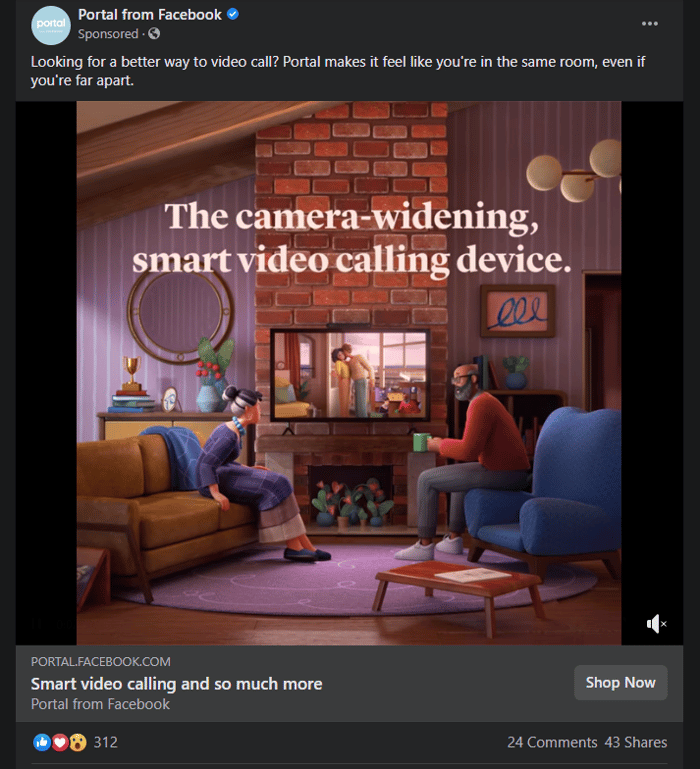 9. Not testing your ads
You can take all of the time in the world to create the perfect ad. But, at the end of the day, it may not be performing how you anticipated it would. This is where testing comes in.
Testing your ads allows you to see exactly how your ads perform and, based on certain metrics, how they can be improved to perform even better. Without testing, you may find yourself stuck putting out underperforming ads again and again.
One of the most effective ways to test a Facebook ad is by A/B testing, which tests a specific aspect of your ad to see whether it benefits or hinders performance. To do this test, you'll need to send out two versions of the same ad – one will have a slight difference in the element you want to test. For example, you can send out two ads using the same image, but with different copy.
After you create those ads and send them out, you can monitor their performance and compare the two. With this data, determine what changes need to be made to put out the superior version.
You can start A/B testing within Facebook after your campaign has been published. Choose your variable, select the campaign you'll be testing, and publish. From there, track the ads in your ads dashboard.
Ready to work on your Facebook ad strategy?
Facebook is often looked at as a complex platform for marketing by so many marketers, but it's not really that difficult. The whole idea is to understand the nitty-gritty of Facebook and then take strategic steps to succeed with Facebook ads. To be precise, researching is your way to go. Research and research more about your target audience because the more you know them, the better you will be able to target them. You may also find it helpful to reference a Facebook marketing guide as you build out your strategy.
I hope this blog will help you convert more users into customers. Let us know what you think about Facebook ad mistakes and comment down below.