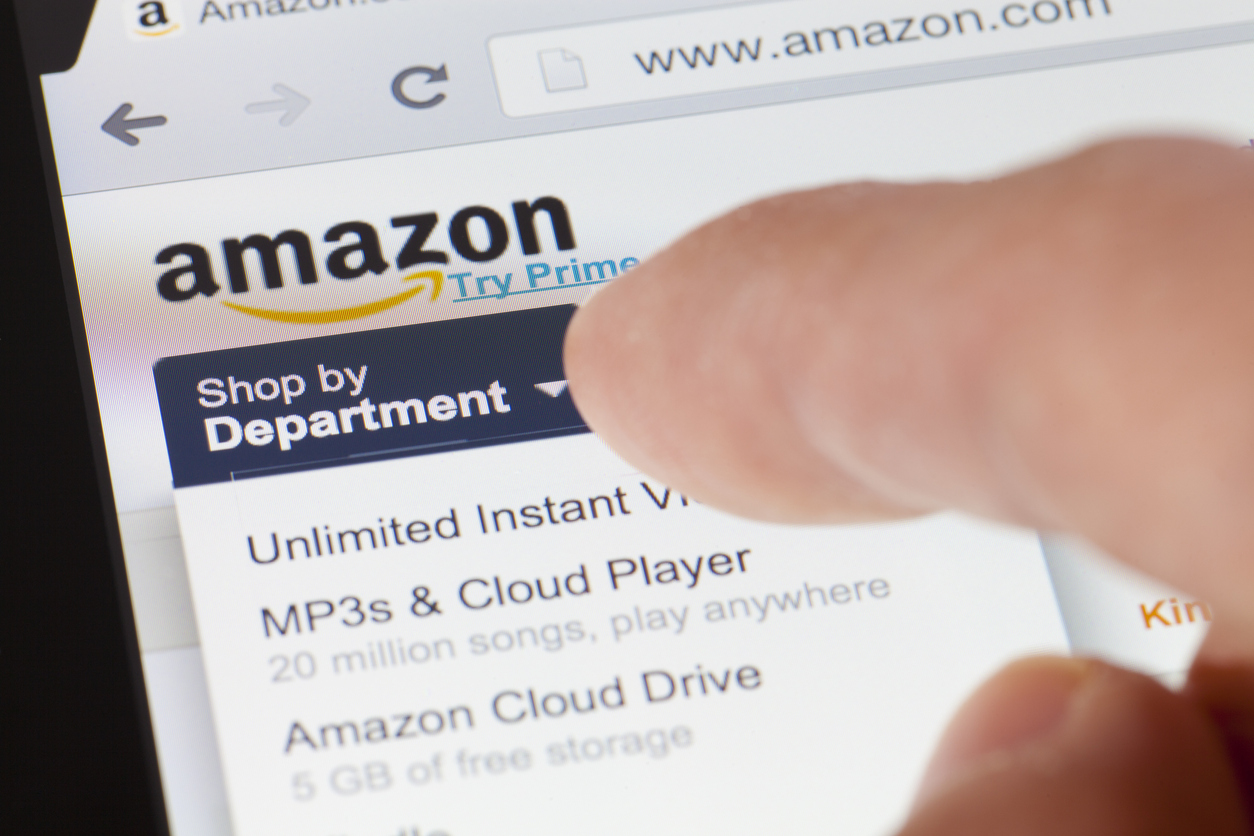 It's a running joke that Amazon is basically taking over the world. With Amazon tallying revenues of over $230 billion, it's difficult for even large competitors to stand toe to toe with such a behemoth in the e-commerce space. Even worse, it can be next to impossible for small online businesses to stand up to Amazon. Fear not competitors of Amazon, I bring you tips!
I currently manage advertising for many clients, a handful of which are e-commerce stores. Competing with Amazon has proven to be "Mission: Impossible" for many of them. Lesson number 1 may seem defeatist but it is important; the first lesson is - You CANNOT compete!
And the application is this: Don't approach online selling by thinking that you can directly compete with Amazon. The platform and customer experience they built cannot be beat if you're selling the same product. Instead, here are some ways to differentiate yourself so that you're not directly competing while still maintaining success in its midst.
1. Offer a Lower Price
This one is pretty obvious, but not easy, so let's get it out of the way with a quick mention. If you can offer a lower price than Amazon by some miracle, then you should do it. If you can't offer a lower price than Amazon currently, you should investigate the possibility of doing so. Customers in most product categories are very price-sensitive and spend extra time searching for the lowest price.
A study in the ​Journal of International Business and Economics​ said that "Nowadays, customers are well informed about product or service alternatives, product benefits, features, qualities and prices through advertising, family members, peer groups, opinion leaders, social networks, public information sources, and newspapers."
If you can get your price lower than Amazon, keep in mind this might be a short-term win. Amazon will not let any seller undercut them on price for very long. So, enjoy it while it lasts, but also investigate the other methods below to continue to set yourself apart from Amazon.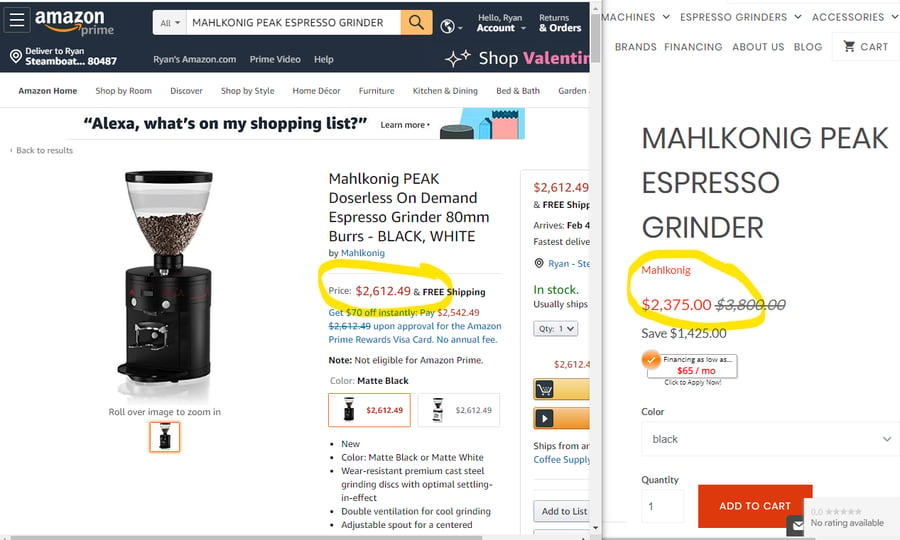 2. Better Features and Service
If you're selling a product that is also offered and Amazon at the same price, what features and service do you offer that will make buying from your store a better value?
I currently manage e-commerce advertising for an online shop offering different types of espresso machines, some of which are also sold on Amazon. One way this online store can offer a greater value to their customers is to offer a warranty when Amazon does not OR offer a longer warranty than Amazon does.
They could also offer free shipping on all orders, which is a MUST when competing with Amazon since they include free shipping on orders over $25 and on all Amazon Prime orders.
Offering phone support is another way to level-up your service compared to Amazon. Even though I've placed hundreds of Amazon orders, one thing I've never done is call them up on the phone with questions about a product. If you are willing to answer your phone to tackle customer questions, that will go a long way in placing you a cut above Amazon's service.
Here are some other popular features and services you could consider offering:
Discount packages or combinations
Discounts on future orders
More personalized content and help to go along with your product
Access to a community built around your product
3. Sell Something NOT on Amazon
It may seem too simple, but you can eliminate Amazon as a competitor by selling something that is NOT listed on Amazon. In the case of my client that sells espresso machines, they do offer a large number of smaller products under $500 that are sold on Amazon. These items have proven to be very challenging to make a positive return on investment – likely due to buyers purchasing from Amazon instead.
However, this e-commerce shop sells several larger commercial espresso machines that are $10,000 plus and not available on Amazon. These niche products offer a unique opportunity not only for ​high profit per sale​, but since Amazon is not a competitor, the conversion rate is often much higher. A few sales of these large products per year can be a game changer for their bottom-line!
So, make sure to see if products you plan to sell are for sale on Amazon and try to expand your product line to include products NOT on Amazon. Keep in mind – just because they are not on Amazon now doesn't mean they won't be added later.
4. Streamlined Checkout Process
Let's face it, you're not going to have a more streamlined checkout process than Amazon. They pioneered the 1-click checkout and have likely invested millions in research & development targeted on their checkout process alone. As a result, I can be sitting on my couch watching a commercial for a new smart watch and have it ordered on the Amazon Shopping app in 15 seconds flat!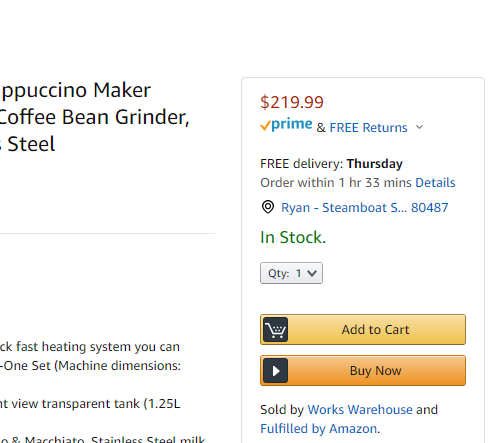 Since I've ordered from Amazon hundreds of times, I don't need to worry about trusting who I'm ordering from and my credit card is already stored, so the checkout is lightning fast.
In contrast, many online stores offer clunky and slow checkout processes. They may force customers to register an account and verify their email address rather than checking out as a guest. This one step is enough to force a large percentage of your visitors to leave immediately.
If they do get to checkout, your form may be so long that it scares customers away. Or maybe the shipping and tax calculation is confusing. If people aren't confident in the final price they are paying, they will be gone faster than you can say "Amazon."
Amazon has eliminated these barriers by creating a seamless checkout process. You won't be able to beat their process with your store, but you can mimic it and at least come close to level the playing field.
Make sure your checkout is easy by minimizing the fields that need to be filled out and eliminating steps where possible.
Offer different checkout options and also consider ​Amazon Pay​, which will allow people to quickly checkout with their credit cards on file through Amazon already. Amazon Pay integration with Shift4Shop allows you to add a single button to your checkout process that enables your customers to checkout with Amazon. Your customers likely have their ordering info stored within Amazon as well, including their shipping address and credit card info.
Linking up with Amazon Pay allows your customers to pull this order data and drastically speed up the ordering process. They also will not need to enter sensitive info in your website, like their credit card number, since it's already stored securely with Amazon.
Amazon offers ​this help page​ explaining how to integrate Amazon Pay with Shift4Shop.
For further details on checkout optimization, check out ​this post on improving the cart and checkout process​.
5. Consider Lifetime Value of Customers
Beating Amazon on a one-time order is not likely to happen. With their infrastructure and ordering process, you'll likely be beat every time. But are you considering the lifetime value of a new customer, rather than just the first-time order? The lifetime value of a customer is equal to the total revenue they will generate for your business for as long as they are customers. This time frame could be months or even years and the revenue could come in the form of repeat orders and even sharing your product with others.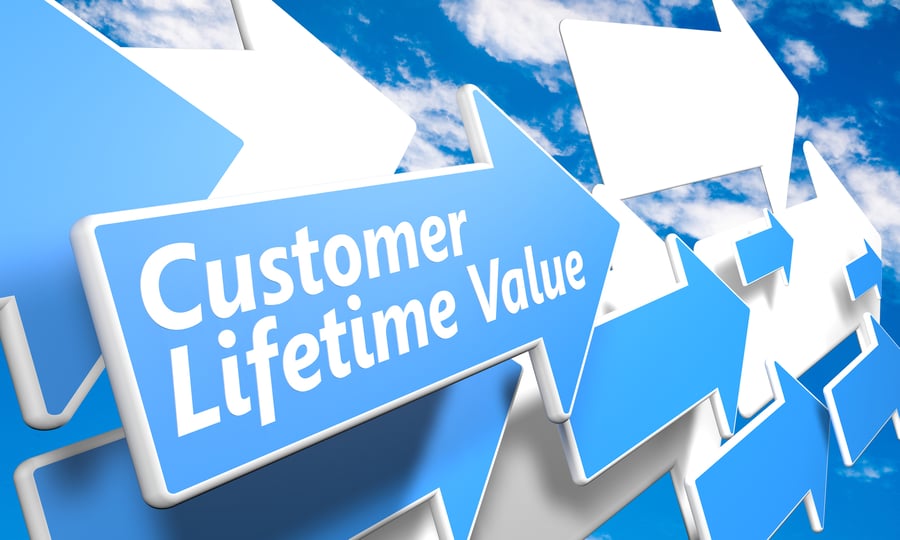 If we continue with the example of my client who is an espresso machine seller – they may break even on the sale of a $500 espresso machine, but this sale creates a new customer. If they sell other accessories or coffee beans, the chance of repeat orders is high. The ​lifetime value of a customer​ who purchases a $500 espresso maker could very well bring in $1,500 over 3 years if they continue to purchase from you. And, if they leave a positive review and tell a friend or two about your online store, the total value of the customer to your business soars even higher.
How does that change your approach as an online seller when you consider that the lifetime value of a customer might be $1,500, or 3 times the original $500 sale?
It should lead you to be more aggressive with your advertising and spend double your current cost of acquiring a single sale, which will allow you to get more exposure on that product than Amazon. It may also allow you to lower your prices or offer discounts to first-time customers that will put you in line with or below Amazon's pricing.
Use One Strategy or Use Them All
Using one of these strategies might be enough to move the needle in your competition with Amazon. And what if you were able to implement all of these suggestions? The synergy of all these tips may be just what you need to compete with Amazon and grow your business over the long term.