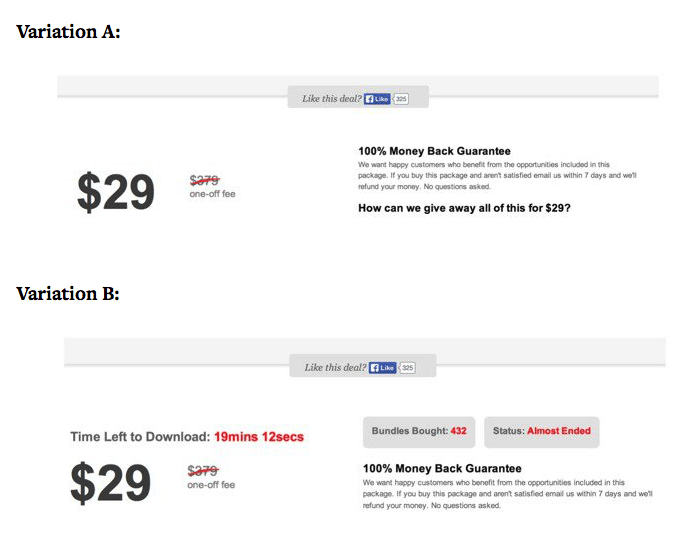 It's no secret that offering Black Friday and Cyber Monday deals can help you drive online store sales like crazy.
In fact, research shows that 30% of annual retail sales occur between Black Friday and Christmas.
Why is that the case?
Because the limited-time discounts around the holidays create urgency.
Shoppers get their wallets out, eager to pounce on the best deal they can find. They feel like they can't wait around to take action. If they do wait around, they'll miss out.
Now, think about this:
What if you could create that same sense of urgency year-round and consistently boost your online store sales more than ever?
Well, I've got some good news:
You can create urgency on your store website, no matter what time of year it is.
Let's talk about a few ways to make it happen.
Draw attention to deadlines.
In online marketing, deadlines create "FOMO" (a fear of missing out). When you share that an offer is only going to be available for a limited time, it makes shoppers want to take action so they don't miss out on getting the best possible deal.
For example, take a look at this split test from ConversionXL: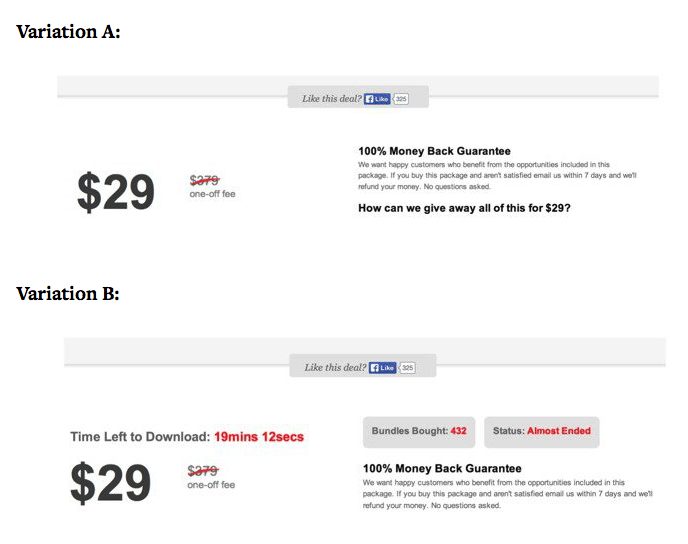 You can see that Variation B includes a "Time Left to Download" notification with a bright red countdown timer.
It also shares the number of "bundles bought" and features a "status" box to create even more urgency and make the user feel like they're going to miss out if they don't act right away.
Can you guess the results of this split test?
If you guessed "Variation B boosted conversions like crazy," you're right.
More specifically, the conversion rate of Variation B was almost 3 times better than that of Variation A.
Groupon is well-known for using a similar approach in their sales strategy.
Just take a look at this product: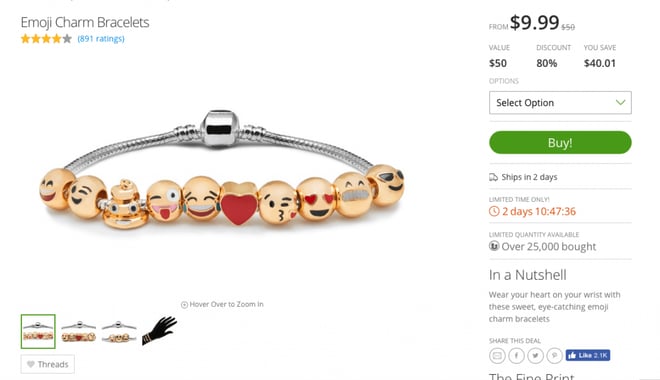 See the "Limited time only!" section on the right side?
Groupon has placed an eye-catching countdown timer there to let shoppers know that they're going to miss out if they don't act fast. The clock is literally ticking, and it makes shoppers feel like they better hit the "Buy!" button right away if they want to get this deal.
Learn from these examples, and make sure you're showcasing deadlines on your store website any time you have a sale or limited-time offer.
Done right, this tactic can create so much urgency that on-the-fence customers won't be able to resist hitting the "Buy" button.
Use words that create urgency.
We've already talked about showcasing deadlines to create urgency. When you do that, you can use phrases like:
Limited time only!
Offer ends MM/DD/YYYY!
Time left to get this deal: XX Mins XX Seconds
But what if you don't need to advertise a deadline? Can you still create urgency in your copy?
Definitely.
For example, you can say "Buy now" or "Hurry!" on your website as opposed to just saying something like "Buy" or "Add to cart."
Here's how Galleon, an online eCommerce store, does it:

You can see that they use copy that says "Buy Now!" on a brightly colored button – a great way to draw the shopper's eye to the call to action while creating urgency.
If you want to try a similar strategy, you could also put some copy that says "Get it before it's gone!" near the "Buy now!" button to draw attention to the fact that your product is scarce.
Just that small tweak to your copy could motivate lukewarm shoppers to take action.
And that brings us to the next point:
Share when your products are scarce.
When a customer walks into your physical store, they can literally see your products flying off the shelves. They know exactly when something is low in stock because the inventory is right in front of them.
But in your online store?
Not so much.
At least, not unless you share when inventory is low.
Here's how Nordstrom Rack does it on their site: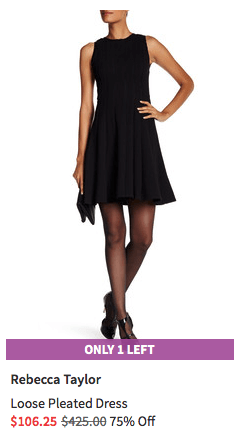 They've featured a purple bar that creates urgency by showing that only one dress is left in stock.
And this is just the product preview – when you click on the product to learn more, you can also see exactly which sizes are left.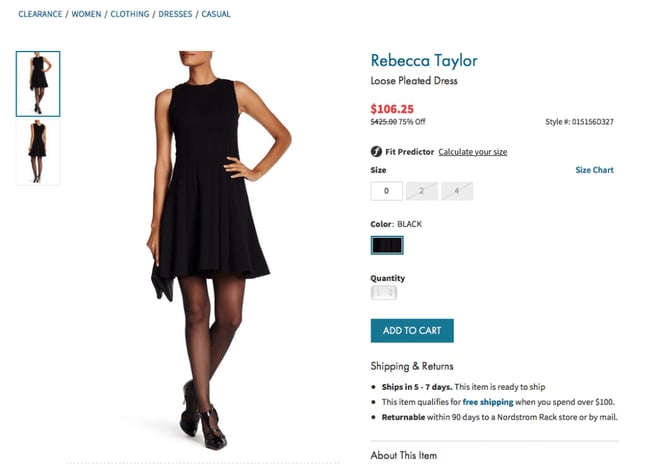 Here, they show that only one dress is left, and it's a size zero.
How would this make you feel if you wore a size zero and thought that this would be the perfect dress for an upcoming event?
You'd want to snatch it up before anyone else got the chance to – that's for sure. All because Nordstrom Rack created urgency by telling you that there's only one of these dresses left in your size.
Your online customers will feel the same way if you show that your products are flying off the virtual shelves. They'll want to act fast so they don't miss out on getting the product they want.
Now, you may be asking yourself:
What about boosting in-store sales with urgency?
Start by connecting your physical store inventory with your online store. Once you've done that, you can have your website update shoppers when products sell out at your physical store locations.
For example, you can use a tool like FOMO, that shows off real-time sales on your site, to say something like this:
"Just sold out of _______ at our ________ location!"
Put the name of the product and the store location in the blanks, and just like that, you'll create urgency in a way that makes online shoppers feel compelled to buy.
One more thing:
Don't be afraid to test different approaches until you figure out the best way to drive your target customers to take action.
Sure, certain tactics (like using countdown timers) have been proven to work well time and time again. But don't just stop at adding an urgency-creating element to your site. Keep testing over time so you can see your conversions improve as you learn.
For example, you could test the location of your countdown timer by putting it closer to the "Buy now!" button.
Or, you could test different colors for your countdown timer to see if a certain color allows you to boost conversions.
Seriously – take the time to experiment. A seemingly minor change could end up positively affecting your online store sales in a big way!