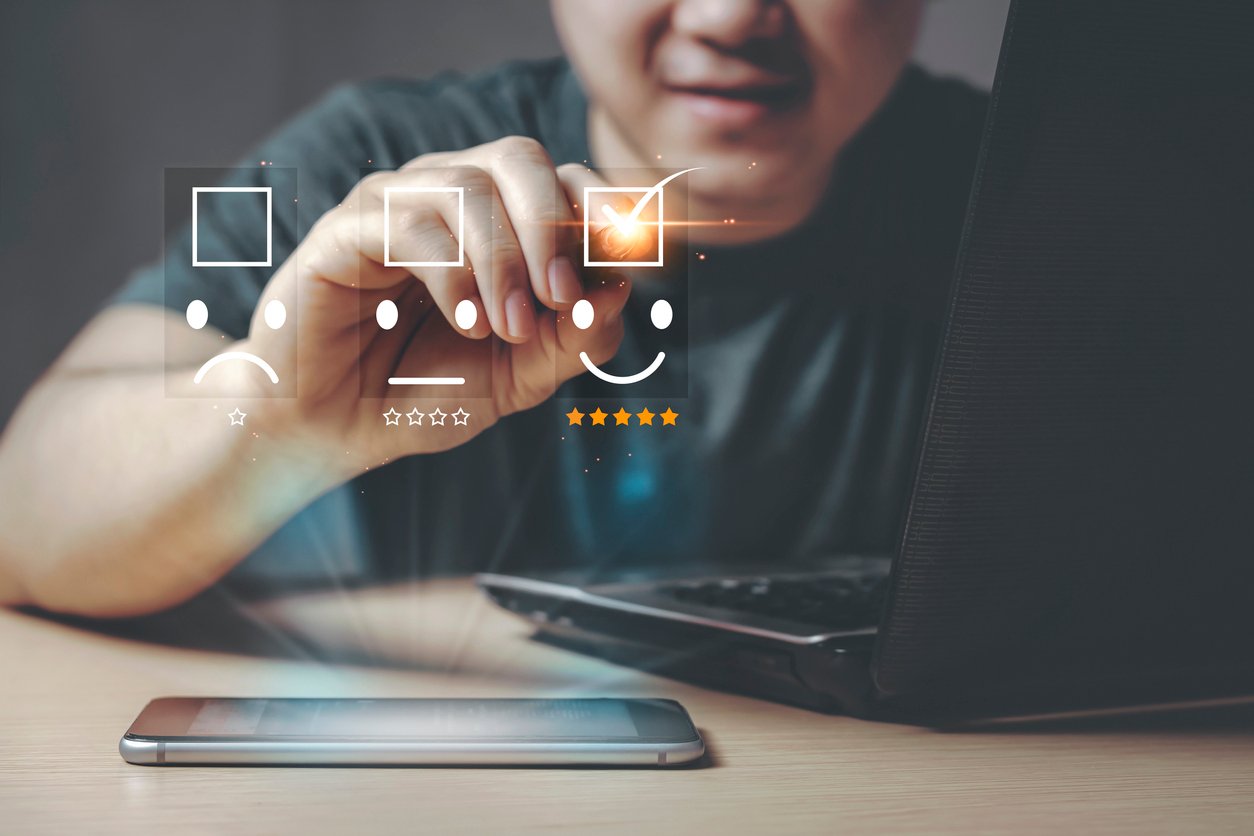 The customer is king, and for SaaS companies, this rings particularly true. SaaS companies, or Software as a Service, provide on-demand software services that are usually licensed on a subscription basis (monthly, yearly, etc.).
The perfect example of a SaaS company is Netflix. Netflix users pay the company a certain amount each month for web-based services (streaming of movies, shows, etc.), following a fixed subscription model.
The industry has grown in leaps and bounds with easy access to the internet across the world and the increased use of mobile devices.
Between this year and the next, the SaaS industry is expected to reach a value of a whopping 172 billion dollars.
When it comes to trends in the coming year, more than 99% of organizations will turn to SaaS-based solutions in 2022.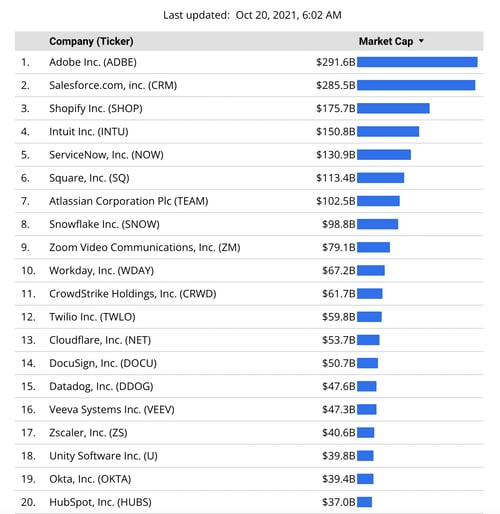 The biggest SaaS companies in 2021 (Source)
What is CX?
A determining factor of the success of a SaaS model is customer experience, or CX for short. Myk Pono on Medium defines CX as the "perception a customer has about a company based on all touchpoints, interactions, and engagements with the company,[...]brand, and[...]product."
A touchpoint is one moment where a potential customer comes in contact with the company and its products or services. Some of the most common touchpoints are advertisements on the internet or billboards in public places.
When a customer and the company in question interact (through emails, cold calls, or FAQ pages), the process is termed as (no surprise there) interactions. Finally, engagement is the stage that involves the customer promising or committing to opting for the company's product or service.
Why is CX important for SaaS Businesses?
Enter churn rate. A customer may subscribe to a product or service from a brand but will stop doing so after a certain amount of time. This is measured through the churn rate of a SaaS company. The higher the churn rate, the faster your customers are leaving you.
A solid CX is what keeps your churn rate to a minimum and ensures higher customer retention as well as customer loyalty. An individual would rather buy services from a company that serves a great customer experience for a much longer period than from a company that's simply..."meh."
Improving your CX has positive effects on your sales funnel as well, as the happier your customers are, the longer (and more often) they'll opt for your products or services.
Focusing on a better CX can help your company's internal growth as well. The better you understand your customers and interact with their needs and pain points, the better you will be able to address them further down your company's roadmap.
Now that you know why CX is so important for SaaS businesses, here's how to set up incredible customer service in just a few steps.
Step 1: Work On Your Website
Your website matters, big time.
User Experience, or UX, ties in closely with Customer Experience for SaaS companies. Creating and designing a user-friendly website is an important determinant of your brand image, CX, and churn rate. While designing or optimizing your brand website, having a consumer-centric mindset is essential. Here are a few ways your website can ensure better CX for your business.
1. Conversational copy
Technical, robotic, and uninteresting content will do nothing but drive potential customers away. While focusing on relevant keywords for better organic reach helps, writing content that speaks to your customers is what matters.
2. Easy navigation
A website with lots and lots of buttons, tabs, and sub-fields is a big no-no. Creating a concise web layout and clear fields for navigation reduces the time your customers have to spend looking for the right product/service or piece of content.
3. Include a CTA
Over 90% of visitors who read your website headline also read your CTA copy. Include a clear, descriptive CTA for your website and landing pages to drive people forward, increasing traffic to the last stage of the sales funnel: conversions.
Step 2: Set Up Virtual Support Stations
With a constant stream of consumer traffic on your website comes a large number of queries and support requests. Reaching out to consumers solely through emails and calls is extremely redundant, time-consuming, and requires a lot of manpower.
However, AI-based support solutions have enabled SaaS companies to set up virtual support stations that help answer common/specific queries users may have or direct them to appropriate resource bases. Out of all the companies that use chatbots on their site, over 65% are SaaS companies. Using the right virtual support tools is key to great CX. Here's how you can ensure a beneficial use of virtual support software for improved customer service.
1. Keep track of consumer-company interactions
If you utilize more than one communication channel online, keeping a track of customer queries, complaints, and feedback can help create a solid database for future reference. Analyzing data borrowed from these conversations can help pinpoint specific gaps in your company's customer service.
2. Create solid KPIs
Measuring CX and service performance across set Key Performance Indicators (KPIs) helps track company performance and set clear milestones for changes in a SaaS company's approach to a solid, improved CX.
3. Invest in support software
Investing in enterprise-grade support software involves an element of change management. So, what is change management? Put simply, it is all about planning, implementing, and solidifying organizational changes across levels.
Automating customer service efforts saves an enormous amount of time and energy on your company's part, leading to speedy, untiring efforts towards improving customer service.
While it is an additional cost on the part of the organization, the benefits of having good customer service software far outweigh the financial cost of setting it up, making it a must-have for any organization.
It's even worth going the extra mile and setting up a customer portal solution in order to automate document collection from customers who need to submit files.
Step 3: Understand Customer Requirements
Lower churn rate, higher engagement, and a better CX all stem from how well a company understands customer requirements. Tracking customer needs and feedback helps identify gaps in CX and improves the overall receptivity of products and services of a SaaS company.
An incomplete understanding of customer needs can result in one of two scenarios. Your products do not adequately solve the customer's problems/needs, or you develop products and services that aim to fulfill needs that aren't there in the first place. Regularly tracking consumer feedback, market research, and surveying can help SaaS companies better understand their audience's requirements.
Step 4: Track Customer Pain Points
Customer pain points are issues a customer may face in their customer journey to opting for a product or a service. A good example of a customer pain point is poor customer service. Studies show that over 58% of customers will switch companies after experiencing poor customer service. On the other hand, almost 90% of customers will continue buying from a company with good customer service.
For SaaS companies, tracking customer pain points and resolving them can be done in the following ways:
Gather and closely analyze customer feedback
Keep an eye out for online reviews
Interact personally with customers from time-to-time
Run lots of test runs while launching a new feature or product
Identify clear pain points through these steps, and optimize your customer process and marketing efforts
Step 5: Measure Customer Experience
Metric, metrics, metrics. Almost every social media app, software, and search engine comes with its own set of user analytics. These user metrics include audience demographics such as location, age, gender, and provide insights on ROI, reach, CTR, cost per sale/acquisition, and the total number of conversions.
Besides using these user analytics, you need to focus on measuring your customer experience. Here are 3 of the most common metrics used to measure customer experience:
NPS (Net Promoter Score)
This metric measures the loyalty of customers to a particular company.
NPS uses a single-question survey (something like "How likely are you to recommend our brand/product to your network?") to determine customer loyalty on a scale of -100 to +100.
Customers rate the answer on a scale of 1-10, with 9 and 10 being Promoters (who would love to spread the good word), 7 and 8 being Passives (neutral but satisfied customers), and 0-6 being Detractors (customers who would advise against using your company/products). The percentage of Promoters minus the percentage of Detractors is your NPS.
The higher your NPS, the greater your customer loyalty and referrals.
CES (Customer Effort Score)
Just like NPS, CES uses a single-item qualitative metric to determine the amount of effort a customer has to make to have their issues resolved, queries answered, and/or a product/service returned and exchanged.
CES is easy to measure and can be implemented across channels and services.
CSAT (Customer Satisfaction Score)
A simple metric to calculate, CSAT score = Number of satisfied customers / Total number of customers.
A CSAT score of 80% indicates smooth sailing, whereas a score of 40% requires you to improve your CX across channels.
It calls for an excellent response rate and is a reliable metric to refer to over time.
Step 6: Respond to All Customer Queries Fast
These steps, if followed and implemented effectively, can lead to a more positive CX. However, many SaaS companies fall short on one thing that can make or break a consumer's experience and brand image: the time you take to respond to customer queries. When it comes to emails, 31.2% of customers surveyed want a response in one hour or less.
Leaving all the answering for the weekend shoots up your company's churn rate and leaves lots of irritated, unhappy customers.
Setting a fixed time of responses and fixing customer complaints can be a great way to ensure a speedy resolution of their issues, as well as a timely intervention that plummets your churn rate and the number of conversions through organic and inorganic channels.
Step 7: Include FAQs
Imagine, as a customer, having to email a company (that takes a week to respond) about modes of payment when the answer should've been clearly mentioned on their website. FAQs are the go-to page for any customer for a wide range of common queries.
From company values to what to do for a quick purchase of services, an FAQ page can save lots of time on both sides of the table and lead to more satisfied customers.
You can even take things one step further and create a dedicated knowledge base to help customers out.
Adding conversational content that answers the basic "Who," "Why," and "How" has an added benefit — it helps boost organic reach for specific keywords.
Step 8: Ask For Feedback
The best way to measure CX? Ask for feedback. Tracking metrics and optimizing your website will provide you with certain insights, but customer feedback is the best way to measure CX, in the customers' own words. Companies like Uber and Amazon have aced at gathering valuable feedback, through short surveys, product reviews, or even a simple "on a scale of one to five, how great was your trip?"
Depending on what you want to know from your customers, you may need to ask a few more questions. You might also need to change the questions you're asking from time to time, but this can easily be done survey questions on your website. For example, if your website is built on WordPress, you can accomplish this with a quick drag and drop WordPress survey plugin.
However, when it comes to gathering feedback for SaaS companies, many feedback forms have the following errors. These either lead to half-hearted replies or the customer not opting for the feedback form at all.
1. The questions are too vague and generalized
Compare "How was your trip on a scale of 1 to 5?" with "How hygienic were the interiors of your ride?" and "Was the driver polite and friendly?" (Source - Uber). Specific queries lead to specific answers. A SaaS company like Netflix is much more likely to gather valuable insights with questions on buffering and availability of movies, rather than simple "experience-based" questions on their feedback form.
2. The questions were all close-ended
Close-ended or rating-based feedback does not leave much room for customer experiences, insights, and personal inputs. Including relevant open-ended questions helps SaaS companies target pain points and customer needs.
Tip: At the end of each feedback form/cycle, your customer should feel heard.
Wrapping Up
The success of the SaaS industry is slowly shifting from traditional revenue-based metrics to consumer-centric approaches and a great customer experience. Focusing on providing a smooth and hassle-free customer journey can be done through a sharper focus on CX-based strategies and initiatives. Furthermore, keeping your customers and their needs in mind can be a sure shot to a positive CX for the coming year.