Branding isn't your brand name or your domain name. It isn't even some blog post or press release that you publish. It's more than a strategy that you lay out on a company wiki.
The truth is, branding cannot be seen; it can only be felt.
Think about some of your favorite brands, ones that you actively recommend to your peers and prefer over other options. That feeling? That's good branding.
It encompasses everything you do – from your mission and how your customer feels about you to your web presence, communication, and quality of your products. It's the difference between brands that get it and brands that don't.
Great eCommerce branding is one of the strongest currencies your online store can have – your single most significant competitive advantage. People purchase from one brand over the other because they associate with the story; it's an emotional connection they feel with the brand.
As an eCommerce business owner or brand manager, building an effective brand is key to your role. It's a goal that can't really be put on paper, but if done right, it will support every other business goal you have.
Why Is It Important To Build An eCommerce Brand?
eCommerce branding is crucial for business growth. Effective branding means customers will pick you over the competition, giving you a strong competitive advantage.
This can lead to consistent long-term growth: once customers start to recognize and prefer your brand, they're more likely to become loyal and stick with you for the long haul. Not to mention, it'll also bring in that positive word of mouth that most marketers strive for.
People trust strong brands and even support them during tough times. With all these benefits on your side, it'll be quite a loss to not start thinking about your brand from day one.
Components of an eCommerce Brand
Every brand, be it eCommerce or any other industry, consists of controllable and uncontrollable components. Let's look at them below.
Controllable Brand Components
Controllable brand elements give you some amount of control over how you frame them. These include:
Brand Persona
This is one specific target customer. It includes a set of human characteristics that your target demographic can relate to. Effective eCommerce branding has a consistent set of traits that you communicate regularly. People purchase from a brand whose brand persona is similar to their own or one they aspire to be.
The persona you build can reflect on every touchpoint, such as your customer policies (strict vs. lenient), the tone and words you use to communicate in emails such as "Hello Sir" vs. "Hi Alisha" vs. "Hey there Alisha!", and your digital ads.
Defining a persona makes it easy to communicate with your target audience.
Visual Elements
These are front-facing elements such as your logo, brand colors, ad designs, packaging, and unboxing experience. Humans are visual beings which makes it essential for you to get the visual elements of your eCommerce branding right.
These elements, along with your brand persona, help you create a mood for your brand and create that feeling that your customers relate to.
Uncontrollable Brand Components
These are elements that are out of your immediate control, but your controllable brand assets can, to an extent, positively or negatively influence these brand components. Some of them include:
Word of Mouth
Albeit a powerful marketing tactic, word of mouth isn't entirely in your control. What your customers say about your brand online or offline depends on their experience with your eCommerce brand. If you ensure that your customers have the best experience, you can be positive that their word of mouth will benefit your brand more than hurt it.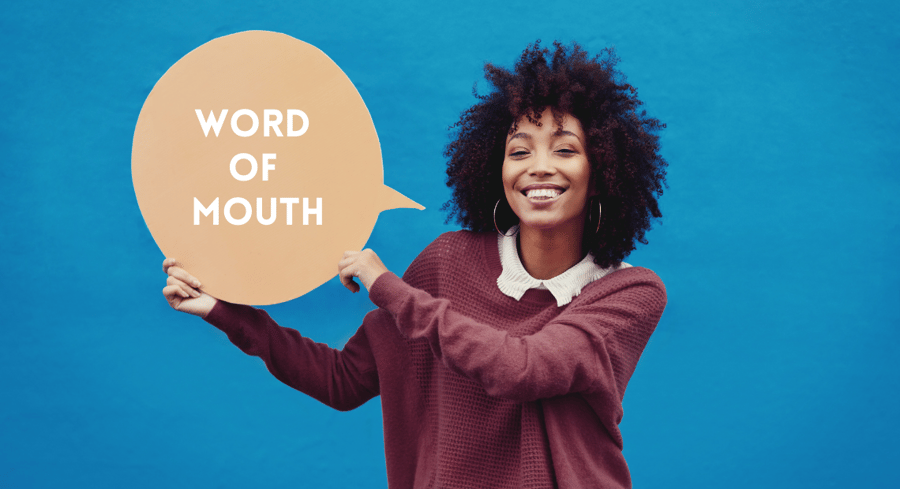 Customer Experience and Expectation
Each customer has a particular set of expectations when they're purchasing online. Unfortunately, you have little control over these expectations. For example, Amazon Prime members are conditioned to believe that shipping should always be free, and the package should arrive the next day. Not all small online store owners can meet such expectations.
However, you can give them a good experience at every touchpoint so that customers trust you. You can tailor what message a customer receives at every point of communication. What you can't control is how that makes them feel and how it affects their experience as a whole.
eCommerce Branding: How To Develop One For Your Online Store
In the controllable brand components, we talked about visual elements. These are your customer-facing assets; it's how you dress your brand if it were a person. Your visual design features include (but aren't limited to) the following:
Your logo
Business name
Color palette
Fonts and typography
Let's dive into each one of them.
1. Your Logo Design
This is what most brand gurus consider the centerpiece of your brand. One of the core things that brands evolve when they want to rebrand is their logo.
Before designing a logo, it's vital to know what makes for an effective logo. Four broad principles determine how good a logo is for the brand's long-term value:
Simple
Memorable
Timeless
Versatile
Answer the following questions when thinking about your logo:
Does your logo look good if you strip it off all its colors and show it only in one color?
Does your logo look good if it's displayed with inverted colors (e.g., a light logo on a dark background)?
How small can you make your logo? Would it be legible if placed on a tiny digital banner or a YouTube video's thumbnail?
Does your logo look good when displayed on a giant billboard?
A good logo stands out in all these scenarios. This logo is versatile, and it can quickly adapt to its surroundings.
Once you know what attributes your logo should have, the next step is to design it. Businesses go about this in various ways – they hire a designer that costs them hundreds of dollars, not to mention the amount of back and forth. If you have the budget, then this might be a good option.
However, if you want a logo that checks all the boxes mentioned above and doesn't break the bank, you could consider going for one of the more advanced logo generators, such as LOGO.com. These logo makers are intelligent and can give you a fantastic logo without costing you an arm and a leg.
Unlike most other logo makers, LOGO.com is more than just a platform that gives you logos. It's a branding suite that will provide you with most of your visual assets aligned with each other.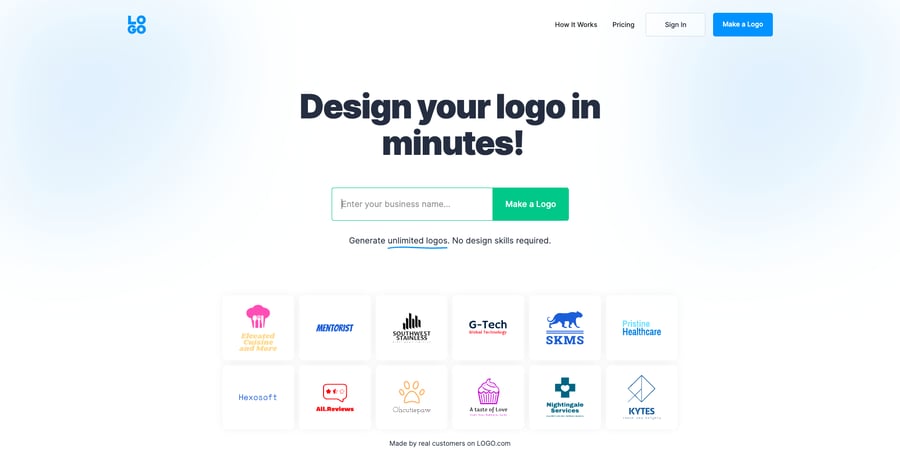 LOGO.com only asks for your brand name and a slogan (if you have one) and generates hundreds of logo designs for you to choose from in seconds. You get access to an editor where you can customize the logo's colors, font, icons, and more. The whole process takes less than 30 minutes, and it demands zero technical or design skills.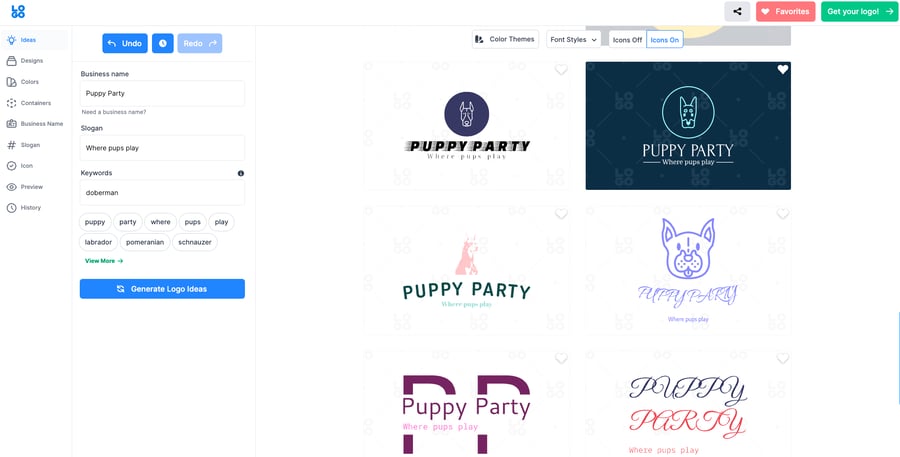 Not only will you have fun designing your logo, but you'll also gain access to:
A free domain name
A complete social media kit to launch your business on social
A business card builder
Email signatures, letterheads, and more
Last, but not least, once you've got the perfect design, don't forget to trademark your logo.
2. A Strong Business Name
This may not come as a surprise, but your business name is what your business will be recognized by. It'll most likely stick with your business for the rest of its life. Therefore, it's crucial to put in some thought before settling on something.
To ensure you have a good business name, make sure it has the following characteristics:
It is short (18 characters or less)
It is meaningful (making up words doesn't work if you don't have a huge marketing budget)
It is easy to pronounce and spell
It is relevant to your business
It is free of any trademark or copyright issues (do a quick check-in with your country's database to be sure)
You could use a business name generator to get started. It'll give you enough ideas to help you brainstorm and come up with a great business name that'll stand the test of time.
3. Choosing a Color Palette
Choosing the right set of brand colors or color palette is crucial as it helps identify your brand and sets the visual tone for your brand. The best way to accomplish this is to design a mood board. Pick pictures and elements from across the web to build a mood board that gives your eCommerce branding a look and feel.
Don't think too much here. Just put things together that resonate with you. Once you have everything laid out, remove anything that doesn't align and stick to your branding. You can then upload this mood board to a tool like Adobe Color (free), automatically selecting the predominant colors from the images in your mood board and presenting you a color palette of five colors.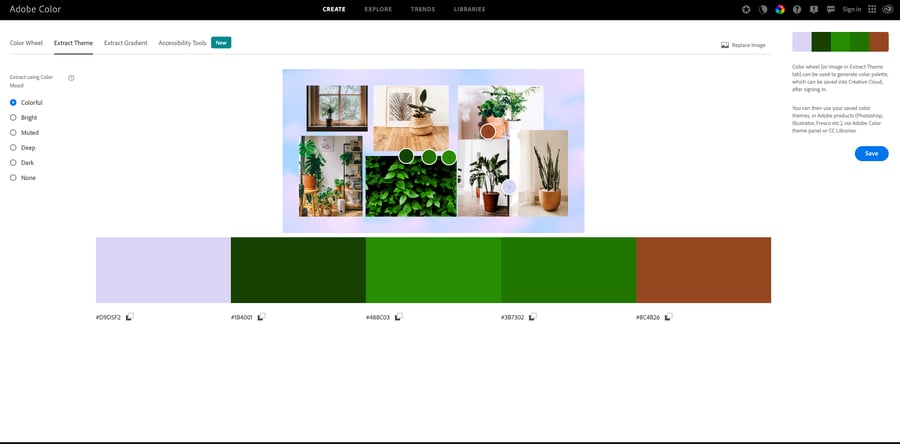 Ideally, you want to choose between three to five colors to have enough options to work with. See the colors in front of you and adjust them to suit the brand of your eCommerce store.
4. Fonts and Typography
Next up is your brand's typography, or in layman's terms, the fonts you use. Consider sticking to two or a maximum of three fonts to ensure consistency and not make it look too clunky. Mentioned below are essential fonts you need to decide on:
Body Font
This makes up 95% of the text on your website, and it'll most likely be used in most of your digital banner ads, so make sure you choose a clean, simple, and easy-to-read font. A good practice is to select sans-serif fonts as they are easier to read than serif or handwritten fonts.
Header Font
The second font you need to pick is the header font. This will take up all the titles and subtitles. While this needs to be easy to read, you can also go with a serif option depending on your brand personality. As long as it's easy to read even on the smallest screens, you've got the font you need.
Extra Font
Once you have the body and the header font, you could choose an additional font that you use for specific occasions, such as promotional banners, sale announcements, and more. This font can be slightly fancier and bold since it'll only be used occasionally and for super short sentences such as "Sale" or "50% Off" or "Hurry!"
5. Being Consistent Always
Close your eyes and think about an iconic brand. Maybe it's a brand that you personally prefer. And you've chosen them over their competitors almost all the time and wouldn't think about dumping them unless for a strong reason.
Do you know what the reason behind such strong loyalty is? It's because that brand is consistent and has valued and rewarded your loyalty. They've shown up week after week, year after year maintaining (and sometimes, exceeding) the same standards in their product quality and customer service.
As a result, you prefer them over others. For example, Amazon's customer-first approach has reaped them strong sales year after year.
Build a Solid eCommerce Brand
Solid and effective eCommerce branding is about building a solid relationship with the target customer. Although tactical, branding is primarily an art in itself. This tiny yet significant piece separates excellent brands from good ones in the industry.