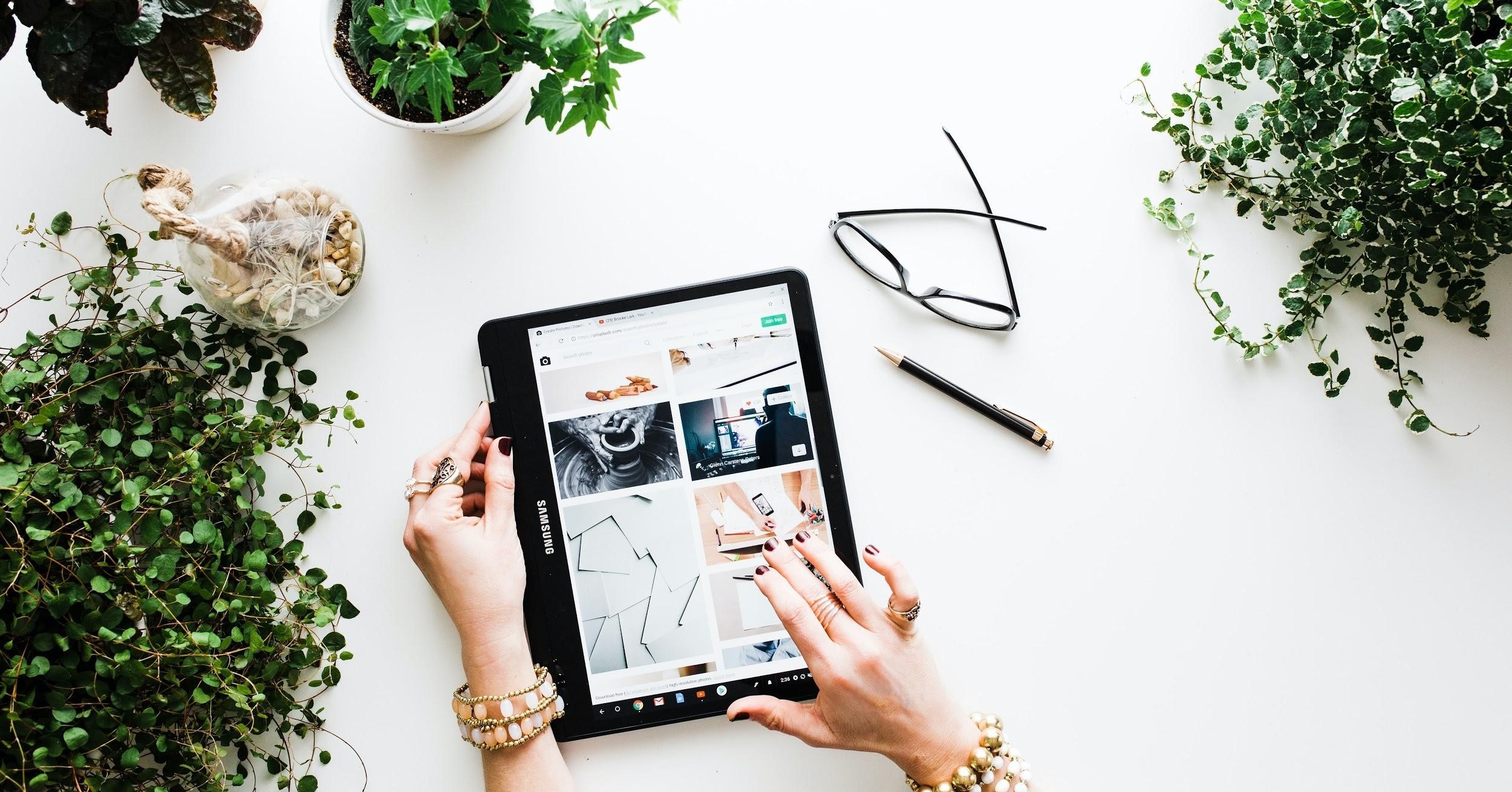 If you are looking to increase your online sales, it is essential to start paying attention to interactive content.
After all, you already know that the production of relevant content for your buyer persona is the pillar for a successful digital strategy – one that can attract, convert, and retain consumers.
However, the success of this kind of approach makes the competition for users' attention ever greater. In this scenario, only brands that can offer valuable and high-quality experiences will be able to establish good relationships with customers.
It is increasingly important to create content experiences that attract visitors, educate them about their problems, and delight them to the point of retaining their attention and initiate the path to their conversion into customers.
This is where Interactive Marketing comes in. In this post, we will explain:
The importance of interactive content
How to use interactive content for e-commerce
Keep reading to learn more!
What Is the Importance of Interactive Content?
Interactive content is any material that enables the customer's active participation, whether that be through clicks, comments, or any other type of activity.
The idea is to allow the buyer to actively participate in their own shopping experience, making things more personalized and satisfactory.
When we observe this in the marketing 4.0 scenario, which is a more human-centric approach, it is easy to understand its importance.
This concept, disseminated by Professor Philip Kotler, defends that the modern consumer is at the top of the market chain; that is, they have total control over what they consume. What is the relevance of this?
Well, the benefits of digital marketing are linked to its reach potential and high accessibility – even for companies with lower investment power. This means huge digital competition for consumer engagement exists, which, consequently, makes it more demanding.
So, if a visitor to a blog is consuming something they don't like, they could move to a competitor's website with a few clicks.
In such a scenario, producing efficient products and solutions is as important as offering content experiences that delight the buyer persona you're targeting. By allowing for the direct involvement of the consumer, interactive content encourages their engagement at all times.
A study by DemandGen revealed that the engagement rate for interactive content is twice as high compared to static materials.
Thus, it opens the possibility for a company to initiate two-way dialogues, conveying the desired messages and, at the same time, gathering relevant feedback.
In other words, an environment is created in which the company keeps the consumer engaged, creates a nourishment flow capable of converting them, and yet receives valuable information about their preferences and behavior patterns.
Thus, little by little, it becomes easy to shape a strategy with high conversion rates. After all, in this process, it is necessary to have in mind the consumer's journey.
Generally, it is divided into three phases: attraction, nutrition, and conversion. With the correct use of interactive content, it is possible to impact each of them and facilitate your sales teams' work.
In the specific case of e-commerce, interactive content can be the difference between a completed sale and an abandoned cart. Besides educating the consumer, these materials are excellent sales enablement resources and, if correctly employed, increase the chances of a purchase's conversion.
How to Use Interactive Content for E-commerce
As with any type of business, e-commerce success depends on understanding the buyer's journey. It is fundamental to comprehend where your customers come from and what factors are most important in their decision making.
From this understanding, you can implement a content marketing strategy to reach, attract, and convert leads in a completely organic way. This, of course, depends on the production of authentic, diverse, relevant, and preferably interactive materials.
Considering this whole process, we'll separate the buyer's journey into four phases and explain how you can implement interactive content in each of them.
1. Attraction
If we use a funnel to represent the buyer's journey, the attraction phase is at the top and includes the greatest number of prospects. Here, we deal with consumers who still don't know their own problems and, therefore, are far from deciding on purchasing one of your solutions.
What should you do here? Well, success in this phase is fundamental for the future generation of business opportunities, so you should conduct it strategically.
First of all, you need to know the characteristics of your persona, including pains, needs, desires, and motivations.
With this information, you can create a blog that addresses issues related to the interests of your buyer persona. With SEO techniques, it is possible to make your pages rank among the first results on search engines, attracting a lot of organic traffic.
Once visitors arrive on your pages, they need to find valuable experiences, which you can achieve if you offer interactive content. Want an example? Think about your landing pages. Do you think they no longer produce results like they used to?
Many marketers argue that landing pages are outdated and should not be included in their e-commerce strategy. This, however, is not correct.
Static landing pages are indeed obsolete, but you can try including interactive elements in them and see how this will increase the visitors' interest. Instead of just asking the customer to fill out a form, you should give them reasons to take such action.
With the creation of interactive landing pages, it is possible to include several elements in the visitor experience, such as quizzes and testimonials.
Below, check out an example created by Sears. Notice that in addition to offering various content, the page features a CTA in orange, encouraging visitors to convert by scheduling.

Source: Sears
2. Education
If you're running an e-commerce business, we don't need to emphasize the intensity of competition you face.
So, the question is: How do you stand out from the rest and make customers give preference to your online store? Once again, interactive content can help.
After you've attracted consumers' attention, it's time to educate them.
Why? First of all, they need to have information about your brand to consider it relevant in the market. When you reach this level and establish yourself in the consumer's top of mind, you will notice a greater ability to convert leads.
Next, they need to be educated about the solutions you offer since, in this phase of the buyer's journey, they already recognize that they have a problem and are looking for ways to solve it.
This is your cue to offer educational content, positioning yourself as a reliable source for the client to consult. In terms of consumer education, there's nothing more effective than interactive content.
A study conducted by Demand Metric highlighted this when interviewing several marketers about the effectiveness of different types of content. 90% were confident that interactive content is very efficient at achieving this goal.
Interactive content aimed at consumer education can take several formats, such as e-books, quizzes, assessments, and calculators.
A very interesting example comes from Soccer Loco, a virtual store focused on selling sporting goods.
To help consumers decide which kind of soccer cleats are more appropriate for their needs, the company created an interactive quiz.
The experience is completely customized, as the results vary according to consumer responses.
At the end of the quiz, the user receives a product suggestion. To make their experience easier, they can click on a button that takes them directly to the purchasing page.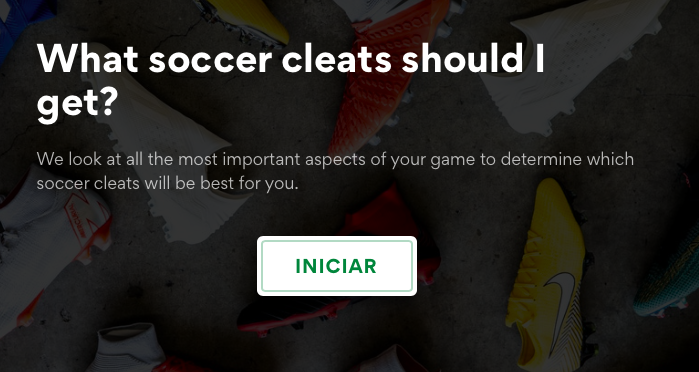 Source: Soccer Loco
3. Conversion
When the customer is in the conversion phase, it means they are about to make a purchase decision.
Using the internet, they may search for several different options, comparing prices and characteristics, but also take into account the shopping experience, which must be simple and secure.
To optimize this process, you can add interactive content to your product pages.
Interactive infographics, for example, are excellent resources for detailing complex information. So, it can be effective for influencing conversions on products that aren't well known.
Interactive calculators are also interesting options here, especially if your e-commerce business focuses on the B2B market. For example, ROI calculators allow the customer to obtain reliable data from their own initiative, showing the financial advantages that they can obtain from a solution.
The interactive features you can use here are very diverse. Below, you will see two examples of interactive product pages that maximize conversions.
Converse
The traditional footwear brand offers a very rich experience on its product pages. With a fast, intuitive interface, the user can customize every aspect of the sneaker, creating a completely customized product.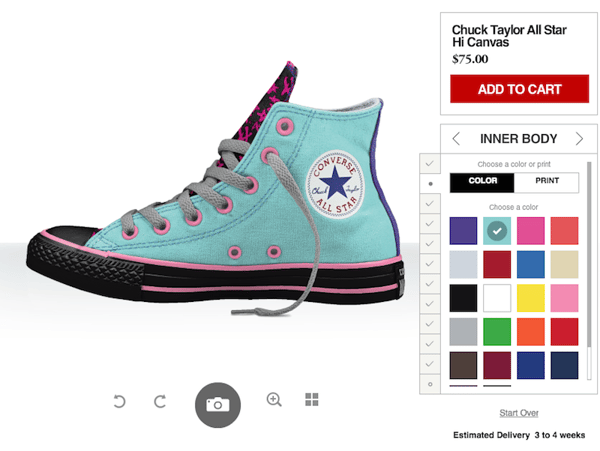 Source: Econsultancy
Bellroy
Bellroy's competitive advantage is the thickness of its wallets, which are thinner than most other brands. To illustrate this, the company has created an interactive page divided into three parts, which explain exactly how the product works. In the end, dynamic content allows the customer to visualize the advantages of this wallet clearly.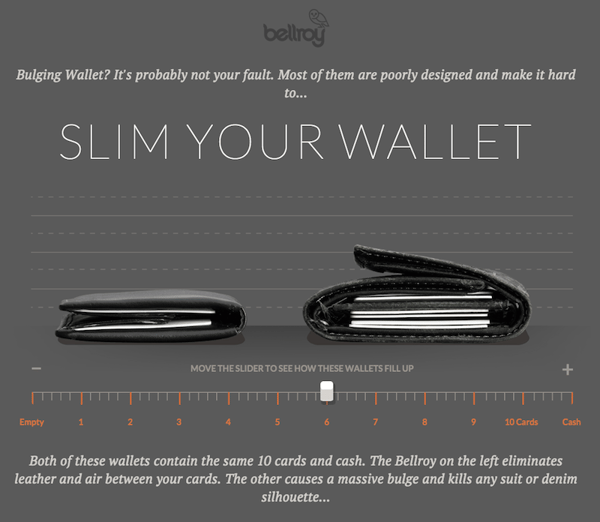 Source: Bellroy
4. Retention
If you consider the relationship with the consumer ended after they make a purchase, you're wasting a huge opportunity. After all, it is always easier to sell to returning clients than to new visitors. Therefore, it is fundamental to work on the consumer's retention.
The first and most basic step is to encourage the customer to leave feedback regarding the product they just purchased. Interactive surveys are much more encouraging and engaging than a static form. You can automatically send this type of content to your newest customers by using an email marketing automation platform.
Another idea, especially helpful for technological solutions, is to offer interactive content aimed at onboarding.
Put simply, the material should help the customer understand how the product works and guide them through its basic settings.
An instruction manual is not a very engaging experience here. So, why not develop a product-focused quiz? This creates a friendly environment, where the user tests their own knowledge about the product and finds out if they have any misconceptions.
According to DemandGen, more than 60% of marketers already insert interactivity elements into their strategies. The effectiveness of this approach in attracting and converting leads makes it a powerful ally for online stores.
Conclusion
By investing in interactive content for e-commerce, you maintain market competitiveness, increase your brand reach, and enable the generation of loyal consumers.
Are you interested in learning more about how interactive content can maximize your digital strategy? In this post, we dive deeper into how these resources can be implemented to optimize the experience you offer your consumer.