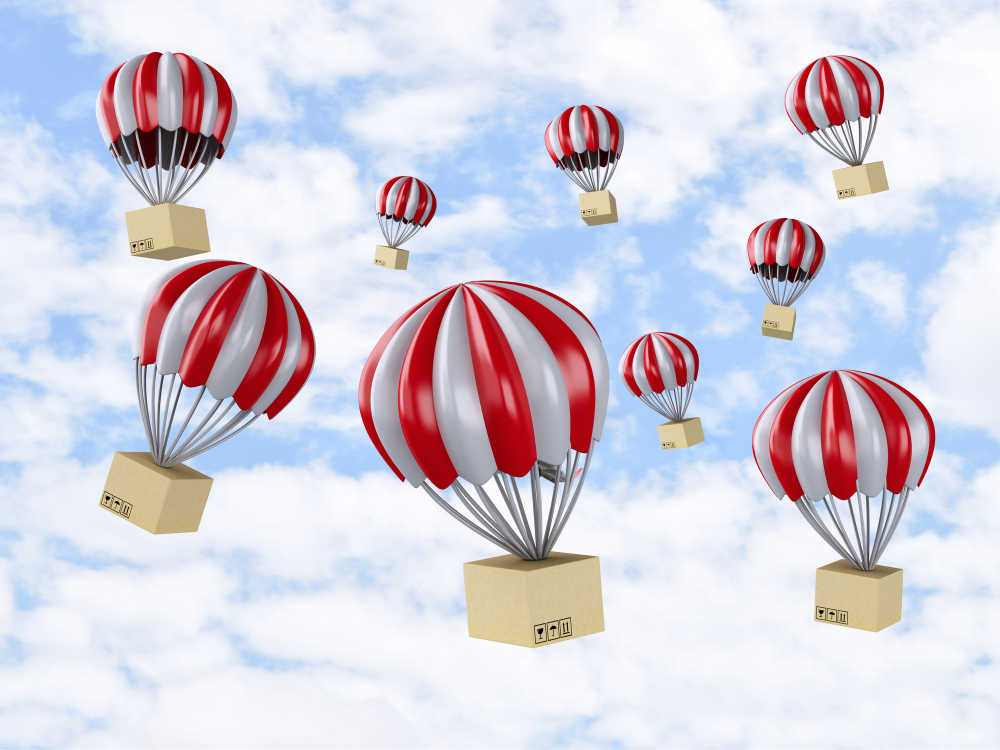 Ecommerce businesses are buzzing about dropshipping, and it's not hard to see why.
By eliminating the need to stock inventory, dropshipping is revolutionizing the landscape of online shopping. Online business owners no longer need to stock the products they sell. Dropshipping allows them to partner with suppliers who will ship the product directly to the customer as soon as an order is placed. The product never even passes through the hands of the online business owner. Done and done.
BUT there's a reason everyone you know with access to Wi-Fi isn't already in on the action. Reputable dropshipping suppliers are notoriously hard to come by. Many dropshippers are tiny companies without big marketing budgets – meaning you won't find them on the first (or even the second, third, or fourth) page of Google search results. Plus, there are hundreds of scammers out to swindle you with inflated sign-up fees and charges.
Lucky for you, we've done the hard work and compiled this guide with everything you need to know about dropshipping and the best dropshipping suppliers to work with. (We've also put together a more comprehensive look at the dropshipping business model – along with a free eBook). Whether you're just starting an online business or you're looking to expand a current ecommerce business venture, we've got you covered with this list of both general and niche dropshipping companies.
*Please Note: The purpose of this guide is to connect you with potential dropshipping suppliers for your business. It is important that you do your own due diligence to determine whether these dropshippers are the right suppliers for the needs of your specific business.

Directory of Top Dropshipping Suppliers
As in any industry, there are advantages and disadvantages to dealing with one company over another. Below is a list of the most popular dropshipping suppliers along with the pros and cons of dealing with each of them.

Doba is known for its streamlined product discovery and data management platform. With over 2 million products from hundreds of US-based suppliers in one catalog, it's easy to discover trending products, manage product lists, and place and track all of your orders in one place.
Another advantage of Doba's marketplace is its unique Supplier Scorecard system. View any supplier's scorecard to see detailed performance data including fulfillment rates, shipping carrier options, average processing time, ship times and cost, and many more tracking tools.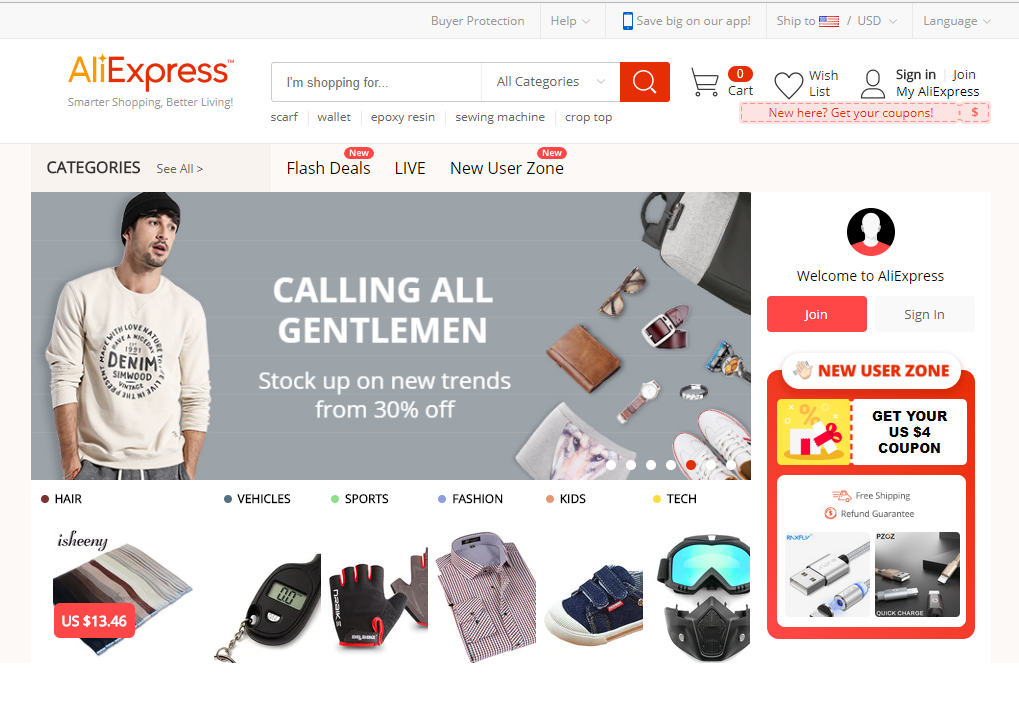 AliExpress dropshipping is one of the most popular dropshipping marketplaces because it's simple, easy to use, and low risk for new ecommerce entrepreneurs. The platform is extremely large, so we recommend only buying from suppliers who have at least a 95% or higher rating in positive feedback and at least a 2,000 feedback score. The highest-rated suppliers are generally the most reliable. A great tool to get products from Aliexpress to your online store is Ali2Woo.
Aliexpress suppliers are based in China so delivery to US destinations could take up to 2 weeks, something to consider when selecting the right dropshipper for your business.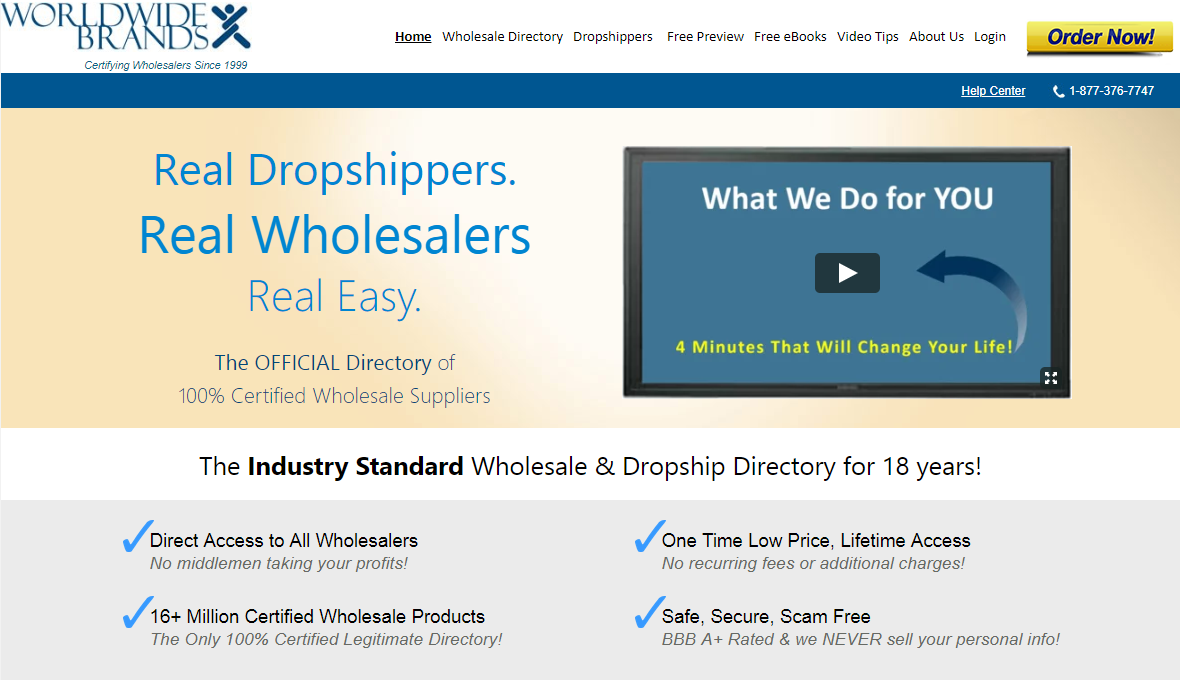 Worldwide Brands is committed to connecting home-based sellers (like you!) to the same topnotch suppliers the big retail stores use. By attending exclusive tradeshows and talking directly with manufacturers, their research staff finds real top-level wholesalers ready to work with smaller online sellers. Their Wholesale Directory is an incredible resource for new ecommerce entrepreneurs looking to connect with safe, secure wholesalers.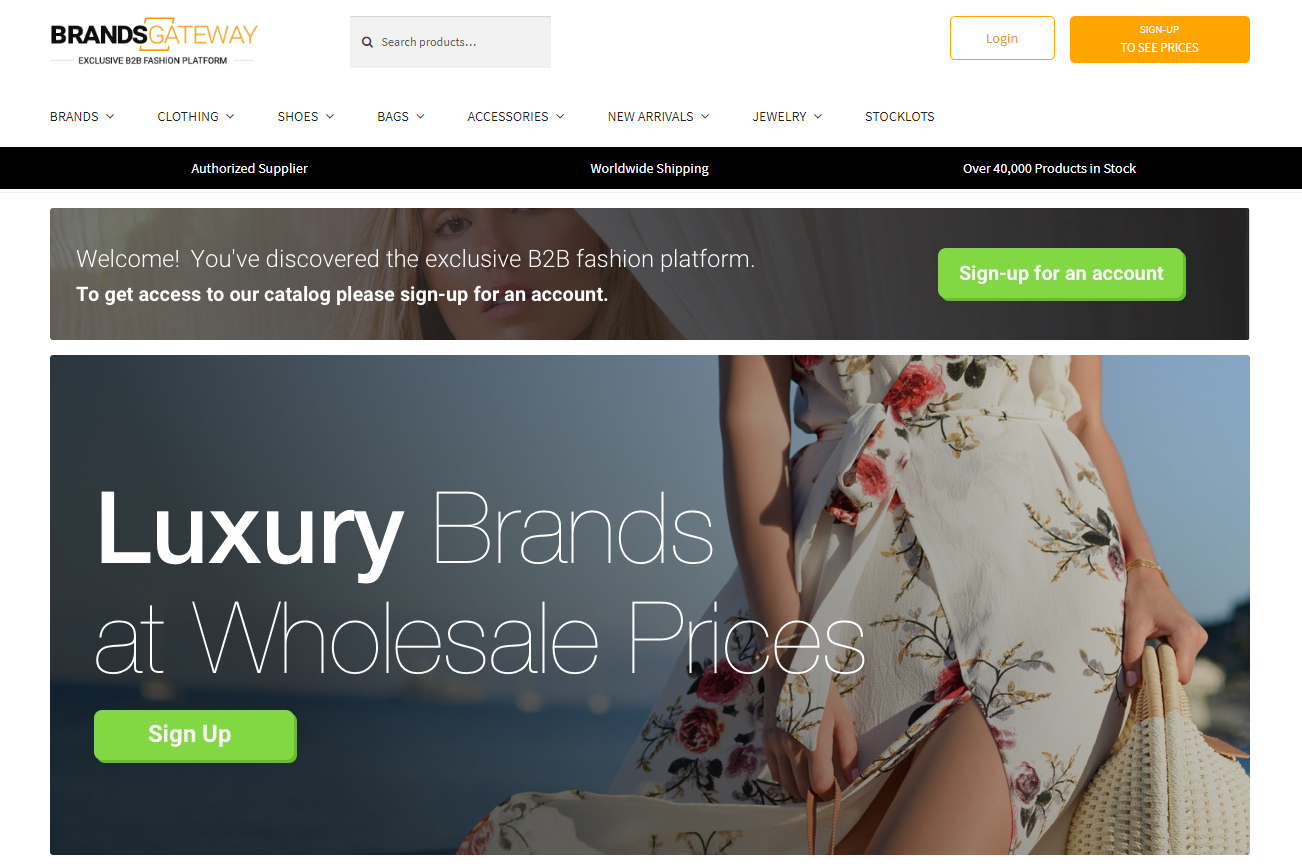 BrandsGateway is a global distributor of branded apparel and accessories. Their brands include Dolce&Gabbana, Armani, Versace, Karl Lagerfeld, and Ferré, among others. They supply merchandise to hundreds of clients globally, including small retailers, department stores, other wholesalers and e-commerce stores.

Based in Jönköping, Sweden, with over a decade of experience in the designer apparel and wholesale distribution industry, BrandsGateway can supply any customer worldwide with large quantities of desirable merchandise at a fraction of the cost. With an exceptional track record in customer service and fast response times, Brandsgateway prides itself on being a trusted and reliable source for wholesale designer apparel in the world.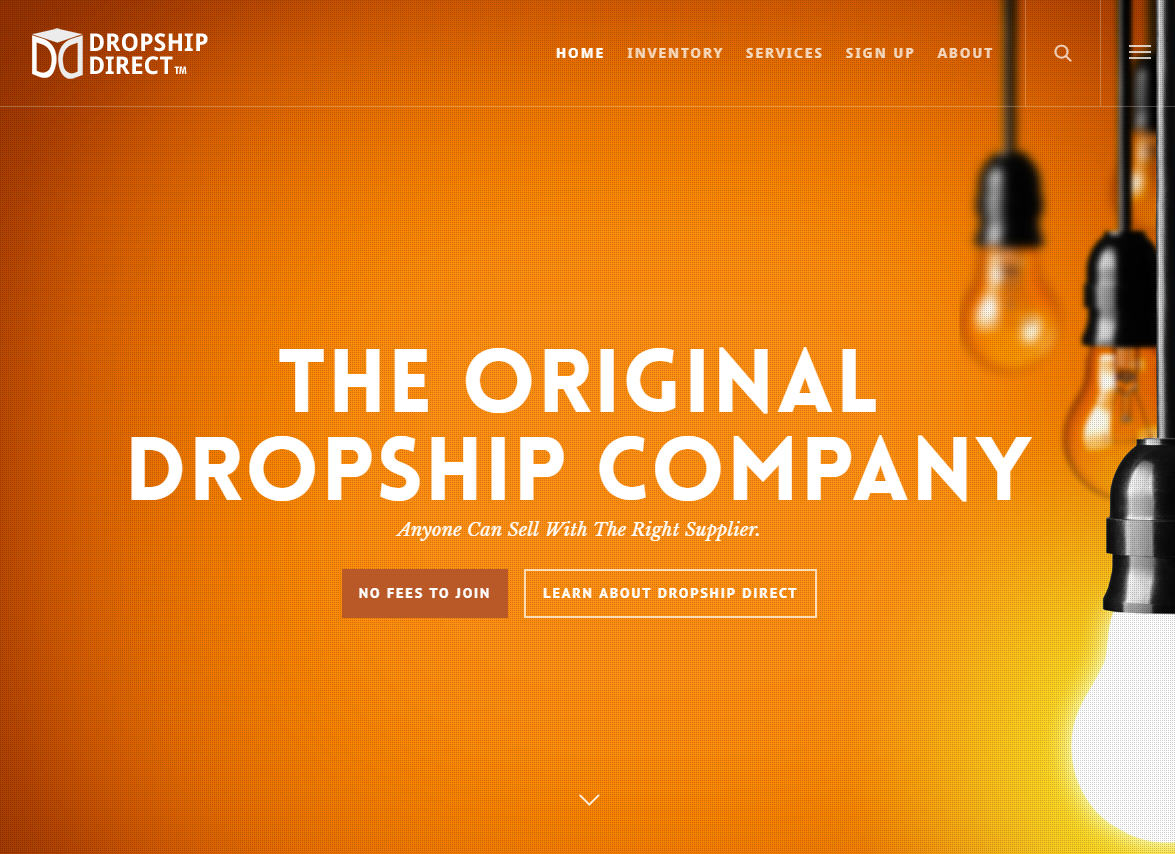 The Dropship Direct mission is to help retailers succeed at what they do best: selling. They don't charge account fees or drop ship fees, there are no minimum order requirements, and they offer many of their Quick Report inventory files for free, making their platform a great resource for brand new dropshippers.
You can access their stock of over 100,000 items from more than 900 brands for free, but you'll need to pay $37.00 per month to access their Premium WholesaleFiles information.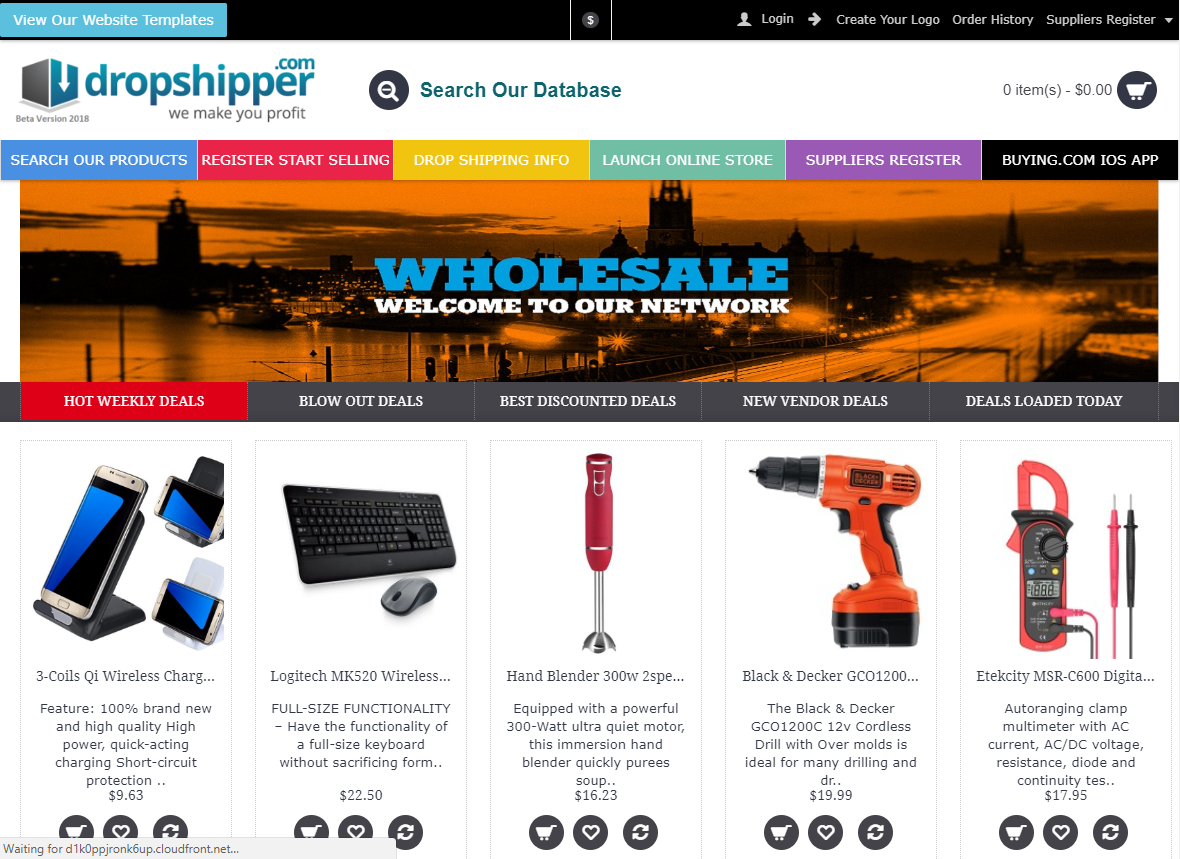 For $49 per month, Dropshipper.com members get access to millions of top-selling products and brand names. All products and downloads can be uploaded to your ecommerce platform. In minutes, you can list products on your site and begin selling.
The Dropshipper.com platform also offers complete sales and management control, product control, several financial tools, shipping, marketing tools, vendor reports, and other tracking tools.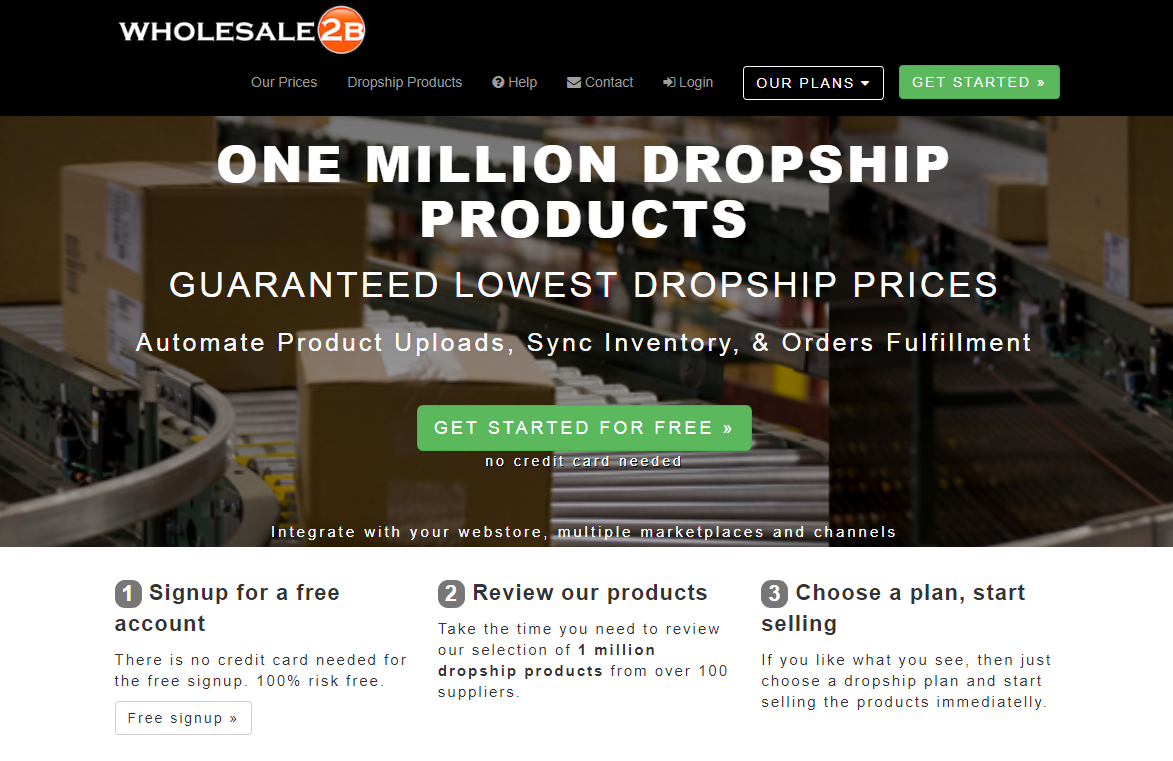 With access to over 1.5 million products (impressive!), Wholesale 2B members aren't lacking products to sell. Their pricing is a bit complex, with four different plans – Ebay Dropship, Amazon Dropship, Dropship Website, or Dropship Feeds (which is best if you already have a website powered by a shopping cart software).
One potential downside of working with Wholesale 2B is that they don't offer phone or email support. If you have an issue, you'll have to submit a ticket and wait for a response – which can be quite slow.
Their platform also doesn't offer much in the way of analytics feedback to track the performance of the products you choose to sell.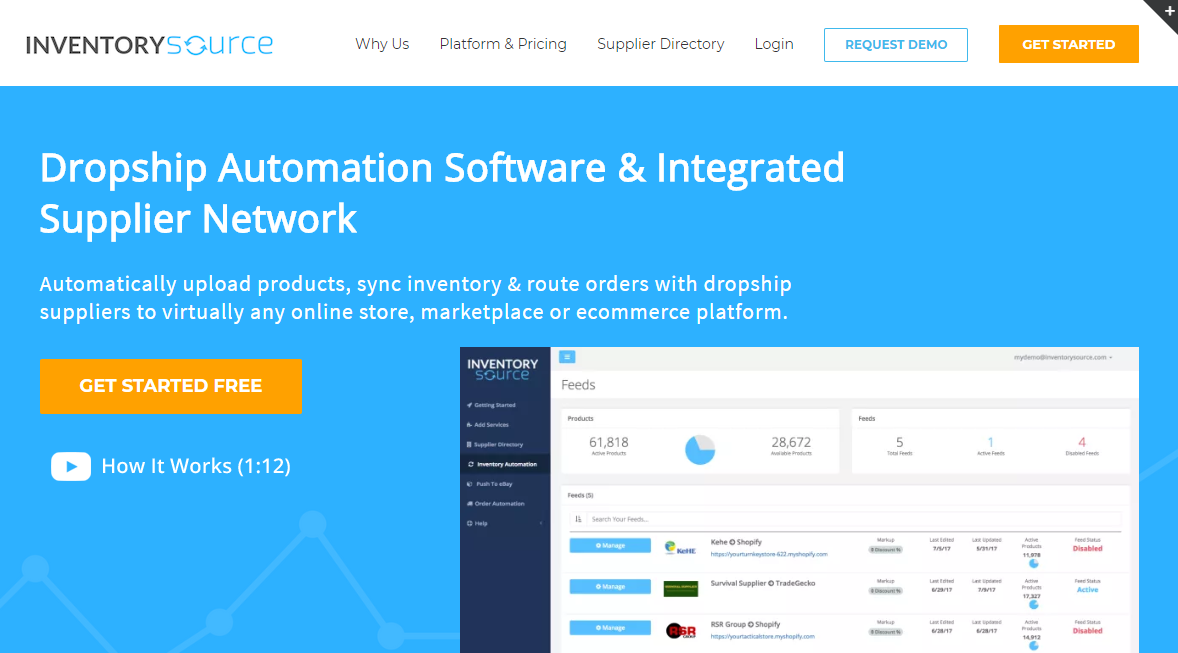 Over 180 top dropship suppliers are listed in InventorySource's expansive directory. They offer advanced filtering, sorting, and search tools to help buyers find exactly the right supplier for their needs.
InventorySource aims to connect buyers directly with suppliers to allow for volume discounts, access to exclusive brands, and seasonal specials. These features foster true partnerships between suppliers and retailers that help businesses flourish.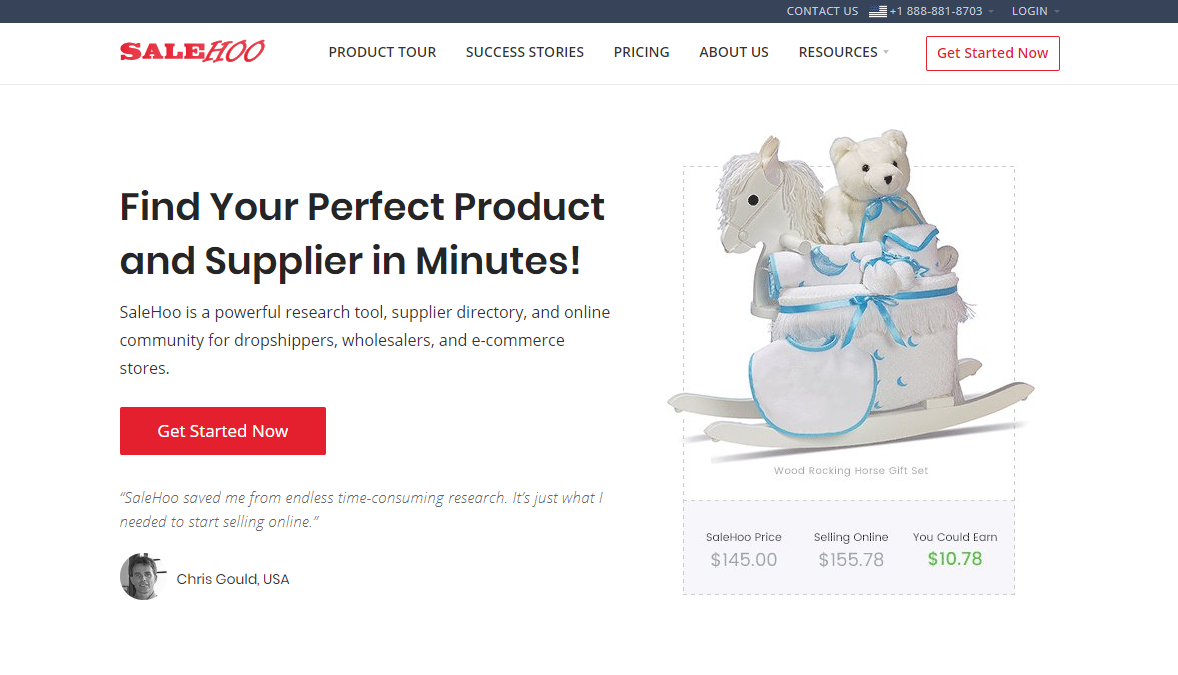 One of the best parts about working with SaleHoo is the SaleHoo community. Users have access to the SaleHoo blog and forums where they can post questions and connect with like-minded ecommerce entrepreneurs and business owners.
Their network boasts an impressive 8,000+ suppliers with access to over 1.6 million products. They also provide a Market Research Lab, which members can use to research which products will yield the highest returns.
Plus, at $67 per year, the SaleHoo plan is one of the cheapest in the industry.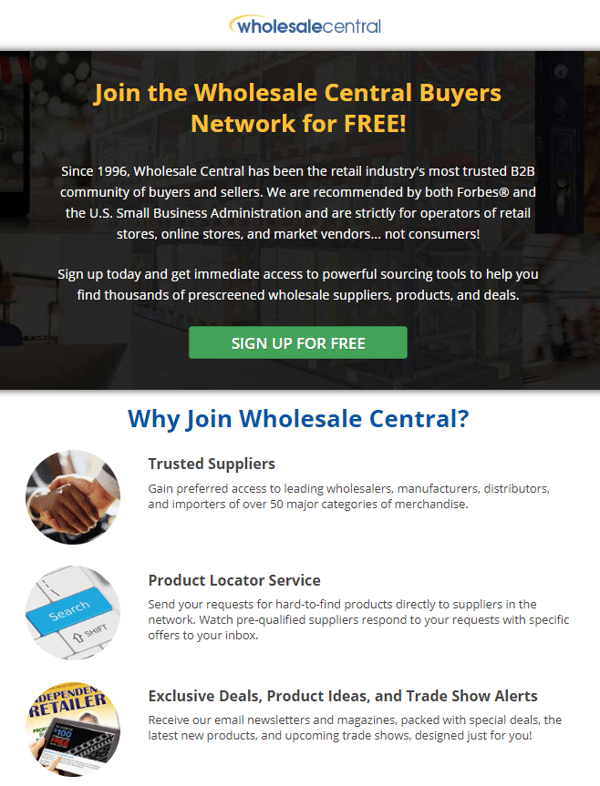 Wholesale Central is essentially a B2B ecommerce directory that connects buyers with wholesale products and suppliers. The site is completely free to use and no registration is required, which makes it virtually risk-free for new users.
Powerful sourcing tools help online sellers connect with pre-screened wholesalers, importers, distributors, dropshippers, and manufacturers. Orders are placed directly through the supplier's website, not through Wholesale Central.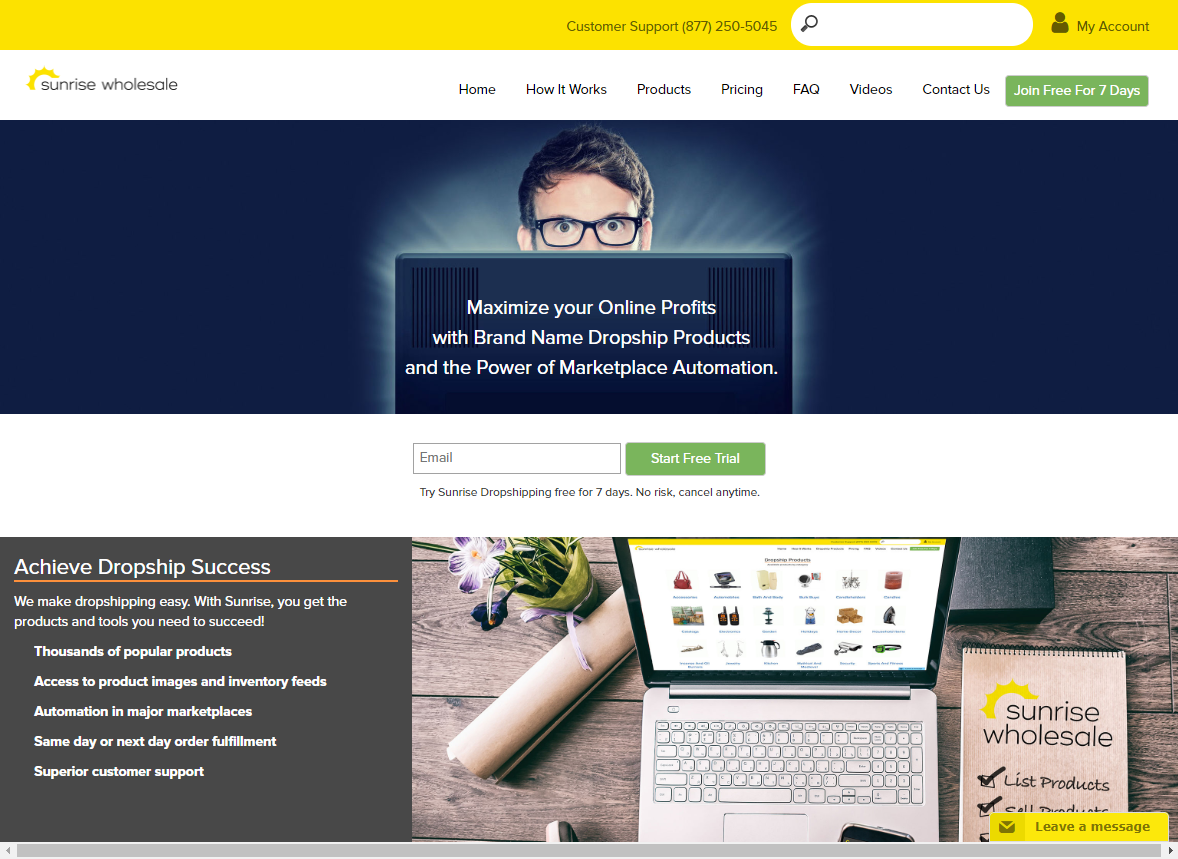 The Sunrise platform uses the power of marketplace automation to maximize profits for users selling on eBay, Amazon, or anywhere else. Membership starts at $29.95 per month or $99 per year (best value), and includes access to Amazon Selling and Research Manager and a free eBay Listing Wizard and Research Tool – both of which are great tools to have access to, especially if you're just starting out.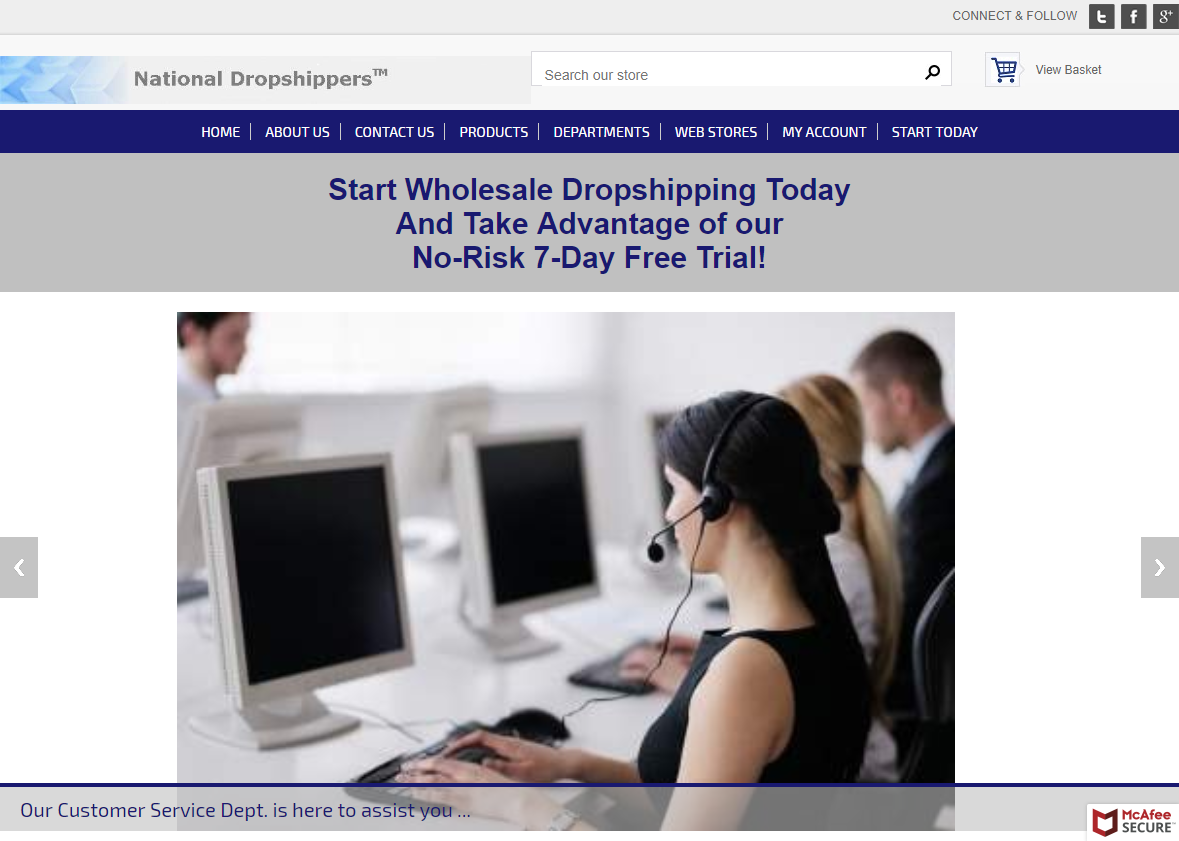 National Dropshippers is a members-only site that offers order-fulfillment dropshipping services for thousands of products from several different manufacturers and distributors.
Monthly memberships start at $19.99 (but if you're ready to play the long game, you can get lifetime access for a onetime fee of $199).
Yakkyofy is specialized in sourcing products from China, they offer hundreds on products and also the possibility to ask quotations for products outside their catalog. They will also provide if requested product with Private Label or with customized packages.

Yakkyofy buys directly from Chinese suppliers to allow for volume discount prices from 15% to 50% lower than on Chinese Market Place and offers fast shipping (3-10 days) in most of North America and European countries.
Niche Dropshipping Suppliers
While the dropshippers listed above offer a large catalog of all types of products, there are many niche dropshipping suppliers that specialize on specific markets. You can find some of the most commonly used niche dropshippers below: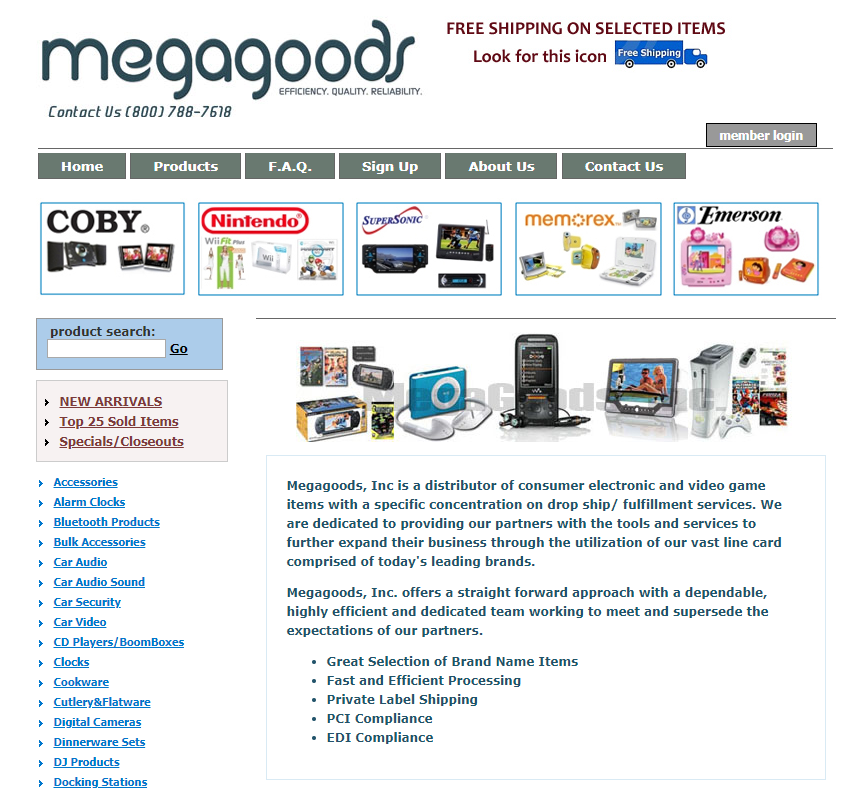 Megagoods specializes in dropshipping consumer electronics and video games. For $14.99 per month, members get access to 2,000+ electronics products in more than 45 categories.
Despite their relatively low product numbers, you may find the right profit margins here if you're looking to specialize in consumer electronics.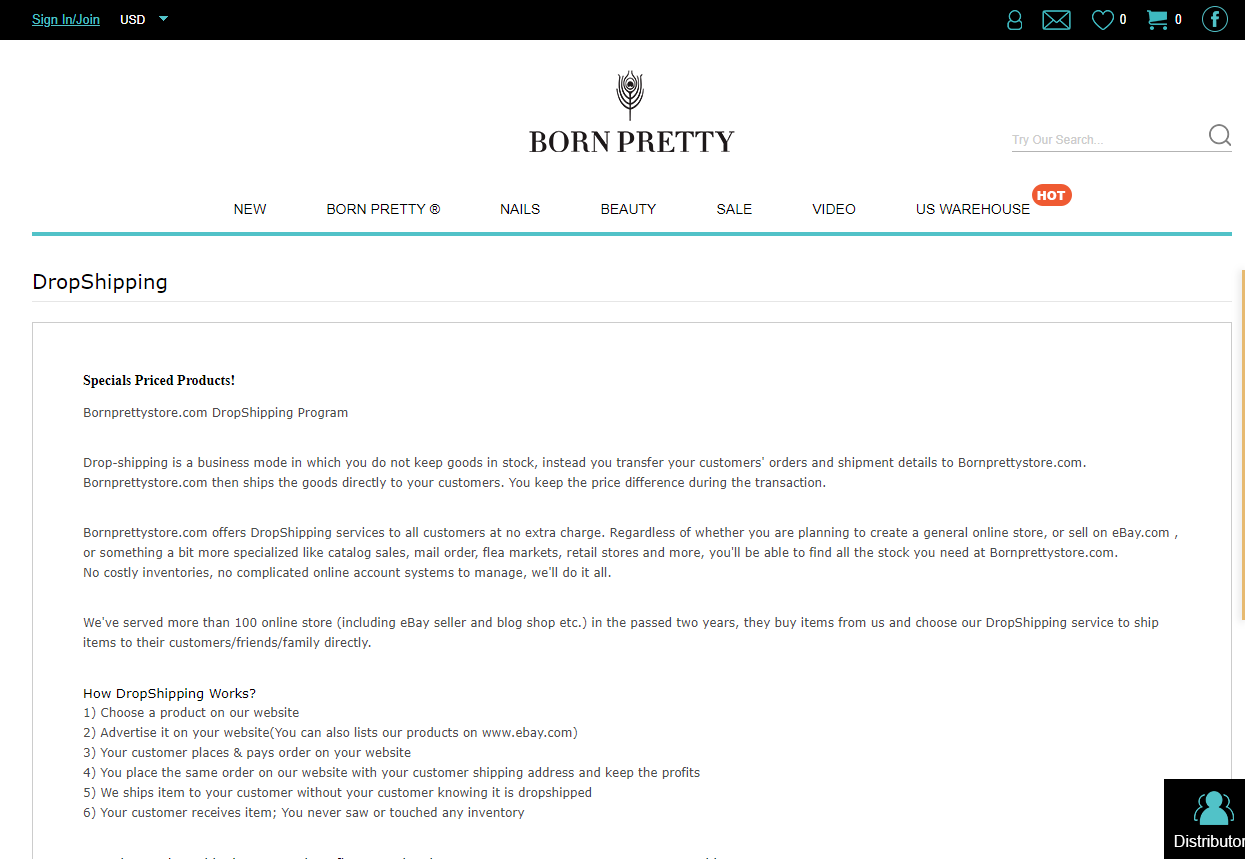 Born Pretty is an online beauty shop that offers dropshipping services to all customers at no additional charge. They ship more than 10,000 different beauty products to over 150 countries around the world for free.
Simply place an order with your customer's shipping address and write "DropShipping" in the comments. You keep the difference between the retail price you charge the customer and the wholesale price you pay Born Pretty. No costly inventory, no products to package, no complicated account systems to manage – they handle it all.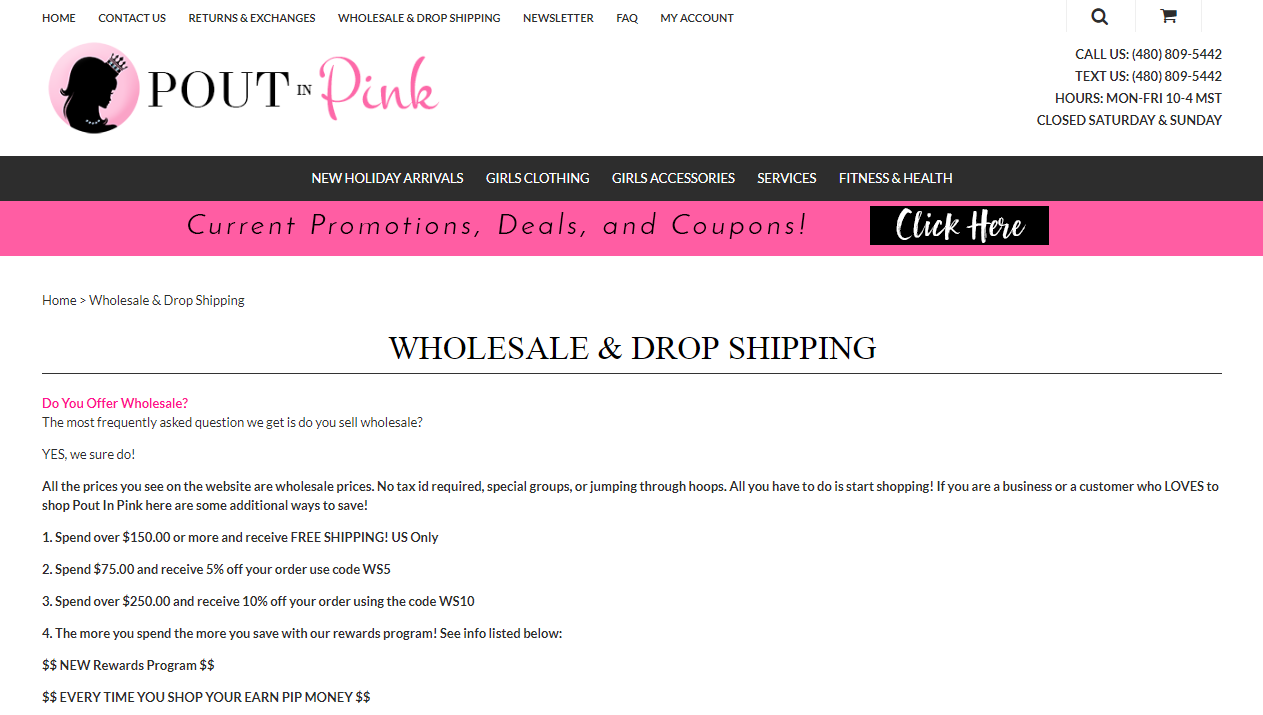 This online boutique sells unique infant and children's clothing at wholesale prices. They offer dropshipping as a free service – the newest looks are shipped directly to your customer, no warehousing or shipping to handle on your end.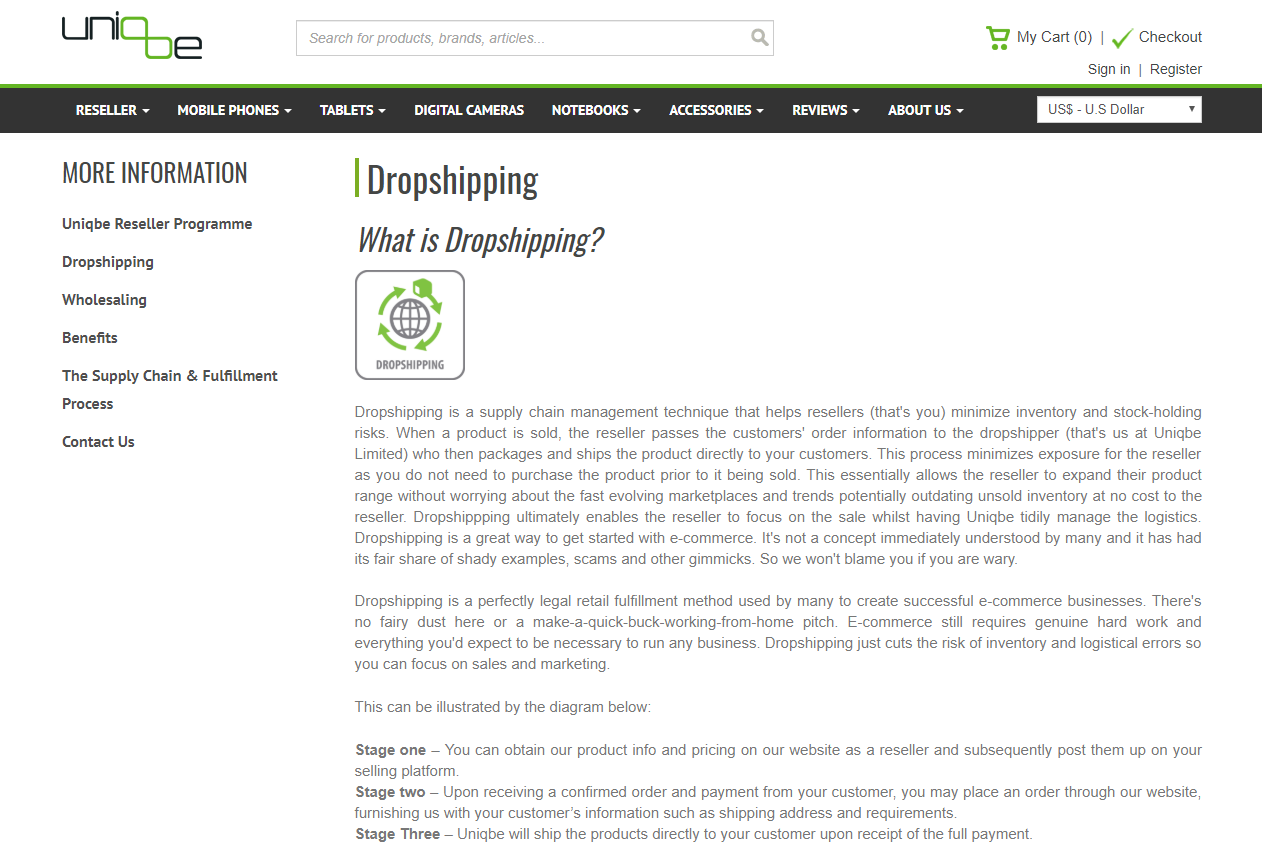 This Hong Kong based company specializes in the latest consumer electronics products such as cell phones, smartwatches, tablets, cameras, and other electronic accessories from high-end brands like Apple, Google, Samsung, LG, and Motorola. Their Reseller Programme is designed to support long-term relationships with their resellers and dropshippers, which can be especially helpful for new businesses trying to break into the electronics niche.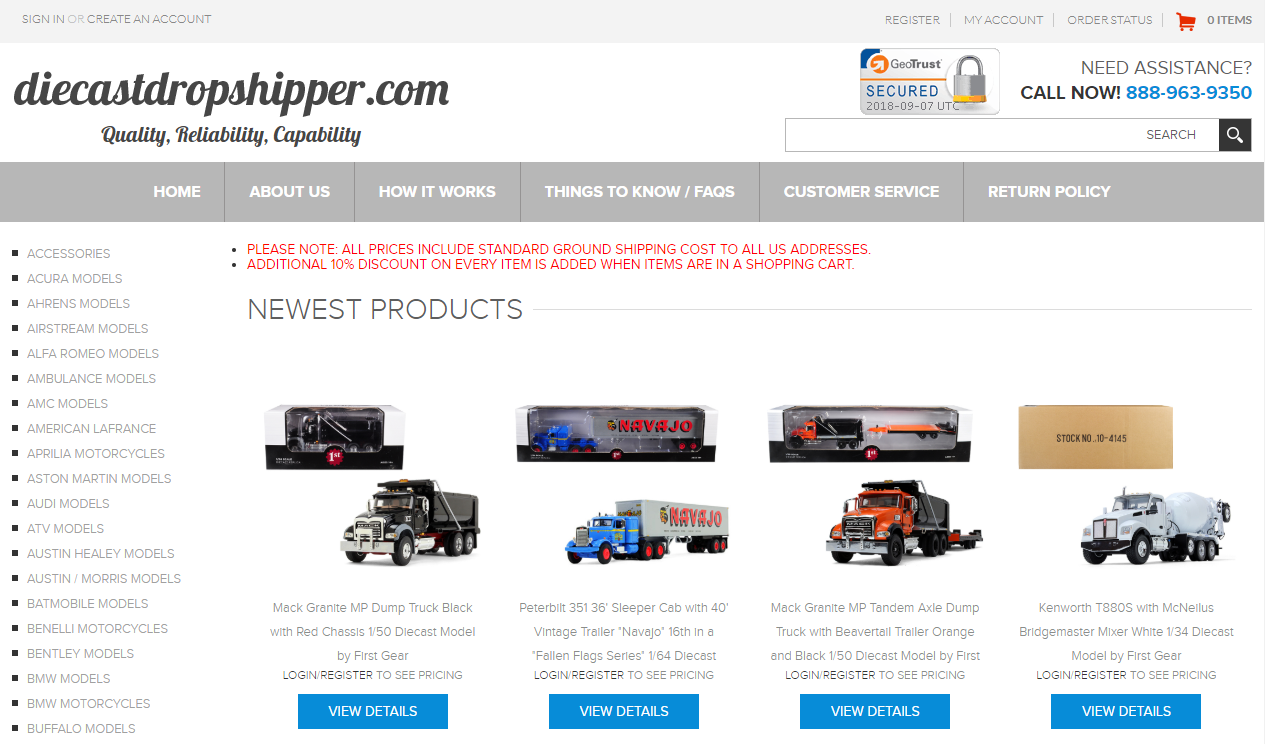 Die Cast Dropshipper supplies die cast model cars, trucks, motorcycles, and other vehicles from brands like BMW, Ferrari, and Chevrolet. They currently have over 4,000 products in stock and use a dropshipping program to ship their merchandise to customers across the country.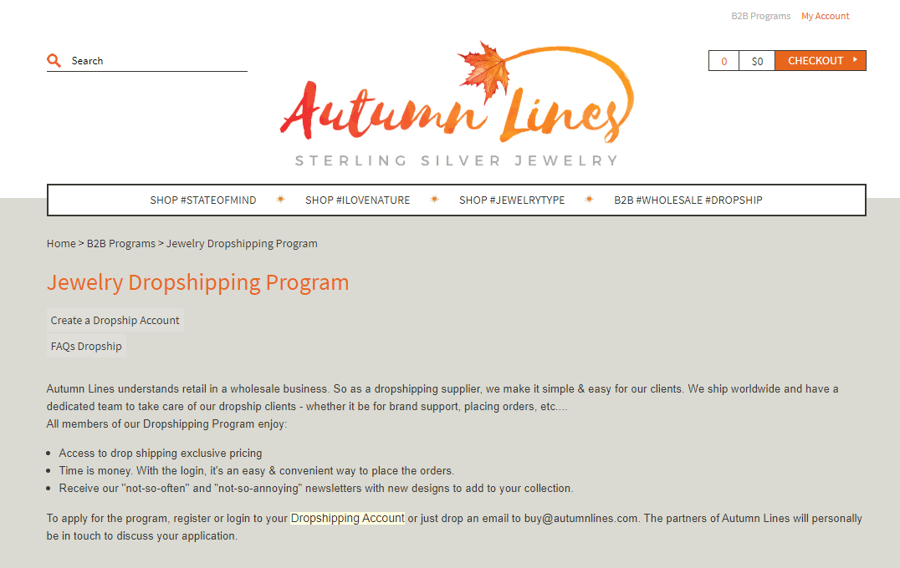 Specializing in nature-inspired sterling silver jewelry, Autumn Lines offers both wholesale and dropshipping programs in addition to their online retail store. As part of their dropshipping program, they offer merchants worldwide shipping, exclusive pricing and newsletters announcing new product designs to add to your online store. Autumn Lines' product line-up includes pendants, earrings, necklaces, rings, bracelets, aromatherapy jewelry and more.
How to Spot Fake Dropshippers
You'll want to be cautious in your search for a dropshipping supplier, as you're likely to find quite a few scammers and "fake" wholesalers. Unfortunately, many legitimate companies lack the marketing budget for a strong online presence.
These are 2 common red flags to watch out for.
1) Ongoing Fees
There are many free dropshippers in both general and niche categories. Some larger companies may charge a yearly fee, but most only ask that you pay the cost of the items being shipped.
Monthly membership or service fees are the fastest way to identify a scam. Legitimate suppliers or wholesalers will never charge an ongoing monthly fee to do business with them.
However, many real dropshipping suppliers DO charge a per-order fee that can range from $2-$5 or more, depending on the size and complexity of the product being shipped. This is standard across the industry, as packaging and shipping costs will vary (and individual items are more expensive to package and ship than bulk orders).
Some wholesale suppliers also require a minimum order size to ensure that the merchants they work with are genuine.
2) Selling Directly to the Public
If a portion of a wholesale supplier's website sells directly to the public, beware. To qualify for genuine wholesale pricing, companies must apply for a wholesale account and prove they are a legitimate business before any orders are placed.
Any wholesale supplier that lists products for sale to the general public at "wholesale prices" is simply a retailer selling items at inflated prices.
How to Launch a Successful Business with Dropshipping
Starting a dropshipping business (or working with a dropshipping supplier) can seem confusing at first, but it's not hard to see the benefits if you understand how the process works. Below are three key factors all successful dropshippers have in common:
1) Supplier Support
Communication is the key to any successful business relationship, but it's especially important in a dropshipping business since you won't be working with your suppliers in person. Legitimate companies often offer ongoing support to make the process as smooth as possible (you can read more about our support and other similar features here). The key is to create a seamless experience for the customer so they never have any idea that they're actually dealing with a dropshipping supplier.
2) Understand the Business Model
This may seem like a no-brainer, but it's easy to get swept up in the excitement (and dollar signs) before you fully understand the process. That's why we've put together this course to help you get started. Our lessons cover everything you need to know to start a dropshipping business, including:
The benefits and drawbacks of the dropshipping model
An overview of dropshipping details (including some things you may not have thought of, like return policies)
How the dropshipping process works from start to finish
How to find the right dropshipping company for your business
A breakdown of the fees you can expect
3) Choose a Reliable eCommerce Platform
When the success of your business relies on the capabilities of your online store, the stakes couldn't be much higher. That's why we use a unique approach to online selling that we call Strategic eCommerce.
Shift4Shop's exclusive platform is built to overcome the common challenges of running an online businesses so you can reach visitors, engage shoppers, convert sales, and nurture customer relationships. Boom.
With over 200 built-in features, mobile-ready themes, powerful marketing tools, integrated payment processing, real-time shipping, and a comprehensive control panel, the Shift4Shop platform gives you all the tools to succeed online.
Don't Be Afraid to Make a Mistake
The first wholesale vendor you work with may not be your lifelong supplier. That's okay. In the beginning, your goal is to get a product shipped for a profit. Creating your perfect supply chain will take time and likely involve a lot of trial and error.
Don't be afraid to try different suppliers to try to increase your profit margins.
No matter your industry or niche, there are costs to be saved when you outsource to a dropshipping supplier – from warehousing and shipping expenses to time spent on managing your own inventory. There's a reason all the cool kids retail giants are doing it (Amazon, eBay, Nordstrom, and many more).
Now, you can too.