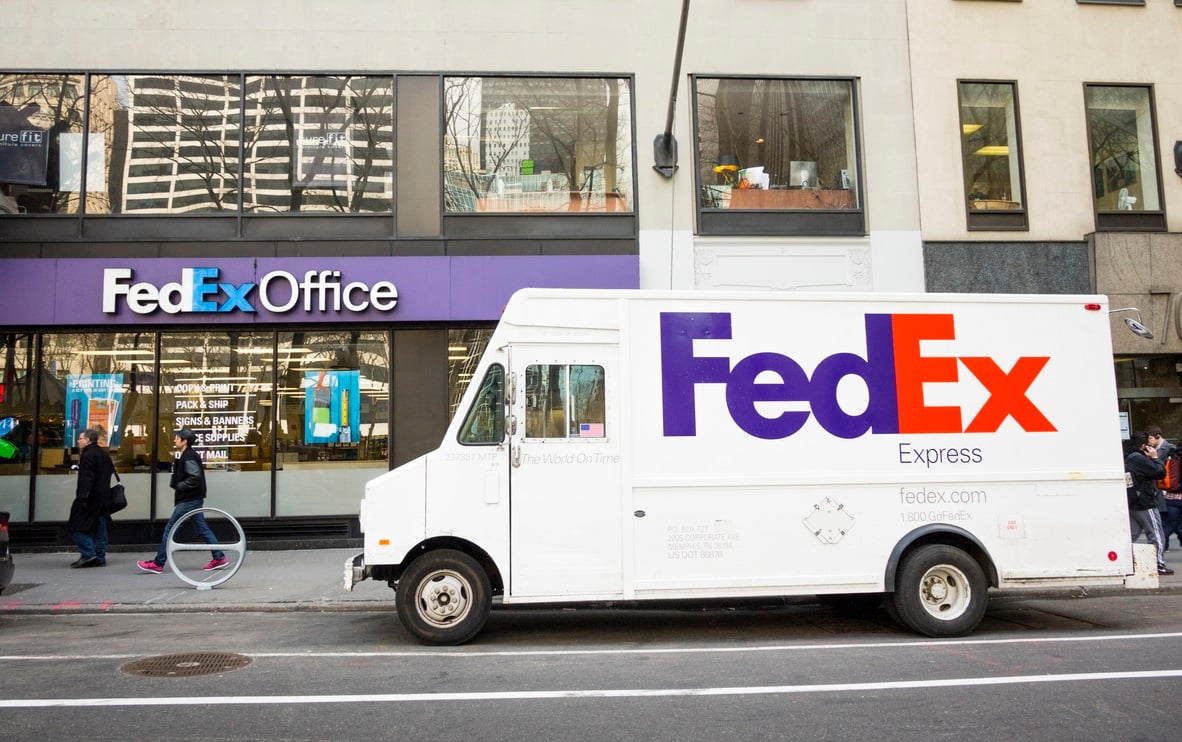 Shipping can be a stressful part of eCommerce for customers and retailers alike. Problems with delivery mean extra work for both the buyer and seller, with the online store sometimes taking the blame regardless of the source of the issue. When shipping is as smooth as possible, customers have a better experience and brands receive a benefit to their reputation.
Shipping carriers have made numerous improvements to the process, aimed at peace of mind and convenience for customers expecting an order. Tracking numbers, the ability to provide special instructions, and other features have made eCommerce shipping much easier for everyone. The option to have an order shipped to a secure location for later pickup brings another level of convenience. Whether due to scheduling conflicts, delivery difficulties, or risk of package loss in a neighborhood, many customers would love to be able to choose a location at which they can pick up their shipments at their convenience.
FedEx Hold at Location brings this option to 3dcart stores. Here's a rundown on this feature, how it can come in handy, and how to add it to your eCommerce website.
What is FedEx Hold at Location?
FedEx Hold at Location (HAL) is a shipping method in which the customer chooses from a list of pre-defined FedEx locations as the destination for their order, rather than entering their own address. When the shipment arrives, the customer is notified and then has 7 days to pick up their order from the location they specified. Customers will need to bring identification and their tracking number when they pick up their order to help keep the process secure.
FedEx locations are not limited to FedEx Office or FedEx Ship Center stores, but can include several other businesses that are working with FedEx to provide this service, like:
Independently-owned FedEx Authorized ShipCenters
Participating Walgreens locations
Participating Albertson's, Kroger, and other grocery stores
FedEx Office inside some Walmart locations
With over 11,000 locations to choose from, it's crucial for customers to be able to narrow down the options presented to them at checkout. 3dcart's FedEx HAL feature simplifies this by requiring the customer to enter their ZIP code and a maximum search radius. Qualifying locations will be listed complete with their addresses, business hours, and a shortcut to get directions so the customer can select the location most convenient for them.
When Would a Customer Want Their Shipment Held?
Since convenience is a big part of the appeal of eCommerce, it might seem counterintuitive that a customer would prefer to make a trip to a FedEx location rather than receiving a shipment at home, but there are several reasons they might choose the option.
Delivery Issues
The customer might live in a location with problems receiving deliveries. This could stem from disorganization in an apartment complex's management — perhaps there's no clearly defined place to drop off packages that don't fit in a mailbox, and residents always need to go on a hunt for their packages as soon as they get the delivery notification. Another common problem involves customers whose homes are hard to find or identify, such as if they live in a rural area or in a neighborhood with a street layout that frequently results in drivers delivering to the wrong house (e.g. 123 10th Street instead of 123 10th Avenue a few streets over). Of course, some shipments will make it through, but many customers would love a HAL option to avoid the hassle of package loss or failed delivery.
Risk of Package Theft
"Porch pirates" have always been a possibility, but they've become notorious recently as homeowners' security camera footage has become commonly shared on local news and the internet. Anyone, anywhere can have an unscrupulous neighbor who habitually steals packages, and some more dedicated thieves are known to drive through neighborhoods looking for fresh deliveries. Others are simply opportunists who give into the temptation after a box has been sitting untouched for hours. Porch piracy can be a problem year-round but often picks up closer to the holidays. No matter the exact situation, if a customer has concerns about their order being stolen after delivery, they'll jump at the chance to have it held for pickup.
Scheduling Conflicts
When a delivery requires a signature, the customer needs to be there to sign for their order, which can lead to frustration if delivery attempts are made while the customer isn't available. If an adult signature is required, this can add another obstacle as the customer signing needs to be over 21. Your business will need adult signature confirmation if you're interested in certain restricted industries like selling wine online.
Even without a signature requirement, some customers want to be present to receive their delivery anyway. Scheduling a delivery through FedEx is possible, but incurs a fee. Many customers with tight schedules would much prefer to pick up their package at a location rather than paying a scheduling fee or risking a missed connection with a driver and having to deal with multiple delivery attempts.
Of course, the above are just common scenarios, and some customers might just prefer to pick up their packages for reasons of their own — in the name of privacy, or to help preserve a surprise, for example. That's why it's always worth it to offer this feature to your customers.
How to Add FedEx Hold at Location to Your Online Store
As part of our robust set of eCommerce shipping features, 3dcart's FedEx integration makes it easy to give your customers FedEx HAL as an option at checkout. Your store needs to meet a few requirements:
First off, you'll need to have FedEx Real-Time Shipping set up as a carrier in your online store, and you'll need to be on the 3dcart Plus plan or higher.
Since the nature of FedEx HAL means customers aren't shipping to their home addresses, this feature isn't compatible with the "Billing/Shipping Must Match" option found within your store's settings. If you're using this setting for security purposes, you may feel hesitant to turn it off, but 3dcart offers several other eCommerce fraud prevention tools so you can continue to protect your business.
Your online store's design must be built on the Core Template Engine, whether via one of 3dcart's available Core themes or by custom design. Core themes are the newest 3dcart design standard and all eCommerce themes available in the 3dcart Theme Store are Core.
If your online store meets these criteria, you'll be able to activate FedEx HAL within the FedEx module in your Shipping Settings. It's as simple as checking a box in the settings where you first entered your FedEx credentials.
Once you've turned on the feature, 3dcart's FedEx integration will do the rest. Customers will begin seeing the option right away.
Give Your Customers the Best eCommerce Shipping Experience
Online businesses live and thrive on the ability to serve the needs of their customers, and shipping is central to those needs. FedEx Hold at Location increases convenience for shoppers by giving them another option, whether they have problems receiving orders at home or simply prefer to have their packages delivered elsewhere.
If you feel that FedEx HAL is a great fit for your business, we've made it easy to implement in your online store — along with hundreds of other must-have eCommerce features engineered to help you succeed.