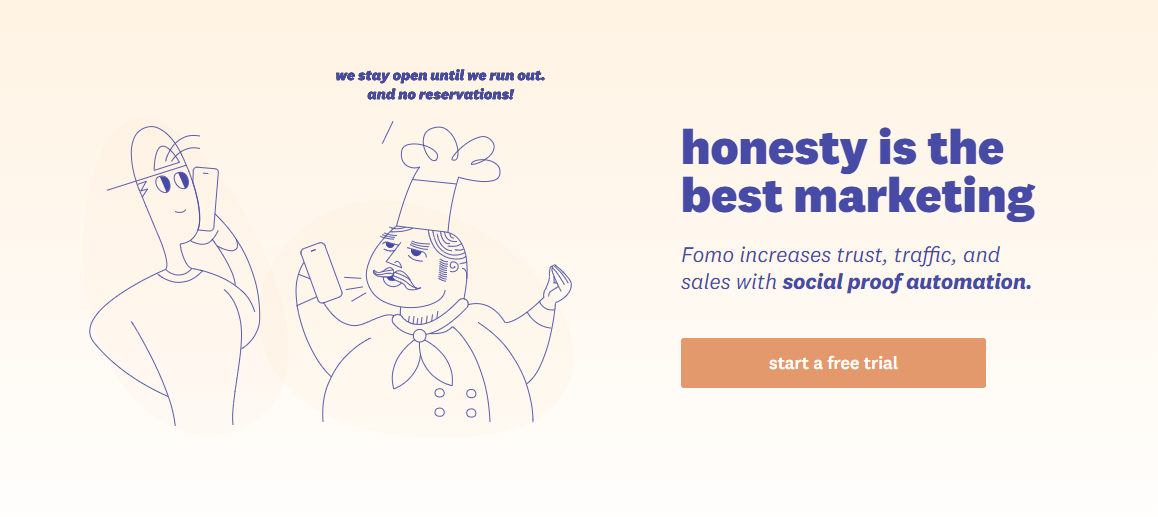 Social proof is a tried and true method of marketing, proven in situations such as a line outside of a restaurant indicating that it's a quality business worthy of your time. But, showing off social proof in eCommerce isn't as easy as that, so several companies have come up to the plate to provide a solution: notifications on your website that show prospective customers what conversions are occurring in real-time. Fomo is one such company with its own social proof software, so today we're looking into whether or not they're a good choice for your online store. We met with the CEO of Fomo, Ryan Kulp, to discuss the app in detail, and what makes their story and mission different from the rest.
Overview
Designed to help build trust with prospective customers and foster social proof that convinces them to convert, Fomo is a conversion marketing tool that displays recent business interactions in real-time on your website. But, before it was called Fomo, this tool began life as Notify in 2014. In our conversation, Fomo's CEO explained that he bought the company with his friend Justin in 2016 and "immediately began rebuilding Notify from scratch." Notify was relaunched and rebranded as Fomo that year, now with a new mission to "give entrepreneurs the credibility they deserve."
Today, over 60 million users see Fomo notifications every month, and over 4,000 online stores use the service. Kulp states that their conviction was, and still is, that "social proof and credibility extends far beyond ecommerce and purchases; it's the core of every business' existence."
So, is Fomo the best option for you if you're looking for social proof software on your online store? Let's break down the specifics of what you're getting when you sign up for their service.
Pricing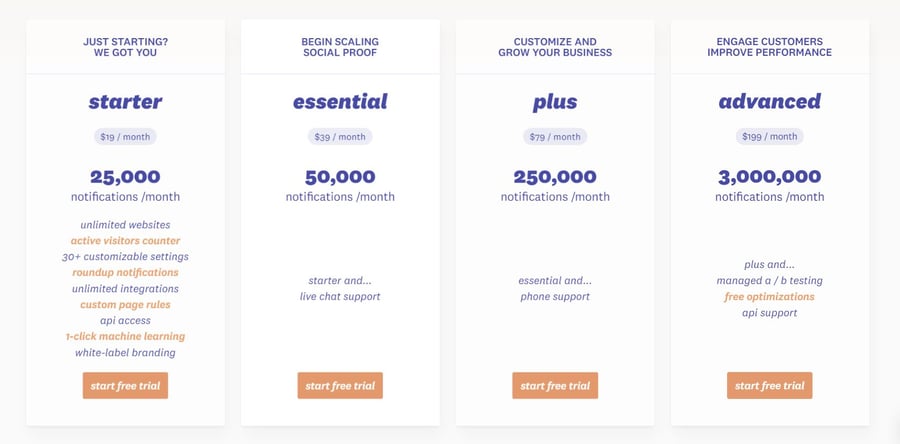 Fomo splits up their pricing plans into four brackets, with each increasing in price with the addition of features. The cost of their plans has slowly increased over the years, which Fomo says "affords better engineers, higher quality customer support, and more robust features." However, they've recently done the opposite by creating the Starter tier plan, which is now their most affordable plan — this makes it $20 cheaper to get started with their service.
They currently offer a free 14-day trial, but Fomo is also open to extending this trial on a per-customer basis. Additionally, if you get the Fomo app in the 3dcart app store, you can get your first month free. Your plan choices, and what each comes with, are as follows:
Starter: $19/Month

25,000 notifications per month
Unlimited website domains
Custom page rules
Roundup notifications
API Access
Active visitors counter
White-label branding
Unlimited integrations
1-click machine learning

Essential: $39/month

50,000 notifications per month
Includes all Starter plan features
Live chat support

Plus: $79/Month

250,000 notifications per month
Includes all Essential plan features
Phone support

Advanced: $199/Month

3 million notifications per month
Includes all Plus plan features
Managed A/B Testing
Free optimizations
API Support
Web-Based or Locally Installed?
Fomo is a web-based SaaS program that you don't need to install on your computer to use. The program integrates into your website via the REST module connector, which you can easily do with just a few clicks. Fomo is also cloud based, so you can access your account anywhere you go.
Ease of Use
Fomo's platform is overall very straightforward and user-friendly, not requiring you to know any coding knowledge in order to integrate an app or customize a pop-up. Their dashboard is easy-to-use, and updating card designs is made simple.
Features
Fomo's CEO told us that he feels it's most notable feature is "how actionable it is for visitors on a store's website." Fomo also claims that it's the first social proof program with "patent-pending features and some of the most complex use cases." It's certainly true that Fomo boasts a wide array of features, more than most of its competitors. Many of these features are simple to implement without any coding knowledge, but you also have the option to customize with your own code in a few scenarios. Here's what you'll be able to do with Fomo:
Create Conversion Pop-Ups
Customizable Messages: "Patent-pending" architecture that allows for unlimited message combinations.
Filters: Control elements with fallbacks, automations, and styling.
Template Rules: Control granular configurations to determine exactly what products you want to pop up in notifications.
Page Rules: Control what pages your messages will show up on, and which customers will see your messages.
Theme Builder: Add custom branding or CSS code to change pre-made themes how you want.
Refined Settings: Over 30 different controls are available for you to customize.
Translations: Add location-based translation for over 23 languages.
Utilize Smart Data
Insights: Suggests optimal settings for your website in real time by tracking impressions and clicks.
Geo-Location: Uses IP techniques to prioritize content from a customer's geographic location.
Sales Tracking: Measure click-through conversions by connecting Google Analytics.
Fomo Scorecard: Set up goals to measure the impact of social proof on your website.
Integrate without Coding
Fomo Instant: Connect any website form.
Roundups: Count events and create additional events.
API Developer Features
Create Events: Build one-liner callbacks on your server to send up-to-date information back to Fomo.
Fomo Broadcast: Adds social proof automation to social media networks like Facebook.
Client-Side Helpers: Use JavaScript helpers to add code to checkout, landing pages, and in-app experiences.
CSV Exports: Supports raw CSV exports from Google BigQuery.
Integrations

Fomo supports integration with over 83 different websites, programs, and applications. They also support adding in your own custom integration. Here's the most popular integrations that Fomo supports:
Ecommerce Platforms & Marketplaces
Applications
REST API
Webhooks
Stripe
Privy
Social Media
Instagram
Facebook
YouTube
Twitter
Reviews
Google Reviews
me
Trustpilot
Yotpo
Marketing Software
Management Software
Eventbrite
Cliniko
Amember
Calendly
Memberpress
Customer Service & Support
Fomo offers a live chat support for all plans that operates on regular office hours, so it's not a 24/7 support line. For Plus and Advanced plan customers, they also offer a phone support line (that is also not 24/7).
If you have an issue and need help outside of their office hours, then you can access Fomo's knowledgebase, which has over 150 entries. You'll also have access to video tutorials that help guide you through their features when you sign up for their service.
Pros and Cons
With Fomo, there's a good amount of positive aspects in their service. However, that doesn't mean there aren't any negatives. Here's the most notable pros and cons that we've found from Fomo's service and plan offerings.
Pro: Fomo's interface is easy to use.
Pro: The design builder is fast and flexible.
Pro: You have a long list of integrations to choose from, and the ability to add your own.
Con: You can't access phone support on the Essential plan.
Con: Live chat support is not available to the Starter plan.
Con: Native A/B testing is only available on the Advanced plan.
Final Verdict
At the end of the day, Fomo is a program that is really good at what it does: providing real-time social proof on your website in an effort to increase conversions. Fomo gives you a lot of freedom to customize your conversion notifications, and offers a wide variety of features and integrations so that you can get what you need out of their service. They're not stopping at social-proof either; Fomo's CEO talked to us about the indie ad network they've launched in 2018, a beta product called Instacontest that they're launching soon, and their "labor of love" called Honest Marketer. If nothing else, Fomo is definitely working to cover a lot of ground with their vision.
There's a good amount of competitors out there that stack up against Fomo well. While most of Fomo's pricing does lean more towards the expensive side of things, it makes up for it in how many features it has. If you're a smaller store that doesn't need all of these features and integrations and can't afford the price, then Fomo may not be the best choice of a social-proof software for you.
Altogether, Fomo offers a valuable social proof marketing tool that performs great and has quality support behind it. If you think that Fomo might be a good addition to your online store, then we recommend trying out the 14-day free trial to see how it works with your business.