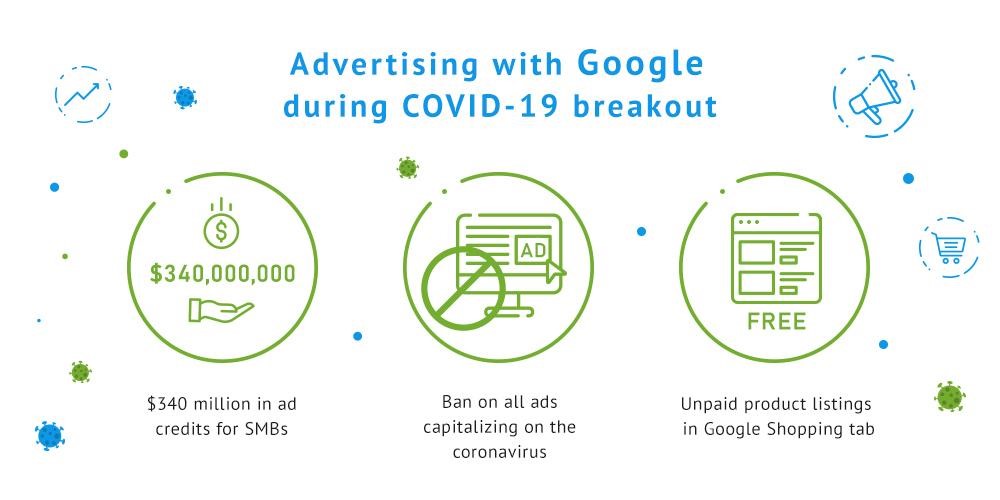 If you take a look at the COVID-19 pandemic data, it is clear that more and more households are staying home and relying on eCommerce giants for meeting their daily requirements through online shopping. Right now, contactless deliveries are growing in number and with Google being at the front of the eCommerce sector, shopping and campaigns are experiencing a surge in performance.
Brands who are capitalizing on Google Shopping Ads are seeing unprecedented growth in their business. Search terms, density, and frequency have exploded on the search engine thanks to COVID-19 which means the online user base is just getting started. It's now common to get billions of searches on Google's platforms and most of them are coming from mobile and tablet users. Businesses are changing their marketing operations and strategy to adapt to these demanding times and reports show that global PPC advertising is also being impacted.
Google announced on July 1st that it is giving away its ad credits to small business owners which amount to over USD 340 million. The money is meant to be used for ad spend and automatically credited to eligible merchant accounts. Startups and businesses who are facing the risk of closure are now gaining traction and growing thanks to that.
Smart shopping campaigns help put your products in front of your customers on Google's platform and various devices. And the best part about Google shopping ads is that you only pay whenever a customer clicks and visits your links.
Impact on the eCommerce Industry
When announcements about the COVID-19 pandemic were first made in March, people responded by stocking up on grocery essentials before shutting themselves at home. Online shopping behaviors witnessed a change and panic buying became prevalent amidst the impact of coronavirus on eCommerce businesses.
One of the biggest sectors in eCommerce that experienced a spike in sales was the grocery sector. A survey by Rakuten Intelligence mapped out a graph showing just how big this spike was.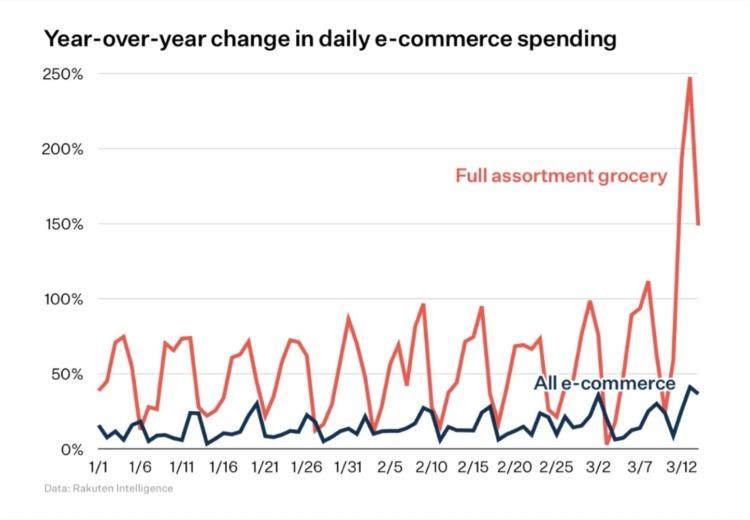 Source
Healthcare sectors and medical advertising saw a strong surge in sales since the pandemic began. The conversion rates for products like over-the-counter painkillers, vital medications, and prescription drugs saw an increase in search ad impressions and clicks. In the United States, Google search ad impressions for different niches experienced a small dip which was sort of expected.
On-demand media and entertainment skyrocketed in conversions by almost double over the few weeks as more people practiced social distancing by staying at home. This graph below charts it out very well.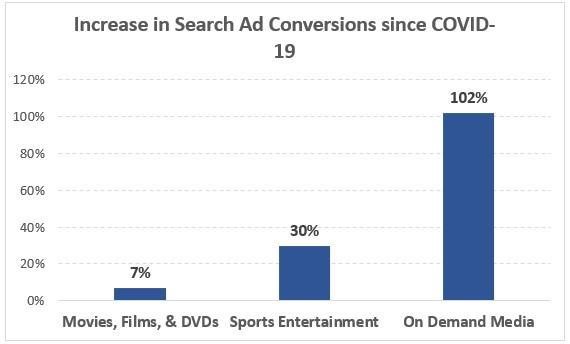 What Are Google Shopping Ads?
Google shopping ads are ads displayed on the Google Display Network and search networks as a result of launching Google Campaigns. Merchants pay for these ads only when users click on them. The ads are created by curating items from the campaign's shopping feed. They appear as Product Listing Ads (PLAs) at the top of search results and are shown when customers type in keywords with relevant purchase intent.
Getting more click-through rates, conversions and sales is the goal of every business owner. Google shopping ads make that happen by making the ads appear at the top of SERP results, thus getting brands noticed by audiences and helping them to grow.
Why Should You Use Google Shopping Ads?
A report by Arcadia Publishing revealed that brands who have used Google Shopping Ads for showcasing their products experienced a 458% increase in ROAS, over 102% boost in sales, and generated way beyond 140% in conversions. That's a lot!
Here are a few reasons why you should consider using Google Shopping Ads:
You get better-qualified leads and attract the right target audience
Shopping ads give you up to 2x-3x more CTR than text-based only ads
Reduce bounce rates on your websites and get products to appear more than once for every search query
Get products to show up not just for targeted keywords but other keywords related or relevant to your niche that bear a similar resemblance. For example, if you sell 2-3 types of shampoos and a customer is looking for hygiene products, the search results will display 2-3 or more of your products
It's a lot easier to manage as Google automatically pulls data from the product feed and creates the ads for publishing once you've got everything set up and meet their submission guidelines
Top 10 Google Shopping Campaign Strategies
1. Optimize Your Product Titles
Optimizing your product titles is the most crucial step towards creating an effective Google Shopping Campaign. Be descriptive with the language and make sure you include relevant search terms customers are typing it into the title. You'd want to include keywords they are searching to make sure your products show up in front of them. Don't forget to include relevant information in the title such as color, size, form, type, and gender.
2. Optimize Your Product Feed Descriptions and Categories
Include keyword and relevant search terms within the first 150 characters of your product feed descriptions. When you're writing your product copy, it should sound natural, organic, and unique. Pay attention to the content and list the features of the product. Give your customers what they want to read and learn about the product, so mention the details accordingly.
To optimize the search functionality for your products, you have to categorize and sub-categorize your inventory. How do you do this? We can't explain it in a few sentences which is why we recommend you read this guide. Categorizing your products will reduce the clutter on your website and make user navigation smoother.
3. Optimizing Your Product Images
Google Shopping Ads are a highly visual experience and Google is pretty strict about its imagery standards. The platform is aware that customers are looking for high-quality products with clear descriptions included along with them. If your visuals are of low-quality, your ads will get taken down and you could risk your merchant account getting suspended.
To prevent this, make sure you meet the following guidelines before uploading any new images or adding them to your product feed inventory:
Use a solid white background for your product photos
Use clear lighting and make sure there's no noise/grain in the images
Use real-life models for demonstrating the products in action and take pictures in different angles and poses
Add shadows to highlight the depth and make sure your product takes up about 75% to 90% of full image's space
Avoid fringing, pixelation, excessive image tweaks, stylizations and borders, and anything that makes you fail Google image quality checks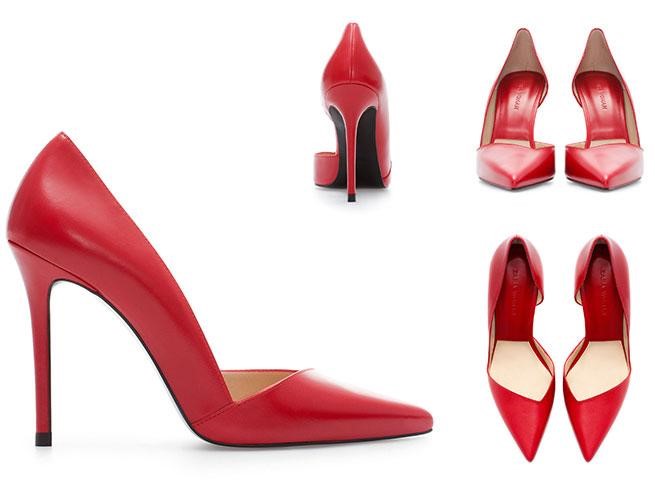 Double-check your image-quality and make sure your visuals are sequenced right. You don't want missing angles or images for the products because Google runs continual checks and won't hesitate to ban accounts later even if they approve the first submission.
4. Adjust Bids by Device Performance
Google Shopping campaigns work differently when it comes to bids compared to the Google Display Network. In the Google Display Network, you'd increase bids by a small number and see an increase in impressions and click-through rates. However, shopping campaigns are more volatile and you could see huge swings. Your impressions and profits could go up by tenfold or more for specific bids while it could drop for other categories.
Review bids based on your device performance and campaign's average CPA. If the tablet is doing worse but the desktop fares well, increase the bids for the desktop and reduce your budget for tablet devices. You can calculate your bid adjustment changes by dividing the total CPA of your campaigns by a campaign's segment's specific CPA.
5. Use Google Shopping Ad Extensions
If you've ever paid attention to the Product Listing Ads (PLAs) like this one on Google, you'd notice they feature a lot more detail than your regular text-based ads. Ad extensions do exactly what they sound like. They expand upon an ad's features and can boost your click-through rate by as much as 20%.
Here is an example of an Ad Extension. It's the phone number listed beside the ad.

Another example would be this online store that's listing what types of teas they are selling.

Now here's the tricky part. There are a billion shopping ad extensions you can try out but you don't want to clutter your ads too much. There are right ways and wrong ways to use Google Shopping Ad extensions. There are also automated and manual shopping ad extensions and you can't buy your way to the top of Google search results since they use a quality score to rank your ads.
Here are some of the most common types of ad extensions you could use below.
Sitelink Ad Extensions
These display links to the different webpages of your website. You can show categories and subcategories to your website, highlight promotions, and even add extra lines when setting them up. They boost your CTR and let you display up to 4-6 additional links right below your ad.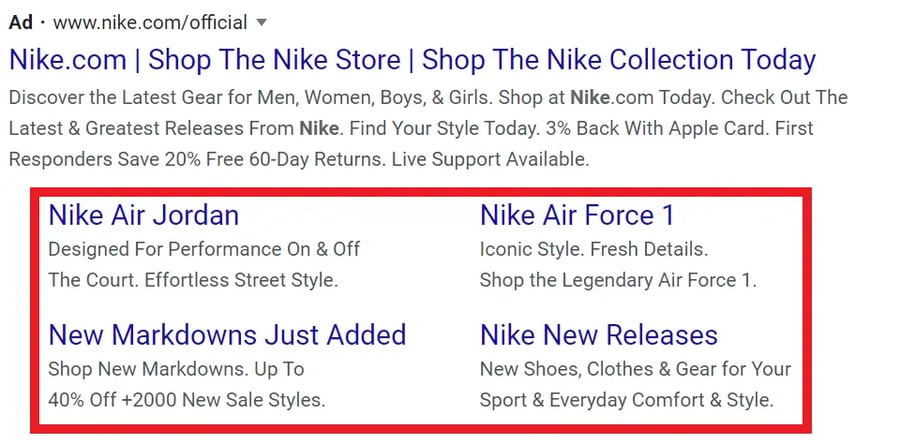 Callout Ad Extensions
Callout ad extensions add an extra layer of detail to your ads. They include things like shipping details, customer support info, discounts and coupons, and the USP of your products and services. Use callout ad extensions for listing the benefits and highlights of your services.

Promotion Ad Extensions
Promotion Ad Extension lets you link your latest product and sales promotions. It's a good way to attract new customers and invite recurring purchases.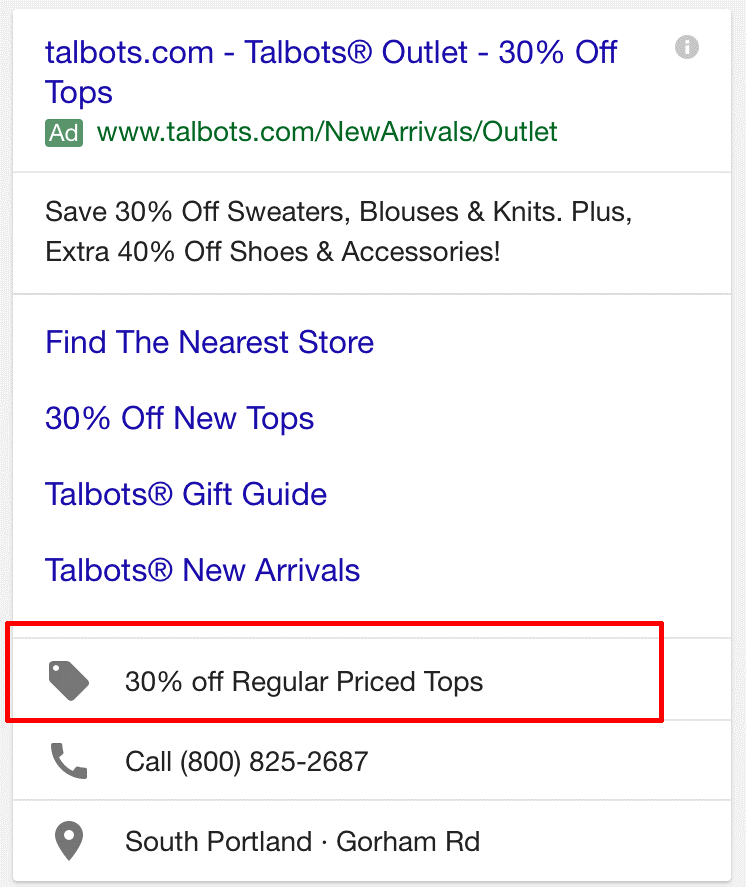 Pricing Ad Extensions
Pricing Ad Extensions will let you save extra space on your product copy. These let you list the pricing of various products on your shopping ad. Potentially, it brings in new customers and leads since it shows the prices right off the bat.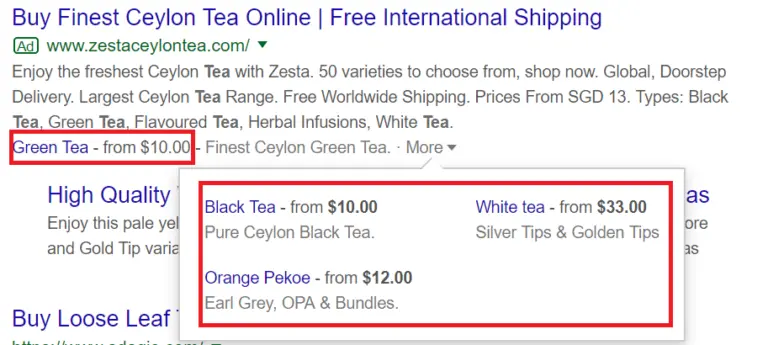 Location Ad Extensions
If you're looking for leads in your geographic region or have a targeted demographic you're marketing towards, location ad extensions would probably be what you want.

6. Use Product Ratings and Reviews
Product ratings and reviews act as social proof for your brand. They help your products stand out from the rest of the crowd. You'll get more conversions and boost your sales the more positive ratings you get. But what you want to focus on when it comes to these if they're genuine and detailed. You also get feedback from your customers through these which help you improve your future line-ups.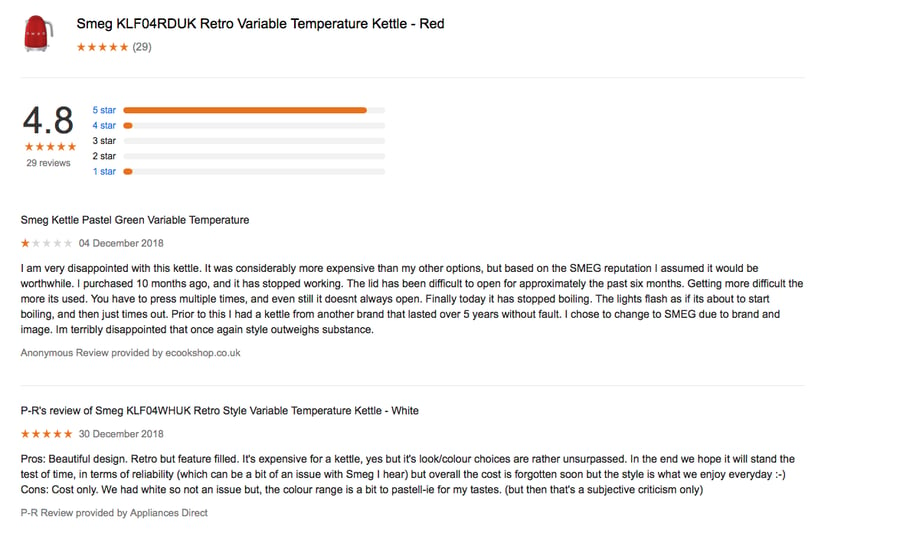 7. Implement A Negative Keywords Strategy
As much as you want your audience to find your products when they type in your targeted keywords in search engines, you don't want the wrong audience to show up. A good example of this would be if you're selling designer clothing for women and your products pop up whenever someone types in "kids' designer clothing."
This may look silly at first but it can cost you money.
Negative keywords work by making sure your products don't show up for the wrong keywords. It acts as a filter and narrows down the search results your products appear in. In short, it's a customer funneling and acquisition strategy – which is also very effective, might we add.
8. Optimize by Geo-Location
Optimizing by geo-location is basically geo-targeting. The simplest way to put this would be – targeting users from specific regions through your ads. An example of this would be hosting a workshop or event in your city and inviting people living around your area to attend it. This doesn't have to apply to only your neighborhood. You can target specific countries, cities, and even states.
Wondering how to optimize your geotargeting settings for Google Shopping Ad Campaigns? Read this.
For your shopping ads, make sure you list your visiting hours (store timings), where it's located, and the business phone number. This will improve your organic search results. Some good practices for optimizing your product pages (for your shopping ads) are making them location-specific. Google's search engine algorithm is growing intelligent day-by-day so if you want to win at the local SEO game, you want to make sure they're optimized for geo-location correctly. Because your shopping ads redirect your leads to these pages and if they're not optimized well, Google won't be able to index them and get you the results you're looking for.
9. Increase Bids for High-Performance Products
We've talked about this before in the previous section and we'll say it again: Put your money into the niches/segments that are doing the best. Don't funnel your bids into campaign segments that are performing poorly. This is not a one-time process and you will continually have to evaluate and optimize your bids.
Google has explained it really well with their handy guide and we suggest giving it a read. Your Google Shopping Ads Strategy during COVID-19 will also be influenced by the bids you place for different segments.
10. Create a Remarketing List for Search/Shopping Ads
Remarketing lists work by placing a cookie in your visitor's browser whenever they visit any of your website pages. Later when they leave the website, they are shown some of your ads that are relevant to their product searches. It's a powerful way to re-engage with your audience and you can segment your audiences and target them based on different areas of interest.
You can show them ads based on specific pages they visited or the time they spent staying on your website. You can also create remarketing lists to show ads based on demographics, email signups, or site URLs. There are custom combinations you can use for these and there's no one-size-fits-all approach. Here's an in-depth guide just for you on how to create remarketing lists for your audience. It covers all the basics and even shows you how to test your campaigns and optimize your remarketing lists.
Conclusion
Although Google Shopping Ads play a huge role in your marketing strategy, ultimately it is up to your audience to grow your brand and vouch for it. Do your best to create high-quality products, services, and ensure you provide enough customer support by answering all your leads' questions. You can do this by installing AI virtual assistants on your website and making sure your social media handles stay active. Optimize your title tags and add backlinks to your website to make your SEO ranking count.
And lastly, work on your content strategy and stay consistent. You want to make vlogs, blog posts and show that you're active in online spaces as a brand. Your visitors are more likely to engage with you that way and doing business is like forging humane and long-lasting relationships with customers.
Be helpful to your audience and don't focus on just selling. As long as you are delivering value to your audience base, they will be more likely to re-engage and stay invested in your brand. Get these basics down and we're sure you will be doing really well. And yes, don't forget to read Google's submission guidelines before turning in your product feed for a review. That's really important and not to be missed.