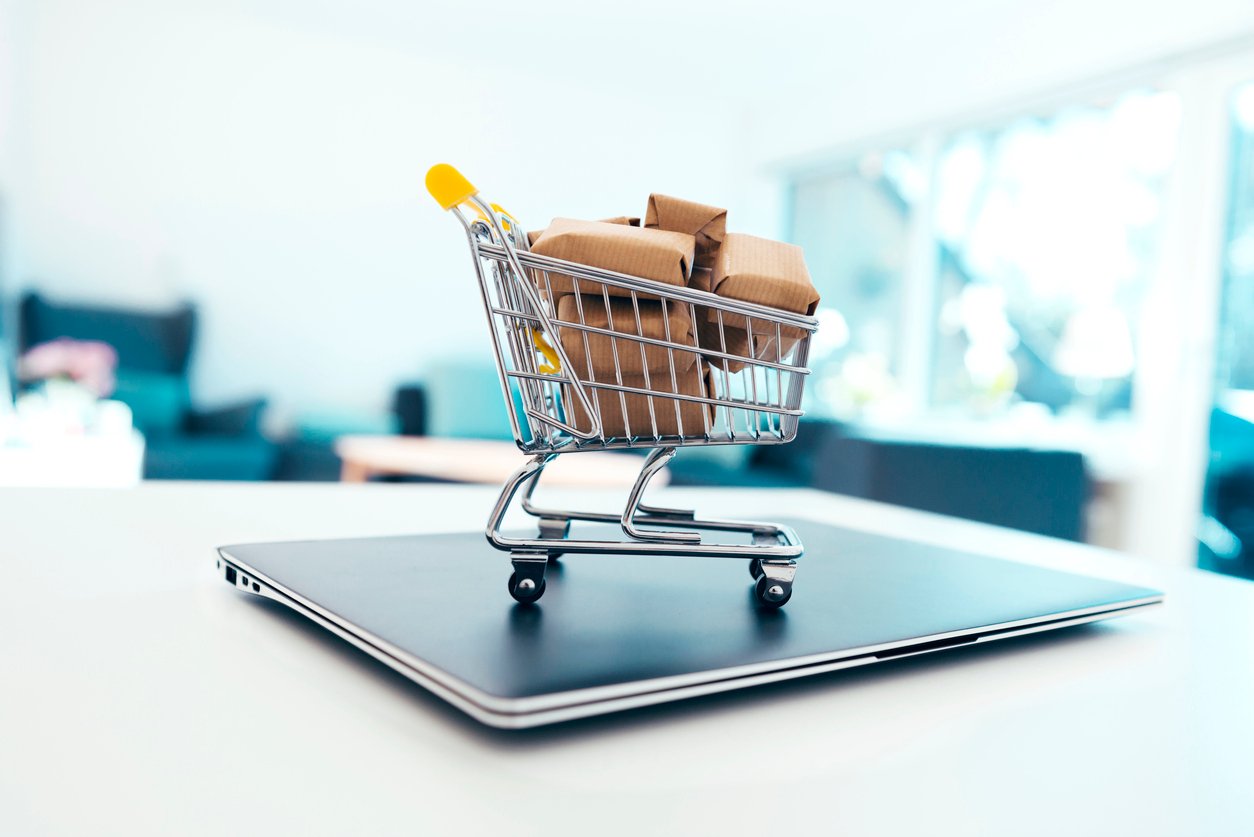 Checkout is a make-or-break moment for every customer journey in eCommerce, so it's important to get it right. Currently, there's a lot of debate on whether or not offering guest checkout is the right way to improve your sales numbers and customer experiences. Well, what isn't up for debate is the state of cart abandonment: the current eCommerce cart abandonment rate is assessed to be, on average, 74%.
The graphic below from SalesCycle shows the cart abandonment rate by industry.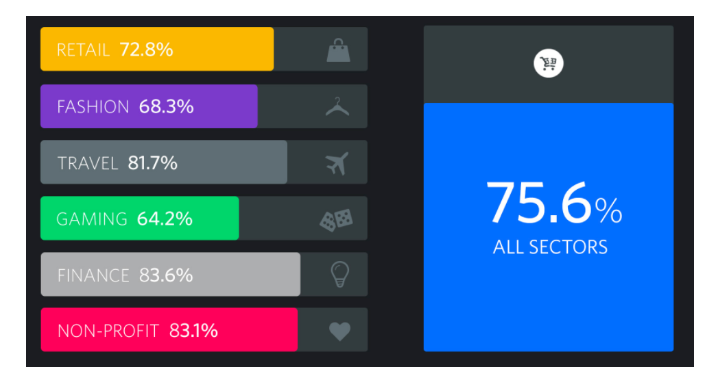 Considering the high rate of shopping cart abandonment, business owners should be doing everything they can to minimize it and increase sales. There are several ways to encourage buyers to complete their purchase and offering guest checkout in your online store is one strategy.
In the checkout process, you may offer users the option to checkout as a guest, make it obligatory to register before completing a purchase or provide both options.
A study found that asking users to create an account during the checkout process is one of the major reasons for abandonment, pictured in the statistics graph below.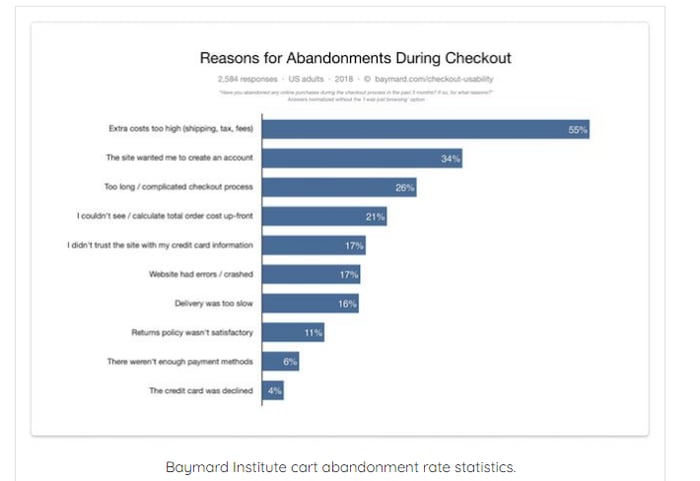 So, why is offering guest checkout in your online store so important? What about the cons associated with it? How can you improve your checkout process without forcing buyers to register? Should you offer a guest checkout?
This article will answer all your queries and help you design a more effective checkout page.
Benefits of Offering Guest Checkout
1. Guest Checkout Improves First Contact
Permitting users to checkout as a guest is especially vital when they're engaging with your website or brand for the first time. This is typically because users don't immediately trust online businesses with their personal data.
In fact, 54% of consumers say they don't trust branded content that they see online, let alone providing their data.
Users may be more likely to convert if they aren't required to create accounts before they purchase, as it demands a lower level of commitment. If they like what you offer, they will most likely come back and make an account later.
2. Guest Checkout Converts Impulse Buyers
Research shows that 8 out of 10 shoppers admit that they have made a purchase on impulse. You can leverage impulse buying to increase eCommerce ROI.
Impulse shoppers especially do not wish to spend a lot of time registering on every online store. Even more so, they also don't want their emails to be bombarded with promotional emails from various businesses.
So, when you make the registration process as effortless as possible, they are more likely to purchase from your store.
3. Guest Checkout Accelerates the Buying Process
By avoiding the unnecessary step of forcing customers to register before making a purchase, guest checkout speeds up the buying process. This works because it gives your customers the option to enter an email address and head straight to checkout. Your customers can start to complete address and payment details faster, making the process seem like less work.
When you force a registration, it often interrupts the buying process and leads many shoppers to abandon their carts. Once the user takes the initiative to make a purchase, the checkout process should be as frictionless as possible. You should minimize the number of clicks and the number of hoops.
Also, without registration, potential customers get straight into payment forms. They don't come to a point where they stop and think about continuing. Moreover, you can always add the option to create an account at the other end of the checkout process.
If you look at the Lego online store, they provide three options for users: log in, create an account, or guest checkout.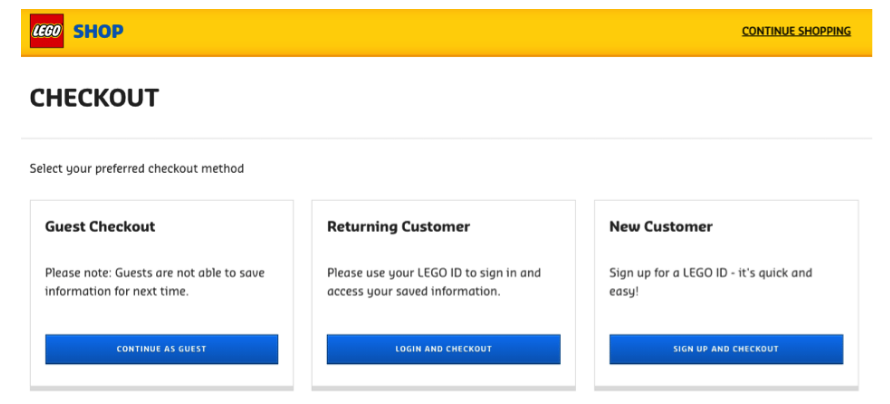 What's more, buyers who are in a rush will not want to register their details, increasing the chances of abandoning their carts.
The Flip Side of a Guest Checkout Option
Like everything, there are also some drawbacks to offering guest checkout option. You won't be able to save customer's shopping information for future transactions, nor will they be able to track their order.
But you can work on improving your checkout page without forcing users to register their details before they checkout.
How Are Leading Companies Using Guest Checkout?
1. Nike
Nike's checkout page is a great example of an effective checkout page. The company sells the benefits of a Nike+ account while also offering guest checkout. It encourages customers by providing an incentive if they create an account.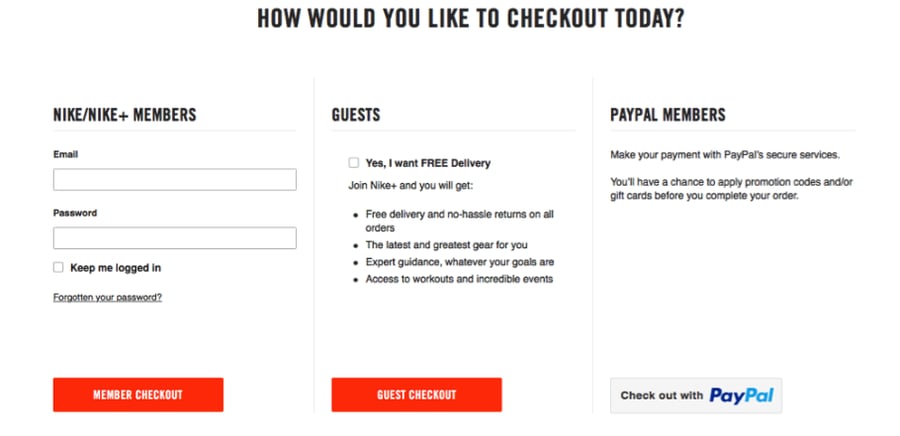 2. Walmart
Another good example of guest checkout is Walmart's checkout page. They don't ask users for their email on the first step into guest checkout. Instead, they have to enter it along with address details in the next step. It reduces the amount of work required by customers to get into the checkout stage.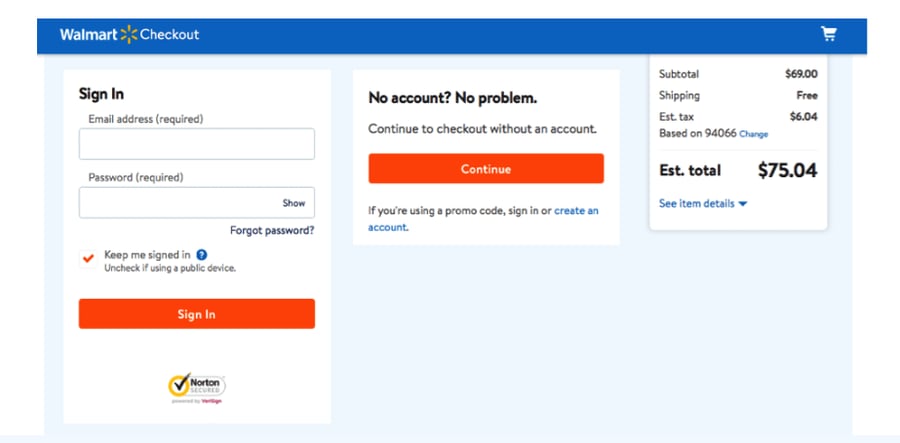 3. Zappos
As mentioned earlier, many new buyers are reluctant to create an account as they don't trust the brand yet.
To build trust, Zappos provides its potential customers with trust signals such as credit card logos, a secure lock icon, and third-party security seals. They prominently display these seals on the checkout page, instilling trust in most users with a single glance.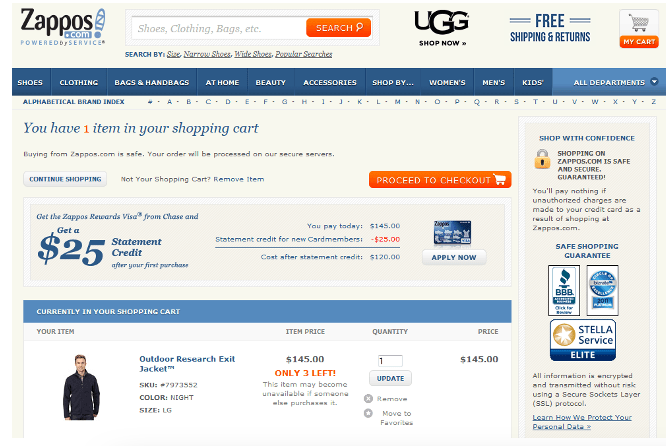 4. Ecommerce Platforms
Many eCommerce sites, including Shift4Shop, give merchants the ability to offer customers clear reasons for creating an account at the time of purchase.
After your buyers complete the transaction, allow them to save their details but resist the urge to force shoppers to register.
Just a simple "would you like to save your details for the next time?" checkout question will work. It doesn't force customers to sign up for an account or register for future savings. However, it increases the likelihood of users saving their details with you for a speedier checkout in case they decide to do business with you in the future.
Reportedly, repeat customers spend 67% more than new customers. With this in mind, it's a good idea to make sign up as easy as possible while still being optional.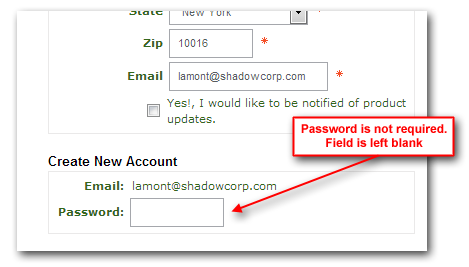 5. Buffer
Having to fill out a form with information that's not necessary for making a purchase is a big turn off.
If you look at Buffer's checkout page, they don't add a long list of fields to fill out.
Statistics by Forrester reveal that 11% of U.S. adults abandoned an online purchase as the site was asking for too much information.
Keep your payment form simple like Buffer's if you want to decrease the cart abandonment rate on your online store.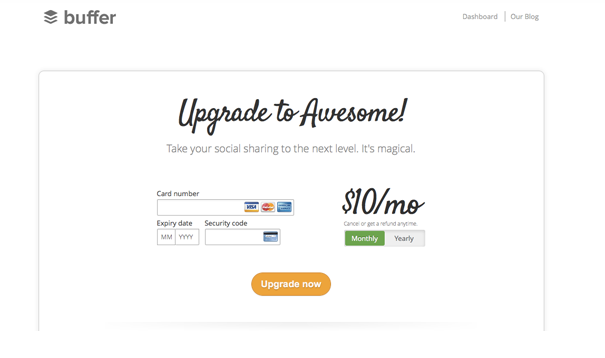 If you must ask for your user's extra information, be sure to include an explanation for why you need it, lest you end up losing your customer's trust.
6. Crate&Barrel
Another strategy is to allow guest shoppers to create an account after the purchase is complete. For instance, Crate&Barrel tells their new customers that they can create an account later if they'd prefer.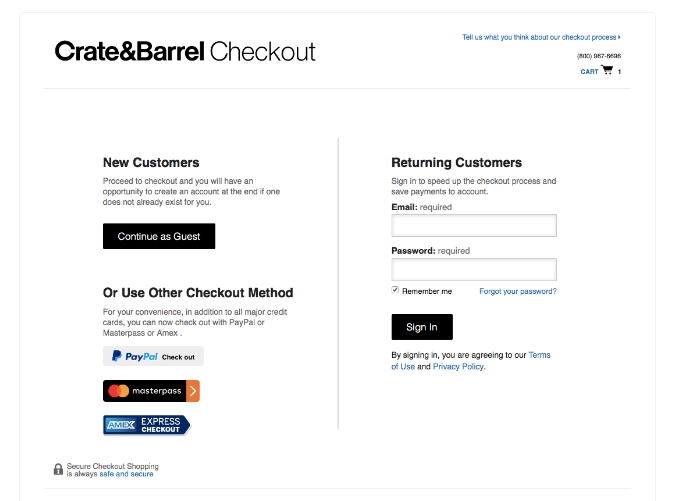 Most of the necessary information will have already been filled in by then, so creating an account would probably be a matter of adding a couple of fields. It can help increase conversion rates, and possibly will have only a small impact on the number of accounts your customers create.
7. Chumbak
An ideal way to complement a guest checkout is to offer social signup. It will save time taken to fill out forms as your customers can go through the checkout without having to enter lots of details. Chumbak offers social signup on their checkout page.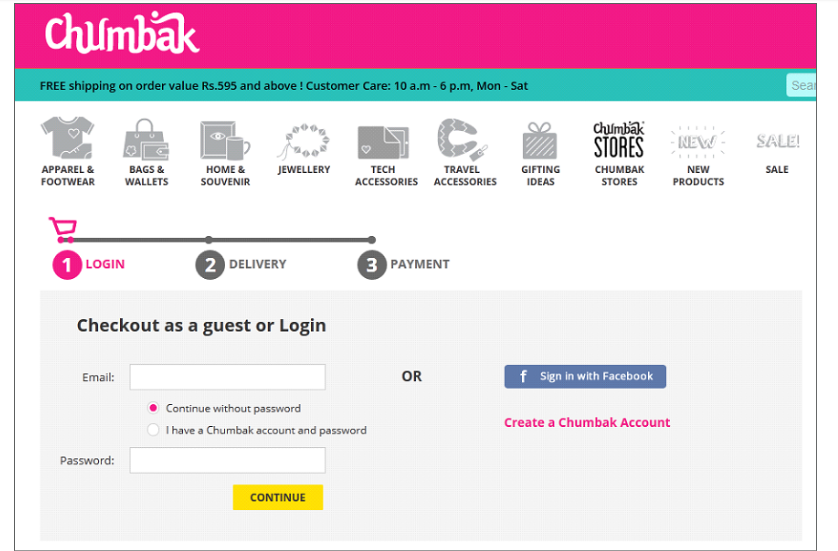 This option will have a significant impact on mobile checkout rates as well. Nothing compares to a pre-filled option, especially when you are doing it on your phone.
8. Flipkart
Customers will want to see what information has already been submitted by them. Offering the option to go back to a previous stage and change the information already input by the customer is also a great idea. Flipkart implements this strategy on their checkout page.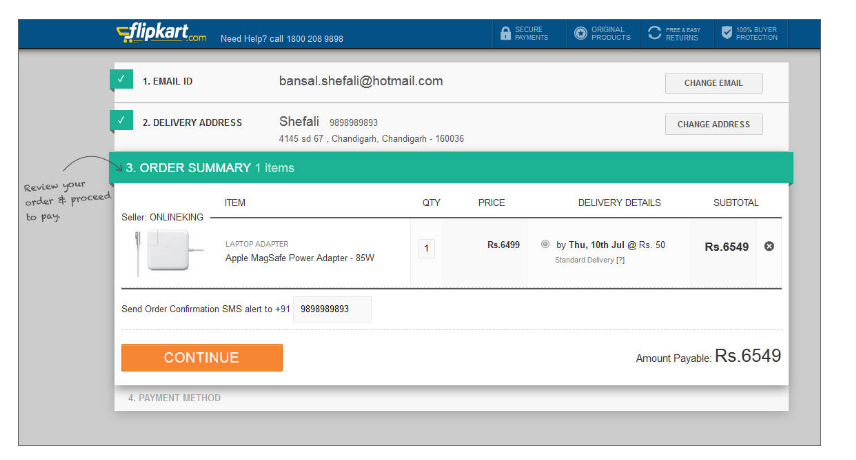 Why Does A Customer Sign Up?
When customers sign up for your eCommerce store, it means they feel comfortable and may even be loyal to your brand.
When you have their email address, you can send promotional emails with coupons and special offers that customers can use. You can also start catering to your customers' interests by personalizing their recommended products and promotions. Your customer's previous purchases can easily determine that.
Through personalization, you can boost sales and provide a positive shopping experience for your customers.
Wrapping Up: Should You Offer Guest Checkout in Your Online Store?
It is entirely up to you; but, by not offering guest checkout, your eCommerce store's conversion rates can drop as your cart abandonment rate rises. Many customers leave their carts because they are forced to create an account.
In order to increase your sales and loyal customers, offer guest checkout and do away with the 'sign up' barrier. It will also increase your Average Order Value (AOV) by encouraging customers to add more to their carts, since the process is going to be simple and straightforward.
If you really want customers to sign up, you can do it at the end of their transaction by offering incentives or asking them to sign up later. You can also offer special promotions and personalized shopping experiences for the customers that choose to create an account.
Either way, the bottom line is this: eliminating the barriers to purchase is an easy way of increasing conversion rates.