Out of many eCommerce growth strategies you can choose from, none is more promising than email marketing.
Email is hands down the best way to communicate with your audience, build trust, and increase sales. The tricky part? Email marketing only works if you have a quality email list.
This list is one of the most valuable business assets you can have – and a reason why the average email marketing ROI is often quoted as high as 4,200%. That said, without a quality email list, your eCommerce business is dead in the water.
Don't worry though. In this article, we'll go over everything you need to know. We will define what an email list is, why it is important, and steps to take to build a successful email list.
Let's dig in.
Defined: Email List
An email list is a compilation of email addresses and other contact information of people who've given you permission to send them marketing communication via email.
eCommerce email lists usually include information such as names, email addresses, purchased products, favorite product categories, offers redeemed by customers.
Keep in mind that an email list doesn't have to be reserved for customers only. And that's what email marketing is really about. Your email list can (and should) serve as your way of turning your brand followers into paying customers.
Why is Building an Email List Important?
The importance of email list building goes beyond the eCommerce vertical.
No matter what size your company or your marketing budget is, you'll benefit from asking your prospects for their email addresses.
Here are the main reasons why you should consider collecting email signups even if you're just starting your online store and eventual eCommerce empire.
1. Add personalization.
Every email that you send can feel personal and wanted. Using the information you have about your customers, you can personalize their inbox experience. Starting from the way you greet them all the way through to using different messaging and showing various product categories based on their interest.
And even if you don't have much information about your recipients you can still make your emails relevant. Here's an example of an automated email campaign meant to reactivate an unengaged customer.

2. Email is targeted.
Long gone are the days when email blasts or cold emails were considered a synonym of email marketing strategy. You can target your email communication using simple criteria, for example based on your customers' demographic data, or by using more robust behavioral segmentation.
It's your choice whether you choose to target your email campaigns or keep your communication more generic. Keep in mind, however, that automated email campaigns outperform standard newsletters both in terms of open and click-through rates.

3. Email has purpose.
Email is a highly measurable marketing channel that's used by eCommerce professionals to build trust in their brands and drive repeat customer sales. Every campaign and message that you send should have a goal it's driven by. This should be reflected in your email's design and throughout the copy. Through this, you can be sure that it'll generate an impressive ROI and continue to drive sales even when you're asleep.
Here's an example of the type of tracking used in email campaigns sent out by H&M.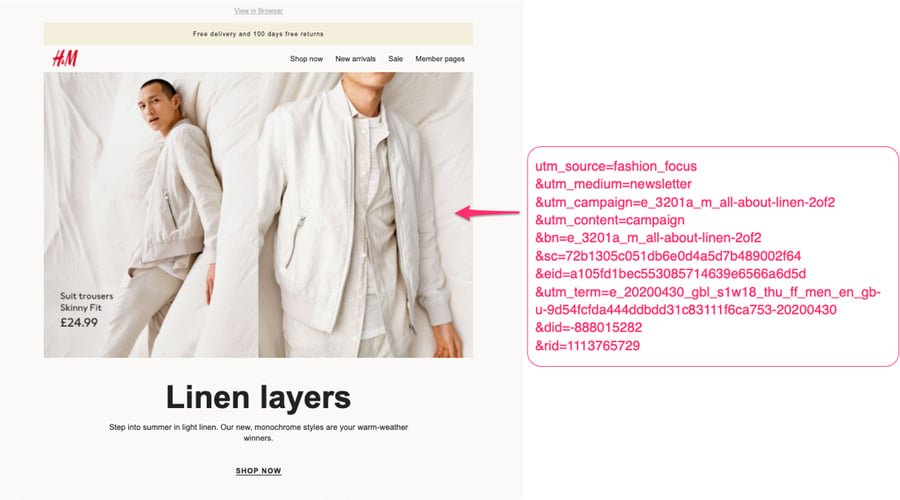 4. You own your email list.
Email as a channel, is not owned by anyone. Unlike with other marketing channels, your email campaign results aren't dependent on numerous algorithms that are developed to lower your organic reach. Provided that you build a quality email list and continue to engage them with your email communication, you can expect high returns.
That isn't to say that your recipients can't withdraw their consent and stop receiving your marketing communication. This is, of course, natural. But it's much less of an issue compared to what most marketers experience when running organic social media campaigns on Facebook or Instagram.
5. Many people use email several times per day.
Just like social media, consumers can check their emails on multiple occasions every day. According to a study from Magnetic, 44% of people in the United States and Canada, check their personal email one to three times a day. Also, a study from McKinsey suggests that business professionals spend around 28% of their work day reading and answering emails. Needless to say, email usage is high, despite new marketing channels and platforms entering the scene every single year.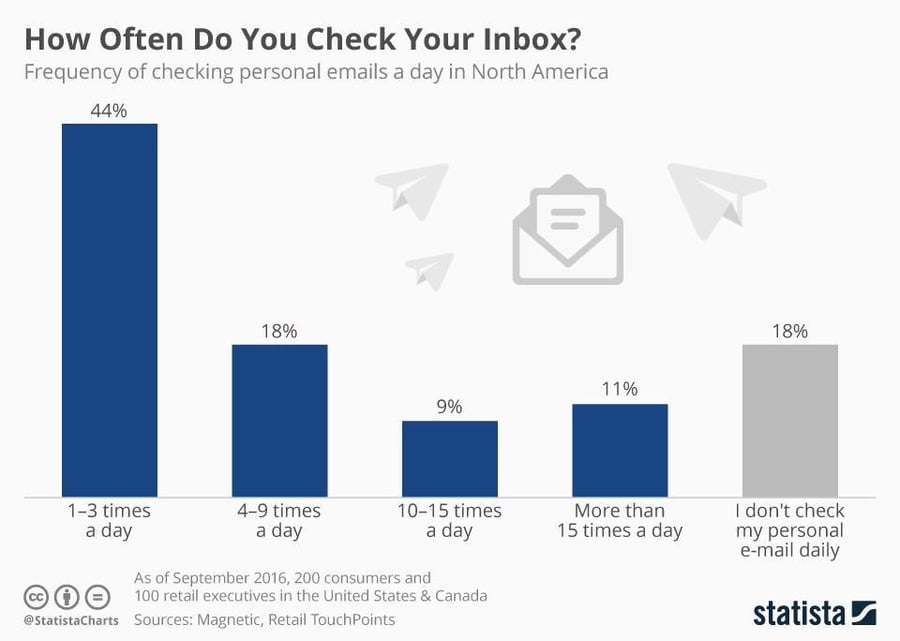 Now that you know why email is as important as ever, let's move onto how you can build an email list as an eCommerce business.
3 Ways to Create an eCommerce Email List
Now that you know the why of email list building, let's focus on the how part. There are several main ways you can grow your eCommerce list, and we'll review the three most popular ones. And if you're looking for inspiration from other industries, here are email list building strategies worth looking at.
1. Add a pop-up offer to your homepage.
Pop-ups and other forms of interstitials are the first choice of many eCommerce brands.
They're very easy to implement and don't require any interfering into your website's structure or design.
The main downside is that pop-up offers are often considered annoying as they've been abused by marketers around the world.
The good news is that this is something you can mitigate by making your offer irresistible and by tailoring whom you're presenting the offer to.
For example, you can set your pop-up offer to appear:
Right after a user enters your page.
After a certain amount of time has passed since they've entered the page.
When a user scrolls down to a certain part of the page.
Right when a user is about to leave a page.
When a user has met certain criteria, e.g. came from a particular campaign or is located in a region you ship to.
When it comes to how effective pop-ups are, a study by Sumo states that an average pop-up conversion rate is 3.09%. At the same time, the top-performing pop-ups average a 9.28% conversion rate – which is a result worth pursuing.
So, what do effective eCommerce pop-up forms look like? Below you'll find two great examples to get you inspired.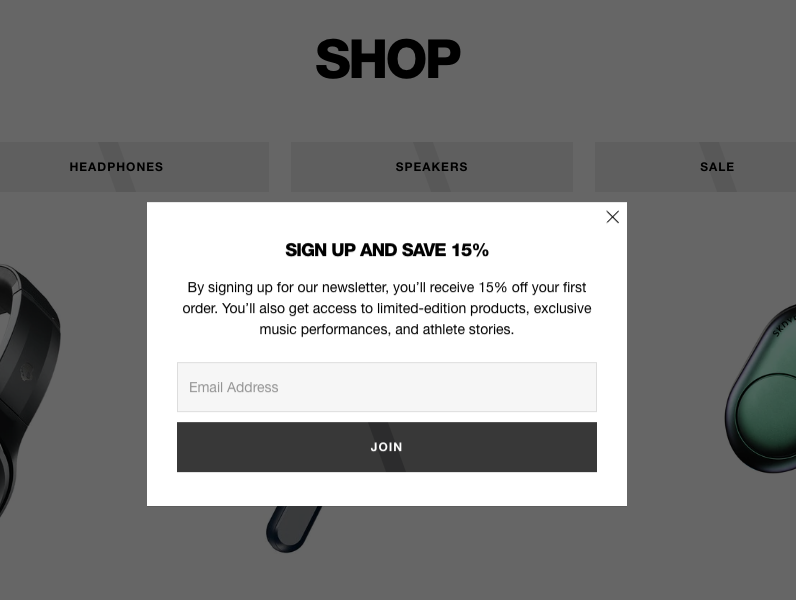 Who: Skullcandy
What they did: The sign-up form is plain and simple, but it communicates the benefits of joining the brand's mailing list very clearly. It appears several seconds after a user enters the homepage and catches the attention of a prospective shopper immediately.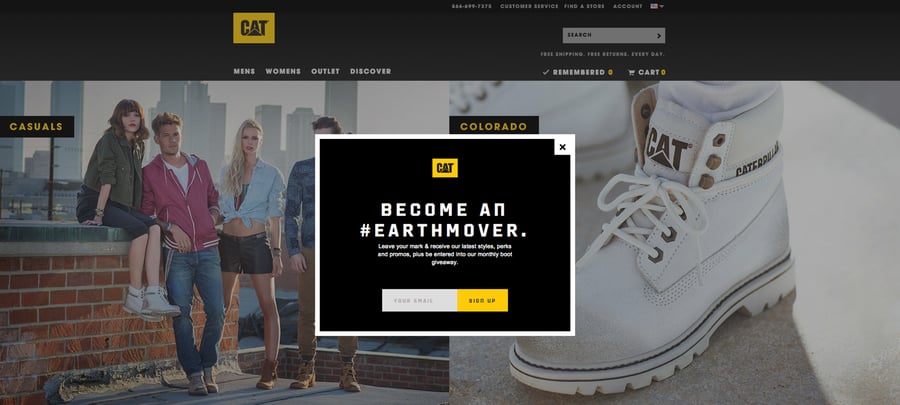 Who: CAT
What they did: CAT uses an intriguing yet powerful headline. It appears that the brand wants to reach their fans at an emotional and aspirational level, rather than focus on giving away discounts. Although such monetary incentives are still used in this form, they're not the main focus.
2. Try an email sign-up form in your website's navigation or footer.
The second-best method of building an eCommerce email list is to add a sign-up form to your main navigation or the footer.
No matter if someone closes down your pop-up form or doesn't get to see it due to their browser settings, they should always have an option to opt into your email list.
Adding an embedded sign-up form may require the need of using external addons or asking your developer to switch it on, but it's worth the effort.
Your traffic on all individual pages is likely to be higher than what you're observing on your homepage alone, so it may be the case that you'll see more signups from this particular form.
The challenge with embedded sign-up forms is that you're often left with a limited amount of space. You don't want to disrupt the overall design of your website or to take away the attention from other critical elements on your page.
That's why for these kinds of forms, you'll want to make sure your message is clear and straight to the point. And if you're finding it difficult to pack all the consent forms and fields into the page, you can always just add a call to action that'll direct your users to a standalone landing page.
For inspiration, check out these examples from some of the most successful eCommerce brands.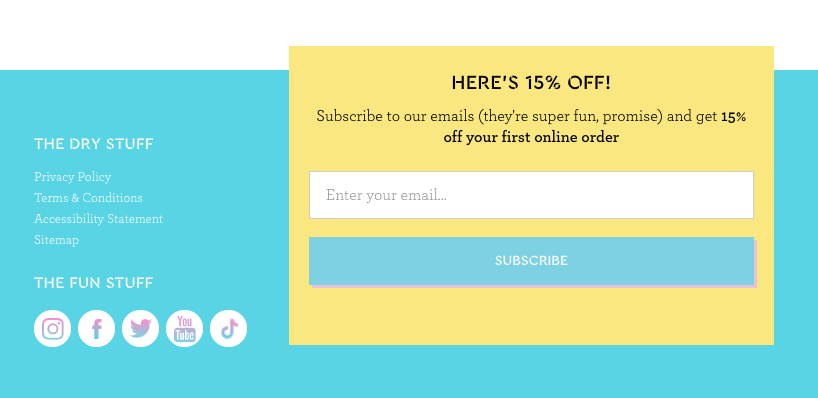 Who: Bliss
What they did: This sign-up form clearly stands out in the footer section of Bliss website. It's colorful, simple, and goes straight to the point with what the offer is. The copy, even though short, manages to show brand's fun personality and the additional 15% is a type of incentive eCommerce customers tend to prefer.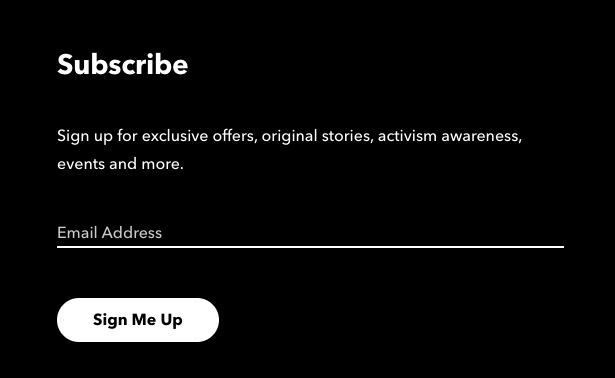 Who: Patagonia
What they did: You can't say much about this sign-up form's design, other than that it matches the overall site's style. What's important however, is that in one just one sentence, Patagonia manages to capture what their email communication includes – original stories, activism awareness, events, exclusive offers, and everything else that's important to their audience.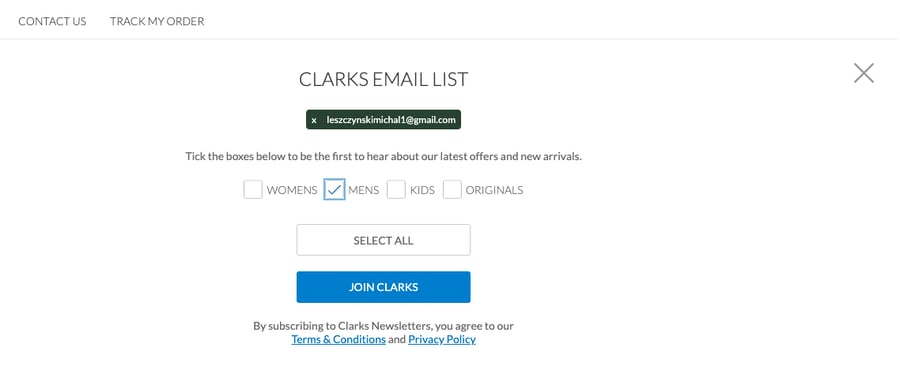 Who: Clarks
What they did: This form is slightly more difficult to develop, but it's very clever in the way it's limiting the amount of information the user is being asked. At first, you need to provide your email address – like in any other form. But once you do that, rather than saying thanks, they're asking for just one more thing – that you choose what type of communication you want to receive. Thanks to this approach, Clarks can segment their audience effectively, and the recipients get to read more relevant and targeted communication.
3. Use a sign-up button on social media channels.
The third method you should consider relies on using your social media channels to turn your fans and followers into email subscribers.
There are a couple of ways to do it.
The first one is to promote your newsletter subscription in your organic posts, stories, and background images.
All you need to do is provide a link to your landing page where your fans will be able to sign up.
Naturally, you'll need to give them a good reason to click-through all the way to a separate page, so think about what would make it worth their time and effort.
Here's an example of an eCommerce brand promoting their newsletter on Twitter and the landing page they've referred their users to.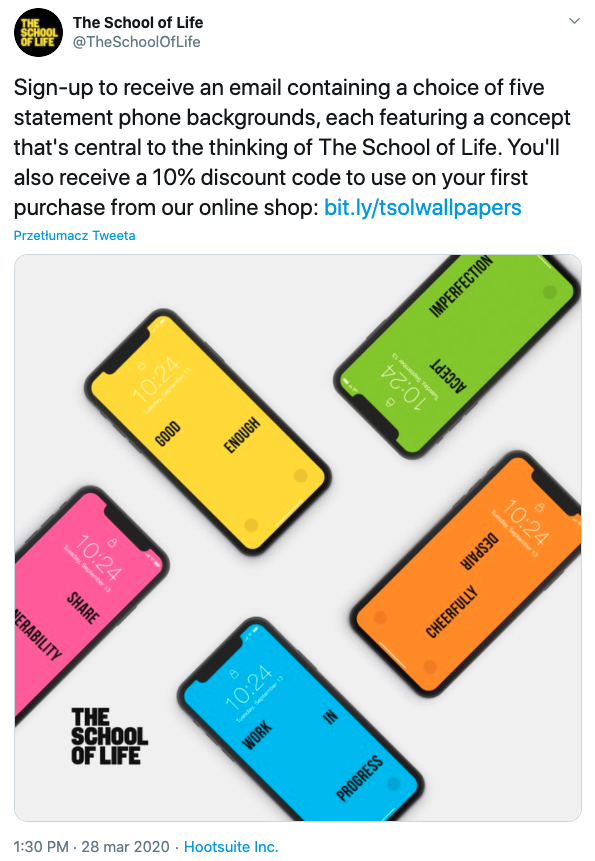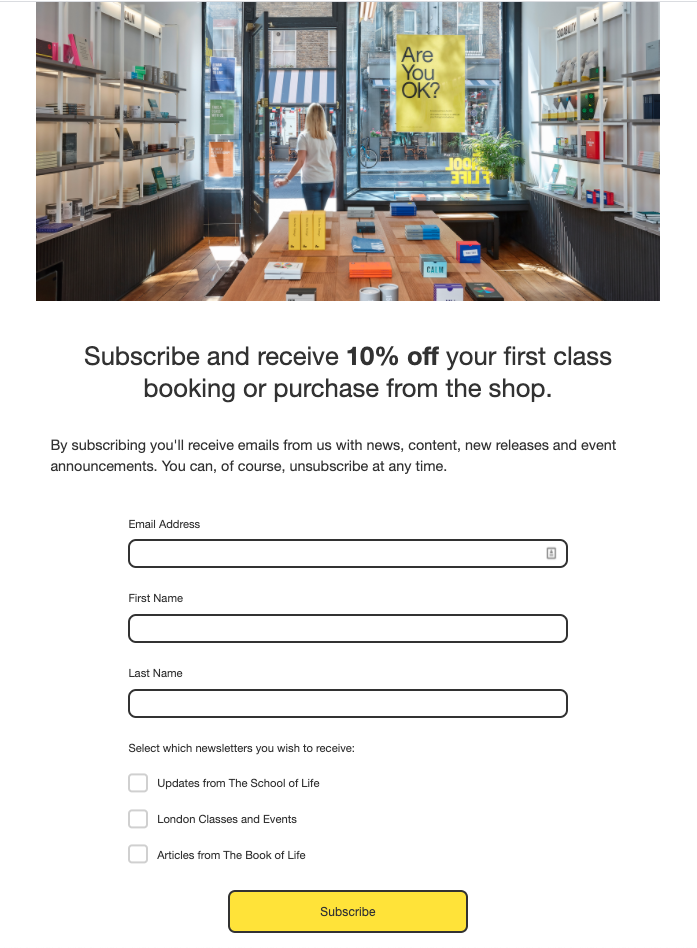 The second method is to add a Facebook landing page attached to your business profile.
This tactic isn't as popular as it used to be, but as you'll see below, some of the bigger brands still use it.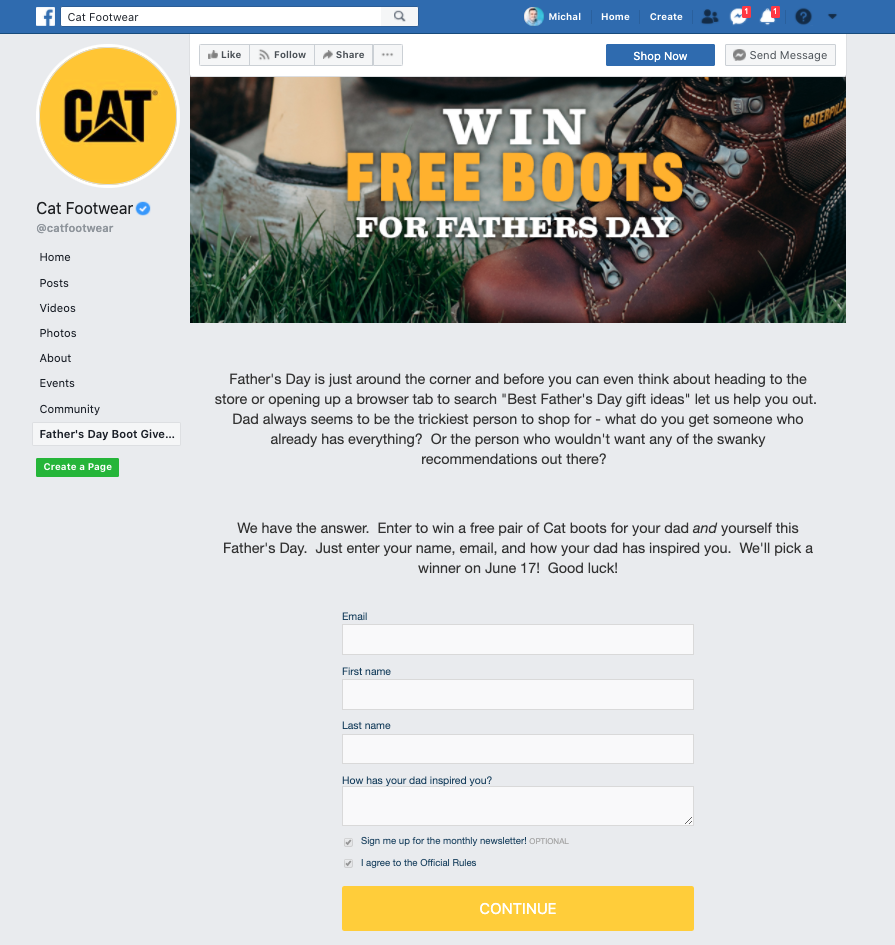 Who: CAT
What they did: CAT developed a Facebook landing page for their Father's Day campaign. Through this page, they gathered email addresses and content that helped them make their campaign more meaningful and appealing to their audience.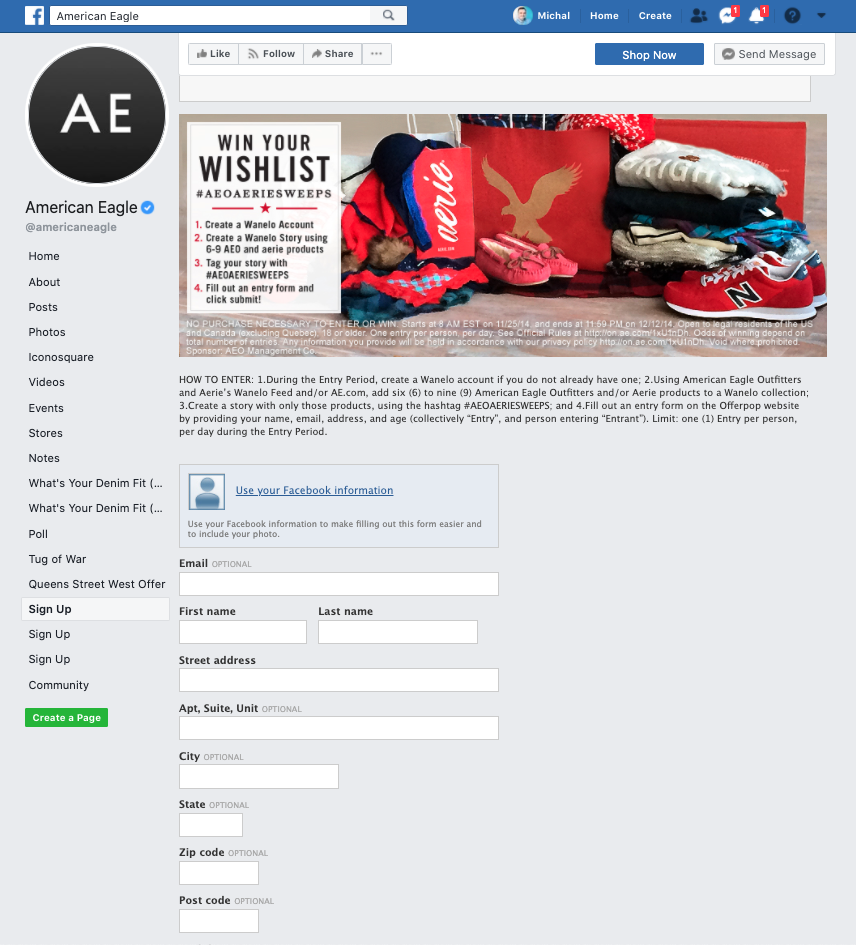 Who: American Eagle
What they did: American Eagle used a landing page on Facebook to let their brand followers create a wish list. By creating the wish list, their users entered a sweepstake that would give them a chance to win their most-desired products.
How to Succeed When Building Your eCommerce Email List
You may have noticed that all the above list building methods have one thing in common – they all offer some kind of incentive to sign up.
This is what marketers often refer to as lead magnets or content upgrades. They're the key to any effective lead generation strategy.
Your offer needs to look and sound appealing, that's for sure. But the design itself won't cut it, if at the end of the day – your customers don't see the value in doing what you're asking them to do.
Since you're asking them to do something first – to provide their contact details, fill out your form, and grant you the permission to their inbox – you need to give them something in return. And that's what lead magnets are all about.
There are many kinds you can choose from.
eCommerce businesses usually go for monetary incentives like:
Free shipping.
Price discounts.
Free samples.
Other business use video content such as webinars, written guides and ebooks, or interactive tools and apps.
Conclusion
Hopefully I've managed to convince you of just how important email list building is and what it takes to build your own high-quality list.
When starting to work on your lead generation strategy, don't forget that you'll also need to figure out a way of converting your new leads into paying customers.
This article shows you how to turn first-time buyers into loyal customers using emails and this one provides a general overview of email marketing best practices to pay attention to when planning your campaigns.
I highly recommend that you read both of them and start growing your eCommerce business today.