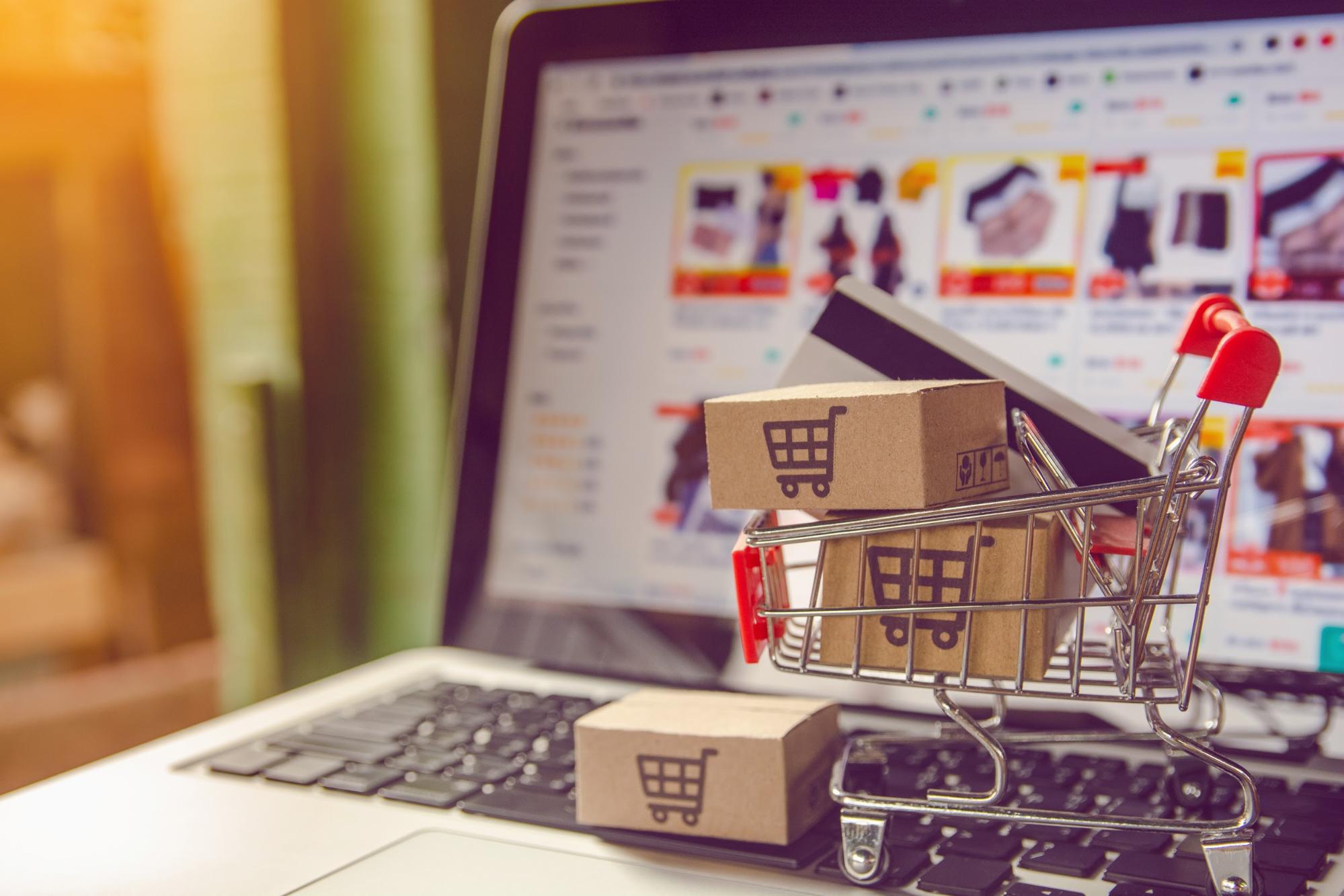 In a period of just a few months, the societal and economic effects of the Covid-19 crisis have greatly accelerated the shift towards online shopping and digital adaptation in general. This is also true for several other underlying trends. Overall, lockdown transformed almost overnight how consumers shop and how retailers sell and interact with their customers.
People around the world have become more confident shopping online. They have tried new brands and retailers during lockdown with the intention of sticking with them in the long term. The shift to digital, and the desire of shoppers to try new brands and products, results in longer and more complex decision journeys. These journeys span various different channels, from brands' own eCommerce shops to online marketplaces and social media.
Nowadays, even if your brand has its own, very successful eCommerce site that generates traffic and sales, you can't possibly miss out on the opportunity to connect with hundreds of millions of people around the world on social media and online marketplaces. The brands that will not merely survive but actually thrive in the new normal will be the ones that will embrace a digital-focused mindset, fully understand the latest consumer trends and behaviors, and adapt their business model accordingly. New trends equal new methods of engagement.
An Omnichannel Approach
Many different factors are influencing the customers' decision-making process these days, making customer journeys longer, more complex, and far from linear. On top of that, shoppers nowadays demand convenience and a more unified, personalized shopping experience. Consequently, the vast majority of them do not use a single sales channel or touchpoint but prefer to purchase products and services through multiple channels.
Consumers wish to connect with your brand through the most convenient path and to fulfill their needs at the time of their choosing. Therefore, your brand has to be present across multiple platforms, but at the same time, able to provide a consistent shopping experience to the consumer. Omnichannel retailing is the unification of every sales channel and touchpoint a company operates, creating a single, fully integrated, in-sync, and highly personalized shopping experience.
A successful omnichannel strategy does not merely allow your brand to be wherever your customers need it in terms of sales points. It also provides consumers with flexible, personalized delivery and returns options, and customer service that ensures your customers are receiving the same high-quality support no matter what channel they use.
In an omnichannel approach, every channel has its benefits, and can meet different types of consumer needs. Pure-play stores offer a closer relationship with your customers and better control over the shopping experience. Still, marketplaces provide the potential for higher traffic, and social media allows direct, real-time, two-way communication with your customers, for example.
Nevertheless, it is imperative to aim for consistency across every sales channel. Whereas exclusivity can be a handy marketing tool (e.g. exclusive products or services per channel), to build brand loyalty, your customers must see the same story across every sales channel and touchpoint. The whole is greater than the sum of its parts when it comes to omnichannel retail.
Indeed, omnichannel retail is about providing a unified shopping experience across all channels. But to be completely honest, a successful omnichannel strategy does not require you to be everywhere. Instead, you need to be wherever your customers are.
Global Reach
Given the current economic landscape, attracting new customers outside your home market on a global scale is extremely important for your brand's growth. If your brand manages to adapt to the needs of a worldwide clientele, you have the potential to increase your customer base significantly.
Social media platforms and marketplaces are nowadays the fastest, cheapest, and most effective way to connect and engage with a global audience. And although most brands begin by listing products on eBay and Amazon, depending on which markets you are targeting, it will make sense to use other marketplaces that are more popular in the respective countries. Rakuten has more significant annual sales and PayPay Mall more monthly visits than Amazon in Japan, while Allegro is the favorite marketplace for 87% of online shoppers in Poland.
Social Commerce
According to a recent report by GlobalWebIndex, the average time spent on social media in 2020 is 863.8 hours, and there are currently 3.6 billion active users around the world. Also, 42% of global internet users use social networks when actively looking for more information about brands, and 71% of consumers are more likely to purchase a product or service based on social media referrals. By just looking at these numbers it makes sense why your brand should get involved with social media marketing as a way to drive referral traffic to your online store, and with social commerce for selling products directly through social media platforms.
Social media today has evolved to more than just a platform for communication, content sharing, and news consumption. It has become a very useful tool for brands, serving their needs for networking, marketing, advertising, and eCommerce sales. Yet, social commerce is way more than a "Buy Now" button on your posts. Social platforms should be used complementary to, and in conjunction with, the rest of your sales channels. Only if social commerce is part of an omnichannel retail strategy can provide a seamless consumer experience throughout your customers' purchase journey.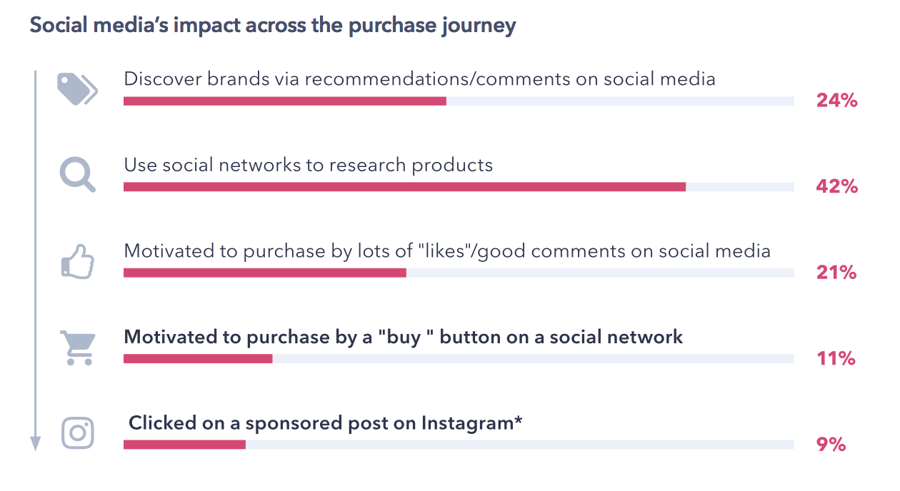 Source
Apart from being one of the cheapest forms of marketing available these days, having relatively low CMP (cost per thousand impressions), social media are direct, real-time, and offer two-way communication with your customers. You can promote new products and services instantly, reach new audiences and demographics, be able to influence your customers' decision journeys, guide them through the buying process, and learn about their preferences, needs, questions, complaints, concerns, and more, using first-party data. Additionally, the more engaged and satisfied you keep your customers through your social media pages, the more likely it is they refer your products or services to friends and family.
Due to their in-depth understanding of their users' data, social media platforms' extremely sophisticated targeting capabilities can be an incredibly useful tool in your brand's marketing campaign arsenal. Social ads take advantage of first-party data to reach customers that were browsing your products online recently but did not make a purchase, or abandoned their online shopping cart before check-out, directly through their newsfeed providing a streamlined purchase journey.
Since in the cart abandonment case, the customer is past the awareness and consideration phases, convenience and simplicity is the way forward for a conversion. With the proper messaging, you can urge them to complete their purchase using incentives like free shipping or spread payments into several installments. That can be done directly from the ad with the inclusion of a "Buy Now" button. Retargeting and "Buy Now" buttons can transform your social posts into something more than just content and images and increase your conversions exponentially.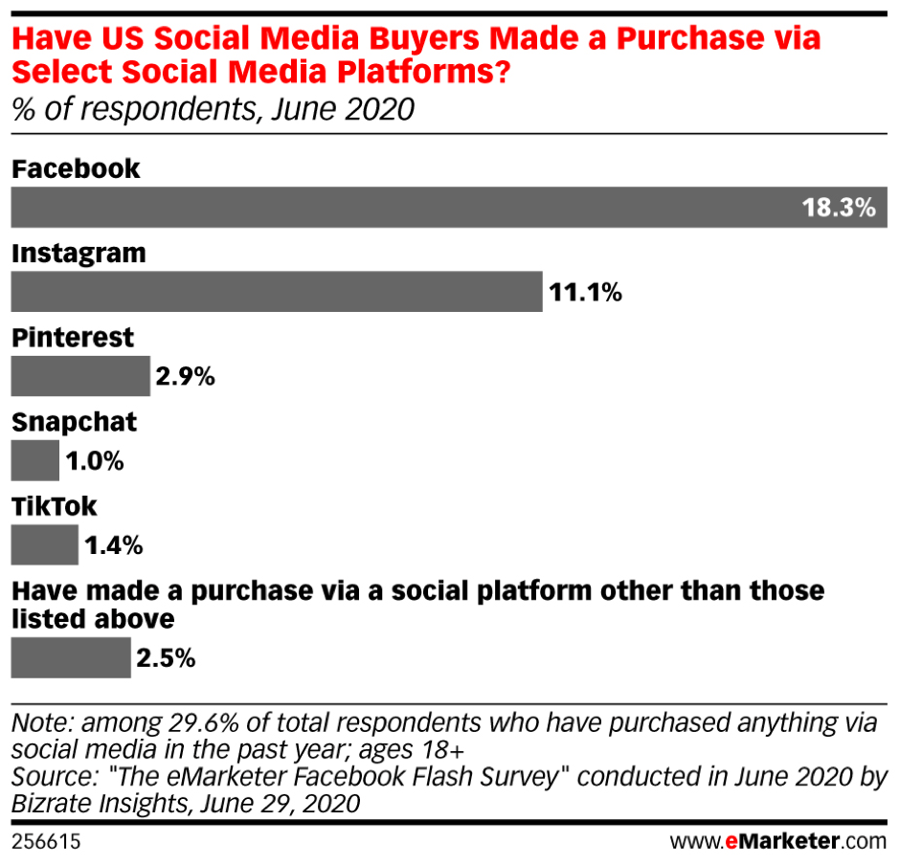 Source
As a business owner, you can be quite reluctant getting on-board the social commerce ship given the increased competition and complexity of social media advertisement these days. Getting the correct content in front of the right audience and managing to catch potential customers' attention while they are rapidly scrolling through their heavily populated feeds is obviously not an easy task.
Especially now that customers' attention spans are extremely short, you need to be able to deliver the proper content at scale, on schedule, and to the right audience. If your company doesn't have a social media marketing team or you don't have the budget to hire third-party support, there are numerous high-quality guides online to get you started. I strongly recommend Econsultancy's Social Media Advertising Best Practice Guide.
Online Marketplaces
eCommerce sales are expected to grow from $3.53 trillion in 2019 to $6.54 trillion in 2022, and the global cross-border eCommerce market will reach over $4 trillion by 2027 according to Zion Market Research, increasing at a compound annual growth rate of 27.4%. Marketplaces currently generate 47% of online purchases globally and 59% of the total cross-border e-commerce market in Europe (28 countries in Europe, including the UK). That number is expected to grow up to 65% by 2025.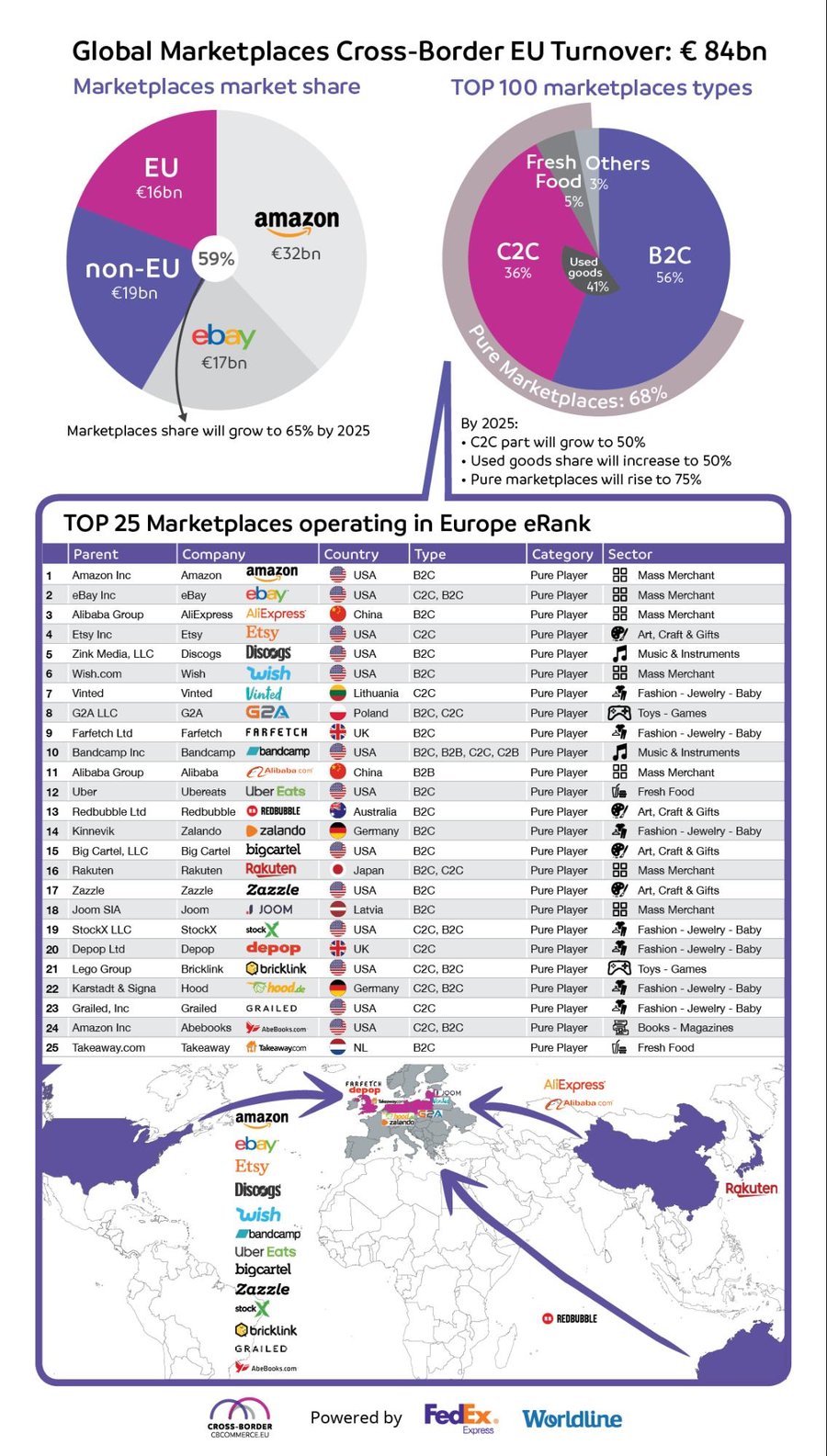 Marketplaces offer extensive product ranges, convenience, and fast and robust delivery infrastructure, among others. During the lockdown, where restrictions and supply chain problems became very challenging issues for many retailers, marketplaces, due to their proven reliability and their ability to scale fast, became in some cases the only source for a wide range of products becoming part of society's critical infrastructure.
No wonder that even after restrictions were lifted, marketplaces are still very popular among online shoppers who seem to prefer an all-in-one shopping experience over purchasing goods from multiple online sources. A recent study supports that claim, revealing that UK consumers are four times more likely to buy from online marketplaces than directly from a dedicated brand website.
All the established marketplaces offer nowadays programs designed to assist sellers that incorporate marketing, selling, and fulfilling solutions. Amazon, for example, is barely a digital storefront anymore. Retailers can now build their own micro-site as part of Amazon Advertising to promote their products and even run video ads via Amazon's Fire TV platform, transforming the world's number one marketplace into a multimedia ecosystem. eBay's Promotions Manager provides sellers with an easy way to set up special offers on eBay and programs such as Fulfillment by Amazon (FBA) and eBay Global Shipping provide pick, pack, and ship solutions on your behalf.
Some of the key advantages of selling on Amazon and other online marketplaces are that you can launch really fast, and it grants you instant access to an international active customer base that is looking to purchase the type of products your company sells. On top of that, a large percentage of consumers nowadays start with marketplaces when they want to find product information before making a purchase. In fact, 56% of all product searches now begin on Amazon. Finally, you can include reviews from marketplaces in your brand's core website and other sales channels.
Each marketplace has its unique characteristics, requirements, listing fees, and audiences. And although many of them cover a wide range of product categories, depending on what you sell, it might worth it to consider listing your goods on some more niche marketplaces as well. Before you start listing on online marketplaces though, it is worth doing your research to discover the most promising ones for your products and understand the various marketing strategies for selling on them.
Conclusion
As new consumer behaviors begin to solidify, brands that fully comprehend these trends and have the ability and ambition to adapt their business model accordingly will be able not merely to survive but to become market leaders in the new normal.
It is essential to understand what your target market needs and when it needs it; what content they will engage with better, and through which channels. Be a solution provider, not just a merchant.
An omnichannel strategy that combines your brand's eCommerce store and direct-to-consumer (D2C) approach with a strong presence on online marketplaces and social commerce will be the best way to drive recovery and growth in the highly competitive, post-pandemic online retail landscape.