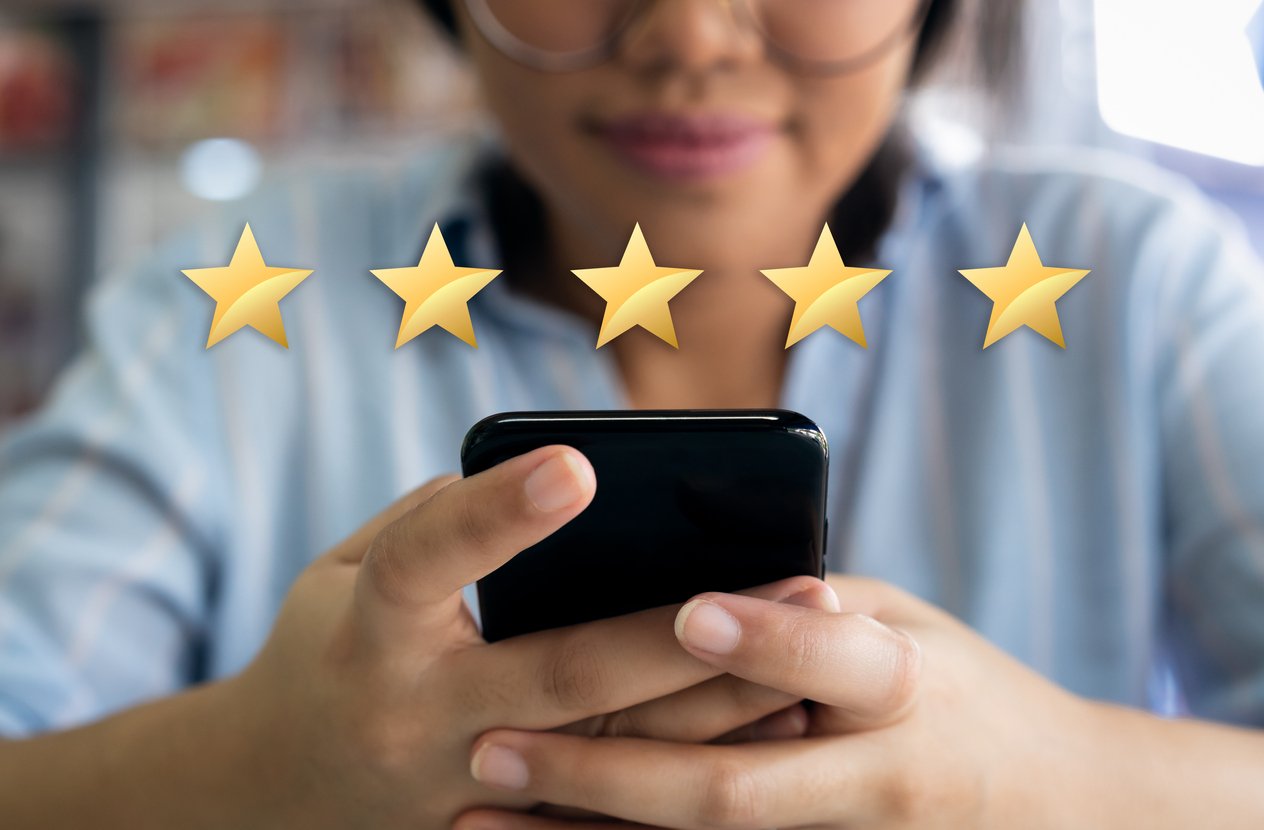 Your word as an online seller will always have limited power. No matter how big your operation becomes and how firmly you fix your brand in the minds of your target audience, every claim you issue about your products will be taken with more as grain of salt — and it's all due to your obvious bias. You want people to buy from you, so of course you'll have good things to say about your value propositions, and of course you'll hide all the negatives.
Consider all the times you've shopped online and spotted exaggerated claims. Product X is ostensibly "the best on the market," but there's no evidence provided to back that up. Product Y is said to be "long-lasting" and "durable," yet it looks somewhat flimsy. What's the reasoning? This is how marketing copy is done in most cases. When you have a fantastic product, you hype it up as best you can — and when you don't, you pile on the hype regardless.
So while you can (and should) work diligently on your store copy to make it as slick, informative and compelling as it can be, you must do so while remembering that it will only go so far. If you're going to maximize your store's potential, you need to heavily prioritize the cultivation of social proof. In short, it's the word of your customer that will dictate your fate.
This is a big challenge for small businesses in particular. Dominant brands have inertia from years of success, with extensive legacies of customer positivity that minimize churn and keep them going through difficult periods. Growing companies, meanwhile, can struggle simply to get some feedback.
That you've clicked on this piece is a strong indication that you're steering the movement of such a company, and that you're appreciative of the significance of online reviews. The good news (confirming the title) is that you can make legitimate strides in under a month. We're going to run through five straightforward steps you can take to bolster your body of social proof and establish a strong foundation on which you can grow your business. Let's get to them:
1. Provide compelling post-purchase incentives
If you rely on customers leaving reviews solely because they want to help you, you won't make much progress. Even community spirit — the desire to help other consumers by steering their decisions — will only compel the most charitable buyers to take the time needed to weigh in on their purchased products. To get something valuable, you must offer value in return.
Thankfully, you don't need to do much to convince people to leave reviews: they don't take very long, after all. It's generally enough to offer something of potential value, like entry into a prize draw. If that isn't enough, you can raise the stakes by offering meaningful discounts. Something like a 10% discount voucher for their next order can drive someone to act. You can even offer a discount for a third-party service if you want to get creative (as G2 did: see below).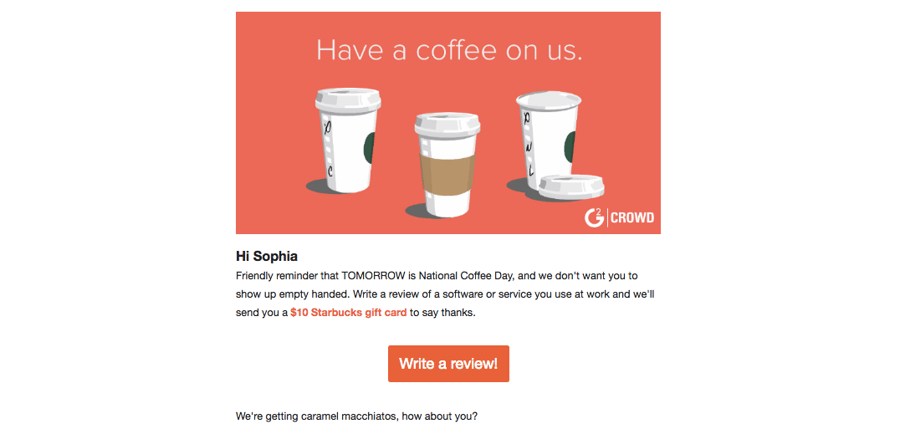 Image credit: G2
Note, though, that this isn't inherently about getting positive reviews — and you mustn't make the mistake of filtering out criticism. We'll expand upon this later, but for now, it's enough to say that prospective buyers want to see honest feedback, and no company with more than a handful of reviews (no matter how good it may be) is going to get feedback that's 100% positive.
2. Overhaul your customer support process
You're sorely mistaken if you believe that the only contributing factor to a review is the quality and suitability of the purchased product. Despite how it's framed, a product review is usually treated as a review of the entire customer experience: everything from the start through to completion, and possibly even subsequent contact. Customers will talk about how they found your site, why they decided to buy, and then how much they liked their orders.
Assuming you've built your store around maximizing conversions, those elements won't prove too challenging. But have you placed any emphasis on what follows those conversions? Orders can be delayed, leading to queries. Shipments can go missing altogether, requiring hasty replacements. Buyers can be unhappy with their purchases and want to discuss options for returning them or receiving alternative compensation. After-sales support is essential.
Due to this, putting some time into improving your customer support process can quickly make a substantial difference in how your customers perceive you — and how they choose to rate your products. You can then work review prompts into that process, drawing upon the positive sentiment that tends to follow successful problem resolutions. Using quality and easy-to-use customer experience management software will also make a big difference in knowing how your customers feel and how to respond to their experiences. Here are some tips:
Provide more communication channels.
Different people like to reach out in different ways. It's most common for online businesses to feature ticket systems and/or email addresses, but what of those who prefer to speak? Offering phone support shows a level of commitment that can win plaudits. If you can't handle that as a regular pursuit, consider outsourcing it: HelpScout has some relevant advice here.
And then there's the immediacy and convenience of live chat. If you take it to the level of packaging a solution with automation elements (Crisp's live chat software is notably good for this), you can significantly improve the perceived strength of your company while maintaining a workload that even a small in-house team can manage.
Aim to come across as approachable.
There's a big difference between what you say and how you seem. Imagine a store manager looking furious and imploring you through gritted teeth to have a wonderful day and come back any time. Those are the right sentiments, but the attitude makes them feel forced, disingenuous, and even sarcastic.
When you talk to customers, then, you must ensure that you seem friendly and accommodating. Don't just take a paint-by-numbers approach of plowing through set routines. Engage with people, and even choose appropriate moments to joke. Doing this effectively will leave them viewing your company more positively.
Show that you're listening carefully.
Few things cause more irritation with companies than getting stuck in lengthy and repetitive support processes. Picture having to get in touch six times overall, and each time needing to provide the exact same details. Being tasked with rehashing their problems shows customers that companies aren't listening.
So, whatever support systems you ultimately choose, it's imperative that you record what people say, and have all your support workers (whether in-house or outsourced) pay close attention to the nuances. If a customer is upset when they first contact you, it's worth jotting that down so you can be delicate with them when you talk to them again.
3. Find and address negative social comments
No matter what you do, your customer support process will never be flawless — and then there are the issues that never reach your support system, such as general product dissatisfaction. People like to use social media to talk about their lives overall, and that certainly includes waxing lyrical about products and brands to avoid. Due to this, the bigger a company becomes, the more negative feedback it'll accrue across the various social media platforms.
How should you approach this feedback? You could ignore it, certainly, which is a viable option because addressing criticism can go poorly — but it's also a waste of potential because directly approaching dissatisfied customers in an effort to unpack their issues can pay off in a big way (Salesforce has some tips worth checking out). Someone being particularly angry about your brand means that they feel passionate about it, and that passion can be inverted if you're able to win them over.
We talked about seeming approachable, and this can pay off here in a big way. The friendlier you can be while resolving someone's problem, the better. See below how Delta support communicates in a friendly (but still professional) way: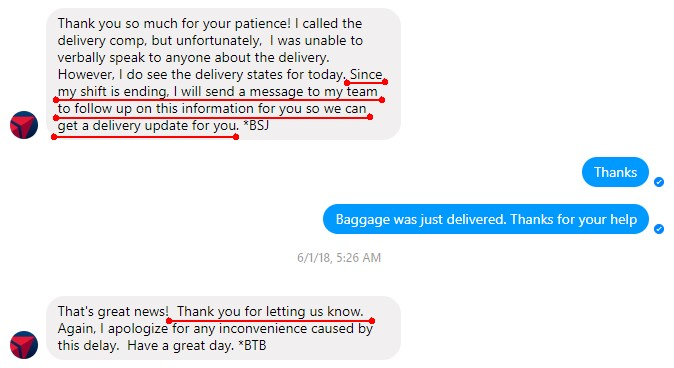 Image credit: SocialPilot
So if someone is unhappy with a delayed order, you can reach out to explain what happened, take action to make it up to them, and outline the ways in which you plan to keep improving your business. Knowing that you're making an effort to improve will prompt them to reconsider their view. They could even end up as one of your biggest supporters.
4. Create case studies based on existing reviews
When your business is relatively new, you don't have that many reviews to work with, which can make it harder to gather more. Due to this, you must make the most of the few reviews you've gathered, and one way to do that is to expand them into glowing case studies. The process for this is simple enough: pick out the most enthusiastic reviews you've received and reach out to the customers who left them to ask for more information.
You can incentivize their participation if necessary, though you may find that they're willing to help out for free: if it boosts your businesses and gets them featured in extended posts, that may be a reasonable win-win. The point of these case studies is to expand upon what makes your company and/or your products so worthy of consideration. You can then promote the case studies (possibly even through PPC ads) to spread the good word.
How you frame each case study (HubSpot, as ever, is helpful here) will depend on what you want to highlight. What about your company and/or products drove the customer to give you a chance? Take the strongest positives and showcase them in the best possible light. This isn't to say that each case study should be relentlessly positive about your brand, of course, as this can come across as cloying and utterly unbelievable. Leave in some modest negativity — as close to trivial as you can get without crossing that line — and it'll balance things out nicely.
5. Improve your product documentation
Produce sellers don't need to worry about documentation, as bananas don't need instructions (provided you know how to peel them, of course) — but the same can't be said for consumer electronics, one of the largest niches in the eCommerce world. Whether they're buying the latest smartphones or programmable drones, customers are heavily investing in complex technology. You might think that this would imply tech-savviness on their part. You'd be incorrect.
Swept along by the zeitgeist, shoppers can spend heavily on consumer electronics largely because it's what everyone does, and the results can be bizarre. Imagine someone buying a high-end laptop before calling the seller to ask them what they're supposed to do with it. That isn't a fantasy scenario: it's something that happens astoundingly often. And if you're going to mitigate it, you need to make your product documentation as good as it can be.
That means expanding every product description to clearly and straightforwardly explain the features and benefits, unambiguously noting what's included and what isn't included (so you don't get one-star reviews from buyers who made assumptions about what accessories they'd get with their orders). And if you can throw in some basic guides about how to use the products, you may just find that you end up with some much stronger reviews from inexperienced buyers.
Wrapping up
Winning strong reviews is something you'll need to focus on for as long as your business is in operation, but it's so much easier once you've built up a solid foundation — and that's what these tips will help you achieve. If you follow each of the steps we've set out, you should be able to pick up some notable review momentum within just four weeks. Good luck!