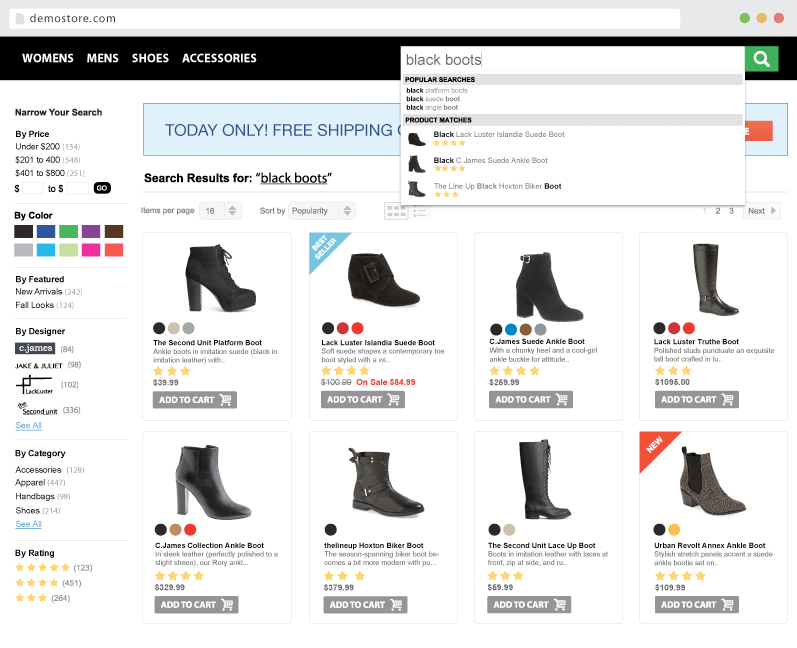 Providing shoppers with a seamless on-site search experience is one of the most important elements of running an eCommerce store.
Because regardless of what industry you're in, if your customers can't find the products they're looking for they're going to go elsewhere or to a competitor's site. But on the other hand, if your products are easy to find and the search experience is painless, your customers will continue shopping with you in the future.
Considering that over 40% of online shoppers who purchase anything on an eCommerce site use the site search and that 80% of customers will abandon a site after a poor site search experience, you would think more online retailers would invest in site search.
As both online and mobile shopping continue to grow, it's becoming increasingly more difficult for a retailer to stand out of the eCommerce crowd.
But, by offering shoppers a dynamic and intuitive site search, you'll not only be able to convert more browsers into buyers, you'll also be able to increase conversions and sales.
To help you improve your site search and evaluate the best ecommerce site search solutions, we've rounded up four powerful tips that will increase eCommerce site conversions…
Put More Focus on Search Box
The search box is an often overlooked yet incredibly powerful feature of any eCommerce store. The site search box is the pathway to improved sales, better user experience, and most importantly, higher conversion rates. Because remember, if your site visitors can't quickly locate your search box they'll head to a competitor's site to complete their purchase, so having an easy to locate search box is key.
Here are two ways to improve your conversions with your search box:
Bold Placement
The first step to having a high-performing search box is to place it in a noticeable and convenient location where site visitors can locate it within seconds. The best spot is typically in the header of a web page, where it can be free from clutter and any distractions.
Clean Design
A search box with a clean design and clear instructions will entice users to perform a search. Take the time to ensure that all search fields (input field and 'submit' button) are clearly differentiated and easy to locate. Retailers should also include a recognizable search icon (a magnifying glass tends to work best) to help entice visitors to search.
Include Autocomplete
Search enhancement tools like autocomplete are a great addition to an eCommerce site because it helps direct the customer to their desired product much faster. Autocomplete shows up suggested products as the customer types, even if a spelling mistake has been made.
Optimize the 'No Results Found' Page
When a customer searches for an item that either isn't in stock or that you don't carry, rather than directing them to a 'no results found' page send them to an optimized landing page that will prevent them from abandoning the site and potentially lead to a sale.
You can prevent this from happening by providing similar product recommendations that they might find interesting and relevant or links back to the homepage, category pages, or the contact us page. This will help eliminate your site visitors leaving to go search on a competitor's site and in turn, potentially lead to an increase in conversions.
Feature Product Images in Search Bar Results
To further improve online site search, it's important to include product images in the search results so site visitors can see products that are available without having to search through the product pages. Make sure that your product photos are clear in thumbnail form, and are flattering to your product. The chances of a customer buying increases when images are displayed along with a product description. Showing product images along with suggested search terms in your autocomplete will further help turn browsers into buyers.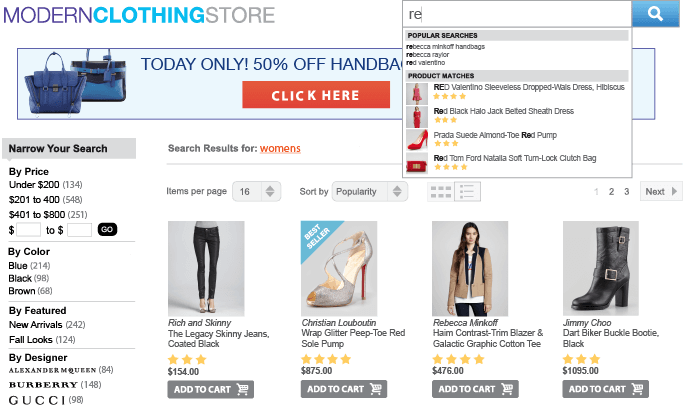 Remember, improving site search is only one of the few ways that a retailer can further increase their eCommerce site conversions. While this post only touches on four ways to increase conversions, you have been given some suggestions that you can integrate into your own eCommerce conversion strategy.