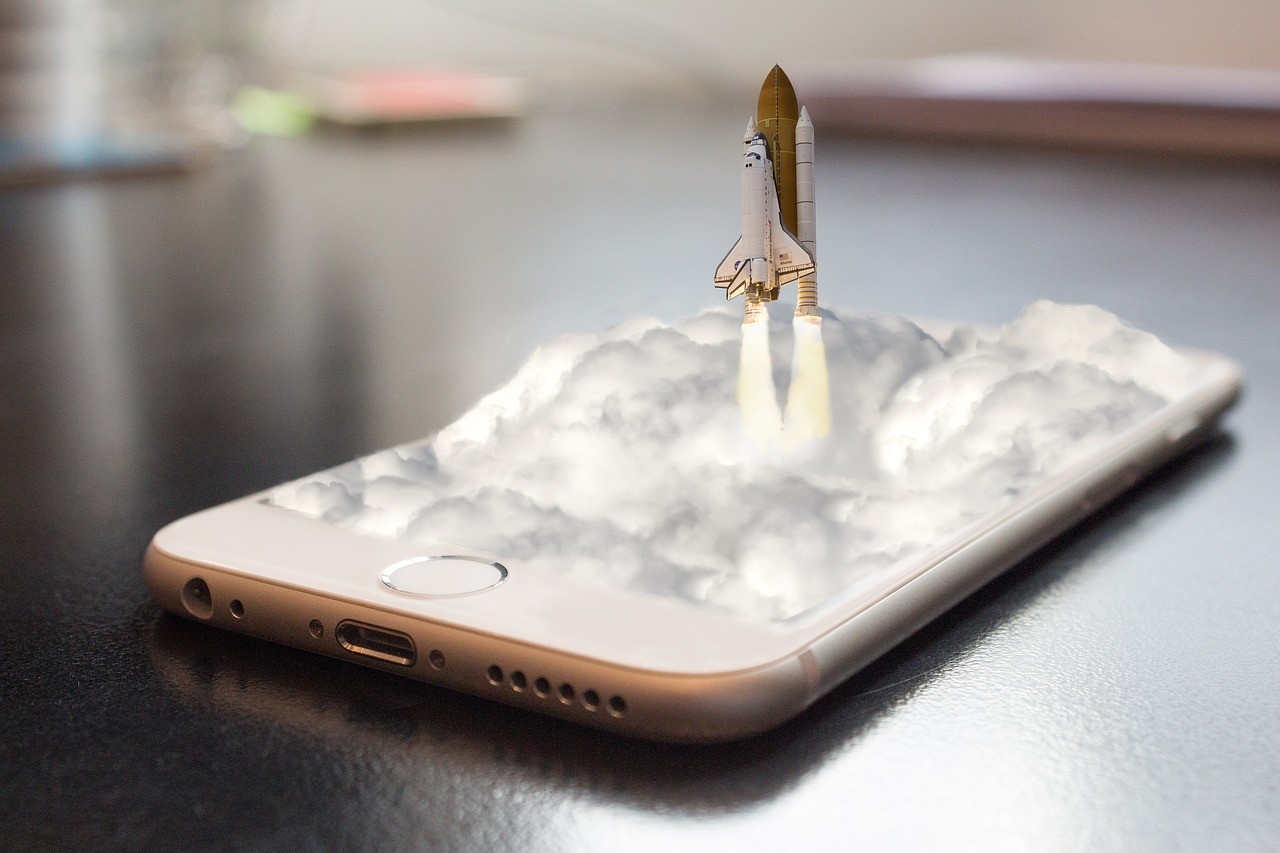 "Instant message marketing" is a term you don't often come across in digital marketing guides.
However, that doesn't mean it's in any way inferior compared to other marketing methods.
In fact, if you Google the phrase "instant messaging marketing" right now, you'd still get about 22.4 million results. This means marketers are still catching on to this fairly new frontier.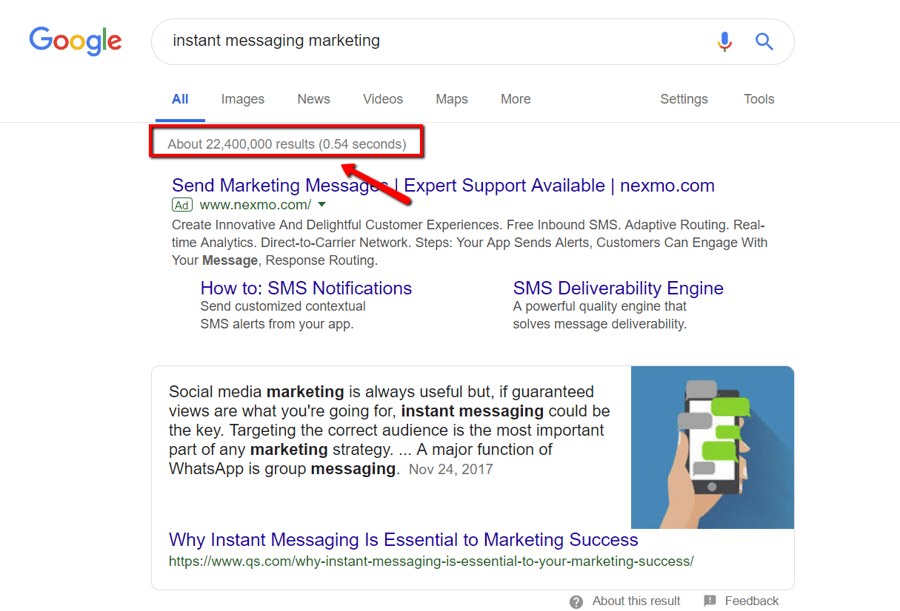 Compared to popular areas of online marketing like email marketing automation, instant messaging marketing is definitely not something every brand exploits.
That's why it's high time we sit down and talk about instant messaging as a selling tactic.
Relationship Building with Instant Messaging — The Holistic Way
By now, you should at least have heard of the typical implementations of instant messaging for sales.
This includes the use of live chat and chatbots to provide customer assistance.
While there's no denying that these strategies can indeed boost your sales, it's no fun to discuss something that's already been covered extensively in countless other blogs.
As such, I've decided to explore the "not-so-common" use cases of instant messaging in sales.
Let's get started.
Impressing B2B Customers with Secure Messaging
If you're in the B2B sphere, you should already know that B2B customers can be a lot harder to impress.
Not only can they be a lot more finicky when it comes to their needs, but they may also be reluctant to discuss business over an unsecure messaging platform — think Facebook Messenger.
Savvy B2B customers will also need more than just text-laden landing pages or reviews to commit to a purchase decision. Even if you offer a free trial or demo, they'd probably still want to talk to you one-on-one to determine whether or not your product can really match their requirements.
The good news is that secure messenger applications aren't really that hard to find.
Brosix, for example, is a desktop-based instant messaging solution with enterprise-grade encryption.
In addition to private text-based conversations, you can also use Brosix to securely transfer files and use video chat to cater to B2B customers.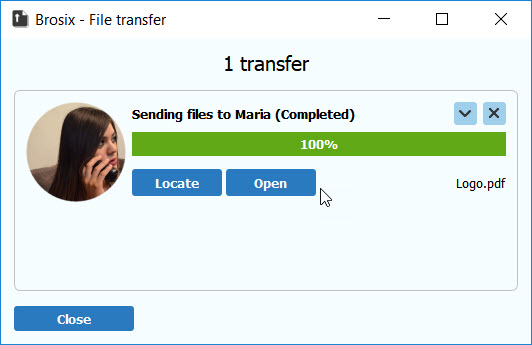 SaaS presentations can also be done through the platform's screen sharing features with remote desktop control. Their screen sharing is fast, easy to use, and secure. Because of this feature, you can now work remotely on multiple devices.
This gives you the opportunity to give your lead a firsthand look at your product and how to use its features.
You can even keep things simpler with an interactive whiteboard instead to give customers the information they need to gain buyer confidence.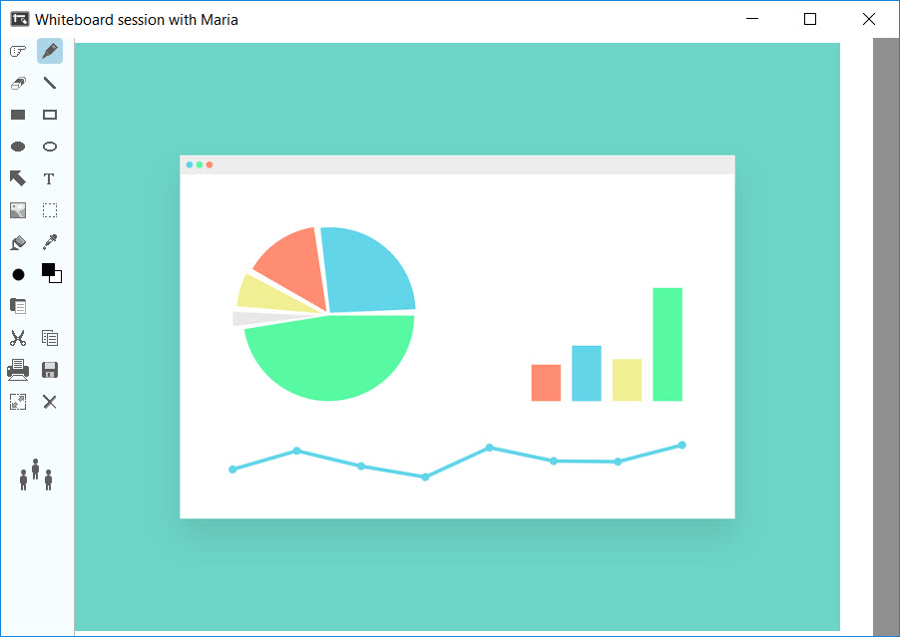 An online whiteboard is also indispensable if you're the kind of business that tailors your solution to the specific needs of each client. You could be offering web design services, app development, and so on.
Brosix also has enterprise features that make it easier for larger companies to collaborate in real-time, giving companies full-control and personalization over their team network.
Here are some of their features:

Private Team Network. The feature allows tighter security since your communication is done internally through a private network.
Manage team users contacts. Your administrator can group specific users together so they won't have access to chat groups that are irrelevant to their roles in the company.
Features Control. Brosix allows administrators to delegate the right functions (or features) to the right user. This allows for a tighter, and a more secure mechanism of collaborating with a team.
Real-Time Updates
Like Brosix, there are a few instant messaging apps that can also send encrypted messages via SMS.
This enables you to establish a constant communication stream with customers, which is helpful if you want to impart real-time updates and improve their experience even after-sales.
For example, small-scale e-commerce businesses that ship to their customers can send text messages regarding the delivery status of purchases. You can also send review requests once the delivery has been verified — earning you a piece of user-generated content, which can help win the trust of new customers and bring in more sales.

The possibilities are endless if you can reach customers at a moment's notice.
Marketing and Sales Alignment with Streamlined Communication
When it comes to B2C, the advantages of instant messaging beyond live chat and chatbots lie in its effects on internal communication, particularly between your marketing and sales teams.
In a lead nurturing strategy, sales and marketing people sometimes have disagreements in terms of lead qualifications. Marketers, for example, may deliver Marketing Qualified Leads or MQLs to sales when, in fact, they're still not ready to commit to a purchase decision.
For these cases, it's important to establish an uninterrupted flow of communication to help your marketing and sales teams be on the same page. This is especially more important when building a sales funnel, which essentially serves as a guideline when sending content and other forms of interaction to leads.
Remember, a sales funnel generally has four different stages that represent how close a customer is to a purchase decision:
Awareness Stage
A customer is in the first stage of the sales funnel if they have absolutely no clue who you are. At this point, you need to double down on content pieces that educate or inform your audience about your value propositions, such as PPC ads, blog articles, and social media posts.


Interest Stage
Once the customer is past the awareness stage, they may start showing signs of interest in your brand. That's when you lead them to more in-depth content like case studies, webinars, podcasts, and product videos.


Consideration Stage
In the consideration stage, leads are already thinking about a purchase, but they're not quite there yet. For now, you need to give them gentle pushes with content like eBooks, free consultations, and free trials.


Purchase Stage
Finally, the purchase stage is where customers just need one last nudge before committing to a transaction. This is the time to pull out your discount offers, first-time customer bonuses, and other special promotions that will compel leads to turn into paying customers.
With instant messaging, your teams can easily share feedback and lend information when structuring your sales funnel. They could also redefine the criteria of lead qualifications, namely for MQLs and Sales Qualified Leads or SQLs — leads that your sales team acknowledges as a potential customer.
Conclusion
Instant messaging does a lot more for sales than you think.
Once you look past its basic implementations, you'll realize how much of an advantage instant messaging really is. You just need a solution armed with the features you need to fully utilize instant messaging for sales and marketing.
If you have questions, suggestions, or ideas that you'd like to share, then feel free to add them in the comments section below. Cheers!