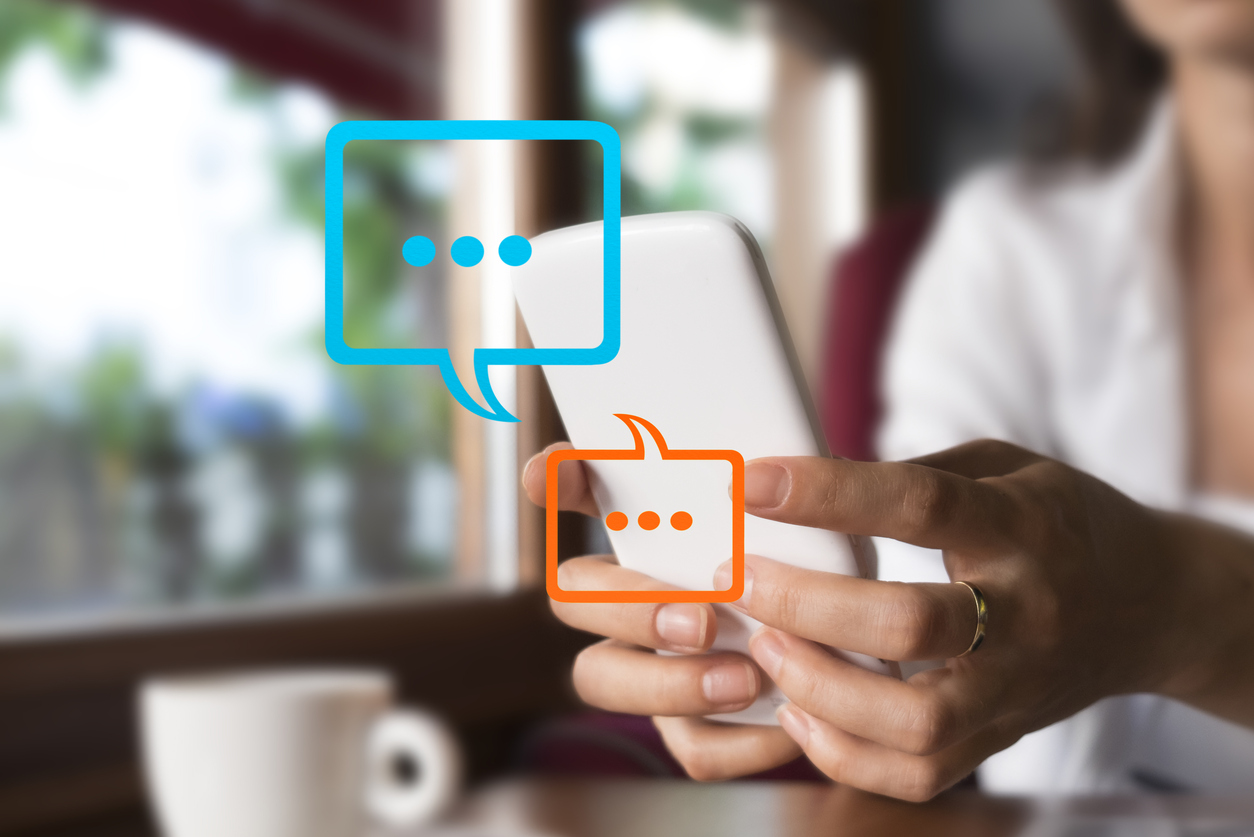 If you run an eCommerce business, what matters most to you? Sales and conversions? Quality products? Great customer experience and service? Of course, with global eCommerce sales totaling around $5.2 trillion in 2021 and expected to reach $8.1 trillion by 2026, the correct answer is likely all of them. You want to be sure that every aspect of your business is the best it can be.
While you may place great value on every aspect of your eCommerce model, communication is one of the foundations for a successful business. How you communicate with customers and potential customers affects not only sales but also how your brand is perceived, and how its reach can increase through things like positive reviews and recommendations.
Of course, we now live in an omnichannel era, and businesses that adopt multiple communication channels see a far higher order rate than single-channel organizations; 0.83% compared to 0.14%. One of the best modern forms of communication is live chat customer service. It can quickly answer customer queries, guide them through your website and buying options, and offers an almost instant reply to customer service questions.
What is live chat customer service?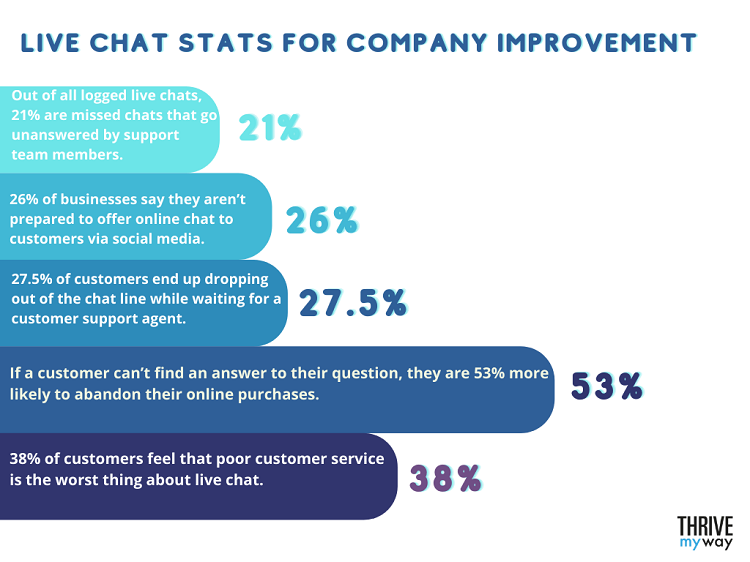 Source: Thrive My Way
Live chat customer service is a way of communicating with customers and potential customers in real time. You can integrate it on your website, your online store, or your social media platforms. It means that customers can initiate a direct chat with you at a simple click of a button. You can offer customers a live chat option as soon as they land on your site, on specific product pages, or during the checkout process.
However, while at its heart, you may see live chat customer service as a useful messaging option, it can be so much more than that. It allows you to not only answer any questions customers may have, but you can also use it to have meaningful conversations with customers. This can reduce your cart abandonment rates, decrease bounce rates, and capture and nurture quality leads.
For example, a customer has visited your website to look at international calling from Canada. They may not see all the necessary information to make a final buying decision. They can click on your live chat customer service to ask more questions, get all the information they need, and make that all-important buying decision.
Live Chat Customer Service vs. Chatbots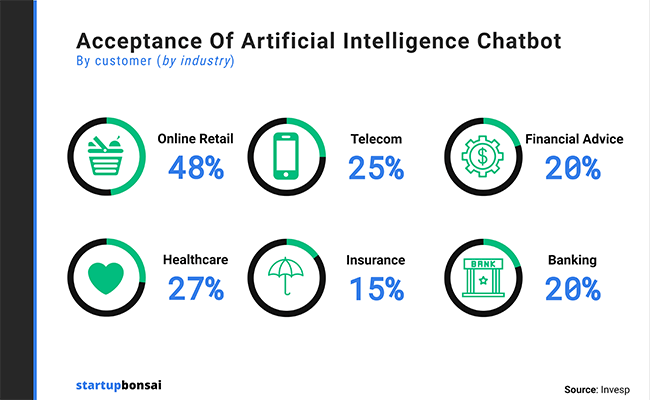 Source: Startup Bonsai
You may already be using chatbots in your eCommerce model, so why should you add live chat too? After all, 88% of consumers have had some form of interaction with a chatbot over the last year. The simple answer is that live chat customer service offers a different level of communication than that offered by chatbots.
Chatbots are computer programs that can vary in complexity according to the AI that powers them and the degree of machine learning (ML) that they employ. Yet no matter how complex they are, their basic function is to provide answers to a limited set of queries. They can be of great benefit and can reduce waiting times when a customer calls your organization, but they are limited in what they can do.
With live chat, you are connecting customers with real people who have the knowledge and experience to deal with complex queries and the ability to escalate them to a senior staff member (or a specialist). In a nutshell, live chat customer service is a more intelligent choice than chatbots, no matter how good the AI and machine learning behind those chatbots is.
Human agents on live chat can also offer a degree of emotion and empathy that is absent from even the best chatbot system. If a customer is angry about a particular issue, then a human agent on live chat can offer empathy and an attempt to defuse and solve the issue that is upsetting the customer.
Now, none of this means that you have to choose one or the other. The ideal scenario is having a chatbot system in place that can transfer questions it is unable to answer to your live chat customer service team.
Benefits of Live Chat Customer Service to an eCommerce Business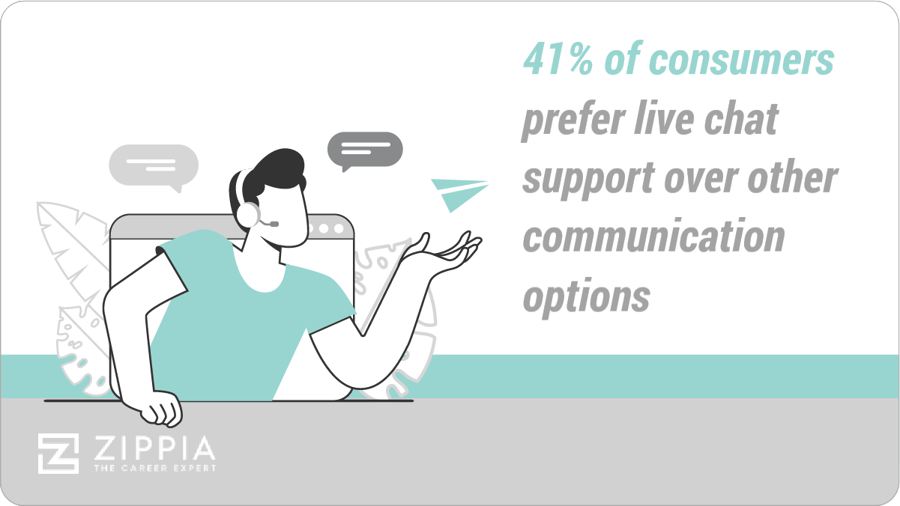 Source: Zippia
So, you can see that there are circumstances where live chat offers more efficient communications than a chatbot system, no matter how complex that chatbot system is. However, if you're looking to persuade your C-suite executives why you should invest in live chat customer service, you need better reasons than "because it's better than chatbots." What benefits will integrating live chat into your communication options bring you?
1. Efficiency
If a customer tries to contact you by phone, they may face a significant wait for an available agent, especially at peak times of the day/week. While a phone agent can only really handle one customer at a time, a good live chat agent can handle multiple queries at once. This means that live chat customer service offers both you and your customers a more efficient option for solving queries.
Whether you are a large or small eCommerce organization, efficiency is one of your key goals. More efficient communications not only means you can handle a higher number of customers every day, it also means that it is more likely you are providing a smoother customer experience. People don't want to wait on phone queues or for a reply to an email; live chat offers instant solutions and answers.
2. Personalize
You already know how important personalization can be, with 80% of customers wanting a personalized experience from the businesses they interact with. By personalizing the live chat experience, you are more likely to see higher rates of customer retention and higher CLVs (customer lifetime value).
Of course, the degree of personalization you can offer will vary according to your information on that customer. With a long-standing customer, your agents can access data such as their previous queries or buying history via your CRM (customer relationship management) system. With newer customers, you may only have basic details such as name and location. Either way, using this info means you are personalizing the entire live chat and eCommerce experience.
3. Keep Customers' Attention
A customer may land on your site by accident or by searching for a particular product. However, if you engage them through your live chat customer service, you can increase their interest in your brand and your products. For example, a customer may be looking for call from browser software solutions. They engage with your agent via live chat, who can explain the advantages of your product but also point out other products that may meet their needs.
If you engage well with them on their first (and other) visits, then they are more likely to become a regular customer. Retained customers reduce your CACs (customer acquisition costs) and are also likely to spend an average of 67% more than new customers. Those figures can make a huge difference to your bottom line.
4. Reduce Cart Abandonment
Cart abandonment rates can vary greatly according to region and sector. For example, the average cart abandonment rate in the US is around 68.7%. The reasons for cart abandonment can also vary greatly and can include unexpected costs during the checkout process (such as higher-than-expected shipping costs), lack of preferred payment options, slow-loading pages, and an overly-complicated checkout process.
When customers are about to abandon their cart, live chat customer service can help salvage sales. Your agents may be able to offer solutions that can change the customers' minds. For example, if it is your shipping costs that are proving to be the main barrier to purchase, then (in some circumstances), you may be able to offer discounted or even free shipping.
5. Better Customer Experience and Service
People really value a good customer experience and great service. Achieving that could cover many customer touchpoints, such as mobile optimization and an uncomplicated checkout process. However, being able to talk to real people who can answer their questions or solve their issues is a major factor. In fact, 80% of customers would be happy to pay higher prices if the customer service was high-quality.
While chatbots may answer simple questions, the ability to talk to a real, live customer service agent can make a major difference. Having conversations with customers means more opportunities to sell your products. As already mentioned, your agents can show empathy when customers are upset — and that empathy can lead to brand trust.
6. Changing Demographics
Depending on the products or services you sell, you will notice changes in your demographic base. Millennials (those born between 1982 and 1996) are not only tech-savvy and increasingly looking to buy online, but they also have a spending power of some $2.5 trillion. They represent the first generation that has grown up with digital tools and platforms such as smartphones and social media.
While you shouldn't be ignoring other demographic groups, these Millennials should be the primary focus and reason for implementing live chat for customer service. They tend to value live chat over other communication methods, such as phone or email, and, by offering them what they want, you are more likely to attract and retain them as customers.
The Takeaway
There are many different tactics you can use to improve your eCommerce business. For some, having a massive catalog can be a major eCommerce strategy. Other organizations may want a small number of niche, high-value products. Whatever your business focus is, good communications strategies for dealing with your customers (and your potential customers) should be at the forefront of your planning. It helps improve the overall customer experience, builds loyalty, and turns happy customers into brand ambassadors.
Whether or not you implement live chat customer service may often be a question of resources. Smaller organizations and startups may not feel they have the human resources to justify a live chat option. However, you will still need agents who answer customer queries, so why not include live chat in your communications toolbox? Given the benefits it could bring, maybe now is the time to look at adding a live chat option.