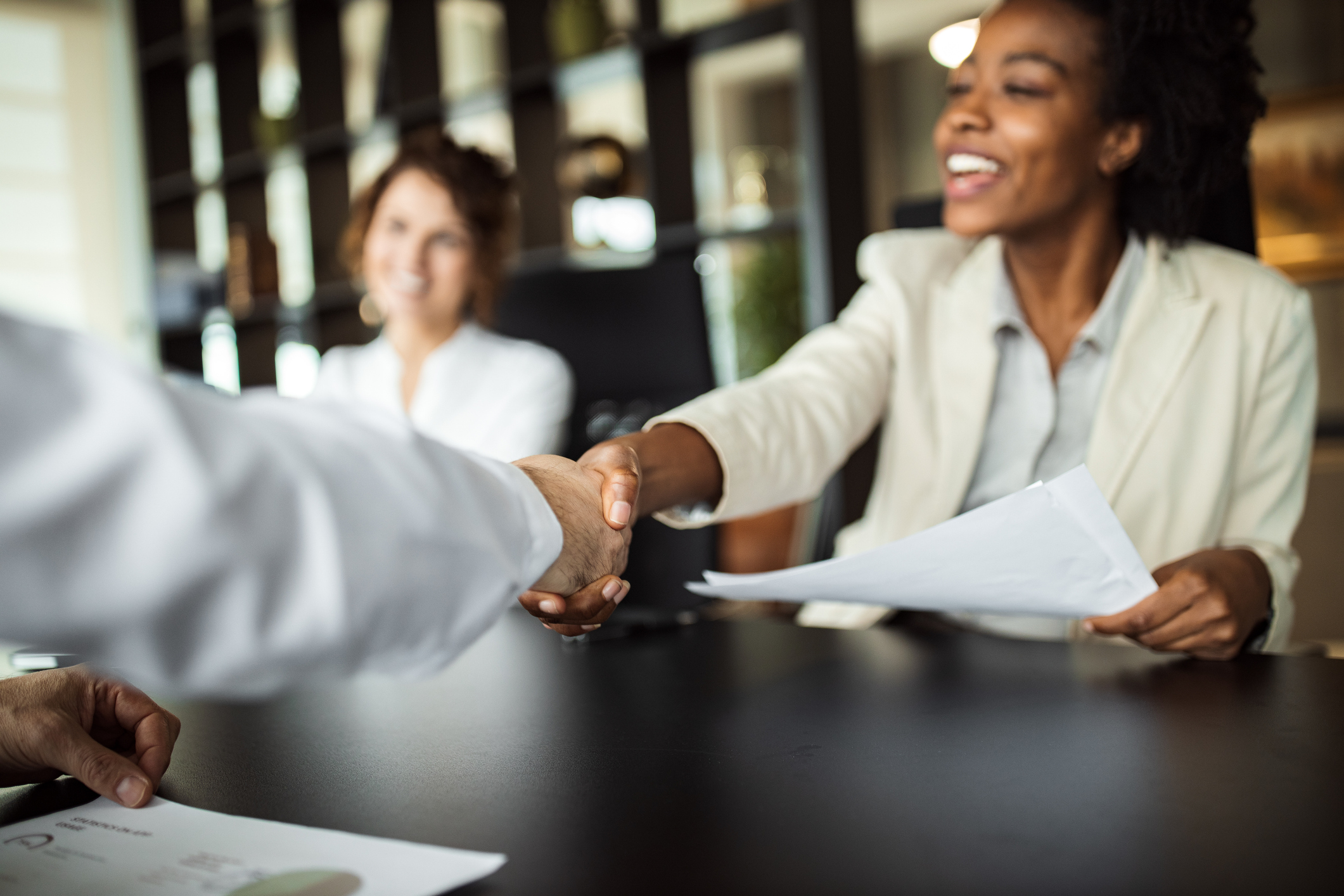 Conversational commerce is taking customer interaction to a whole new level.
Customers want omnichannel service, "always on" availability, and hyper-personalization. There was a time in the not-so-distant past when this just wasn't possible — online shopping was a jarring, impersonal, and tiresome experience.
But, thanks to advancements in automation, artificial intelligence, and machine learning, brands can leverage conversational commerce to create elite online shopping experiences.
So, what is conversational commerce, and how can we implement it into our selling strategy?
What is Conversational Commerce?
Conversational commerce leverages the power of messaging apps, chatbots, and eCommerce automation to deliver convenience and value to customer communications. You can provide real-time assistance to customers throughout their entire customer journey, enabling them to ask questions, browse stock, purchase products, and get personalized recommendations on their favorite channel.
Every new channel that your customers adopt provides your business with a new connection opportunity. Messaging apps are particularly rich with possibilities thanks to their global popularity — as of right now, WhatsApp has over 2 billion monthly active users, making it a favorite for conversational commerce.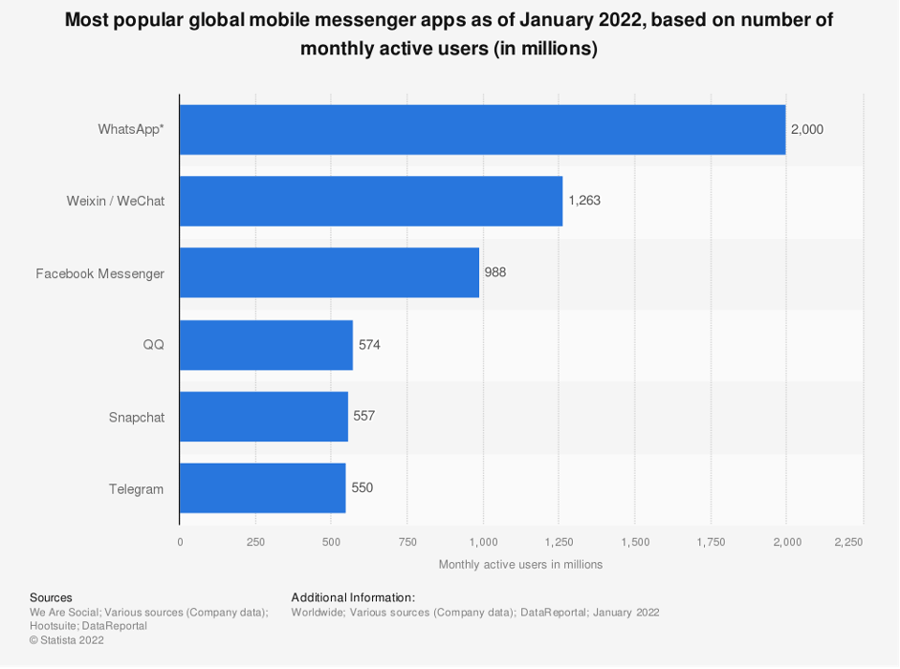 Source: Statista
Messaging apps aren't the only way to implement conversational commerce, though. Let's discuss some of the other types you can use to enrich your eCommerce communications.
Types of Conversational Commerce
Live Chat
Live chat allows customers to interact with businesses through their eCommerce website, usually through a pop-up chat window that customers can click on to initiate conversation.
Live chat usually begins with automation. The automated system will ask a series of questions. If the customer's query requires specialized assistance, the system will connect the customer to an appropriate live agent.
Think of it like an IVR system — it uses a "menu" of questions to direct customers to an appropriate solution as quickly as possible.
Customers love live chat. According to Kayako, 51% of customers are more likely to make repeat purchases from a company that has live chat support. This is because live chat is ideal for providing immediate, no-frills customer service.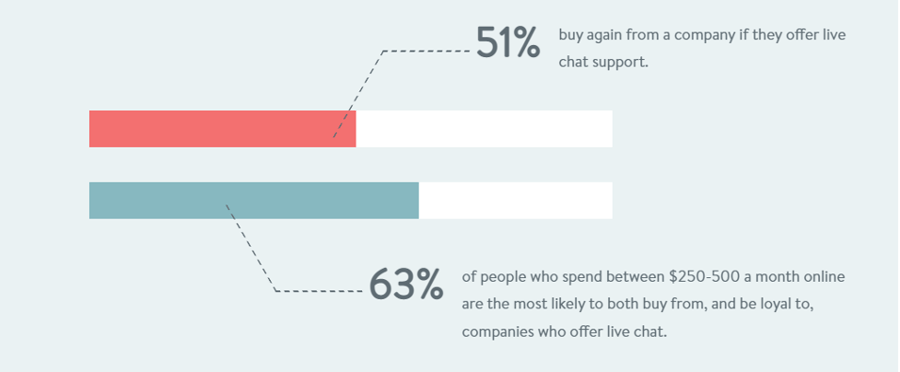 Source: Kayako
Chatbots
Sometimes, speaking to a human just isn't necessary. 40% of shoppers don't care if it's a chatbot or a human behind the screen, as long as they get the answers they're looking for.
Chatbots are wholly capable of completing basic tasks and answering FAQs. For example, they can supply order statuses, product recommendations, stock information, and much more. Even better is that you can use them across your social media and messaging platforms as well as on your website.
But be warned — while chatbots have the power to revolutionize your marketing, sales, and customer service delivery, they still have to be used correctly.
Chatbots aren't there to replace your human agents. Rather, they should complement them by handling the less-intensive tasks. Their power lies in that they take the burden of FAQs off agents' shoulders, giving them the freedom to handle more complicated (and fulfilling) queries.
Messaging Apps
Instead of forcing your customer to download separate apps, why not meet them where they already are?
Through the likes of messaging apps like Facebook Messenger and WhatsApp, you can connect with customers privately and directly to provide a seamless, customer-centric experience. Customers can ask questions, make purchases, and receive transactional and promotional notifications, all from within their favorite app.
Messaging apps present the perfect opportunity for businesses to forge positive and authentic customer relationships. Agents can send GIFs, emojis, and the like to communicate with their customers in an informal, personalized way.
Voice Assistants
According to a recent survey, 47% of online shoppers have made at least one purchase using voice commands. Of these shoppers, 33% do so at least once a month.
Why? Because voice assistants offer immediate answers and hands-free purchasing experiences, making for a convenient and fun shopping experience.
Interfacing voice assistant software like Alexa, Siri, and Cortana with your brand can direct customers to your website, increasing brand awareness and conversational opportunities. Alexa is the most common voice assistant used by customers, followed by Google's Assistant and Siri.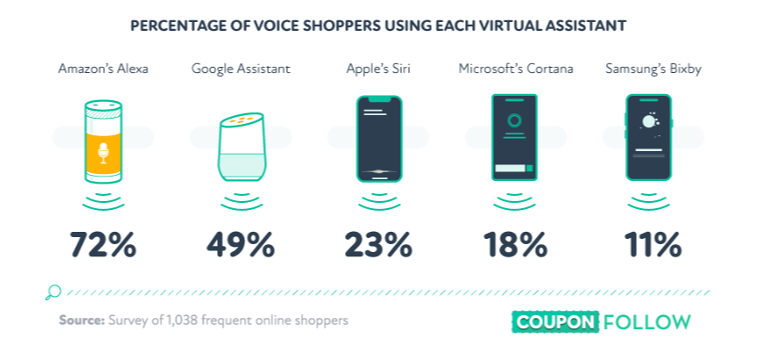 Source: Coupon Follow
The Benefits of Conversational Commerce
Are you still deciding whether conversational commerce is worth it? In a climate where the quality of your customer experience can make or break your business, meeting your customer's needs should be a top priority if you want to maximize your longevity.
Here are some of the most important benefits of conversational commerce for eCommerce businesses.
Creates better online experiences
Conversational commerce enriches the omnichannel experience by streamlining customer communications across channels. It aims to meet customers where they already are with personalized service and customer-centric interconnectivity.
Conversational commerce technology is particularly beneficial for mobile users. Even the best eCommerce websites can have trouble optimizing their site for mobile devices. But, by utilizing social media platforms and messaging apps — both of which are designed with mobile-first optimization — brands can offer in-app and social selling for the ultimate mobile shopping experience.
Reduces cart abandonment
70% of all shopping carts are abandoned.
From complicated checkout processes and high shipping costs to customers who like to use their shopping carts as wishlists, there's an abundance of reasons for these worryingly high rates. Luckily, conversational commerce has proved useful for mitigating the risk of revenue-destroying abandonment rates.
For example, you can use live chat and chatbots to proactively offer assistance to customers on your checkout page, reducing customer churn. You can also send reminders to customers who still have items in their carts. This tactic works well with promotional marketing strategies that incentivize customers to complete their orders.
Increases customer loyalty
Conversational commerce empowers you to give your online customers the same personalized care and attention that you would give to customers in a physical store. Using both automated and human-driven conversational commerce, you can:
Greet customers and let them know you're available to help
Use chatbots to keep a special eye out for anyone who needs assistance
Resolve basic and complicated issues quickly and efficiently
Make searching for products easier with voice assistance
Make personalized recommendations
Provide 24/7 customer service
By providing streamlined and personalized customer experiences, you not only boost engagement and conversions, but also customer satisfaction and loyalty.
Tips for Using Conversational Commerce to Drive Sales
So, we've covered "What is conversational commerce?" and all of the different types and benefits. Are you ready to use it to drive sales? Here are a few tips for setting you on the right path.
1. Understand your customers.
Conversational commerce is inherently customer-centric. So, the more you know about your customer, the more successfully you can approach and engage them.
Ask yourself these three important questions during your research:
What channels do your customers use? It's critical that you meet your customers where they are. Find out which messaging apps and social platforms they use and target those channels for conversations.
What are your customers' pain points? This is particularly important if you're using chatbots, as you'll need to devise a set of relevant, frequently-asked questions and answers.
What does your customers' buying journey look like? Integrating conversational commerce into every stage of your customer's journey can help you provide enriched omnichannel experiences and support.
2. Add live chat or chatbots to your eCommerce website.
Whether you use human agents or chatbots, integrating chat features into your online store is potentially your most opportunity-rich conversational commerce solution.
Imagine a customer has a question about one of the products they've found on your website. They're too busy to call your service team and don't want to wait for an email response. Instead of leaving your website (and forgetting to return), they can simply use the integrated chat feature to get the answer to their question ASAP — all without having to leave the website.
This doesn't just benefit your customers, but it benefits your agents, too. Even with the best call center software on the market, handling high volumes of calls relating to FAQs is a tiring and unfulfilling process that can be avoided with chat automation.
Chat features can be used proactively, too. For example, you could trigger your chat feature to pop up every time a user lands on a specific page, along with a friendly message offering your assistance should they need it. Drift themselves were able to increase their leads by 13% in just one month by implementing a "just browsing" chatbot.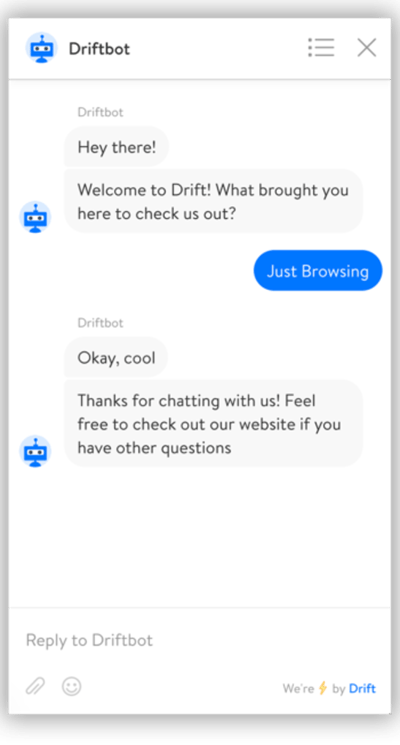 Source: Drift
Make sure that your eCommerce website is compatible with your chosen live chat and chatbot tools. Many eCommerce platforms, like Shift4Shop, integrate seamlessly with leading live chat and chatbot providers, including Olark and Tidio.
3. Use conversational commerce throughout your entire customer journey.
Conversational commerce can be implemented at every stage in the buying journey, nurturing customers from awareness to advocacy with attentive, personalized communication.
Awareness
Sparking a conversation with a new customer — even if it's just a simple hello — increases brand recognition and encourages customers to connect further.
Consideration
This is the stage where customers are going to begin asking questions about your product or services. If they can't find the answers they're looking for via forums, online knowledge resources, or reviews, then they'll seek to connect directly. Live agents improve this experience for customers by providing quick, direct answers to queries without the hassle of app-switching or long wait times.
Decision
Communicating directly with customers at this stage is critical for reducing cart abandonment. Conversational commerce techniques include using chatbots to upsell and cross-sell. For example, you might program chatbots to promote relevant deals or recommend premium or complementary products. Personalization is key in the decision stage to increase customer trust.
Retention
Your customer is ready to buy — how can you ensure that your checkout process runs as smoothly as possible? Live chat and chatbots can be used in tandem to assist customers through the process. You can also employ SMS or messaging apps to remind and incentivize customers to complete their purchases.
Advocacy
Once your customer has made their purchase (and you've thanked them for doing so), there are plenty of ways that you can continue conversations to reduce buyer's remorse and increase customer satisfaction and loyalty. Asking for feedback, sending coupons, and encouraging user-generated content are all ways that you can leverage conversational commerce to ensure post-purchase success.
4. Prioritize value in your communications.
Conversational commerce is a fantastic way to form emotional connections and boost customer experiences. However, if you forget to prioritize value, conversational commerce can easily come across as creepy and annoying.
Take push notifications, for example. You can use them to send everything from product recommendations and abandoned cart reminders to conversation follow-ups, feedback requests, shipping updates, and much more. But if you send notifications too regularly — especially if they're irrelevant — you're going to end up losing customers.
In fact, 43% of users will disable your notifications if you send between 2-5 notifications a week. 28% will delete your app altogether.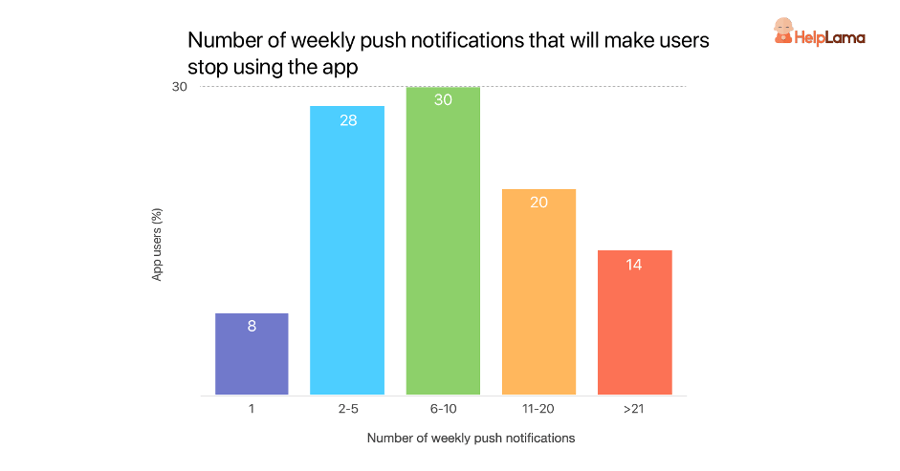 Source: HelpLama
While exercising restraint is important, offering value is even more so. Let's put it this way: it's not so much about how many messages you send but the kind of messages you're sending. If every single conversation you initiate with your customers is valuable to them, then the number of notifications you send loses its relevance.
So, are you ready to start your conversational commerce journey?
Conversational commerce infuses the rich convenience of the digital shopping experience with the personalization and problem-solving efficiency of face-to-face communication. Customers want humanized online experiences, and conversational commerce plays a key role in delivering this authentically.
The key to implementing conversational commerce successfully is prioritizing value. When you meet customers on their preferred channels with valuable, personable communications, it gives you the competitive edge you need to attract and engage leads. From there, you can guide them smoothly down the sales funnel.
Hopefully, this article has answered the question "what is conversational commerce?" and given you the knowledge you need to drive more sales and meet customer demands.