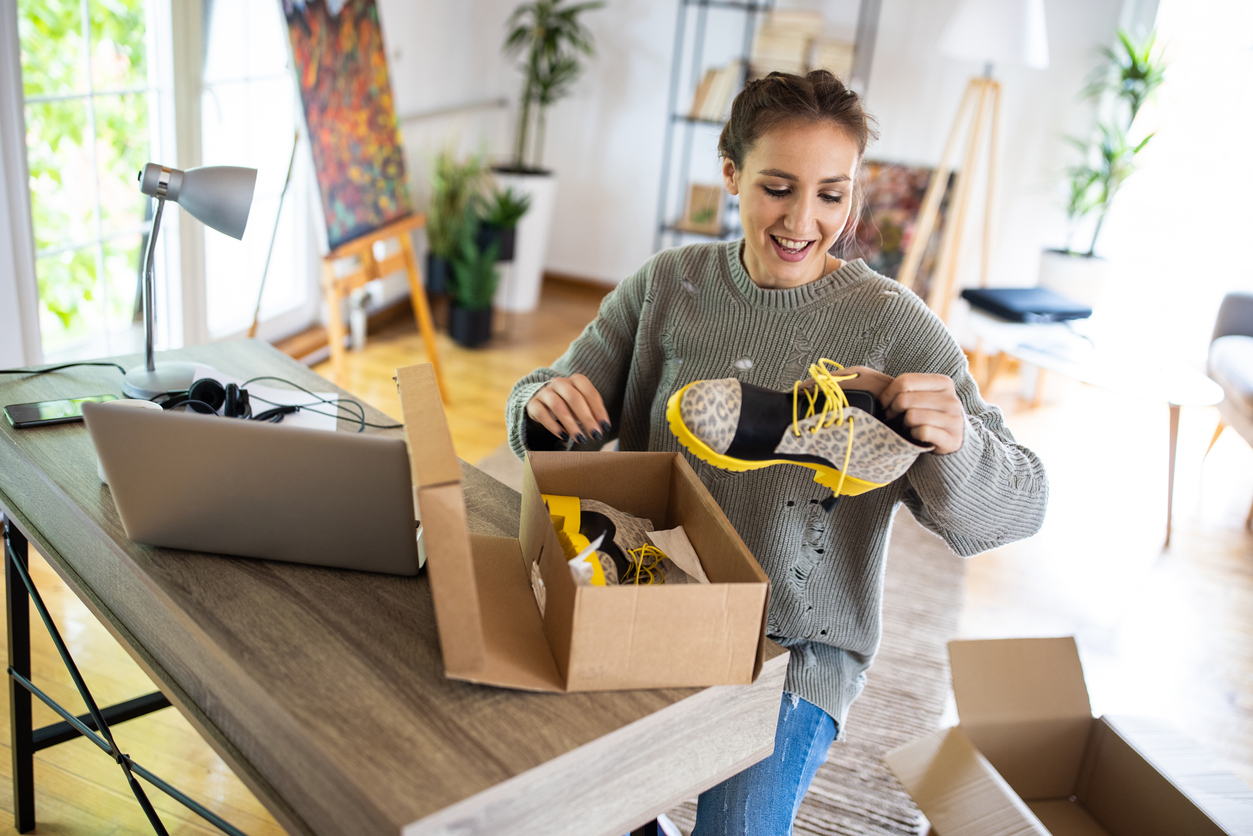 You did it! You've received an order and your store has officially sold a product. That's it, right? While receiving a paid order is the final step in the marketing cycle, it is the first step in a new consumer journey. For your business to succeed, you need to have a new set of protocols in place during this phase.
It's important to consider what happens after the sale. Try answering these questions:
"What value am I losing out on without a tight post-sale process?"
"Could I be losing potential returning customers?"
"Am I providing enough value and incentive for them to come back?"
As a business owner, you know that getting that sale, standing out from the crowd, and getting your name out there are your main priorities when running a shop. With that being said, aspects of the "after sale" relationship, such as supply chain, shipping, and customer service are all just as important to maintain. They are fundamental to building a relationship with your clientele, maintaining brand loyalty, and enjoying repeat sales.
Building a system that will promptly and correctly satisfy every order and convince customers to form a long-lasting relationship with you isn't as daunting as it may appear at first glance. With a little bit of planning and a customer service pipeline in place, building a post-purchase relationship should be as seamless as any other function of your business.
Depending on your warehousing and merchandising needs, you may have decided to use a dropshipping supplier to handle your shipping, packing slips, label printing, etc. for you. For the purposes of this article, we will be assuming that you are using a one-stop-shop partner to assist you with these various processes.
Step 1: Complete the Sale
Once you have received an order from a customer, it's time to review it and check to make sure that you can fulfill the order in every capacity and modification specified. However, if you have inventory control features in place and are using advanced product options with inventory tracking, you won't need to worry about customers buying a product or adding an option that's not in stock.
During this part of the process, we would recommend that you incorporate a personal touch to that customer's order. A nice handwritten note or small bonus item will certainly leave a positive impression on any customer.
Step 2: Set Up Automated Confirmation Emails
Sending out a confirmation email is essential to any customer experience. Communicate to your customer that their order was received, the total cost of their order, your shipping method, and when they can expect their items to arrive. If either of the parties in this interaction has any questions about the order, a confirmation email would be an easy way to quickly look for relevant information.
If you do not have a tool available to you that automatically sends out a confirmation email, be sure that it gets sent out as soon as possible. When your customer is able to seamlessly and quickly navigate through their post-purchase experience, they are sure to return.
Here are some additional best practices to consider when writing your confirmation email template:
Product details, including quantity and any modifications they may have made to the order.
An itemized list of any additional cost, including tax and shipping
Shipping details, including a delivery date estimate
A personalized "Thank You" message
Step 3: Start Packing and Shipping
There are many different reasons that an order may require specialty packaging. Items that are unusually large, perishable, or fragile will need different shipping solutions.
Products that may break easily, such as glassware and ceramic items, will need to be wrapped individually and surrounded in protective materials such as bubble wrap and packing peanuts. Food items will need ice packs and insulated boxes (usually made from styrofoam). Certain high value items will need insurance before being shipped out.
The next step in properly packaging your items is printing out any shipping labels and receipts. This will include your company logo, basic contact information, and refund and return policy exactly as stated on your website. This will help your customer stay in the loop and avoid any sort of confusion.
To exceed your customer's expectations and ensure a good experience, send your package out at or before the shipping time that was indicated in your confirmation email. Double check that all of the information on the shipping label is correct as well.
At the time of shipping, communicate to the shipping facility any items that would need to be handled with care in your package, such as fragile pieces or live animals.
Step 4: Thank Your Customers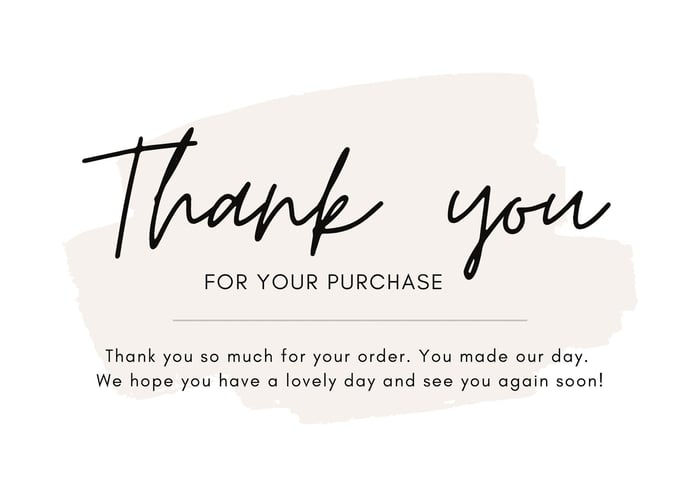 Source: Canva
Providing additional value with an order is a great way to show your appreciation and increase the chances of that customer coming back. Sending a thank you note in the order and confirmation email will certainly help you stand out.
Providing special promotions and sample items is also a great way to incentivize customers to come back to your eCommerce site. They may even gift samples and promotional codes to their friends and family, which would help you gain a new customer.
Step 5: Be Prepared
There are times when your customer may be dissatisfied with their product or need to return it. It happens. Sometimes, nothing is wrong with the actual item — it just happens to not be what your customer needs.
The good news is that this is another opportunity for you to exceed expectations. Even if an item is defective or not meeting expectations in some way, handling a return with expediency, transparency, and grace will leave a good impression on any customer.
To prepare for potential dissatisfaction, clearly display your return policy on your website and with your product. If they are able to handle everything about the return on their own because of transparent, easy-to-follow directions, they are more likely to be satisfied with their experience.
Step 6: Provide Robust Support
A quality support pipeline will also help to resolve any potential issues your customer may have with their product or service. Remember that a key part of customer satisfaction is taking care of problems before they spiral out of control.
This means expedient, knowledgeable service from people who think ahead. If you have the resources to implement a support team, you should take advantage.
Regardless of who is taking your tickets/calls, it's important to implement a tight support system that can guide your customer to the help they need. This means writing out a support map that has certain guides and prompts that can be used in a variety of situations.
Step 7: Offer Solutions
When addressing a customer's potential issues, it's important to keep certain solution protocols in mind that will keep your customer happy.
According to this study by The Association For Consumer Research, customers are less likely to complain if they encounter a prompt response in an online environment. Your customer wants to be able to enjoy their purchase, so being able to provide quick, actionable solutions to their issues is a way for them to focus on your product.
To get started building your solution pipeline, here are some basic ways that you can address common issues:
If your customer is having difficulty using or understanding the item, provide them the support that they need to be able to fully enjoy their purchase.
If something is broken, send a replacement part and assist your customer in fixing the item, or replace it entirely.
If an item is defective or not what your customer wants, offer to provide a full refund or replacement (if within the limits of your return policy).
By working with your customer, you show them that you care both about their experience and the integrity of your products.
Step 8: Continue to Provide Value
After the purchase, you want to continually provide value to your customers so that they are incentivized to come back. This is as simple as providing email promotions and deals that are relevant to what your customer bought, or even to reignite their interest if they haven't shown much activity lately. You can also send out deals on their birthday or special holidays.
If you do decide to implement this tip, be sure that you avoid spamming your customers. Sending them deals during special occasions will keep their interest piqued without coming across as overbearing.
Step 9: Implement a Loyalty Program
Loyalty programs are typically points-based systems for customers that will allow them to access discounts and free items as a reward for shopping with your business. This system is especially useful for items that customers are likely to purchase frequently, such as food items or stationary.
This not only incentivizes your customer to come back, but it also provides positive referrals to other people who may be interested in your product. This is because rewards points accumulate quickly by purchasing items for other people, allowing for two people to experience your product or service.
Step 10: Give Your Customers the Option to Subscribe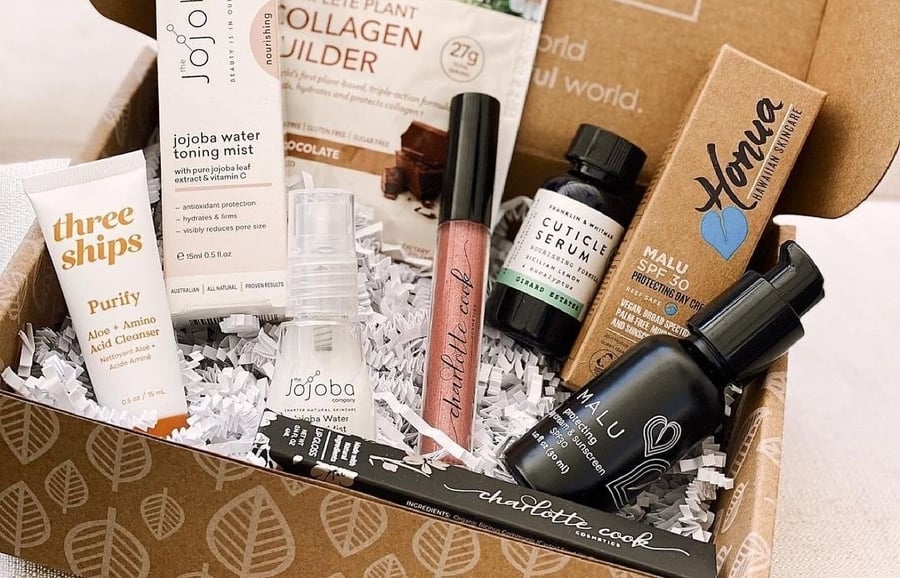 Source: Buzzfeed
Subscription options for your store are a great way to not only receive recurring sales, but encourage your customer to try new things from you.
There are two approaches to this:
Automatically Reordering Items
If your customer needs to frequently purchase a specific item from you, giving them the option to have that product automatically sent to them on a predetermined basis adds an important element of convenience.
Subscription Boxes
Subscription boxes have become a popular and profitable way for eCommerce retailers to move products in recent years. They are essentially curated packages of items that a customer opts into every month, quarter, or other specified timeframe. They also make for a method of potentially viral marketing, as "unboxing" videos on various social media platforms have become extremely popular in recent years.
Final Thoughts
Many people are looking for a reliable, stable relationship with the shops that provide them with things they need and want. Having a well thought out customer journey pipeline can make a huge difference in your bottom line.
Exceeding your customer's expectations and incentivizing them to come back to your eCommerce site not only increases your standing with that person, but with anyone that they discuss their experience with. People talk and are happy to share information about positive experiences that they have with customer service and shops.
Overall, a tight post-purchase experience for your customer will make the shopping experience easier and more transparent, eliminating potential frustration and increasing the chances of future sales. This will ensure that your customer has a positive association with your company, planting the seeds for brand loyalty.