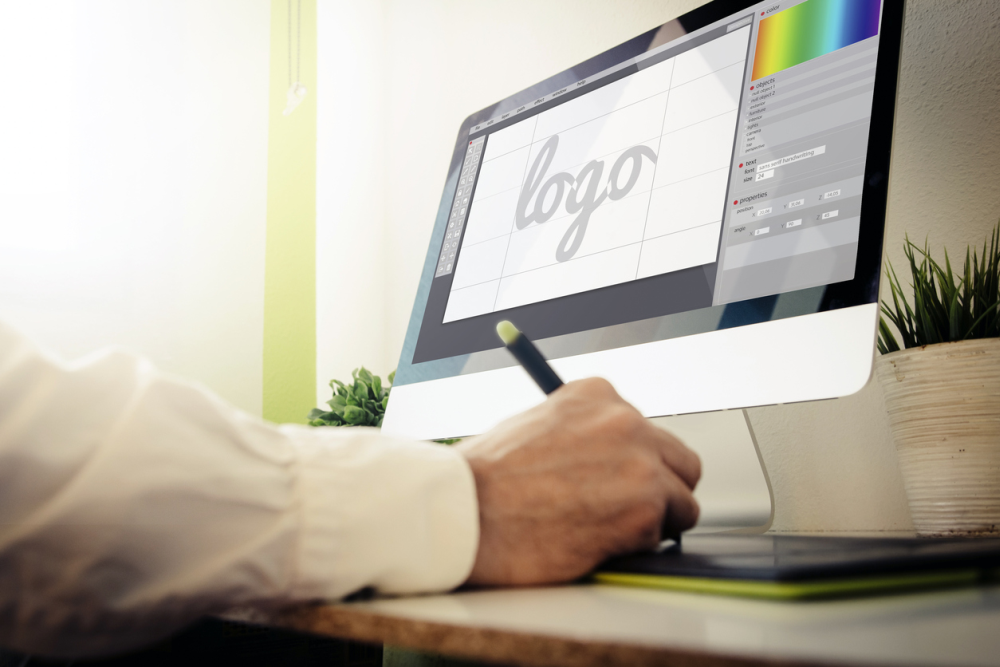 Creating a logo – and staying within budget – can be tricky for new business owners who don't have the capital to spend on a design team. Luckily, creating a memorable logo doesn't have to involve a professional designer.
In this article we'll give you 5 simple steps any busy entrepreneur can follow to create the perfect logo for a brand or business, the top 25 free logo creator tools, and design inspiration galleries to help you start your online business.


How to Create the Perfect Logo in 5 Simple Steps
1. Name Your Company
If you haven't named your business already, you'll need to do so before you start to design your logo. The first step in using most online logo maker tools is to enter the company name (as the name will most likely be featured in the logo design itself).
2. Establish Your Message
Once you've chosen the perfect name, it's time to determine your message. Think about what key aspects of your business you want to communicate to potential customers. Ask yourself who you are as a company and what you stand for. For example, are you an expensive luxury brand or are you trying to attract more of a young, cool audience?
3. Determine Your Visual Identity
The next step is to establish your company's personality and branding strategy. This is where visual elements like color, shape, and logo type come into play.
Don't be afraid to experiment with different fonts, image/word arrangements, and color schemes. This is the fun part!
4. Check out the Competition
It's amazing how much you can learn from your competition. It's important to research what's out there so you can see what's working and what's not. You also want to make sure you're differentiating your business enough so you'll stand out from the rest of the industry.
5. Create Your Final Design
Before you finalize your perfect logo design, research what logo styles do consumers trust most, and once you decide on a style, it's important to get feedback from sources you trust. You don't need to go overboard here, just get a few opinions from people you know will be constructive and honest.
The Top Free Logo Makers
The online logo makers below can help you create the perfect logo for your business. No design experience? No problem.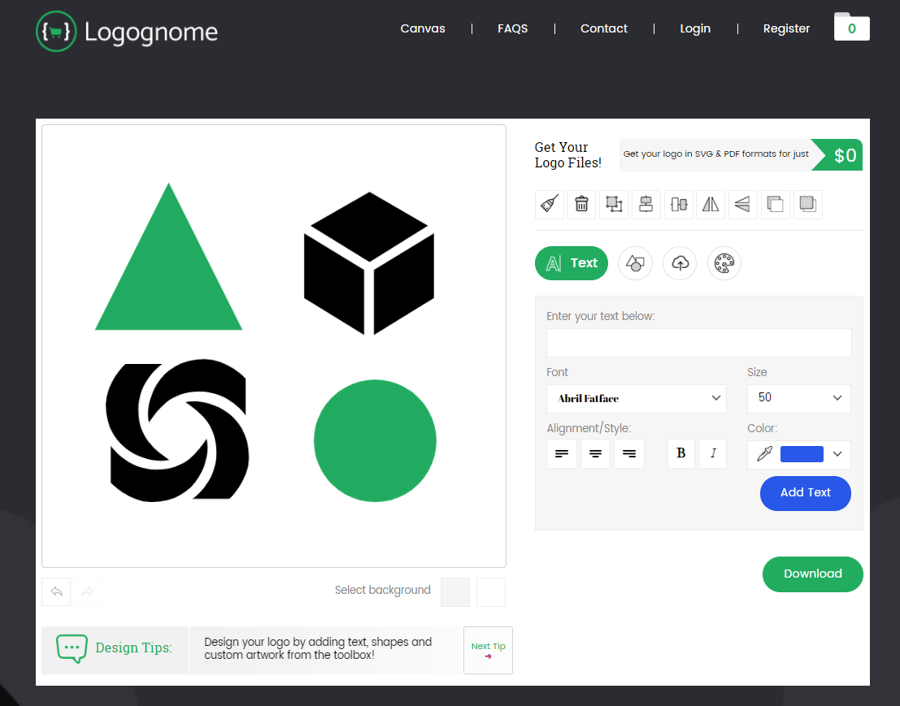 This free logo maker uses a simple design platform that allows you to create logos in minutes. Logognome gives you a variety of choices in how your logo's text and design look, offering a comprehensive library of fonts and shapes that can be customized based on color and opacity. You also have the option of uploading your own artwork files to be used as part of your logo.
Each asset you select and customize in the library is freely transformable via a large blank canvas. Once you're done creating your logo, you can download a high-resolution PNG, PDF and/or SVG file.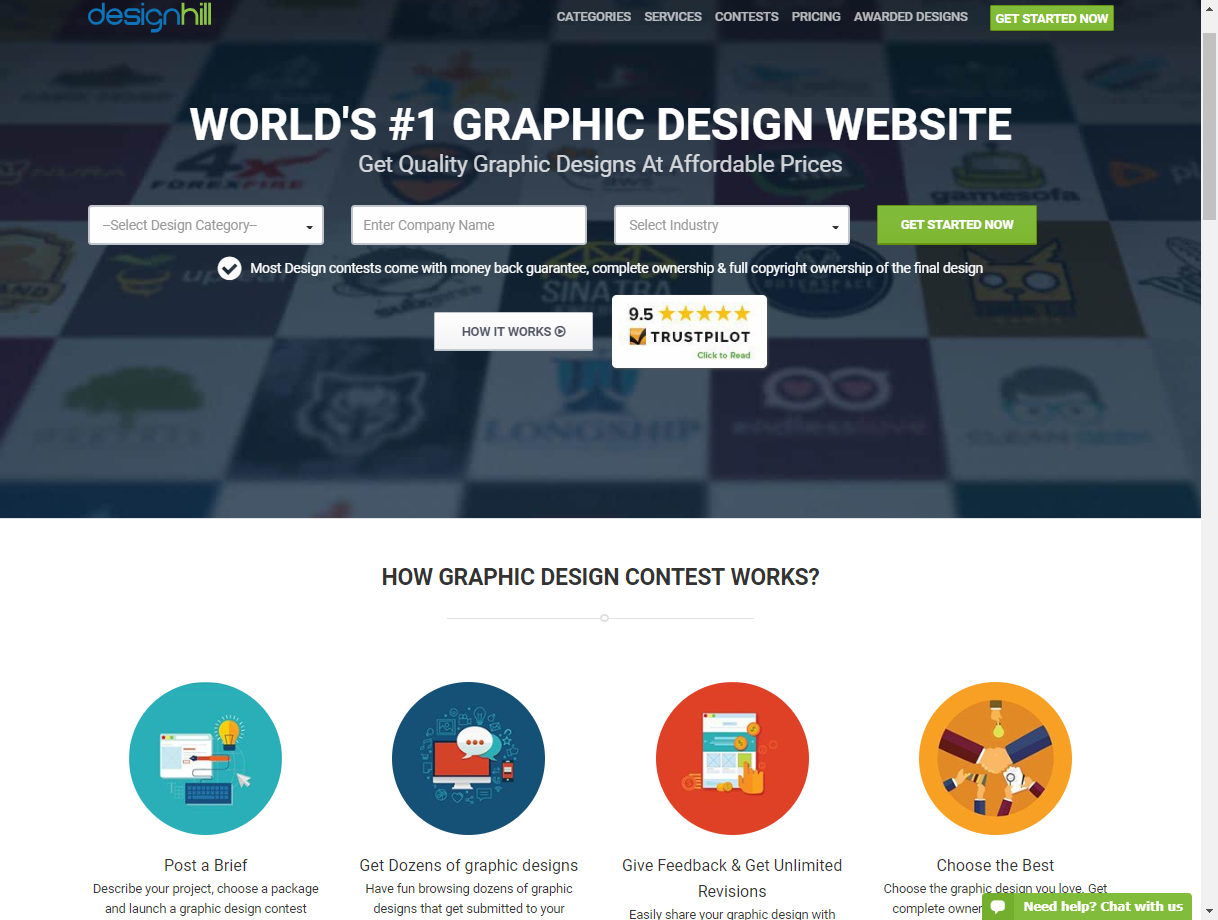 In addition to offering a free online logo maker, Designhill is also a crowdsourcing platform that allows users to launch logo design contests on their site. Running a contest is a great way to get dozens of fresh logo concepts at very low prices.
Renderforest features ready-made layouts and uses AI and Machine Learning algorithms to generate logo designs based on your description and styling preferences. Just give a short description of what kind of logo you want and enjoy the process of customization.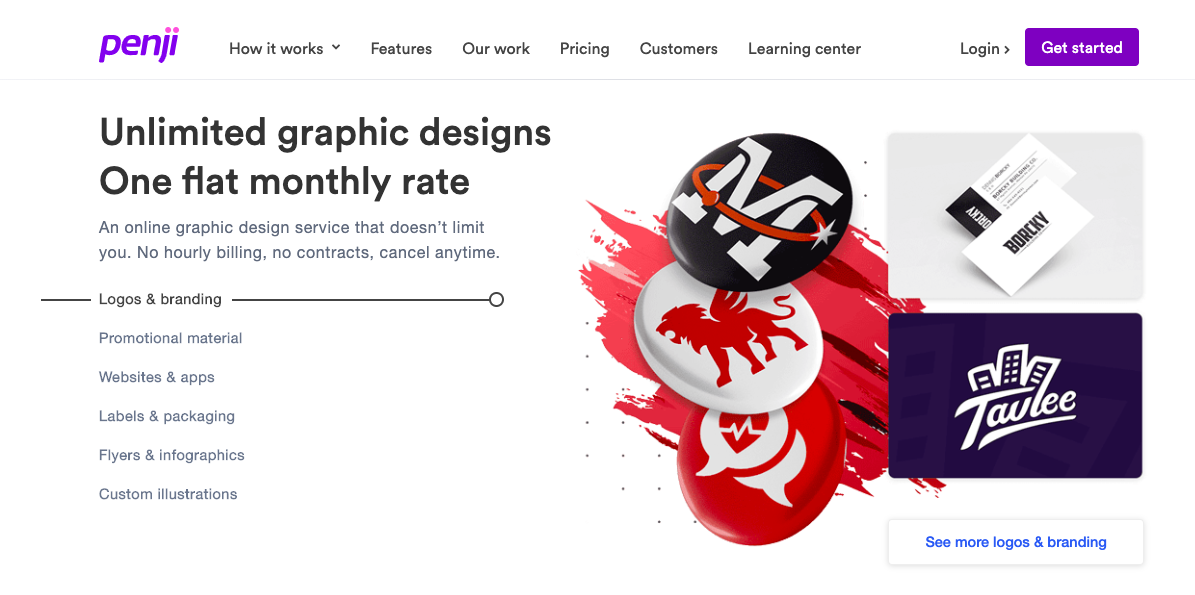 Penji is an on-demand graphic design service that offers unlimited designs. Not only will you be able to request a custom logo from a professional graphic designer, but you also have the opportunity to request unlimited revisions at no extra cost. Because of this, you know you'll end up with a logo that you really love.

Tailor Brands helps businesses build logos (and entire brands) based on their unique style and preferences. Unlike other logo generators that use pre-made logo templates, Tailor's platform uses AI to design custom logos in minutes.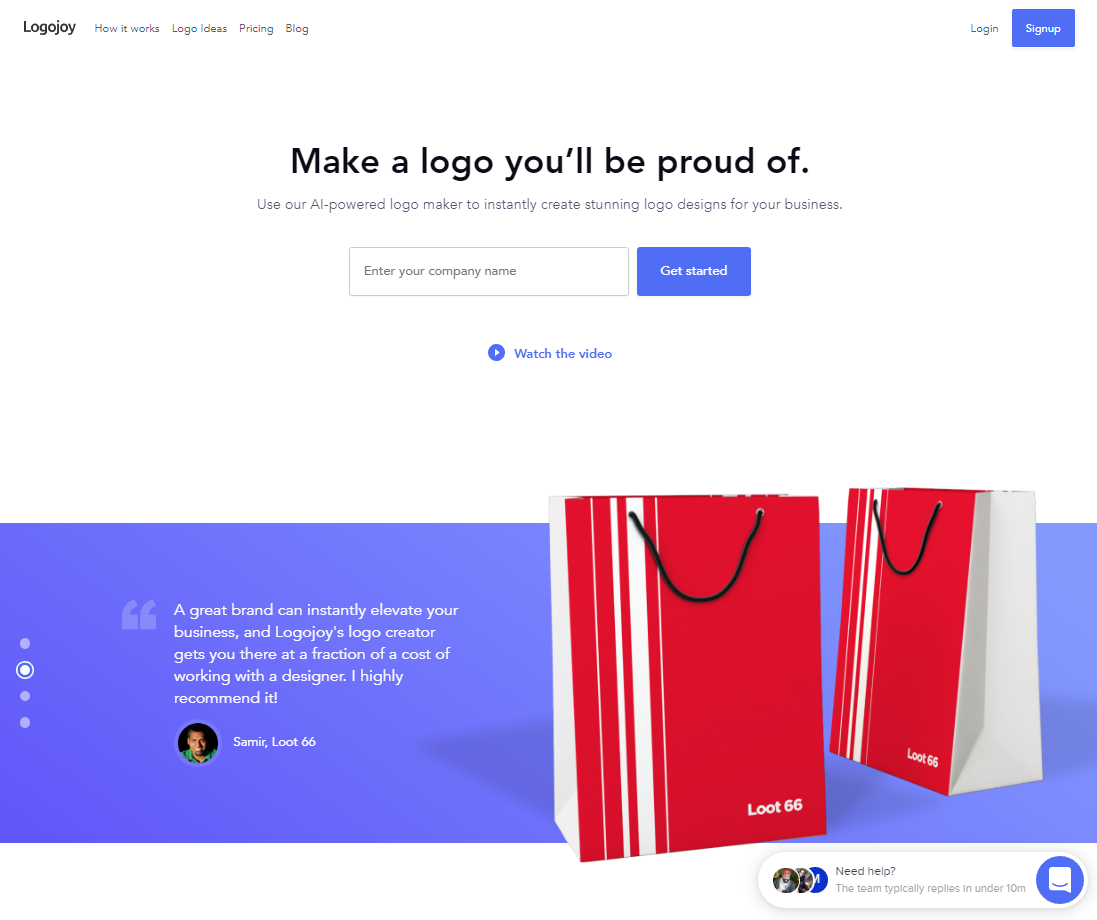 It's completely free to use Logojoy's online logo creator, but you'll have to pay to use the design if you find your perfect logo here. Pricing starts at $20.
After purchase, they'll send you all the logo files a designer would, including high-resolution PNGs and vector files to use online, in print, and anywhere else you'd like.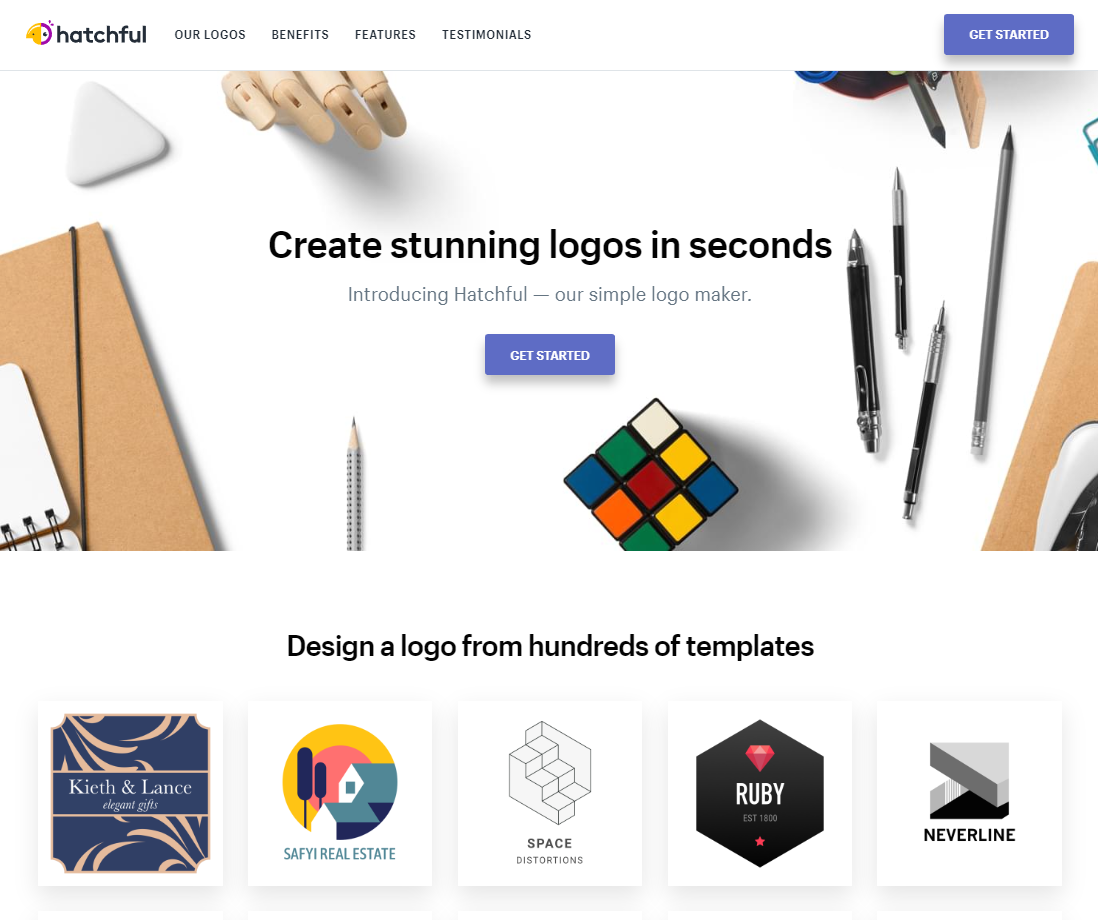 Hatchful is known as a simple logo maker that can create stunning logos in seconds. Busy entrepreneurs can generate high-resolution logos in just a few clicks – no design experience necessary.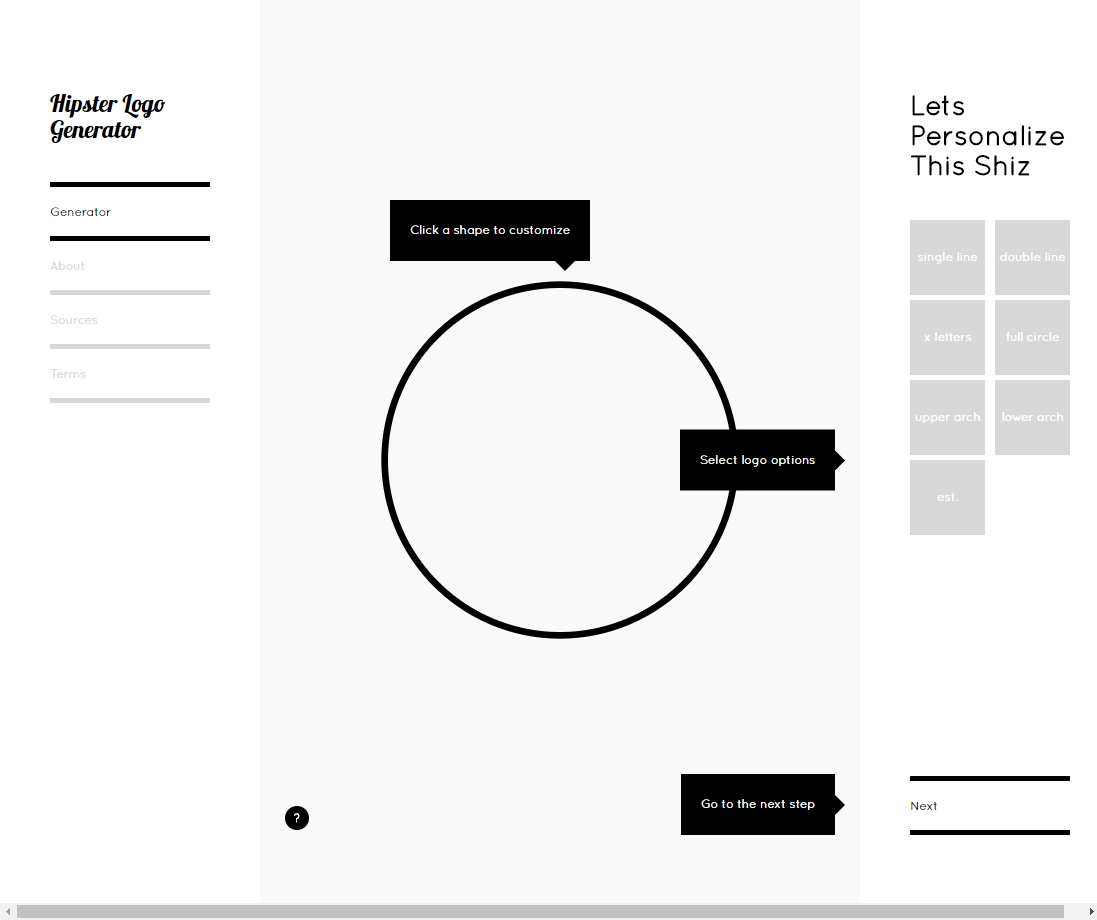 For free logos that are hip, stylish, and on trend, look no further than the Hipster Logo Generator. Naturally, these designs are sure to be a hit with the coffee shop crowd.
You can download the standard 600 x 500 px files for free, and higher resolution options are only $5 (about as much as an half-caff, extra hot, no foam hipster latte).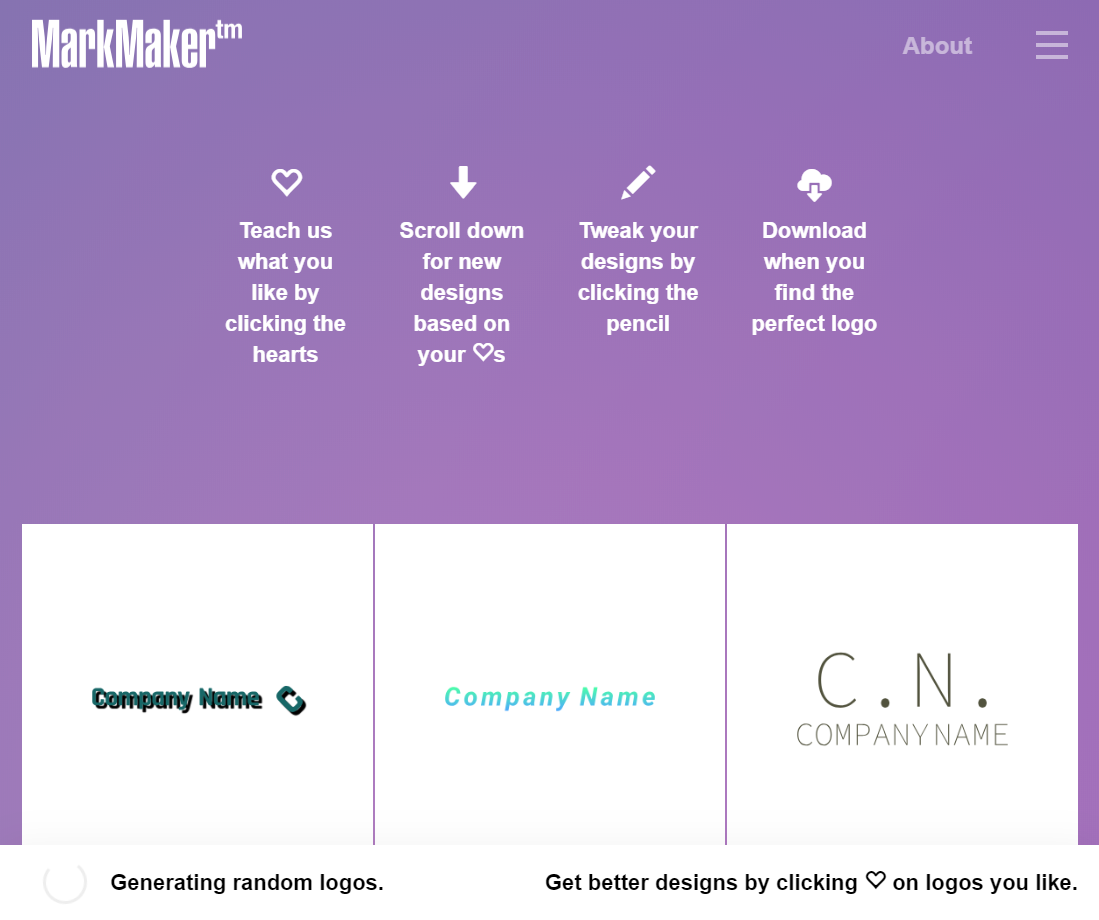 Mark Maker's software is still considered a prototype, but it's one of the most fun logo creators on the market. It generates logos based on your business name and then refines them based on the feedback you provide by "liking" the logos that appeal to you.
As you use it, the system tries to learn your preferences and understand the visual vernacular you'd like to associate with your company.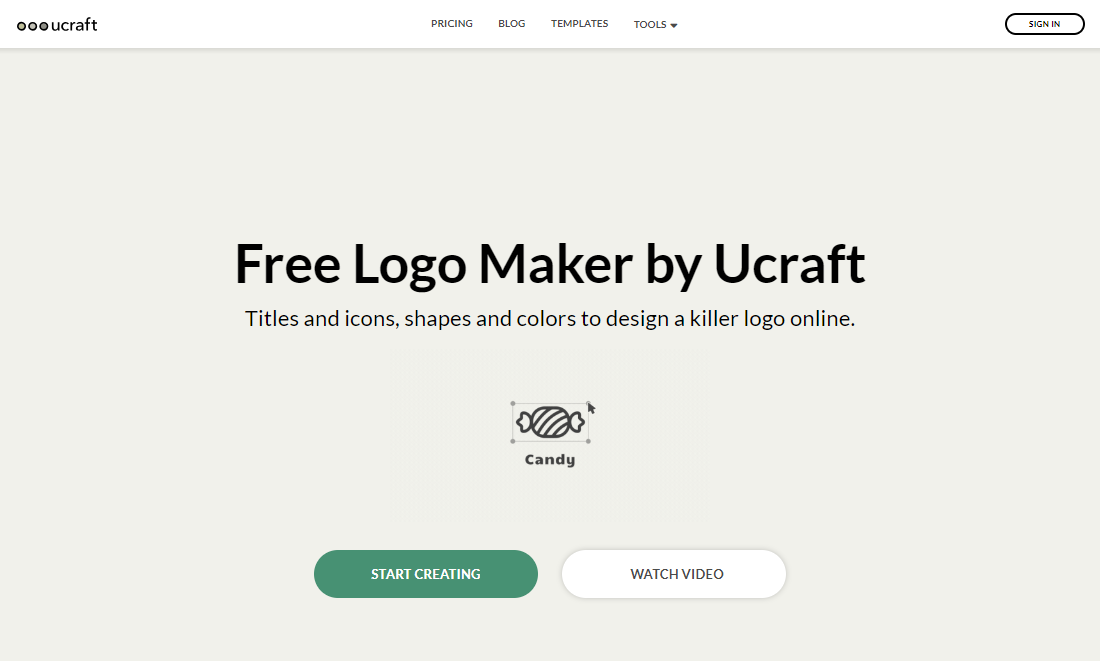 This free logo maker is perfect for creatives who want to tap into their inner designer. Users have complete freedom to experiment with icons, shapes, and colors to create killer custom logos.
Finished files can be exported in PNG format for free or in SVG format for $12.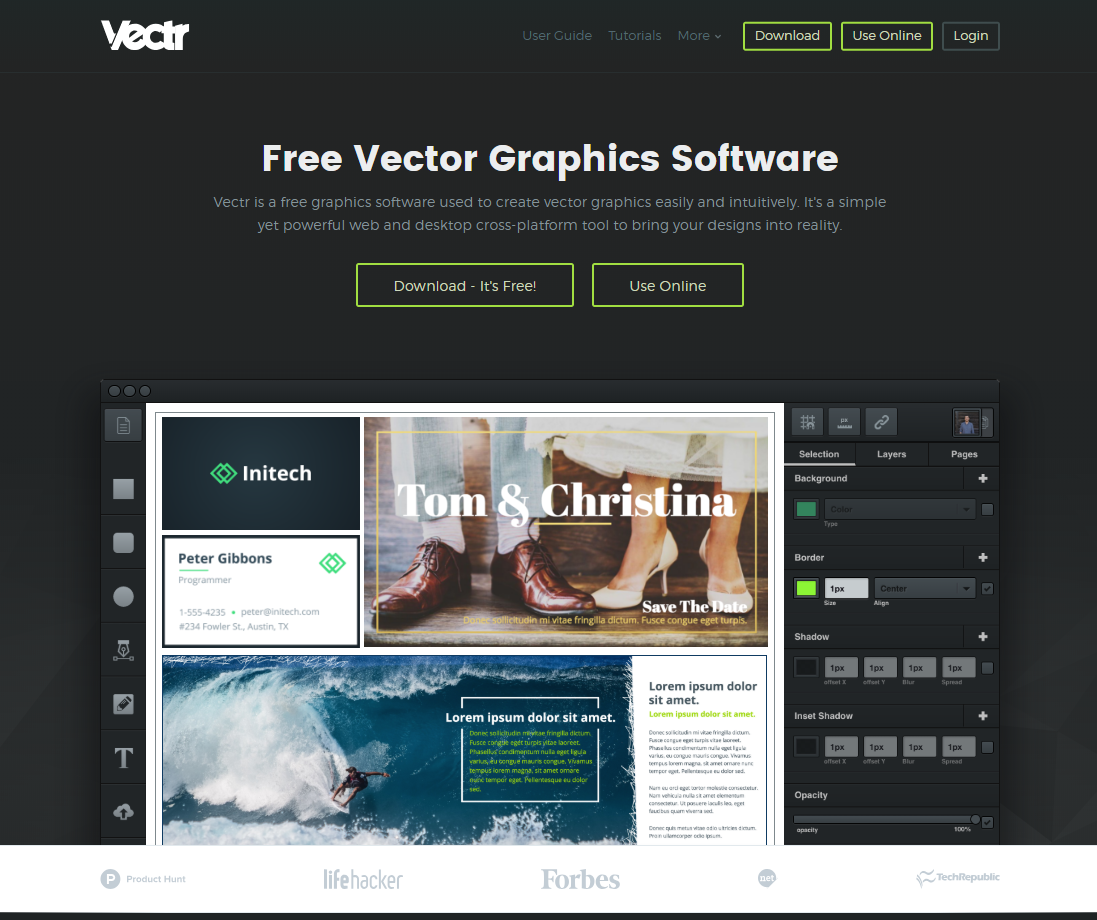 Vectr is a free graphics editor that allows users to create and edit graphics easily and intuitively. You don't need to have a background in design to use their logo design software, but it is more advanced than most of the other options on this list.
If you're not intimidated by doing some of the design work yourself, Vectr could be a great option for you. They also have a user guide and helpful tutorials that cover their design tools, features, and shortcuts if you get stuck.
Bonus: all of the files you create will be high-resolution at no extra charge.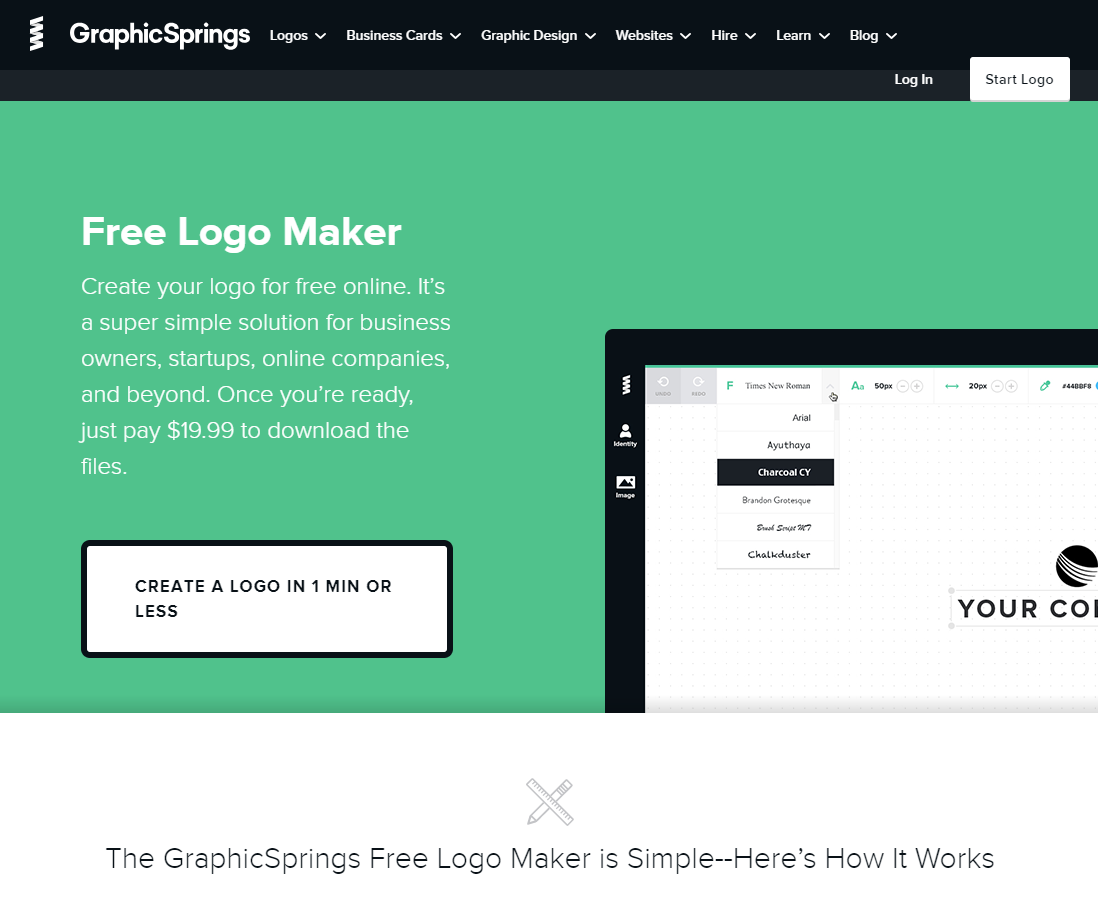 This powerful logo maker is almost like working with a designer. With seemingly endless options for customization, the GraphicSprings platform is one of the most impressive in the industry.
Best of all, the design tool is free to use – just pay $19.99 to download the files once the logo is perfect.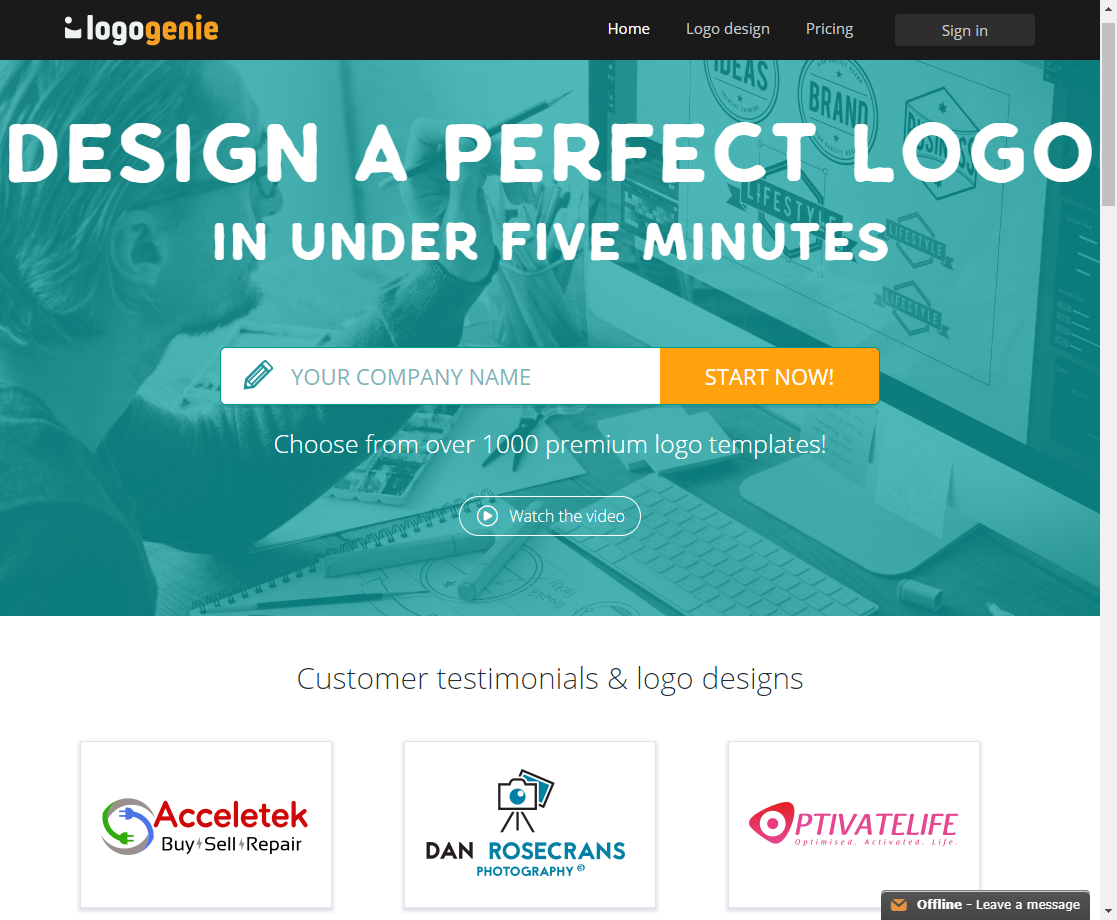 Logo Genie offers over 1,000 premium logo templates so entrepreneurs can handle logo creation themselves, even if they have no design experience. Simply enter your company name, choose your favorite icon, and use their tools and styling effects to customize to your liking.
High-resolution vector files (PDF, SVG) are available for $10, which we recommend for premium quality printing.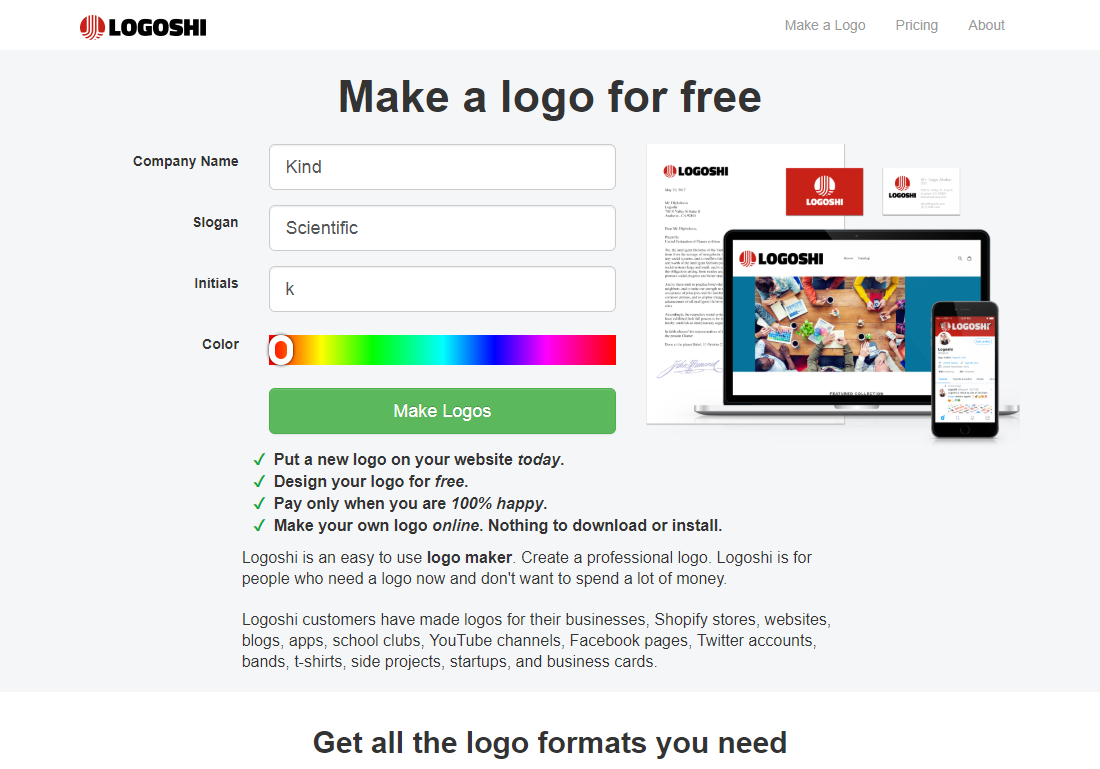 This free logo creator is similar to others that generate results based on company name, slogan, initials, and color scheme. BUT unlike many other logo design tools, Logoshi allows users to sketch their own custom logos. Their software then uses your drawing to generate a variety of stunning designs to choose from.
Pricing starts at just $5 for high-resolution PNG files, making it perfect for new entrepreneurs who need a truly custom design without the designer price tag.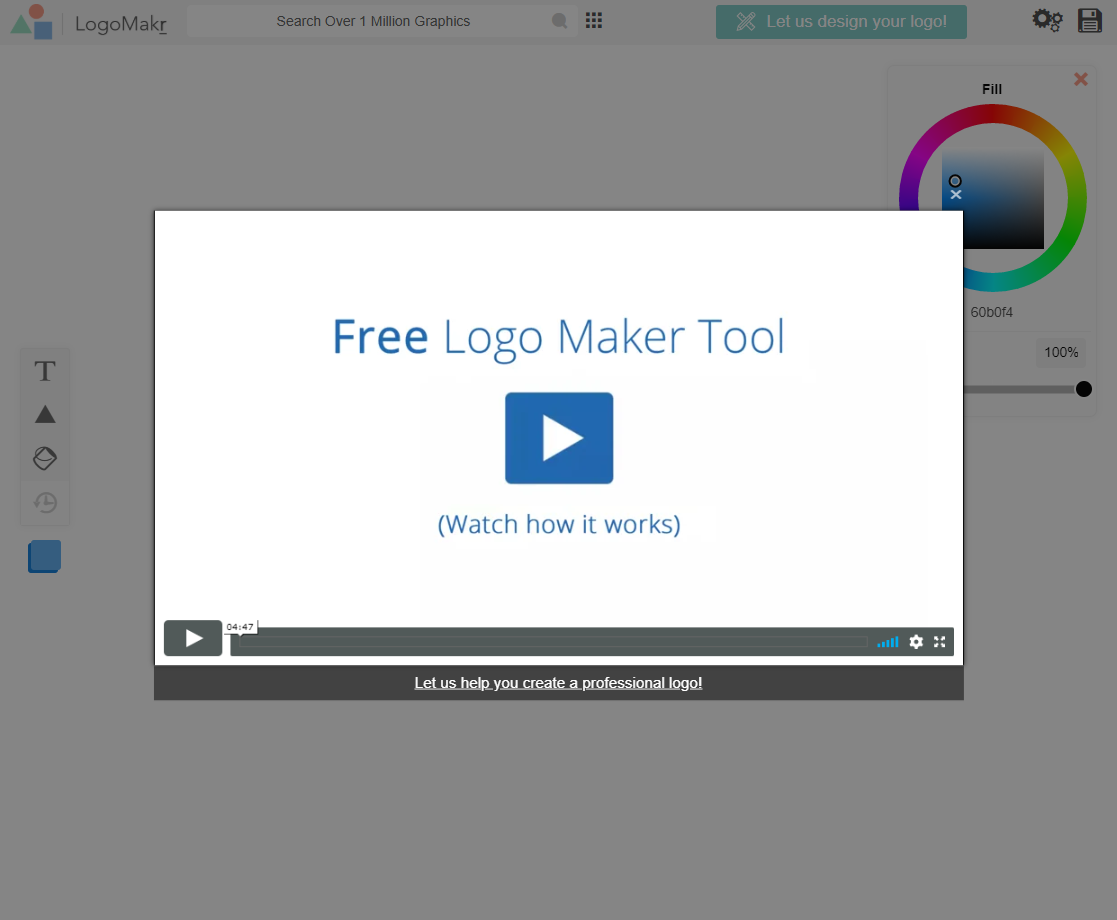 LogoMakr's free logo creator contains hundreds of unique fonts and over 1 million stock icons. In addition to free logo creation, they also offer logo redesign services ($195), custom logo design ($299), business card design ($259), and vector files for printing ($19).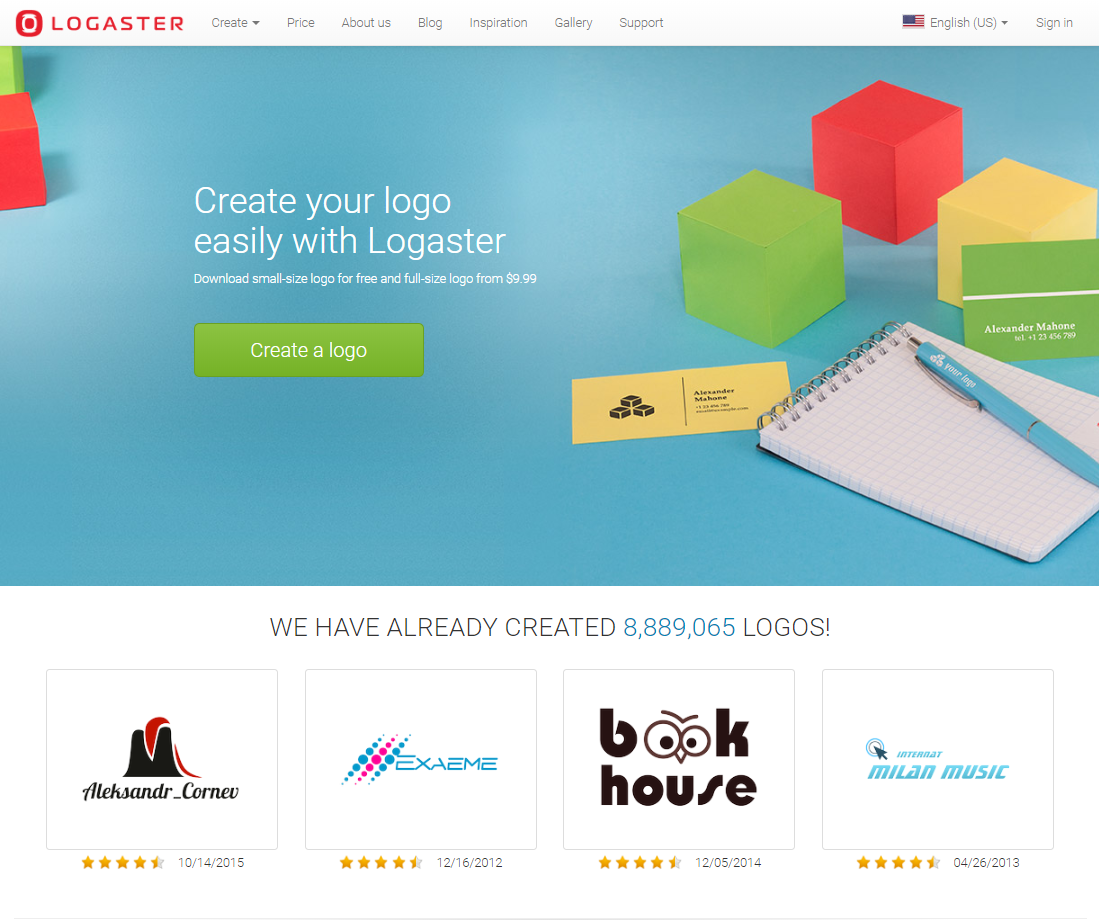 This logo creation wizard has an enormous selection (over 8 million and counting) of free logos available through their online logo generator. After entering the name of your business, you'll be able to preview sample logos on letterhead, business cards, Social Media icons, and other branded business materials.
They offer one small logo file for free, but you must purchase a logo to get high-resolution files and full rights for commercial and non-commercial use.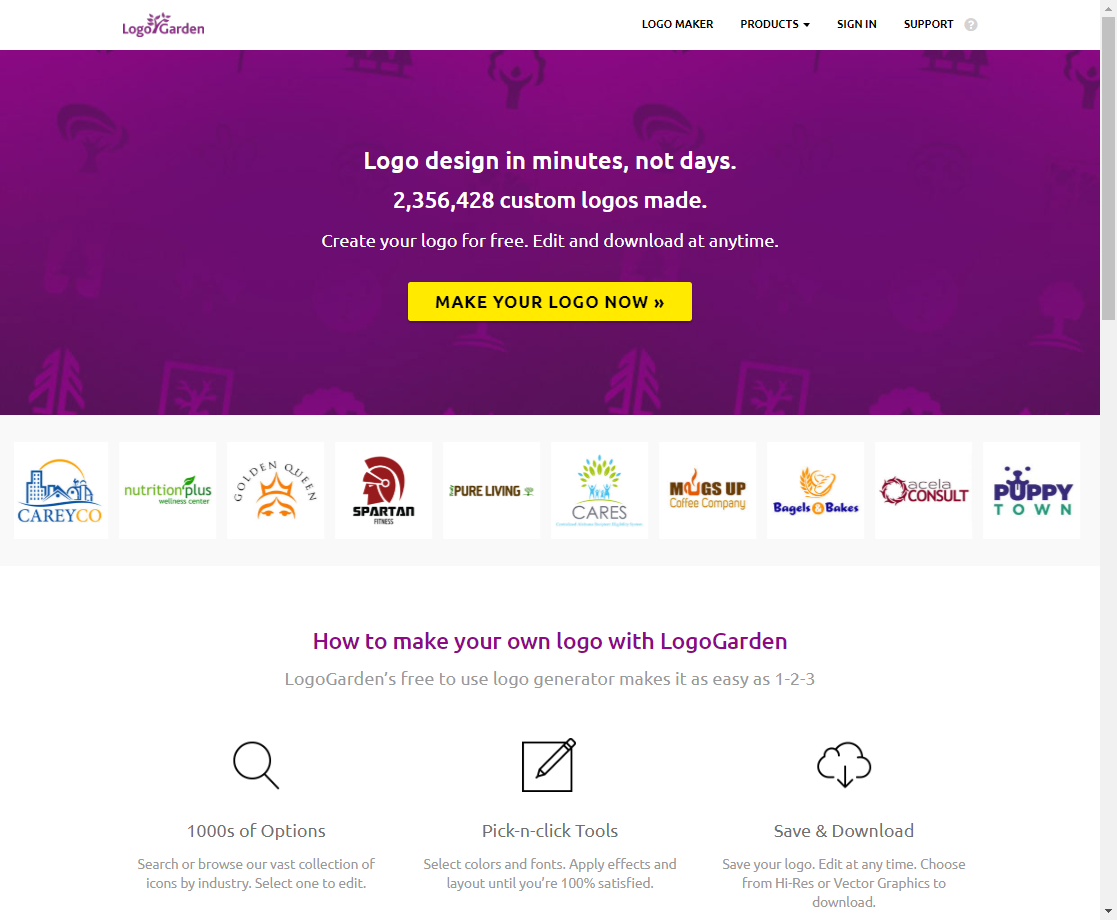 LogoGarden was founded by graphic designers with decades of experience building global brands. Their free online logo creator offers an impressive variety of design tools, font options, color schemes, and editing features.
LogoGarden also offers professional logo design services for those interested in hiring a graphic designer.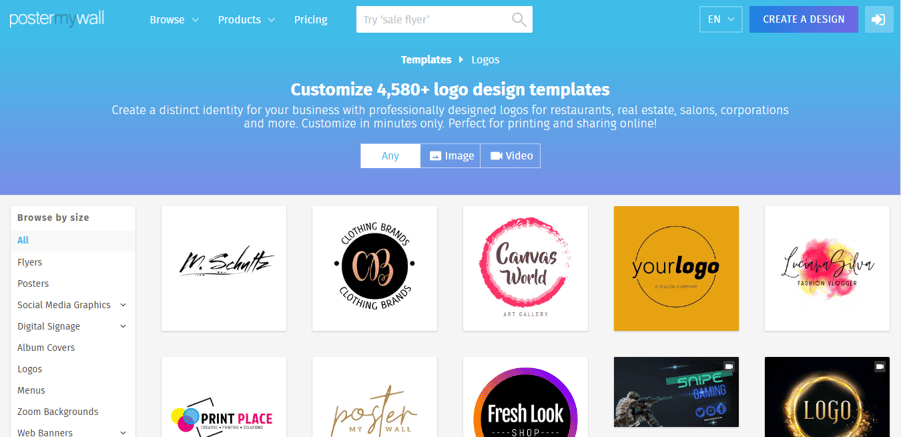 PosterMyWall lets you create stunning promotional graphics and videos without needing any design skills.
Among its many features it has an amazing logo maker with thousands of logo design templates.
Simply select a template you like, customize with their wide range of design tools and download!
Small fees only apply if you need a high resolution file of your design and they can be as low as $2.99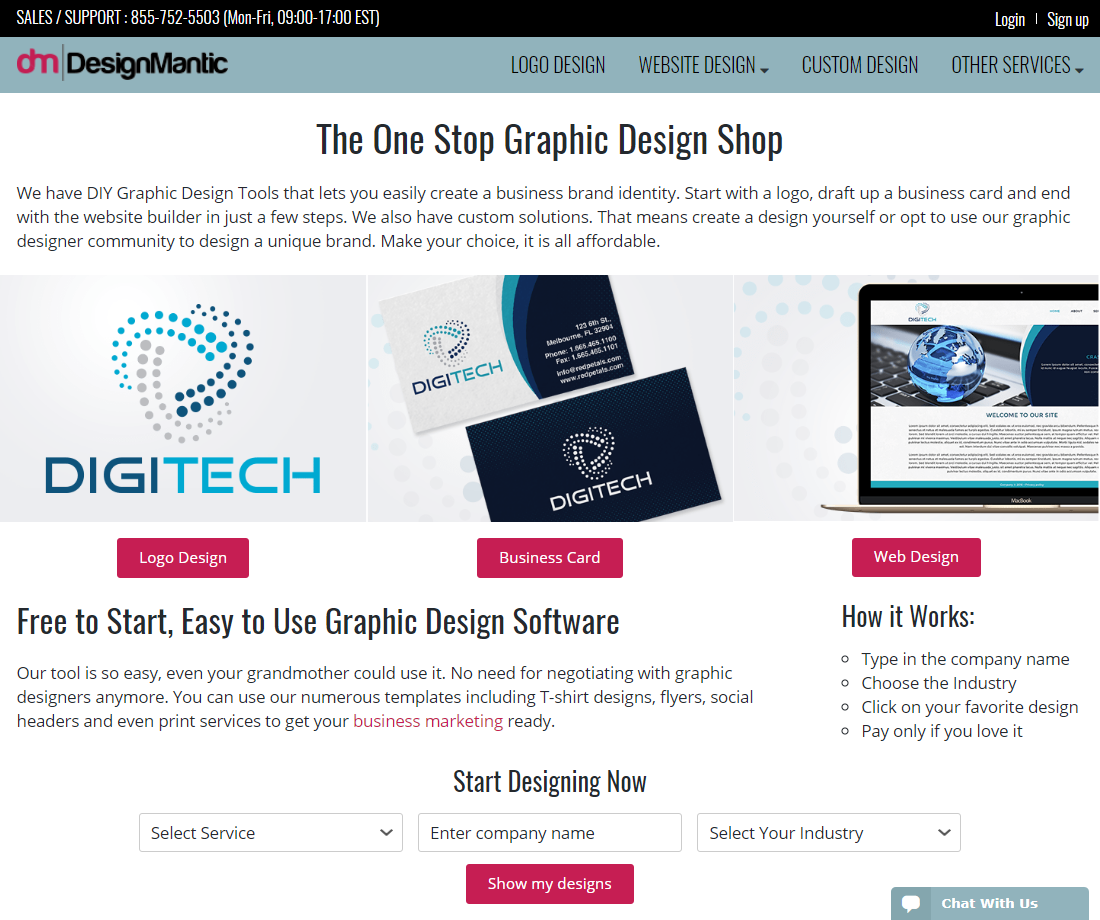 DesignMantic is a one-stop graphic design shop that offers DIY graphic design tools for brands and businesses. Their free logo design software features a database of readymade design templates created by professional logo designers with experience in the art of brand identity design.
They also offer custom design services – the choice just depends on your budget, timeframe, and design capability.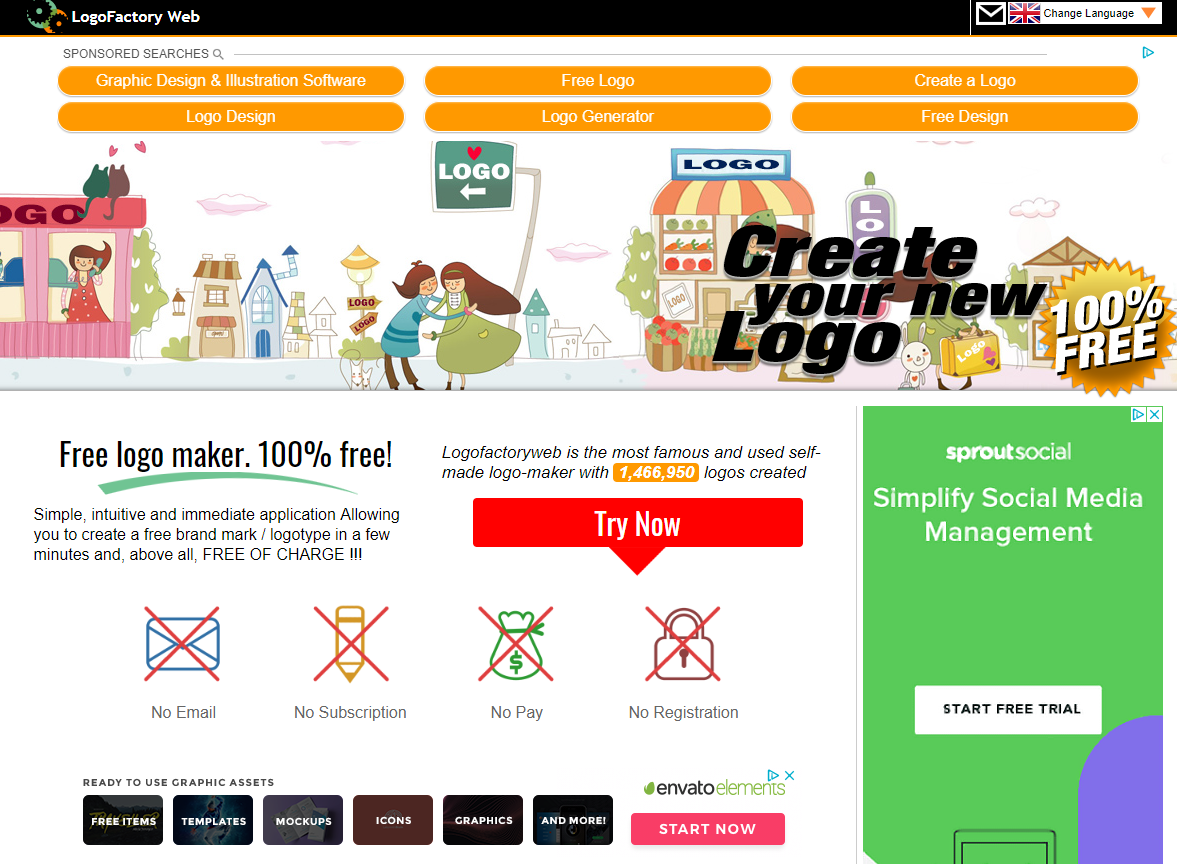 Logo Factory is a great option for Wordmark style logos, which are font-based logos that focus on a business' name without any icons or symbols (think Google, Instagram, Microsoft, Visa, and Coca-Cola). Simply enter your business name to start experimenting with font styles and color options.
Transparent PNG files are free, but you'll need to pay $25 if you need vector files.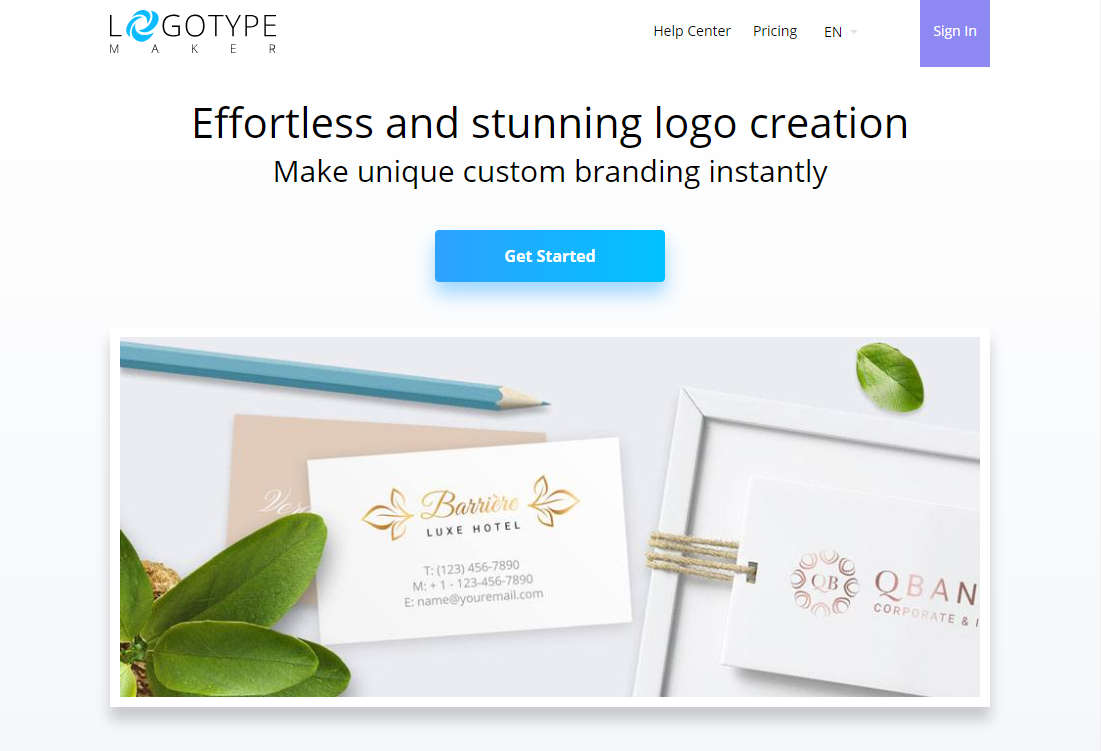 By merging hundreds of shapes, icons, and fonts into their logo editor, the LogotypeMaker software makes logo creation effortless and enjoyable.
They also offer a mobile app that lets you handle the entire process – creating a logo, customizing, editing, and downloading the finished files – right from your smartphone.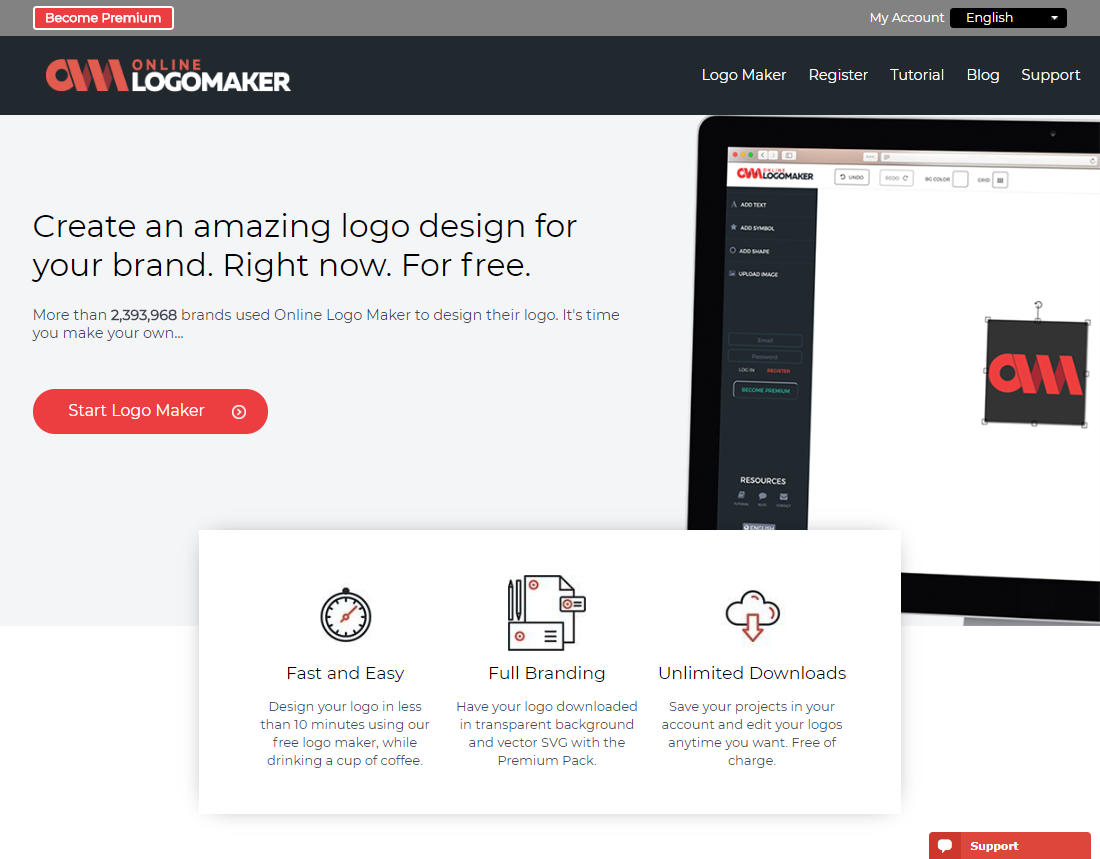 More than 2 million brands have used Online Logo Maker to design their logos. They offer two options: free (300 px) or premium ($29 for high-resolution 2000 px/ 300 DPI and vector files).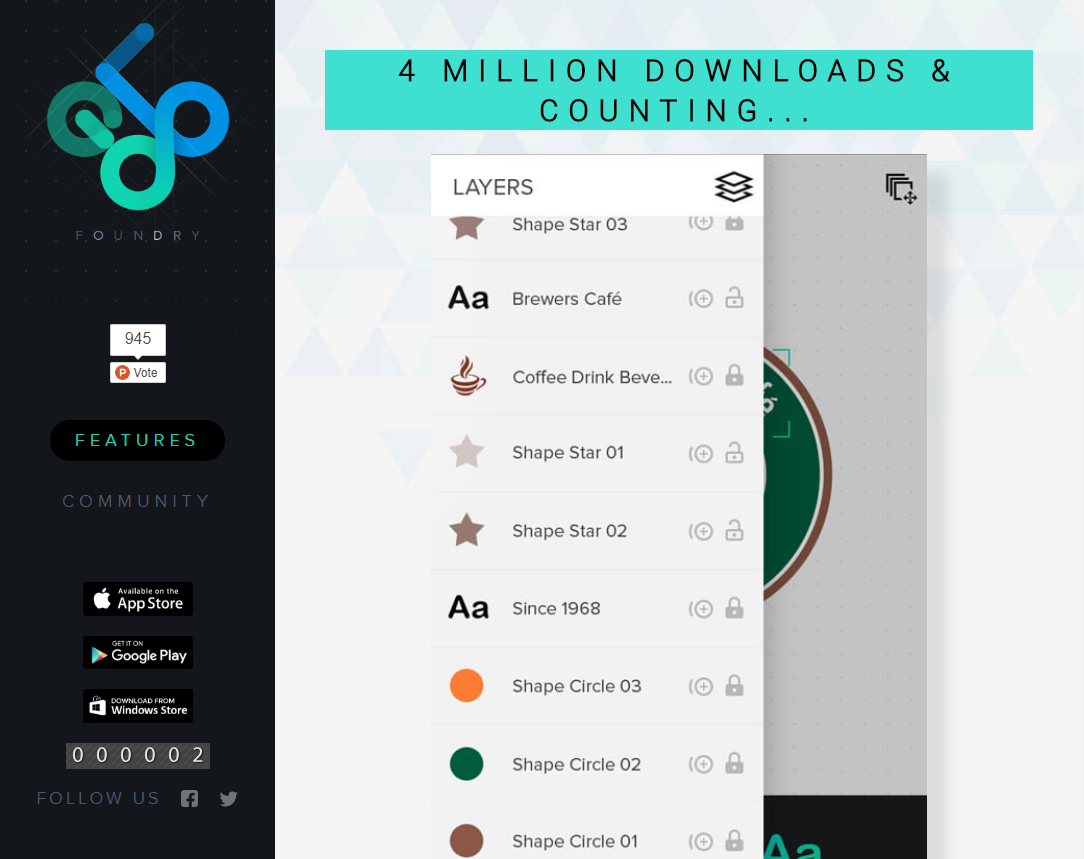 The best part of this logo maker is the Logo Foundry community of designers. The Community Shared Logos section makes it super easy to share your own logo designs and download logos created by others.
The Logo Foundry design suite includes professional layer management functions that make the design process easy and fun. They also offer advanced text editing tools that create stunning typography – perfect for wordmark or lettermark logos.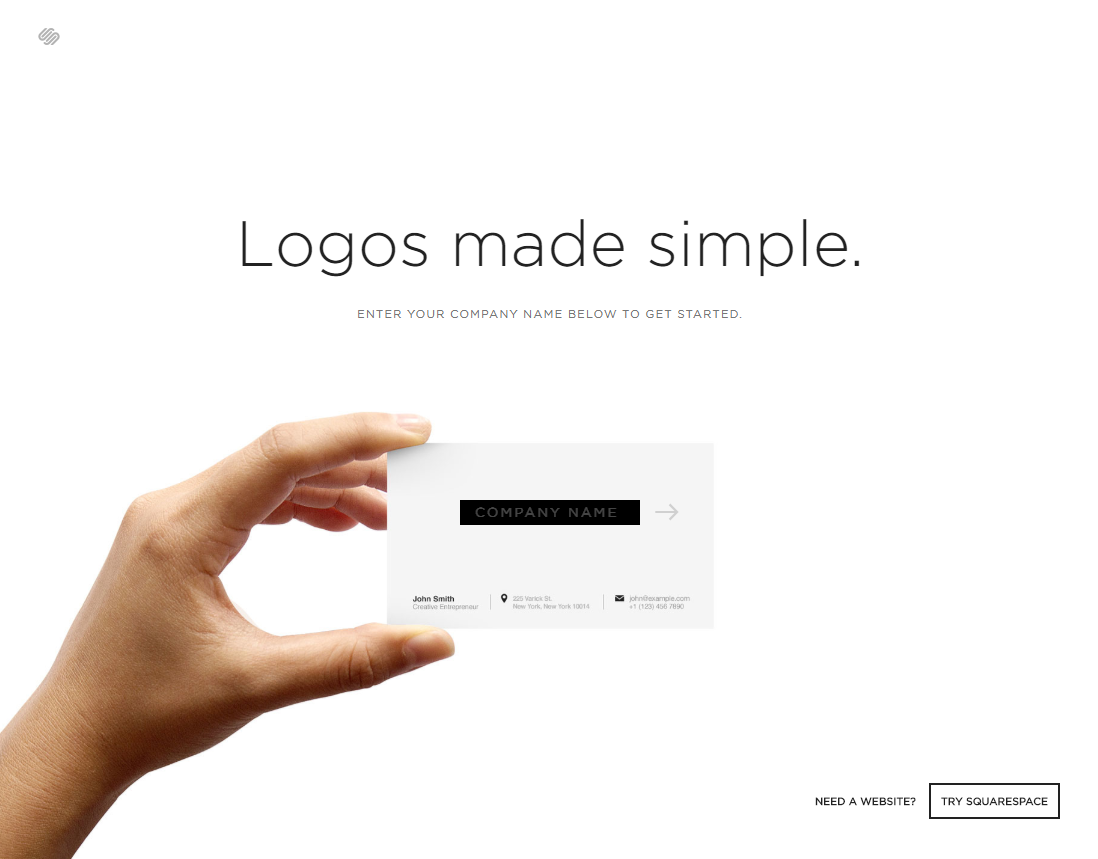 Squarespace's slick interface makes logo creation simple. The drag and drop software streamlines the design process to create memorable logos that rival those of a professional graphic designer.
As you work, your logo is displayed simultaneously on a business card, a computer screen, and a t-shirt – so you can see in real time how it will appear in print, online, and on business merchandise.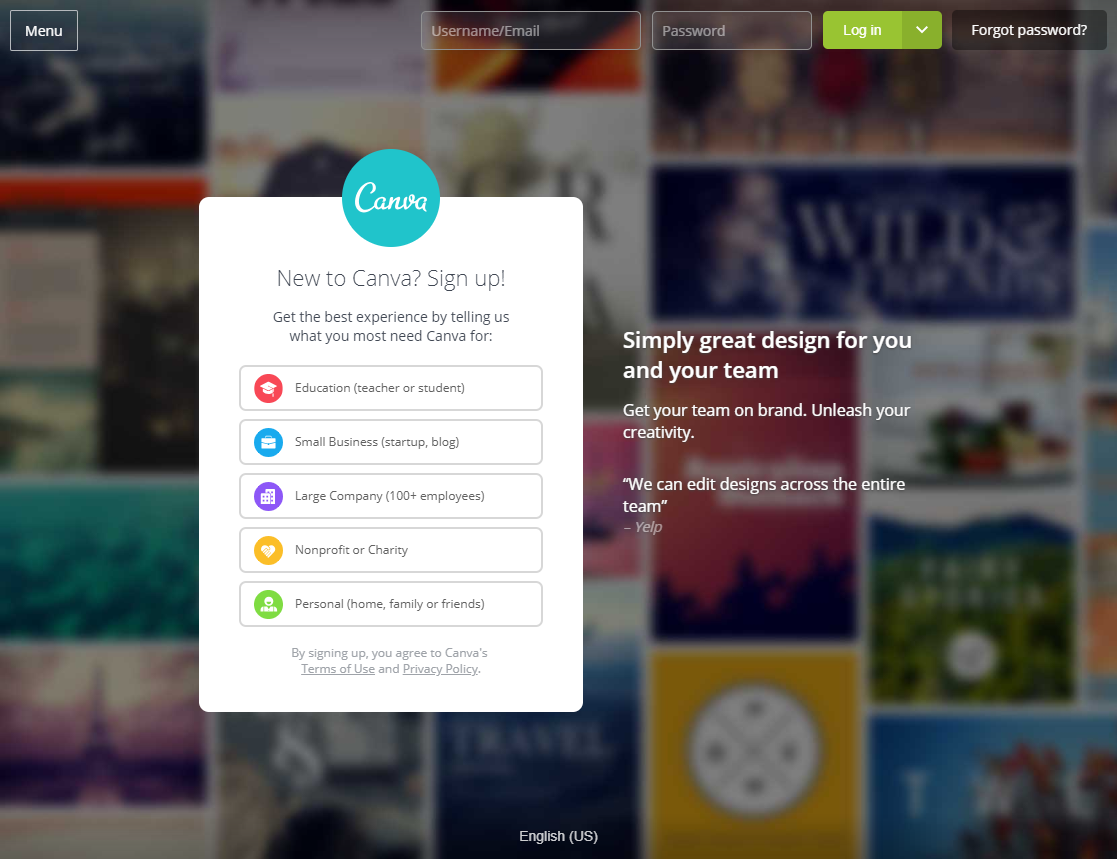 Unlike most other free logo creators, Canva doesn't charge a fee for high-resolution files. Their library offers plenty of free elements, and premium features are priced at just $1.
The Canva drag and drop interface is great for those who have little or no design experience. Plus, if you download their app, you can design your own custom logo right on your phone.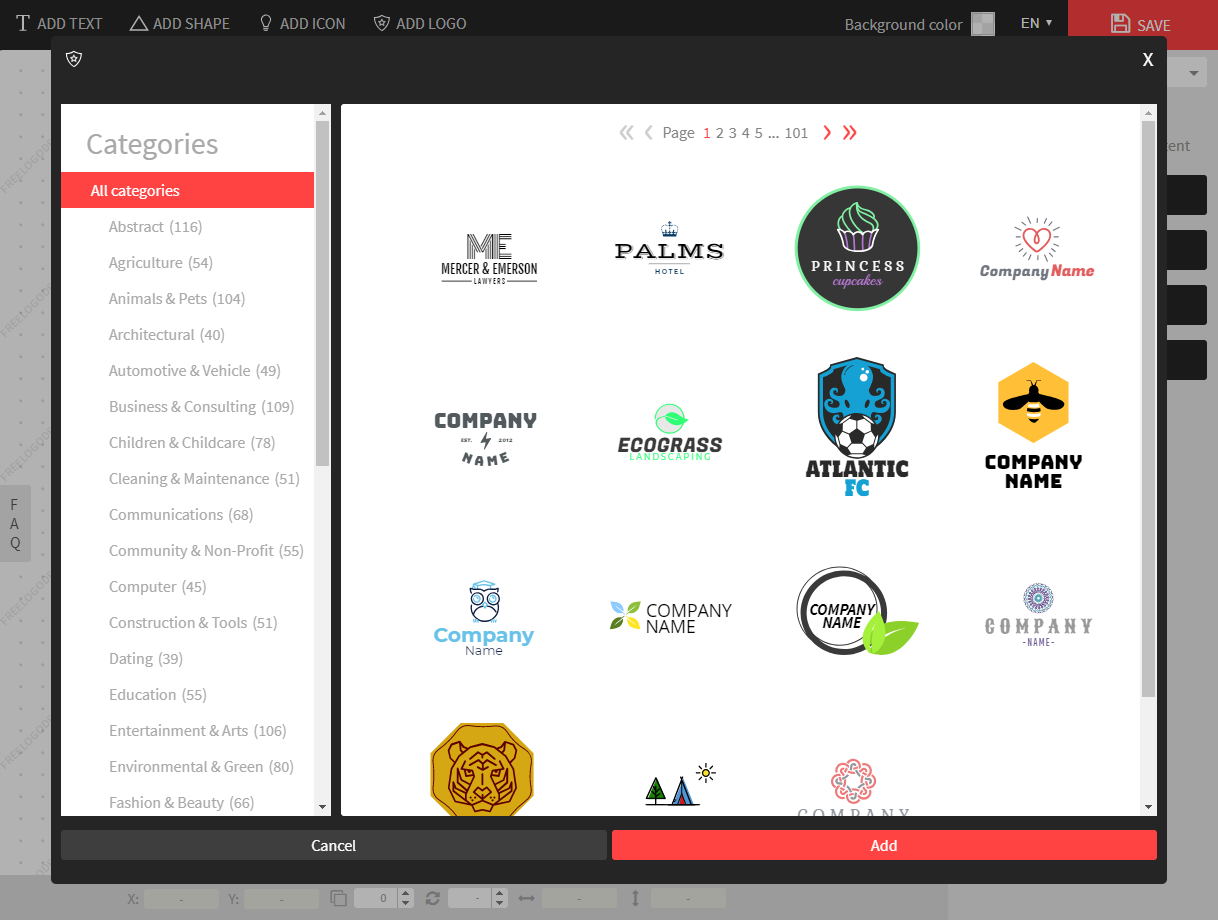 Unlike other free logo makers, Design Free Logo offers professional logo designs in 3D that really pop onscreen. These 3D designs are particularly memorable and can be a great way to differentiate your company from the competition.
The logo maker is free to use, but you'll need to pay $19 to download the files if you decide to move forward with a logo from this site.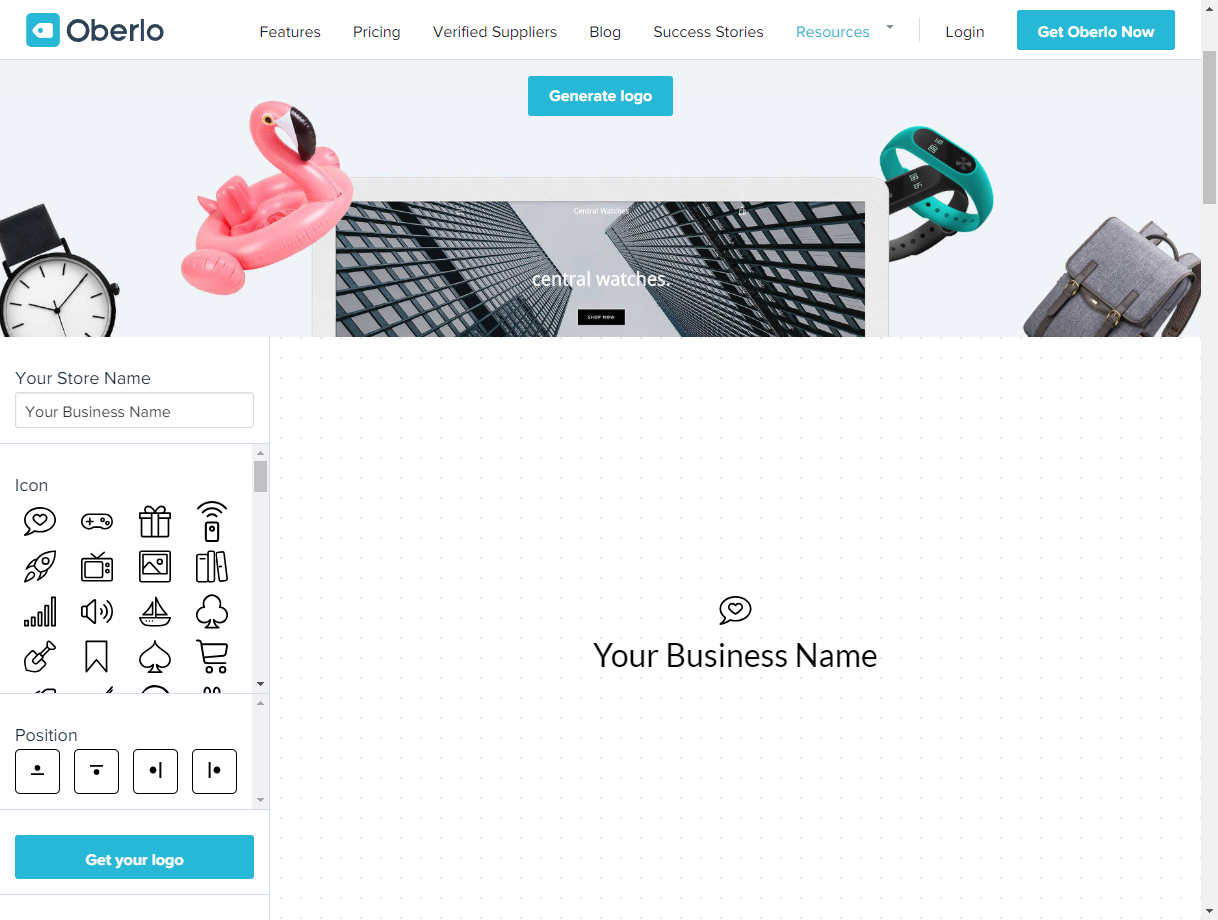 This free logo maker allows users to play around with fonts, colors, icons, and spatial positioning until they find the perfect combination for their style and preferences.
Once you create the perfect logo, Oberlo will email you the files for free.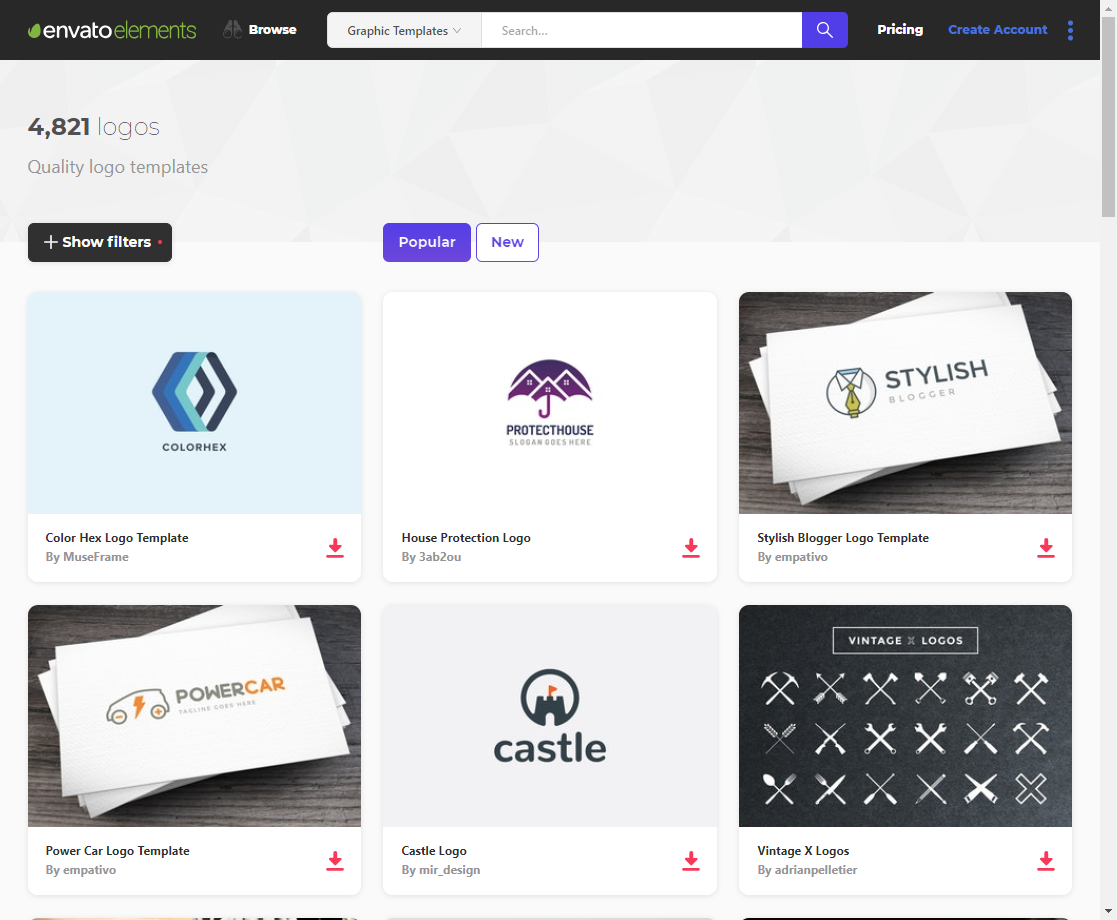 If you don't have any luck with a logo maker tool, you might want to try designing your logo in Photoshop with the help of premade templates. Envato has an extensive collection of high quality templates in categories like Trendy Vintage Logos & Badges and Retro Industrial Logo Designs.
Of course, you'll need to have Photoshop (or a similar tool) on your computer and knowledge of how to use the program. Feel free to browse their selection of simple logos compatible with Adobe Illustrator to find one that works for your business.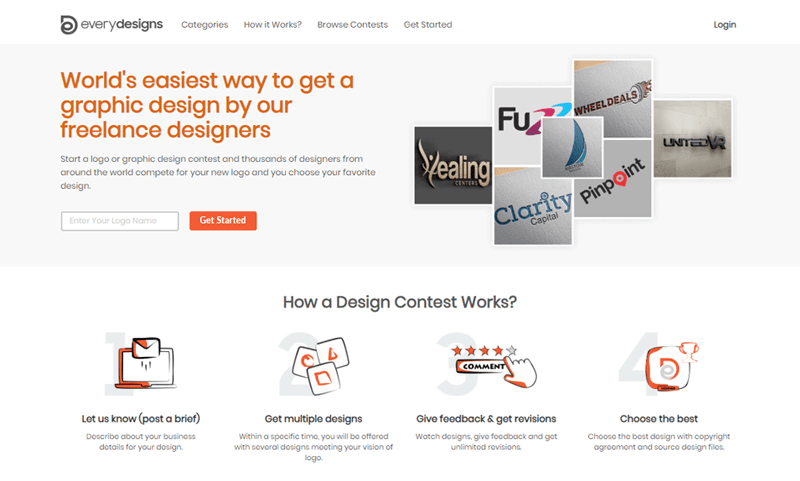 EveryDesigns is a crowd sourcing platform where you get thousands of professional designers competing for your graphic design work. The best part of getting a design from here is that you get unlimited design concepts crafted by unlimited designers and a 100% money-back guarantee.
All you have to do is organize a design contest and choose the contest winner. After selecting the winner, you will receive a full copyright agreement along with high quality logo design with all extensions (.AI, .PSD, .JPG, .PNG, .PDF).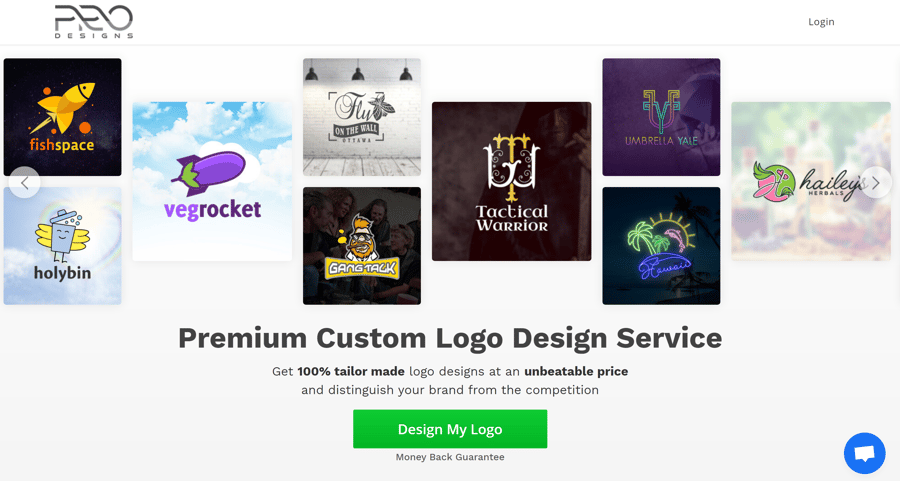 ProDesigns offers unique and creative logo design services that makes your logo appealing. It's an excellent place to craft a custom logo design as per your requirements, and their expert and talented designers never fail to deliver the world-class design for you.

Cost-effective and quality of work are their aim and also the primary reason why they are the first choice for many satisfied customers across the globe.
The Makings of a Great Logo
Most logo designers agree on the following principles of great logo design:
Simplicity: the design should be simple, clean, and easily recognizable.


Memorability: it should be easily identifiable so people only have to spend a second or two to get it.


Timelessness: ask yourself if the same logo will work in 5, 10, or even 20 years.


Versatility: the logo should work across various media and within different contexts.


Appropriateness: the design should resonate with the intended audience.
It's not hard to think of some examples of great logos that meet these criteria: the Starbucks mermaid, the Twitter bird, the Target bullseye, and the Apple apple are all iconic logos that are immediately recognizable in any context.
Logo Inspiration Galleries
The Internet is full of inspiration. If you get stuck, try these five sites for design inspiration: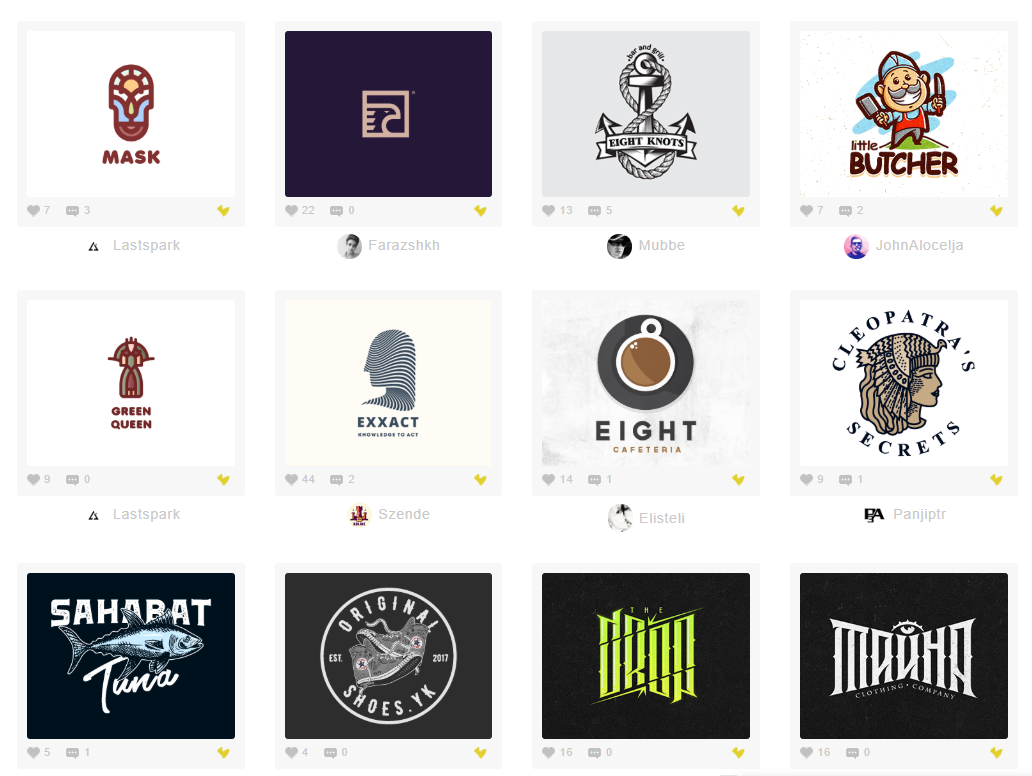 Creating Your Dream Logo
Your logo will be the face of your business, so it's important to get it right. Follow the design rules we've outlined for you here to customize your perfect logo and define your dream brand.
---