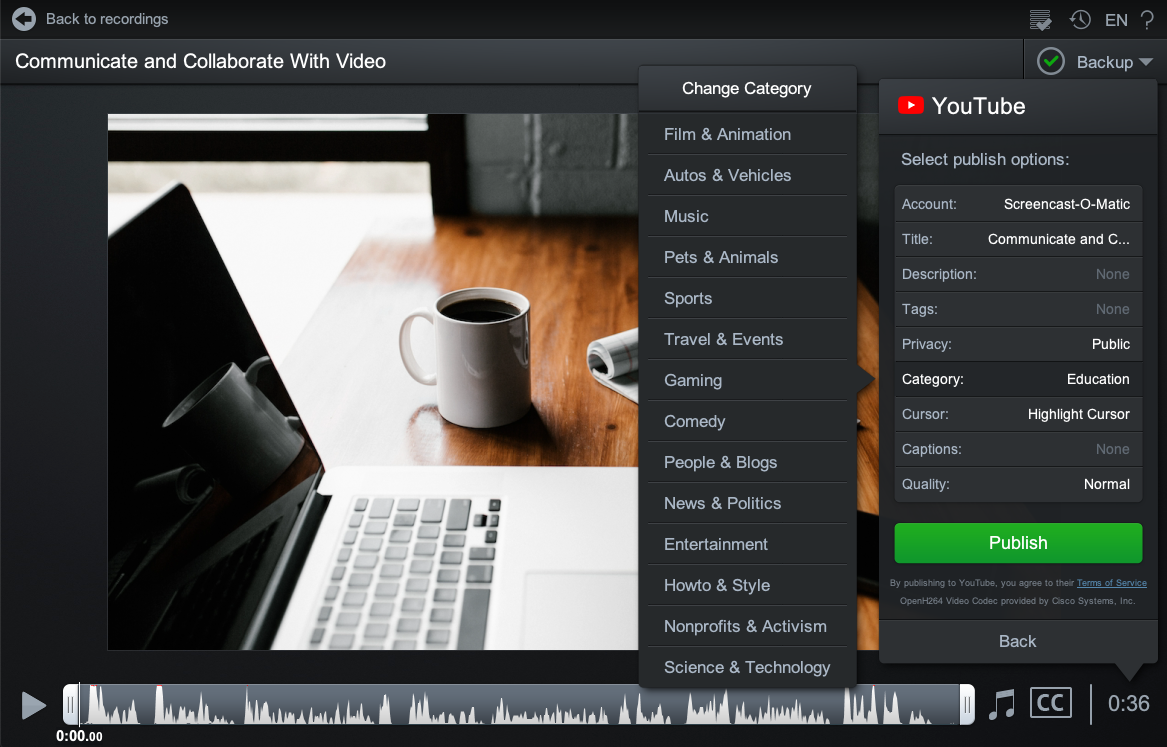 There's no denying the fact that videos are powerful tools for communication. Not only can they convey concepts and ideas faster and more efficiently than a photo ever could, but they're incredibly engaging. One look at recent marketing metrics and you'll wish you had been implementing videos as part of your marketing campaigns years ago. And, if you were one of video's early online adopters, then chances are you're still looking for ways to make the videos you post even more compelling.
Either way, every single online business needs to embrace videos — and the sooner, the better.
Of course, part of making professional videos for your business means utilizing the right online video editing software. With the right type of editing, even the most amateur shots can turn into something usable, if not downright effective. From SEO to increased conversions, boosted traffic and healthy lists, video marketing online can help.
So, whether you're looking for a new online video editing software to use for internet marketing or are just getting into the game altogether, below are the top ten best editing software to meet your video needs.
The Top 10 Online Video Editing Software for Internet Marketing
1. Apple iMovie
Designed specifically for Apple users, Apple iMovie is simple to use and yet still manages to create outstanding quality videos. Thanks to its super beautiful filters, Apple iMovie videos stand out in the crowd, which is exactly what online marketers should want. Another huge benefit to Apple iMovie is that it makes life easy for Apple fans, allowing you to AirDrop videos from your iPhone directly to your computer — no emails or attachments needed. And if you're looking to truly transform your videos, take a look at the green-screen included with Apple iMovie. This cool feature gives you all of the benefits of green-screens, which means you can take a movie you shot in your windowless office and make it look like you're relaxing on the beach instead. But, the best part? iMovie is totally free to use as soon as you purchase your Mac.
2. Lumen5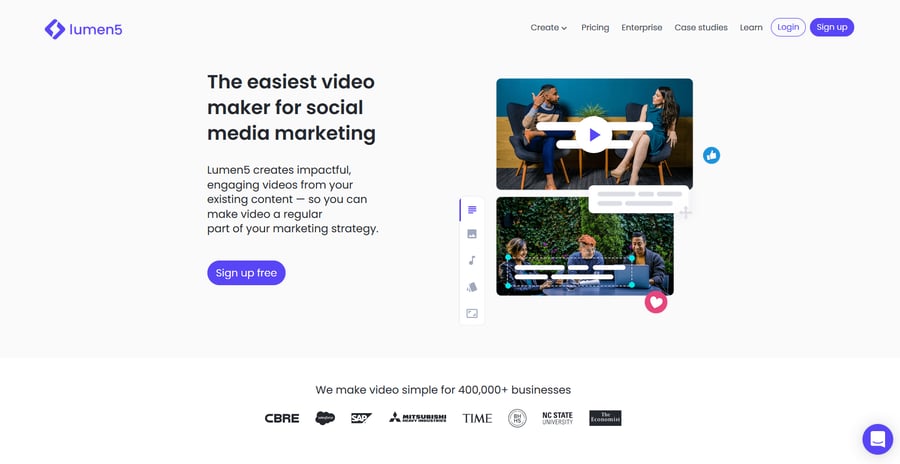 Although it's not technically software, Lumen5 stands out from other video editing tools because it makes editing fun and simple. By giving you the opportunity to repurpose and reimagine content, Lumen5 can make everything your business publishes more interactive, and therefore more compelling. Savvy internet marketers who know how to leverage the power of Lumen5 use it specifically for social media, creating videos instantly with other business content, like blogs or posts. Created with drag-and-drop use in mind, Lumen5 is worth the $50/month investment to most internet marketers looking to create 1080p HD. Of course, if you're just getting started, there's plenty Lumen5 offers absolutely free.
3. Adobe Premiere Pro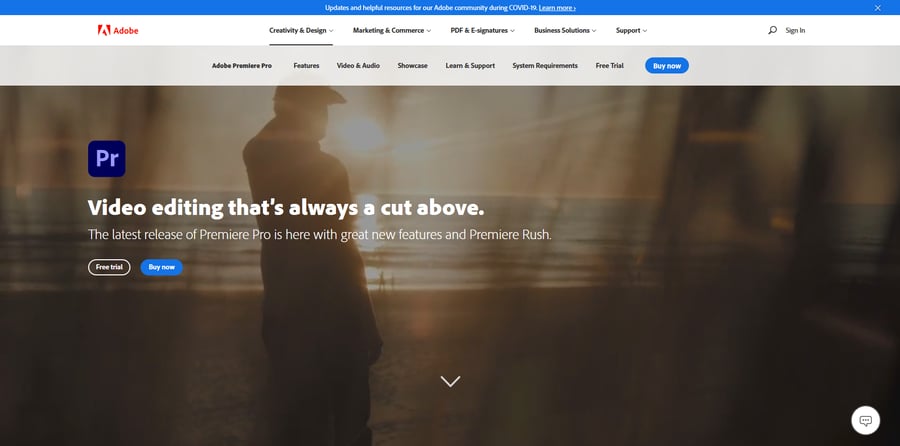 While Apple users have iMovie, Windows users get the advantage of Adobe Premiere Pro, which is an outstanding video editing tool that allows for things like 3D editing and multi-cam editing. Of course, Mac users can choose to use this software, too — and there are a lot of good reasons why they would. For example, the free app Adobe Premiere Rush can be downloaded to your phone in order to make editing footage with Adobe Premiere Pro that much more streamlined. Although it's not free (the software starts at $20.99/month), Adobe Premiere Pro quickly pays for itself when you're using it for internet marketing purposes. And if you're not sure just how much you're going to love working with it, Adobe Premiere Pro offers potential users a free trial, giving you enough time to learn the basics and see if it's the right tool for your videos.
4. HitFilm Express 14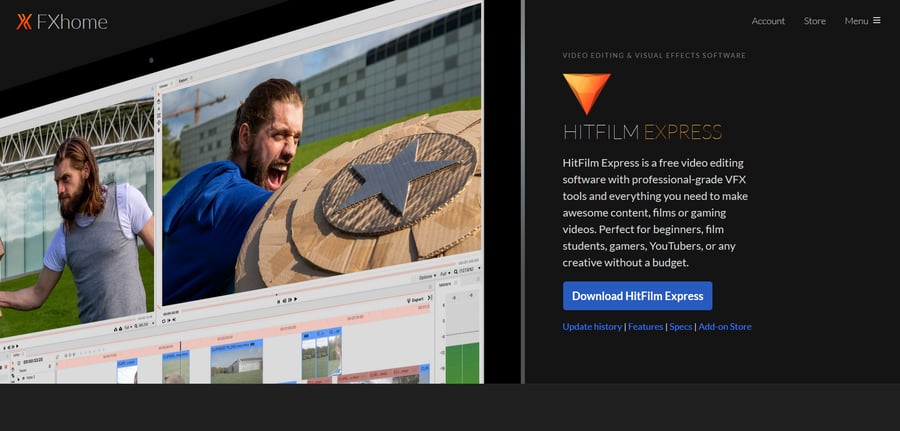 Often recognized as one of the top free video editing software solutions for internet marketers, HitFilm Express 14 works with both Windows and Mac. One of the reasons this editing software has become so popular with marketers is that it allows for customization, making it easier to do what you want to do in terms of editing more quickly and with less in the way. It's also super simple to learn thanks to drag-and-drop features that allow you to quickly apply a variety of special effects. In order to unlock some of the more advanced (or cool) features, HitFilm Express 14 does require users to pay a fee, but these prices are reasonable and validated because of what they deliver.
5. Corel VideoStudio Ultimate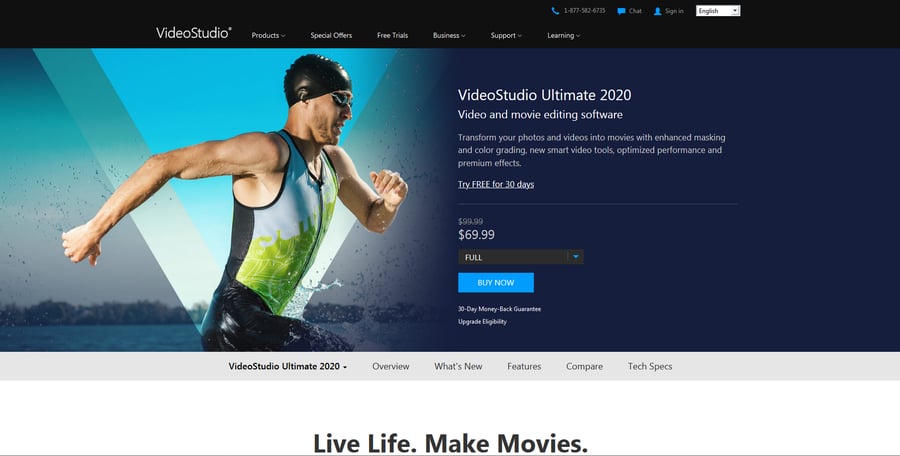 Although not as advanced as some video editing software, Corel VideoStudio Ultimate shines because of its simplicity, making it the perfect editing tool for users with little to no video editing experience. Corel VideoStudio Ultimate is only compatible with Windows, but for editors working on PCs it really is a top choice. Thanks to its advanced 360-degree editing features, Corel gives you the ability to do a variety of editing tricks, including creating visually stunning video collages.
6. Final Cut Pro X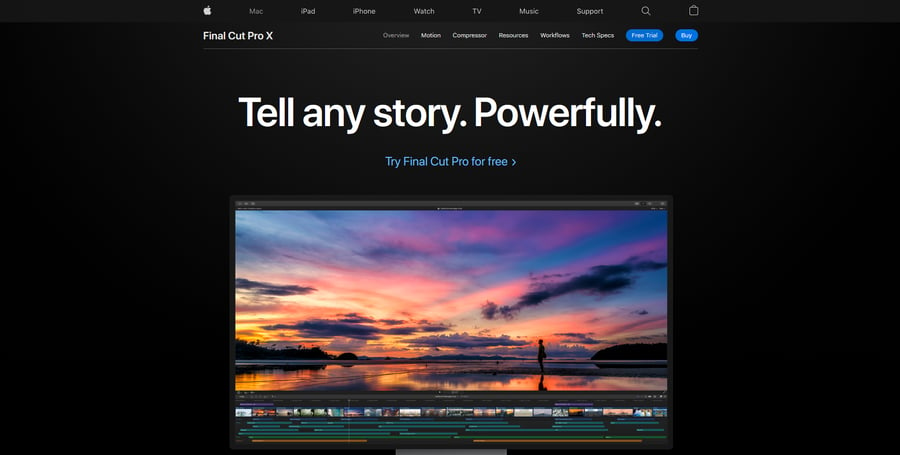 Sometimes perceived as a step-up from iMovie, Final Cut Pro X is the ultimate video editing software for Apple users. While its features are advanced, the beauty of Final Cut Pro X is that it's not difficult to learn how to use. And now that it's no longer a $999 investment (you can find it for just $99 on Amazon), Final Cut Pro X is more accessible than ever. One of the reasons why Final Cut Pro X is so popular with internet marketers is that its interface is designed for a dual monitor set-up, something many marketers find themselves utilizing on a day-to-day basis. Another reason video enthusiasts love Final Cut Pro X? There are plenty of effects to choose from post-production, including a robust assortment of video effects, audio effects, animation, and transitions. Oh, and it's super fast, too.
7. EaseUS Video Editor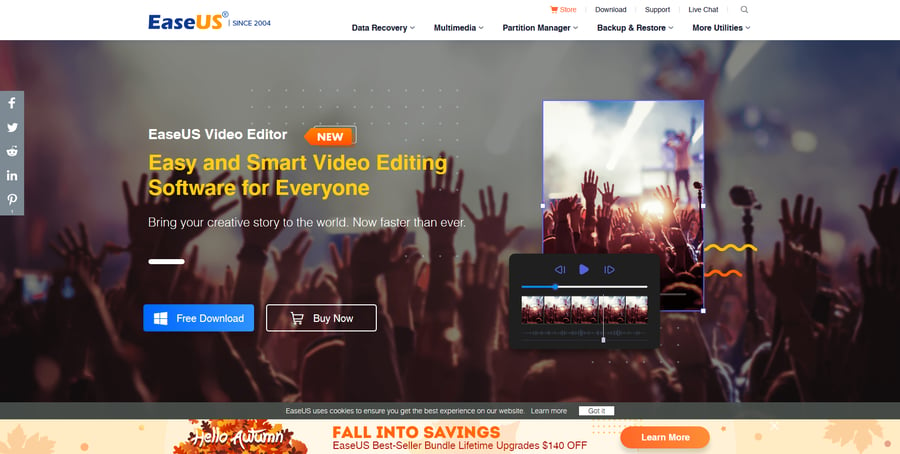 Relatively unknown to video editing newbies, EaseUS Video Editor is a great choice because it is so simple to use. With a great assortment of features to choose from, internet marketers can do all of the basic video editing they need for free and then upgrade to the pro version (a small $17.97 investment) if they want access to more advanced features. One of the easiest editing tricks to do with EaseUS is narrate over video, which can take cool footage and elevate it to a powerful marketing tool.
8. VideoPad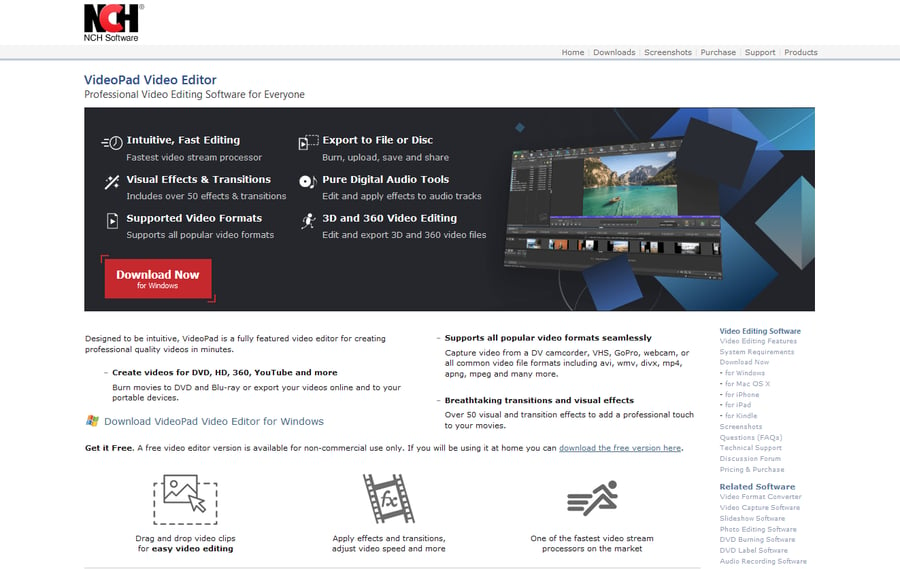 If YouTube is where most of your business's video marketing lives, then VideoPad is an ideal editing choice. Designed for Windows but still compatible for Macs, VideoPad makes quick work of getting oriented, which means you can start editing and publishing finished videos faster than most other editors. And while it's simple, VideoPad does allow for more advanced features, like the ability to edit 360-camera footage. It doesn't however, allow for motion tracking or multi-cam editing. So, if that's something you're looking for as an editor be sure to check out some of the other editing softwares on the list. If VideoPad does meet your requirements, you can get started with a free version before upgrading to the Master's Edition ($69) in order to get access to things like unlimited plugins and audio tracks.
9. Filmora9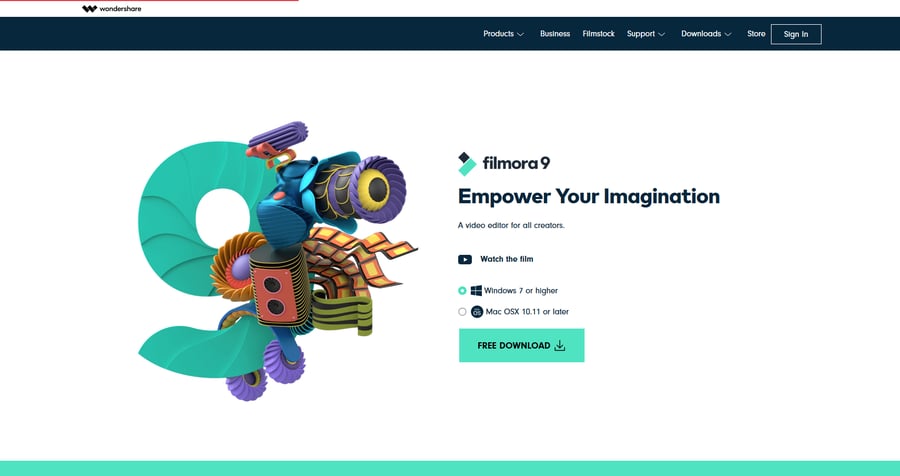 While not as robust as some video editing tools, Filmora9 offers plenty, especially if you're just getting started. Because it has a free trial available, it's a good idea to get acquainted with the features Filmora9 offers before purchasing. Most users who decide to continue using Filmora9 after the free trial make that decision because it's easy to use and the finished products really do look great. Built-in titles, filters, and other special effects (including royalty-free audio clips to add to your videos) help to make your videos more engaging, which means better results from your marketing efforts.
10. Pinnacle Studio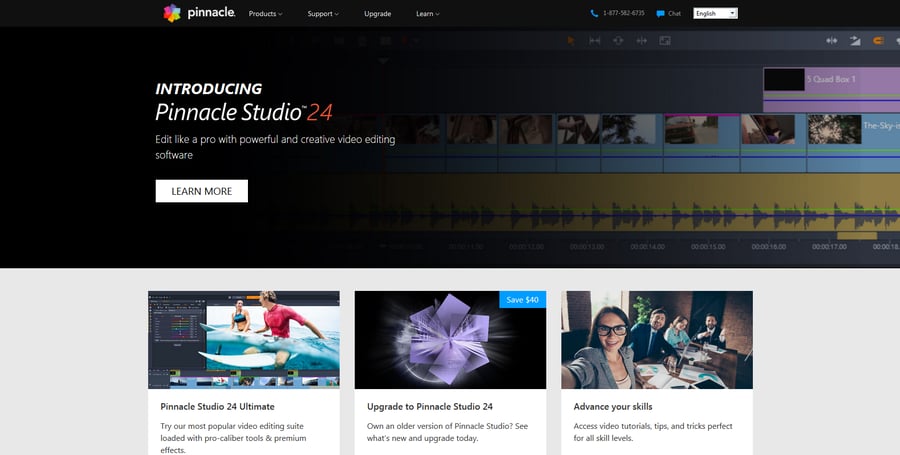 There's a lot to love about Pinnacle Studio for all video editors, but especially those who are also in the marketing world. Because of features like multi-camera capture and stop-motion animation, Pinnacle Studio can produce incredibly unique videos, ones that are perfect for building and growing an online brand. Easy to use, Pinnacle Studio accommodates even the most novice of users, giving them plenty to do and explore without the frustration and overwhelm of other editing tools. Curious? There's a great 30-day free trial you can take advantage of, which gives you time to explore the variety of cool editing features, including over 1500 effects, beautiful coloring tools, and ready-to-use templates.
11. Canva's Video Editor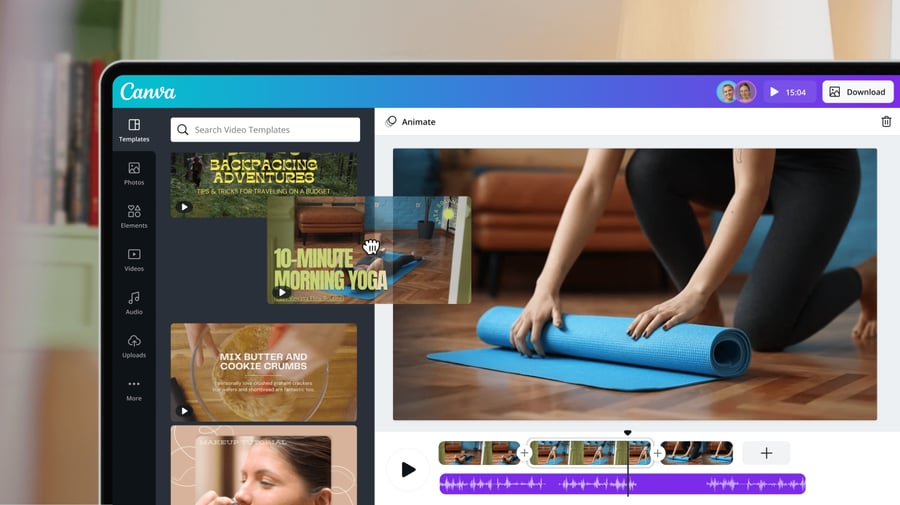 Canva's Video Editor is a comprehensive video creation tool that enables anyone to make and share professional-quality videos. Canva combines intuitive editing, recording, and collaboration tools, hundreds of customizable video templates, and a vast media library in one easy-to-use platform, which is available for free on the web, desktop, and mobile.
Because of the way it's set up, creating a video is "as simple as creating a presentation." As a result, the learning curve involved with working with new software will be reduced. With templates for TikTok Ads, YouTube Sets, office and corporate videos, as well as amusing Halloween and New Year's Eve templates, and other holidays, Canva makes it simple to get started on nearly any form of video for work or play.
Conclusion
Becoming fluent in video editing is one of the best things you can do in terms of internet marketing because it gives you a huge advantage over your competition. The difference between an edited video and a non-edited video is dramatic. But, thankfully, it doesn't take much to elevate your footage into something that will grab your audience's attention. By choosing one of these ten video editing software solutions, you can help your business explode, driving more traffic and boosting conversions.