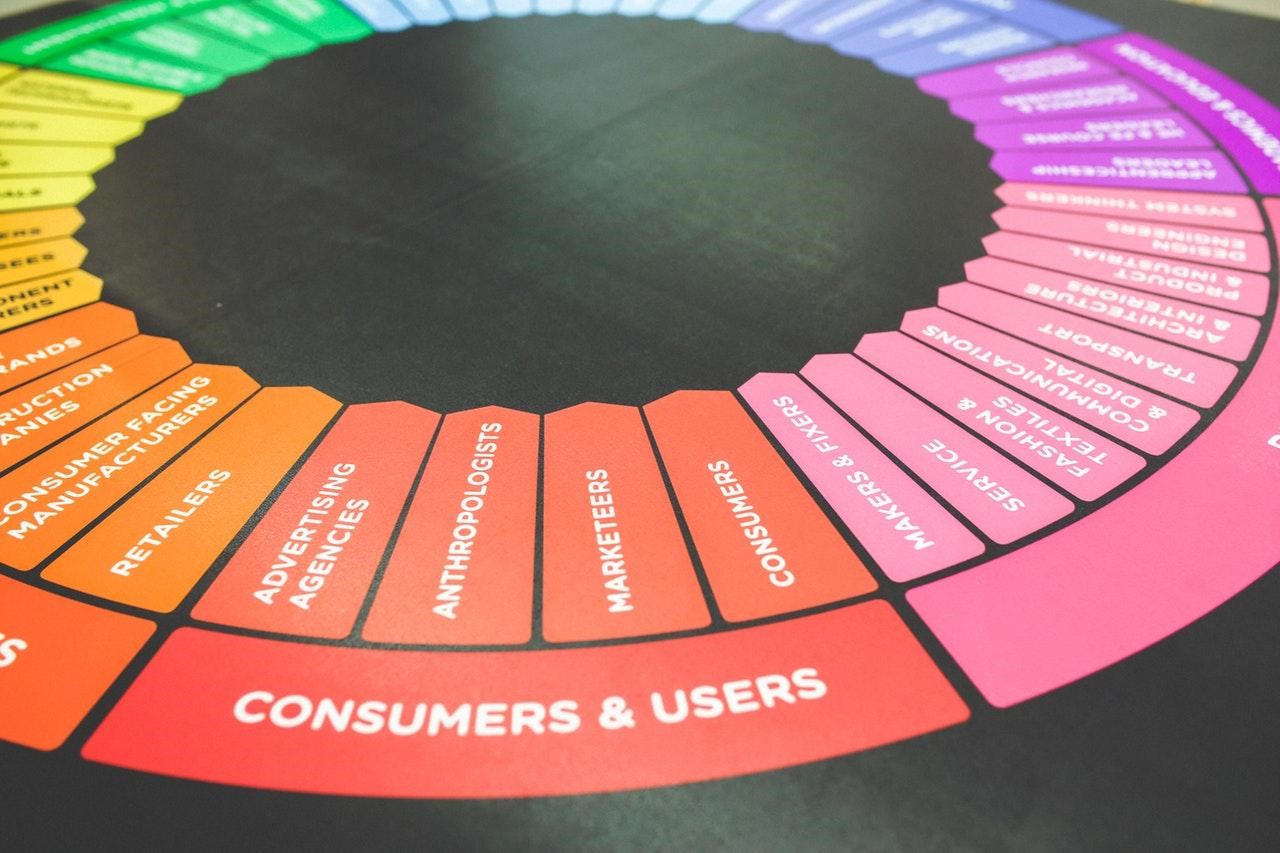 Today, every marketer is looking to create meaningful connections with consumers for a lasting bond that, over time, converts them into loyal customers. With the rise of direct-to-consumer brands, it is clear that shoppers today want to interact with your company and feel like they are part of a tribe. In fact, 65 percent of people say they feel an emotional connection with a brand or business because they think that the brand cares about them. By optimizing your customer engagement across the plethora of touch-points available, you'll be able to nurture lasting connections with your customers.
Traditionally, customer engagement was mostly a one-way street. Brands communicated, and customers listened. Now, the customer has the power and they have become the ones to even make or break brands: today's customer engagement can be a reaction, an interaction, a click, a comment, or the entire experience of doing business with your brand. With social media, email, and various other digital, always-on channels, your brand needs to meet the engagement demands of today's customers.
Engagement Tech Stack: Empowering Your Customer Relationships
Looking for an efficient way to manage and optimize your customer engagement? Start by investing in customer relationship management (CRM) software. What can CRM software do for you? The key to meaningful engagement is understanding your customers' needs so you can communicate to them about business or product updates that are relevant to them. With a CRM, you'll have a track record of what people have bought in the past, how much they've spent with you, what services they've consumed, how often, and so on.
Despite its name, a CRM can also help you manage relationships with audiences who aren't your customers just yet - all you need is to have them in your database; they may have subscribed to your email newsletters, for example. If you rely on content marketing to drive leads, there are also CRMs such as HubSpot that track content consumption: you can track how often a prospect visits your website, reads your content, which content they're interested in, and so forth. There are multiple options to choose from, but you should do your research and go with one that fits your needs, company size, and budget. Ask yourself If your needs are more about tracking sales, leads, and incoming deals, or if you would need marketing solutions too.
If you're looking to consolidate your customer engagement and your company is in need of a one-stop-shop to managing relationships post-sales, you might want to look at customer engagement platforms as well. What do they entail and how can they help you serve your customers (and thus, company) better? These platforms essentially integrate all the various tools you may use to engage your customers: sales automation platforms, CRM, calendars, social media, and even your inbox.
You might ask yourself, should I go with a CRM or an engagement platform as many of the functions overlap? Again, this goes for the needs of your organization. An engagement platform can help consolidate customer data, create simpler customer service and communication processes, and enable easier information-sharing between teams. This benefits large organizations and companies with multiple teams and locations. If you're a smaller player, a robust CRM software may very well do the trick.
What's New with Social? Chatbots and Influencers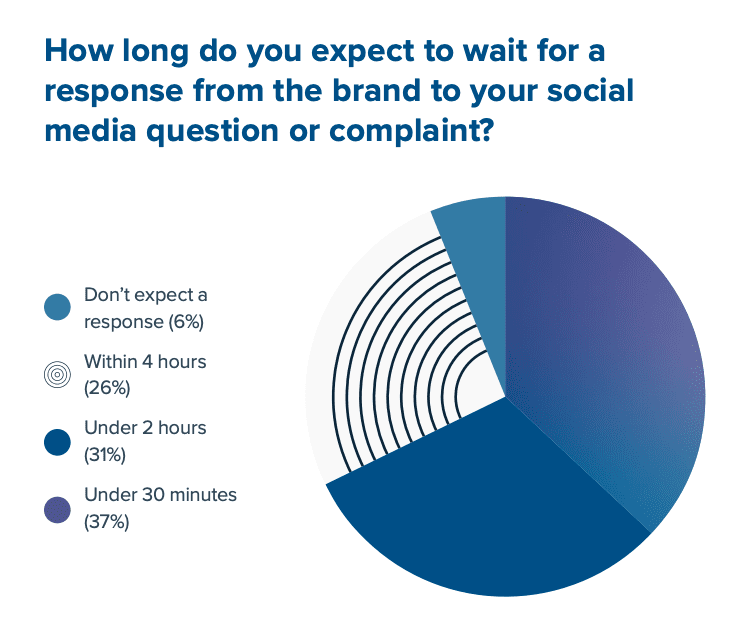 Social media has become the heart and soul of modern customer engagement. Consumers are treating social as the new customer service channel and are expecting instant, two-way communication. It's staggering that well over a third expect brands to answer in 30 minutes or less on social media. Are your team and processes ready to meet these demands?
If you're a social media-first brand (such as a fashion or beauty label), chances are you're already investing a lot of time in curating and nurturing your community. Answering customer concerns, reviews, questions, and feedback will convey trust to prospective consumers, so make sure you stay on top of those notifications. However, you might find that you're getting similar questions asked every day. From store hours to product details or ingredients, don't waste your precious business time on copy-pasting answers.
There are smarter ways to help your customers find the answers they need. On Instagram, you could create Stories videos of your products and most commonly asked questions and then save them in the highlights section. Or, you could try conversational marketing in the form of Messenger chatbots. It may sound futuristic, but chatbots are actually a rather simple addition to your social tech stack. By 2020, analysts predict that 80% of businesses will be using chatbots, so this a good time to evaluate and implement.
Chatbots help automate the most commonly asked questions with pre-written conversation flows that only require a one-time setup. Think of it as a virtual Q&A where you can start by mapping out a series of questions/answers pairs related to your product or service sales cycle. You can let users write their own questions or send them into a multiple-option type quiz where they will answer a series of questions to guide them through. In case the chatbot doesn't recognize their question, you can always redirect them to a human, ie. your customer service. Aside from social media, you can also implement these virtual assistants into your website.
Remember, it's not enough to have a bot in place, people will have to know how to find it! Include mentions of your chatbot throughout your channels, or you can even run paid social campaigns on Facebook with the Click-to-Messenger ad format.
Not quite ready to go the chatbot route? Let's take a look at what else is new with social media.
While influencers have been all the rage in the past few years, the engagement rates of social celebrities with a high amount of followers have been dropping. For smaller companies, it simply isn't feasible to foot a huge bill for an influencer collaboration. Instead, turn to micro- and nano-influencers who have 10,000 followers or less. Often, you can find these among your existing audience: invite customers who are excited about your brand and have a relevant following to become your brand ambassadors. You can offer products, services, or a small payment in exchange for a post - you can even afford to recruit multiple people to spread your message across social. What's better, smaller influencers often have a more engaged community that is more receptive to marketing messages as they feel they have a more personal attachment to the person they follow. This perception will benefit your brand image too.
Driving Email Engagement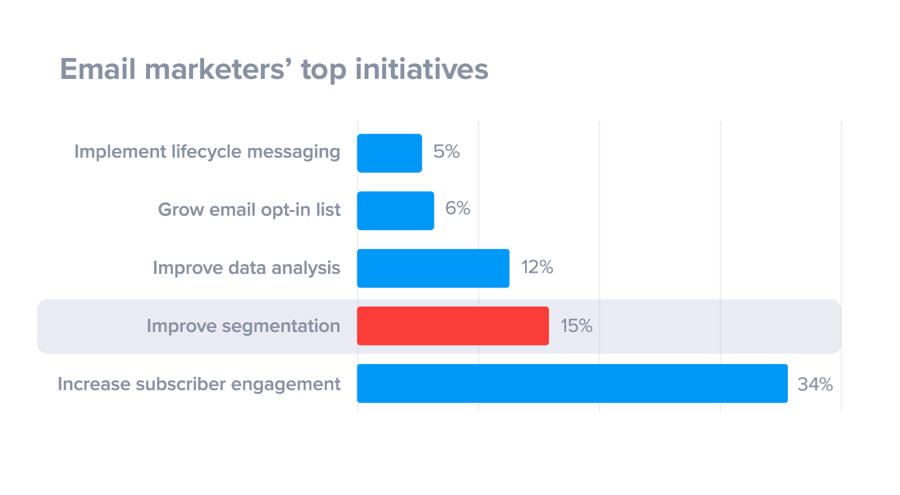 As detailed in the graph above, increasing subscriber engagement is the top initiative marketers are looking to tackle. What counts as engagement and how do you optimize it? For emails, you want to be looking at two main metrics: open rates and click-through rates. Email marketing has one of the highest ROIs of all channels, so it pays off to optimize each engagement. Let's take a look at some of the best practices for driving opens and clicks.
What is a good email open rate? The benchmark you should compare against varies depending on the industry you're in. The average open rate across verticals is around 21%. Define your goal number and optimize against it.
There are numerous things you can do to affect open rates positively. Your email lists should always be up-to-date and maintained: remove bounces, check for typos in email addresses, and remove disengaged people. Other best practices include sending marketing emails from a professionally branded business email instead of a personal address and follow subject line best practices. Some tried-and-tested methods to optimizing email open rates are:
Including numbers and percentages to highlight a benefit
Avoiding special characters, single word subject lines, and all caps
Promising a special discount or a sneak peek
Asking a relevant question
Personalizing the subject line to begin with the recipient's name or business name
Optimizing click-through rates to maximize customer engagement is an art of its own. Including images is a popular way to direct customers to shop for products or book a service, as it can help visualize what you have to offer. Just remember that not all view emails with their image rendering on or they may be relying on their mobile network. This means that you should not include crucial information in the image only, but also write it in the body copy. Also, too high file sizes are a no-go for mobile-first consumers.
Visual call-to-action buttons (CTAs) are integral to driving click-throughs. These graphic elements are designed to draw the eye and stand out from the rest of the content. According to a recent study, emails that included a single call-to-action button increased clicks by 371%.
As for the content, you want to write in an action-oriented manner that explains: what you're offering or trying to convey, why the user should care, and how they can take the desired action. Try to sound personable and inject your brand personality into the way you write. Think "airy" when you format, avoid heavy paragraphs, and let your message be the hero.
Ultimately, optimizing customer engagement boils down to leveraging data so you can match a relevant and timely message with a customer need, struggle, or query. The more you understand your customers, their behavior, and unique motivations, the better positioned you are to convey authenticity. And authenticity begets engagement, time and again.