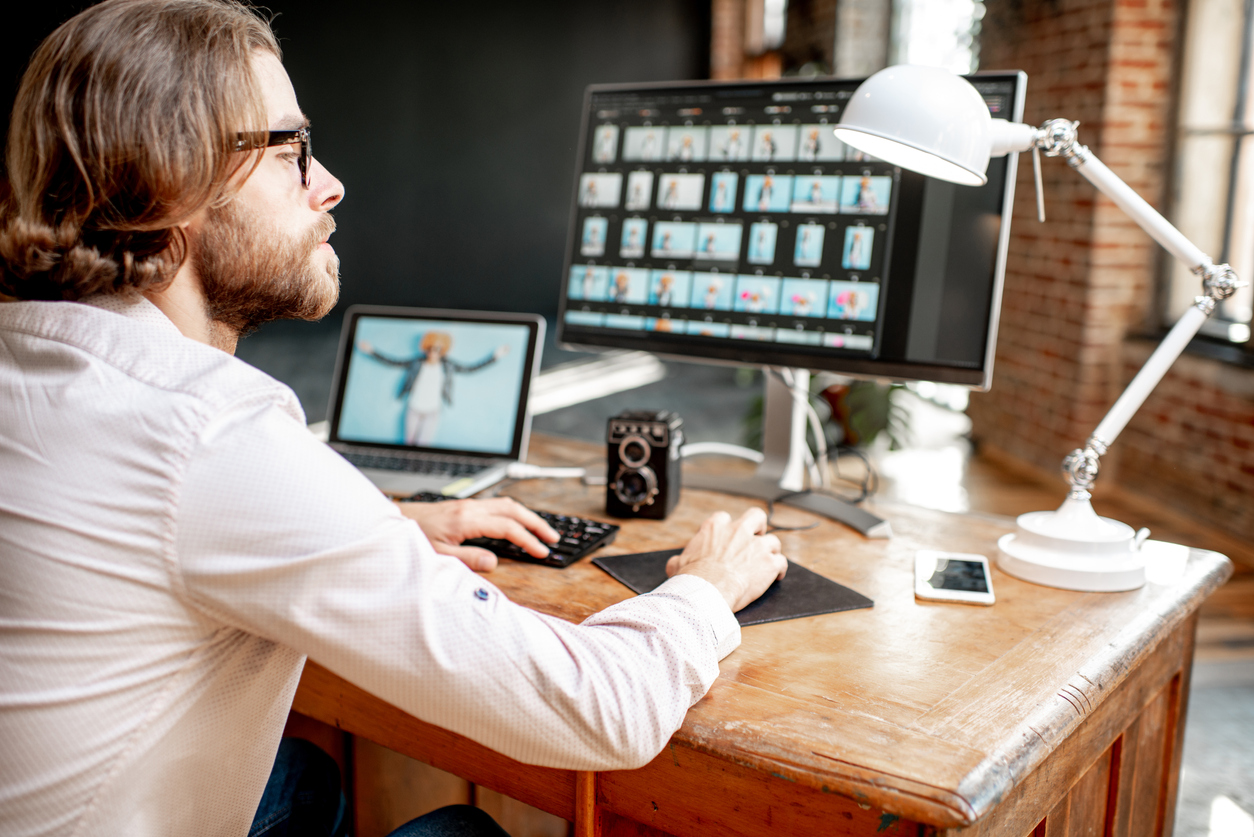 Photoshop can be a great asset for any product photographer or business owner looking to improve their product images. But, without the right knowledge and skill, using Photoshop can seem overwhelming. Luckily, Photoshop actions can be downloaded and applied to product photos to instantly improve their look without much skill required.
These free Photoshop actions for product photography can be a big help for business owners who can't afford to spend time on photo editing tasks. Whenever you need to improve the color gamut, contrast, and white balance of a photo or accentuate a certain color and light element to create a more interesting product image, these actions can be helpful.
Whether you are a newbie or a professional, these Photoshop actions will streamline your editing process. These tools are actively used for editing photos of jewelry, clothing, accessories, equipment, and even food.
1. Clean White Photoshop Action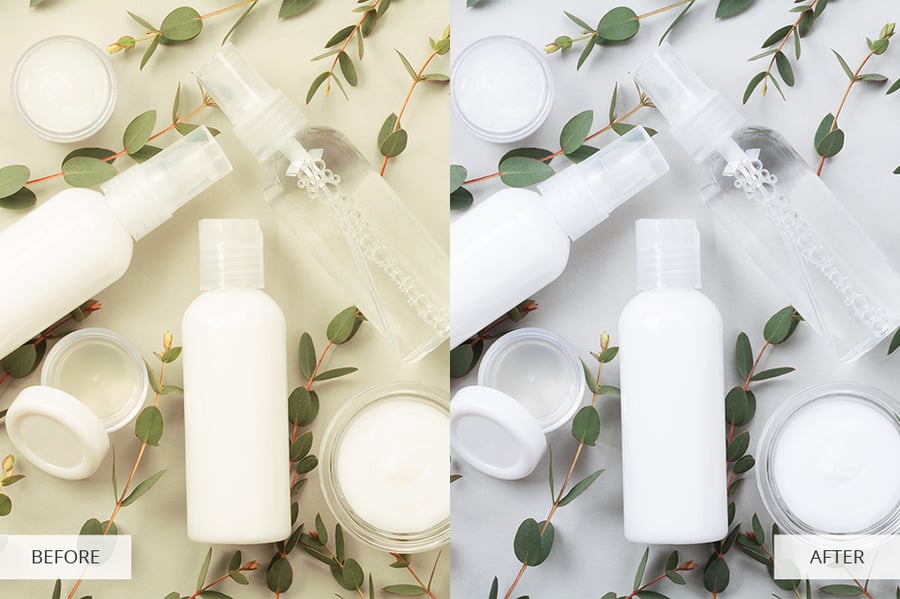 It is very important for product photography that the white color in an image is as realistic and natural as possible without unnecessary shades. Those issues may arise during shooting when using non-professional lighting or external factors interfere. With this tool from the collection of free Photoshop actions for product photography, visuals acquire vivid whites with higher contrast and sharpness.
2. Colorful Photoshop Action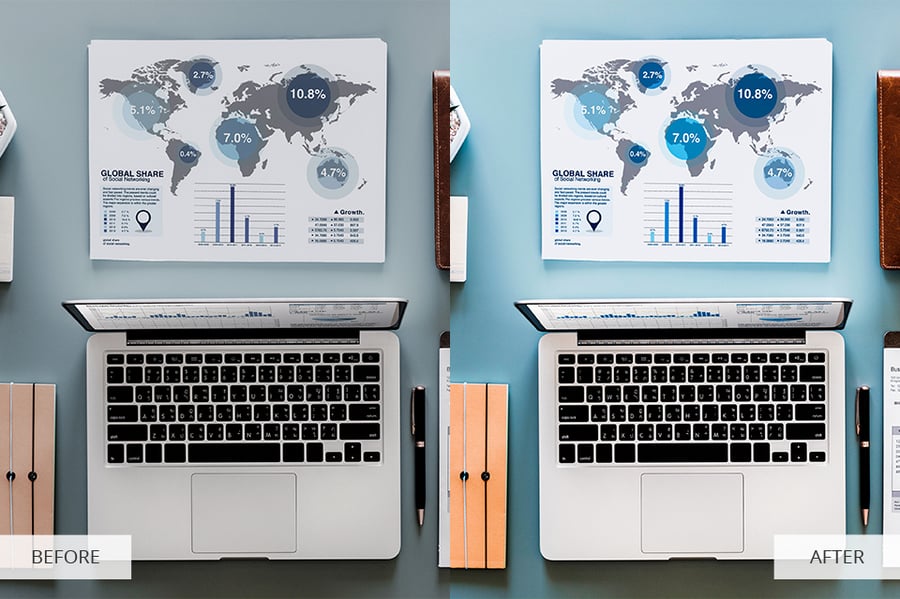 This tool enhances and brightens all colors, as well as removes haze from photos by increasing the level of contrast. You will find that your photos look more detailed due to the realistic rendering of the entire palette of colors. For that reason, it works best for images with bright objects or backgrounds.
3. Contrast Photoshop Action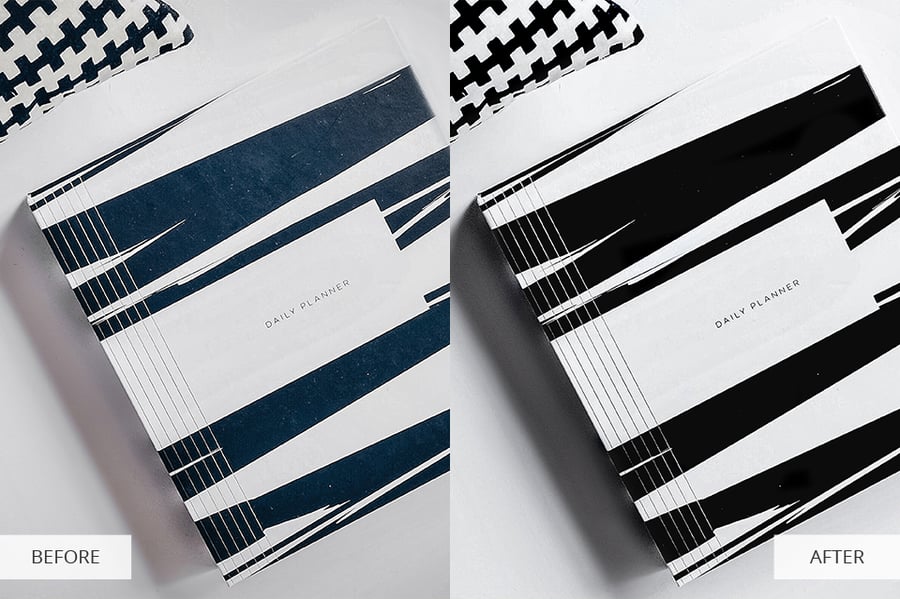 If there is an overabundance of detail in the image that bears importance or, alternatively, if you need a very deep black, apply this effect. It raises color contrast, lightens the background, and allows you to remove minor superficial defects.
The action is applicable to a single-product frame or works in the flat lay technique. When there is a multitude of different accessories, you can use the preset to attract attention to them.
4. HDR Photoshop Action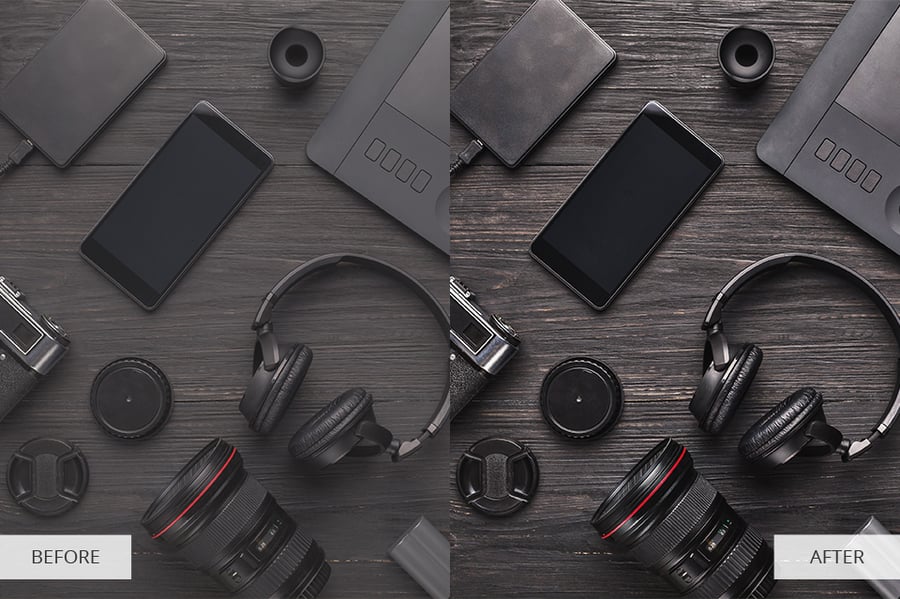 This Photoshop action can pull out more details in the image and make them defined and sharp for better perception. The tool perfectly removes haze, builds up contrast, and expands the color palette to emphasize the volume, shape, and texture of every detail. Additionally, you will remove unnecessary glare from shiny surfaces and soften harsh shadows, increasing the appeal of your visuals.
5. Soft Brightening Photoshop Action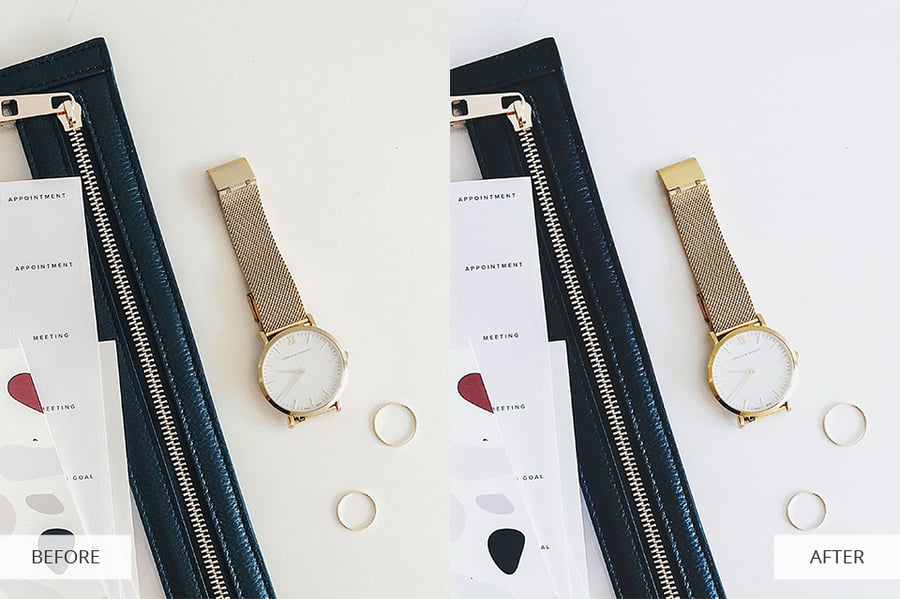 Gently lighten photos that are dominated by light shades while maintaining a color palette that's realistic and attractive to buyers. Apply this action to flawed backgrounds and achieve the perfect whites without undesirable streaks of light and shadow. Don't worry about colors, as they will be saturated and clear while retaining their natural feel.
6. Bright Color Photoshop Action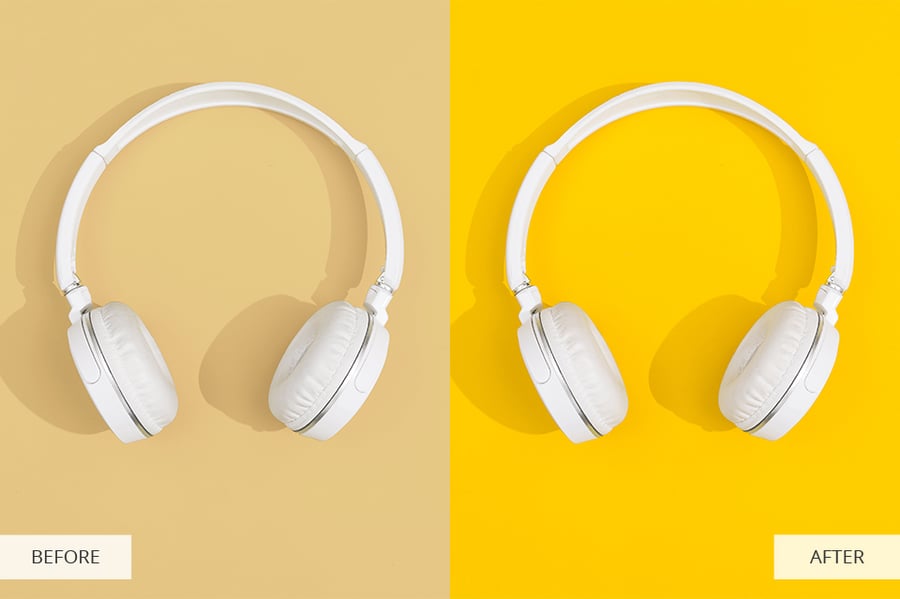 Should your image end up too dull, use this effective remedy to spruce things up. Whenever you need to show texture or depict a pattern clearly, this action can be a great assistant. It doesn't blur the image or create harsh contrasts.
In addition, it will remove the paleness of shades and erase any impression of dimness. This action is best suited for photos of clothing, furniture, various natural materials, and more.
7. WB Contrast Photoshop Action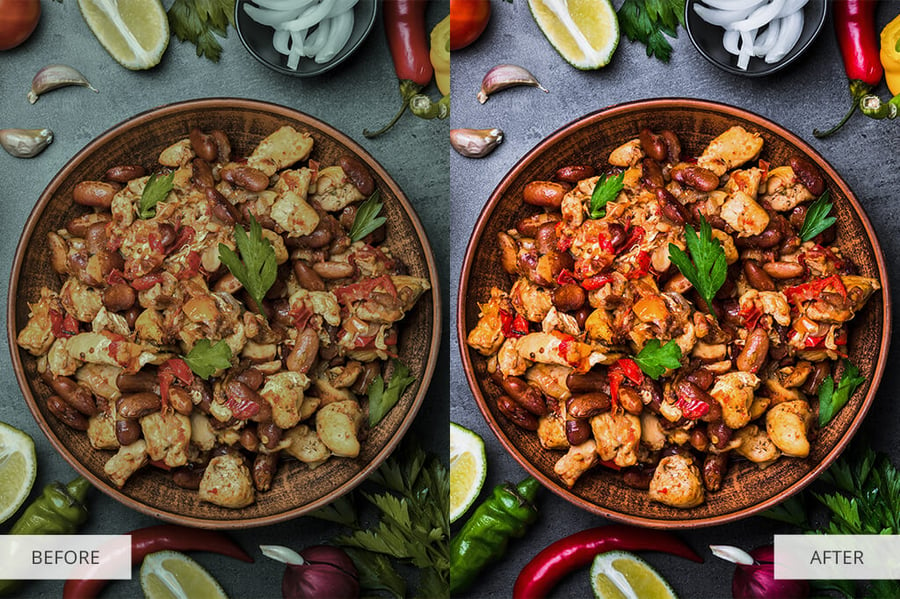 This is one of the most carefully tailored Photoshop actions for fixing white balance. It gives outstanding results where others may cause color distortion. In automatic mode, the on-screen image preserves naturalness while receiving a boost in contrast and finer detalization. Also, colors become more saturated. This is quite a workhorse for photographs of food, clothes, and small accessories.
8. Saturation Photoshop Action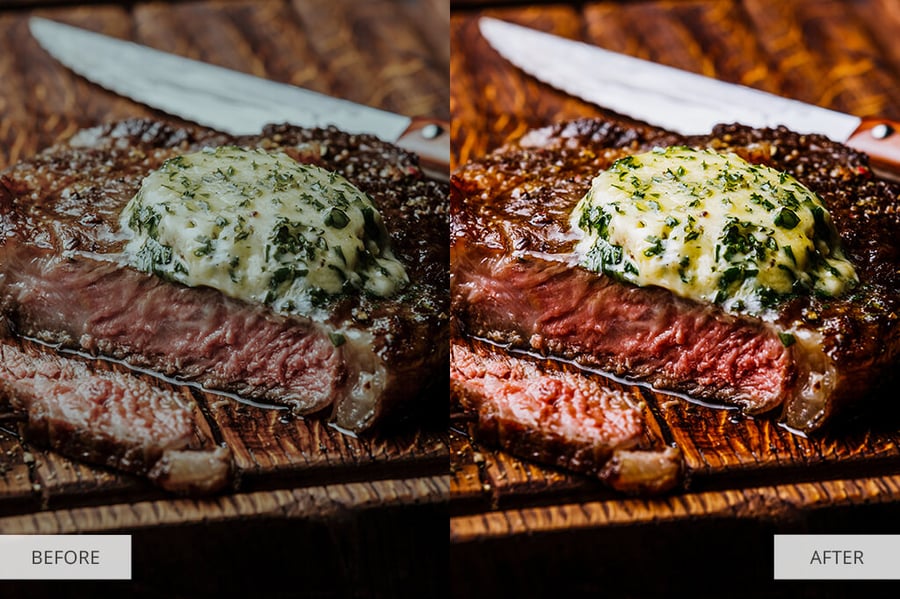 This action helps you to create photos that set dark balances with bright light elements, introducing visual depth while positioning necessary accents. It also helps to add saturation and vividness to the shot.
Other changes include an increase of contrast and temperature with softened shadows. As a result, those highlighted accents become more vivid and natural.
9. Warm Contrast Photoshop Action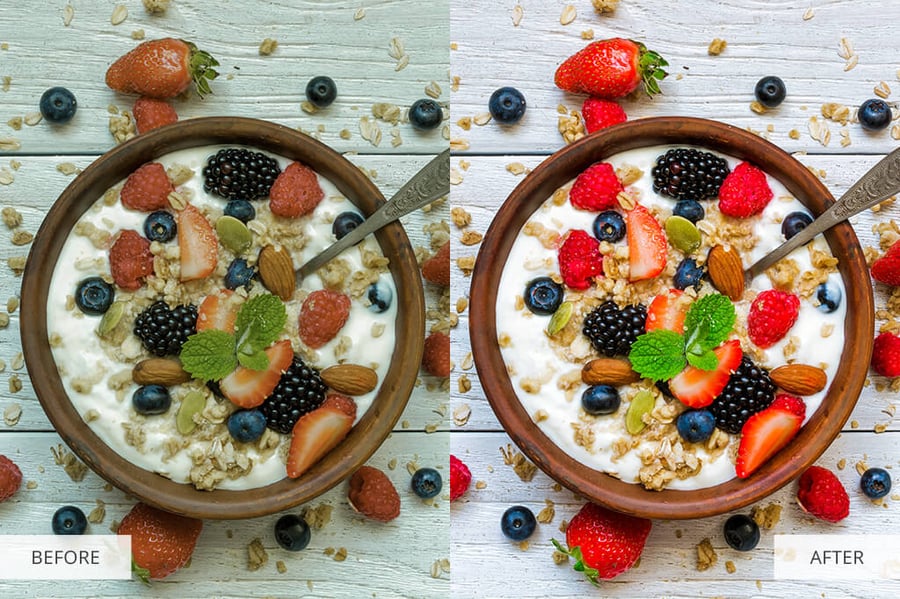 This particular option is highly favored by professionals dealing with food and products thanks to the contrasting colors that go along with separate toning. The photo's color palette becomes more saturated, the shadows are milder and less noticeable.
Another genre showing great results is flat lay photography – especially where the composition involves highlighting the main subject against a bright or filled background.
10. Brightening Photoshop Action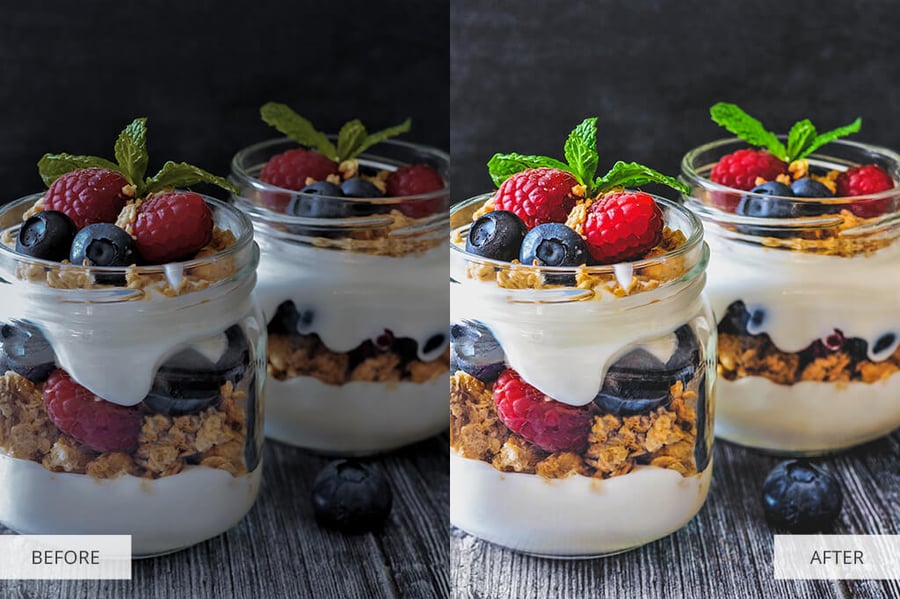 It is easy to add some visual appeal to whatever item you are trying to sell with this effect. It gently brightens the photo, making pale colors more saturated. Also, the tool places light accents on the highlights of your product, skillfully maintaining realism.
This Photoshop action does an excellent job of brightening the background, giving it a natural white color without affecting the main subject in the photo.
11. Matte Photoshop Action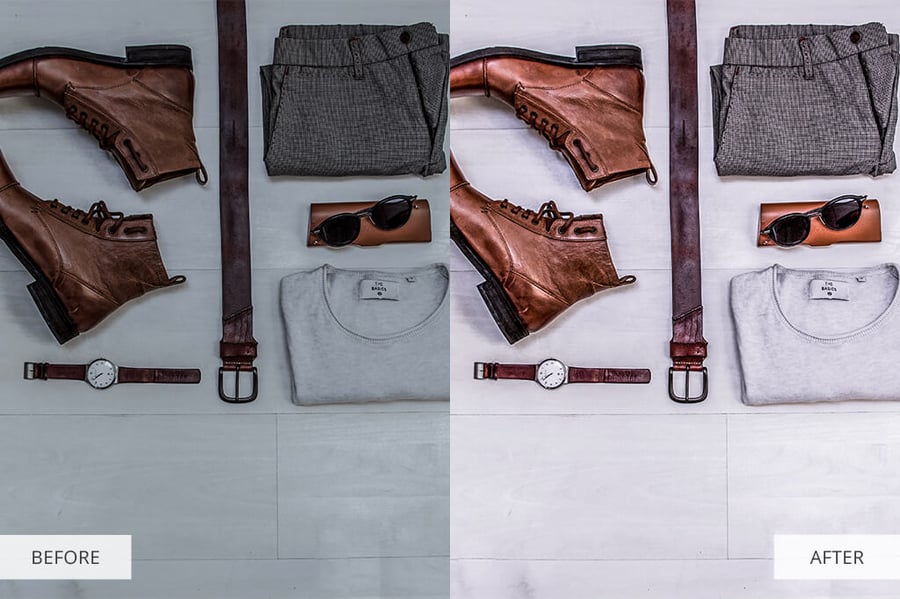 Should the product photo require deeper colors or a better-defined texture, pick this action. It will eliminate unnecessary shine or glare, as well as smooth out some texture imperfections. At the same time, colors remain clear and deep while maintaining their natural look.
The tool also does a great job of correcting dim lighting and removing yellowness from an artificial light source. Additionally, it adds a subtle matte effect that you can adjust in the settings.
12. Cold Photoshop Action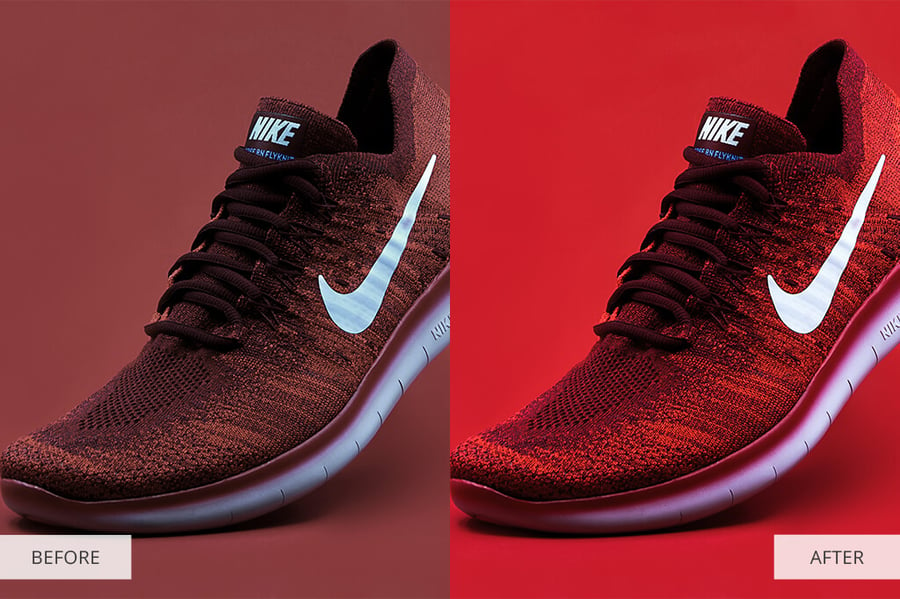 If you want to make the colors in your photo brighter and cooler, this option is just what you need. It will give your photo cool neutrals, dim lighting, a softened look, and increased contrast for small details.
This free Photoshop action is perfect for enhancing images of various equipment. It can also be applied to yellowish photographs that don't look particularly pleasing to the eye.
13. Fashion Photoshop Action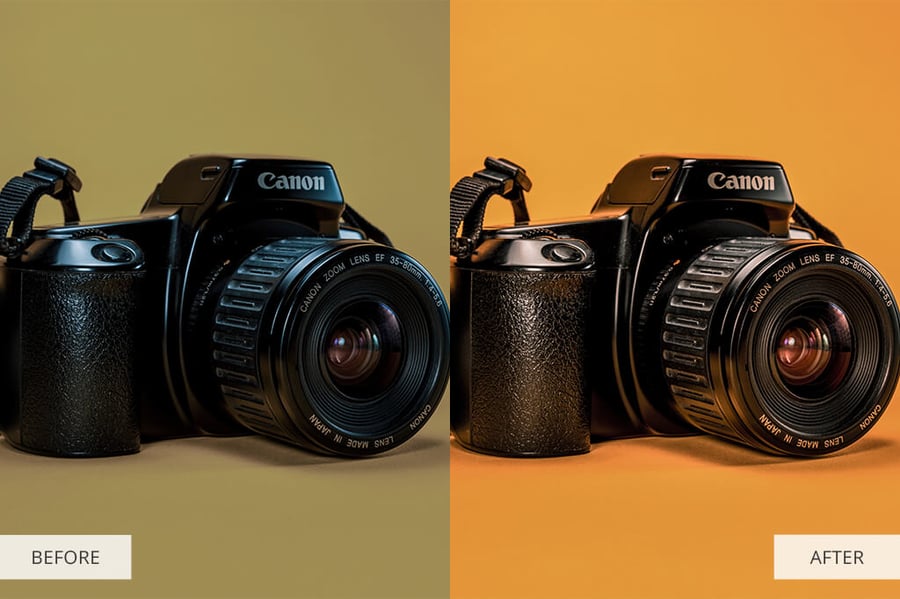 This action will be useful if you need to enhance fashion photos and add a creative feel to the pictures of various accessories, such as glasses, watches or pieces of jewelry. The effect looks particularly stunning when you want to emphasize your product and not the person who wears it.
Also, this action is recommended for processing electronics photos. This action makes images lighter, heightens contrast and gives your pictures a creative look by introducing additional color schemes.
14. Dark Photoshop Action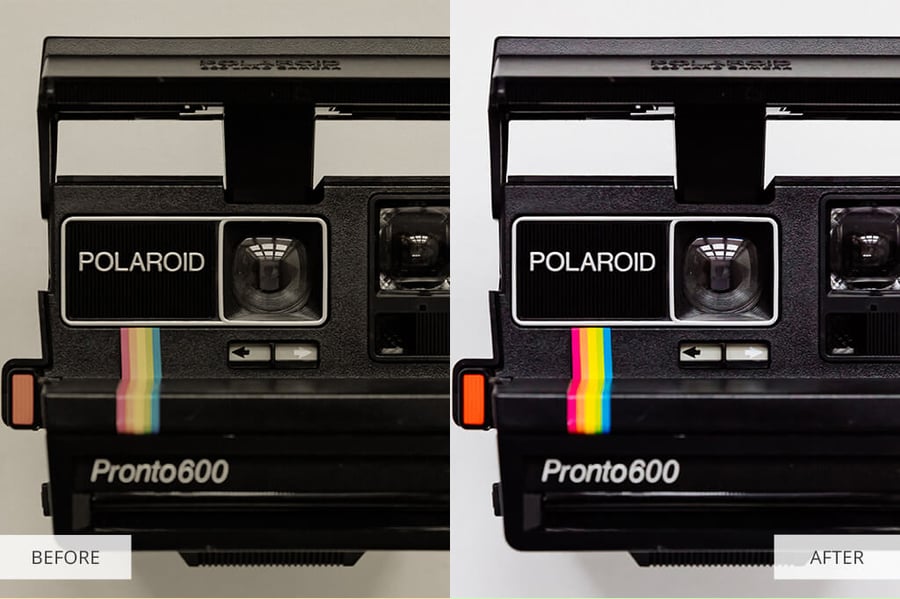 If you are looking for free Photoshop actions for product photography to fix issues with lighting, make sure to check out this option. It will come in handy if you need to make colors in your photo darker and softer.
If you took your photos in poor light conditions or they got overexposed, these problems are also easy to solve with the help of this action. Besides, it can improve white balance, remove glare and adjust contrast. Another advantage is that this action makes pictures less blurry while maintaining their realistic look.
15. Frame Photoshop Action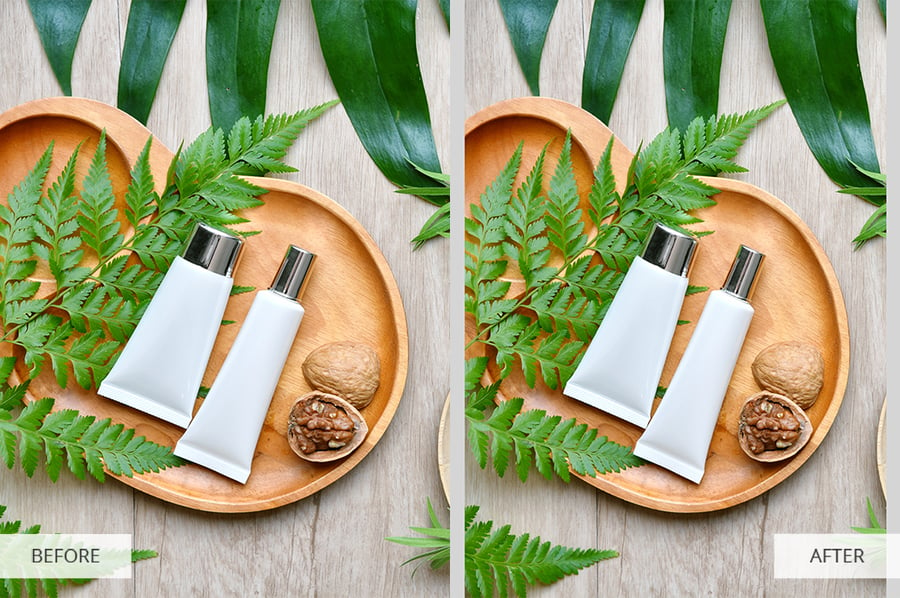 With this action, you can quickly and easily add frames to your photos. This is especially useful when you edit images for social networks, enhance photos of discounted products, or want to attract the customer's attention on large online selling platforms.
It can be a great choice for photos of clothes, technical equipment and handmade products. You can change the colors of the frames depending on your preferences.
16. Sharpen Photoshop Action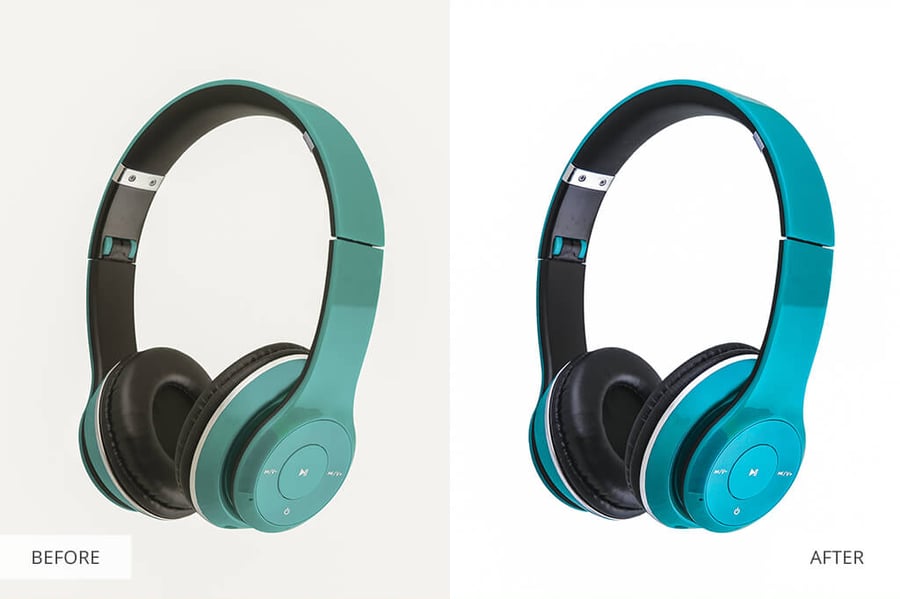 You can use the Sharpen action as a standalone effect or apply it with other actions from this list. With its help, you can quickly adjust sharpness and make even the smallest details more noticeable without quality loss.
This action can be used for fine-tuning the settings. It doesn't lower the overall quality of your photo and helps you remove noise. You can even apply it to photos of many objects, as it will make them look more detailed.
17. Colour HDR Photoshop Action
The key difference between this action and other HDR effects is that it enhances the overall look of a photo by making the dark areas look lighter, which allows you to see all the details more clearly. Aside from this, it lets you significantly enhance colors. It makes them brighter, richer and more saturated. The final result will look realistic and natural, so you won't have to worry about noise in your pictures.
18. VSCO Photoshop Action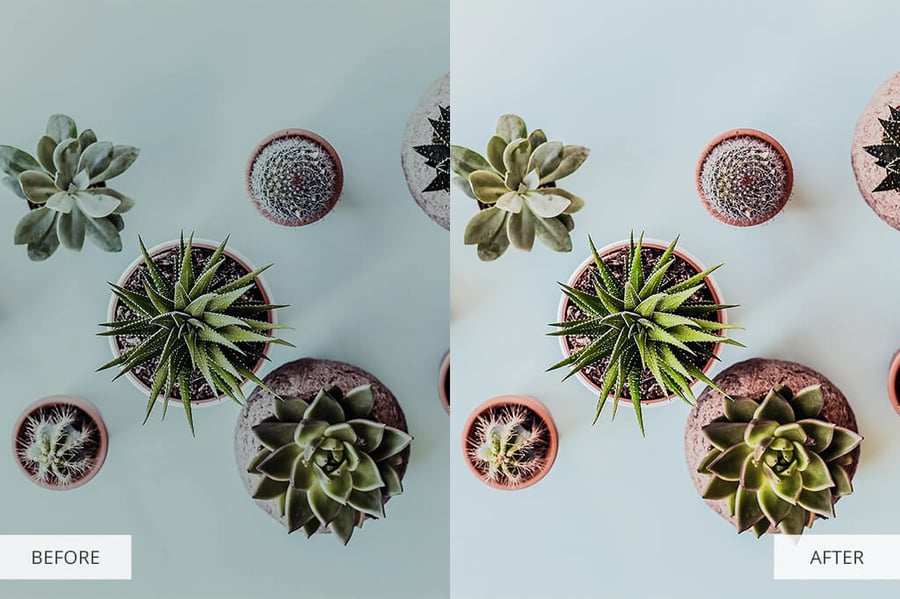 This is one of the most useful Photoshop actions for product photography as it allows you to make colors look trendy and bright. It will also be appreciated by those who promote their businesses on social networks.
This action makes colors brighter, lightens the overall photo, and adds soft pastel hues to the color palette – all while keeping the image realistic. It is more suitable for enhancing photos of clothes, as it can heighten the level of detail and make textures more eye-catching.
19. Instagram Photoshop Action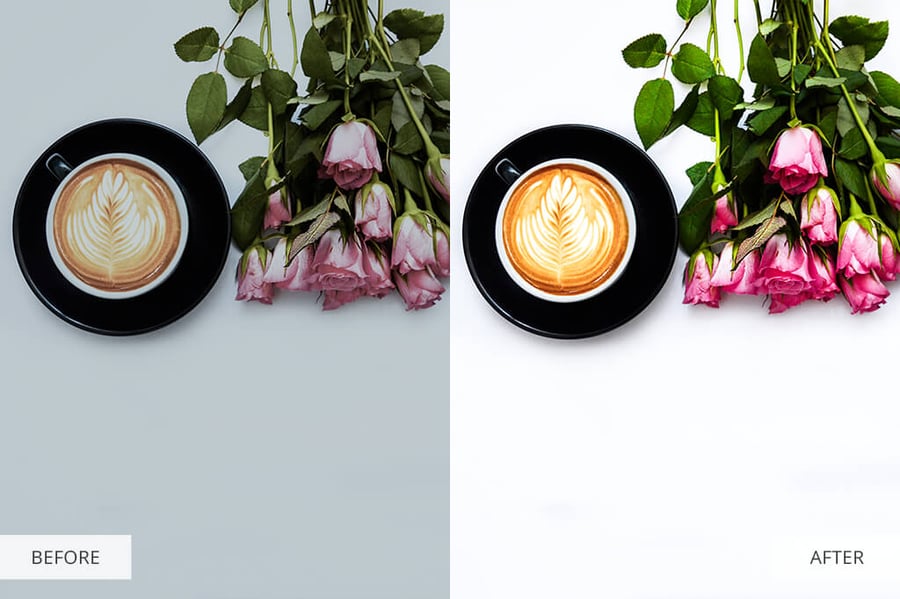 This option is great for photos of colorful clothes and accessories. You can also apply it to pictures with an unusual bright background and many details. With the help of this action, you can lighten your photos and restore the true colors of the objects.
You can also adjust colors so that they look more saturated and make the white background less yellowish. By applying this Instagram Photoshop action, you can heighten sharpness to improve the quality of a photo and make all the details more visible.
20. Vintage Photoshop Action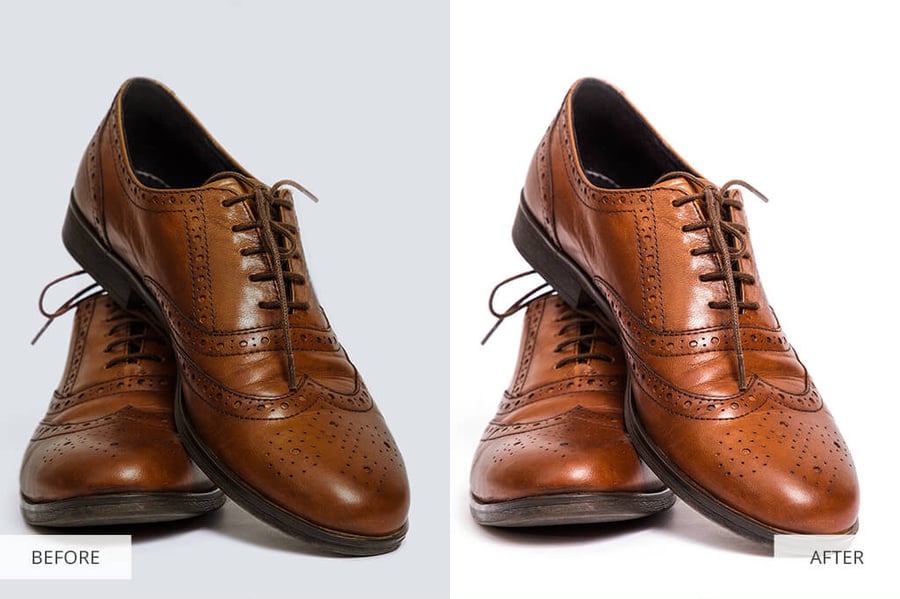 You can apply this action to product photos if they have a realistic-looking background instead of a white one. It will help you fix any background defects in no time. As for the object itself, its colors will become brighter and slightly softer.
It will give your photo a vintage look and make it more eye-catching, which will help attract the customers' attention. Similar to other Photoshop actions, it can lighten the dark areas of a photo and create the effect of natural lighting.
21. Dramatic Photoshop Action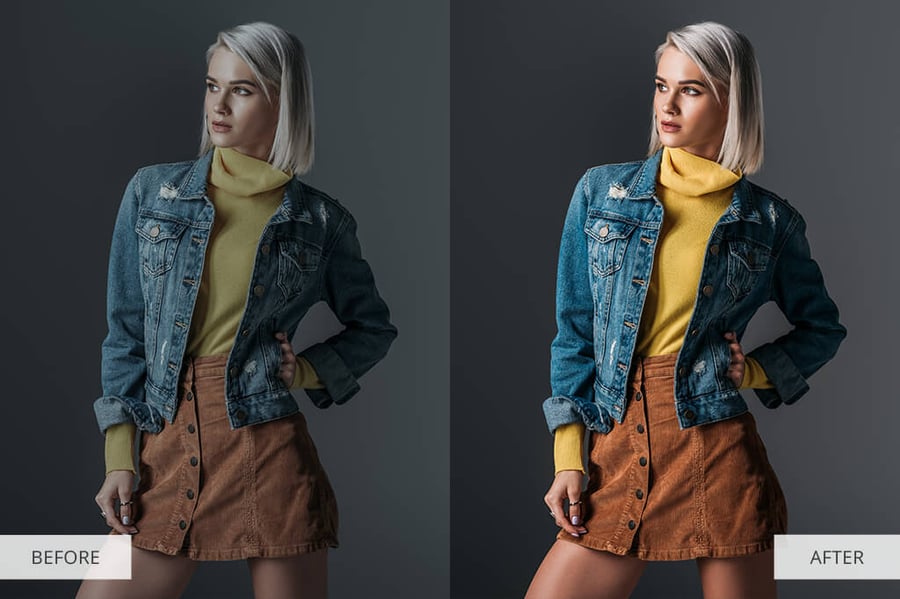 This action is perfectly suitable for lifestyle product photos. It allows you to achieve a harmonious combination of all elements by adjusting colors, contrast, brightness and saturation.
By using this action, you can make colors rich and more vibrant. As product photos taken from a standard angle often lack depth, this action will fix this issue while maintaining the original texture. It won't make your images blurry or too sharp. You can also remove glare, which is a common issue for photos of shiny objects taken with a flash.
Conclusion
With the Photoshop actions that we've listed, you can turn drab and uninteresting product photos into complex and engaging images that are sure to convert any customer. Any issue that may have resulted from poor lighting, incorrect camera settings, or simply lack of skill can be resolved with these actions.
These free Photoshop actions can be downloaded and added to your program for use. You can also browse through this complete collection of Photoshop actions best suited for product photos. Create great images with these helpful tools in your editing toolbox!