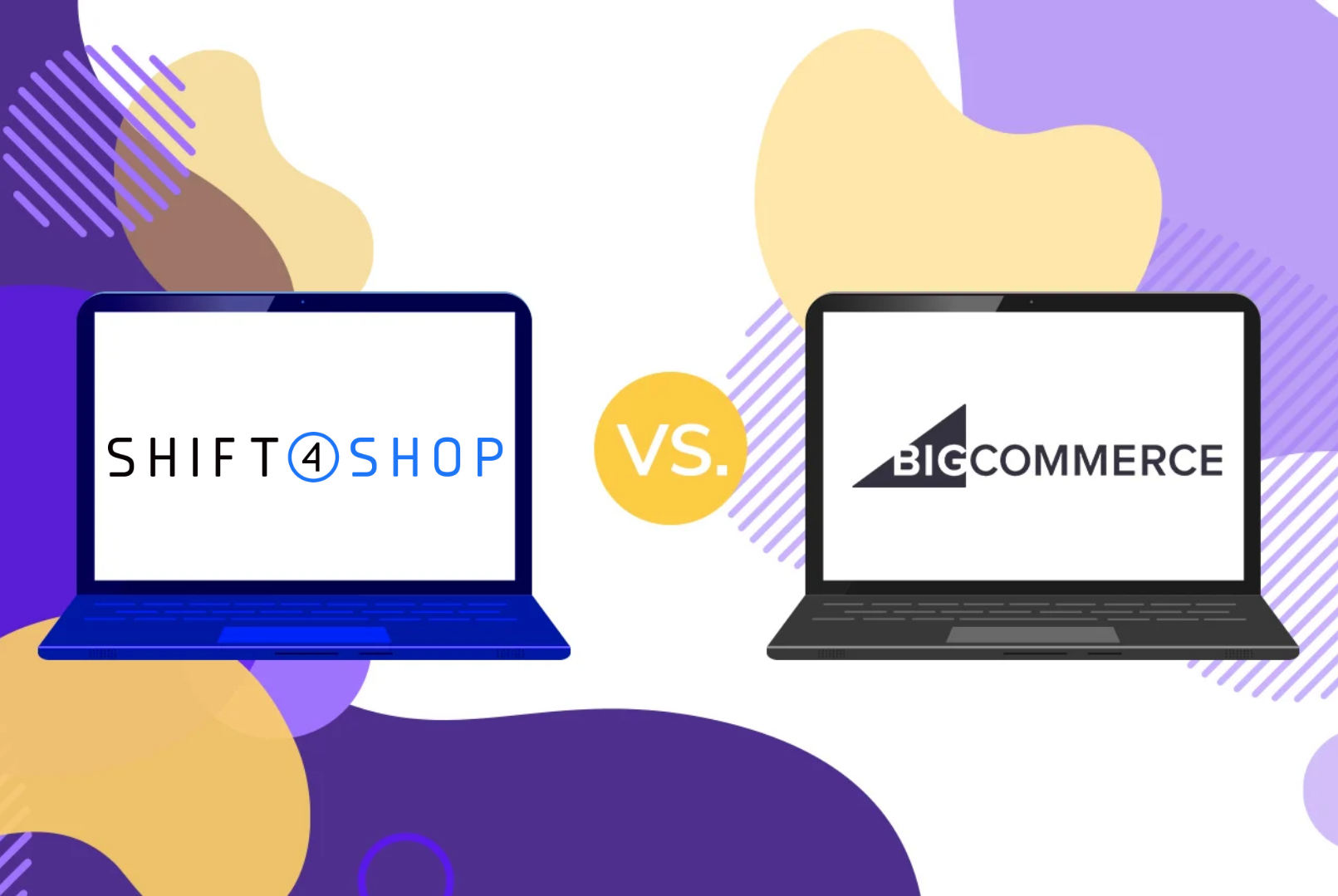 You're under a lot of pressure when you start an online business. Choosing the right eCommerce software is a big part of that.
Shift4Shop and BigCommerce are both popular eCommerce platforms. They're both used by businesses of all sizes, from startup to enterprise. Both have their benefits. But this doesn't make choosing between them any easier.
Your eCommerce software will either help your business succeed, or get in its way. So this is an important decision. One you shouldn't make without having all the facts.
It can be hard to find a comprehensive comparison of one eCommerce platform against another. Pricing that looks similar on the surface can be quite different when you look at it closely. The same is true for features.
Online entrepreneurs are often torn between Shift4Shop and BigCommerce, so we've put together a side-by-side comparison. And it's an objective comparison. Sure, this is the Shift4Shop blog. But all the information about BigCommerce comes from their own website or neutral third parties.
You'll be able to judge for yourself which platform is better for your business.
Pricing
We'll look at plan pricing first because it puts everything else into context. It's also the first thing many entrepreneurs look at, so it's a good place to start.
Let's look at both platforms' pricing pages: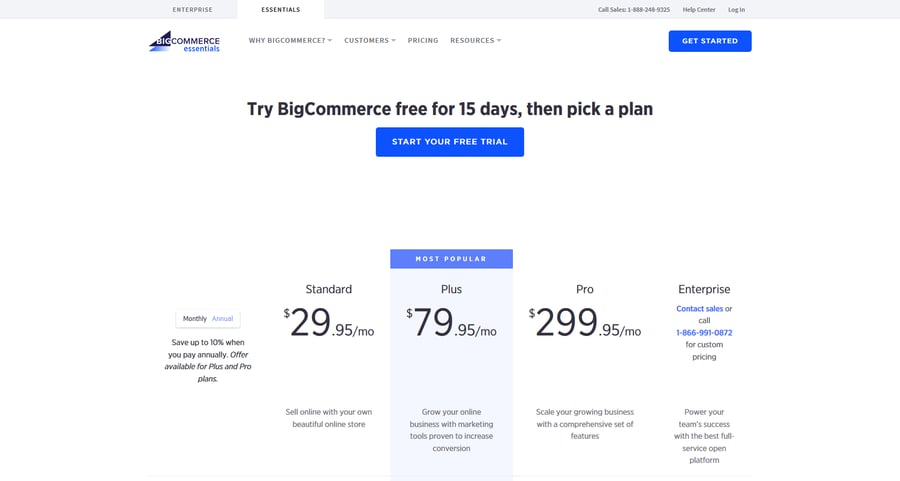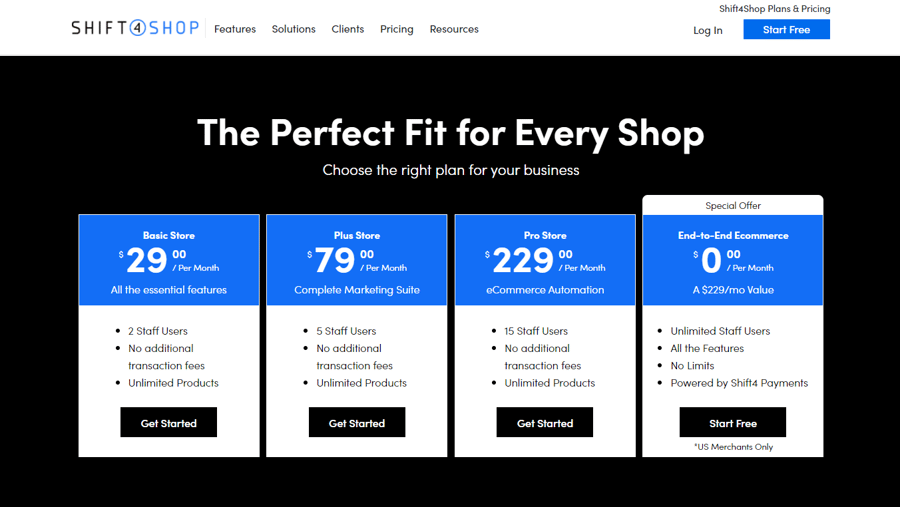 You can always find updated pricing on Shift4Shop's eCommerce plans page and on BigCommerce's pricing page.
Both Shift4Shop and BigCommerce use a similar type of pricing model, with a few notable exceptions. As SaaS eCommerce platforms, hosting, security, and the eCommerce software itself are all included under the monthly fee.
Looking at both pricing pages, there are a few more things you can tell at a glance.
Shift4Shop offers a free plan with features equivalent to its Pro Store plan.
Shift4Shop has more plans than BigCommerce.
BigCommerce plans cost more than Shift4Shop plans on a similar tier.
The price difference between Shift4Shop plans and BigCommerce plans on the same tier starts out pretty small. Paying an extra 95 cents per month on BigCommerce only adds up to $11.40 each year. But the Pro plan is an extra $70.95 per month compared to Shift4Shop. Taking the free End-to-End eCommerce plan into consideration, BigCommerce's Pro plan is an extra $2,759.40 per year compared to Shift4Shop.
The monthly fee also isn't the only factor.
Pricing Increases
If an eCommerce platform has a history of increasing its prices, you should be wary. They might do it again and suddenly raise your bill.
Of course, eCommerce is a changing industry. Sometimes a business really does need to change its prices to keep providing its service. As a business owner, you know a lot goes on behind the scenes that can cause a business to raise a price. It's no different for eCommerce platforms.
But how often does an eCommerce platform change its pricing? If it happens often, it's more likely to happen again, and soon.
BigCommerce raised prices in 2016. This was part of restructuring its plans. Then, it raised the price of its Pro plan by $50/month in late 2019.
Shift4Shop restructured its plans in 2016 as well to provide infinite bandwidth to all merchants. But Shift4Shop clients could choose to stay on the older legacy plans rather than switching to the new plan system.
Shift4Shop did raise its prices on legacy plans only, at the beginning of 2020. But this was the first time these plans had seen a price increase in over 20 years.
As for the current plan structure, Shift4Shop has never raised any of our prices. Instead, we've added new plans that give merchants even more options for their budget. The most recent plan change has been the addition of the free End-to-End eCommerce plan, powered by Shift4 Payments.
Barrier to Entry
The barrier to entry describes how difficult it is to get started in a task or industry. This includes everything from expertise to budget. The cost of an introductory eCommerce plan is part of this.
With Shift4Shop, you can start an online business for free. On BigCommerce, you'd start out paying $29.95/month. For businesses with an extremely small budget, saving even $29.95/month can make a difference.
Shift4Shop's free End-to-End eCommerce plan has all the essential features, and plenty more to make it a serious competitor against BigCommerce's Pro Plan. The only limiting factor of the free plan is that your store uses Shift4 Payments for payment processing. For access to more payment processors, the paid plans are available.
If you take a look at the paid plans, even Shift4Shop's Basic Store plan comes with all of the same features (and more) when compared to BigCommerce's Standard Plan.
Shift4Shop is simply a safer choice for a new business with a low budget.
(On a side note, Shift4Shop has an even lower-priced paid plan than Basic: Dropshipping, for $9.99/month. The Dropshipping plan is a slightly stripped-down version of the Startup plan. Similar to the End-to-End eCommerce plan, the Dropshipping plan limits supported payment processors. It's meant to provide an easy, affordable way to start a dropshipping business. So, it has everything needed for dropshipping, but none of the features a business would need if they stock their own inventory. Since it's a specialized plan, we usually leave it out of broad comparisons with other platforms. No other platform has a plan we can compare evenly to Shift4Shop Dropshipping.)
Scaling Up, Smoothly and Affordably
The cost to get started isn't all you have to think about. You need to consider the costs of your business' growth. These costs include upgrades to higher-tier plans.
Naturally, higher-tier plans are going to cost more than beginner plans. But how much is it going to cost you to upgrade?
The difference can be steep. For example, imagine you start on BigCommerce Standard ($29.95/month).
Scaling up to BigCommerce Plus ($79.95/month) raises your monthly fee by $50.
From there, scaling up to BigCommerce Pro ($299.95/month) raises your monthly fee by $220.
This leads to situations where you may need to upgrade your plan, but can't afford it.
Alternatively, Shift4Shop offers a free plan that's comparable to BigCommerce Pro, meaning you can start with that free plan and never need to upgrade. If you can't sign up for a free plan, Shift4Shop paid plans are similar in structure to BigCommerce.
However, we also have other specialized plans that further smooth the transition for some types of businesses. We already mentioned the Dropshipping plan ($9.99/month). But for businesses that grow past the Pro plan ($229/month), we have other plans to choose from.
Some businesses want to become B2B suppliers. Shift4Shop has several B2B-related features built into multiple plans, but there's more. If you're on a paid plan and have outgrown the Pro plan, a B2B business could scale up into our B2B eCommerce plan for $379/month. The B2B plan has over $1,500 worth of extra B2B features that are normally bought separately. (Again, as a specialized plan, we usually leave this one out of direct comparisons. No other eCommerce platform has a comparable B2B plan.)
If a business outgrows Shift4Shop's Pro plan and doesn't want the B2B plan (or has outgrown it too), there's Shift4Shop Enterprise. Many eCommerce platforms have an enterprise solution, but Shift4Shop does it differently.
Other platforms require a custom quote for all enterprise plans. They usually cost around $2,000/month for a "beginning" enterprise store. But they can also be a lot higher, and we mean a lot. Before they took it down, BigCommerce's Cost of Ownership Calculator gave an estimate of almost $38,000/month for a store making $1M per year.
But Shift4Shop offers 2 plans to make growing into Enterprise easier:
Enterprise ($1,999/month)
Free Enterprise (free with Shift4 Payments)
Shift4Shop store owners can get an enterprise plan for a much lower price than BigCommerce. And even with that low price, Shift4Shop Enterprise is a full-fledged enterprise platform. It's not a cheap imitation, it's just affordable. There's simply no reason to charge as much as some of our competitors do. You don't need a custom price quote from Shift4Shop either.
Shift4Shop is easier to scale up on than BigCommerce. In fact, we'd say Shift4Shop is the best for scaling up a business, period.
Revenue Tiers and Plan Upgrades
It's possible, and expected, for an eCommerce business to eventually outgrow its plan. A growing business needs to support more customers. It also needs more tools to manage its growth. This is part of scaling up, which we just covered.
This means a business will need better infrastructure to support heavier traffic. Even on a platform that provides unlimited bandwidth.
It also means the business is likely to have a much heavier workload. More advanced eCommerce tools can help with this. These tools are intended for businesses that have more they need to handle. They're usually in higher plans.
This is why some eCommerce platforms require plan upgrades when a business reaches a certain size. The "size" of the business relates to traffic and other factors, but is indicated by the annual volume of online sales. Platforms that follow this model require a store to upgrade its plan when it exceeds the 12-month trailing online sales volume listed for a given plan. The sales volume-based plan structure is often referred to as "revenue tiers."
Upgrading your plan may cost more per month, but it gives you room to grow. This includes more advanced tools a growing business is likely to need. It also ensures the eCommerce platform can continue to provide hosting, support, and more for your store.
Both Shift4Shop and BigCommerce use a revenue tier system. But the difference between them is like night and day.
BigCommerce's revenue tiers are about 2 – 4 times smaller than Shift4Shop's. That means BigCommerce requires you to upgrade a lot sooner. For example, a business making a little over $180k in online sales would need to be on BigCommerce Pro ($299.95/month). On Shift4Shop, that business could be on the Plus plan ($79/month). In fact, that business could stay on the Pro plan until it exceeded $250k per year. As an added bonus, merchants on the free plan are not subjected to any revenue tiers, meaning that they can stay on the free plan (which is equivalent to the Pro plan) for their entire business life cycle.
So, BigCommerce costs $220.95 more per month for a business that size (or $299.95 more per month compared to businesses on the free plan). This is because their revenue tiers are so much smaller.
Shift4Shop supports higher sales per year than any other platform. Here's a direct comparison of Shift4Shop's and BigCommerce's revenue tiers:
Shift4Shop Plan

Online Sales per Year

BigCommerce Plan

Online Sales per Year

End-to-End eCommerce (free)

Unlimited

No plan at this price point

Basic ($29/month)

Up to $100k

Standard ($29.95/month)

Up to $50k

Plus ($79/month)

Up to $250k

Plus ($79.95/month)

Up to $180k

Pro ($229/month)

Up to $1M

Pro ($299.95/month)

Up to $400k
And here's a graph showing how plan costs increase for growing businesses on both platforms. Shift4Shop is blue, and BigCommerce is purple. The marked points represent the plans. The BigCommerce points above $299.95/month represent overage charges that raise the cap by $200k/year. For the purposes of this graph, we won't be including Shift4Shop's free End-to-End eCommerce plan.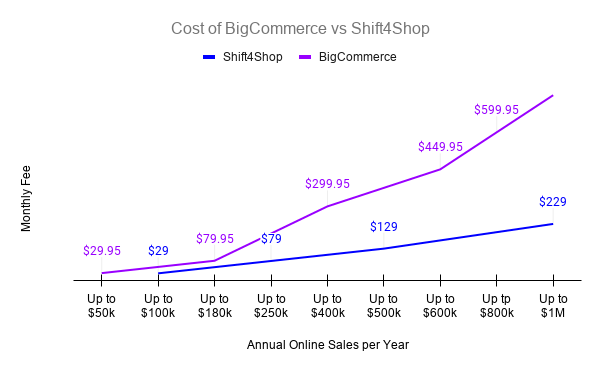 As you can see, not only does BigCommerce start out costing more, it consistently costs more throughout every stage of growth. You'll have to upgrade your plan a lot sooner as well.
BigCommerce will start contacting you about moving to Enterprise once you surpass their Pro plan, but long before you actually reach $1M in annual sales volume. Once you do reach $1M, though, they will require you to upgrade to Enterprise. This brings back the extremely high custom quoted pricing we talked about earlier.
BigCommerce pricing also has higher jumps between plans. But with Shift4Shop's higher revenue tiers, you can take your time before upgrading.
It's also worth noting that BigCommerce Pro used to support up to $1M in online sales per year, like Shift4Shop's Pro plan. But BigCommerce reduced this to $400k in April 2019. This is the same plan they would raise the price on by $50/month a few months later.
So not only does BigCommerce Pro cost more than it used to, you can use it for less time!
BigCommerce just keeps getting more expensive.
Features
So after discovering BigCommerce costs more than it seems (and more than Shift4Shop) you might wonder if it's worth it.
If BigCommerce has tons more features than Shift4Shop, maybe the extra cost is justified.
BigCommerce and Shift4Shop are actually very close in their number of features. Both have a ton of built-in functionality that online businesses need. In fact, BigCommerce and Shift4Shop both have more built-in features than Shopify. Both are miles ahead of the other major SaaS platform, Volusion.
But does BigCommerce have more features than Shift4Shop? Is it worth paying so much extra?
No.
BigCommerce is the closest to Shift4Shop in features out of all SaaS eCommerce platforms. But Shift4Shop still pulls ahead with more features in the long run. And some of the features missing from BigCommerce are a big deal.
Shift4Shop includes daily data backups of your entire store. Backups are crucial if you make a big mistake, like accidentally deleting products or overwriting important files. But BigCommerce leaves it to you to make backups yourself. You'll need technical knowledge to do this, and many of the backup methods don't get everything. Some of the most thorough methods have an extra cost.
Shift4Shop also has over 160 integrated payment providers. This is around 100 more than BigCommerce has. You'll have more options for accepting payment with Shift4Shop. This means more happy customers who can use their favorite ways to pay.
BigCommerce has even removed features in the past. For example, they list Google Shopping integration as a feature for all plans. You have to read the fine print to learn that they removed their built-in Google Shopping Feed generator to push customers toward a paid app. Shift4Shop also offers apps and services to handle product feeds for you, but still includes built-in tools.
When it comes to features both platforms have, Shift4Shop does it better.
For example, let's say you want to sell retail and wholesale at the same time. Retail customers can buy individual products at their regular price, and wholesale customers can get bulk discounts. In BigCommerce, you can't hide bulk pricing from non-wholesale customers without creating a separate product. But Shift4Shop lets you control pricing availability on a per-customer basis with Customer Group rules. No need to clutter your dashboard, and risk inventory mistakes, with multiple copies of a single product.
BigCommerce and Shift4Shop: Common Questions and Comparisons
It can be difficult to get the full picture on any eCommerce platform. This is complicated software. Anyone trying to do a detailed comparison can spend hours tracking down all the information.
So, we've collected some common questions and concerns about the differences between Shift4Shop and BigCommerce.
Is Shift4Shop a Modern eCommerce Platform?
Yes. Despite the fact that we started out in 1997, that doesn't mean we haven't kept with the times.
Our control panel (the Shift4Shop Online Store Manager) underwent an overhaul in 2015. Since then we've kept it up to date with industry standards. Shift4Shop and BigCommerce both use a popular control panel format: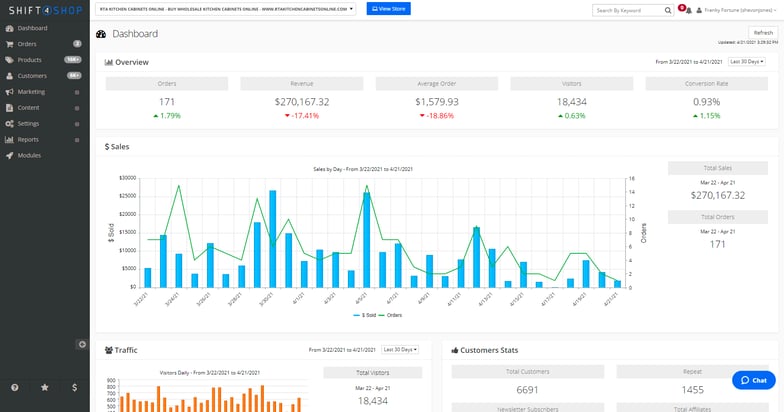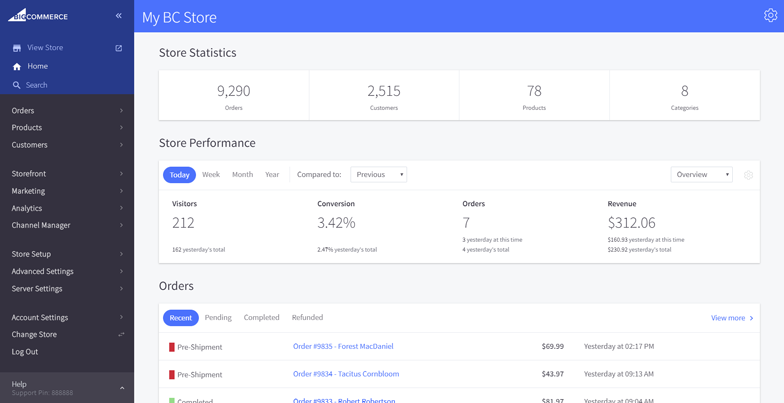 This format is popular because it's easy to use. WordPress, the internet's biggest CMS (Content Management System), uses a very similar layout. The main navigation is in the bar on the left side.
If Shift4Shop's control panel isn't modern, then neither is BigCommerce's. You can see they are very similar. However, Shift4Shop's control panel is also more responsive and easier to navigate. The menu takes up less space, so it's easier to see the main area. Mouseover help is available for most functions. This makes Shift4Shop very intuitive.
Are Shift4Shop Themes High-Quality and Up to Date?
Shift4Shop offers a wide selection of eCommerce website templates. Many will work for certain industries right out of the box. They can all be customized freely.
All Shift4Shop themes are responsive, meaning they adjust to mobile devices. This means the same theme will work on desktops, smartphones, and tablets. Responsive design is Google's preferred method for making a website mobile-friendly. This gives a boost to SEO. Shift4Shop themes are also optimized for Google PageSpeed among other SEO advantages.
Shift4Shop themes are ADA compliant. This means they meet the accessibility standards listed in the Americans with Disabilities Act. This helps earn you more customers and prevents penalties for having an inaccessible site.
Shift4Shop also uses superior technology for website templates. Our Core Template Engine is a powerful framework based on Bootstrap. It uses standard HTML and CSS to accomplish an unlimited range of designs. This is in contrast with BigCommerce, which uses a custom setup that is harder to learn. This is why it's easier to find a professional to design a Shift4Shop theme than a BigCommerce one. Shift4Shop theme design only requires industry-standard knowledge. No custom languages.
Our selection of themes is also constantly growing, now standing at over 100. We have new themes released every month. These include themes created in-house by design professionals at Shift4Shop. All available themes are free as well.
BigCommerce also has some nice themes. They are all responsive. However, BigCommerce websites run more slowly. Sometimes they take over 20 seconds to load, while Shift4Shop websites load within 1 – 2 seconds.
Our analysis of BigCommerce themes was also quite revealing. BigCommerce offers a selection of free themes. Each has multiple styles. However, the BigCommerce theme store shows each style separately, as if it were its own theme. This makes it look like there are more themes than there really are.
On the surface, it looks like you have a choice of 36 styles for free. But in reality, there are about 5 free BigCommerce themes with around 12 styles between them. Many of their free themes are also extremely similar. That's not a great selection for building a store that stands out.
Does Shift4Shop Have a CSS Editor for Themes?
If you want to customize your theme yourself, different eCommerce software gives different options.
In the old days, you'd need to write the HTML and CSS code yourself if you wanted to customize. But today, we are in the era of website builders. Now you can customize your store with built-in tools. Pick a theme, and use the available tools to customize it.
Shift4Shop includes a robust Theme Editor tool that lets you change colors, fonts, and more. You can do this right on your website and see your changes in real-time. The Theme Editor directly changes the CSS code behind the scenes.
We also have an HTML builder: our Page Editor. With the Page Editor, you can add and rearrange blocks of content. These can be text, images, headings, and more. Just like with the Theme Editor, you can see your changes in real-time. You never have to guess how it's going to look.
Between these 2 tools, you can fully customize your Shift4Shop website. And if you know HTML and CSS, you can edit your theme files directly, too. You can even clone your theme to make a backup copy so you can experiment freely.
Unlike BigCommerce, Shift4Shop also offers in-house theme customization services. If you want us to personalize your theme for you, we're ready to help.
Is Shift4Shop or BigCommerce Better for SEO?
SEO is one of the most important aspects of eCommerce marketing. It allows customers to find your website on their own by searching for words related to the products you sell. Great SEO will help shoppers discover your store without you needing to pay a penny for advertising. It's absolutely crucial that your online store has powerful SEO on its side.
We already touched briefly on a couple of Shift4Shop's SEO advantages. Namely, some of the ones built into our themes.
But there is so much more than that.
We say with confidence that Shift4Shop is the best eCommerce platform for SEO. We have left no stone unturned when it comes to optimization. This includes SEO tools as well as the overall structure of Shift4Shop websites.
Shift4Shop stores have built-in optimizations through our Core Template Engine, described above. First off, Core themes use streamlined code that speeds up load times. Search engines prefer faster sites because their goal is to make their users happy. Online shoppers hate slow websites, so faster sites rank higher.
Shift4Shop accomplishes this extra speed in several ways. Our templates use features like AJAX, which allows a page to be updated without reloading it, like when a customer adds something to their cart. We defer JavaScript to the end so the rest of the page loads before the scripts. Every tiny code optimization, like these, adds up to shave a bit offload times. Put together, all our optimizations allow Shift4Shop sites to load 10 times faster than BigCommerce sites.
(Not only is this great for SEO, but it's also a huge help with conversions as well. No one is going to wait around to buy from a slow website.)
We also have SEO advantages built into the Shift4Shop software itself. For example, we have a setting for Page Pre-Loading. By turning this on, you set your Shift4Shop site to automatically start to load pages in the background when it seems a customer is about to visit them. The customer hovers their mouse over the link, and the page already starts to load before they click. This doesn't slow anything down. It just makes the next page the customer visits appear to load instantly.
Besides the above, Shift4Shop also includes a full suite of SEO tools to help you optimize every page. All your store's URLs (link addresses) are generated in an SEO-friendly format. You can also customize them with your own keywords and names.
We have automatic 301 redirects so you can change a page's URL without breaking your links and losing rank. We have canonical URLs which prevent penalties when you have several similar pages (like multiple pages of a category). We give you control over all the technical aspects of SEO, like robots.txt and automatic XML sitemap generation, which tell search engines how to explore and index your site.
This is why Shift4Shop websites rank higher than BigCommerce websites on SEO. In fact, we have the highest score of all eCommerce platforms.
Does Shift4Shop Have a CDN (Content Delivery Network)?
You probably know all websites reside on a server, a powerful computer that's permanently online. But did you know websites load faster when the server is physically closer to the person visiting a site? Someone on the other side of the world could find a site to be slow because the server is so far away.
A Content Delivery Network is a series of linked web servers placed around the world. When a visitor goes to a site on a CDN, they're connected to the server that is closest to them. This speeds up load times significantly.
CDNs also have other advantages, like improved security. One of the most important is DDoS protection. DDoS means Distributed Denial of Service. It's a type of online attack that involves flooding a website with millions of fake visitors. These visitors are bots run by computer programs, and only a few real people may be involved. This huge amount of traffic can completely overload a site and cause it to shut down temporarily.
Why would someone perform a DDoS attack? There are all kinds of reasons. Some dishonest entrepreneurs have it done to their competitors. Some people DDoS for fun. They just want to see how many sites they can bring down at all times. We will probably never know all the reasons for DDoS attacks.
No matter the reasoning behind it, a DDoS attack is damaging for your store because it causes it to shut down. CDNs can prevent this by analyzing the traffic that comes to your site, and stopping the bots used in a DDoS.
Shift4Shop uses Cloudflare as its CDN. Cloudflare is a modern, cutting-edge CDN solution with a global network and unique performance capabilities. It uses next-generation hardware to ensure it's always ahead of DDoS attacks and other malicious acts. Websites on Cloudflare are fully protected and will load quickly all over the world.
BigCommerce also uses a CDN, but it's an older option called Akamai. Akamai was one of the first CDNs and is also one of the largest. However, Cloudflare has overtaken it in both technology and performance.
Do Shift4Shop and BigCommerce Limit API Calls?
This section is only really important if you're an app developer. Say, if you want to make your own custom addon for your eCommerce store.
But if you're curious anyway, API means Application Programming Interface. It's a type of common language to help different applications talk to each other. Other software that integrates with Shift4Shop talks to the Shift4Shop platform through the API. So, it's central to integration performance.
An API limit basically describes how many integrations can talk to a Shift4Shop store at one time.
While Shift4Shop and BigCommerce both have API limits in lower-tier plans, BigCommerce's limits are shared among all apps or integrations on a store. Shift4Shop's are per app. Full information is available about Shift4Shop's API limits.
So, a BigCommerce store would run into that limit a lot more quickly. All the API calls are shared among every app, so they get used up faster. Shift4Shop's API limits are per app, so every app on a store has its own limit. This adds up to more possible API calls and better performance for Shift4Shop.
BigCommerce also has this disclaimer: "The quota might adjust as additional clients connect or disconnect while you're running requests." This means the API limit can change depending on store activity. This is never a problem on Shift4Shop, where all apps get their own individual limit.
Shift4Shop's method provides better and more consistent performance for apps and integrations.
Does Shift4Shop or BigCommerce Present a Higher Risk of Needing to Replatform?
Replatforming is the process of changing the website platform a website is using. Migrating from BigCommerce to Shift4Shop is an example of replatforming.
A business could need to replatform for many reasons. They could discover that their current platform does not support their continued growth. The current platform could be lacking important features. Or maybe the current platform is simply too expensive.
A business would also need to replatform if their eCommerce provider shut down. This has happened in the past. There are numerous discontinued eCommerce platforms.
No matter why it happens, replatforming can be expensive and time-consuming. Your entire website needs to be duplicated as best as possible onto completely different software. Tons of data needs to be moved over. The website needs to be designed. There may be a transitional period where customers can't shop effectively.
Overall, replatforming is stressful and costly, and no business looks forward to it. (That's why Shift4Shop has migration help and other services for businesses that want to switch to us. Many businesses qualify to migrate to Shift4Shop for free.)
So, when you pick an eCommerce platform, you want one with a low risk of needing to replatform. Between Shift4Shop and BigCommerce, Shift4Shop is the one with the lowest risk.
Why?
We've already discussed many reasons in this article. BigCommerce gets very expensive, very quickly. They also have a reputation for raising prices out of nowhere. You might simply not be able to afford it anymore.
You might also find that features you rely on have been removed from BigCommerce. We talked about this too. You could need to change your platform to be able to run your business.
You might be getting poor SEO results from BigCommerce. Or maybe your site is extremely slow. You could need to replatform just to stay competitive.
BigCommerce's software and pricing simply aren't reliable. That's a pretty big risk of needing to replatform, but there's also another. BigCommerce went public as a company (meaning, they sell stock) so their financial statements are available for review. You can see how much money BigCommerce is making and where it comes from.
BigCommerce is operating at a loss, meaning they're spending more than they're bringing in. The company is currently supported by funding from investors. This isn't a good sign for the long term.
But how is Shift4Shop doing?
Shift4Shop is now also a public company, being owned by parent company Shift4 Payments. The company is operating at a profit and has been in the market for over 20 years – almost twice as long as BigCommerce. We also have clients who started their online stores on Shift4Shop at the beginning and are still with us today.
Financially, that's much healthier than BigCommerce.
Conclusion
So, what's the result of our side-by-side comparison between Shift4Shop and BigCommerce? We covered pricing, features, and a lot more. We also included details that aren't readily available unless you dig deep. Here's what we discovered:
BigCommerce plans are more expensive, and you have to upgrade a lot sooner.
BigCommerce has a reputation for raising prices and removing features.
Shift4Shop has more features than BigCommerce.
Shift4Shop and BigCommerce are both modern eCommerce platforms. But Shift4Shop's control panel is more responsive and intuitive.
Shift4Shop has more themes than BigCommerce and Shift4Shop's are better. They're also easier to customize.
Shift4Shop has superior SEO over BigCommerce.
Shift4Shop uses a more advanced CDN than BigCommerce.
Shift4Shop and BigCommerce have similar limits on API calls. But Shift4Shop handles this more efficiently for better performance.
Shift4Shop has a lower risk of needing to replatform.
It's pretty clear that Shift4Shop wins in every respect. Shift4Shop is more affordable, more reliable, and has more features. Shift4Shop also pulls ahead in store design, SEO, and quality in general.
You may have some hard choices to make as a business owner. But with Shift4Shop's proven advantages over BigCommerce, the best software to use isn't a hard decision at all.