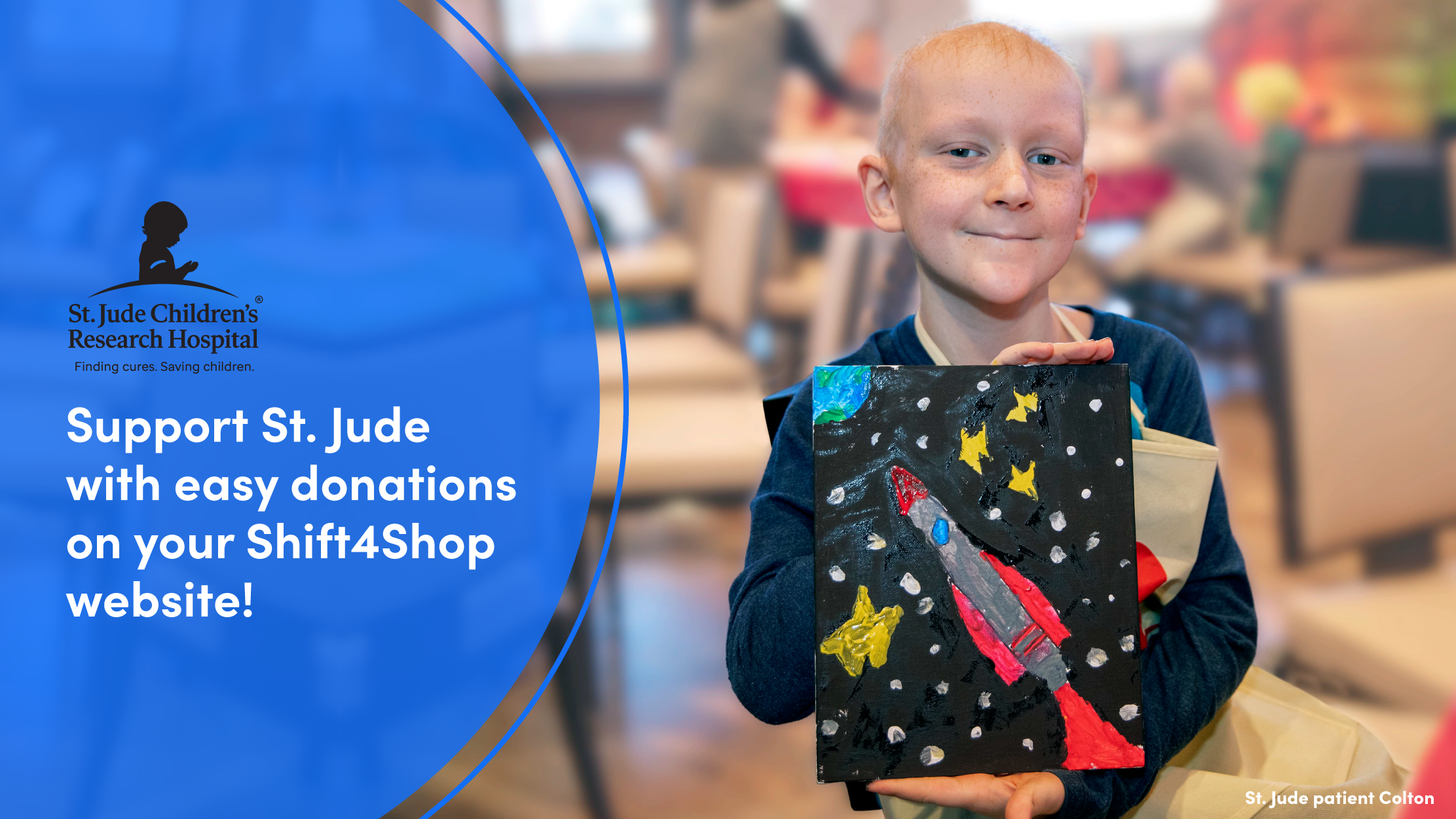 The holiday season is all about that inspiring feeling of generosity. This year, we want to embrace that spirit of giving by supporting a lifesaving organization that gives back every day — St. Jude Children's Research Hospital.
To help St. Jude accomplish their mission of curing childhood cancer, we've partnered and developed a new app to make donations easier. Introducing: the St. Jude Donation App.
As a Shift4Shop business owner, you can help raise awareness and funds for the lifesaving mission of St. Jude by encouraging your customers to make a donation after they've completed their purchase in your Shift4Shop eCommerce store.
Want to learn more about how you can get involved? Keep reading!
What is St. Jude Children's Research Hospital?
Founded in 1962, St. Jude Children's Research Hospital is one of the world's premier pediatric cancer research centers. Its mission is to find cures for children with cancer and other catastrophic diseases through research and treatment.
St. Jude is leading the way the world understands, treats and defeats childhood cancer and other life-threatening diseases. Unlike other hospitals, the majority of funding for St. Jude comes from generous donors. Families never receive a bill from St. Jude for treatment, travel, housing or food—because all a family should worry about is helping their child live.
What is Shift4Shop Doing to Support St. Jude?
The Shift4Shop collaboration with St. Jude is part of the Inspiration4 fundraising initiative that was the brainchild of Jared Isaacman, founder and CEO of Shift4 and commander of Inspiration4, the first all-civilian mission to orbit Earth.
The initiative has raised more than $240 million in support of the multi-year, multi-billion dollar expansion at St. Jude aimed to accelerate research advancements and save more children worldwide. But the job doesn't stop there.
To continue supporting St. Jude Children's Research Hospital and their inspiring mission to help end childhood cancer, Shift4Shop is making it easier to collect donations from online shoppers with the use of a simple donation app.
How Does the St. Jude Donation App Work?
With the St. Jude Donation App, Shift4Shop business owners can invite their customers to make a donation to St. Jude. Customers can donate an amount of their choice after checking out and St. Jude will receive 100% of the donation.
So as to not interfere with the shopping experience on your website, the St. Jude Donation App will only appear after a customer finishes checking out. At that time, a simple pop-up module will prompt the customer to donate to St. Jude. The donation will go directly to the organization without any involvement from the business owner. It's that simple!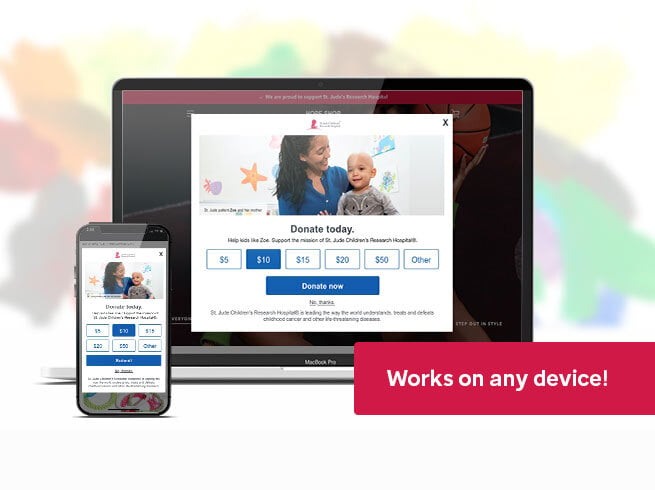 How to Install the St. Jude Donation App
In just three easy steps, you can install the St. Jude Donation App into your online store and start accepting donations from customers. If you're not used to coding, don't let the code scare you — it's as simple as copying and pasting.
Step 1: Sign up to get the code.
To get started, sign up with St. Jude. Provide your company's name, website, business address, and contact information. Once you fill out the form on their website, they will generate a code for you. This code is what adds the app into your online store.

Step 2: Copy and paste the code into your store.
Once you've received the code from St. Jude, you'll need to add it to your site's code. The code is a script, which will run the app's programming on your site.
To add the code, you'll need to log into your Shift4Shop Online Store Manager dashboard. First, navigate to Content, and then Site Content. Next, find the Header and Footer section. From there, you'll want to paste the code into your website's Global Footer. Click Save to confirm your changes. After that, the donation app should be installed!

Step 3: Ask for donations.
With the app installed on your online store, you can now start collecting donations. The prompt for donations will appear post-checkout, so as to not interfere with any purchases on your store. After checkout, the customer will see a pop-up module asking if they'd like to donate to St. Jude.
Customers will be able to choose from multiple donation amounts, which will be presented in the pop-up module. They can choose from $5, $10, $15, $20, $50, or select "other" to type in an amount of their choosing. 100% of these donations will go directly to St. Jude. No additional processing steps required!
Now that customers can officially donate through your store, it's time to promote! Share with your audience that you're making a difference with St. Jude and align your business with an amazing cause. Post on social media, send out blog posts, and more!
Make a Difference This Holiday Season with St. Jude
Sometimes, all it takes is a little push to get someone to donate to a great cause. As a Shift4Shop store owner, you can be that push and make a real difference.
With the St. Jude Donation App, you can leverage the kindness of your existing shoppers to bring in funds to a profoundly inspiring organization that helps countless families every day.